People in New York are being warned to limit outdoor activity as smoke from Canadian wildfires drifts across many areas of the northeastern US.
Air quality in the state is now "unhealthy", according to the Environment Protection Agency, and a murky haze has descended over landmarks such as the Statue of Liberty and Times Square.
Unusually early and intense wildfires in Canada's Quebec province are to blame – more than 150 forest fires were burning on Tuesday – and over 100,000 people have been forced to evacuate.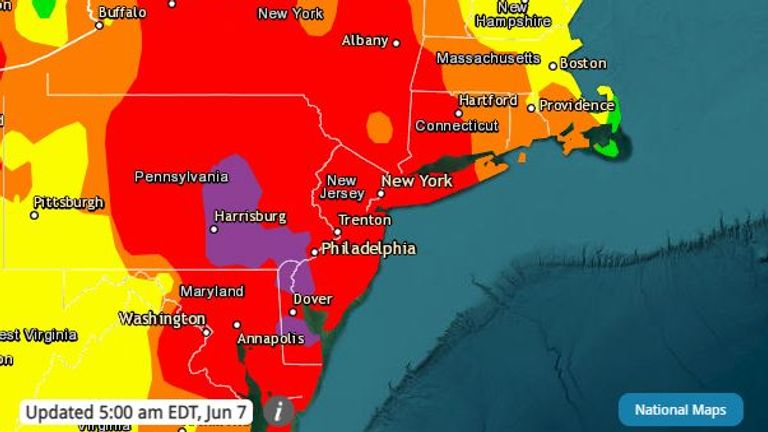 Lightning is said to have started many of the fires.
US authorities said residents with heart or lung disease, older people and children should keep outdoor activities short, and that others should reduce the amount they're active or exercising.
New York state, New Jersey, Pennsylvania and the Washington DC area are among the states with an "unhealthy" fine particulate matter reading (PM 2.5).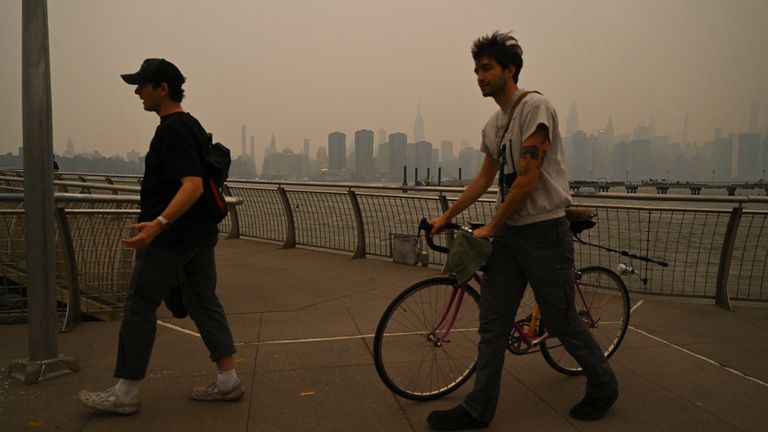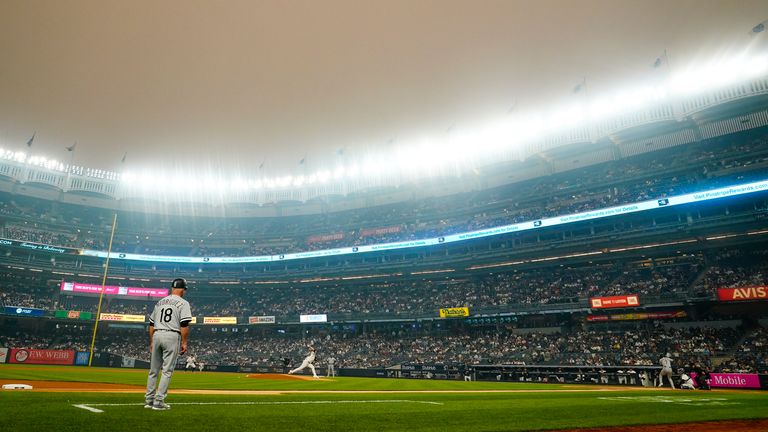 Toronto, Canada's biggest city, also warned residents about the air quality and tourists at the CN Tower were met with a murky orange vista rather than clear early-summer skies.
An eerie haze also hung over the New York Yankees' game against Chicago White Sox on Tuesday night.
There was an even starker air warning in Canadian capital Ottawa, where officials ranked it category 10+, indicating "very high risk".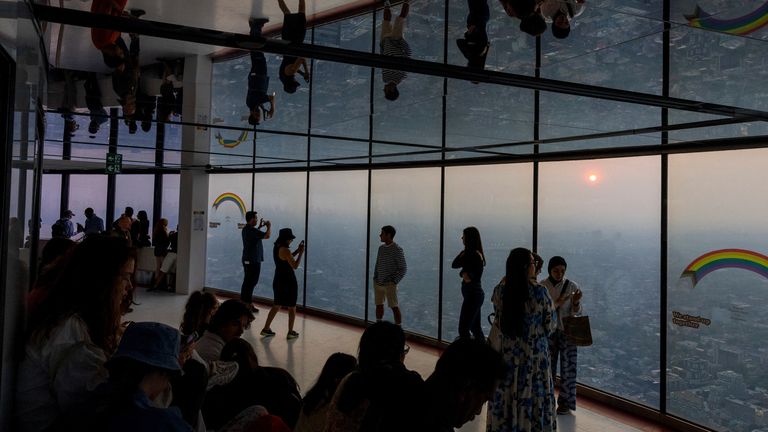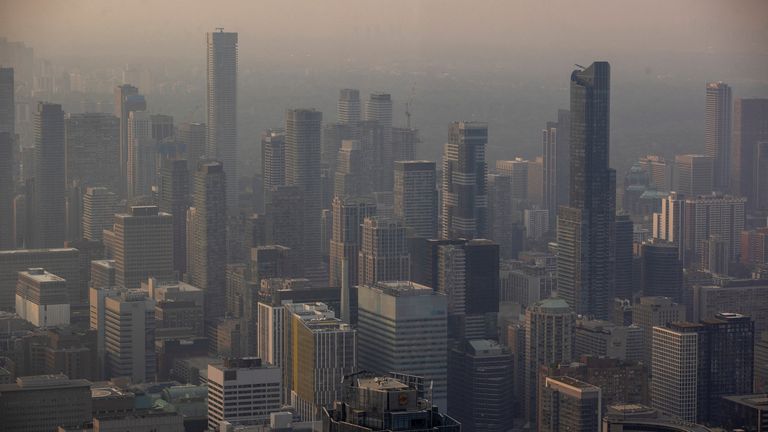 Wildfires are common in Canada's west, but this year the east has seen significant fires – and more than 110 are said to be out of control.
Some 3.3 million hectares have already burned – about 13 times the 10-year average – and more than 120,000 people have been forced to leave home.
Chibougamau, a remote Quebec town of about 7,500, was the latest to be evacuated late on Tuesday.
What's the risk from the pollution?
Fine particulate matter, known as PM 2.5, is about 30 times smaller than the width of a human hair and can be blown long distances.
It can cause throat and lung irritation and worsen conditions such as asthma or heart disease. The particles can also disturb the eyes and nose.
Children can be particularly sensitive as their lungs are still developing and they breathe in more air per unit of body weight. Older people can also struggle more than others.
Where does PM 2.5 pollution come from?
Primarily from vehicle exhausts, but also any other operations that burn fuels such as coal or wood – including forest or grass fires.
How can you reduce the risk?
Try to avoid outdoor exercise or exertion. Consider wearing a N95-rated face mask to reduce your exposure if you have to go outside.
Keep windows, doors and fireplace shut and run any air-con units on a recirculation setting. An air purifier in the home could also help people who are especially vulnerable.
"We're following all of this from hour to hour, obviously," said Quebec Premier FranCois Legault.
"If we look at the situation in Quebec as a whole, there are several places where it is still worrying."
Click to subscribe to ClimateCast with Tom Heap wherever you get your podcasts
He said the Abitibi-Temiscamingue region in the northwest of the province Quebec was a particular concern.
The US, Mexico, France and South Africa are among those who have sent firefighters to help – but no rain is immediately forecast meaning the fires are likely to be tougher to extinguish.
Darryl George: Family sues state governor after student suspended over dreadlocks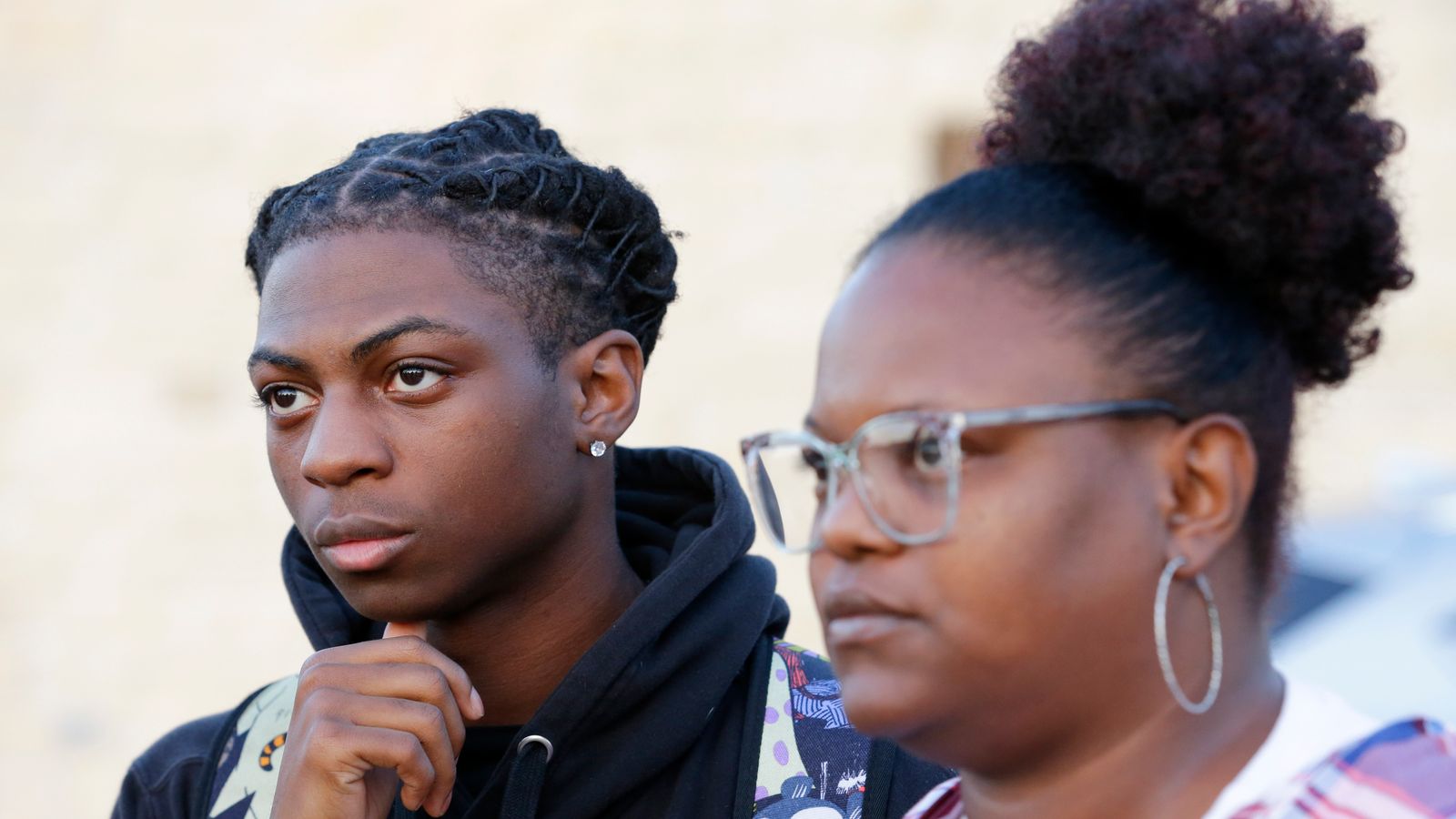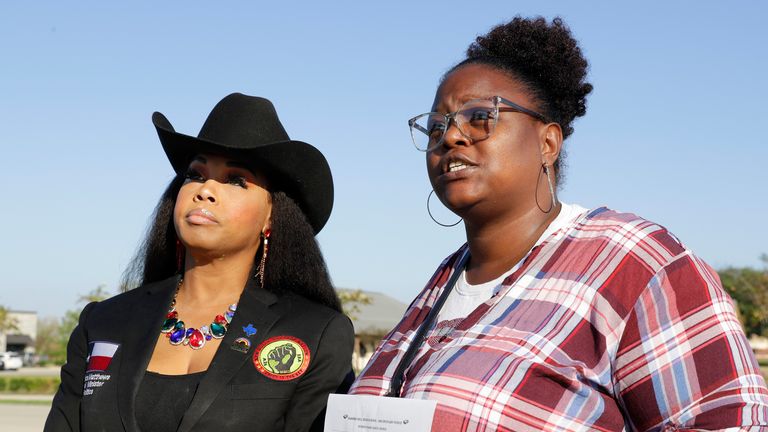 The family of a black student who was suspended from school in a row over his hairstyle has filed a lawsuit against the state's governor and attorney general.
Darryl George, 17, a junior at Barbers Hill High School in Mont Belvieu, has been expelled since 31 August because school officials said his dreadlocks fall below his eyebrows and ear lobes, violating the district's dress code.
His mother Darresha George has denied this and said his hair is neatly tied and twisted in dreadlocks on top of his head.
The lawsuit accuses Texas Governor Greg Abbott and Attorney General Ken Paxton of failing to enforce the CROWN Act, a new state law outlawing racial discrimination based on hairstyles.
The lawsuit claims the pair, in their official duties, failed to protect Darryl's constitutional rights against discrimination and violated his freedom of speech and expression.
Darryl George "should be permitted to wear his hair in the manner in which he wears it because the so-called neutral grooming policy has no close association with learning or safety and when applied, disproportionately impacts Black males," according to the lawsuit.
Second complaint in hair row
On Tuesday, his mother previously filed a formal complaint against the Texas Education agency and said Darryl was harassed and mistreated by officials because of his hair.
They claim during his suspension he was forced to sit for eight hours on a stool and was denied the free hot lunch he was eligible to receive.
Read more on Sky News:
911 call released after fighter jet pilot ejects and lands in back garden
Fugitive on run for more than 30 years laughs as he's finally caught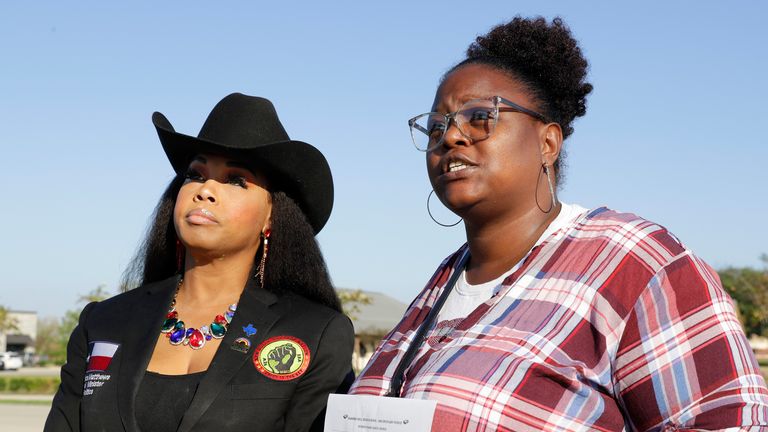 The agency is investigating the complaint.
Florida: Alligator killed after being discovered holding human remains in mouth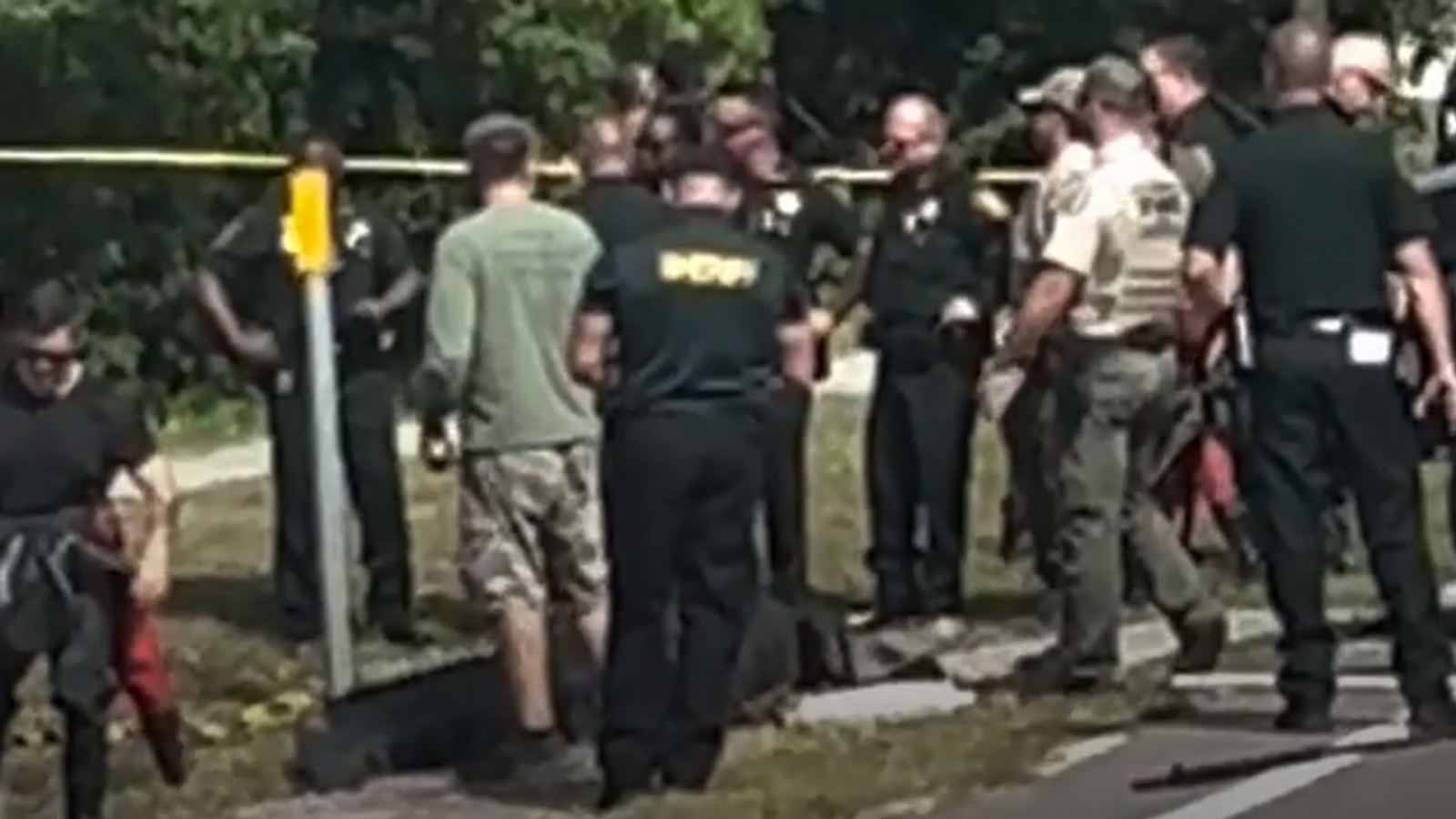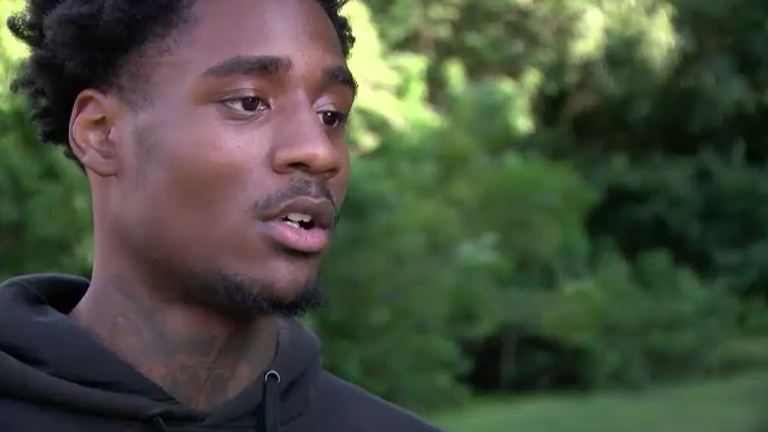 An alligator was spotted with human remains in its mouth by a passer-by in Florida.
The 13-foot reptile was spotted by Jamarcus Bullard in a canal in Largo, about 20 miles west of Tampa.
He said he saw the the alligator and a corpse in the water on Friday afternoon.
"I threw a rock at the gator just to see if it was really a gator and like it pulled the body, like it was holding on to the lower part of the torso, and pulled it under the water," he told a TV affiliate of NBC News, Sky News' US partner network.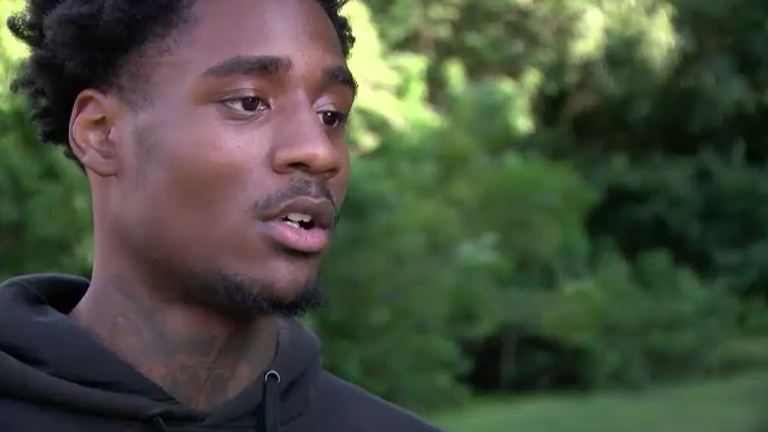 Bullard said he started recording on his phone and contacted the authorities.
A video he shared with the news station showed an officer with the Florida Fish and Wildlife Conservation Commission measuring the reptile.
The 13-foot, 8.5-inch male alligator was removed from the water and was "humanely killed," the Pinellas County Sheriff's Office said in a statement, adding that the remains of an adult had also been recovered.
No details about the deceased have yet been released and an investigation is under way.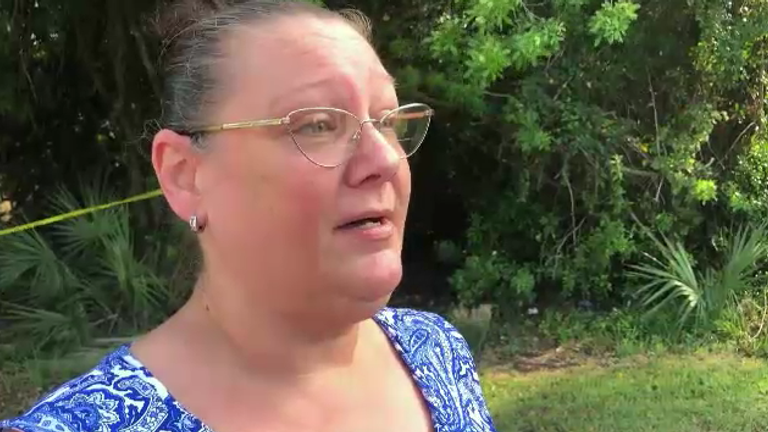 The medical examiner's office will conduct an autopsy to determine the cause of death.
The discovery has left some locals nervous with Jennifer Dean telling WFLA that her children frequently walk by the canal.
Bullard also said he walks near the water to and from work and will be more careful now.
US death row inmate Anthony Sanchez executed for rape and murder of Juli Busken after being caught by his DNA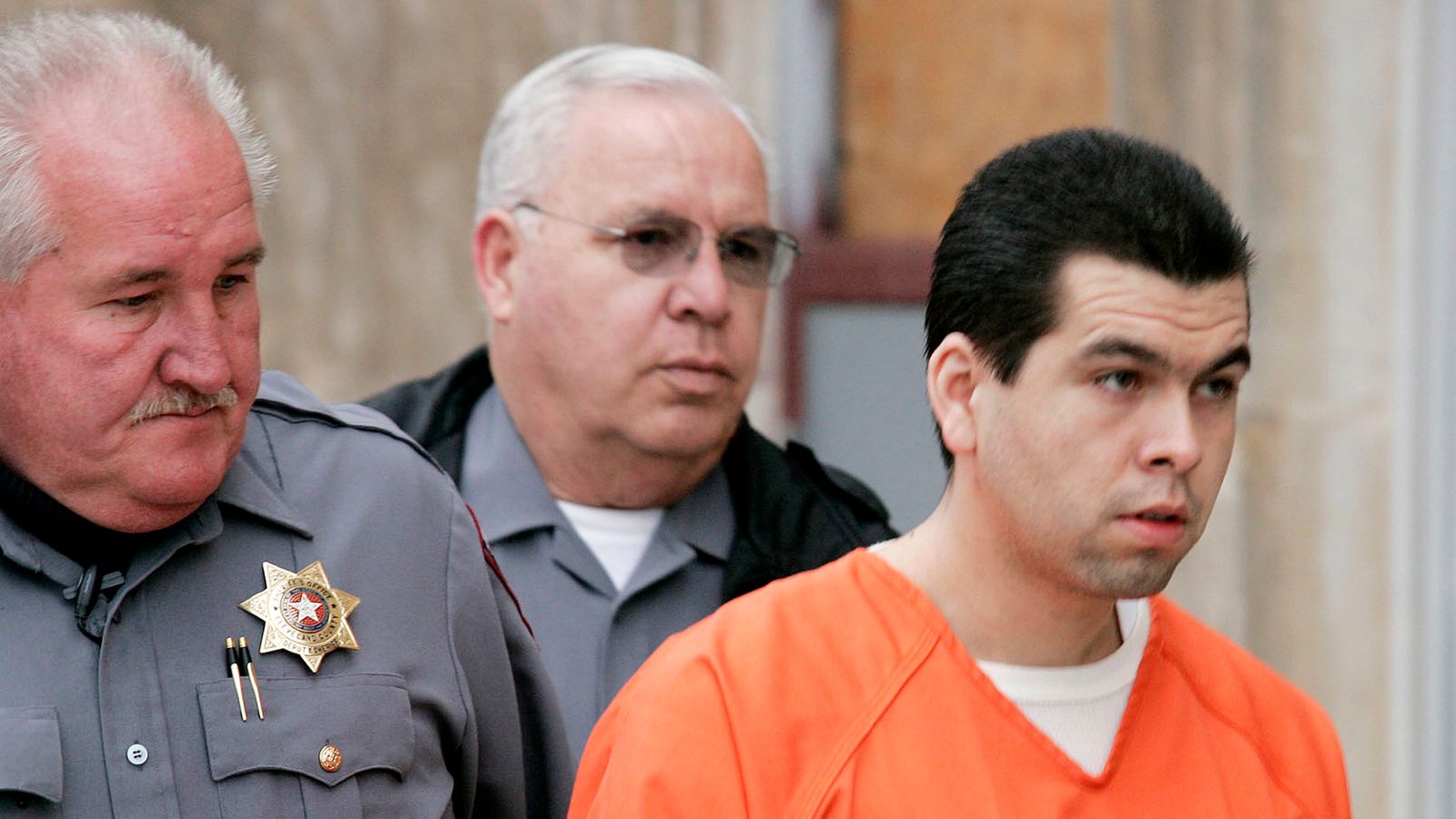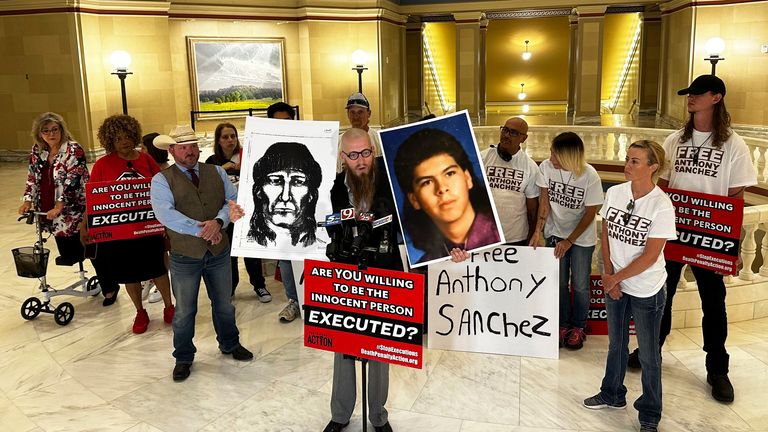 A man has been executed in the US for the rape and murder of a dance student which went unsolved for years until DNA from the crime scene was matched to him while he was in prison for burglary.
Anthony Sanchez, 44, protested his innocence as he was strapped down in the death chamber at the Oklahoma State Penitentiary in McAlester.
He was declared dead 11 minutes after the lethal drugs started to be administered.
While Sanchez maintained he had nothing to do with the 1996 killing of 21-year-old Juli Busken, he took the unusual step of opting not to present a clemency application to the state's pardon and parole board, which many viewed as the last chance to spare his life.
Ahead of his execution, Sanchez criticised his former lawyers and thanked his supporters, including his spiritual adviser who was in the chamber with him.
He said: "I'm innocent.
"I didn't kill nobody."
At one point during the procedure, a member of the execution team entered the chamber and reattached an oxygen monitor that prison officials said had malfunctioned.
Read more:
Star's cause of death revealed after inquest
Man dies driving off collapsed bridge following Google Maps
Shortly before he was put to death, the US Supreme Court rejected a request for a stay of execution submitted by his new lawyer, who had said he needed more time to go through the case evidence.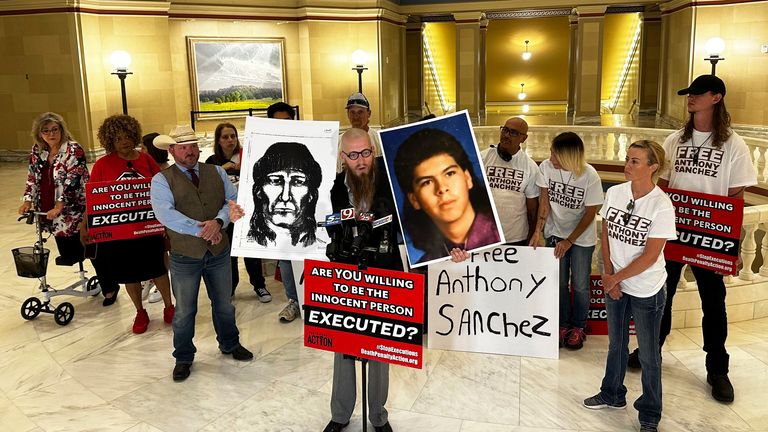 Juli Busken's family 'has found closure and peace'
Ms Busken had just completed her last term at the University of Oklahoma when she was abducted on 20 December 1996, from the car park of her apartment complex.
Her body was found later near a lake on the outskirts of Oklahoma City.
She had been bound, raped and shot in the head.
Busken had performed as a ballerina in several dance performances during her time at the university and a scholarship was set up in her name at the College of Fine Arts.
Years later, Sanchez was in jail for burglary when DNA from the victim's clothing was matched to him.
He was convicted and sentenced to die in 2006.
None of Ms Busken's family attended Thursday's execution, but state attorney general Gentner Drummond said he had spoken to them several times in recent months.
He said: "Juli was murdered 26 years, nine months and one day ago. The family has found closure and peace."
'False DNA'
Sanchez had long maintained his innocence.
In an interview earlier this year from death row. "That is fabricated DNA.
"That is false DNA. That is not my DNA. I've been saying that since day one."
He said he had declined to seek clemency because even when the five-member pardon and parole board takes the rare step of recommending it, governor Kevin Stitt was unlikely to grant it.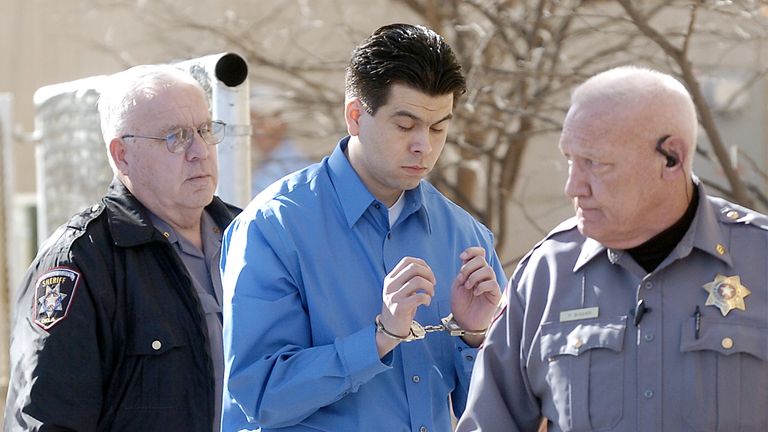 Sanchez said: "I've sat in my cell and I've watched inmate after inmate after inmate get clemency and get denied clemency. Either way, it doesn't go well for the inmates."
Mr Drummond maintained the DNA evidence unequivocally linked Sanchez to Ms Busken's killing.
He said the odds of randomly selecting an individual with the same genetic profile were one in 94 trillion.
'Brutal rapist and murderer'
"There is no conceivable doubt that Anthony Sanchez is a brutal rapist and murderer who is deserving of the state's harshest punishment," Mr Drummond said in a recent statement.
A private investigator hired by an anti-death penalty group argued the DNA evidence may have been contaminated.
Ballistic evidence
But former Cleveland county district attorney Tim Kuykendall, who was the county's top prosecutor when Sanchez was tried, has said while the DNA evidence was the most compelling at trial, there was other evidence linking him to the killing, including ballistic evidence and a shoe print found at the crime scene.
Mr Kuykendall said recently: "I know from spending a lot of time on that case, there is not one piece of evidence that pointed to anyone other than Anthony Sanchez.
"I don't care if a hundred people or a thousand people confess to killing Juli Busken."
Sanchez is the third inmate put to death in Oklahoma this year and the tenth since the state resumed carrying out the death penalty in 2021 ending a six-year moratorium introduced over concerns about its execution methods.