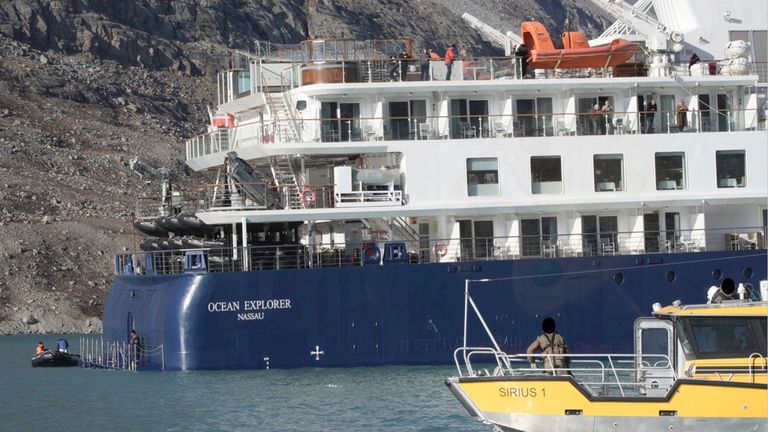 A third attempt to rescue a luxury cruise ship after it ran aground in northwestern Greenland has failed.
The Ocean Explorer – which has 206 passengers on board – made contact with the seabed on Monday in Alpefjord, a national park 870 miles (1,400km) northeast of Greenland's capital Nuuk, the Danish military's Joint Arctic Command (JAC) said.
After two failed attempts to free the ship by floating it during high tide, a third attempt was made to pull it free by a fisheries research vessel.
But the JAC said the attempt was "not successful".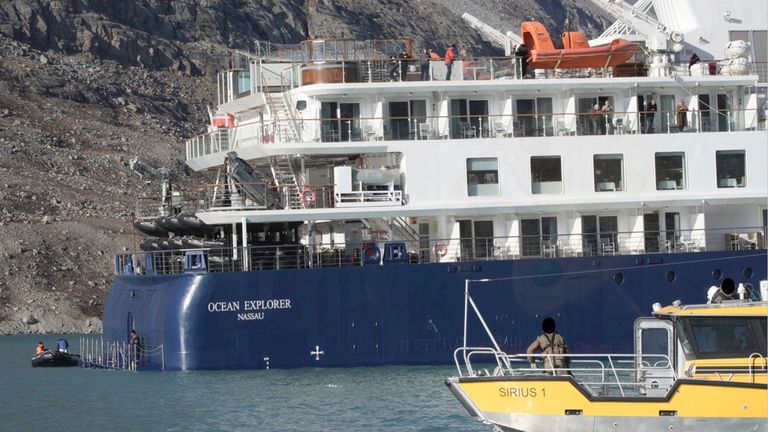 Around 249 miles (240km) away from the nearest settlement, Ittoqqortoormiit, the "first priority" of the JAC is to get its larger inspection vessel, Knud Rasmussen, to the site, which is expected to happen on Friday evening.
'Everyone's in good spirits'
The Ocean Explorer, which is operated by Australia-based Aurora Expeditions, left the Norwegian port of Bronnoysund on 6 September, according to tracking data from MarineTraffic.com.
The ship has 77 cabins, 151 passenger beds and 99 beds for crew.
There are also several restaurants, an infinity pool and a two-level lounge with a piano bar and panoramic windows at the bow of the ship, according to Ulstein, the company that built it.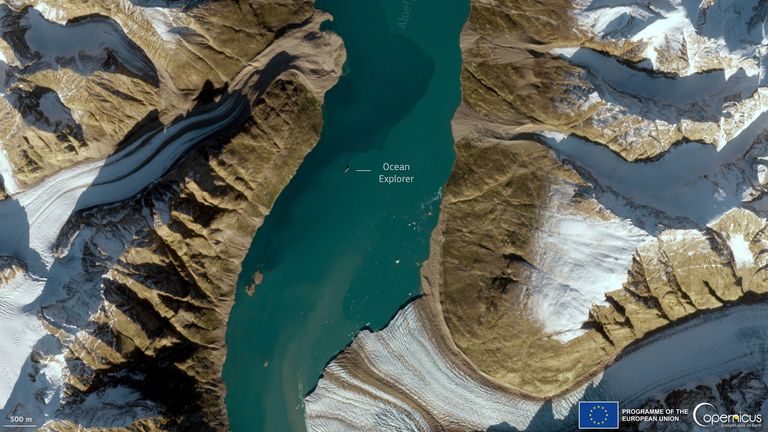 More from Sky News:
P&O cruise liner 'crashes into petrol tanker'
Tiny Cornish port town hosts 60,000 tonne cruise ship
Some of those on board are from Australia, UK, New Zealand, US and South Korea, and were described by passengers Steven Fraser and Gina Hill as "a lot of wealthy older people".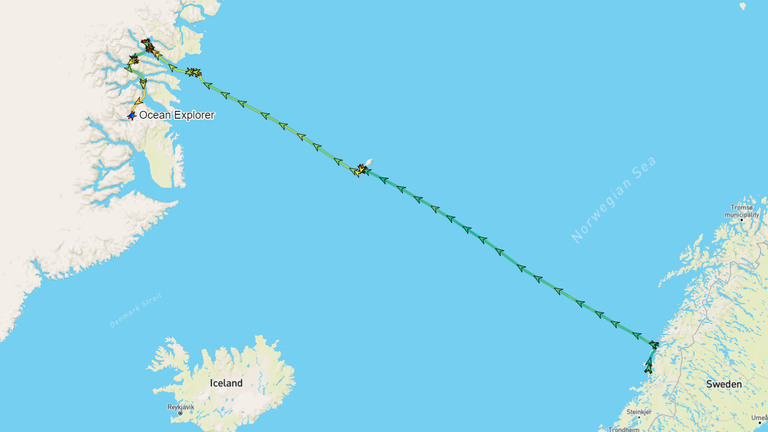 The retired couple from Australia told the Sydney Morning Herald that "everyone's in good spirits".
"It's a little bit frustrating, but we are in a beautiful part of the world," Mr Fraser was quoted as saying.
Mr Fraser said he was one of a number of passengers who had tested positive for COVID, but there is a doctor on board.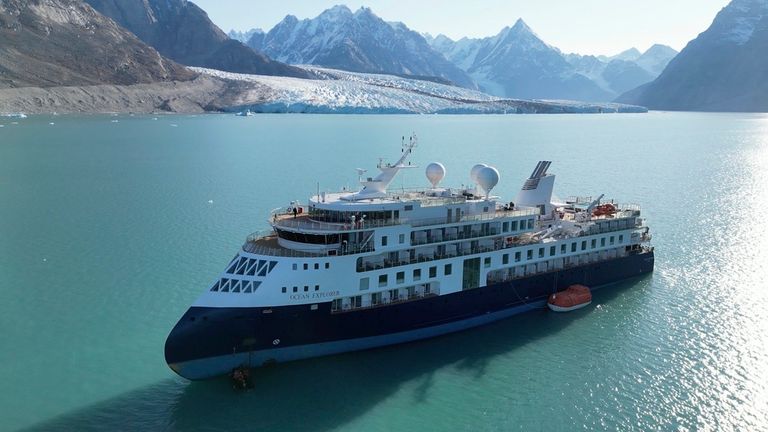 Lisa, another passenger, told CNN that her biggest fear at the moment is running out of alcohol, but if the worst does happen, she has a back-up plan.
"I had swimming lessons before I came and I'm a good swimmer," she said.
"So look out: I could be swimming back to Iceland."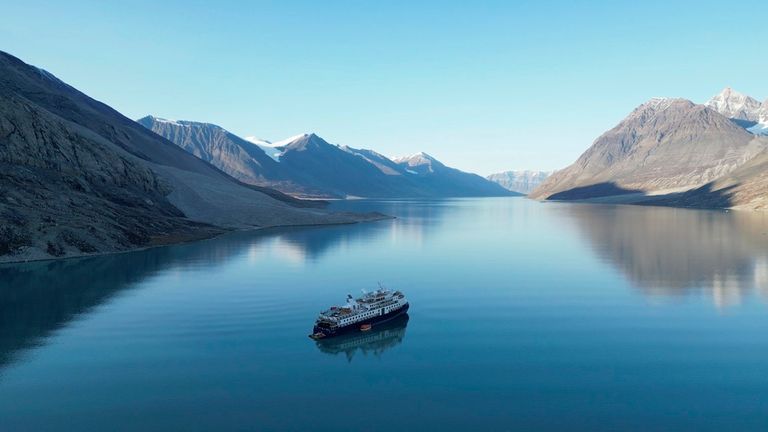 Members of the Sirius Dog Sled Patrol – a Danish naval unit that conducts long-range reconnaissance and enforces Danish sovereignty in the Arctic wilderness – were in the vicinity of the stranded ship.
They visited on Tuesday and reported that everyone on board was fine and no damage to the vessel had been reported.
Florida: Woman whose remains were found in alligator's mouth identified by police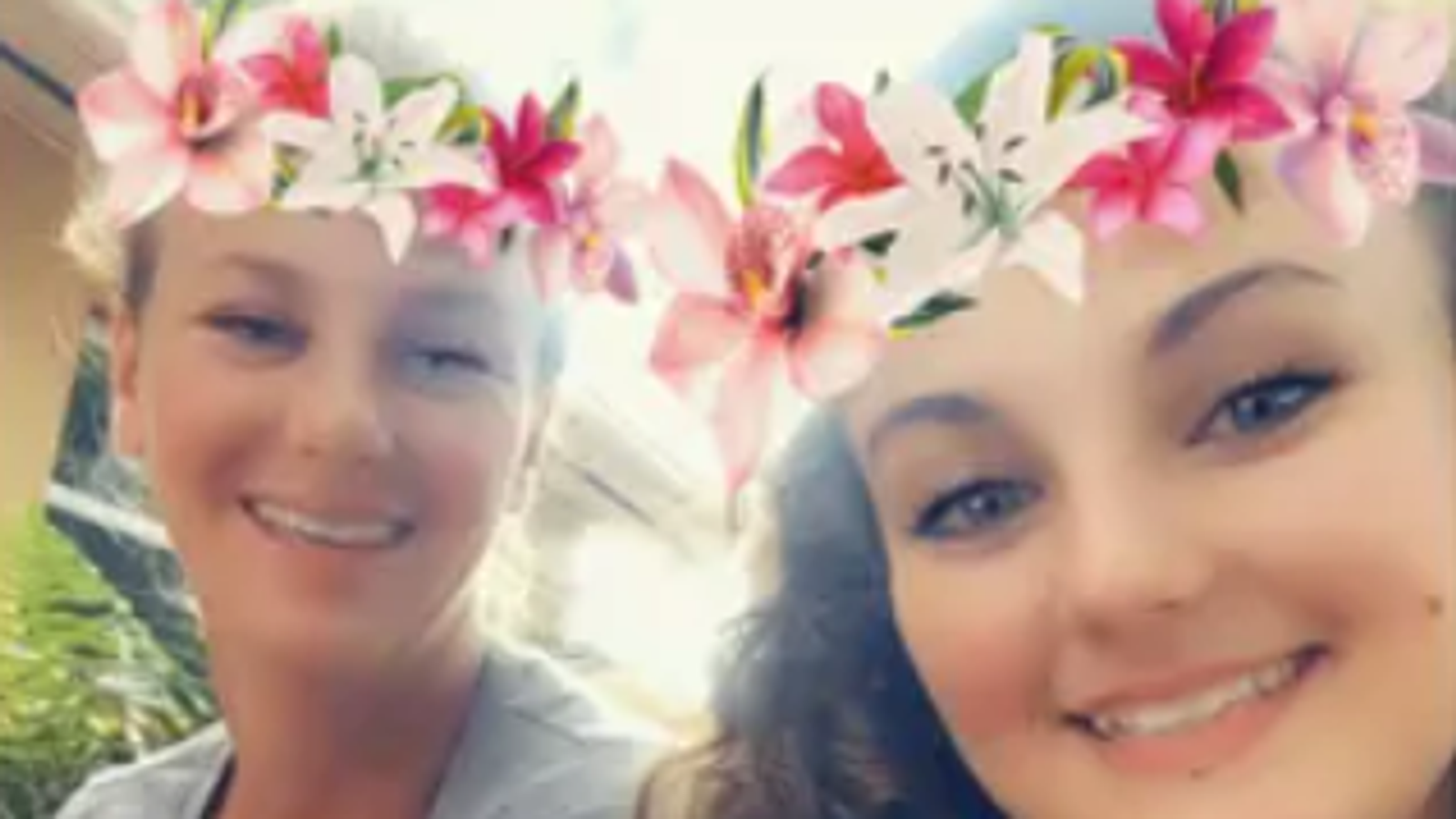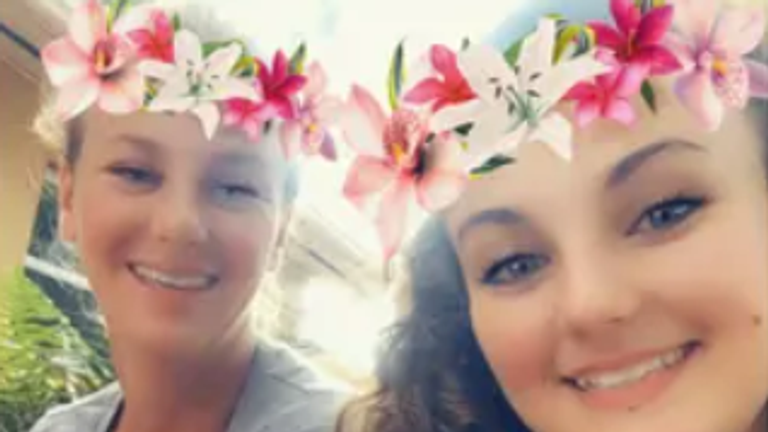 Police have identified a woman whose remains were found in the mouth of a 13ft alligator in Florida.
The body of 41-year-old Sabrina Peckham was pulled from a canal in Largo, about 20 miles west of Tampa, after a witness spotted her in the alligator's mouth, the Pinellas County Sheriff's Office said.
The animal was "humanely killed", the sheriff's office said, and the coroner's office will perform a post-mortem examination to determine the official cause of death, but it is suspected Ms Peckham was killed by the alligator.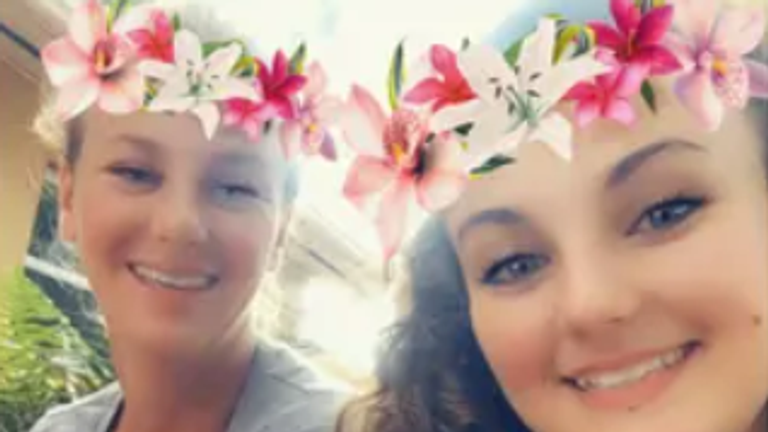 Ms Peckham's daughter said her mother was homeless and lived near the water, and countered claims her mother had been taunting the animal.
Breauna Dorris wrote on Facebook: "Some details I would like to share is that my mother did not 'taunt' the alligator as some are saying in the news outlets comments.
"My mother was a part of the homeless population that lived in the nearby wooded area.
"It is believed that she may have been walking to or from her campsite near the creek in the dark and the alligator attacked from the water."
She added: "No matter how you put it, no one deserves to die like this."
A GoFundMe page has been set up for Ms Peckham to raise money for funeral costs, which has raised nearly $6,000 so far.
Witness 'threw a rock at the alligator'
The alligator was spotted by Jamarcus Bullard, who saw the reptile and a body in the water on Friday afternoon.
"I threw a rock at the gator just to see if it was really a gator," he told a TV affiliate of NBC News, Sky News' US partner network.
"It pulled the body, like it was holding on to the lower part of the torso, and pulled it under the water."
Read more:
Hunters kill record-breaking alligator after all-night battle
Man survives alligator attack by 'grabbing its teeth, tongue and snout'
Man dies in alligator-filled lake while looking for frisbees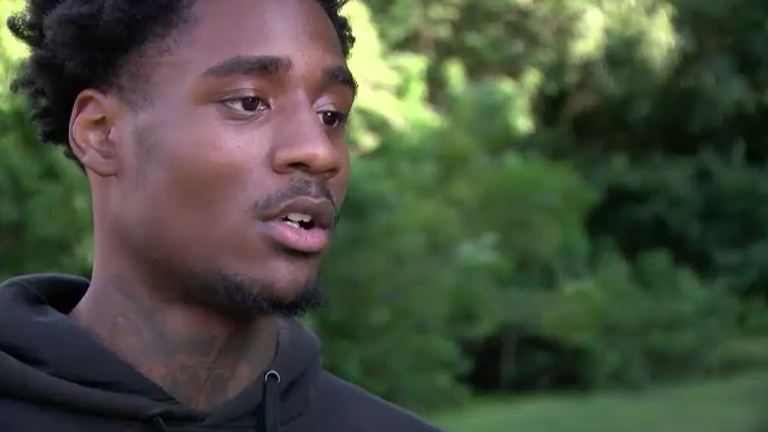 Mr Bullard said he started recording on his phone and contacted the authorities.
The discovery has left some locals nervous, with Jennifer Dean telling TV station WFLA that her children frequently walk by the canal.
Sicilian mafia boss Matteo Messina Denaro has died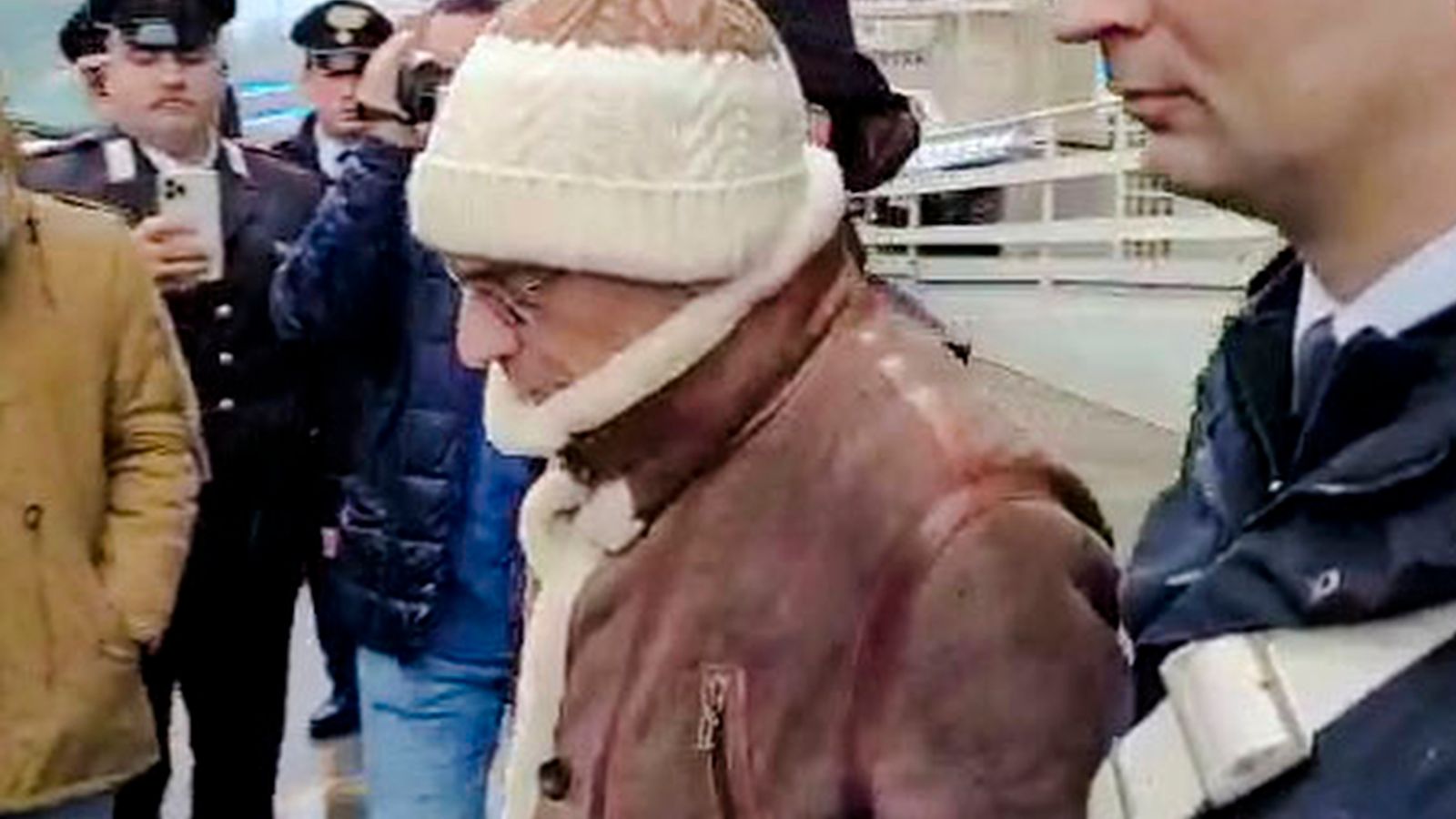 Sicilian mafia boss Matteo Messina Denaro, who was arrested in January after spending 30 years on the run, has died, according to Italian media reports.
The 61-year-old was suffering from cancer at the time of his arrest.
As his condition worsened in recent weeks he was transferred to a hospital from the maximum-security prison in central Italy where he was initially held.
He was convicted of numerous crimes, including for his role in planning the 1992 murders of anti-mafia prosecutors Giovanni Falcone and Paolo Borsellino – crimes that shocked Italy and sparked a crackdown on the Sicilian mob.
Read more:
Godfather and Joker posters found in apartment used by mafia boss
Man whose identity was used by prolific mafia boss arrested in Sicily
He was also held responsible for bombings in Rome, Florence and Milan in 1993 that killed 10 people, as well as helping organise the kidnapping of Giuseppe Di Matteo, 12, to try to dissuade the boy's father from giving evidence against the mafia.
The boy was held for two years, then murdered.
Dubbed by the Italian press as "the last Godfather", Messina Denaro is not believed to have given any information to the police after he was seized outside a private health clinic in the Sicilian capital, Palermo, on 16 January.
According to medical records leaked to the Italian media, he underwent surgery for colon cancer in 2020 and 2022 under a false name.
A doctor at the Palermo clinic told La Repubblica newspaper that Messina Denaro's health had worsened significantly in the months leading up to his capture.
The sleepy Russian village where a pardoned ex-convict back from Ukraine carried out butchery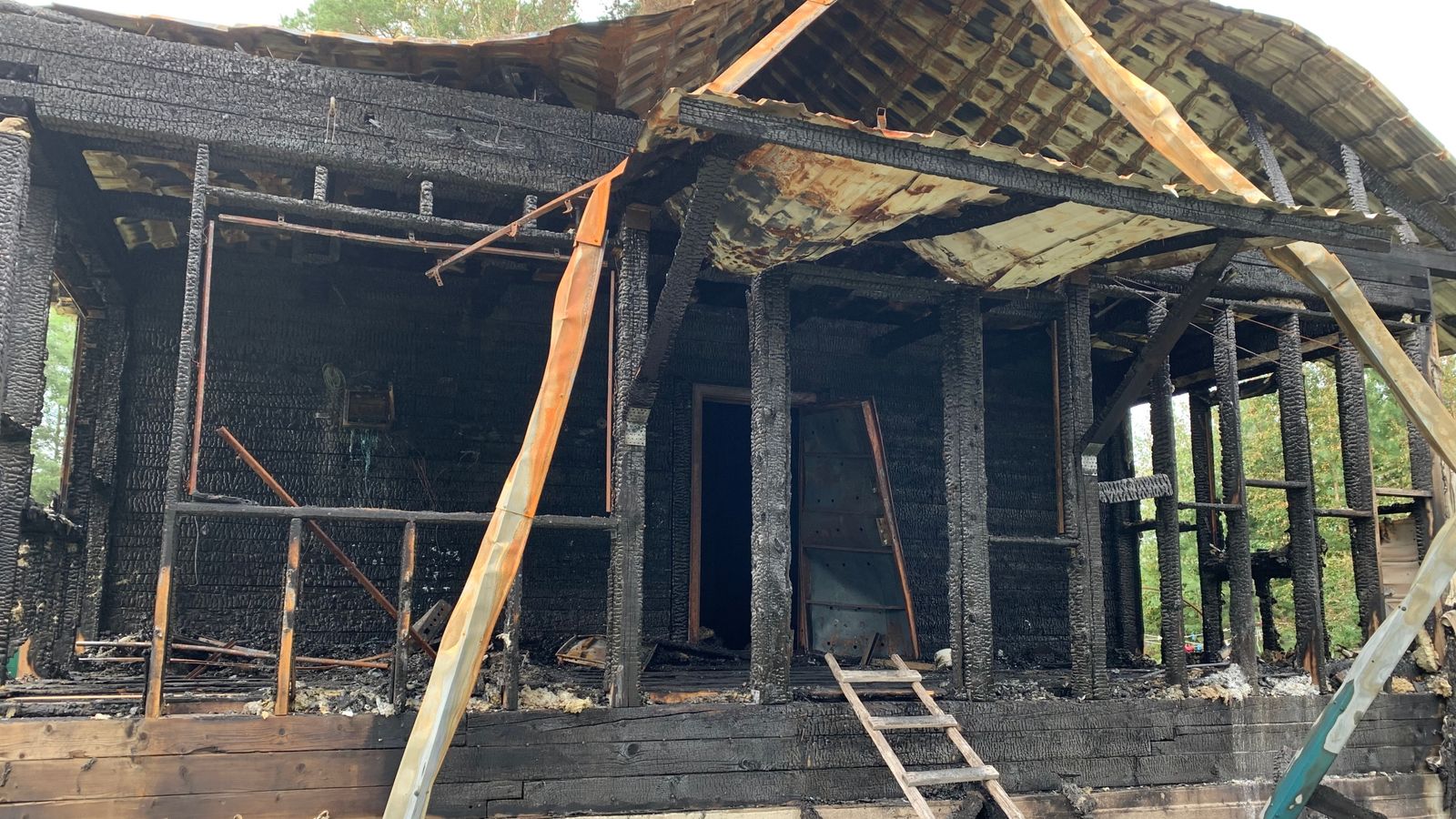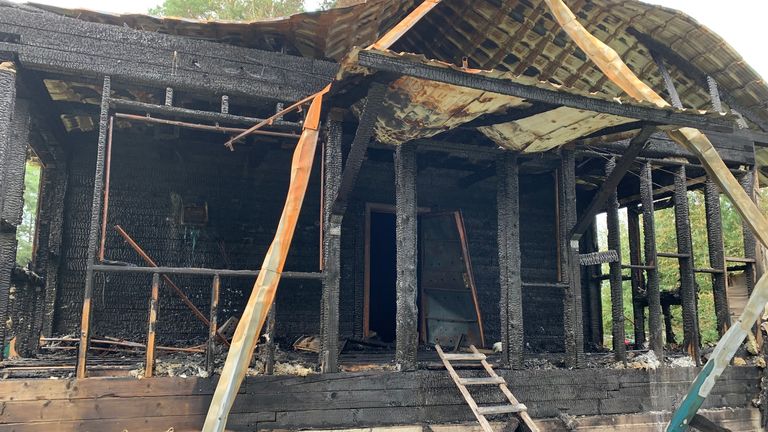 The village of Derevyannoe in Karelia, northwest Russia, has a well-kept feel to it. Apple trees heavy with fruit and tidy vegetable gardens, boats on trailers ready for sailing in the nearby lake and wood stacked up high for winter.
Up above you can just about make out the sound of woodpeckers tapping away in the pine forest canopy as dogs bark fiercely behind corrugated iron. It does not look like a place for mass murder, but where does.
Irina Zhamoidina stands in front of the charred remains of her brother, Artyom Tereschenko's home. He and her 71-year-old father, Vladimir, were murdered here on the night of 1 August when two men, both of them ex-convicts, one fresh back from the frontline, broke in and stabbed father and son to death before setting the property on fire.
Mr Taroschenko's children, aged nine and 12, managed to escape through a window and raise the alarm.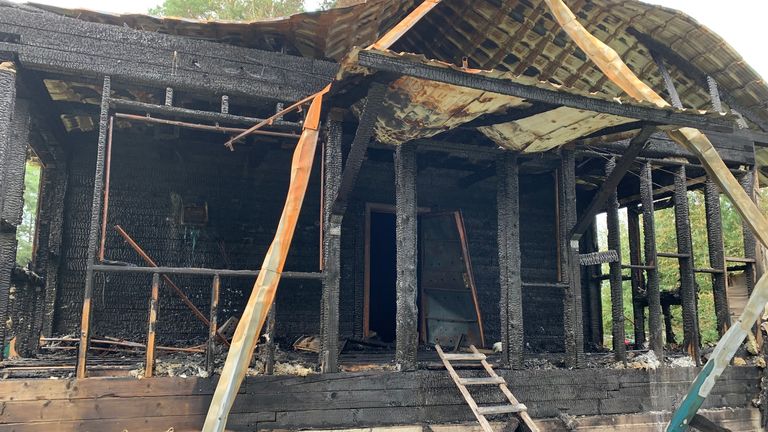 "My dad definitely did not deserve such a death," Ms Zhamoidina says quietly. "We are from a good family. This is not how he should have died."
The two men then continued down the road to another house a few hundred metres away and killed all four who lived there, three men and a woman, before setting their house on fire too. A drunken binge with a dose of drugs mixed in, Ms Zhamoidina thinks – a 'zapoi', as they're known in Russia – turned murderous one sleepy summer night.
One of the men, Maxim Bochkarev, was known locally as a troublemaker. He had served time at a prison colony in St Petersburg for theft, carjacking, rape and sexual assault which is where he met his partner in crime, Igor Sofonov.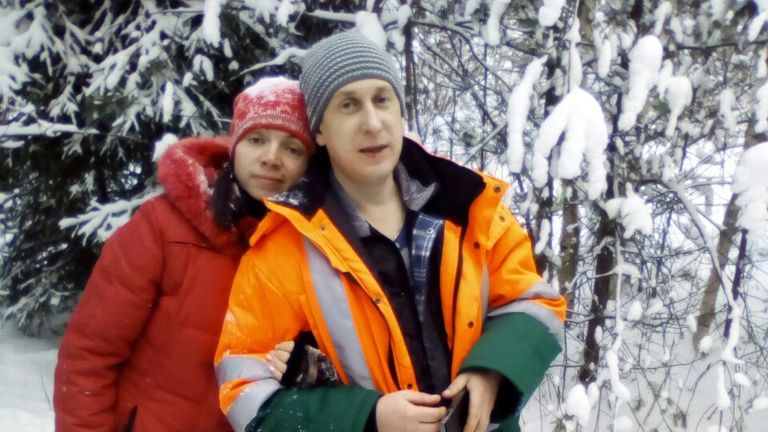 Sofonov, 37, had three more years to go for theft, robbery and attempted murder but was recruited straight from jail by Russia's Ministry of Defence and sent to Ukraine, a practice started by the late Wagner boss Yevgeny Prigozhin and adopted enthusiastically by the Russian military.
"I believe that anyone who was in prison, even if he went to war, then he should be sent back when he was done for such serious crimes," Ms Zhamoidina says. "They should not live among us because cases like this do happen."
She is right. The catalogue of violent crimes committed by pardoned ex-offenders is picking up as they trickle back home.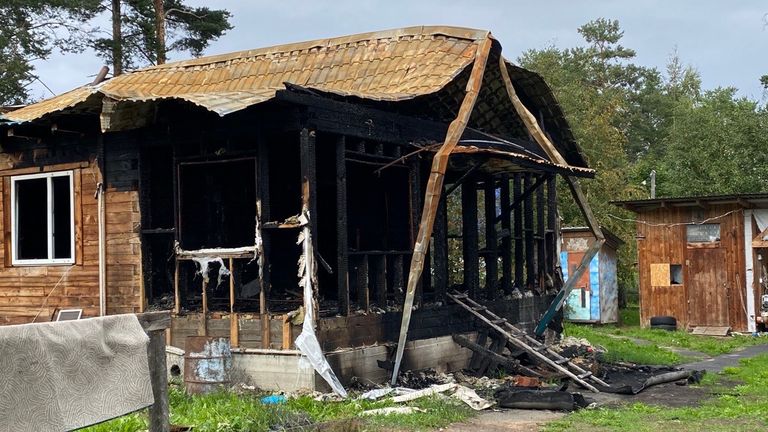 In June, Prigozhin said 32,000 recruited by Wagner were heading back to Russia, their records wiped clean.
Already in the southern city of Krasnodar, a Wagner ex-convict is on trial for murdering two people on their way home from work, a charge he denies. There have been cases of murder, sexual assault, child molestation from convicted sexual offenders.
In Novy Burets, about 500 miles east of Moscow, a Wagner ex-convict murdered an elderly lady, again on a drunken binge, even after locals repeatedly expressed their alarm to authorities that he was wandering their streets.
Read more:
Prigozhin's 'death' seems to reveal a Russian principle
How Russia may seek to exploit crisis-hit Niger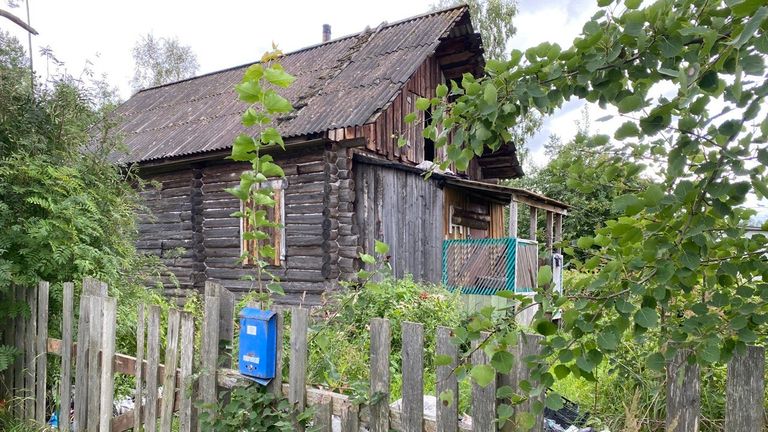 Three years ago we travelled to the Siberian city of Kemerovo to cover a case of domestic violence which had culminated in the brutal murder of 23-year-old Vera Pekhteleva. Her story had shocked the country after the audio recordings of her screams, as neighbours made repeated, desperate calls to police, went viral. In court, her uncle had sat just metres away from the killer, Vladislav Kanyus, as he was sentenced to 17 years in jail. Now from social media photos, he knows that Kanyus is a free man, recruited by the Ministry of Defence and serving somewhere in Ukraine.
"He murdered her with extreme cruelty," Mr Pekhtelev said. "He was tormenting Vera for three hours, and now he will have been trained to fight. I just can't imagine what will happen if he comes back."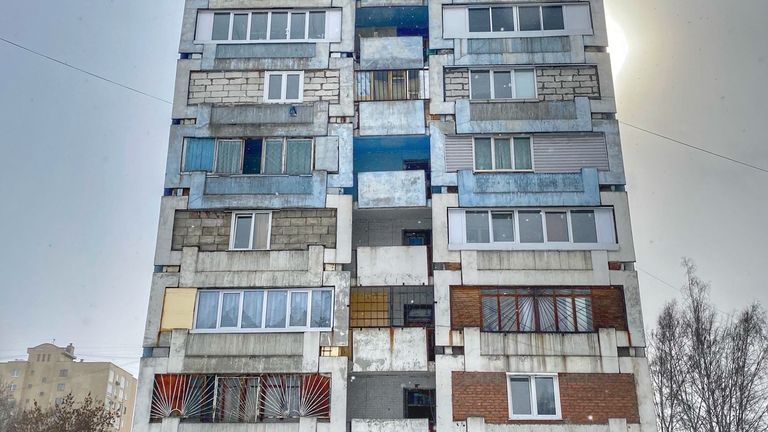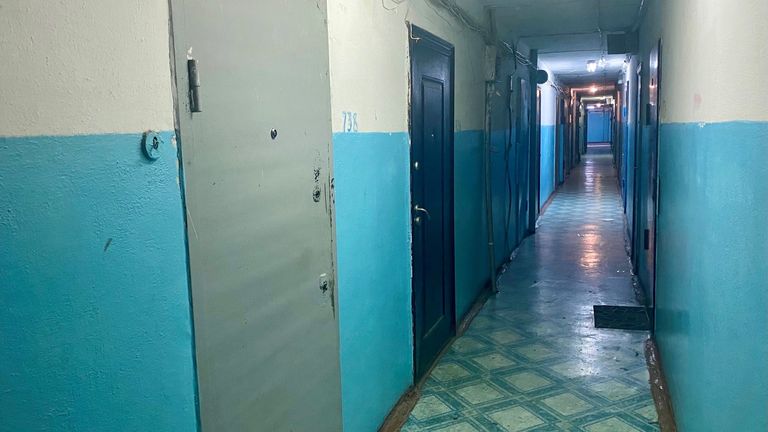 Changes to Russian legislation in June propose allowing suspected or convicted criminals to fight but not once a verdict takes effect. The reality of Russia's prisoner recruitment though seems a lot murkier. According to the UK's Ministry of Defence, it is part of a "broader, intense drive by the Russian military to bolster its numbers, while attempting to avoid implementing new mandatory mobilisation, which would be very unpopular".
It is a policy which will see hardened criminals, traumatised by war, returning in their thousands with precious little in the way of psychological support or rehabilitation to speak of. Just as with domestic violence in Russia, authorities do not engage sufficiently with these kind of social issues back home, and especially not when there is a war on. But this is the stuff which tears at the social fabric of towns and villages across the country. This is one more of the many unintended consequences of war. Beyond the the zinc coffins and the escalating drone onslaught, this is how war comes home.
Alexandra Sofonova, Igor's sister, believes the state should give psychological support to men like her brother, but she is sure that it won't. "He served his duty, he was wounded – he's a man and they're proud of things like this. And then he came back and turned out to be unnecessary, he couldn't even get a passport, he goes to glue wallpaper. Maybe something clicked in his head", she says.
On the back of a supermarket wall a few feet from where we sit there is a piece of graffiti scrawled in large black letters. "Putin, no to war," it says. I ask Alexandra what she thinks about it.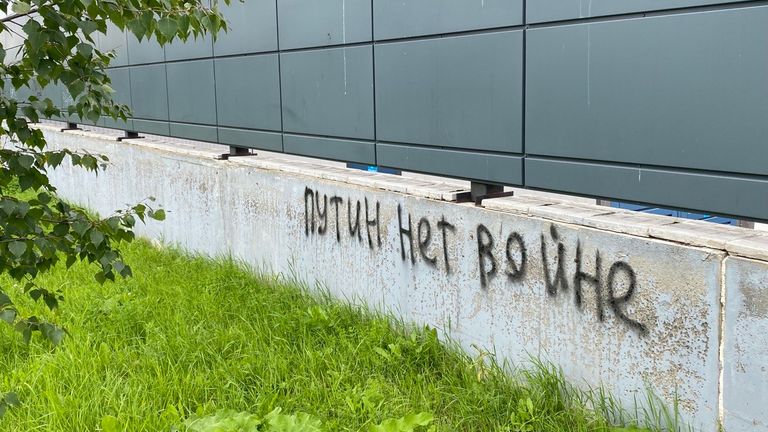 "I don't know what kind of special operation this is," she says. "Many of my friends died and are returning in zinc coffins. But they are dying for nothing. What are we fighting to win?"
The other sister in this story, Irina Zhamoidina, whose men were murdered back home, says it is her faith in God which gets her through each painful day.
"I'm afraid for the whole country. No one has the right to kill another, to take a life. They were not given this right", she says. "We must stop this somehow, so that these kind of people are not among normal society."