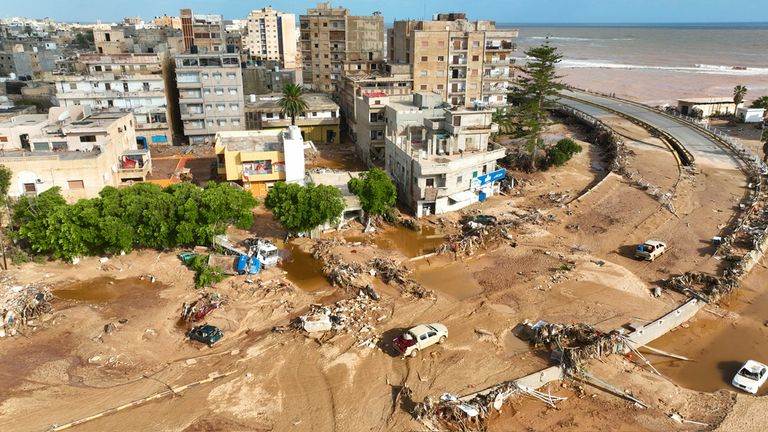 The number of deaths in the Libyan city of Derna could range from 18,000 to 20,000 following catastrophic flooding, according to the city's mayor.
Abdulmenam Al-Ghaithi told al-Arabiya TV today this could be based on the number of wiped-out districts in the city.
It came as the King sent a letter of condolence to the chairman of the Libyan Presidential Council, Mohamed al-Menfi.
The message read: "My wife and I are so desperately saddened by the devastating impact and loss of life caused by Storm Daniel and the subsequent floods.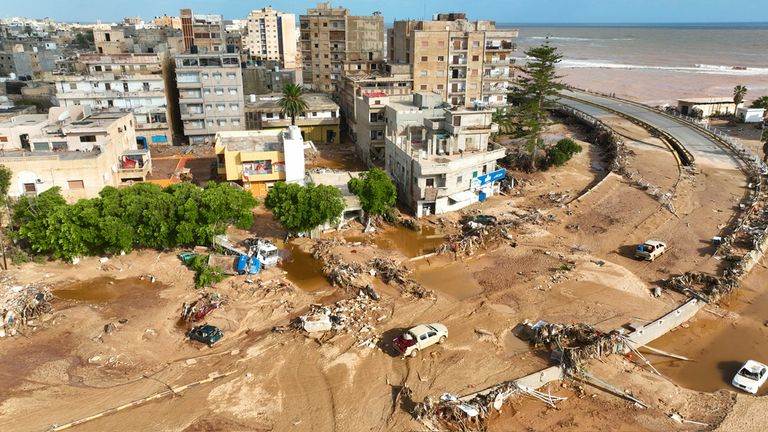 "We mourn with all those who have lost their loved ones, and continue to pray for everyone whose lives and livelihoods have been affected by the horrific floods.
"I admire greatly all those who are engaged tirelessly in the rescue efforts in such dire conditions, and praise their selfless bravery."
Earlier on Wednesday, the UK government announced an initial aid package worth up to £1m to meet the immediate needs of those affected by the catastrophic flooding in Derna.
Prime Minister Rishi Sunak said in a tweet it is "shocking to see the scale of the loss and devastation caused by the floods in Libya", adding that the UK is "working to provide immediate assistance to the Libyan people".
Libyan officials appealed for international help on Monday, warning the country doesn't have the necessary experience to deal with a disaster of this scale.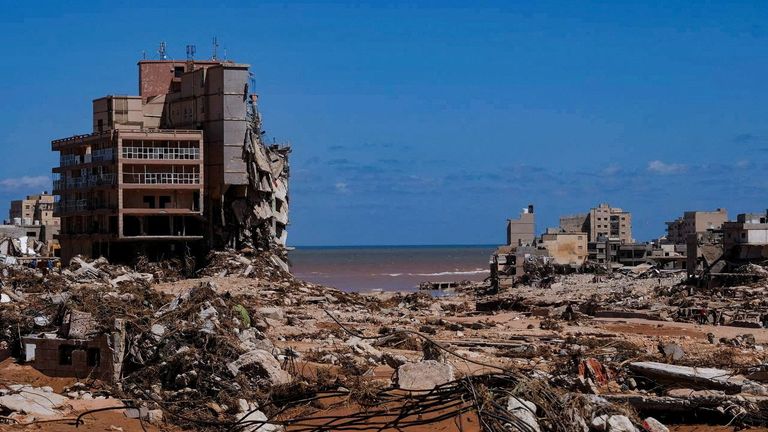 What caused flooding in Libya?
At least 30,000 people have been displaced in Derna, with health officials saying on Wednesday that the number of deaths in the city had risen to more than 5,100 – while a minister has said 5,300 bodies in the country's east had been recovered.
Search teams have been combing streets, wrecked buildings and even the sea to look for bodies in the coastal Libyan city where the collapse of two dams unleashed a massive flash flood.
Storm Daniel caused significant damage to roads and telecoms networks on Sunday – with strong winds and sudden heavy rainfall devastating the port city of Derna – about 560 miles (900km) east of the capital, Tripoli.
The "sea is constantly dumping dozens of bodies", Hichem Abu Chkiouat, minister of civil aviation in the administration that runs eastern Libya, said, adding that reconstruction would cost billions of dollars.
"We have counted more than 5,300 dead so far, and the number is likely to increase significantly and may even double because the number of missing people is also thousands," he said.
Footage of one man, described by the charity Libyan Red Crescent Society as a grieving father, showed his distress as his son's body was recovered from a collapsed building and prepared for transportation.
Libya: Grieving father mourns son

"May God make your reward great. Remember God. There is no God but God. May God grant you patience," one of the rescuers said.
The father replied: "Keep them there, don't carry them at all. I will do it."
"Our hearts are with you, we're all with you," the rescuer said.
As Storm Daniel pounded the coast on Sunday night, Derna residents said they heard loud explosions when dams outside the city collapsed.
Read more:
Libya flood: Before and after pictures show devastation
What caused sheer scale of death and destruction in eastern city of Derna?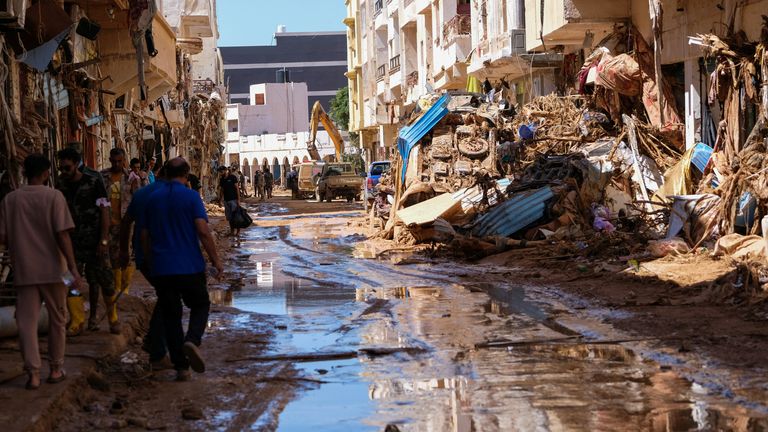 Floodwaters washed down the riverbed, which runs from the mountains through the city and into the sea.
Waves measuring seven metres (23ft) high "destroyed everything in their path", Yann Fridez, head of the delegation of the International Committee for The Red Cross in Libya, told France24.
"The human toll is enormous," he said.
Ahmed Abdalla, a survivor who joined the search and rescue effort, said they were putting bodies in the garden of a local hospital before taking them for burial in mass graves at the city's only intact cemetery.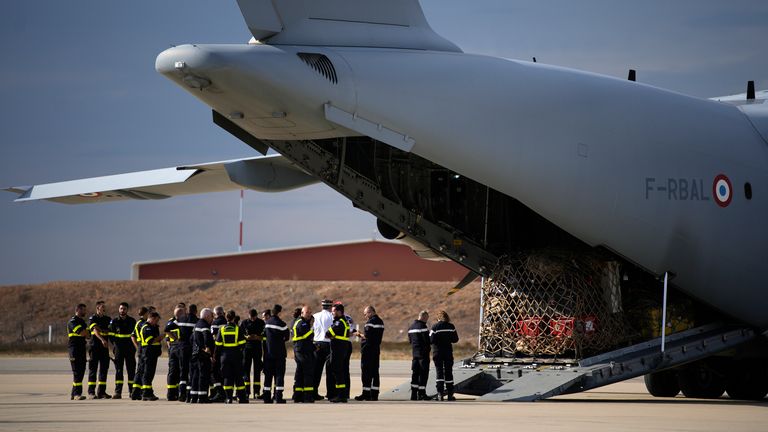 Libya's neighbours, Egypt, Algeria and Tunisia, as well as Turkey and the United Arab Emirates, have sent rescue teams and humanitarian aid.
President Joe Biden also said the United States is sending emergency funds to relief organisations and coordinating with the Libyan authorities and the UN to provide additional support.
But the arrival of aid has been hampered due to the destruction of roads leading to the city. Bridges over the Derna river that links the city's eastern and western parts have also collapsed, according to the UN's migration agency.
Viktor Sokolov: Top Russian admiral appears in video call – after Ukraine claimed he was killed in missile strike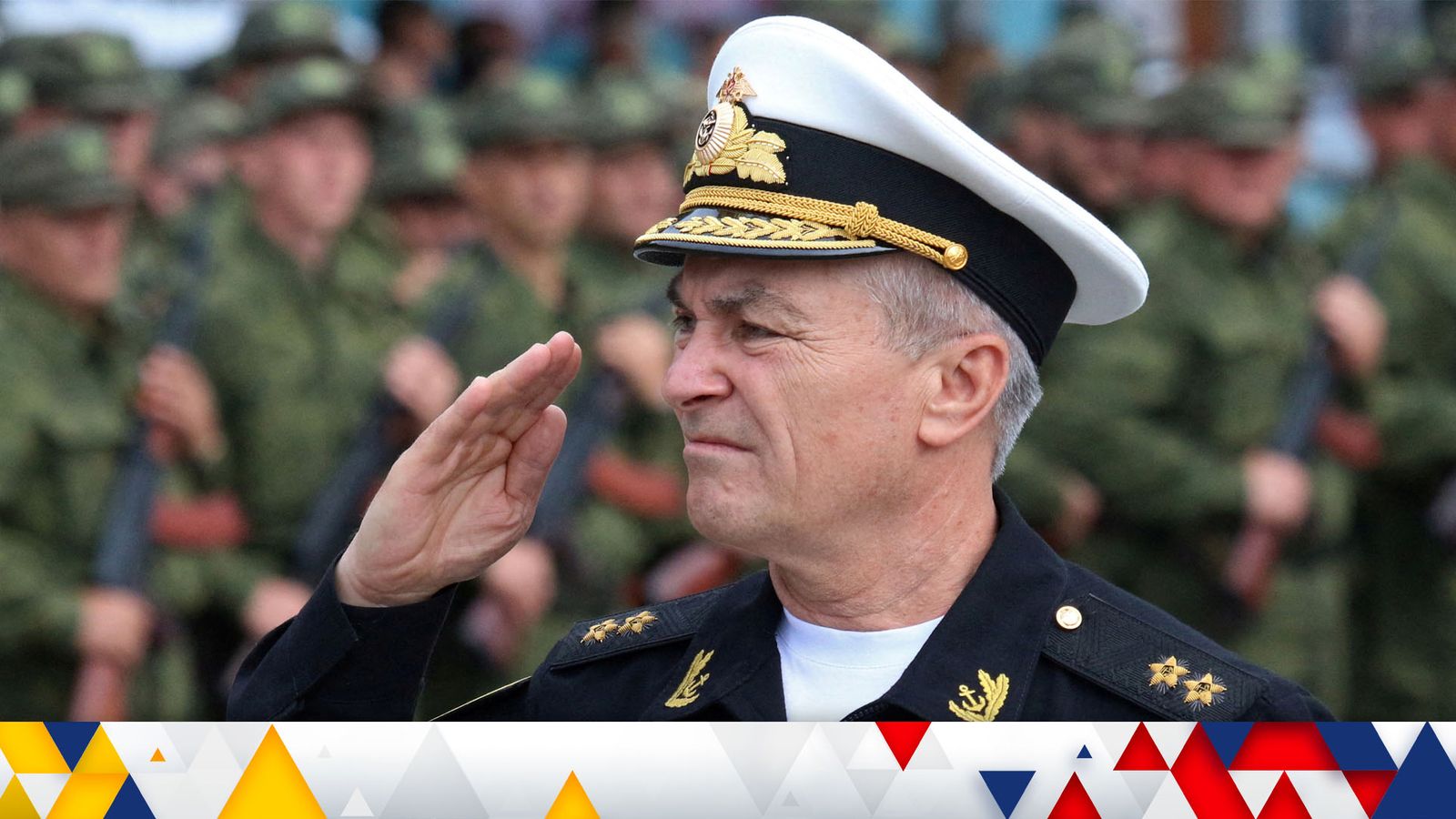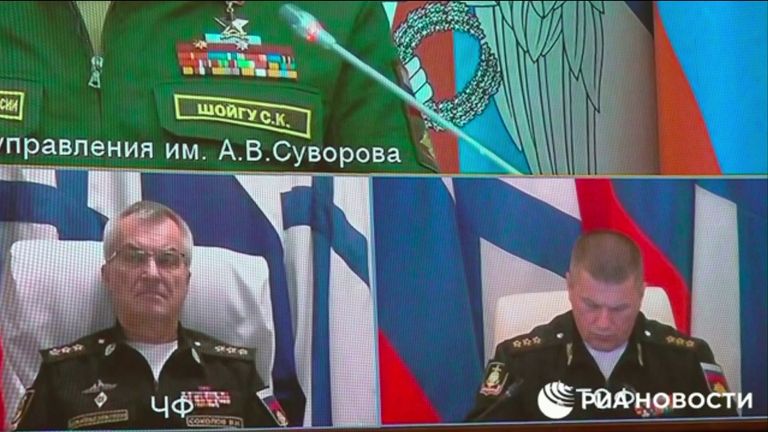 A top Russian admiral has appeared in a video call – a day after Ukrainian special forces claimed he had been killed in a missile strike.
Admiral Viktor Sokolov – the commander of Russia's Black Sea Fleet and one of Russia's most senior naval officers – was reportedly killed in last week's strike on the naval port of Sevastopol, according to Ukrainian officials.
The Russian Defence Ministry did not immediately respond when asked by news agencies to confirm or deny if Mr Sokolov had been killed.
However, the ministry released a video on Tuesday appearing to show Mr Sokolov attending a conference with other top Russian military officials via video link.
Mr Sokolov was not seen speaking in the footage of the conference – led by Russia's defence minister Sergei Shoigu.
It is not clear when the footage was filmed, though Russia's defence ministry claimed the meeting took place on Tuesday.
Ukraine war latest: Russia attacks area bordering NATO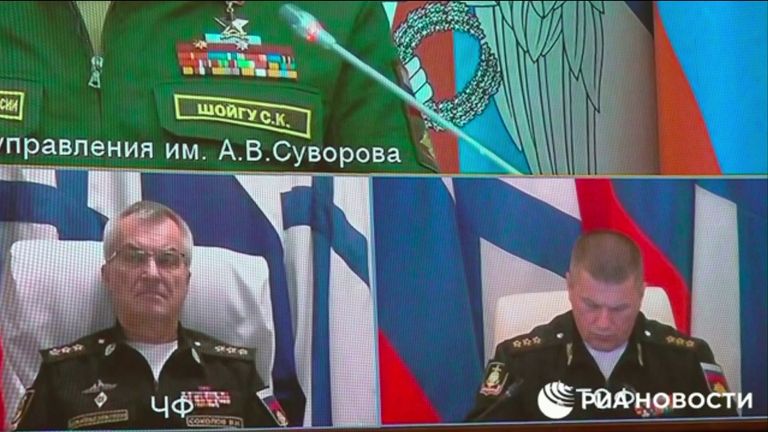 Ukraine special forces said on Telegram: "Since the Russians were urgently forced to publish a response with Sokolov allegedly alive, our units are clarifying the information."
In the video, Mr Shoigu said more than 17,000 Ukrainian soldiers had been killed in September and that more than 2,700 weapons, including seven American Bradley fighting vehicles, had been destroyed.
Both Russia and Ukraine have at times exaggerated enemy losses in the war, while also saying little about their own losses.
Michael Clarke: It is possible Admiral Sokolov lives – but Russia needs to produce more convincing evidence
Sky News' defence and security analyst Professor Michael Clarke says: "We've looked at the video, it's not very clear and it jumps around quite a lot.
"We've located the person on the video who looks most like Sokolov, and it may be him, but it's not a completely clear match.
"It could be Sokolov, looking at previous photographs of him. On the other hand, there's still no proof that this video is really current.
"There's a lot of evidence that Sokolov was in the building that was hit on Friday by a couple of Storm Shadow missiles.
"So it is possible that Sokolov lives. But I think the Russians would have to produce more convincing evidence than this if they want to be taken seriously on this particular issue.
"And it's odd that producing a rather vague video and saying he's here somewhere and leaving it to news organisations like us to try to work out who it might be is less than clear in the message they were trying to send."
On Monday, Ukraine's special forces claimed they had killed Mr Sokolov and 33 other officers in last week's missile attack on the headquarters of Russia's Black Sea Fleet in Sevastopol.
"After the strike on the headquarters of the Russian Black Sea Fleet, 34 officers died, including the commander of the Russian Black Sea Fleet," Ukraine's special forces said on the Telegram messaging app.
Read more:
US delivery of long-range missiles could prove pivotal
What does North Korea want from Vladimir Putin and Russia?
"Another 105 occupiers were wounded. The headquarters building cannot be restored."
Kremlin spokesman Dmitry Peskov declined to comment on Ukraine's claim that it had killed Mr Sokolov, instead referring reporters to the defence ministry.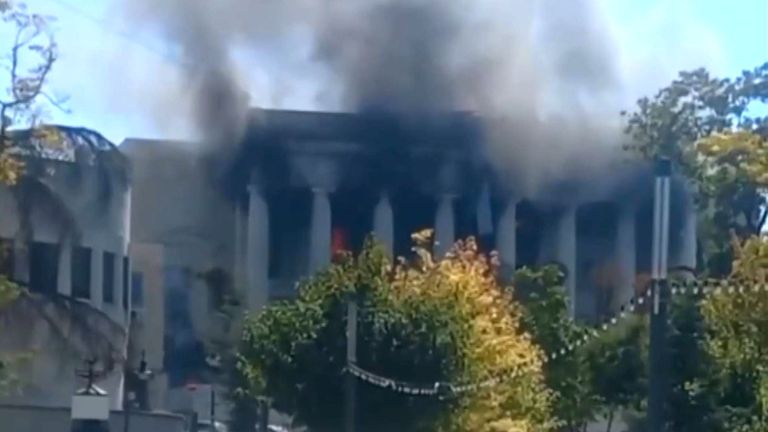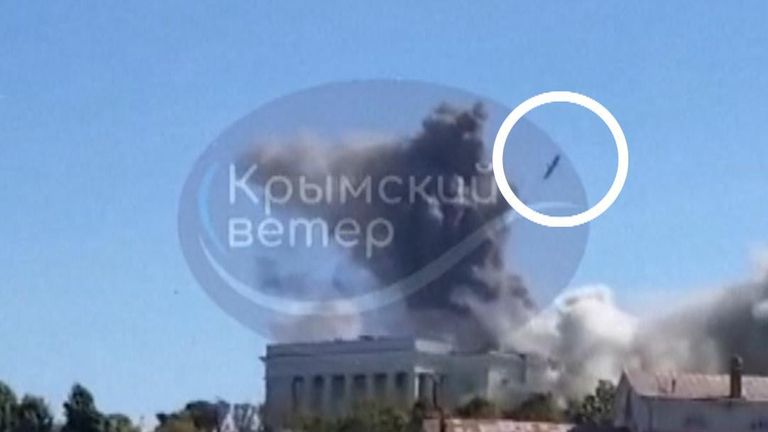 In a statement after the attack, the Russian defence ministry said one serviceman was missing, revising an earlier statement that the man had been killed.
Moscow-installed authorities in Sevastopol also said they were taking extra measures to address Ukraine's increased attacks on Crimea.
The attack came after an earlier strike on Sevastopol, in which a Russian submarine and warship were damaged.
A Ukrainian and a Western source said that British Storm Shadow cruise missiles were deployed in the attack on the port of Crimea, which Russia annexed in 2014.
Alexei Navalny: Russian opposition leader loses appeal against extra 19-year prison sentence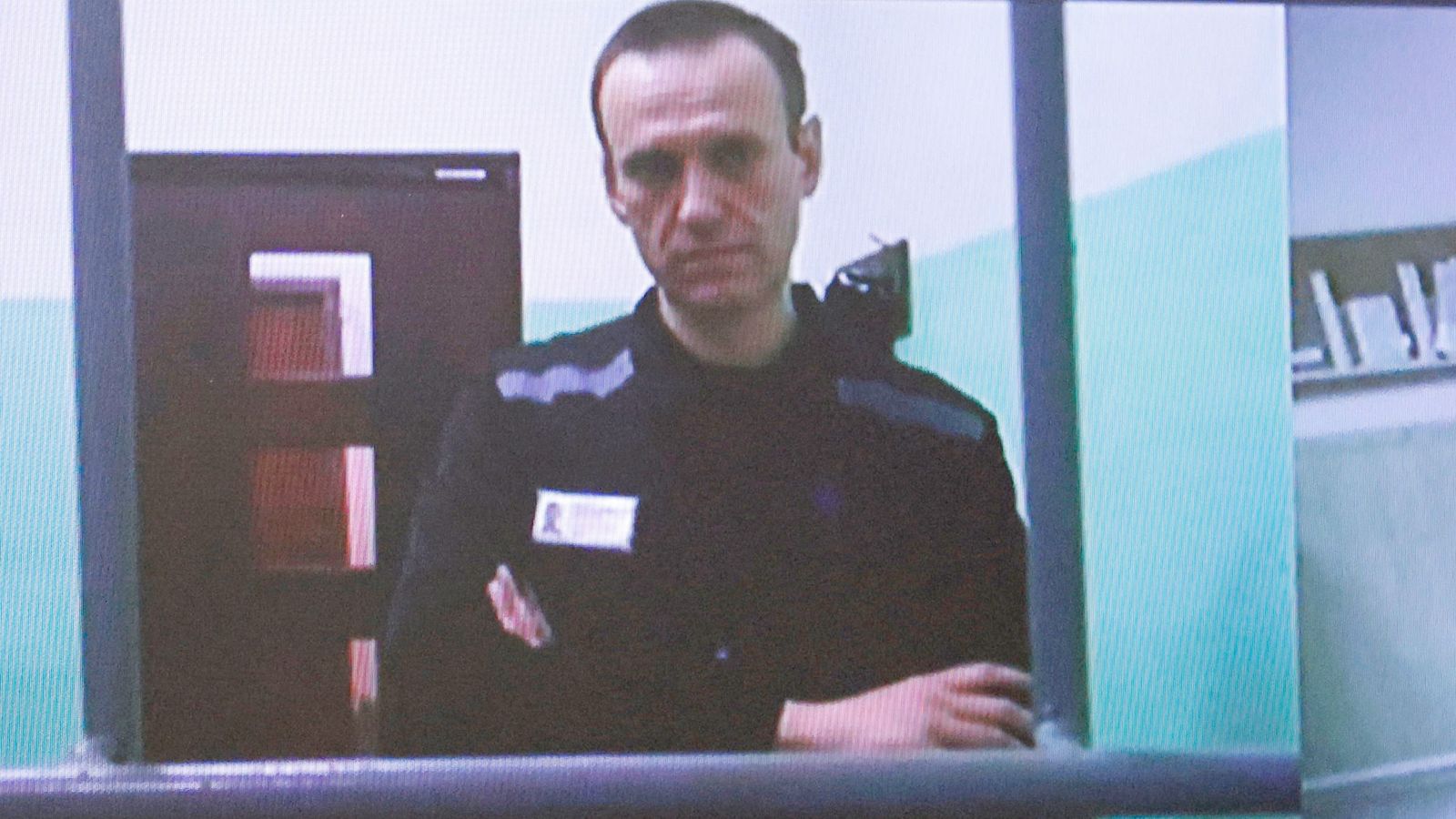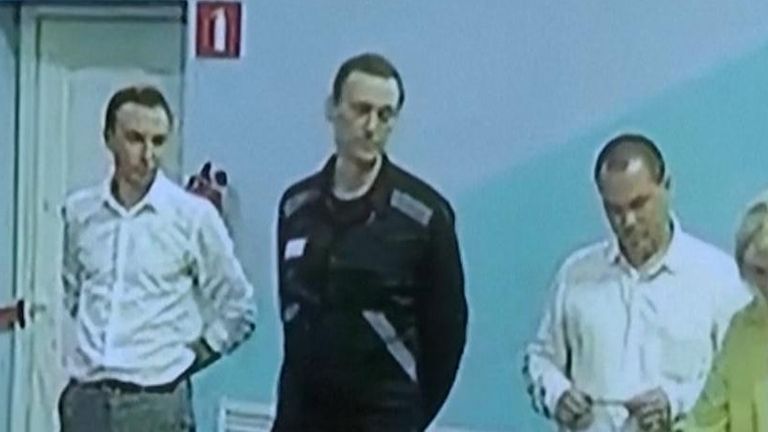 Russian opposition leader Alexei Navalny has lost his appeal against a 19-year sentence added to his existing jail term.
It was imposed in August after he was convicted on six charges related to alleged extremist activity – which he denied.
The appeal was rejected by a judge in Moscow, with Mr Navalny – wearing a black prison uniform – joining by video link from prison.
Media were not allowed to witness proceedings apart from the reading of the verdict.
The 19-year sentence was imposed on top of 11 and a half years that he was already serving after being convicted of fraud and other charges.
Mr Navalny has said all the charges are politically motivated and an attempt to silence his criticism of President Vladimir Putin's repressive regime and the war in Ukraine.
His political movement has been outlawed and declared "extremist", with its main players either being jailed or fleeing Russia.
President Putin makes a point of never referring to Mr Navalny by name as part of an attempt by authorities to portray him as irrelevant.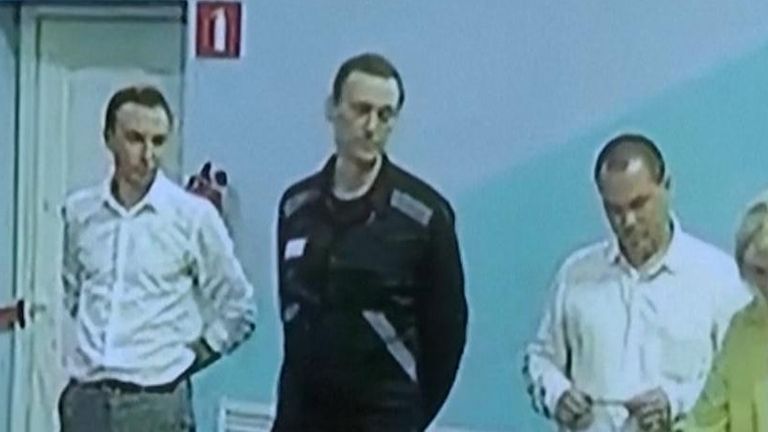 The 47-year-old politician returned to the country voluntarily in 2021 after nearly dying when he was poisoned with a nerve agent in a suspected Russian plot.
He was immediately arrested when he landed and is imprisoned in Melekhovo, about 145 miles (235 km) east of Moscow.
Read more:
Who is the man some hope will overthrow Putin?
Mr Navalny said in the summer that he had been forced to listen to the same speech by President Putin for more than 100 days in a row.
A TV technician who worked for Mr Navalny, sentenced at the same trial in August, also had his appeal against an eight-year sentence rejected on Tuesday.
Daniel Kholodny shouted "Alexei, see you!" just before the video feed of the hearing ended, with Mr Navalny waving his hand in response.
Body of migrant found on Sangatte beach near Calais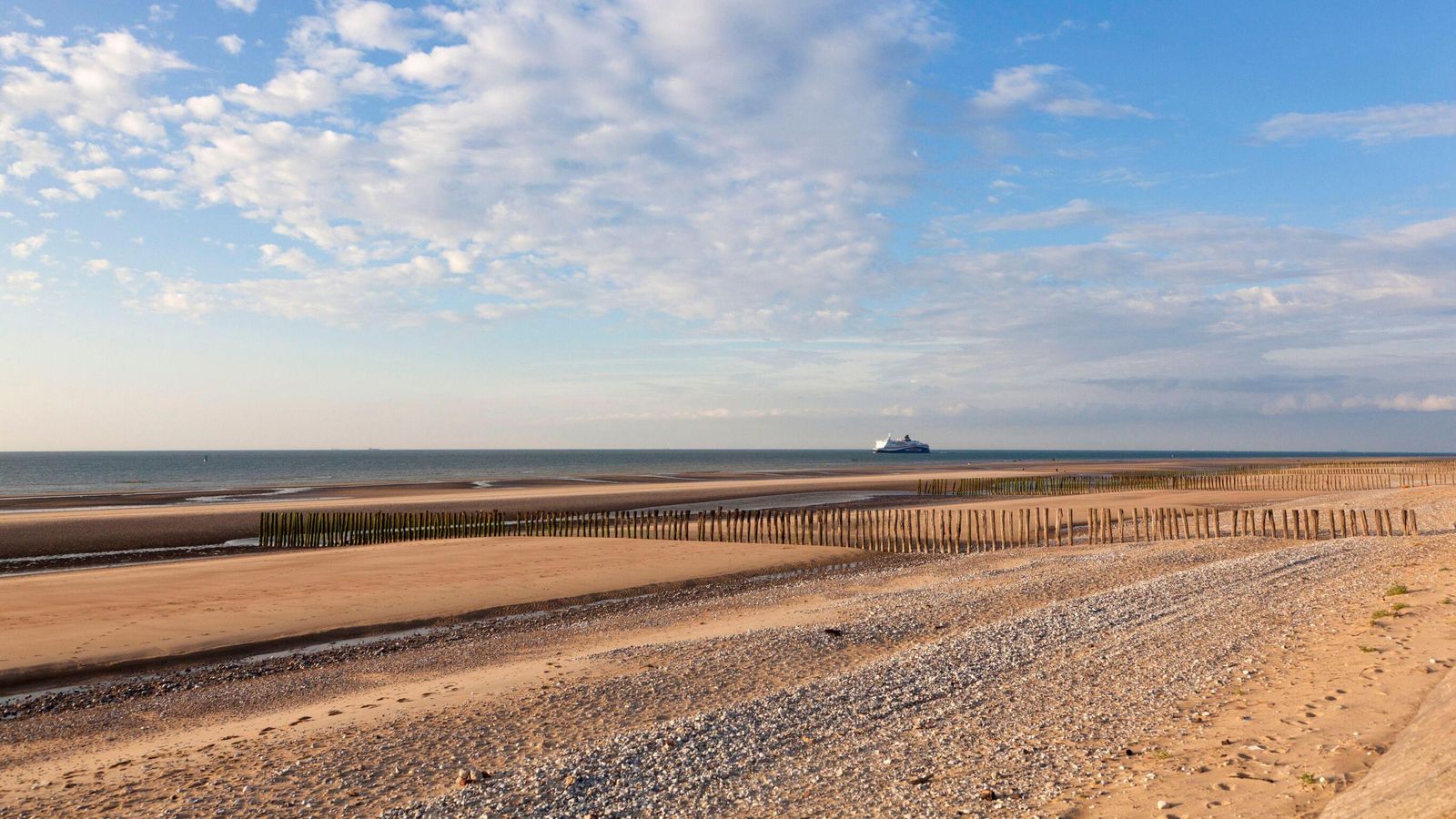 A body of a migrant was found this morning on Sangatte beach near Calais.
The authorities confirmed she was a 24-year-old Eritrean woman.
In August, at least six people died and dozens more were rescued after a migrant boat crossing the English Channel capsized.
The incident took place off Sangatte in northern France.
A vigil was held in the port town of Folkestone for the victims as participants called for "safe routes" and "enough deaths".
This breaking news story is being updated and more details will be published shortly.
Please refresh the page for the fullest version.
You can receive breaking news alerts on a smartphone or tablet via the Sky News app. You can also follow @SkyNews on X or subscribe to our YouTube channel to keep up with the latest news.