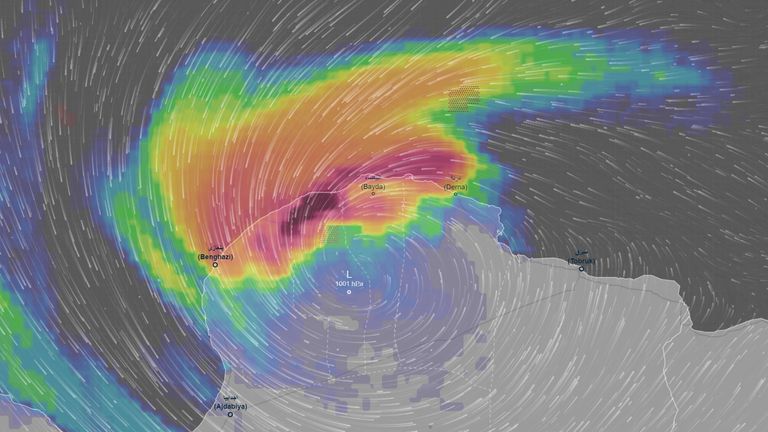 Storm Daniel was Greece's worst storm in recorded history but for Libya it would trigger a disaster of unimaginable scale.
Sky's Data and Forensics team looks at the warning signs that were missed and how human error exacerbated a natural disaster.
The storm began forming over the Ionian Sea on 4 September and after battering Bulgaria, Turkey and Greece it made its way south across the Mediterranean towards Africa.
Some warnings in Libya were issued but critics say more action could have been taken before the flash floods hit.
Weather warnings
The country's National Meteorological Centre started issuing warnings of heavy rain last Friday and urged all governmental authorities to take caution.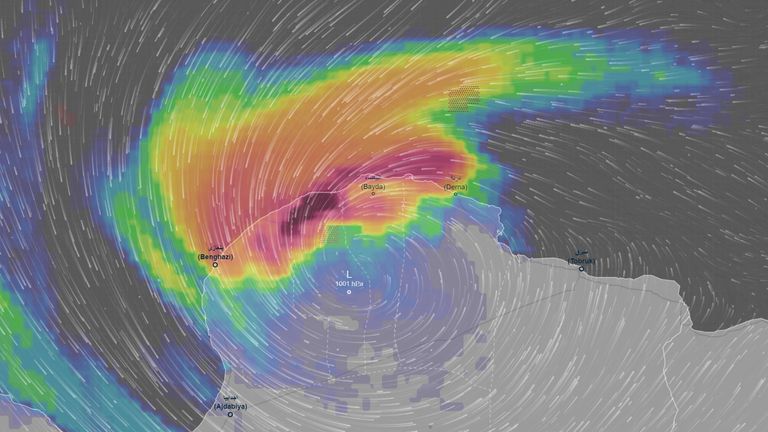 Based on these warnings, a state of emergency was announced in the eastern regions.
But no mitigations were put in place and no evacuations were carried out, as the storm made landfall in the eastern city of Derna.
Footage verified by Sky News shows a torrent of water swelling the Wadi river, which runs from the mountains and through the city, in the early hours of Monday morning.
Residents were seen filming the water from the riverbank by the city's al Sahaba Mosque. The flash floods and the collapse of the dams would later sweep away entire neighbourhoods and kill more than 11,000 people.
Old dams from 1970s
But it wasn't just the weather that impacted the outcome of this disaster.
The World Meteorological Organisation (WMO) said Libya's National Meteorological Centre "didn't address the risk posed by the ageing dams" which burst.
The two dams located upstream around 5km apart were built in the 1970s.
A hydrological report published just last year warned that maintenance of the two structures was required to prevent catastrophic flooding.
But the deputy mayor of Derna has said neither dam had been maintained since 2002.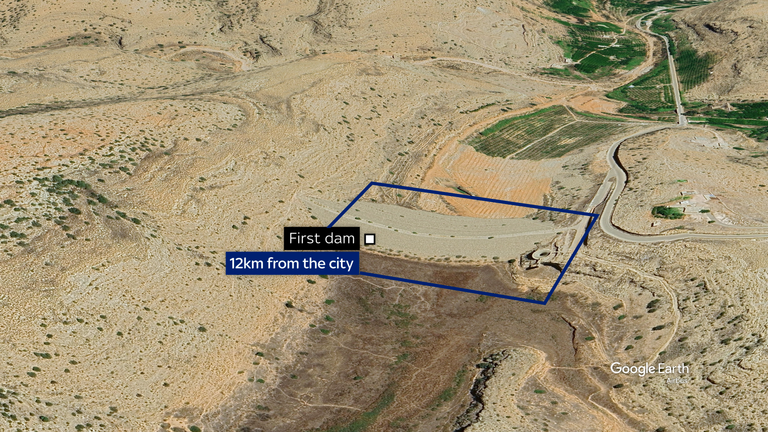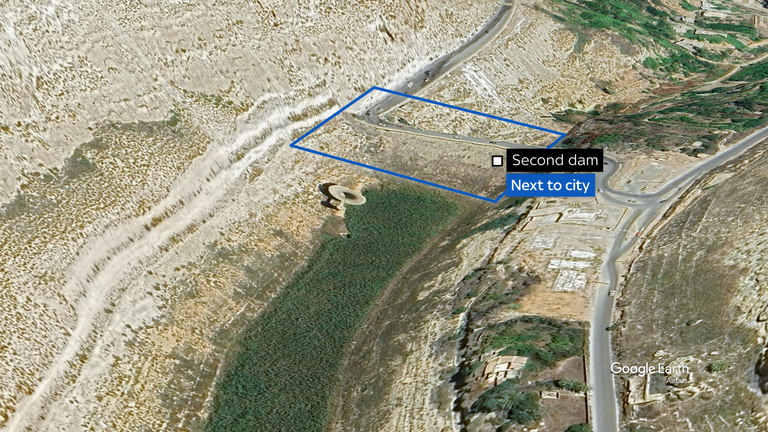 The report, in the Sebha University Journal of Pure and Applied Sciences, said the area has a "high potential for flood risk", adding that dams of Wadi Derna basin needed "periodic maintenance" and that large floods could cause one of the dams to collapse making those in Derna vulnerable.
Before and after satellite images of one of the dams shows the extent of the damage after flash floods ripped through the structure.
Both the infrastructure and the politics at play have impacted this disaster.
Professor in Climate Risks & Resilience, University of Reading, Liz Stephens said: "There's no such thing as a natural disaster.
"So there might be an extreme weather event, but it's that interplay with the community, the governance and the people on the ground that leads to that risk.
"In this case, if the dams were not there, then we wouldn't have seen large loss of life as a result of their collapse."
Sky News will air a special programme – Libya floods: The city swept away – at midday on Saturday.
A curfew and no evacuation
Authorities have also been blamed for their initial response and handling of the disaster.
While critics say evacuations should have taken place to move residents of Derna to safer areas, the authorities instead told the population to hunker down.
On 10 September the mayor met with the security directorate of Derna, images posted on Facebook show.
The pair discussed a curfew and urged residents to stay in their homes.
They say the measure was put in place for citizens' safety, but that announcement was met with anger and complaints at the time and afterwards in comments on the Facebook page.
The head of the WMO, secretary-general Petteri Taalas, added that evacuations should have been ordered and Libya's government was "not functional".
Had there been a weather service which could have issued warnings, emergency management authorities would have been able to carry out evacuations, he added.
For Libya, rescue operations are complicated by political fractures in a country which has been at war on-and-off with no strong central government since a NATO-backed uprising toppled Muammar Gaddafi in 2011.
But the deadly combination of a powerful storm, inadequate infrastructure and an unstable political environment has left the people of Libya victim to a disaster which might largely have been avoided.
Viktor Sokolov: Top Russian admiral appears in video call – after Ukraine claimed he was killed in missile strike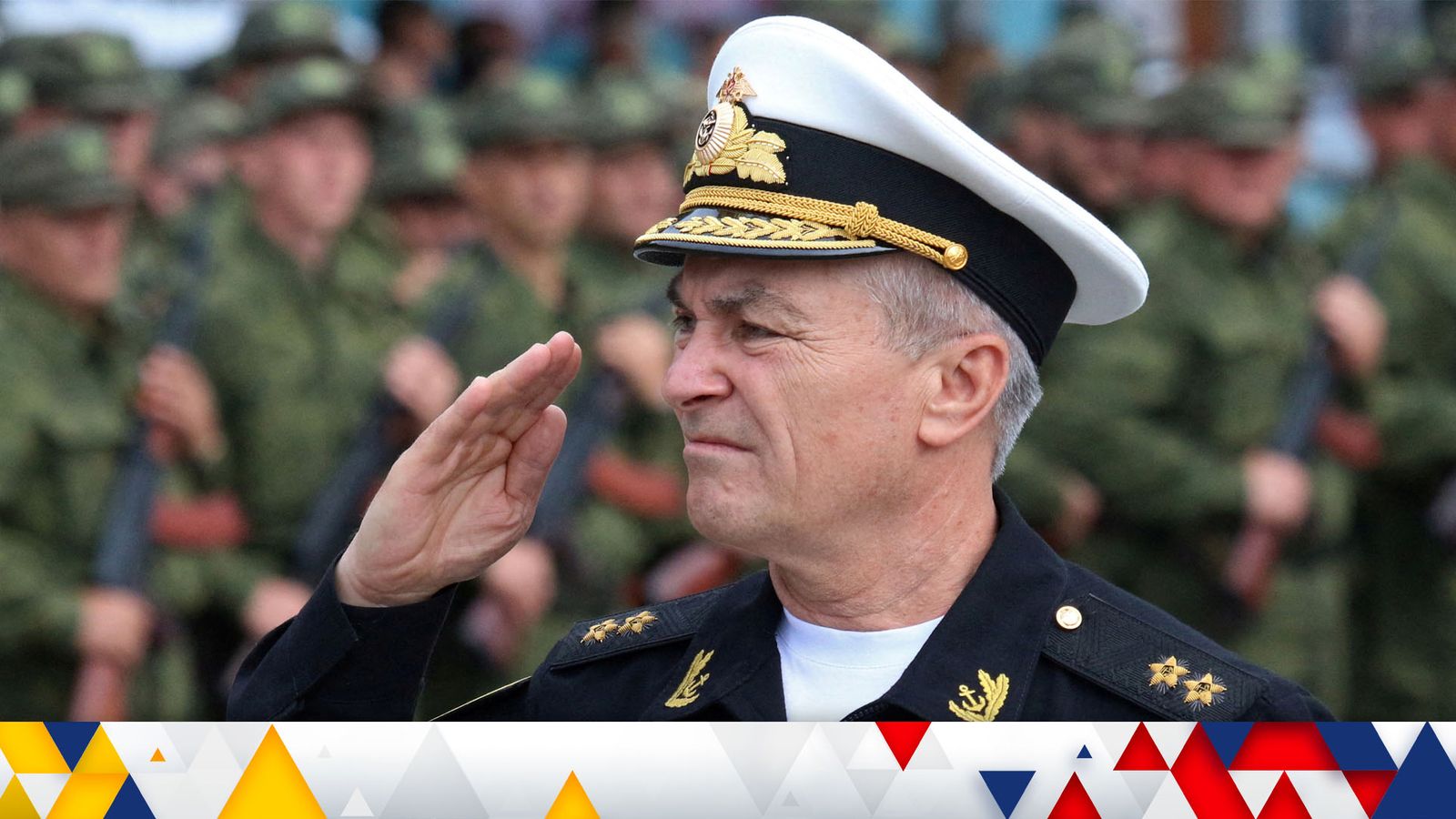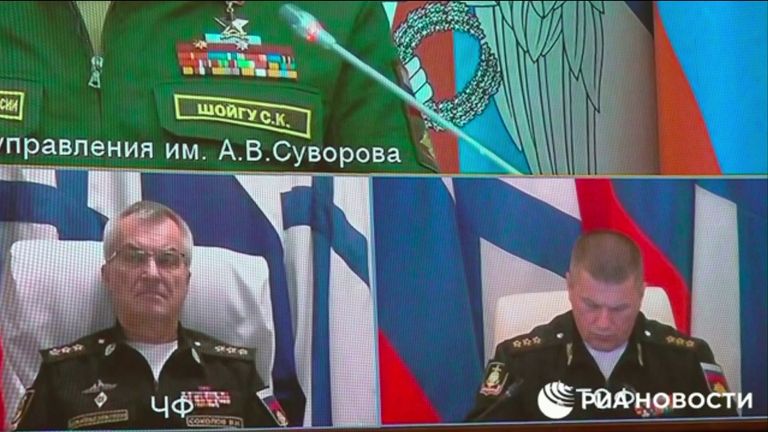 A top Russian admiral has appeared in a video call – a day after Ukrainian special forces claimed he had been killed in a missile strike.
Admiral Viktor Sokolov – the commander of Russia's Black Sea Fleet and one of Russia's most senior naval officers – was reportedly killed in last week's strike on the naval port of Sevastopol, according to Ukrainian officials.
The Russian Defence Ministry did not immediately respond when asked by news agencies to confirm or deny if Mr Sokolov had been killed.
However, the ministry released a video on Tuesday appearing to show Mr Sokolov attending a conference with other top Russian military officials via video link.
Mr Sokolov was not seen speaking in the footage of the conference – led by Russia's defence minister Sergei Shoigu.
It is not clear when the footage was filmed, though Russia's defence ministry claimed the meeting took place on Tuesday.
Ukraine war latest: Russia attacks area bordering NATO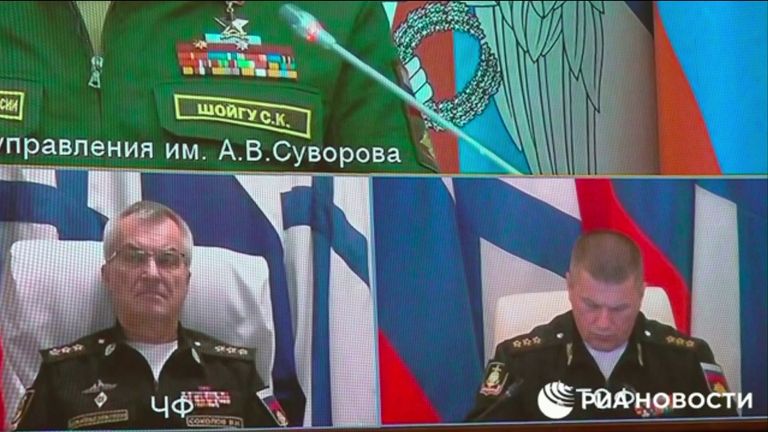 Ukraine special forces said on Telegram: "Since the Russians were urgently forced to publish a response with Sokolov allegedly alive, our units are clarifying the information."
In the video, Mr Shoigu said more than 17,000 Ukrainian soldiers had been killed in September and that more than 2,700 weapons, including seven American Bradley fighting vehicles, had been destroyed.
Both Russia and Ukraine have at times exaggerated enemy losses in the war, while also saying little about their own losses.
Michael Clarke: It is possible Admiral Sokolov lives – but Russia needs to produce more convincing evidence
Sky News' defence and security analyst Professor Michael Clarke says: "We've looked at the video, it's not very clear and it jumps around quite a lot.
"We've located the person on the video who looks most like Sokolov, and it may be him, but it's not a completely clear match.
"It could be Sokolov, looking at previous photographs of him. On the other hand, there's still no proof that this video is really current.
"There's a lot of evidence that Sokolov was in the building that was hit on Friday by a couple of Storm Shadow missiles.
"So it is possible that Sokolov lives. But I think the Russians would have to produce more convincing evidence than this if they want to be taken seriously on this particular issue.
"And it's odd that producing a rather vague video and saying he's here somewhere and leaving it to news organisations like us to try to work out who it might be is less than clear in the message they were trying to send."
On Monday, Ukraine's special forces claimed they had killed Mr Sokolov and 33 other officers in last week's missile attack on the headquarters of Russia's Black Sea Fleet in Sevastopol.
"After the strike on the headquarters of the Russian Black Sea Fleet, 34 officers died, including the commander of the Russian Black Sea Fleet," Ukraine's special forces said on the Telegram messaging app.
Read more:
US delivery of long-range missiles could prove pivotal
What does North Korea want from Vladimir Putin and Russia?
"Another 105 occupiers were wounded. The headquarters building cannot be restored."
Kremlin spokesman Dmitry Peskov declined to comment on Ukraine's claim that it had killed Mr Sokolov, instead referring reporters to the defence ministry.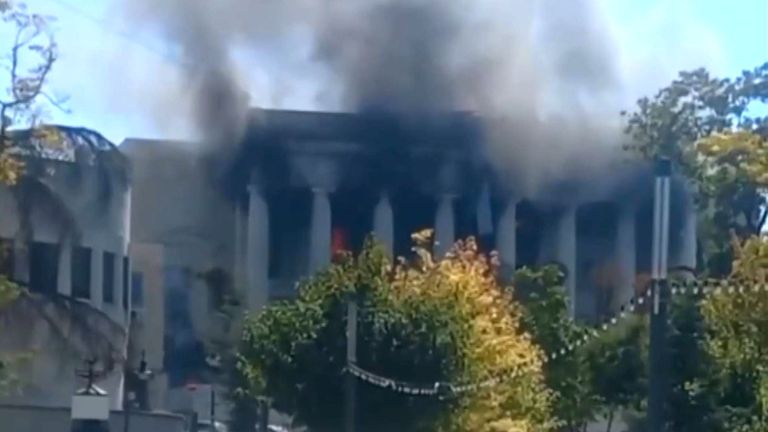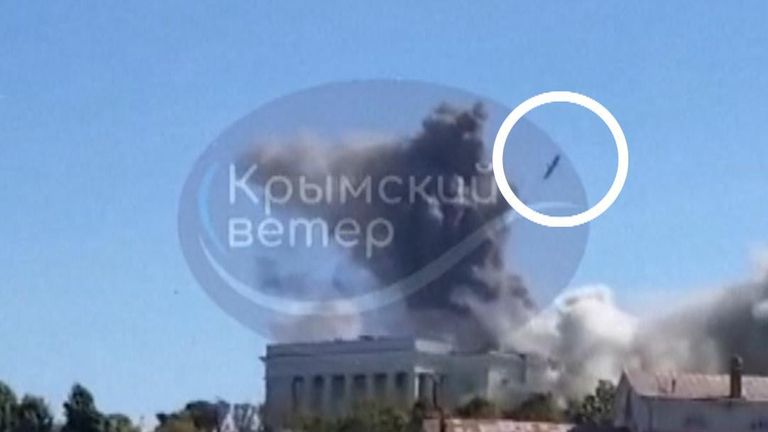 In a statement after the attack, the Russian defence ministry said one serviceman was missing, revising an earlier statement that the man had been killed.
Moscow-installed authorities in Sevastopol also said they were taking extra measures to address Ukraine's increased attacks on Crimea.
The attack came after an earlier strike on Sevastopol, in which a Russian submarine and warship were damaged.
A Ukrainian and a Western source said that British Storm Shadow cruise missiles were deployed in the attack on the port of Crimea, which Russia annexed in 2014.
Alexei Navalny: Russian opposition leader loses appeal against extra 19-year prison sentence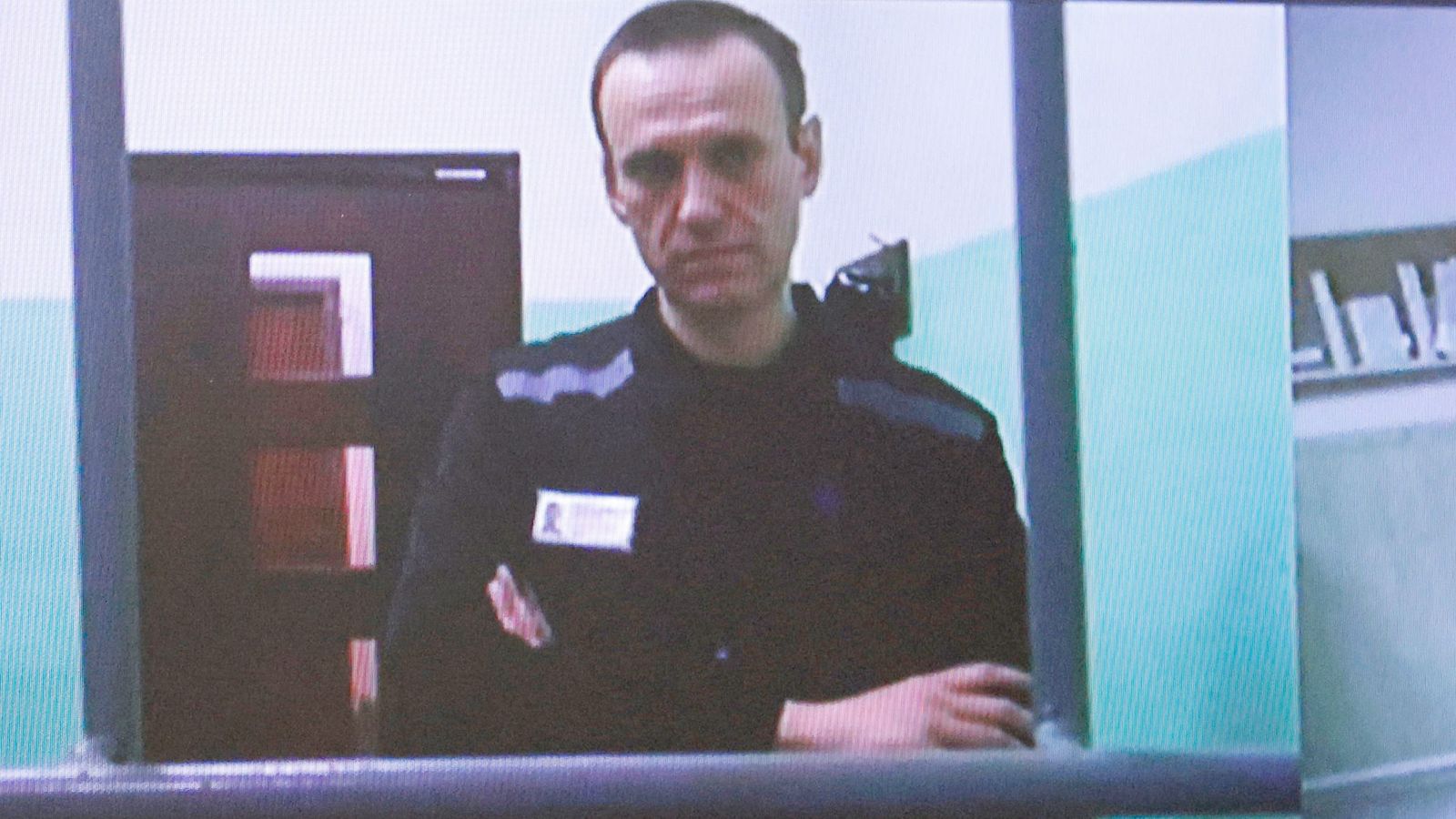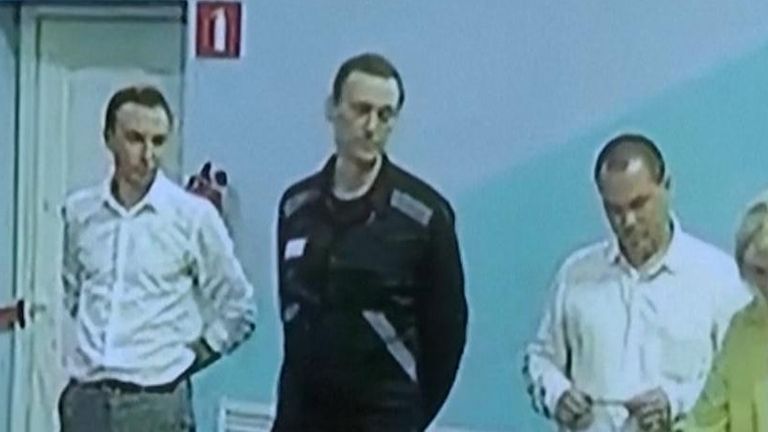 Russian opposition leader Alexei Navalny has lost his appeal against a 19-year sentence added to his existing jail term.
It was imposed in August after he was convicted on six charges related to alleged extremist activity – which he denied.
The appeal was rejected by a judge in Moscow, with Mr Navalny – wearing a black prison uniform – joining by video link from prison.
Media were not allowed to witness proceedings apart from the reading of the verdict.
The 19-year sentence was imposed on top of 11 and a half years that he was already serving after being convicted of fraud and other charges.
Mr Navalny has said all the charges are politically motivated and an attempt to silence his criticism of President Vladimir Putin's repressive regime and the war in Ukraine.
His political movement has been outlawed and declared "extremist", with its main players either being jailed or fleeing Russia.
President Putin makes a point of never referring to Mr Navalny by name as part of an attempt by authorities to portray him as irrelevant.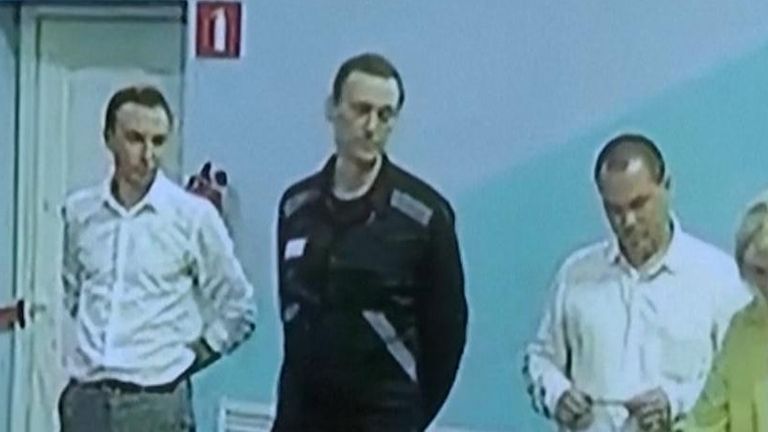 The 47-year-old politician returned to the country voluntarily in 2021 after nearly dying when he was poisoned with a nerve agent in a suspected Russian plot.
He was immediately arrested when he landed and is imprisoned in Melekhovo, about 145 miles (235 km) east of Moscow.
Read more:
Who is the man some hope will overthrow Putin?
Mr Navalny said in the summer that he had been forced to listen to the same speech by President Putin for more than 100 days in a row.
A TV technician who worked for Mr Navalny, sentenced at the same trial in August, also had his appeal against an eight-year sentence rejected on Tuesday.
Daniel Kholodny shouted "Alexei, see you!" just before the video feed of the hearing ended, with Mr Navalny waving his hand in response.
Body of migrant found on Sangatte beach near Calais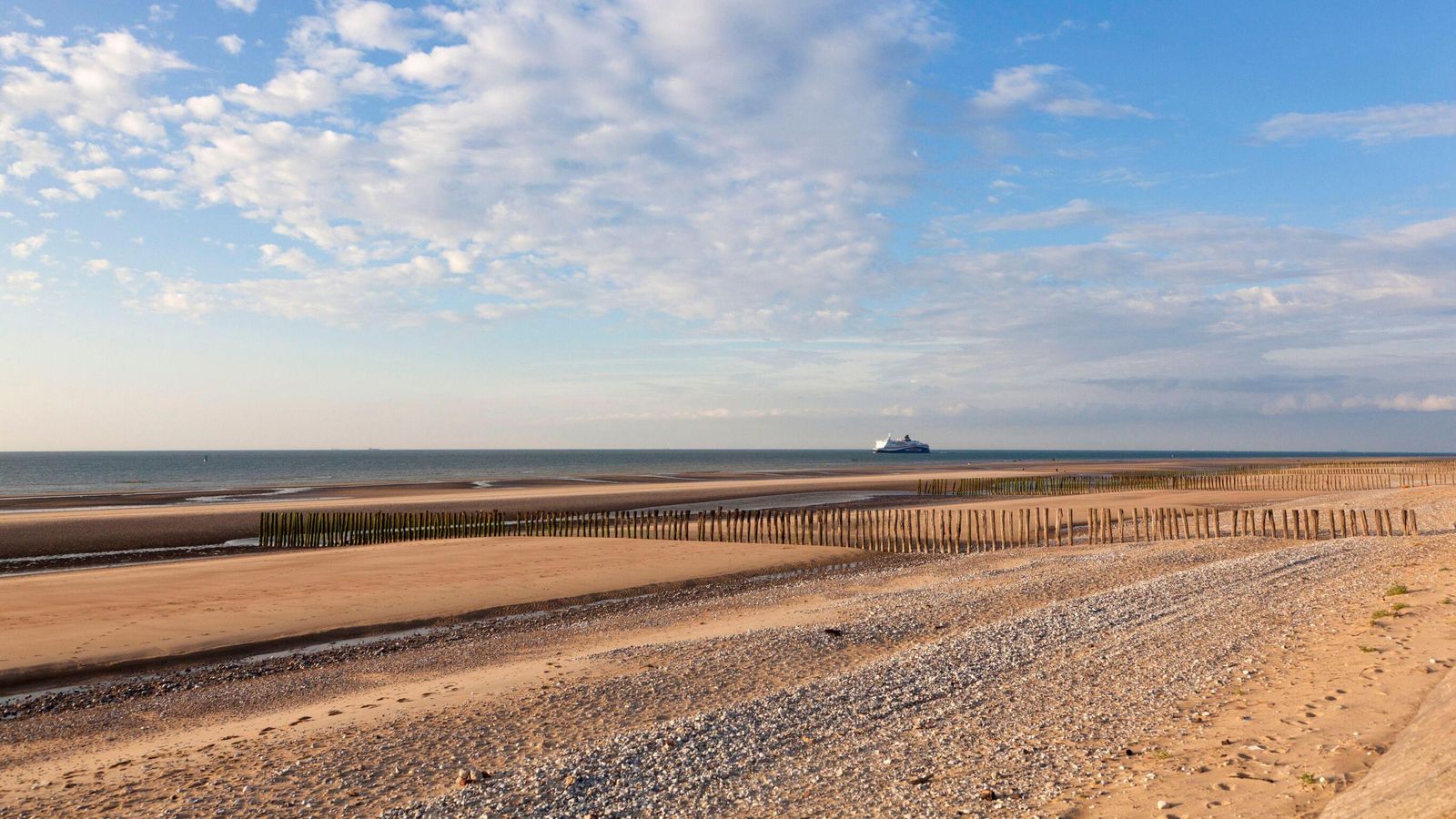 A body of a migrant was found this morning on Sangatte beach near Calais.
The authorities confirmed she was a 24-year-old Eritrean woman.
In August, at least six people died and dozens more were rescued after a migrant boat crossing the English Channel capsized.
The incident took place off Sangatte in northern France.
A vigil was held in the port town of Folkestone for the victims as participants called for "safe routes" and "enough deaths".
This breaking news story is being updated and more details will be published shortly.
Please refresh the page for the fullest version.
You can receive breaking news alerts on a smartphone or tablet via the Sky News app. You can also follow @SkyNews on X or subscribe to our YouTube channel to keep up with the latest news.