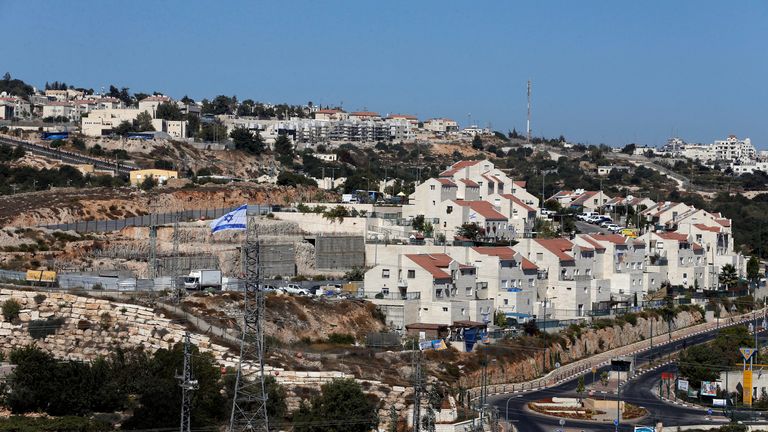 The Abraham Accords, when they were signed three years ago today, were a major step forward for peace in the Middle East.
For the first time, four Arab countries – the United Arab Emirates & Bahrain initially, followed shortly after by Morocco and Sudan – agreed to recognise Israel and work together for mutual diplomatic, security and economic benefit.
The success of the Accords has been chequered – new direct air routes have opened up and brought some investment and tourism benefits, academic partnerships have been established, and the earthquake in Morocco last weekend saw the Israeli government immediately offer military search and rescue support to one of their new allies.
There have been bumps along the road though – Israel's Prime Minister Benjamin Netanyahu has had a number of invitations to the UAE cancelled this year because of Emirati anger over Israeli force inside Jerusalem's Al Aqsa Mosque, and many people hoped the pace of mutual benefits would have been faster than the reality.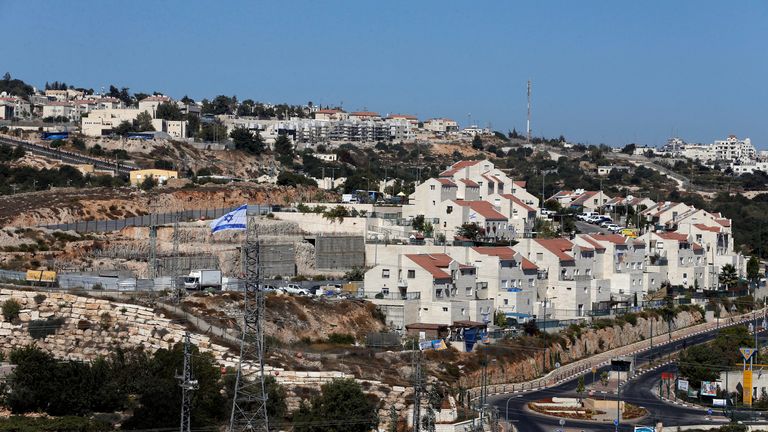 But now there is a bigger prize looming into focus: a deal with Saudi Arabia.
Alongside the judicial reforms and violence in The West Bank, the diplomatic goings-on between Washington, Jerusalem and Riyadh is now one of the most discussed issues in Israeli media.
A normalisation agreement with one of the major powers in the Middle East would eclipse the Abraham Accords and Mr Netanyahu has made no secret of his desperation for a deal.
"Our hand is extended to all Arab States and certainly to Saudi Arabia which is vitally important," he told me in an interview earlier this year.
"We have great opportunities to advance the peace in our region, peace between our two countries, the wellbeing of our peoples. I think it would change history."
Diplomatic wheels are spinning
Whether a deal is close, or even possible, depends on who you speak to, but what isn't in doubt is that the diplomatic wheels are spinning and there appears to be a desire on all sides to achieve something.
Just last week a senior US delegation travelled to Riyadh for talks on the deal, and they were joined by Hussein al Sheikh, a major figure in the PLO and close ally of Palestinian President Mahmoud Abbas.
Separately, the US Secretary of State Antony Blinken held calls this month with Abbas and Mr Netanyahu, and on Air Force One, en route to Delhi for the G20, US National Security Advisor Jake Sullivan told reporters there is "still work to do" but revealed that "many of the elements of a pathway to normalisation are now on the table".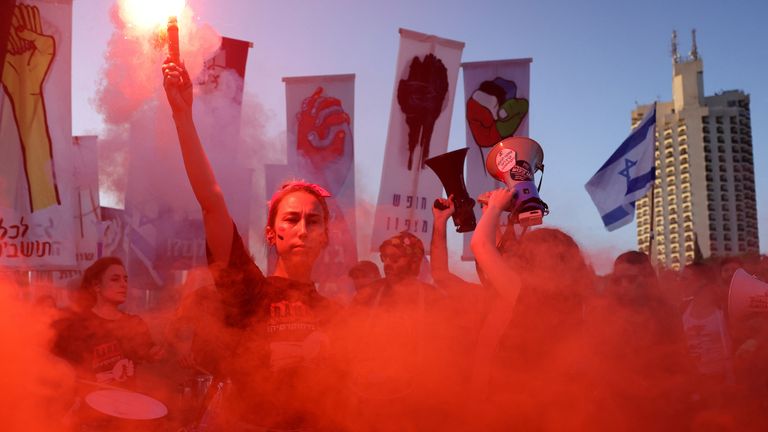 More important than the deal itself will be the content of any agreement. Riyadh's demands reportedly include US help to develop a civilian nuclear programme, delivery of advanced US weaponry and a NATO-style military pact with the US, whereby Washington would commit to defending Saudi Arabia if it was attacked.
In return, Washington is hoping that Saudi Arabia will dampen its growing diplomatic ties with China and Russia and help counter the threat from Iran.
Israel might want a similar pact with its American allies but will view a peace deal with Saudi Arabia as a significant step in strengthening its own security, even though there are already concerns in Jerusalem that a civil nuclear deal for Saudi Arabia will spark a nuclear arms race in the region.
Like the Abraham Accords, it would open up investment and trade opportunities between two of the leading economies in the region, and increase recognition in the Arab world of Israel as a legitimate state.
Controversial Saudi prince to visit UK

What a deal could mean for Palestine
The big outstanding question is what a deal might mean for Palestinians. Unlike the Abraham Accords, the Palestinian government has chosen to engage in the process this time in the hope of securing their own future.
Ramallah wants "irreversible" steps to advance its ambitions for statehood, according to reports, which would likely include US-backing to recognise a Palestinian state at the United Nations.
The US is encouraging Ramallah to focus its demands on Israel, rather than Washington, and has suggested the idea of transferring parts of Area C in the West Bank (currently under Israeli control) to Area A (under Palestinian control) or Area B (under joint control). It's unclear how realistic or possible this would be, such is the large presence of Israeli settlements and military zones covering that land.
Either way, speaking to the Pod Save The World podcast a few days ago, Mr Blinken confirmed that "if this process is to move forward, the Palestinian piece is going to be very important," to the US and Saudis, even if Israel will be hesitant.
The desire for a deal, from all sides, is one thing but there are some obvious and not inconsiderable obstacles standing in the way of an agreement.
Read more on Sky News:
Israel's Supreme Court to hear challenge against government's judicial reforms
Spain's women footballers call off strike after deal reached in pay row
Any deal would require the support of two-thirds of the US Senate and a significant number of senators, particularly Democrats, would likely oppose concessions to Saudi Arabia because of concerns over the country's human rights record, notably the war in Yemen and the 2018 killing of Washington Post journalist Jamal Khashoggi.
Other politicians are likely to resist any commitment that might risk dragging the US military back into the Middle East.
Mr Netanyahu's right-wing nationalist partners in the coalition have already said they will oppose anything that gives concessions to the Palestinians, and so the embattled prime minister will have to look to opposition leaders to get the deal through the Knesset. It might be that the price of the deal is a collapse of the Israeli government and even the end of Mr Netanyahu's time as prime minister.
After seeing his domestic opinion polls plummet this year however, and having been on the receiving end of criticism from world leaders, including President Joe Biden, for his attempts to ram through wide-ranging and controversial judicial reforms, it might be a last act of sacrifice he is will to gamble in order to save his legacy.
"It would be a quantum leap forward," he told me in June. It certainly would be, but how far is Bibi willing to jump to get it over the line?
Viktor Sokolov: Top Russian admiral appears in video call – after Ukraine claimed he was killed in missile strike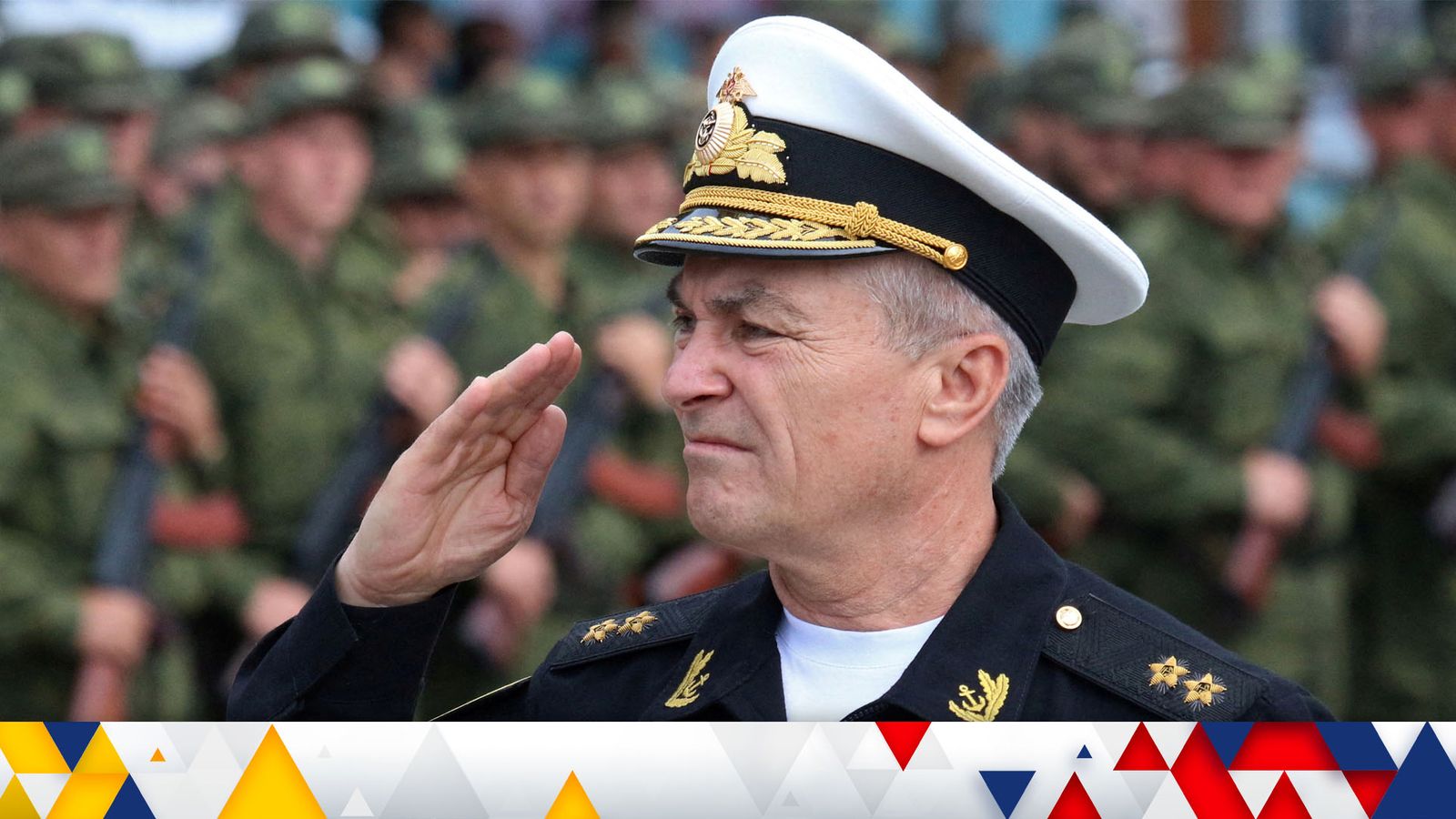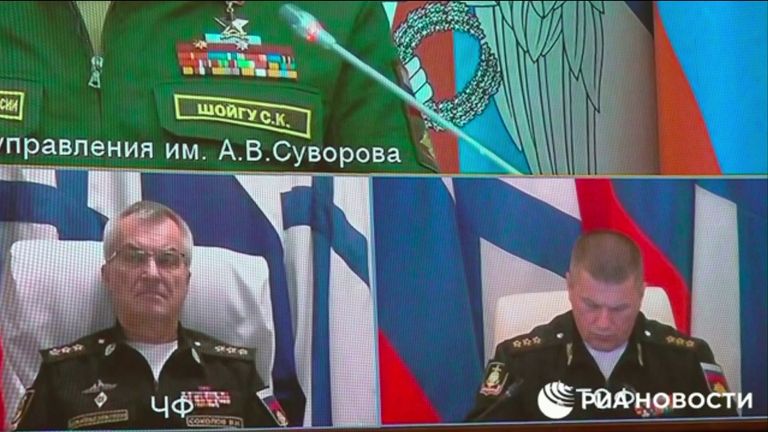 A top Russian admiral has appeared in a video call – a day after Ukrainian special forces claimed he had been killed in a missile strike.
Admiral Viktor Sokolov – the commander of Russia's Black Sea Fleet and one of Russia's most senior naval officers – was reportedly killed in last week's strike on the naval port of Sevastopol, according to Ukrainian officials.
The Russian Defence Ministry did not immediately respond when asked by news agencies to confirm or deny if Mr Sokolov had been killed.
However, the ministry released a video on Tuesday appearing to show Mr Sokolov attending a conference with other top Russian military officials via video link.
Mr Sokolov was not seen speaking in the footage of the conference – led by Russia's defence minister Sergei Shoigu.
It is not clear when the footage was filmed, though Russia's defence ministry claimed the meeting took place on Tuesday.
Ukraine war latest: Russia attacks area bordering NATO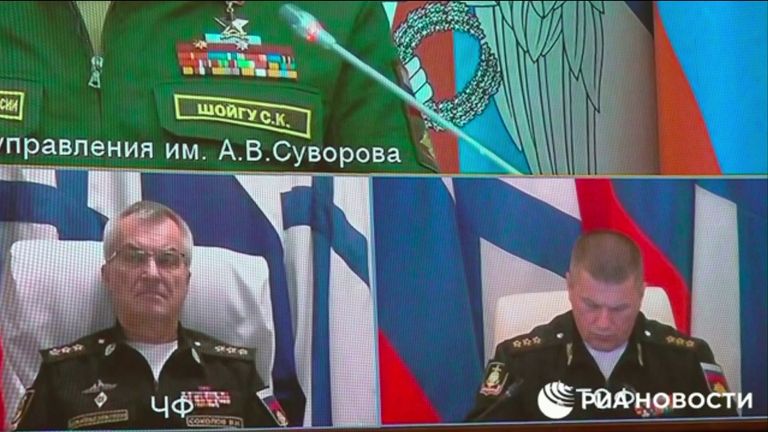 Ukraine special forces said on Telegram: "Since the Russians were urgently forced to publish a response with Sokolov allegedly alive, our units are clarifying the information."
In the video, Mr Shoigu said more than 17,000 Ukrainian soldiers had been killed in September and that more than 2,700 weapons, including seven American Bradley fighting vehicles, had been destroyed.
Both Russia and Ukraine have at times exaggerated enemy losses in the war, while also saying little about their own losses.
Michael Clarke: It is possible Admiral Sokolov lives – but Russia needs to produce more convincing evidence
Sky News' defence and security analyst Professor Michael Clarke says: "We've looked at the video, it's not very clear and it jumps around quite a lot.
"We've located the person on the video who looks most like Sokolov, and it may be him, but it's not a completely clear match.
"It could be Sokolov, looking at previous photographs of him. On the other hand, there's still no proof that this video is really current.
"There's a lot of evidence that Sokolov was in the building that was hit on Friday by a couple of Storm Shadow missiles.
"So it is possible that Sokolov lives. But I think the Russians would have to produce more convincing evidence than this if they want to be taken seriously on this particular issue.
"And it's odd that producing a rather vague video and saying he's here somewhere and leaving it to news organisations like us to try to work out who it might be is less than clear in the message they were trying to send."
On Monday, Ukraine's special forces claimed they had killed Mr Sokolov and 33 other officers in last week's missile attack on the headquarters of Russia's Black Sea Fleet in Sevastopol.
"After the strike on the headquarters of the Russian Black Sea Fleet, 34 officers died, including the commander of the Russian Black Sea Fleet," Ukraine's special forces said on the Telegram messaging app.
Read more:
US delivery of long-range missiles could prove pivotal
What does North Korea want from Vladimir Putin and Russia?
"Another 105 occupiers were wounded. The headquarters building cannot be restored."
Kremlin spokesman Dmitry Peskov declined to comment on Ukraine's claim that it had killed Mr Sokolov, instead referring reporters to the defence ministry.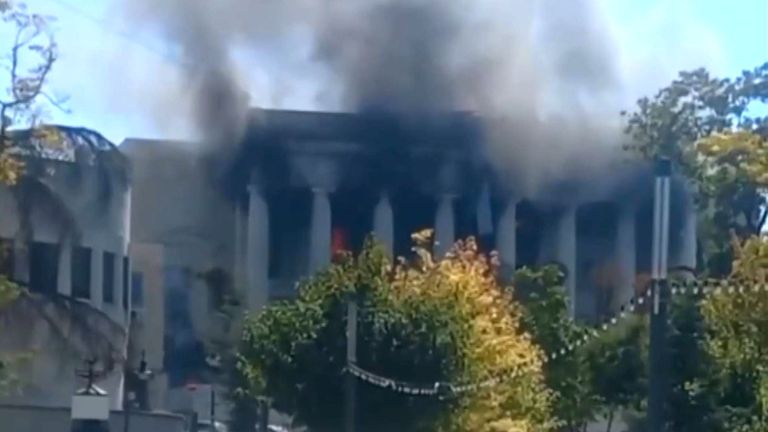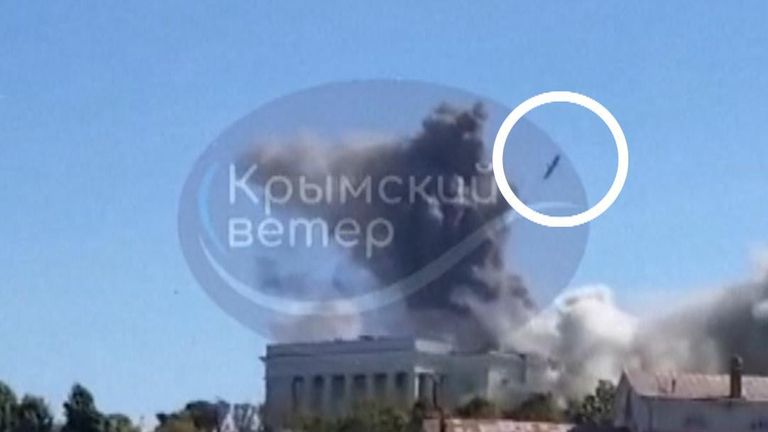 In a statement after the attack, the Russian defence ministry said one serviceman was missing, revising an earlier statement that the man had been killed.
Moscow-installed authorities in Sevastopol also said they were taking extra measures to address Ukraine's increased attacks on Crimea.
The attack came after an earlier strike on Sevastopol, in which a Russian submarine and warship were damaged.
A Ukrainian and a Western source said that British Storm Shadow cruise missiles were deployed in the attack on the port of Crimea, which Russia annexed in 2014.
Alexei Navalny: Russian opposition leader loses appeal against extra 19-year prison sentence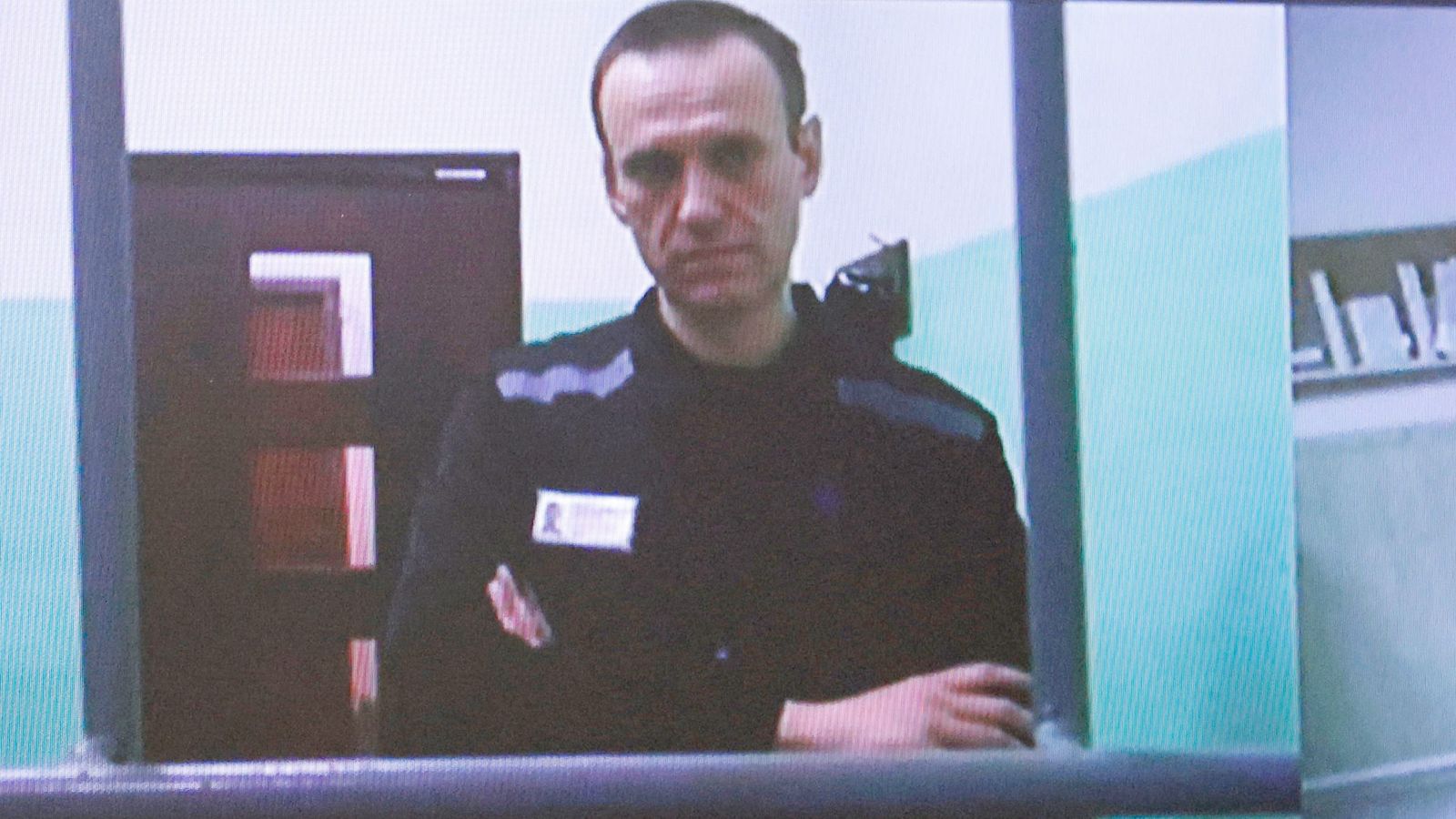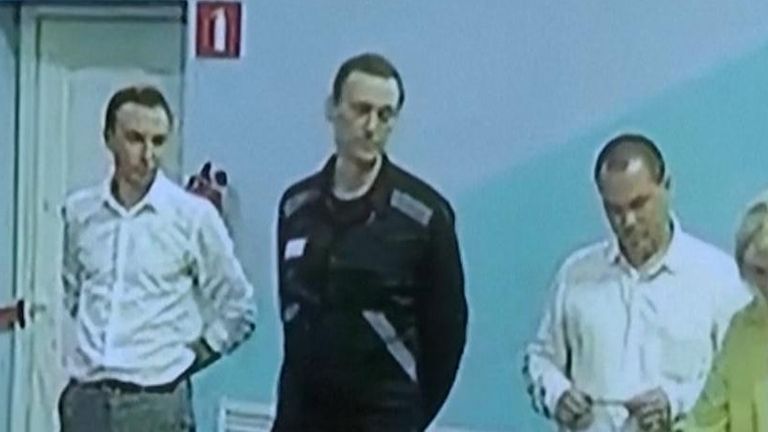 Russian opposition leader Alexei Navalny has lost his appeal against a 19-year sentence added to his existing jail term.
It was imposed in August after he was convicted on six charges related to alleged extremist activity – which he denied.
The appeal was rejected by a judge in Moscow, with Mr Navalny – wearing a black prison uniform – joining by video link from prison.
Media were not allowed to witness proceedings apart from the reading of the verdict.
The 19-year sentence was imposed on top of 11 and a half years that he was already serving after being convicted of fraud and other charges.
Mr Navalny has said all the charges are politically motivated and an attempt to silence his criticism of President Vladimir Putin's repressive regime and the war in Ukraine.
His political movement has been outlawed and declared "extremist", with its main players either being jailed or fleeing Russia.
President Putin makes a point of never referring to Mr Navalny by name as part of an attempt by authorities to portray him as irrelevant.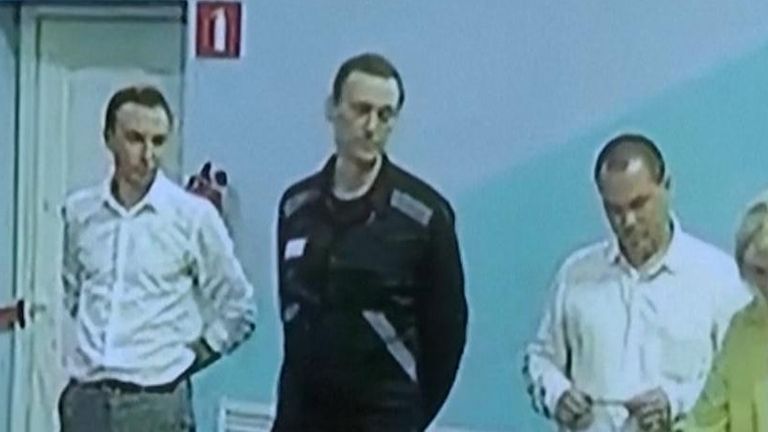 The 47-year-old politician returned to the country voluntarily in 2021 after nearly dying when he was poisoned with a nerve agent in a suspected Russian plot.
He was immediately arrested when he landed and is imprisoned in Melekhovo, about 145 miles (235 km) east of Moscow.
Read more:
Who is the man some hope will overthrow Putin?
Mr Navalny said in the summer that he had been forced to listen to the same speech by President Putin for more than 100 days in a row.
A TV technician who worked for Mr Navalny, sentenced at the same trial in August, also had his appeal against an eight-year sentence rejected on Tuesday.
Daniel Kholodny shouted "Alexei, see you!" just before the video feed of the hearing ended, with Mr Navalny waving his hand in response.
Body of migrant found on Sangatte beach near Calais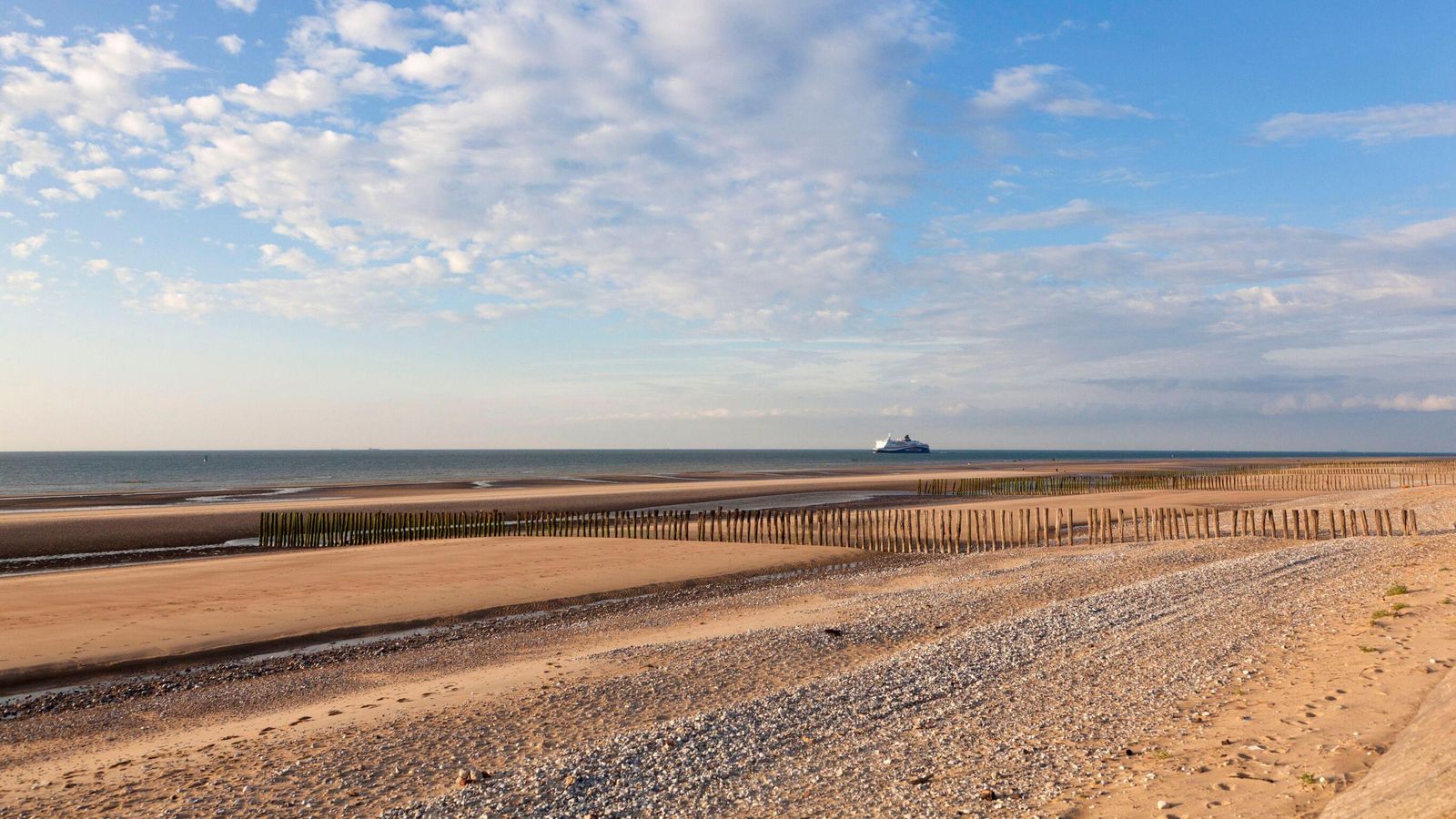 A body of a migrant was found this morning on Sangatte beach near Calais.
The authorities confirmed she was a 24-year-old Eritrean woman.
In August, at least six people died and dozens more were rescued after a migrant boat crossing the English Channel capsized.
The incident took place off Sangatte in northern France.
A vigil was held in the port town of Folkestone for the victims as participants called for "safe routes" and "enough deaths".
This breaking news story is being updated and more details will be published shortly.
Please refresh the page for the fullest version.
You can receive breaking news alerts on a smartphone or tablet via the Sky News app. You can also follow @SkyNews on X or subscribe to our YouTube channel to keep up with the latest news.