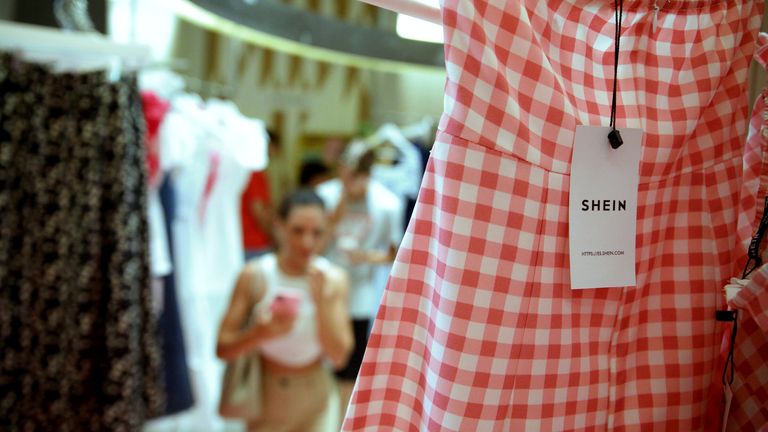 Mike Ashley, the high street billionaire, is in talks to sell the online clothing label Missguided to Shein, the giant Chinese online fashion player.
Sky News has learnt that the two sides are in detailed negotiations about a deal, which would represent Shein's first acquisition of a British fashion brand.
City sources said that Shein and Frasers had been in discussions for several weeks about a transaction, and it was unclear how soon it might be announced or whether there was a risk of it falling apart.
One added that the deal was likely to encompass Missguided's brand and other intellectual property, with its head office retained by Mr Ashley's company.
If completed, it would be a big step – albeit for a modest financial outlay – for Shein, which was founded in China and was valued until recently at more than $100bn (£81bn).
At that point, it was worth more than H&M and Zara's parent company, Inditex, combined.
A more recent funding round, which took place earlier this year, is reported to have valued Shein at about $66bn (£53bn).
Now headquartered in Singapore, the company has thinly disguised ambitions of going public in the US in the next 12 months, and is lining up investment banks to handle an initial public offering.
Shein, which was founded in 2012, now operates in more than 150 countries.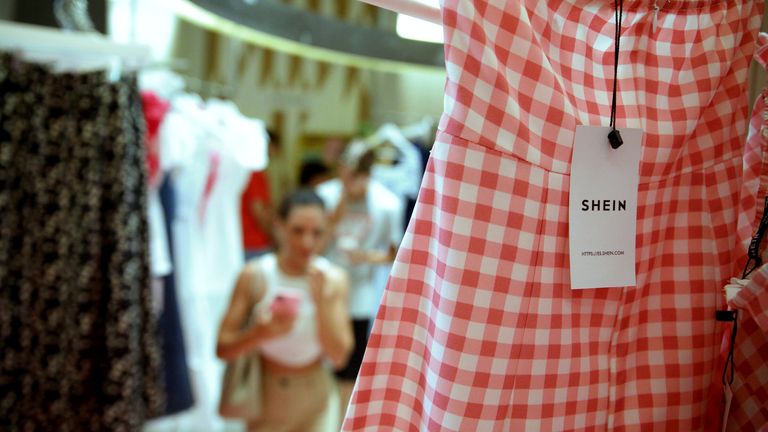 Last month, Shein struck a deal with SPARC Group, a joint venture between the Ted Baker-owner ABG and Simon Property Group, a US shopping mall operator.
Under that deal, SPARC's Forever 21 fashion brand gained distribution on the Shein platform, which boasts 150m users globally.
Shein acquired a one-third stake in SPARC Group, while SPARC Group also took an undisclosed minority interest in Shein.
One source said it was conceivable that the talks between Shein and Frasers Group result in a comparable partnership structure, with key details still to be finalised.
Read more from Sky News:
Endless explores sale of bathroom chain Victoria Plum
Marks & Spencer to ditch plastic bags in all stores
Missguided was founded by Nitin Passi in 2008, and became known for extraordinary and at-times controversial stunts such as a £1 bikini offer.
It attracted investment from Alteri Investors in late 2021, but crashed into administration in the spring of last year amid mounting losses.
Boohoo Group was among the other suitors for the Missguided brand before Frasers swooped to buy it out of insolvency.
Under Michael Murray, its new chief executive and Mr Ashley's son-in-law, Frasers has sought to re-engineer its retailing strategy.
The group owns brands as diverse as Evans Cycles, GAME, Gieves & Hawkes, House of Fraser, Jack Wills and Sports Direct.
Frasers also owns Missy Empire and ISawItFirst, two other female-focused, digitally led fashion brands, leading it to conclude that Missguided is not central to its ambitions in that area of the clothing market, according to one source.
This weekend, Frasers and Shein declined to comment.
Hollywood writers reach 'tentative' deal to end strike over AI and compensation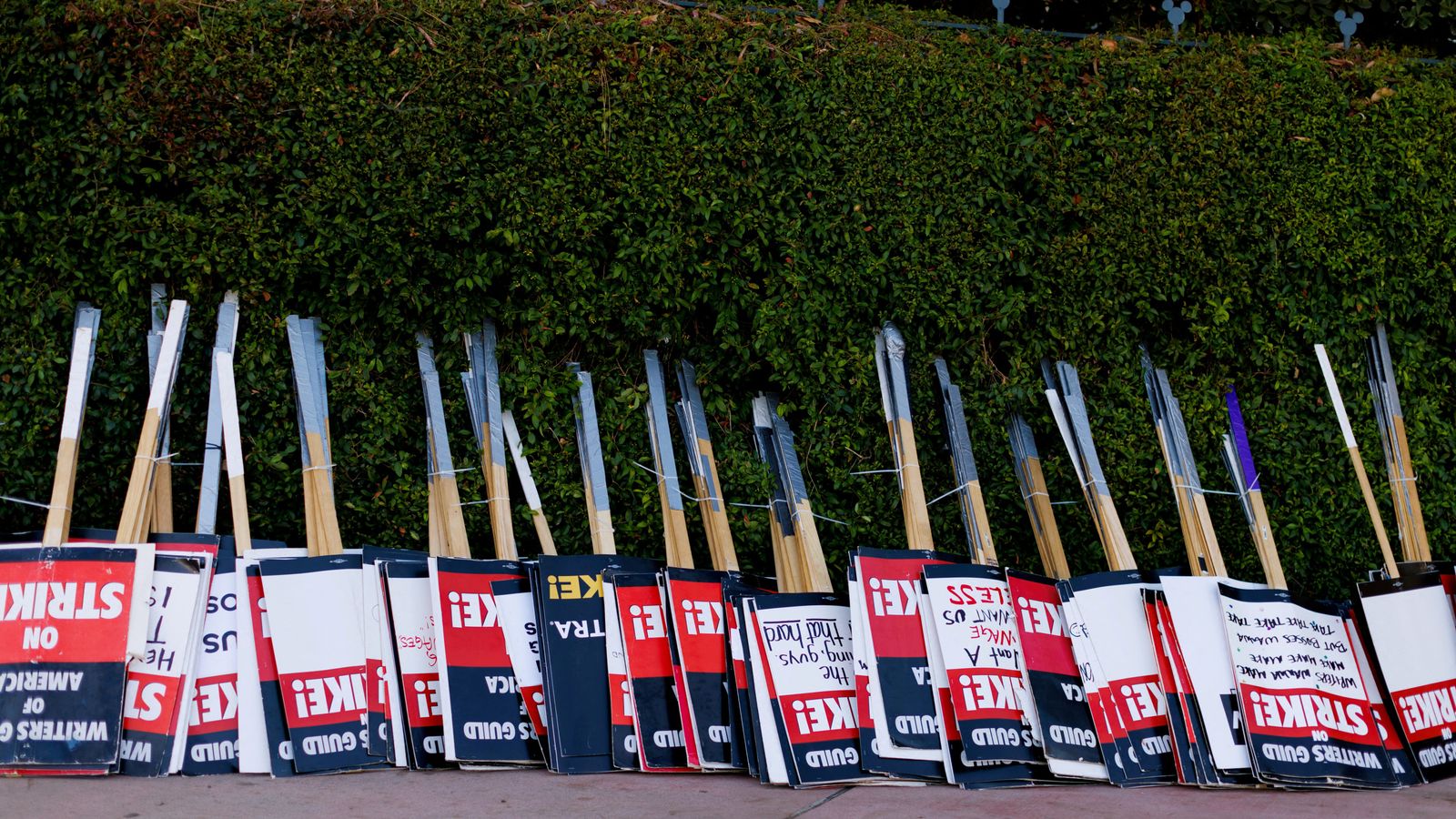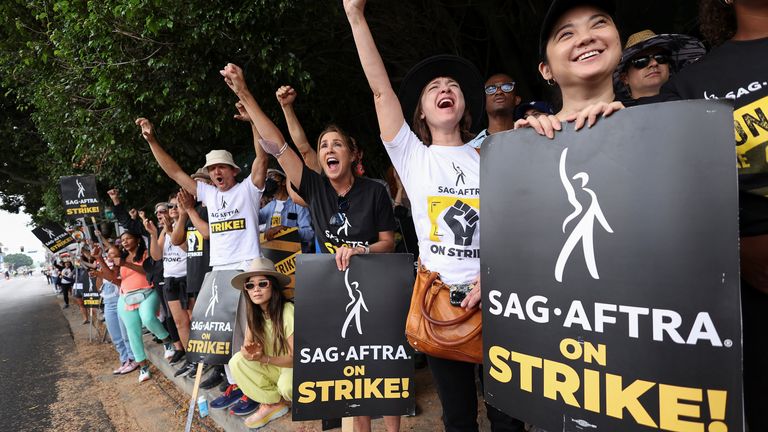 A "tentative" deal has been reached to end a long-running strike by writers in Hollywood.
The Writers Guild of America (WGA) announced the deal with the Alliance of Motion Picture and Television Producers (AMPTP), the group which represents studios, streaming services and producers in negotiations.
A statement from the WGA said: "We have reached a tentative agreement on a new 2023 MBA, which is to say an agreement in principle on all deal points, subject to drafting final contract language.
"We can say, with great pride, that this deal is exceptional – with meaningful gains and protections for writers in every sector of the membership."
Most of the writers' demands have been met
After 146 days on the picket line, Hollywood's writers are finally ready to put pen to paper and sign an agreement with the studio bosses who pay their wages.
My understanding from speaking to sources on both sides of the standoff, is that most of the writers' demands have been met with this deal, including greater royalty payments and assurances about the role of Artificial Intelligence in future TV and filmmaking.
If approved by the Writers Guild of America members, which seems all but guaranteed, it will bring an end to the second longest strike in the union's history. It is also the broadest industry strike in decades, with more than 100,000 actors joining them on the picket.
Hollywood will not fully bounce back. Until actors return to work, filming on shows like the Last Of Us and Stranger Things, which have been on hold for months now, cannot resume. But talk shows like Jimmy Kimmel Live! and Saturday Night Live, which don't rely on actors, could resume filming as soon as this week.
Speaking to people on the picket line, they framed this strike action as about more than just Hollywood. Some said AI was not just "anti-creative" but that it presented an existential threat not just to their craft but to humankind.
This deal will be seen as a major victory in securing protections over their TV and film credits and payments in the wake of AI.
The three-year contract agreement – settled on after five days of renewed talks by negotiators from the WGA and the AMPTP – must be approved by the guild's board and members before the strike officially ends.
Read more on Hollywood strikes:
How much of a threat is AI?
The terms of the deal were not immediately announced.
The statement added: "To be clear, no one is to return to work until specifically authorised to by the Guild.
"We are still on strike until then. But we are, as of today, suspending WGA picketing. Instead, if you are able, we encourage you to join the SAG-AFTRA picket lines this week."
The agreement comes just five days before the strike would have become the longest in the guild's history, and the longest Hollywood strike in decades.
About 11,500 members of the Writers Guild of America walked off the job on 2 May over issues of pay, the size of writing staffs on shows and the use of artificial intelligence (AI) in the creation of scripts.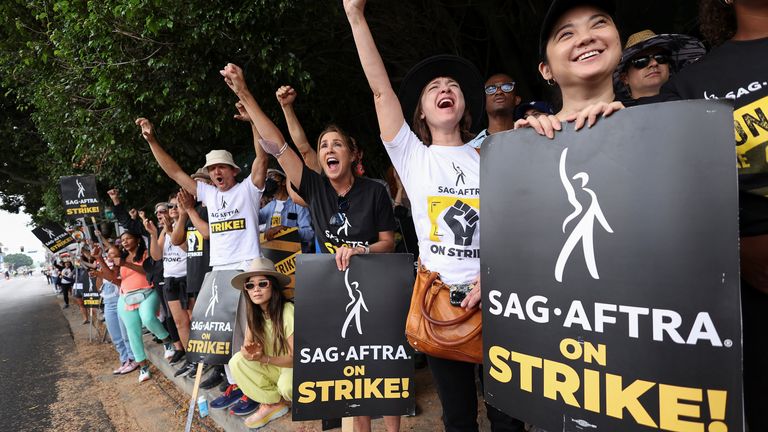 In July, the SAG-AFTRA actors' union started its own walkout which is yet to be resolved.
It said in a statement: "SAG-AFTRA congratulates the WGA on reaching a tentative agreement with the AMPTP after 146 days of incredible strength, resiliency and solidarity on the picket lines.
"While we look forward to reviewing the WGA and AMPTP's tentative agreement, we remain committed to achieving the necessary terms for our members.
"We remain on strike in our TV/Theatrical contract and continue to urge the studio and streamer CEOs and the AMPTP to return to the table and make the fair deal that our members deserve and demand."
Northern HS2 line set to be scrapped with costs 'out of control', Sky News understands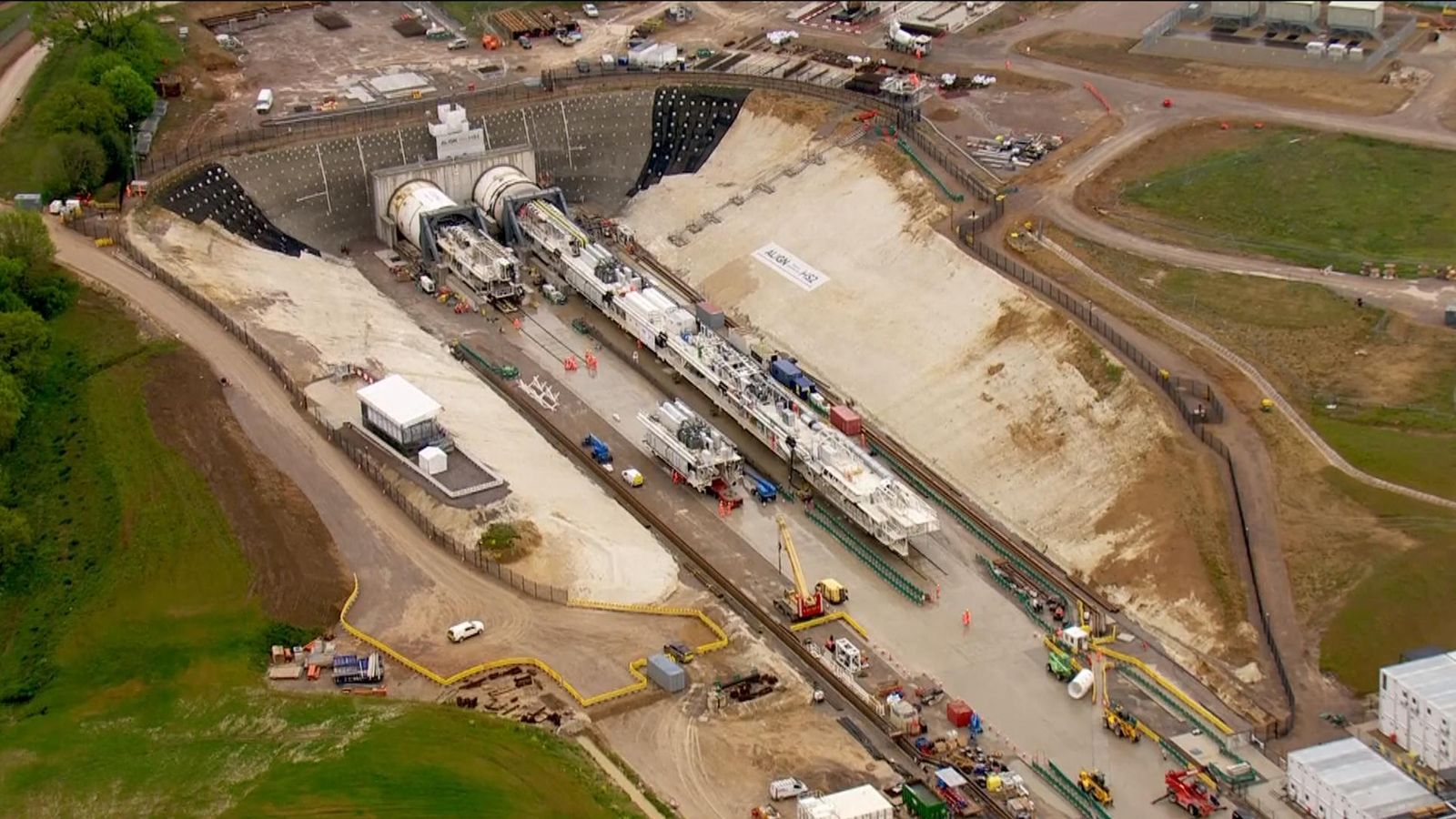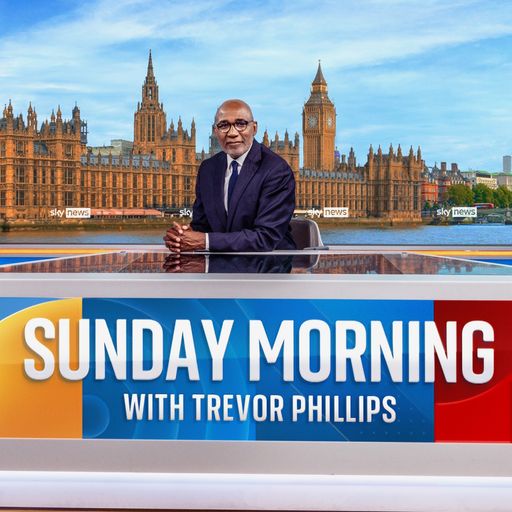 The northern section of the HS2 high speed rail line looks set to be scrapped by Rishi Sunak, Sky News understands.
It comes as a number of Sunday newspapers reported that any decision would be announced before next weekend's Conservative Party conference.
Sky News political correspondent Tamara Cohen said: "The widespread view in Westminster is that the prime minister is set to scrap the northern leg of the High Speed 2 rail line – the bit that was due to go between Birmingham and Manchester – because of concern about the cost.
Read more:
HS2 explained: What is it and why are parts being delayed?
Why are so many people upset with HS2 rail project?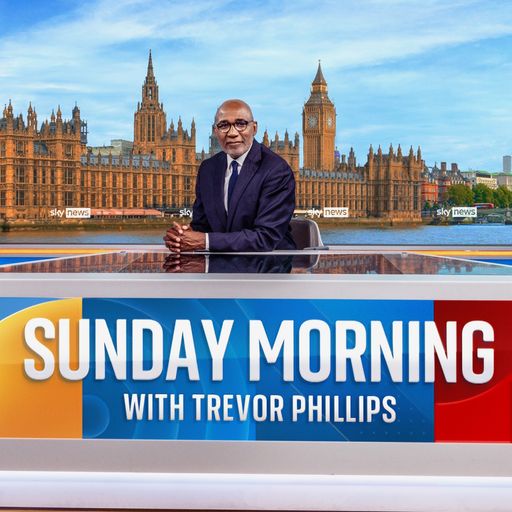 Sunday Morning with Trevor Phillips
Watch live each week on Sunday at 8:30am on Sky channel 501, Freeview 233, Virgin 602, the Sky News website and app or YouTube
"We've had several reports that the crunch meeting between the prime minister and chancellor to make the final decision could happen as soon as next week and be announced to Conservative MPs.
"This would be a big U-turn if it goes ahead."
On Saturday, two former prime ministers warned Mr Sunak about "delivering a mutilated HS2".
Boris Johnson said suggestions the Birmingham to Manchester route could be chopped over cost concerns were "desperate" and "Treasury-driven nonsense".
David Cameron has also privately raised significant concerns about the prospect that the high-speed rail line could be heavily altered, according to The Times.
An ally quoted by the newspaper said it was "unusual" for the former prime minister, who resigned after the Brexit referendum result in 2016, to intervene in politics, but felt HS2 was "different".
Ministers have looked to sidestep questions about the future of the Manchester destination this week and Chancellor Jeremy Hunt said on Thursday that HS2's budget was "getting totally out of control".
Cleverly questioned over HS2

Mr Sunak has refused to guarantee the line will reach Manchester despite £2.3bn having already been ploughed into stage two.
Cohen said recent comments from Mr Hunt in a radio interview showed the chancellor was concerned with costs spiralling.
"It's being reported the costs may be overrunning by at least £8bn on the section from London to Birmingham alone since last year – although the government has not commented on those figures."
The planned railway – announced by the last Labour government but backed by successive Tory administrations – is intended to link London, the Midlands and the North of England, but has been plagued by delays and rising costs.
March 2023: HS2 – A decade of broken promises

A budget of £55.7bn for the whole of HS2 was set in 2015, but some reports suggest the bill has surpassed £100bn, having been driven up by recent inflation.
Ministers have already moved to pause parts of the project and even axed sections in the North.
The eastern leg between Birmingham and Leeds was reduced to a spur line, which is due to end in the East Midlands.
It was confirmed in March that construction between Birmingham and Crewe would be delayed by two years and that services may not enter central London until the 2040s.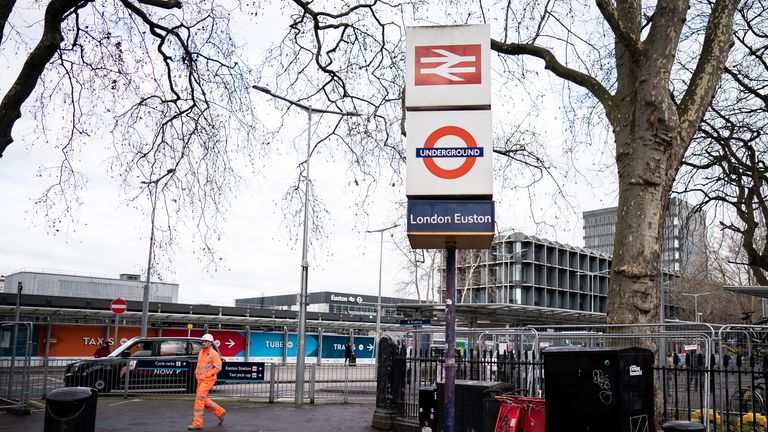 Transport Secretary Mark Harper announced that work at Euston would be paused for two years as costs were forecast to almost double to £4.8bn.
A government spokesman said: "The HS2 project is already well under way with spades in the ground, and our focus remains on delivering it."
Northern Gritstone backs motor neurone therapy group Crucible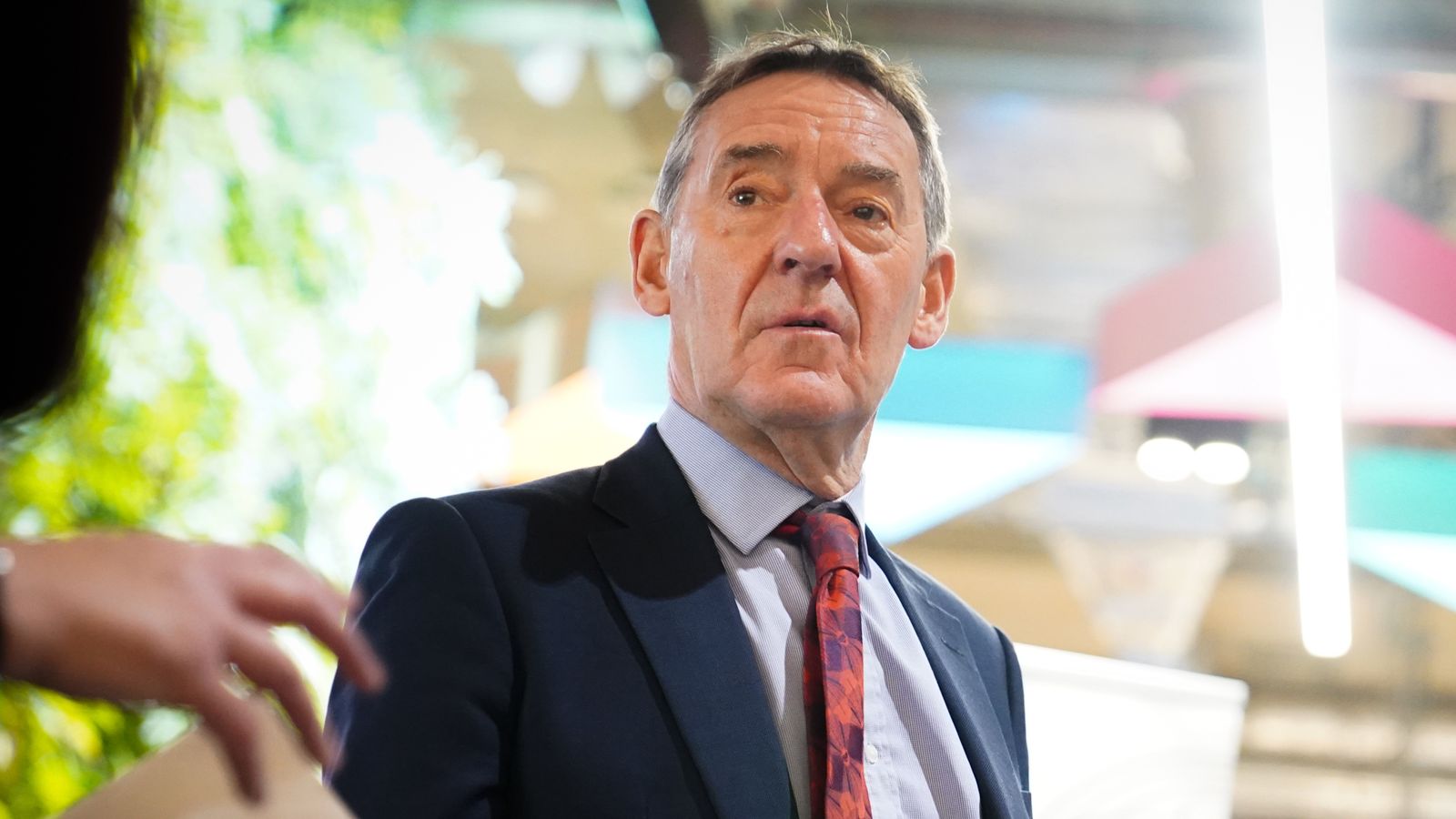 One of Britain's most prominent university spinout ventures is backing a developer of therapies for neurological diseases as part of a capital-raising to fund it through to clinical trials.
Sky News understands that Crucible Therapeutics, which was founded by University of Sheffield academics at its Department of Neuroscience, will announce this week that it has secured £5m of funding from Northern Gritstone and Argobio Studio, a Paris-based investor.
Crucible is a biotech company developing treatments for the most common forms of motor neurone disease and frontotemporal dementia (FTD).
It was established this year, and is the latest early-stage company to receive financial backing from Northern Gritstone, which was the brainchild of Lord O'Neill, the former Treasury minister and chief economist at Goldman Sachs.
Professor Dame Pamela Shaw, co-founder of Crucible and professor of neurology at the University of Sheffield, said: "Our novel therapeutic approach has made significant strides in our pursuit of transforming how these devastating diseases are treated and with the potential to achieve meaningful therapeutic impact.
"Today marks an important milestone, which brings us closer to supplying transformative treatments to people with neurological diseases like ALS [also known as motor neuron disease] and FTD.
"The significant experience and support that Northern Gritstone and Argobio Studio bring to Crucible further enables our pre-clinical development, and in parallel, allows us to strategically build our…team."
Duncan Johnson, CEO of Northern Gritstone, said: "Crucible's founders…exemplify the world-leading scientific and medical expertise that exists in the north of England.
"We are delighted to be backing Crucible and we look forward to working with them as they prepare to bring the company's therapeutic candidate closer to clinical trials."
Read more on Sky News:
Northern HS2 line set to be scrapped, Sky News understands
KPMG braced for record fine over audit of collapsed Carillion
Northern Gritstone, which is fast-becoming one of the UK's most prolific investors into academic spin-outs and intellectual property-rich businesses, was founded by the universities of Leeds, Manchester and Sheffield.
It has raised hundreds of millions of pounds from backers including M&G Investments, Lansdowne Partners and Andrew Law, the CEO of hedge fund Caxton Associates, who has invested in a personal capacity.
Click to subscribe to The Ian King Business Podcast wherever you get your podcasts
The vehicle is focused on spinouts in sectors such as advanced materials, energy, health technology and cognitive computation.
Combined, the universities boast a talent pool of more than 8,400 dedicated researchers and 33,000 postgraduate students.
They generate an annual income of over £2.6bn, and have been home to 38 Nobel Prize winners.