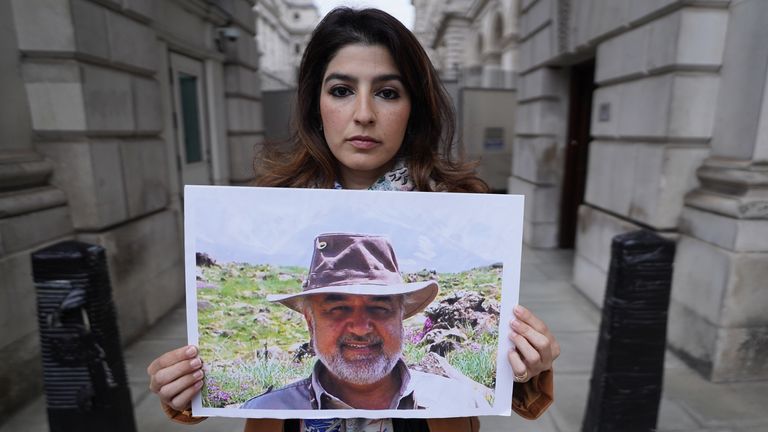 Iran will release a British national and four Americans held in the country in exchange for $6bn (£4.8bn) and a prisoner swap.
The funds, once frozen in South Korea, are now in Qatar after the Biden administration issued a waiver for international banks to transfer frozen Iranian money without the repercussions of US sanctions, an Iranian official announced on state television.
The deal also includes the release of five unnamed Iranian citizens held in the US.
The British man being freed is environmentalist Morad Tahbaz, 67, who has British, US and Iranian citizenship.
He was among the dual nationals being held at the time negotiations were under way involving the UK government to free former detainee Nazanin Zaghari-Ratcliffe.
Iran's foreign ministry spokesperson Nasser Kanaani said: "The issue of swap of prisoners will be done on this day and five prisoners, citizens of the Islamic Republic, will be released from the prisons in the US.
"Five imprisoned citizens who were in Iran will be given to the US side reciprocally, based on their will. We expect these two issues [to] fully take place based on agreement."
It comes weeks after Iran said the five were released from prison and placed under house arrest.
They will be transferred to an airport in Tehran "soon" before they leave for Qatar, two Iranian officials told Reuters. From there they will then fly to the US, the news agency understands.
One of the officials said "they are in good health".
All been jailed at notorious prison
The US-Iranian dual nationals being released in Iran include businessmen Siamak Namazi, 51, and Emad Shargi, 58.
Together with Mr Tahbaz, they had all been jailed at the notorious Evin Prison in Tehran on spying charges.
The identity of the fourth and fifth prisoners to be released has not been made public.
Two of the Iranian prisoners will stay in the US, two will fly to Iran and one detainee will join his family in a third country, an Iranian official said.
Read latest on this story:
Iran's president says his govt will decide how it will spend US money
British national among those being released
London-born Mr Tahbaz was arrested in 2018 and sentenced to 10 years in prison for "assembly and collusion against Iran's national security" and working for the US as a spy.
He has – at various stages – been the subject to ongoing negotiations for his release involving British authorities, including when Dominic Raab and Liz Truss were foreign secretaries.
He was temporarily released on the same day charity worker Ms Zaghari-Ratcliffe and retired civil engineer Anoosheh Ashoori were freed, but was later returned to custody.
His daughter Roxanne has been among those calling on the UK government to do more to get him released.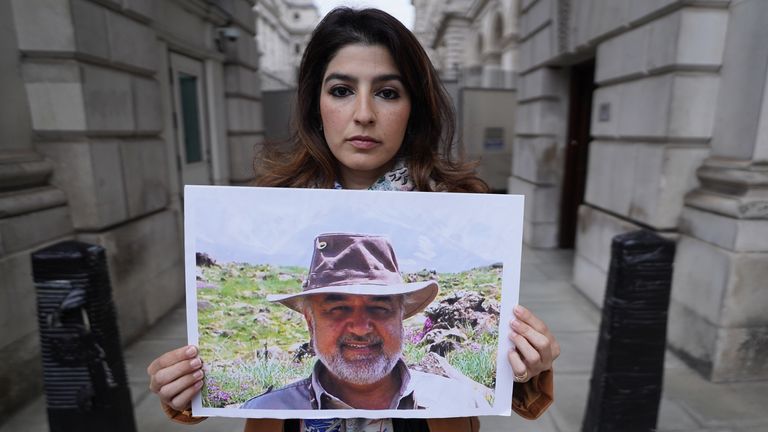 He is a prominent conservationist and board member of the Persian Wildlife Heritage Foundation, which seeks to protect endangered species.
Mr Namazi was convicted in 2016 of espionage-related charges the US has rejected as baseless and sentenced to 10 years in prison.
Mr Shargi was convicted of espionage in 2020 and also sentenced to 10 years in prison.
The money from South Korea represents funds Seoul owed Iran, but had not yet paid, for oil purchased before Donald Trump's administration imposed sanctions on such transactions in 2019.
The US maintains the money will be held in restricted accounts in Qatar and will only be able to be used for humanitarian goods such as medicine and food – transactions allowed under American sanctions targeting the Islamic Republic over its advancing nuclear programme.
The West has accused Iran of using foreign prisoners as bargaining chips, an allegation Tehran rejects.
Number of NYC fire department first responders to die of 9/11-related illnesses reaches 343 – matching amount killed on day of attacks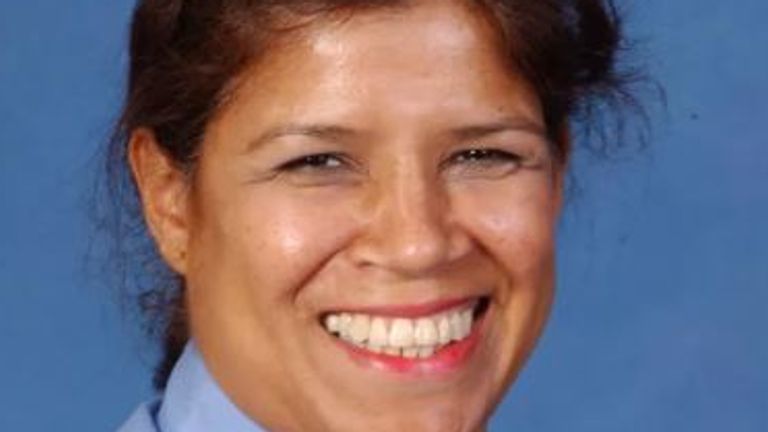 The number of first responders from the New York City Fire Department to have died from illnesses related to 9/11 has reached 343 – matching the number who died on the day of the attacks.
Hilda Vannata, an emergency medical technician, died from pancreatic cancer on 20 September this year, while retired firefighter Robert Fulco died of pulmonary fibrosis on 23 September, Fire Commissioner Laura Kavanagh has said.
She added that both illnesses were a result of "time they spent working in the rescue and recovery at the World Trade Center site".
"With these deaths, we have reached a somber, remarkable milestone. We have now suffered the same number of deaths post September 11th as we experienced that day when the north and south towers fell. Our hearts break for the families of these members, and all who loved them," Ms Kavanagh said in a statement.
"Our responsibility to our FDNY (Fire Department of New York) colleagues extends far beyond what we asked of them on September 11th and in the days and months that followed during rescue and recovery."
Exposure to the toxic materials in the aftermath of the terror attack has been linked to heightened risk of cardiovascular disease, respiratory disease, cancer, and other diseases.
Ms Kavanagh said: "The toll of these illnesses on our FDNY responders continues to grow and includes not only the 343 who have died since 9/11, but also the 11,000 who suffer from WTC-related diseases, including 3,500 with cancer."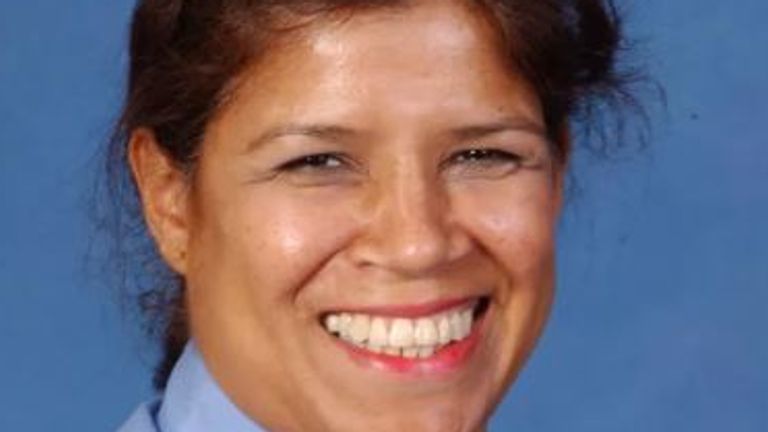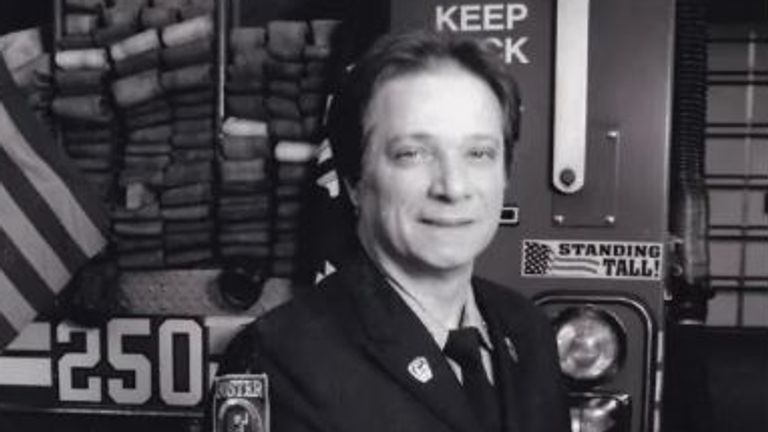 She added that the department's "commitment to their service and sacrifice must remain as unshakeable for the next two decades as it has been for the last two".
"So many of our members showed up for us that fateful day, and so many were lost. The legacy we create for them is one of honour, and one of promise. That is why we continue to advocate for the survivors, and we will not stop pushing until all our members have the care they deserve, for the rest of their lives," Ms Kavanagh wrote.
Read more
Remains of two more 9/11 victims identified
9/11 defendant 'mentally unfit to stand trial due to CIA torture'
More than 71,000 people are reported to be enrolled in the World Trade Center Health Registry, which seeks to track the health of 9/11 first responders and other people caught up in the attacks.
Workers who were in either of the World Trade Center buildings and people who lived in surrounding properties are among those who have also suffered health problems as a result of the atrocity.
Nearly 3,000 people were killed when al Qaeda terrorists hijacked passenger planes and flew them into the Twin Towers of the World Trade Center in New York, the Pentagon HQ in Washington. Another hijacked plane crashed in a Pennsylvania field.
The attack marked the largest loss of emergency personnel in US history.
Bob Menendez: Democrat senator accused of bribery says $480,000 in cash found at home was from his personal savings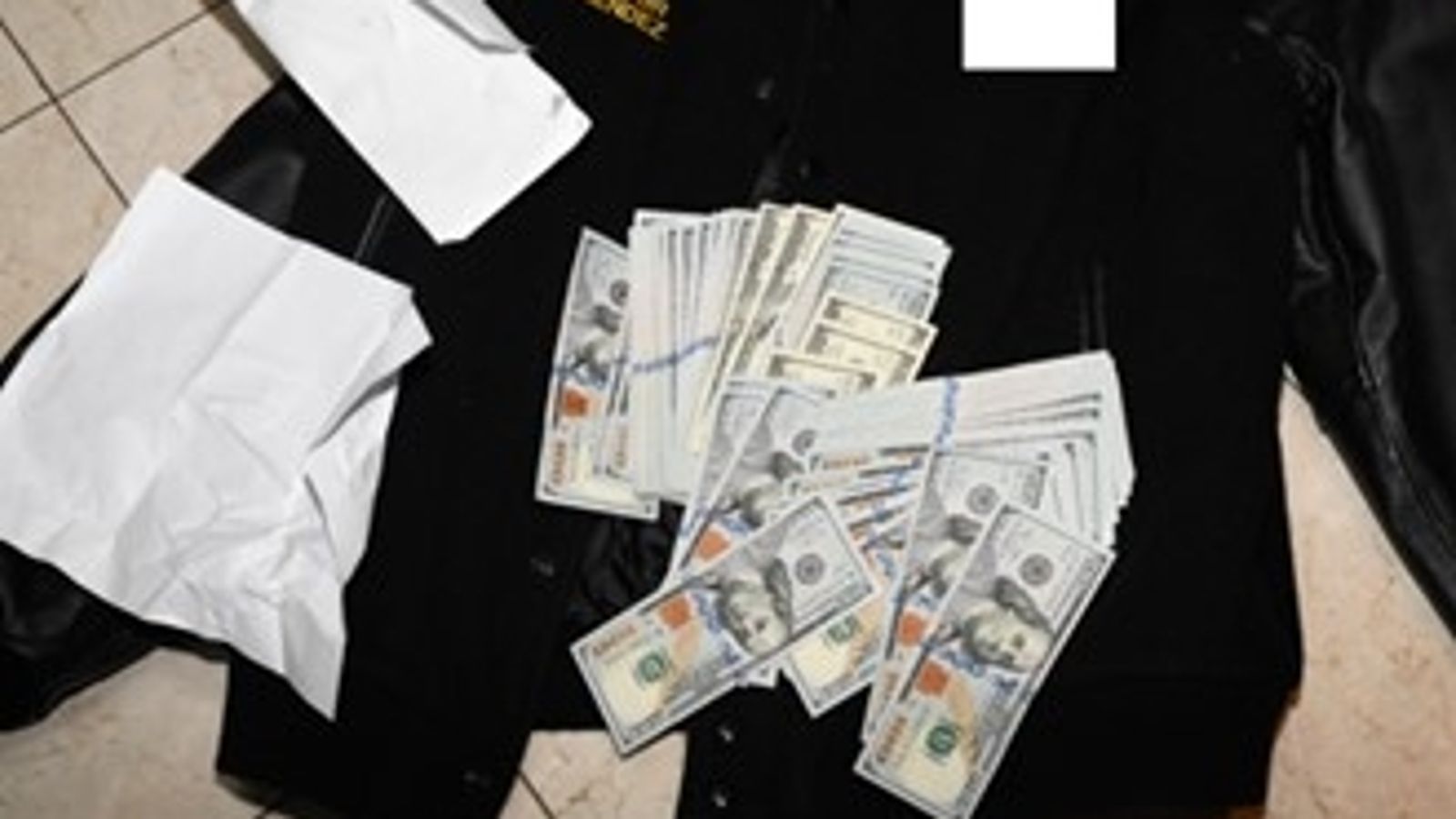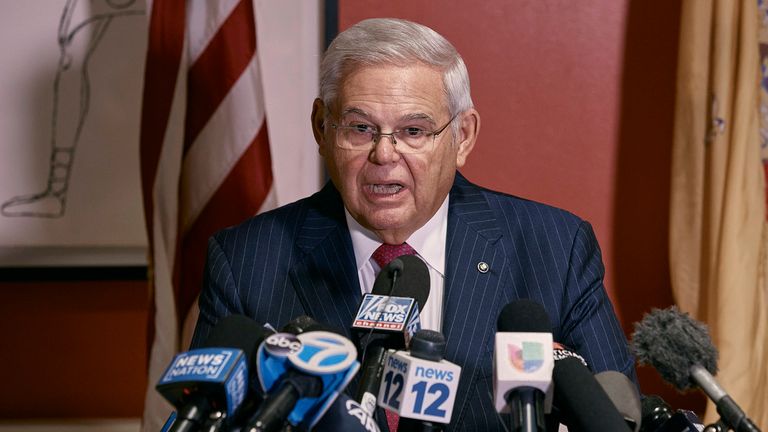 A US senator facing corruption charges says nearly half a million dollars in cash which authorities discovered in his home was from his personal savings – and not from bribes.
Democrat Bob Menendez also said the $480,000 (£393,000) – allegedly found stuffed into envelopes and hidden in clothing, closets and a safe at his home – was being kept on hand for emergencies.
"This may seem old-fashioned, but these were monies drawn from my personal savings account based on the income that I have lawfully derived over those 30 years," said the veteran New Jersey senator, who has been charged with bribery.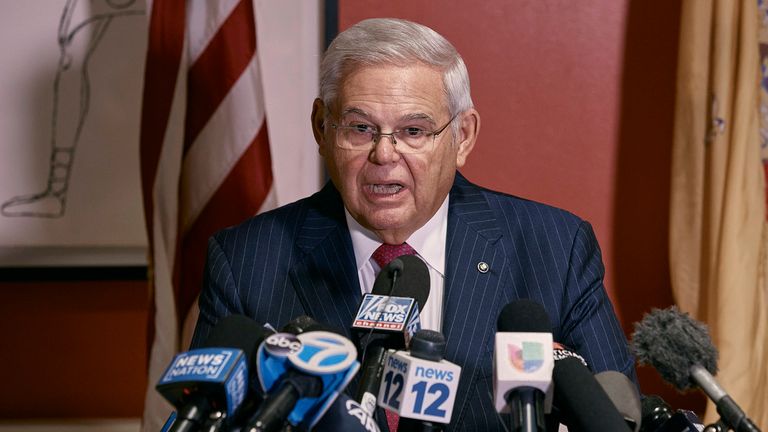 Federal agents who carried out the search of his home in 2022 also found gold bars worth more than $100,000 (£82,000), prosecutors said. Another $70,000 was discovered inside his wife's safety deposit box, they said.
Rejecting calls for him to resign – including from Senate majority leader Chuck Schumer – Menendez added in a news conference: "I recognise this will be the biggest fight yet.
"But as I have stated throughout this whole process, I firmly believe that when all the facts are presented, not only will I be exonerated, but I still will be the New Jersey's senior senator."
Menendez, 69, made the speech at Hudson County Community College's campus in Union City – where he grew up.
It came after he announced his decision to temporarily step down as chairman of the Senate Foreign Relations Committee following the charges.
He and his wife, Nadine Menendez, are accused of accepting hundreds of thousands of dollars in cash, gold and a luxury car from a trio of New Jersey businessmen in return for a variety of corrupt acts, according to an indictment, which was unsealed on Friday.
The indictment alleged Menendez used his clout to interfere in three criminal cases, pressured US agriculture regulators to protect an associate's business interests, and used his position as chairman of the Foreign Relations Committee to influence US policy on Egypt.
Read more:
Hollywood writers reach 'tentative' deal to end strike
What investigations is Donald Trump facing?
Prosecutors claim he met Egyptian military and intelligence officials, passed on non-public information about employees at the US embassy in Cairo and was the ghostwriter of a letter on behalf of Egypt asking his Senate colleagues to release a hold on $300m (£246m) worth of aid.
Addressing his relationship with Egypt, he suggested he had been tough on the country over its detention of Americans and other "human rights abuses".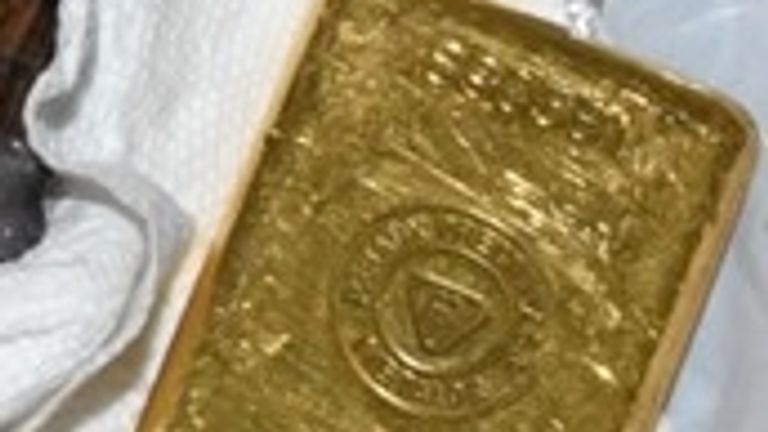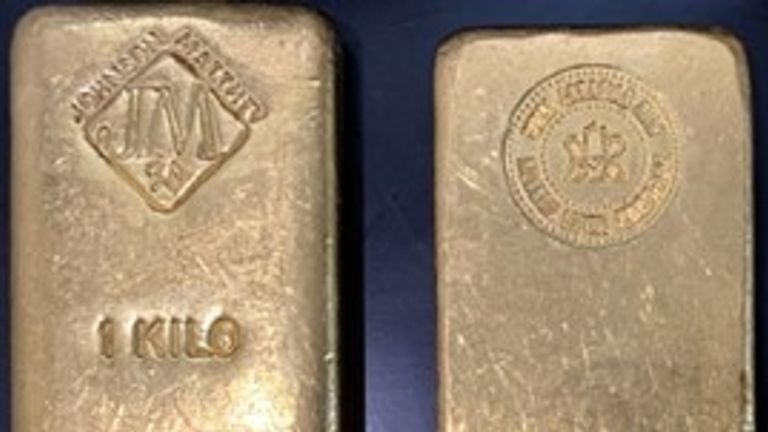 "If you look at my actions related to Egypt during the period described in this indictment and throughout my whole career, my record is clear and consistent in holding Egypt accountable," he said.
Menendez and his wife each face charges of conspiracy to commit bribery, conspiracy to commit honest services fraud, and conspiracy to commit extortion under colour of official right.
He denies any wrongdoing.
In an emailed statement last week, he accused prosecutors of misrepresenting "the normal work of a congressional office" and said he will not allow his work in the Senate to be distracted by "baseless allegations".
A lawyer for his wife said she "denies any criminal conduct and will vigorously contest these charges in court".
Bruce Willis's wife says it's 'hard to know' if he is aware of his dementia condition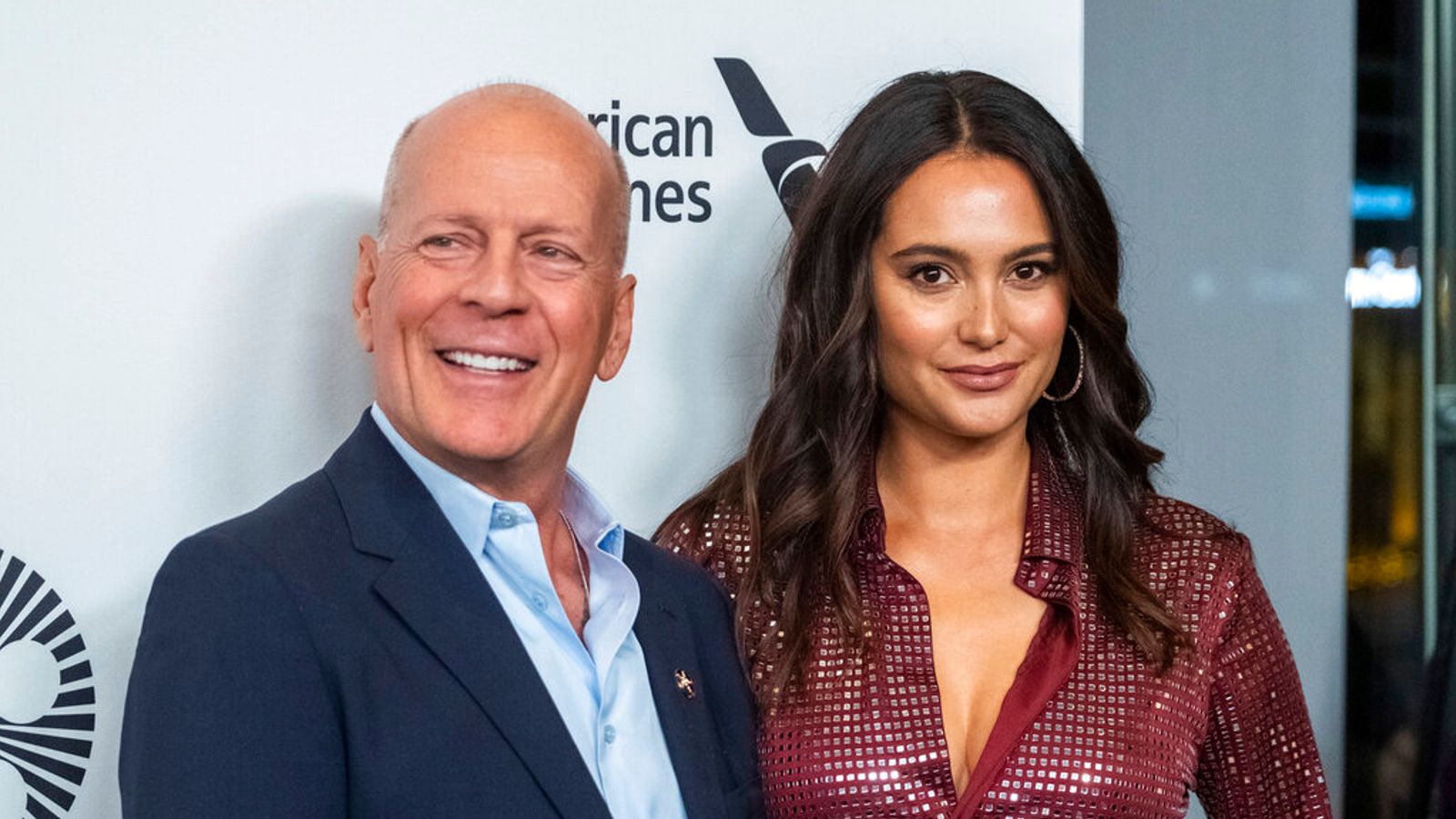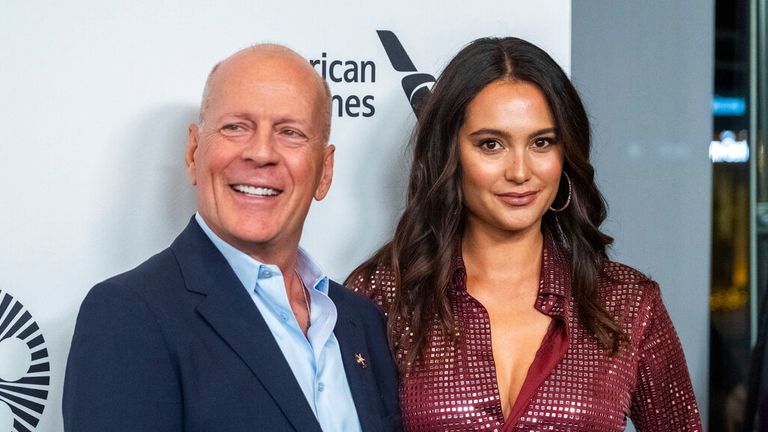 Bruce Willis's wife has opened up for the first time about her husband's dementia, revealing it was unclear whether the actor was aware of his own condition.
Emma Heming Willis told the Today show on NBC it was "hard to know" if her husband knew of his aphasia – a condition affecting his cognitive abilities.
She said the actor's dementia had been "hard on the family" since he was diagnosed more than a year ago.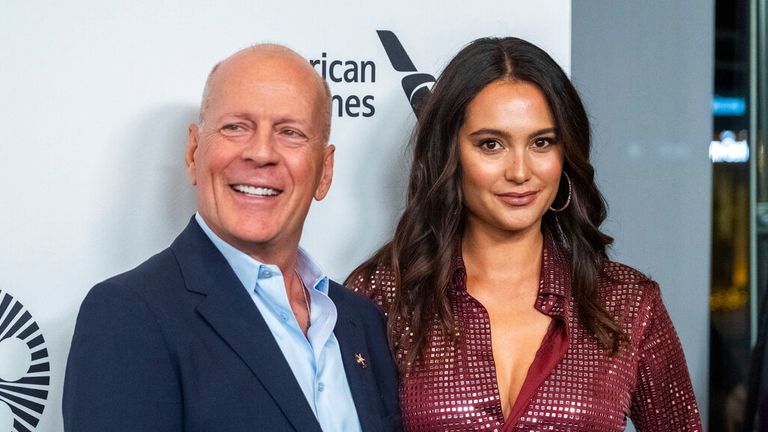 "What I'm learning is that dementia is hard," she said. "It's hard on the person diagnosed, it's also hard on the family.
"That is no different for Bruce, or myself or our girls. And when they say that this is a family disease, it really is."
The model, who has been married to the Die Hard star since 2009, said she was now a "care partner" and that the disease was spoken about as part of an "open and honest household".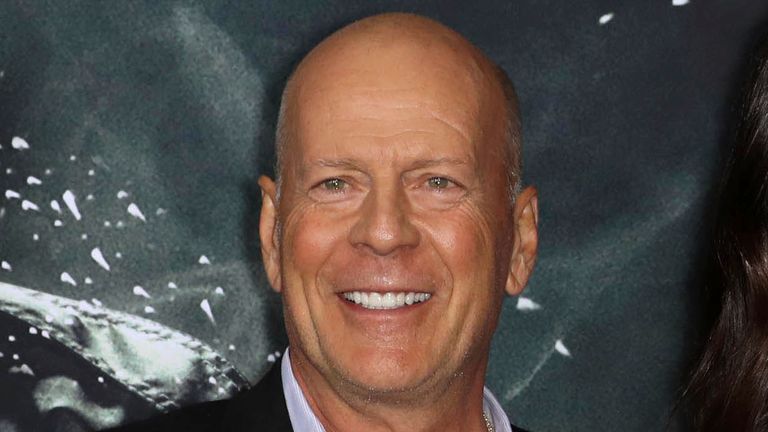 She said: "The most important thing was to be able, for us, to say what the disease was, explain what it is, because when you know what the disease is from a medical standpoint it sort of all makes sense.
"It was important that we let [our daughters] know what it is because I don't want there to be any stigma or shame attached to their dad's diagnosis or any form of dementia."
The couple have two young daughters, Evelyn and Mabel, and Willis, 68, has three adult daughters with his first wife and actress, Demi Moore.
Emma Heming Willis opened up during World FTD (frontotemporal dementia) Awareness Week.
She said his diagnosis was a "blessing and a curse", explaining that "just being in the know" of what was happening "made it a little bit easier… [but didn't] make it any less painful".
"Honestly, he is the gift that keeps on giving. Love. Patience. Resilience. So much and he's teaching me and our whole family. For me to be out here doing this, this is not my comfort zone. This is the power of Bruce," she said.
Read more:
What is FTD and how does it affect people?
Willis's daughter shares photo of star with new granddaughter
The 45-year-old said it was important to ask for "help and support" and care partners should "look after themselves" so they can be the best care partner for the person they are caring for.
On her daughters' experience, she added how the situation was "teaching them how to care and love" and that it was a "beautiful thing amongst the sadness".
April: Family release unseen footage of Bruce Willis

FTD is thought to account for less than one in 20 of all dementia cases.
It is named for the parts of the brain it affects – the frontal and temporal lobes and causes changes to personality, behaviour, language and movement.
As with other forms of dementia, the onset of the disease is slow to begin with but gradually gets worse.
There is currently no cure for FTD, but there are medicines, therapies and memory activities that can help control some of the symptoms.
The average survival time after symptoms start is between eight and 10 years.
Willis came to national attention alongside Cybill Shepherd in the 1980s TV hit Moonlighting.
His first big film role was as John McClane in the smash hit Die Hard in 1988. He went on to star in movies including Pulp Fiction, 12 Monkeys and The Sixth Sense.
Over four decades he starred in more than 100 films, which have amassed over $5bn (£4.17bn) at the box office worldwide.