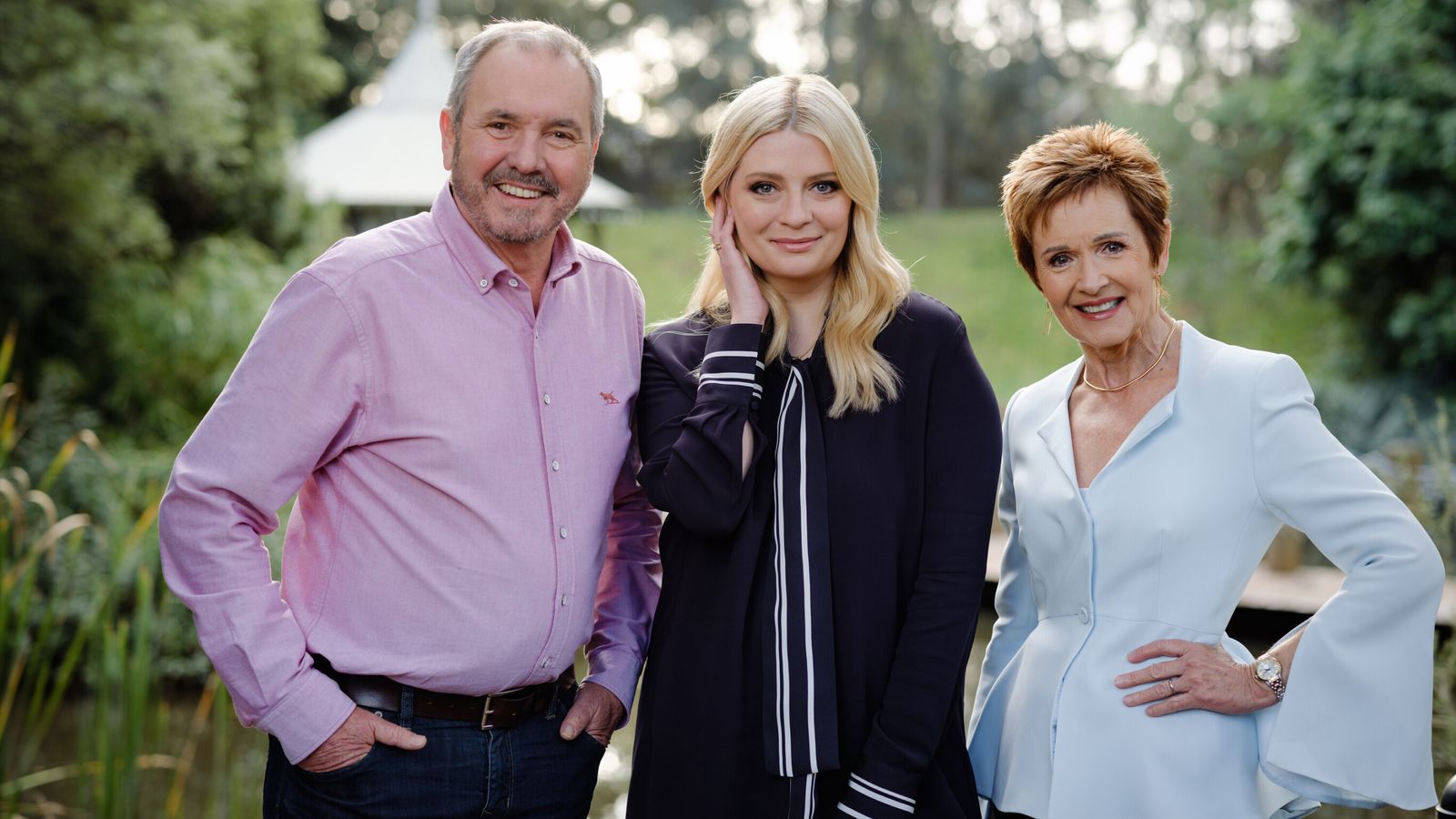 Neighbours returns! Stars including Alan Fletcher and Mischa Barton reveal all about the shocks in store – and the not-so-final farewell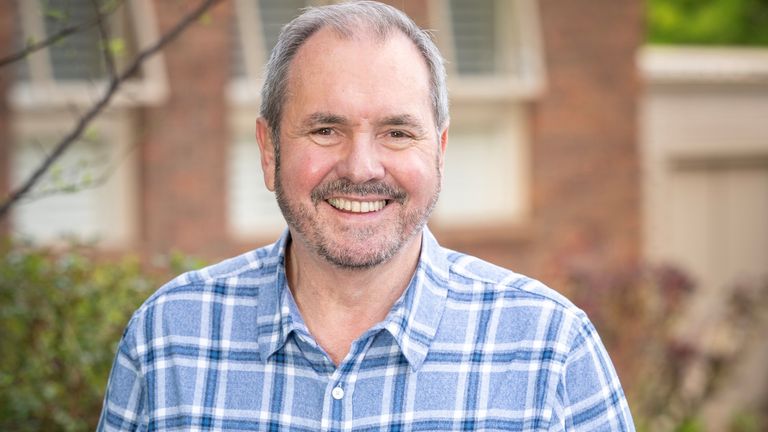 Well, it turns out everybody needs good Neighbours after all – the long-running soap is back just over a year after what we thought was the final farewell to Ramsay Street.
Kylie Minogue, Jason Donovan, Guy Pearce – even Margot Robbie on Zoom! – were among the famous former stars who returned to Erinsborough to say goodbye after the Australian soap was axed by British broadcaster Channel 5, after 37 years on screen, in 2022.
But, almost as if Bouncer had conjured it up in a dream, earlier this year it was announced that streamer Amazon Freevee would be bringing Neighbours back. The first episode airs on Monday, with some familiar faces – Hi Dr Karl and Susan! – as well as a mysterious new arrival played by Mischa Barton, star of glamorous noughties US teen drama The OC.
As we enter the era of Neighbours 2.0, Sky News spoke to some of the stars about the big return.
Alan Fletcher (Dr Karl Kennedy): 'I was nervous coming back'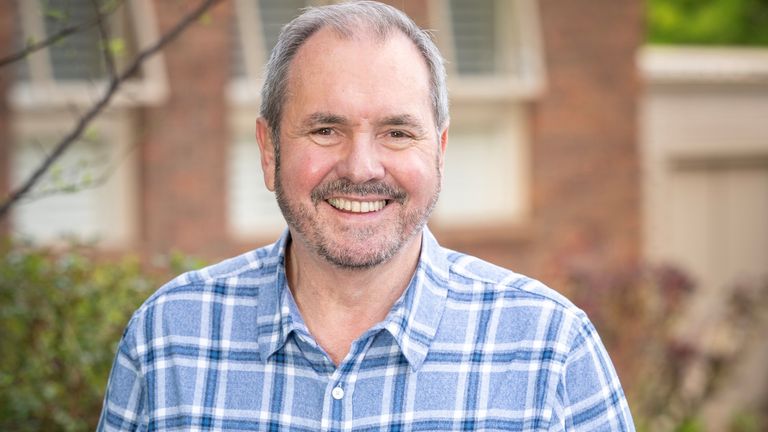 Everywhere you go in the UK, people just want to talk Neighbours, talk excitement levels about Neighbours coming back. It's quite a phenomenon. In the script there's been a two-year break, so the writing team have very cleverly been able to craft a story that teases out what happens in those two years.
I was quite nervous going back because, you know, Neighbours was kind of like wearing old clothes for most of us – a very familiar work environment, you go to work, you know everybody, it was very relaxed and we had a great time making our TV show. Coming back, the stakes are suddenly way up here because the show has been saved and we really needed to pay homage to that.
There's some delicious comedy to come. We've got wonderful returnees like Harold coming in to be a guest character. We've got these fabulous new characters as well. So there's a lot going on… and it has been revealed that there's something going on with [Karl's wife] Susan, some sort of secret she's holding on to. And that plays out really interestingly. It's a bit of a shock to Karl.
Mischa Barton (Reece Sinclair): 'I was grateful to Neighbours veterans'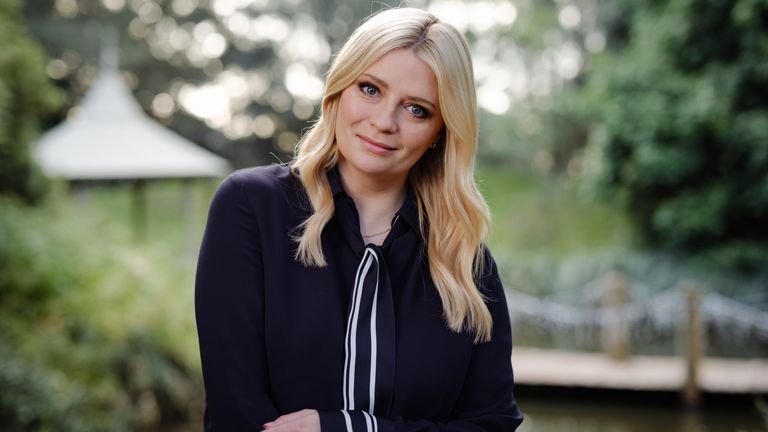 Neighbours was surprisingly different to other shows I've worked on. All of these sets function very differently. This one, it was wild. I have a lot of respect for them; it's multi-camera and they work so fast and the amount of content that they shoot, like five episodes in a week and probably 20 scenes a day, and they don't get multiple takes. I was really grateful to veterans like Stefan [Dennis, who plays Paul Robinson] to take me under his wing and show me how it functions, because it's a well-oiled machine.
Reece Sinclair, I just really like her as a character. I thought she was something that I would enjoy playing and was kind of written with me in mind. And the writers were very open to trying to Americanise it a little bit and make sure she was like, you know, appropriately outsider but also had her place in this world… Reece will definitely find a way to irritate Paul, which is good. She's very mysterious. You don't really know why she's there at first and then it turns out there is a lot more to her being there than originally meets the eye. So it's not quite straightforward.
I've done my piece, but I mean, it's left so that the character can come back. In true Neighbours style, there's always the option there and anything can really happen with. She leaves things behind in Australia so it's definitely a possibility. It's not wrapped up.
Georgie Stone (Mackenzie Hargreaves): 'Neighbours allowed a trans character to exist as a person'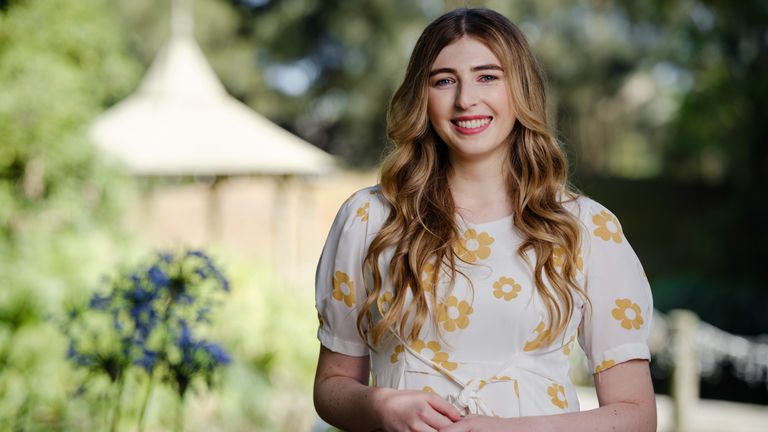 I remember vividly saying goodbye to everyone, goodbye to the show and goodbye to the building, which was like our home through COVID. And that was really emotional. So to be back in that building with some familiar faces and with some new people as well was so cool. It's like the ultimate bonus round – we thought we were done and now we're back again. I think we all just feel really lucky and grateful because we know what the world is like without Neighbours and without it in our lives. So we're just holding on to that feeling.
Neighbours was an incredible opportunity for me to tell a story that was very close to my heart, you know, aligned with my own experience, with Mackenzie being a trans woman. I'm a trans woman and Neighbours was an incredible opportunity to tell a story that isn't told often on screen. And when it is told, it's kind of riddled with stereotypes and tropes that aren't helpful. Working with the writers on the show to make sure Mackenzie's experience was honest and respectful just made it such a fun and rewarding experience. And then we were able to go beyond that and have Mackenzie exist outside her gender identity and just be, in Erinsborough and part of the drama like everyone else.
I think that's radical in and of itself, to allow a trans character just to exist as a person, because so often we're reduced to that one aspect of our experience. Neighbours will always mean a lot to me because of that and in whatever projects in the future I do, Neighbours will always be that one that changed everything for me, and offered to other shows an example, a way to tell the story in a way that's really helpful and respectful. I think Neighbours has paved the way.
Stefan Dennis (Paul Robinson): 'It was one of the saddest things I ever heard'
Nostalgically I'm going to say the '80s is my favourite era of Neighbours, but in absolute honesty it's now. Right now. Seriously… let's be honest about this, we're still making a soap – we're not making Shakespeare, we're making a soap, but we're making a damn good soap. I'm privileged to be working on one of the greatest soaps on the planet, which is really, really well filmed and well written. So now is my favourite era. But nostalgically, the '80s, obviously, is when it all began and was a huge phenomenon, particularly in the UK.
The thing about the show ending was, it could have been so easy to just sort of drop the ball in the last couple of weeks and go, 'Ah, yeah, what's the point?' Not put our heart into it. But we did the opposite. One of the most emotional things that I've ever heard in my life was Adam Noel, one of our first assistant directors, when he was doing that last scene. And he said: 'Ladies and gentlemen, that's a wrap.' It was one of the saddest things I ever heard.
The way that the world watches television now has evolved greatly. My philosophy was if Neighbours, or any soap, does not get picked up by a mainstream streaming channel, it'll be the slow demise of soaps around the world, because people are watching free-to-air television for sports news, current affairs and reality television – everything else, they go to streaming. So I was ecstatic that Amazon got behind it.
Rebekah Elmaloglou (Terese Willis): 'I sold my house'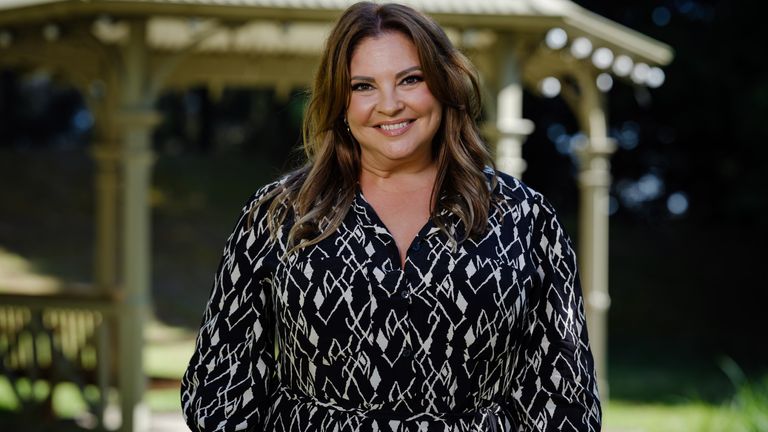 It was devastating when Neighbours ended… I think in the last six months it was just more about getting to the end and getting the job done and trying to be positive and look ahead, beyond the end of the show, to what was going to be next for all of us in our own personal lives.
As far as the cast and crew go, we were all just trying to get the job done as professionally as we could, but also knowing that, you know, we were all going to be unemployed. I sold my house. We wanted to move up to New South Wales anyway. But then, yeah, then the show got picked up again and it was like, 'Okay, we're moving back to Melbourne'. And we got the dogs and the cat and the kid and… got back in the car and drove back down. But it was fantastic. I didn't think twice about coming back."
Tim Kano (Leo Tanaka): 'It starts off with a real bang'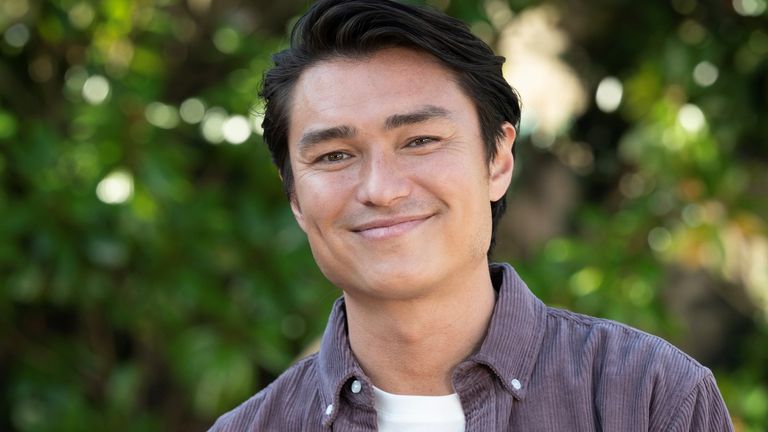 It was definitely a big grieving process when Neighbours ended and a lot of cast and crew sold their houses and moved away to different parts of Australia or wherever they originally lived. Then of course when we got the call that it was coming back, we were just overwhelmed with emotion.
They've brought it back in such a great way, it's really smart. There's enough of a time gap for a bit of evolution for the characters, but also to bring in awesome new characters as well… I think Mischa's character Reece brings a really interesting kind of twisty plotline. And I think it starts off with a real bang that has a kind of domino effect in terms of every character gets affected by what happens, even in the first episode. So it's exciting to see what comes around and also how the fans are going to react to the shock as well.
Hollywood writers reach 'tentative' deal to end strike over AI and compensation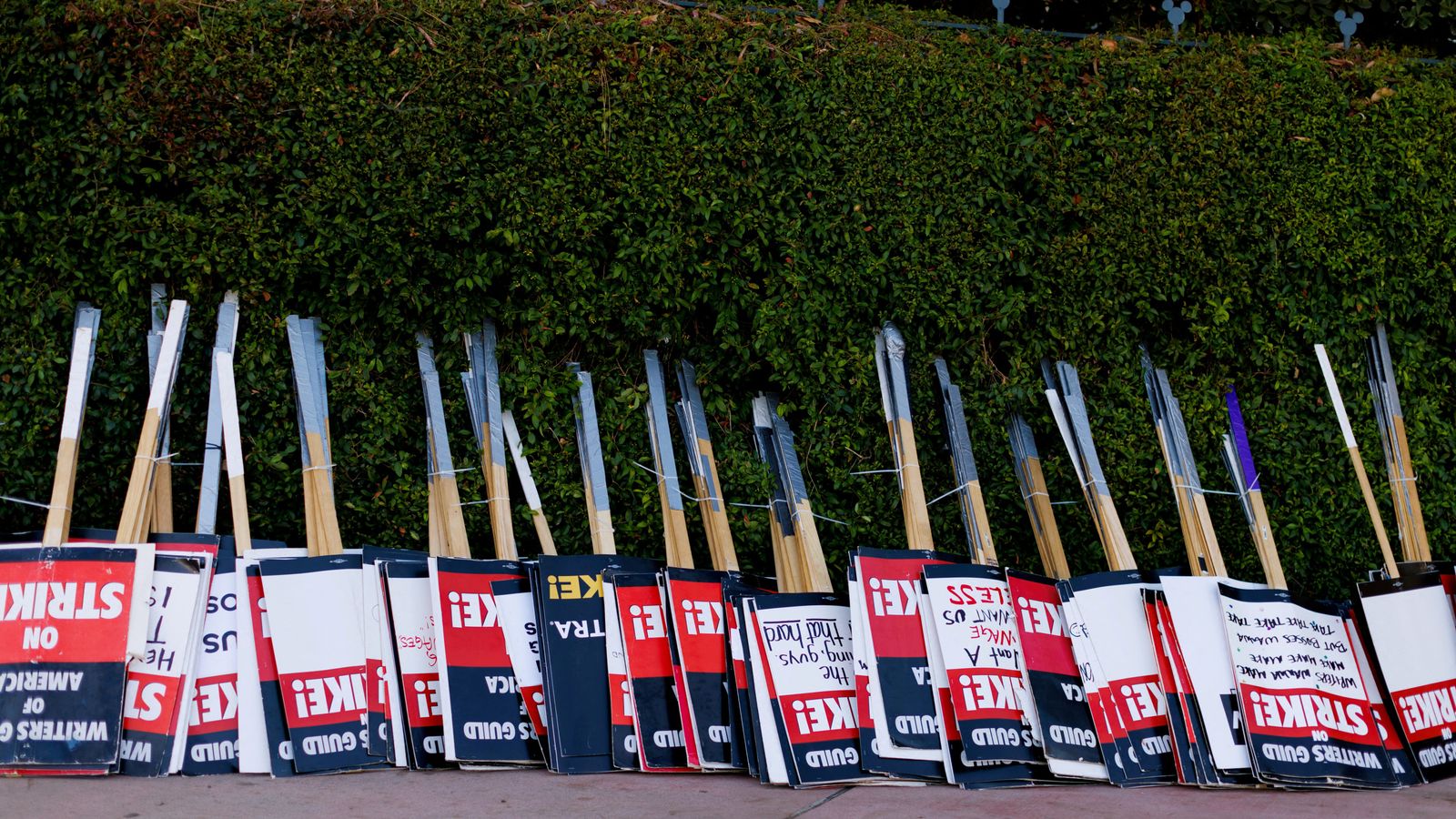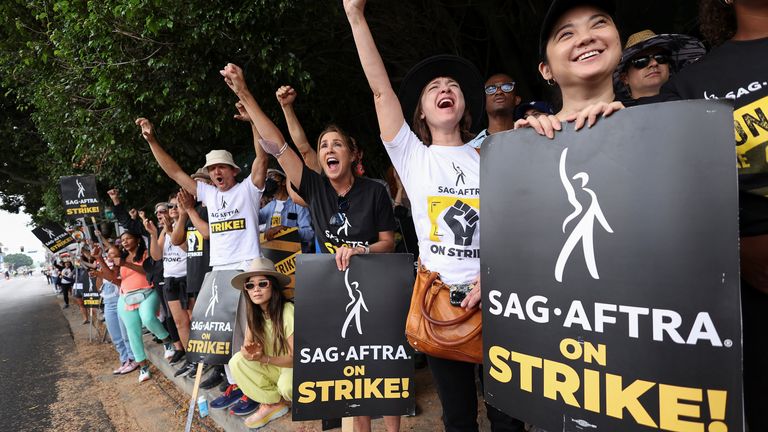 A "tentative" deal has been reached to end a long-running strike by writers in Hollywood.
The Writers Guild of America (WGA) announced the deal with the Alliance of Motion Picture and Television Producers (AMPTP), the group which represents studios, streaming services and producers in negotiations.
A statement from the WGA said: "We have reached a tentative agreement on a new 2023 MBA, which is to say an agreement in principle on all deal points, subject to drafting final contract language.
"We can say, with great pride, that this deal is exceptional – with meaningful gains and protections for writers in every sector of the membership."
Most of the writers' demands have been met
After 146 days on the picket line, Hollywood's writers are finally ready to put pen to paper and sign an agreement with the studio bosses who pay their wages.
My understanding from speaking to sources on both sides of the standoff, is that most of the writers' demands have been met with this deal, including greater royalty payments and assurances about the role of Artificial Intelligence in future TV and filmmaking.
If approved by the Writers Guild of America members, which seems all but guaranteed, it will bring an end to the second longest strike in the union's history. It is also the broadest industry strike in decades, with more than 100,000 actors joining them on the picket.
Hollywood will not fully bounce back. Until actors return to work, filming on shows like the Last Of Us and Stranger Things, which have been on hold for months now, cannot resume. But talk shows like Jimmy Kimmel Live! and Saturday Night Live, which don't rely on actors, could resume filming as soon as this week.
Speaking to people on the picket line, they framed this strike action as about more than just Hollywood. Some said AI was not just "anti-creative" but that it presented an existential threat not just to their craft but to humankind.
This deal will be seen as a major victory in securing protections over their TV and film credits and payments in the wake of AI.
The three-year contract agreement – settled on after five days of renewed talks by negotiators from the WGA and the AMPTP – must be approved by the guild's board and members before the strike officially ends.
Read more on Hollywood strikes:
How much of a threat is AI?
The terms of the deal were not immediately announced.
The statement added: "To be clear, no one is to return to work until specifically authorised to by the Guild.
"We are still on strike until then. But we are, as of today, suspending WGA picketing. Instead, if you are able, we encourage you to join the SAG-AFTRA picket lines this week."
The agreement comes just five days before the strike would have become the longest in the guild's history, and the longest Hollywood strike in decades.
About 11,500 members of the Writers Guild of America walked off the job on 2 May over issues of pay, the size of writing staffs on shows and the use of artificial intelligence (AI) in the creation of scripts.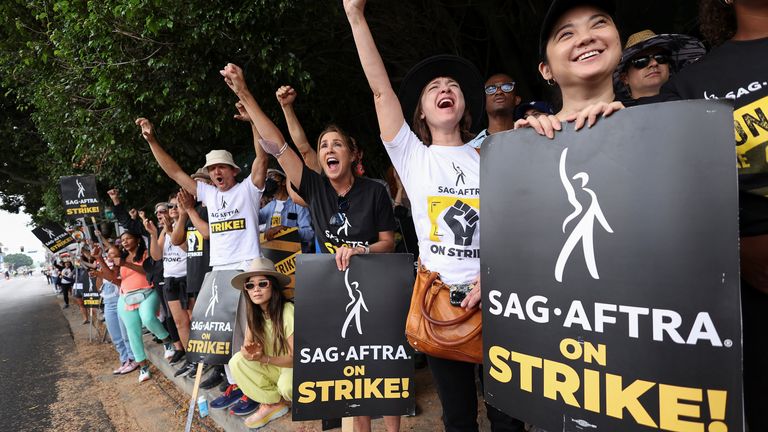 In July, the SAG-AFTRA actors' union started its own walkout which is yet to be resolved.
It said in a statement: "SAG-AFTRA congratulates the WGA on reaching a tentative agreement with the AMPTP after 146 days of incredible strength, resiliency and solidarity on the picket lines.
"While we look forward to reviewing the WGA and AMPTP's tentative agreement, we remain committed to achieving the necessary terms for our members.
"We remain on strike in our TV/Theatrical contract and continue to urge the studio and streamer CEOs and the AMPTP to return to the table and make the fair deal that our members deserve and demand."
David Tennant and Catherine Tate appear in surprise Doctor Who trailer alongside a star studded cast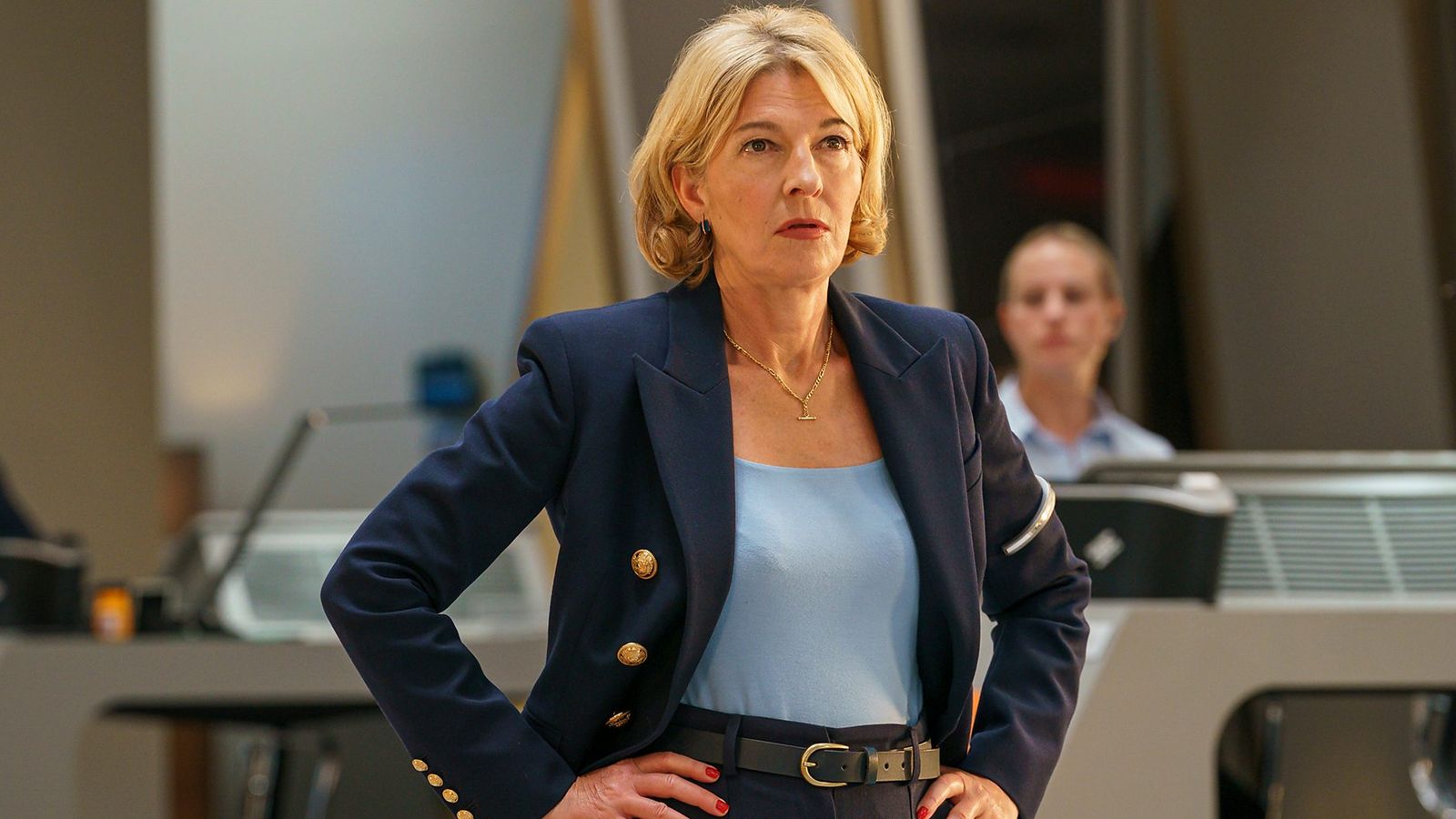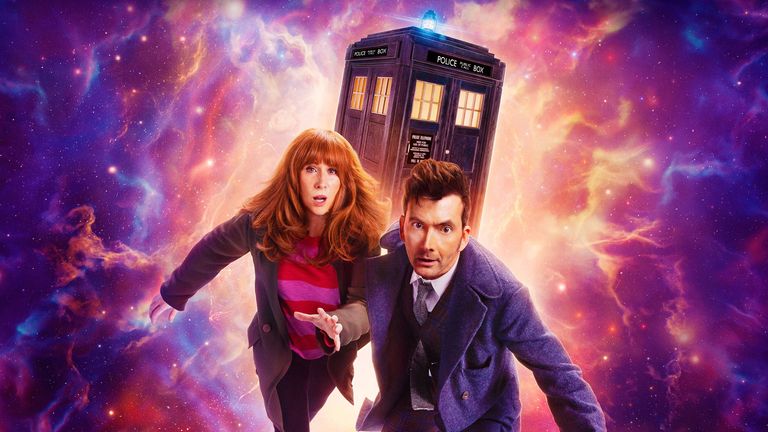 Doctor Who fans were given a surprise on Saturday – with a new trailer showing the return of two beloved characters.
Just as viewers were about to be transported in the ballroom for the first Strictly Come Dancing live show of 2023, they took a quick detour via the TARDIS.
Tennant was one of the most popular Doctors after the show was revived, with his exit – alongside companion Catherine Tate – leaving many fans heartbroken.
But in a surprise twist at the end of the last series, Jodie Whittaker's character regenerated into David Tennant's iteration of the Doctor – who played the iconic Time Lord between 2005 and 2010.
Fans had been expecting to see Ncuti Gatwa, who was announced as the new Doctor earlier this year.
Both Tennant and Tate are returning this November for three episodes as part of a 60th anniversary special of the show.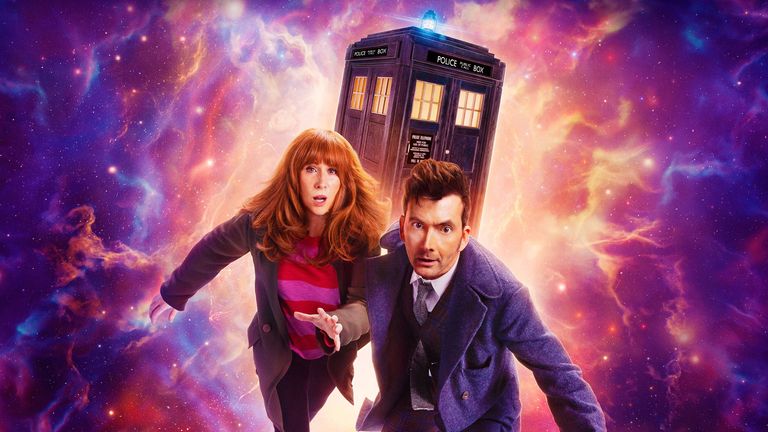 Sex Education star Gatwa will then take over the role, with his first appearance as the 15th Doctor Who set to take place over the festive season. Gatwa is seen at the end of trailer, smiling and opening his eyes.
The new trailer saw Tennant and Tate reunited, with the latter regaining her memory and the pair fighting against a host of new villains.
At one point, Tennant says: "I don't believe in destiny but if destiny exists then it is heading for Donna Noble. If she ever remembers she will die."
The brand new trailer features Neil Patrick-Harris – he will play the Toymaker, an all-powerful enemy last seen in 1966.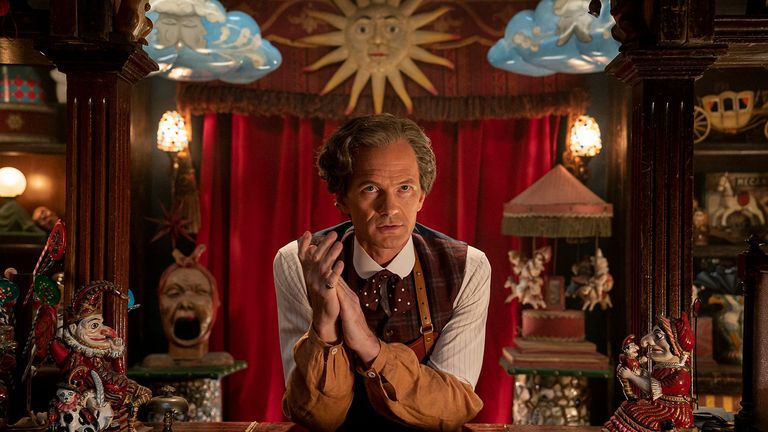 Elsewhere, Jemma Redgrave reprises her iconic role as Kate Lethbridge-Stewart.
Show runner Russell T Davies said: "This is just the start, as the fever starts to burn. We're heading for a November full of Doctor Who surprises, for fans and new viewers alike. Stay alert!"
The show will premiere exclusively on the BBC for the UK and Ireland. Disney+ will be the exclusive home for new seasons of Doctor Who outside of the UK and Ireland.
Kids' TV is dying but it is evolving – and could create a new golden age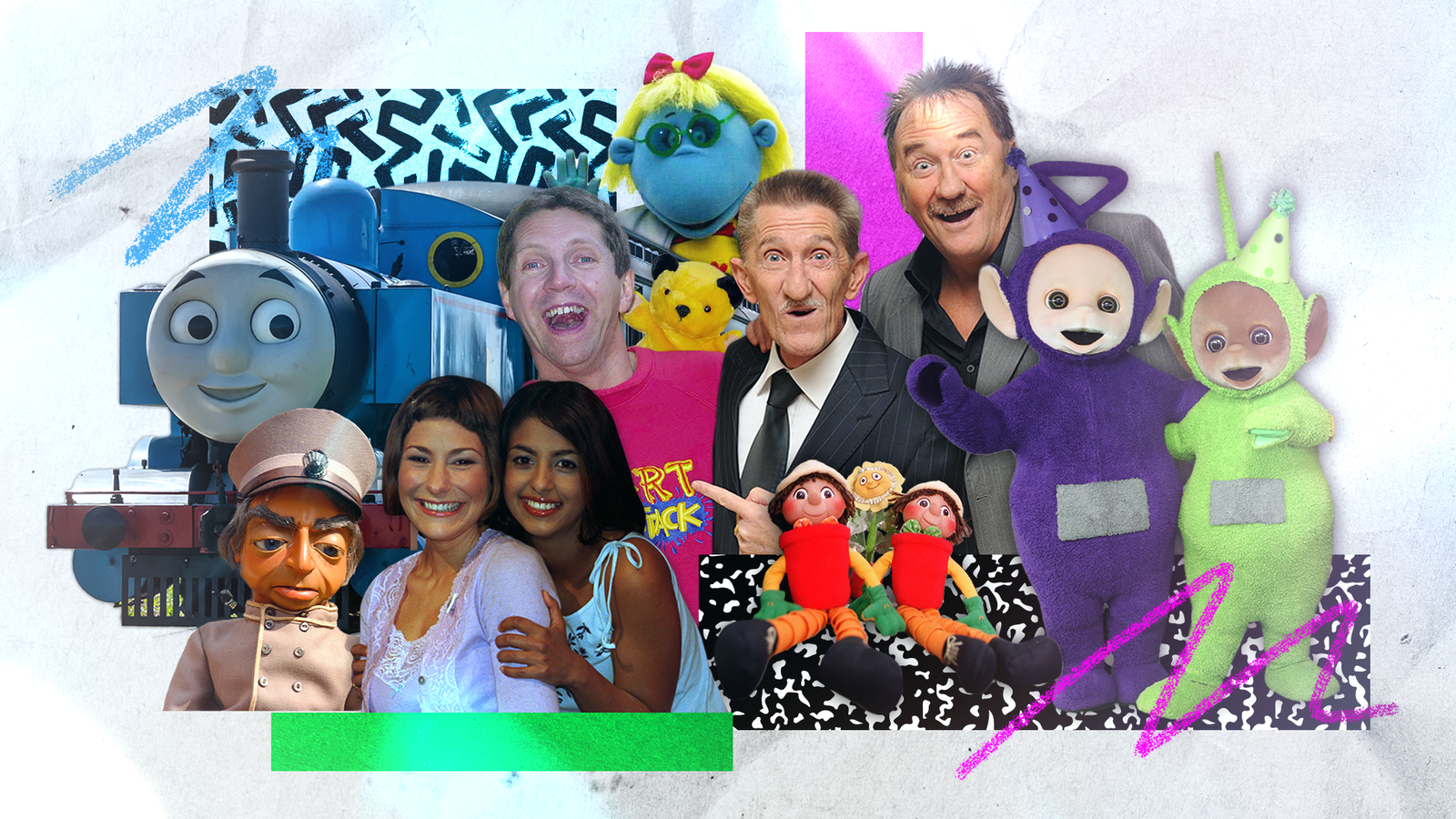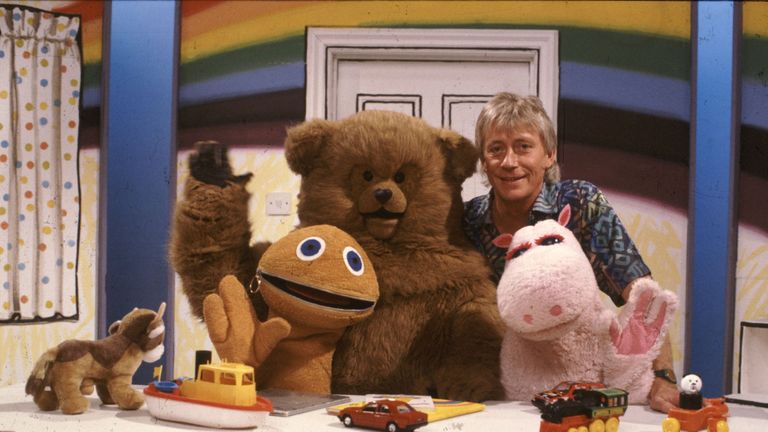 CITV – the channel that gave us Fraggle Rock, Danger Mouse and Rainbow – has left our terrestrial screens. CBBC – home of Blue Peter and Newsround – plans to follow.
Meanwhile real-term investment in children's TV by public service broadcasters has dropped by 30% in the last 10 years.
And while Sky has bucked the trend by launching an ad free kids channel, overall, the future of kids TV is looking bleak.
But figures show young people are still watching TV – albeit in a different way. Recent BARB viewing data shows that while the average amount of broadcast TV minutes of children's TV channels watched by four-year-olds per week has declined by 62% since 2019, viewing has risen by 30% in the same period, demonstrating the "streaming first" trend in children's viewing habits.
So, if kids are ditching linear viewing in favour of streaming, some might say that public service broadcasters moving their content online makes sense. Others would rightly argue that not all children have access to the internet.
And then there's the question of what kids are actually watching online. It's an "explosion" of choice the longest-serving female presenter of Blue Peter, Konnie Huq, doesn't think it's necessarily a good thing.
Huq tells Sky News: "Kids will always go for the biggest, fastest dopamine hit… We live in a world of instant gratification culture and actually delayed gratification is much better for happiness and mental wellbeing in the long term.
"And kids, obviously they're not old enough to always make the right judgement calls."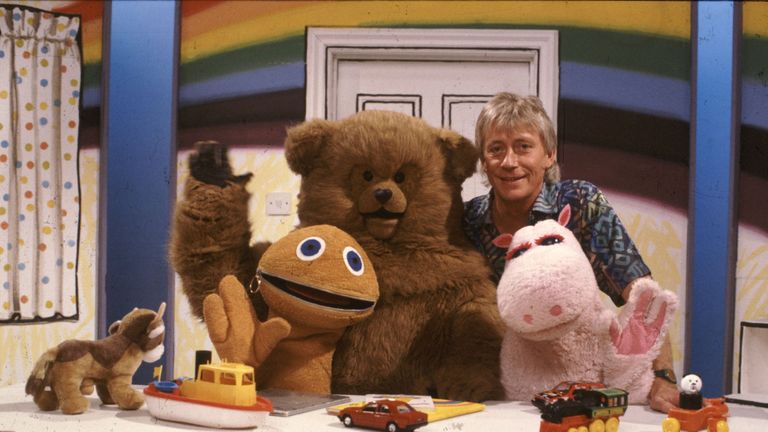 Huq – who is a mother-of-two herself and now works as a children's author and screenwriter – recognises the needs for government legislation to hold streaming companies to account for the content they're putting out. But she also recognises the limitations of people trying to control a seemingly infinite web.
She says: "It's hard for laws, legislation, parents, schools, and the control culture to keep up with the changes that are going on.
"So, it's important to make sure that you know what your kid is seeing, because on YouTube, for instance, your child could be watching one thing, but then different suggestions pop up unselected, unbeknownst to you. So, a few programmes hop away could be something that you might not be comfy with your child watching."
Subscribe to the Sky News Daily wherever you get your podcasts
The Online Safety Bill – a new set of laws to protect children and adults online – is due to come into law later this year.
And at the Royal Television Society Convention earlier this week, the Culture Secretary Lucy Frazer announced new plans to bring unregulated online channels under Ofcom content rules on traditional TV to ensure children and vulnerable viewers are protected from inappropriate or harmful material.
The Department for Culture, Media and Sport told Sky News: "The shows we watch as children shape the way we see the world, staying with us forever.
"From Thomas The Tank Engine to Shaun The Sheep and Horrible Histories, the UK is home to some of the world's best children's shows. Over 845 kids programmes have benefitted from the government's generous animation and children's tax reliefs, increased in this year's budget, leading to more than a billion pounds of investment.
"The upcoming Media Bill will require mainstream on-demand streaming services to follow a new video-on-demand code protecting children from harmful or inappropriate content and we're consulting on bringing unregulated online TV channels under Ofcom's rules to deliver consistent protections."
However, with investment in kids TV at its lowest level since 2012 (Ofcom's Media Nations Report found that real-terms investment in children's TV by public service broadcasters fell from £114m in 2013, to £80m last year) many would argue that investment just isn't enough.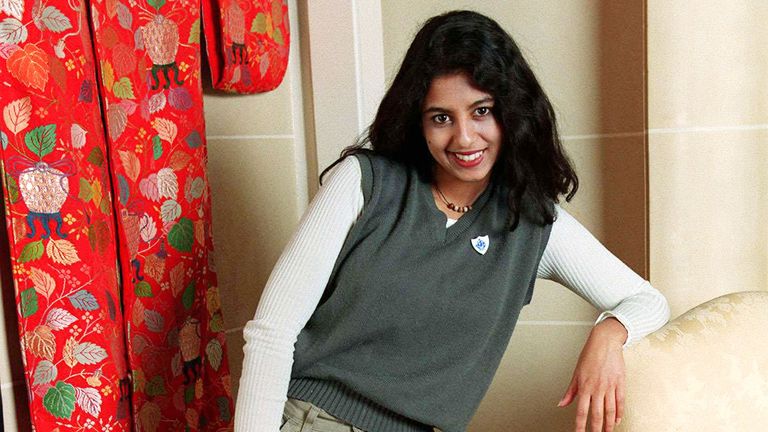 Spending on original kid's content in the UK has been slashed following the 2006 ban on advertising junk food to children.
And the Young Audiences Content Fund – a £44m fund designed to help support children's programming on channels including ITV and Channel 5 – was scrapped by the government last year.
Former CBeebies series producer Jon Hancock, who is now managing director of kids and family production company Three Arrows Media, calls the ditching of the fund "a difficult pill to swallow", particularly because it was such "a monumental success".
Set up by the government, and administered by the BFI, the fund was created to help stimulate more commissioning of UK-specific content in public service broadcasters outside of the BBC (which is funded by the licence fee).
The BAFTA-winning producer says the fund "helped the likes of Channel Five commission some fantastic award-winning content and to have that scrapped as it was 18 months ago was a devastating blow to the children's industry".
Huq too also says the loss of original, sometimes boundary pushing content, is a blow to British children's viewing.
"Kids programming has often been ahead of the curve, before grown up programming has even caught up with it. And you know, that comes to so much diversity, when you're looking at stuff like gay rights, things you wouldn't necessarily assume kids TV even touched with a barge pole or had a hand in, kids TV was always at the forefront."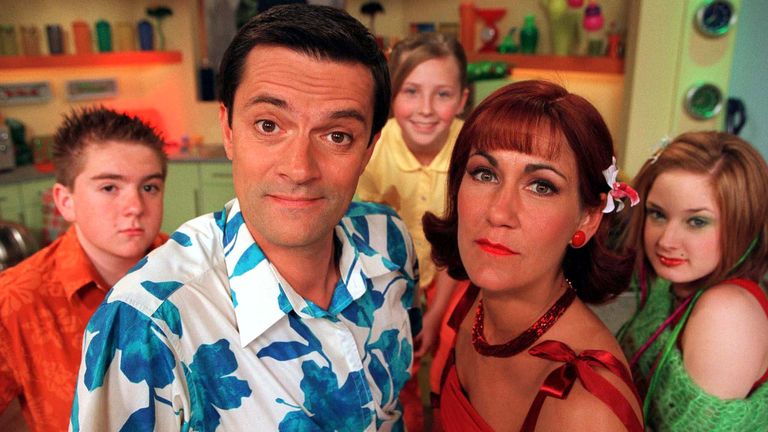 As for BBC's plans to stop terrestrial broadcasting of its children's channel CBBC – home to shows including Blue Peter and Newsround – in the future, Huq feels the broadcaster could be missing a trick.
"There's less and less of these shared viewing experiences, which is why I think some of these Pixar films do so well these days, in that teatime viewing isn't really a thing and everyone seems to just be watching their own thing on their own device. There is no family viewing as such."
The BBC told Sky News: "We have said we won't close any of our children's channels before 2025 at the earliest, and we will maintain them for as long as they deliver value, and our audience needs them.
"Children's content is a priority for the BBC and we are the major investor of original, culturally relevant British content for ages 0-12 – more than any other streamer or broadcaster in the UK and we still have the two leading linear channels for them."
Read more from Sky News:
Family sues state governor after student suspended over dreadlocks
Manchester's Bee Network buses roll out as part of 'symbolic' public ownership plan
So, while Bob The Builder and Horrid Henry have been forcibly evicted from their CITV terrestrial home, and plonked into ITVX Kids, Blue Peter at least has a temporary reprieve, and won't weighing anchor quite yet.
Time will tell if the evolution of kids TV to online will crush its creative spark or whether the challenge of standing out in a crowded marketplace will inspire innovative new shows and approaches – a new golden age of children's TV.
But as kids become the curators of their own content – the good, bad and ugly – might we do well to consider whether we're handing over too much responsibility to our youngest – and arguably most important – viewers to consume whatever, wherever and whenever they want?
If you're a parent or caregiver – or just love children's TV – you can find Sky's ad-free, 24-hour Sky Kids channel on Sky Q, Stream, Glass, and NOW.