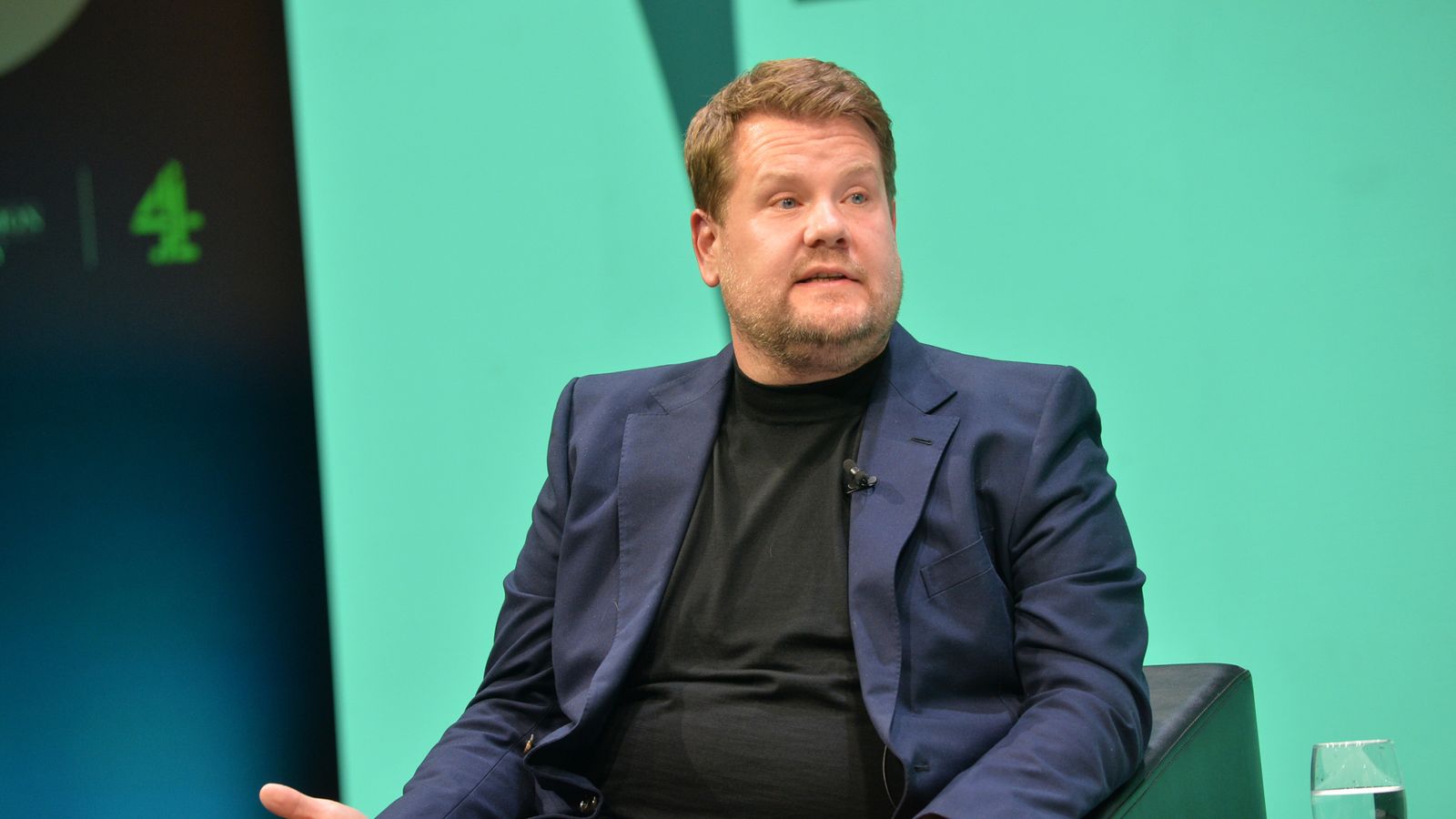 James Corden on leaving his talk show, flying with Tom Cruise and whether he'll do more Gavin & Stacey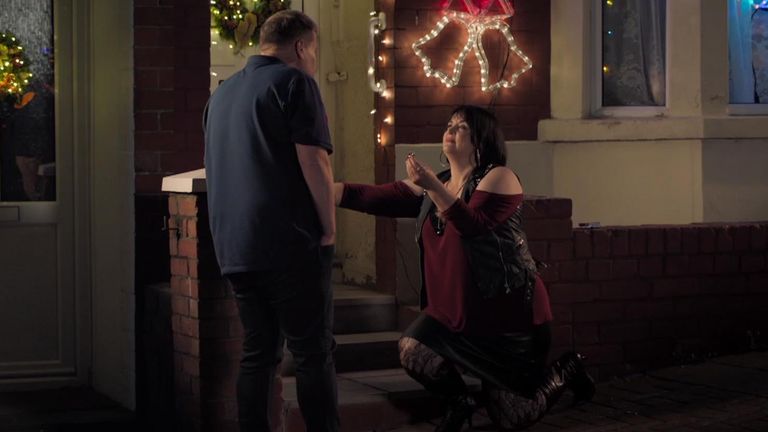 British star James Corden has told how he felt "compelled" to come back to the UK after eight years hosting his hit US chat show – but says it was "very difficult" to walk away.
In his first interview since returning home, the actor and presenter also spoke about the phone call he received from Tom Cruise to calm his nerves ahead of a Top Gun stunt, and gave his thoughts on whether Gavin & Stacey should come back to TV screens after a "perfect" cliffhanger.
Corden was speaking at a Royal Television Society event, looking back at how he went from being a relatively unknown British star in the US, to a world-famous presenter who has now interviewed everyone from Paul McCartney and Justin Bieber to Michelle Obama and Prince Harry.
He said he would always be "immensely proud" of presenting The Late Late Show.
Corden said: "What a thing to have done. It is a source of overwhelming feeling and just thinking, I genuinely don't know what I've done to deserve such memories, to deserve such things, and it's really hard to walk away from, it's a very difficult thing to leave, but I felt compelled to come home."
In the weeks since he has been back, Corden said people have questioned why he would choose to be here rather than LA.
"Sometimes you want to shake people and go, I wish you could see it from a distance," he said.
He added: "I wish you could see this island from a distance. It's unbelievable. It's amazing, the architecture and the people and the creativity and the things that we make, the size of the country versus its output is extraordinary.
"And I just felt compelled to come home and, you know, to just try and see if there might be one more thing that I can do, safe in the knowledge that there might not be."
Read more from Sky News:
Sophie Turner sues Joe Jonas
Emma Thompson on Hollywood strikes
Strictly star shaves head after cancer diagnosis
Corden told the audience that despite being "terrified" when he started on The Late Late Show, his aim was always to create a series that embraced the internet – something he did with segments such as Carpool Karaoke and Spill Your Guts, which often went viral.
Over the years, the show featured the likes of Kim Kardashian, Adele, One Direction, Stevie Wonder and Sir Elton John.
Asked by session host Boyd Hilton, the entertainment director of Heat magazine, about his time flying with Cruise, who is famous for doing his own stunts, ahead of the release of the Top Gun sequel, Corden said: "A few days before I had a genuine… I just ended up going like, look, he's an actor, he's not a pilot.
"Respectfully. It's just the two of us in an aeroplane, if something happens… then we die. And worse than that, worse than my own death, is my children growing up and people going, you know who they are? Their dad killed Tom Cruise.
"And then Tom calls and goes, you know, 'James. Your life is more valuable than mine.'
"He actually did make some salient points. What he said to me was, 'I would never do this if I wasn't flying every day. I am flying every single day… You don't have to worry, you have to just trust me. And I wouldn't do this going in cold.'
"And then you're like, I guess we're going to do it."
Finally, Corden was also asked the question everyone wants an answer to: will we ever see more of Gavin & Stacey?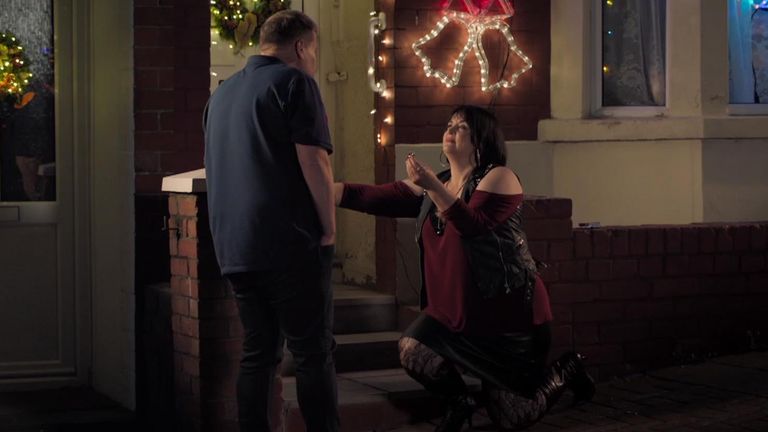 The 2019 Christmas special left viewers on a cliffhanger as Nessa, played by Ruth Jones, proposed to Corden's Smithy – just before the credits rolled.
"I genuinely don't know if we'll ever do another one," Corden said. "I think Ruth and I would love to make something together again… I really don't know with Gavin & Stacey. I think we feel so proud of that last special…
"I think, in a way, those characters, they live on, they carry on, they're still out there somewhere living and breathing.
"Their lives carry on and we just sort of get together and open this portal and find out.
"Some people say to me, 'I want to know what happens'. And I go, so do I!
"I don't know… Maybe there's something really perfect about it ending there.
"Can we truly fulfil people's ambitions for it? I know it's such an annoying answer, I'm aware of that, but I don't know."
Grand Theft Auto VI: First trailer released early by Rockstar Games after leak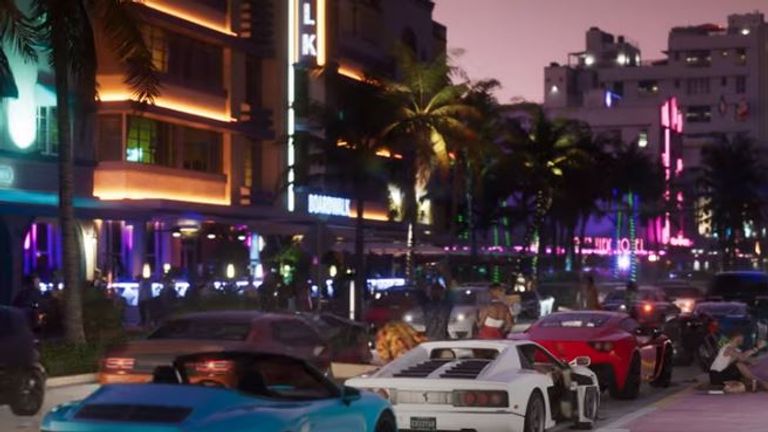 The first trailer has been released for the massively anticipated Grand Theft Auto VI.
It was put out a day earlier than expected after a leaked version went viral on social media on Monday.
Rockstar Games posted on X: "Our trailer has leaked so please watch the real thing on YouTube."
The clip racked up 37 million views in just six hours such is the clamour for the game.
The top comment, liked 343,000 times, says: "We've waited 10 years for this moment and it's finally here."
GTAV is the best-selling title of all time behind Minecraft – with some 185 million units sold – but it's been a decade since it came out.
The trailer for the sequel shows a clone of Miami, the setting for the 2002 game, and features classic elements: fast cars, gangs, shoot-outs – and even an alligator in a convenience store.
It's also the debut of GTA's first female protagonist, Lucia, alongside an unnamed male partner, with the couple apparently on the run as chaos engulfs the city.
The teaser will whet the appetite of gamers but they'll have to wait at least another year – the credits confirming "coming 2025".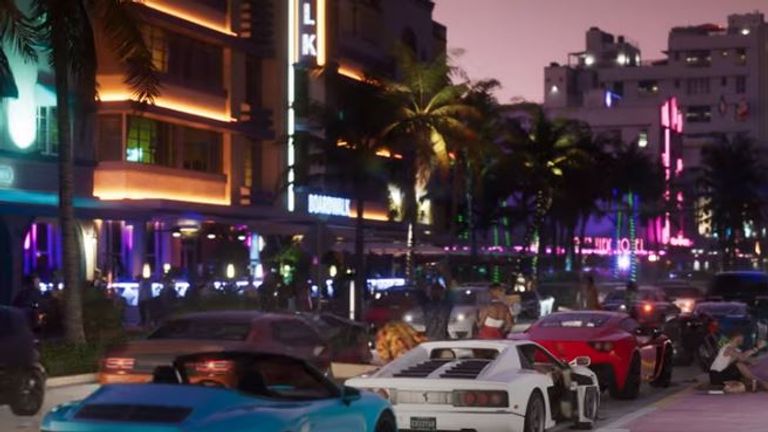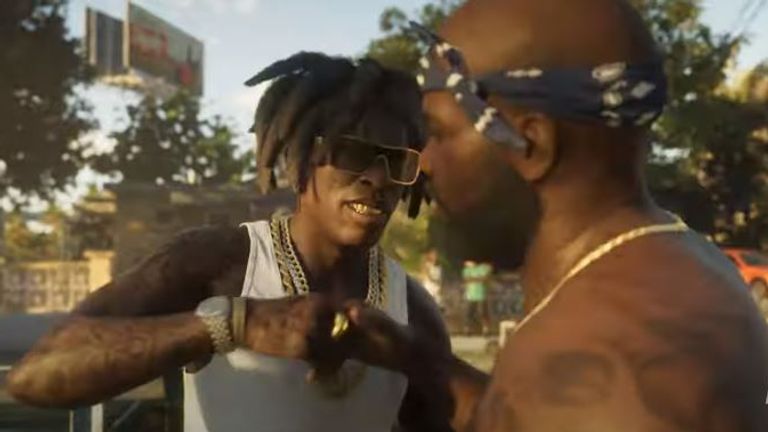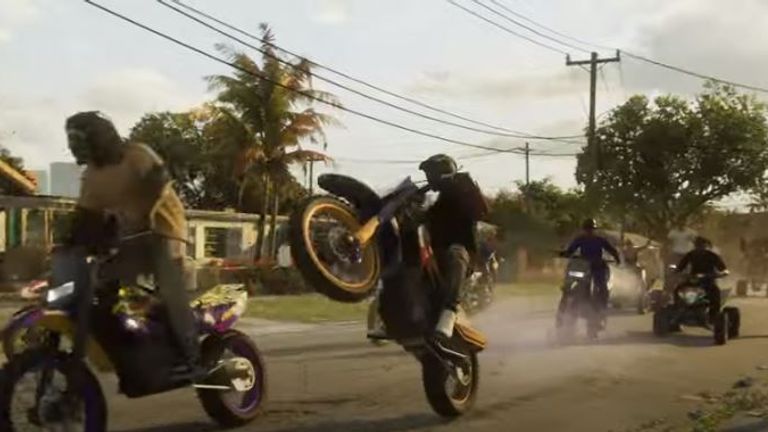 Read more:
The impact of GTAV and why sequel is taking so long
CoD is back – and childhood fans are the ones making it
Last year, 90 minutes of early gameplay leaked online after a hacker gained access to Rockstar's Slack channel.
In one of the industry's most high-profile breaches, dozens of videos showing various robberies, shoot-outs, and open-world driving were posted online.
Rockstar said it was "extremely disappointed" but insisted it wouldn't affect the game's development.
Jason Schreier, Bloomberg's gaming journalist, previously told Sky News that GTAV's popular multiplayer mode was one reason why there hadn't been "quite the same urgency" to get the sequel out.
Earlier versions were released with much shorter gaps in between: GTA III in 2001, Vice City in 2002, San Andreas in 2004, and GTA IV in 2008.
Sky wins broadcast rights to show record number of Premier League matches – increasing coverage by 70%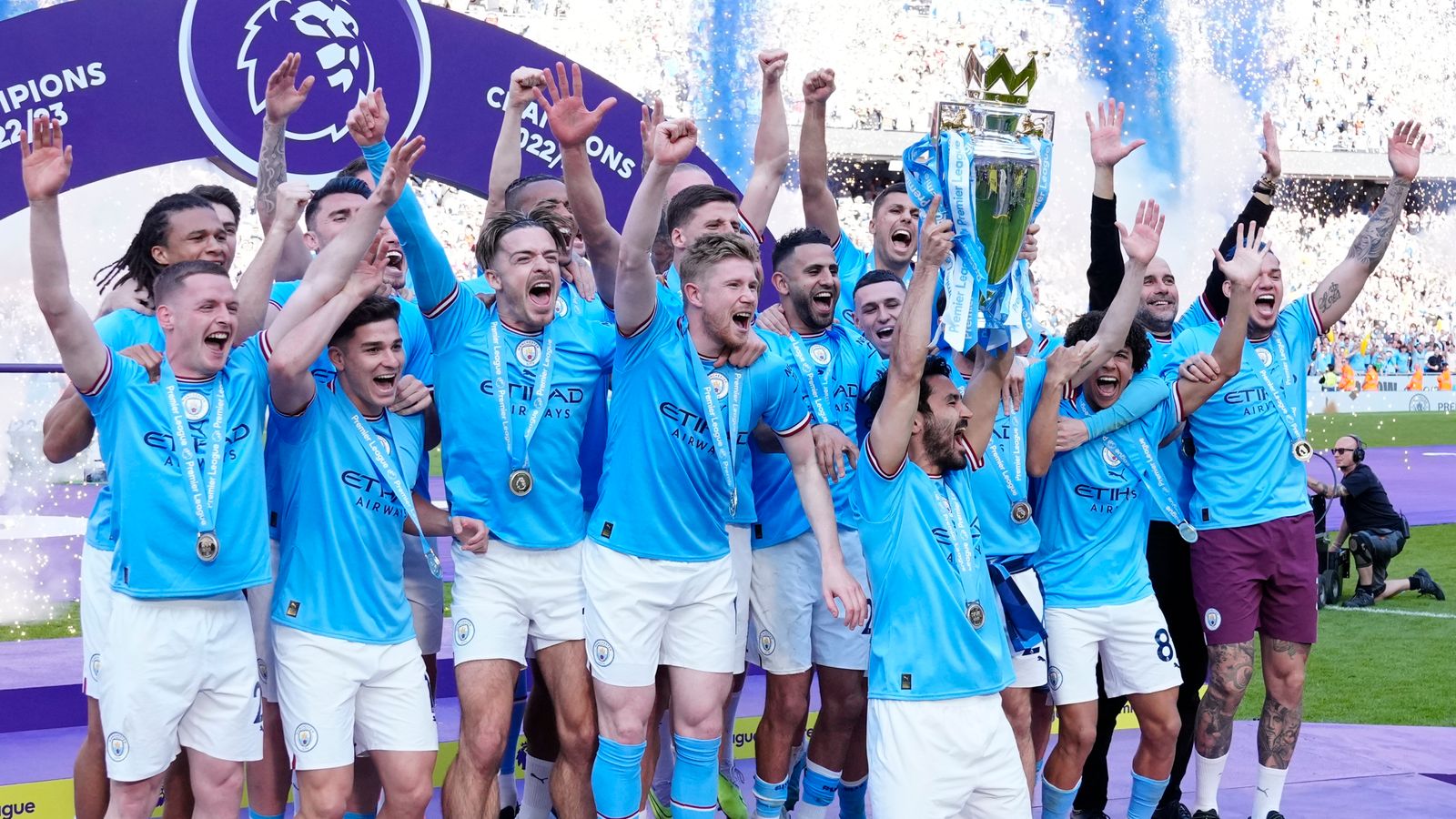 Sky has won broadcast rights to show a record number of Premier League matches in a new four-year deal starting from 2025/26.
Sky Sports has retained the rights to four out of five packages – with the other being retained by TNT Sports – and means that exclusive live coverage will increase by 70%.
Sky Sports will retain its flagship Super Sunday programme, and for the first time, all final games in the season will be live in one place.
The new four-year deal will cover at least 215 Premier League matches each season from 2025/26 to 2028/29.
And in another first, Sky Sports will now be able to offer multiple live matches on a number of weekends at 2pm on Sundays.
The agreements will deliver a total of £6.7bn in revenue across the four-year period.
Dana Strong, group chief executive of Sky, said: "This is a fantastic result for Sky customers, who will see a significant increase in the number of matches from the most iconic league in the world.
"We are proud of our long history with the Premier League and look forward to delivering more engagement, entertainment and innovation to the end of the decade.
"Sky is the undisputed home for sport fans in the UK. Our customers have more of the sports they love and more long-term certainty than ever before, with an unrivalled volume of domestic football, alongside Formula 1, cricket, golf, rugby league, tennis and much more."
Read more:
Premier League to hold fresh New Deal summit amid tensions with clubs
VAR: No changes to that would cause more delays in matches, IFAB says
Richard Masters, Premier League chief executive, said: "We are delighted to announce new deals with Sky Sports and TNT Sports that will extend our partnership for a further four years and see more Premier League matches than ever before shown live from 2025/26 onwards.
"As long-standing and valued partners, Sky Sports and TNT Sports are renowned for consistently delivering world-class coverage and programming.
"We are also extremely pleased to extend our partnership with BBC Sport, which will continue to bring weekly highlights of all Premier League matches to the widest possible audience in the UK.
"The outcome of this process underlines the strength of the Premier League and is testament to our clubs, players and managers who continue to deliver the world's most competitive football in full stadiums, and to supporters, who create an unrivalled atmosphere every week."
TNT Sports secured Package A, which includes 52 matches with the primary kick-off time being 12.30pm.
Within that, they get 18-second picks of matches, 14 fourth picks and all 20 of the fourth and fifth mid-week rounds in the season.
'Leave me alone': Billie Eilish hits out at magazine for 'outing' her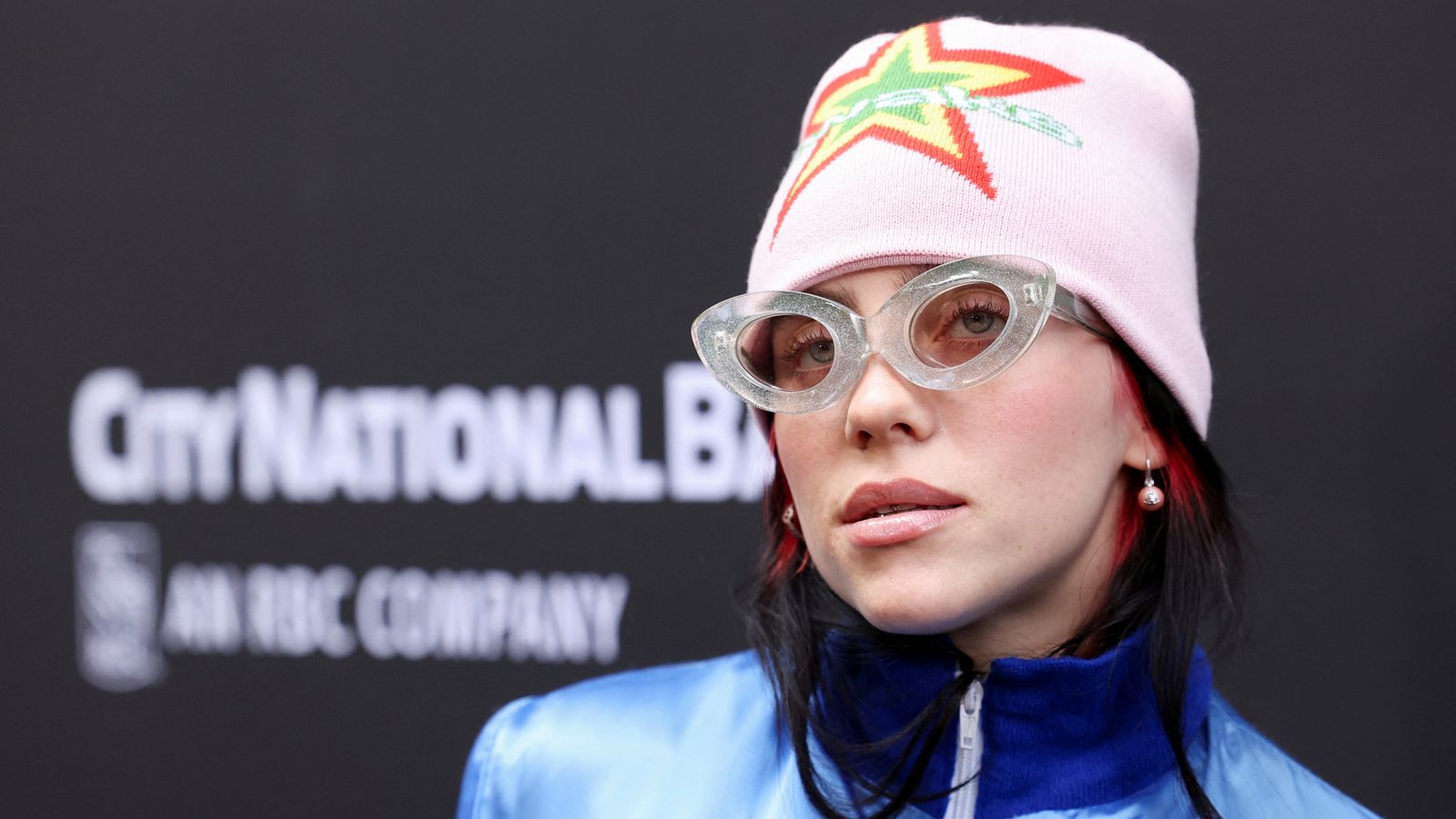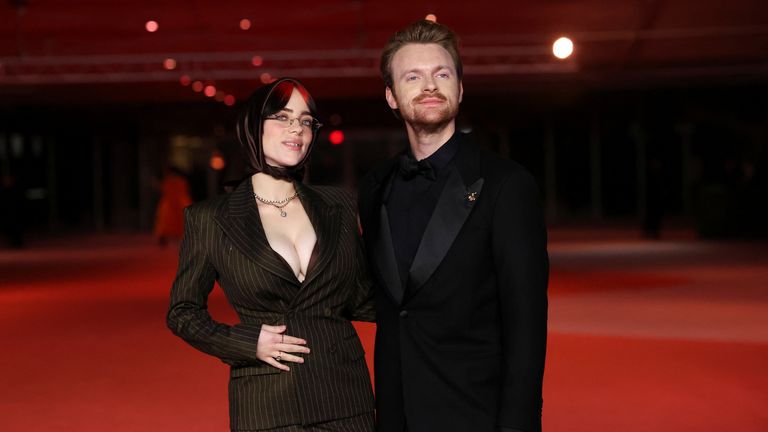 Singer Billie Eilish has accused a US entertainment magazine of outing her and questioned why it "matters".
In a cover interview for Variety published on 13 November, the Bad Guy singer suggested she was attracted to women.
She told the outlet: "I've never really felt like I could relate to girls very well.
"I love them so much. I love them as people. I'm attracted to them as people. I'm attracted to them for real."
In a Variety red carpet interview on Saturday, the star was asked about her sexuality, and added: "I didn't realise people didn't know.
"Why can't we just exist? I've been doing this for a long time and I just didn't talk about it."
In an Instagram post on Sunday, the 21-year-old singer appeared to express her frustration.
She said: "Thanks Variety for my award and for also outing me on a red carpet at 11am instead of talking about anything else that matters I like boys and girls leave me alone about it please literally who cares."
Read more:
Florence Pugh struck in the face by thrown object
Shane MacGowan's wife says singer was 'determined to live'
Oxford word of the year 2023 is 'rizz'
She also said she didn't believe in the concept of "coming out".
At the Variety ceremony, Eilish accepted the award for Film Song of the Year alongside her brother and collaborator Finneas for What Was I Made For from Barbie.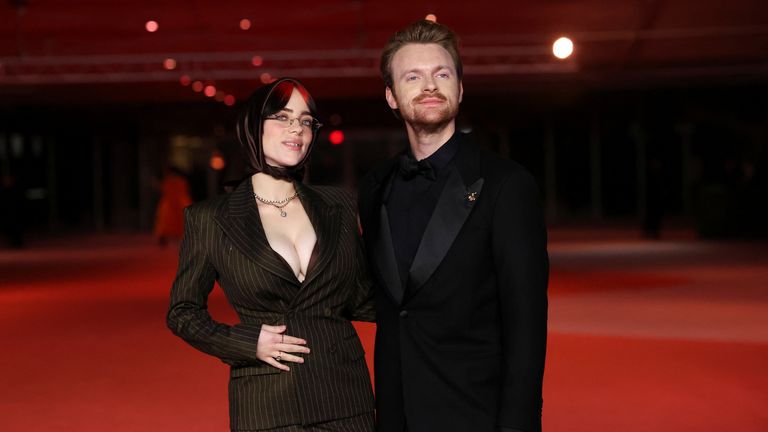 Variety's publishers have been contacted by Sky News for comment.