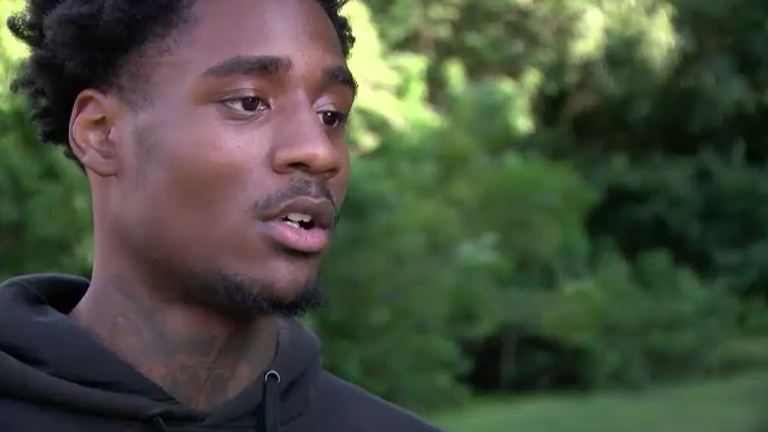 An alligator was spotted with human remains in its mouth by a passer-by in Florida.
The 13-foot reptile was spotted by Jamarcus Bullard in a canal in Largo, about 20 miles west of Tampa.
He said he saw the the alligator and a corpse in the water on Friday afternoon.
"I threw a rock at the gator just to see if it was really a gator and like it pulled the body, like it was holding on to the lower part of the torso, and pulled it under the water," he told a TV affiliate of NBC News, Sky News' US partner network.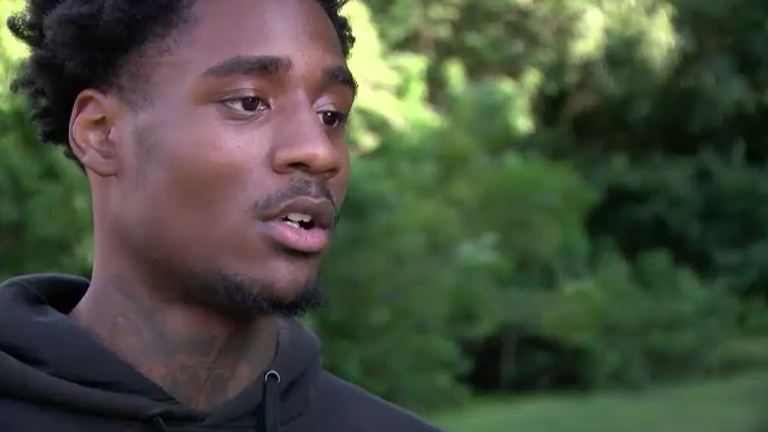 Bullard said he started recording on his phone and contacted the authorities.
A video he shared with the news station showed an officer with the Florida Fish and Wildlife Conservation Commission measuring the reptile.
The 13-foot, 8.5-inch male alligator was removed from the water and was "humanely killed," the Pinellas County Sheriff's Office said in a statement, adding that the remains of an adult had also been recovered.
No details about the deceased have yet been released and an investigation is under way.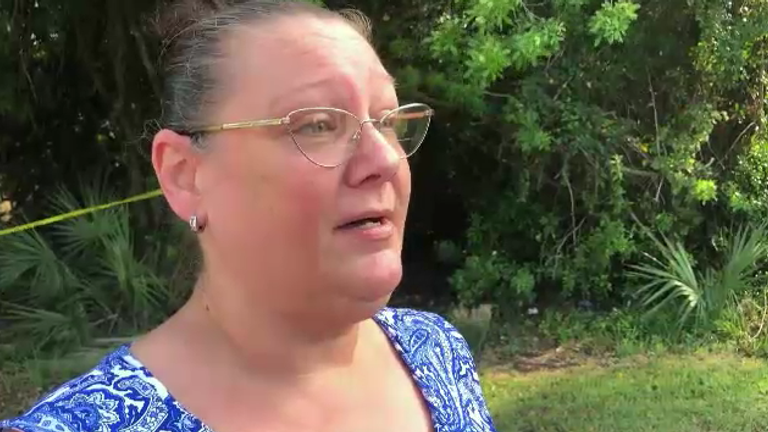 The medical examiner's office will conduct an autopsy to determine the cause of death.
The discovery has left some locals nervous with Jennifer Dean telling WFLA that her children frequently walk by the canal.
Bullard also said he walks near the water to and from work and will be more careful now.
House explodes in Virginia as police surround armed suspect inside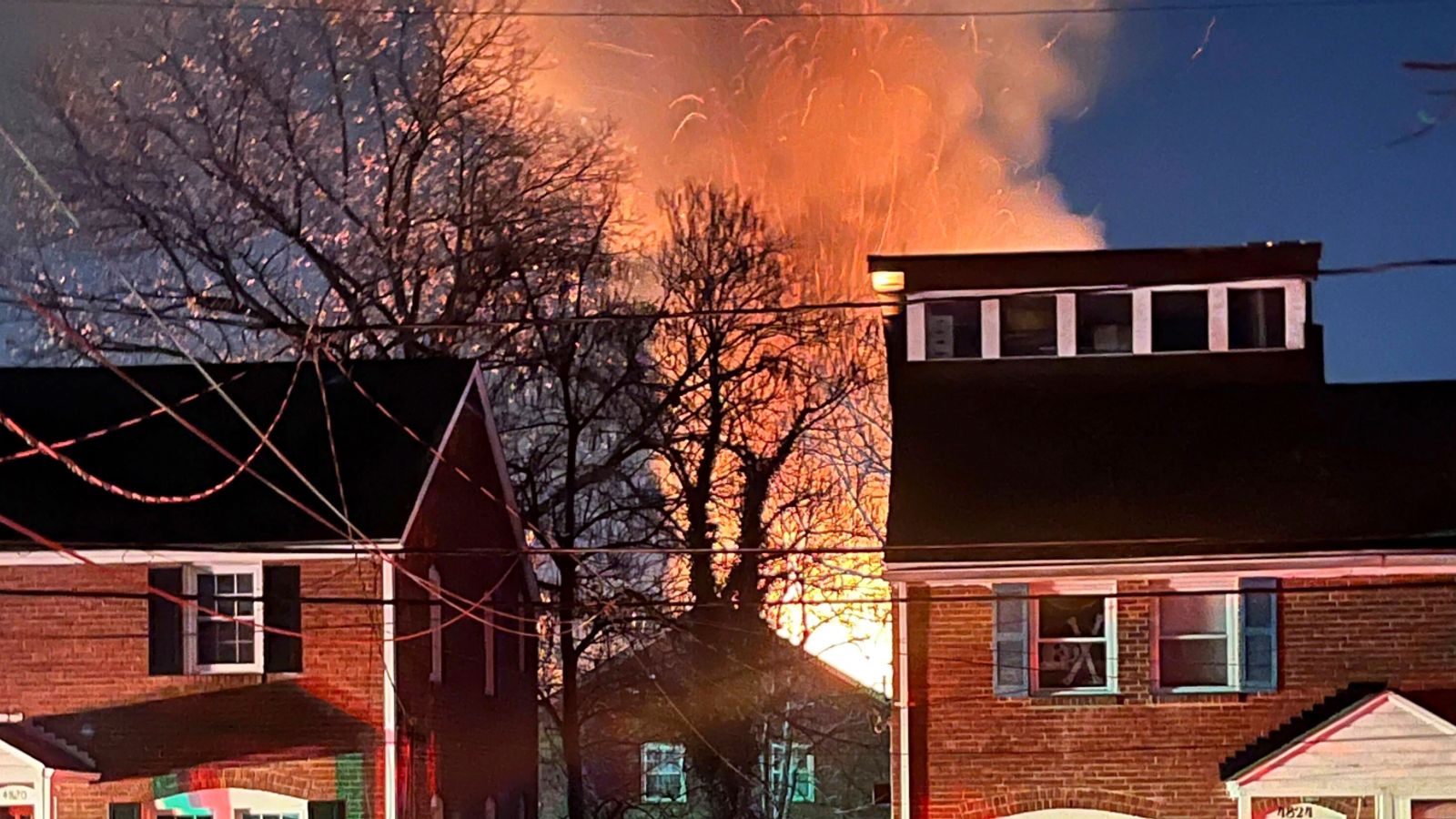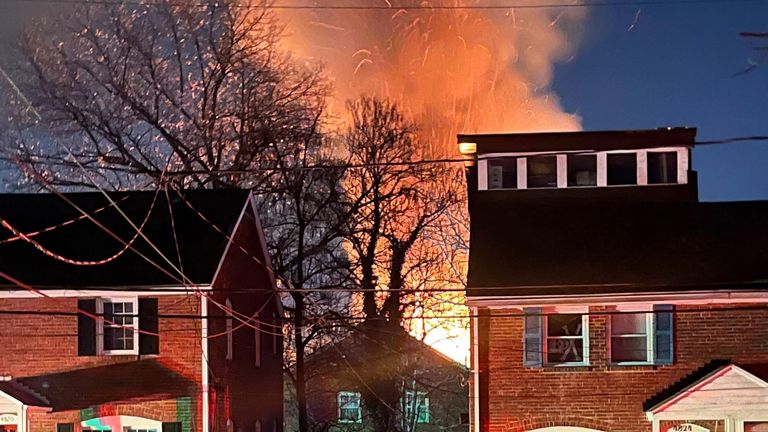 A house exploded as police were investigating reports of gunshots being fired from the property by a man.
Footage of the blast in the US showed a huge fireball shoot up into the air as the entire home went up in flames and collapsed, spraying debris all around.
Witnesses said the explosion shook nearby buildings and that they could hear it from miles away.
Officers had gone to the address in Arlington, Virginia, at about 4.45pm on Monday after neighbours said they heard the sound of a weapon being fired.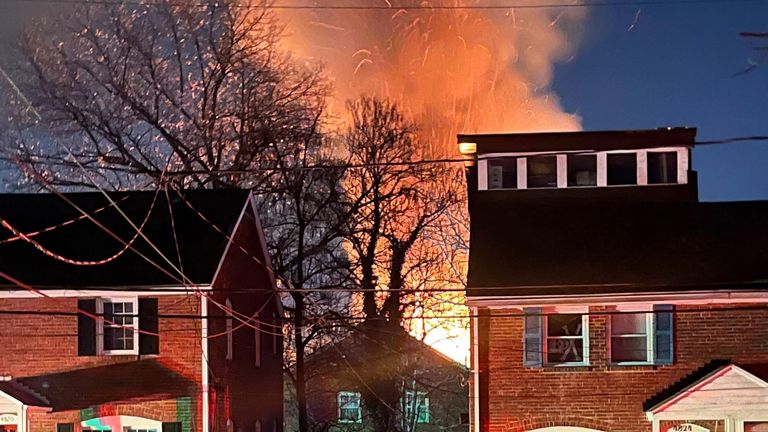 They later determined the shots came from a flare gun, Arlington County police spokesperson Ashley Savage told reporters.
As officers tried to serve a search warrant at the home, "the suspect inside the residence discharged several rounds", she said.
"The house subsequently exploded."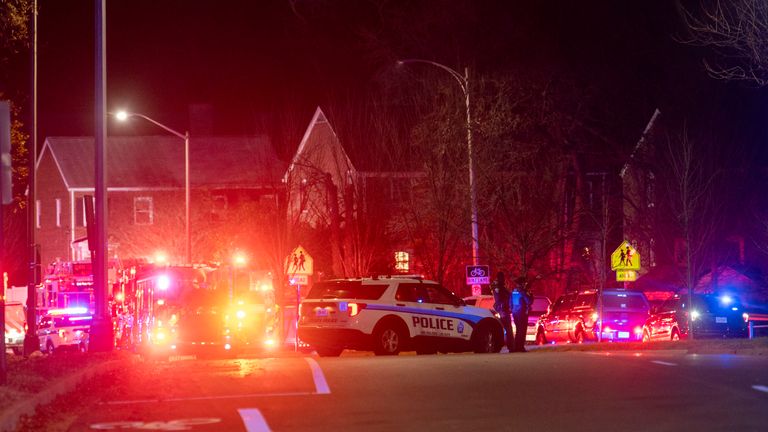 It happened at around 8.25pm as officers were trying to make contact with the person inside – who has not been named by police.
Officials have not been able to go into the home and could not confirm whether there were any deaths. The suspect was inside when the explosion occurred, Ms Savage said.
"At this point, we're only aware of one individual who was inside the home," she added.
Some police officers suffered minor injuries and no one needed to be taken to hospital.
Carla Rodriguez, of South Arlington, said she could hear the explosion more than two miles away.
"I actually thought a plane exploded," she said.
Read more from Sky News:
Ex-US ambassador accused of being spy for decades
US paddleboarder dies after shark attack in The Bahamas
Bob Maynes thought maybe a tree had fallen on his house when he heard the explosion.
"I was sitting in my living room watching television and the whole house shook," he said.
"It wasn't an earthquake kind of tremor, but the whole house shook."
The cause of the blast is being investigated, Arlington Fire Department officials said.
FBI agents and federal fire investigators are at the scene and assisting in the investigation, the Bureau of Alcohol, Tobacco, Firearms and Explosives said.
The blaze was under control by 10.40pm.
Ex-US ambassador Manuel Rocha accused of being Cuban spy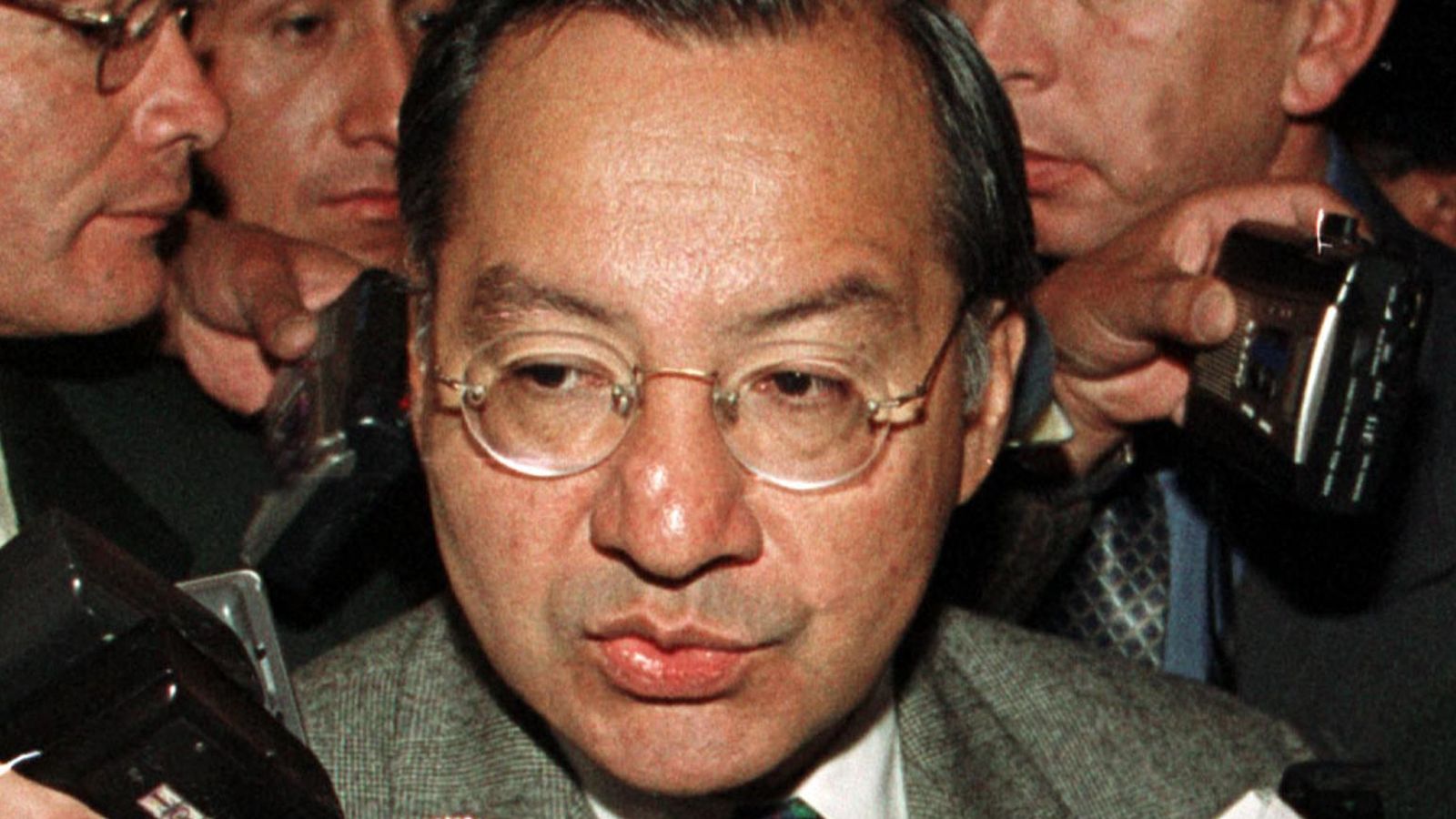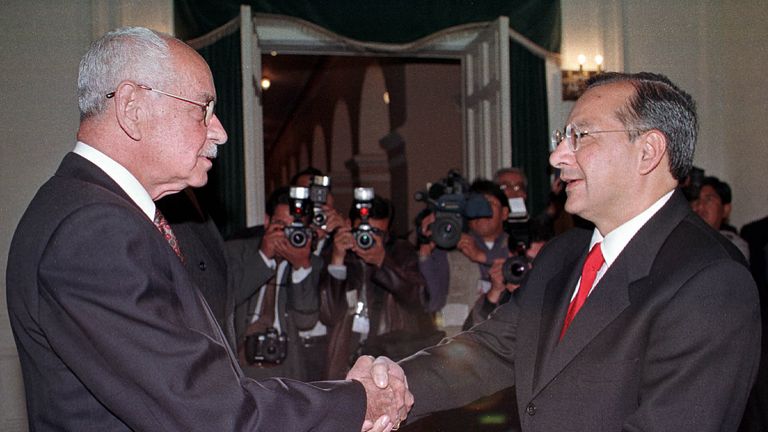 A former US ambassador to Bolivia has been charged with secretly acting as a Cuban agent for "more than 40 years".
Manuel Rocha, who was arrested at his Miami home on Friday, served as the top US diplomat to Bolivia between 2000 and 2002.
Prosecutors from the US Justice Department accuse him of promoting the Cuban government's interests, Sky's US partner NBC News reported.
This is not a crime unless it is done on US soil without registering with the department as a foreign lobbyist, the broadcaster added.
Rocha, 73, appeared in court on Monday and is alleged to have begun his "clandestine activity" on Cuba's behalf in 1981 or earlier.
It was one of the highest-reaching and longest-lasting infiltrations of the US government by a foreign agent, department officials said.
He met Cuban intelligence operators, lied to US government officials about his travels and contacts and used a passport obtained through a false statement, prosecutors claimed in court documents filed in Florida.
The charges reflect a harsher approach by the department towards the prosecution of illicit foreign lobbying.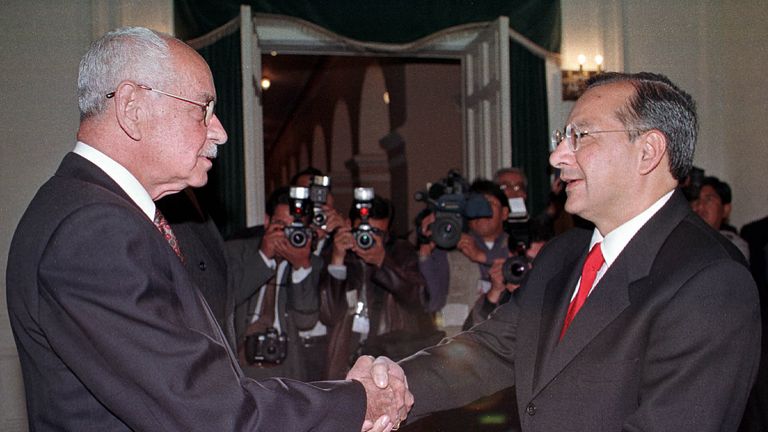 During his 25-year career as a US diplomat, Rocha served as ambassador to Bolivia and held another senior post – head of mission – in Argentina.
He worked for the US Interests Section in Havana in the mid-1990s, a time when the US lacked full diplomatic relations with Fidel Castro's communist government.
Prosecutors claim Cuba's notoriously sophisticated intelligence services first began using Rocha in 1981 when he first joined the US State Department.
They added that the alleged links continued well after he left government service more than two decades later.
The FBI learned about the relationship last year, it is alleged, and arranged a series of undercover meetings with an agent posing as a Cuban intelligence operator.
In one encounter in Miami last year, Rocha is alleged to have said: "I always told myself, 'The only thing that can put everything we have done in danger is – is … someone's betrayal, someone who may have met me, someone who may have known something at some point'."
Read more from Sky News:
British teenager killed in Gaza while fighting for IDF
Singer hits out at magazine for 'outing' her
Woman dies after shark attack while swimming with daughter
Born in Colombia, Rocha joined the US foreign service in 1981.
As ambassador to Bolivia, he warned Bolivians that if they voted for Evo Morales in the upcoming election, the US would cut off aid to the poor South American country.
Rocha also served in Italy, Honduras, Mexico and the Dominican Republic, and worked as a Latin America expert for the US National Security Council.
New York stabbing: Knifeman kills four members of his extended family, including two children, police say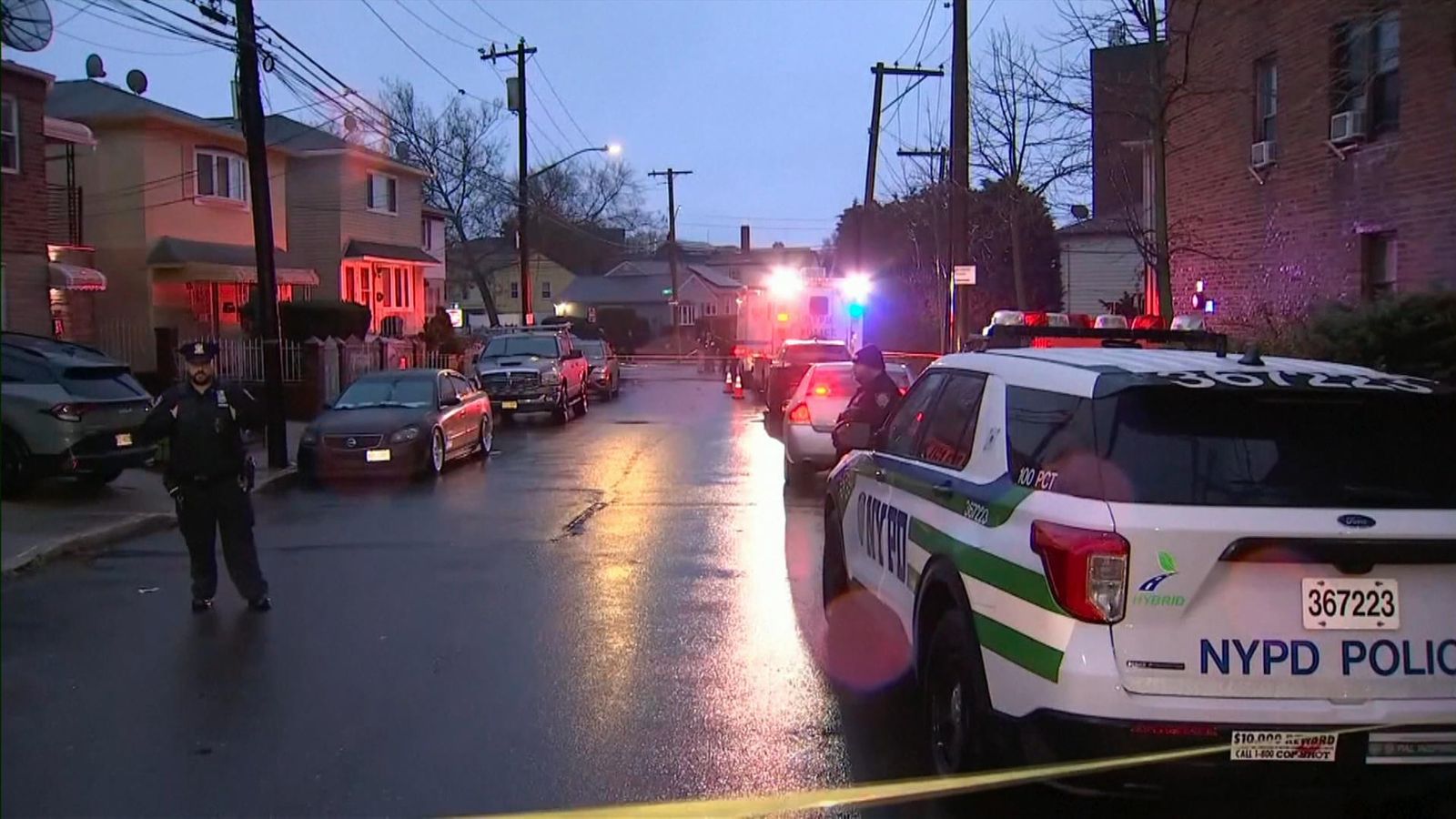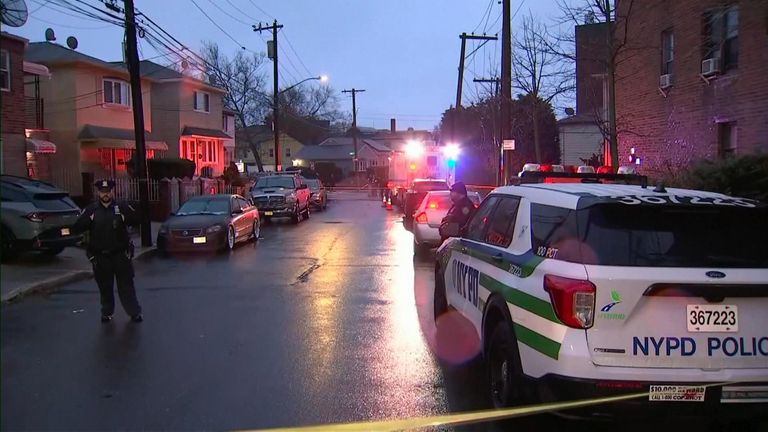 Four people, including two children, have been killed by a relative in New York, according to police.
Those stabbed to death included a 12-year-old boy, an 11-year-old girl, a 44-year-old woman and a man in his 30s.
Officers were called to reports of an incident in the city's Queens borough after a girl said "her cousin is killing her family members".
The 11-year-old was found in front of the house and the other three were found inside bedrooms, police added.
A fifth person, a 61-year-old woman, is in a critical condition in hospital after suffering from multiple stab wounds.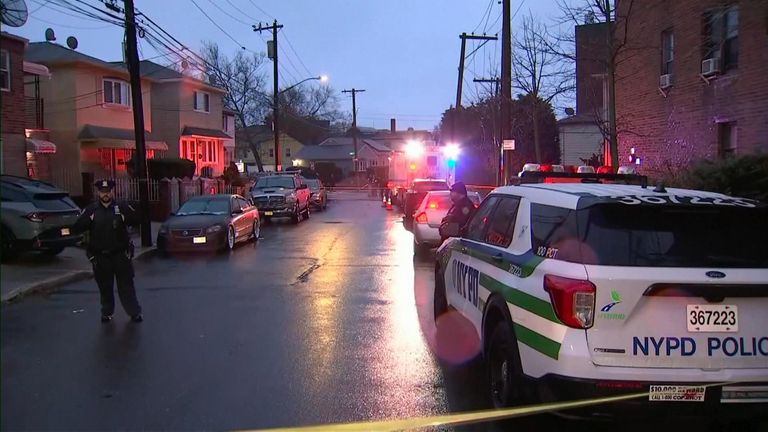 Suspect Courtney Gordon, 38, was shot dead by police.
The two officers who responded to the scene on Sunday morning were also stabbed, police said.
Jeffrey Maddrey, NYPD chief of patrol, said one officer was struck in the neck and the other in the face.
The two officers were taken to hospital and are expected to recover.
Read more US news:
Suspect identified in deaths of three homeless people
Inflatable Santa Claus gunned down in drive-by shooting
"The weapon that was used to injure the officers was a typical kitchen steak knife," Mr Maddrey told a press conference on Saturday.
He said it is unknown at this stage if it was the same weapon used against the other victims.
Mr Maddrey said additional offers sent to the scene were not able to enter the home immediately because there was a fire inside the living room.
It is believed Gordon had been visiting the family at their home in the Far Rockaway neighbourhood.
"This scene was chaos. Multiple victims, a house on fire, and a mad man on a rampage, on a mission," Patrick Hendry, the head of the New York Police Department's police union, said.
"The skill that this police officer had shooting and stopping the threat after he was being stabbed. Unbelievable skill," he said.