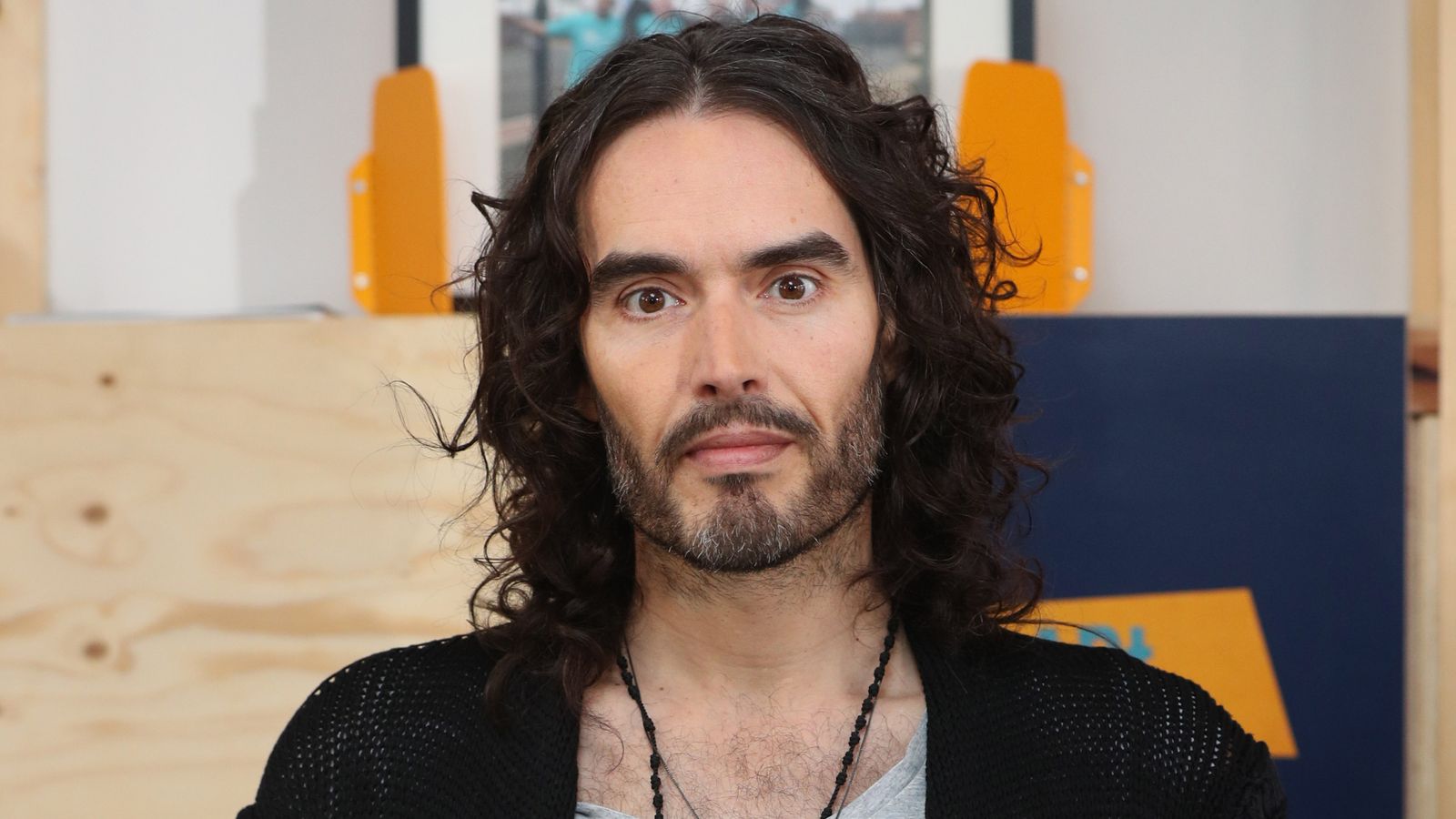 Russell Brand: Metropolitan Police investigating sexual offence claims in London and elsewhere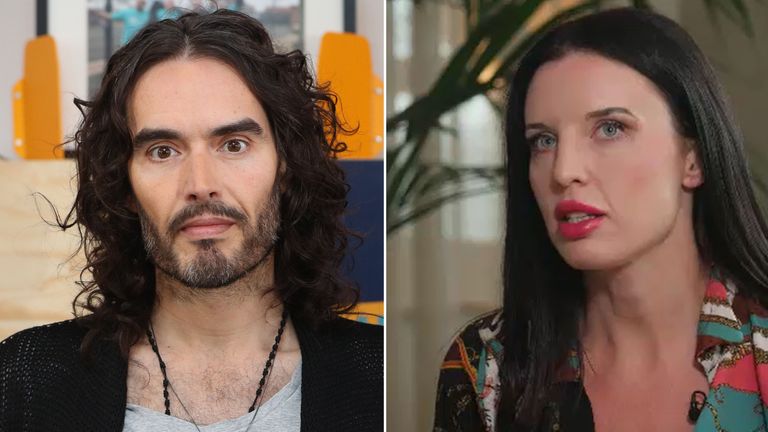 A number of sexual offence claims relating to London and elsewhere in the UK have been made against Russell Brand.
Metropolitan Police said the allegations were all non-recent.
A statement said: "Following an investigation by Channel 4's Dispatches and The Sunday Times, the Met has received a number of allegations of sexual offences in London.
"We have also received a number of allegations of sexual offences committed elsewhere in the country and will investigate these."
There have been no arrests and enquiries continue.
Last Monday, the Met said it had received one report of alleged sexual assault from 2003 and encouraged other potential victims to come forward.
Brand denies all the allegations against him, says his relationships were consensual, and has not been charged with anything.
Click to subscribe to the Sky News Daily wherever you get your podcasts
He has admitted being very promiscuous in the past, but called the reports "very serious allegations that I absolutely refute".
In a video last week on YouTube – which has cut off his advertising revenue – he said it had been a "distressing" time.
Georgina Baillie speaks about Brand

Brand appeared on video platform Rumble on Monday and criticised an MPs' committee for asking other social media firms if they intended to demonetise him.
He called it a "bypassing of judicial process" and suggested there was a conspiracy to silence him and "independent media voices".
Brand told viewers: "What we appear to be looking at here are a set of collaborating institutions that have an agenda, and pursue that agenda, even when in pursuing it they have to bypass, obstruct, or absolutely ignoring existing judicial or regulatory bodies by moving straight to punitive measures."
Read more:
All the companies that have cut ties with Brand
How YouTube stars like Brand can make millions
Pulling YouTube cash is 'cancel culture' – Sachs' granddaughter
Woman claims Brand 'intimidated' her

The claims against the 48-year-old include an allegation of rape, and that he sexually assaulted a 16-year-old girl he was seeing.
Another woman told Sky News he made her feel "vulnerable and intimidated" and alleged he refused to call her a taxi until she performed a sex act.
The fallout from the claims has caused Brand to suspend his tour, as well as reigniting a debate about how stars are managed and monitored by the entertainment industry.
Tyler Goodson: Man who featured on S-Town podcast shot dead by police in Alabama stand-off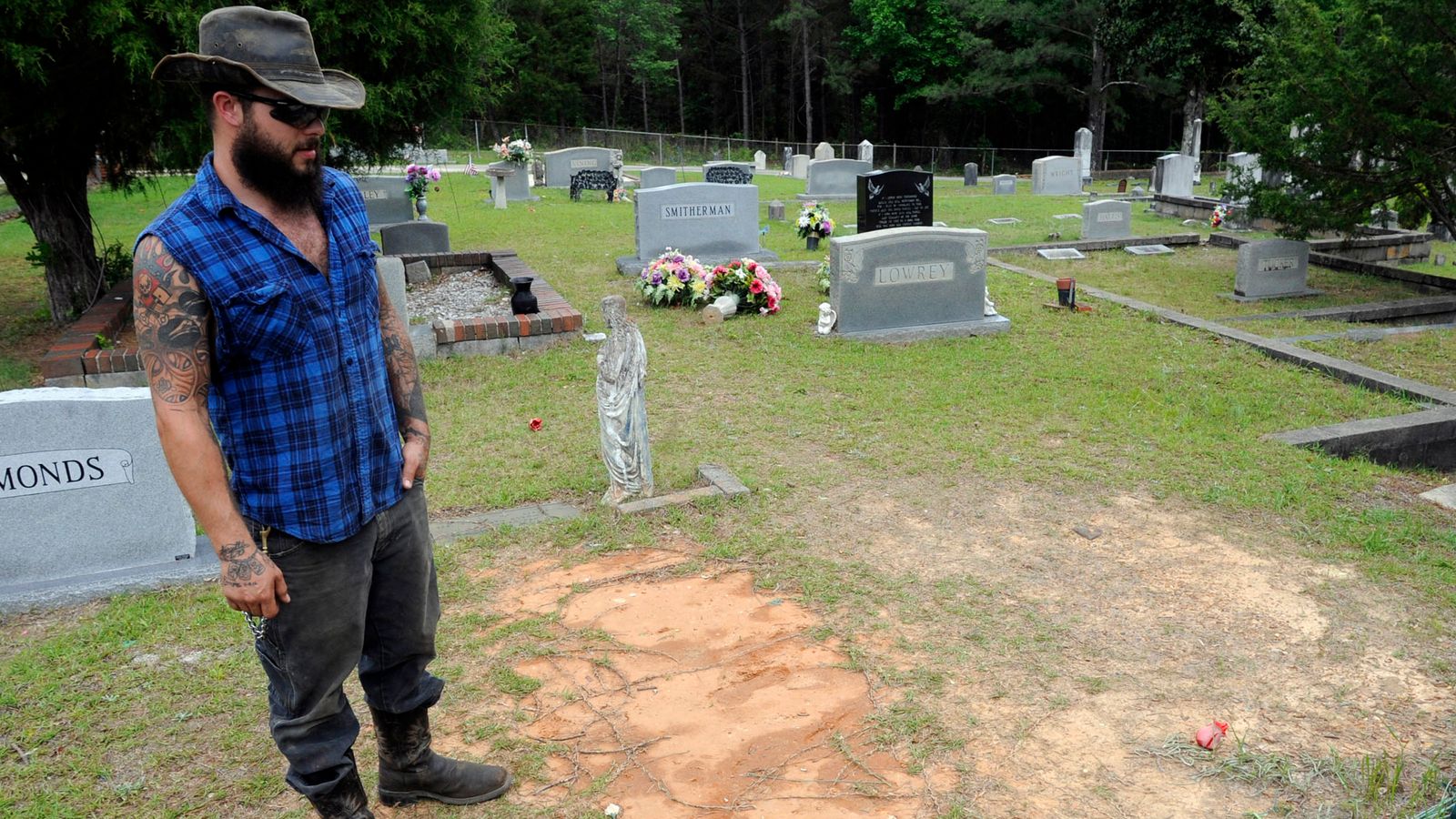 A man who featured in the hit podcast 'S-Town' has been shot and killed by police during a stand-off in Alabama, authorities say.
Tyler Goodson, 32, of Woodstock, was shot and killed by officers after he barricaded himself inside a home and "brandished a gun" at officers on Sunday morning, the Alabama Law Enforcement Agency said.
Police said they were responding to a call when they arrived at the home. They did not explain what led to the call.
Mr Goodson posted a Facebook update at around the time of the incident, according to local media, saying "Police bout [sic] shoot me in my own yard."
The 2017 podcast S-Town told the story of an Alabama man named John B McLemore, who took his own life before the show came out.
S-Town focuses on the eccentric Mr McLemore, a restorer of antique clocks, but ultimately investigates two killings in the town.
Mr Goodson explored his relationship with Mr McLemore in the podcast, saying in episode three: "Because you know, I ain't ever had no daddy worth a damn. He's just about the only daddy I've got."
He was well known in Woodstock's community, which is made up of around 1,500 people.
Read more:
House explodes in Virginia as police surround armed suspect
George Floyd's killer stabbed 22 times by former mafia member
"I know that everyone wants answers and details, myself included," Woodstock mayor Jeff Dodson said in a statement following the shooting.
"Tyler was well known and loved by myself, his family and this community. That love extends far beyond due to the S-Town podcast.
"Please remember at this time that he is so much more than a character to the fans who loved him. This young man was a father, son, brother and friend to many."
Police say they are reviewing the shooting.
Mr Goodson was given a suspended sentence in 2017 after pleading guilty to burglary and theft charges accusing him of taking items from Mr McLemore's property after his death.
Before pleading guilty, Mr Goodson had maintained he was retrieving items that belonged to him.
He told the AP news agency in 2017 that the podcast had brought plenty of attention to both the town and himself, but said neither have done him any favours.
"It's a sad story, especially if you're part of it," he said.
Grand Theft Auto VI: First trailer released early by Rockstar Games after leak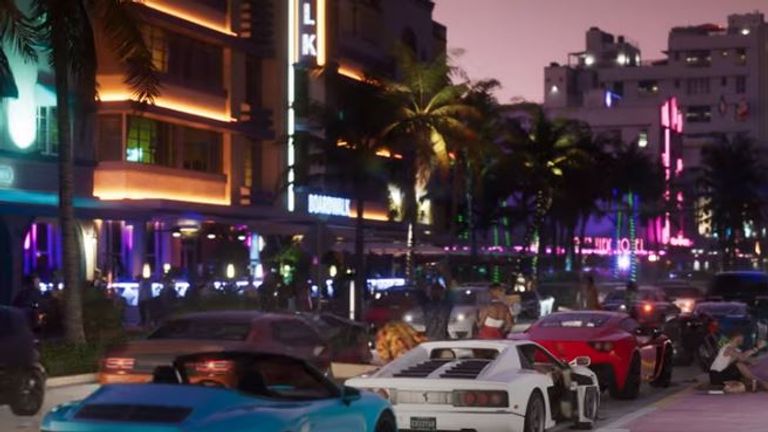 The first trailer has been released for the massively anticipated Grand Theft Auto VI.
It was put out a day earlier than expected after a leaked version went viral on social media on Monday.
Rockstar Games posted on X: "Our trailer has leaked so please watch the real thing on YouTube."
The clip racked up 37 million views in just six hours such is the clamour for the game.
The top comment, liked 343,000 times, says: "We've waited 10 years for this moment and it's finally here."
GTAV is the best-selling title of all time behind Minecraft – with some 185 million units sold – but it's been a decade since it came out.
The trailer for the sequel shows a clone of Miami, the setting for the 2002 game, and features classic elements: fast cars, gangs, shoot-outs – and even an alligator in a convenience store.
It's also the debut of GTA's first female protagonist, Lucia, alongside an unnamed male partner, with the couple apparently on the run as chaos engulfs the city.
The teaser will whet the appetite of gamers but they'll have to wait at least another year – the credits confirming "coming 2025".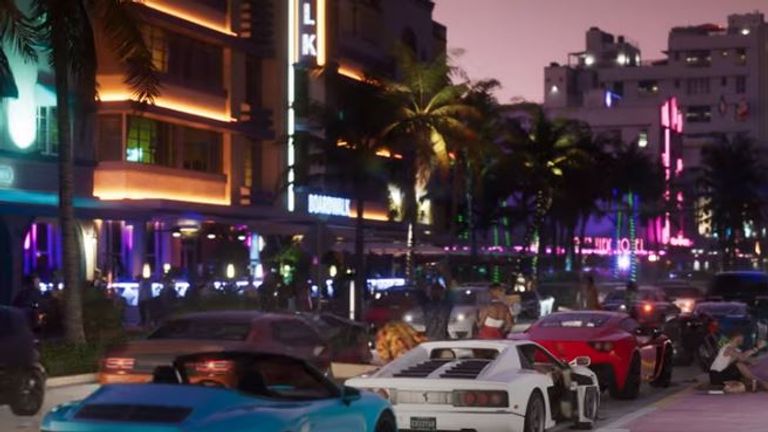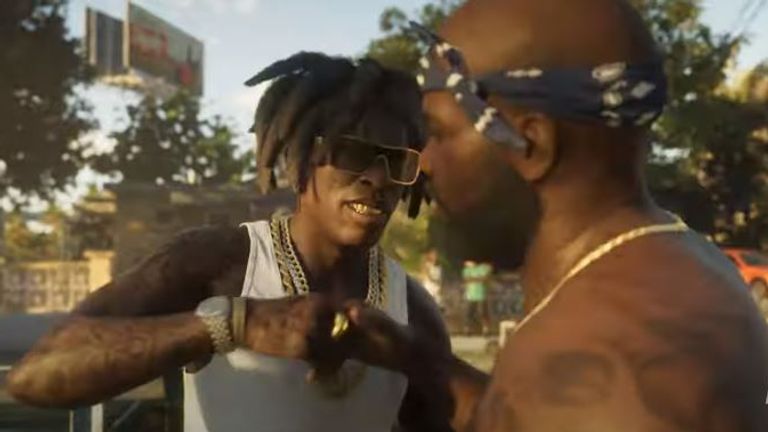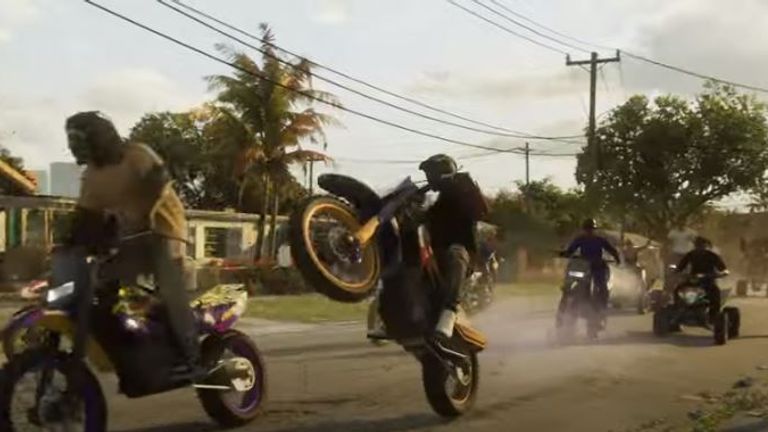 Read more:
The impact of GTAV and why sequel is taking so long
CoD is back – and childhood fans are the ones making it
Last year, 90 minutes of early gameplay leaked online after a hacker gained access to Rockstar's Slack channel.
In one of the industry's most high-profile breaches, dozens of videos showing various robberies, shoot-outs, and open-world driving were posted online.
Rockstar said it was "extremely disappointed" but insisted it wouldn't affect the game's development.
Jason Schreier, Bloomberg's gaming journalist, previously told Sky News that GTAV's popular multiplayer mode was one reason why there hadn't been "quite the same urgency" to get the sequel out.
Earlier versions were released with much shorter gaps in between: GTA III in 2001, Vice City in 2002, San Andreas in 2004, and GTA IV in 2008.
Sky wins broadcast rights to show record number of Premier League matches – increasing coverage by 70%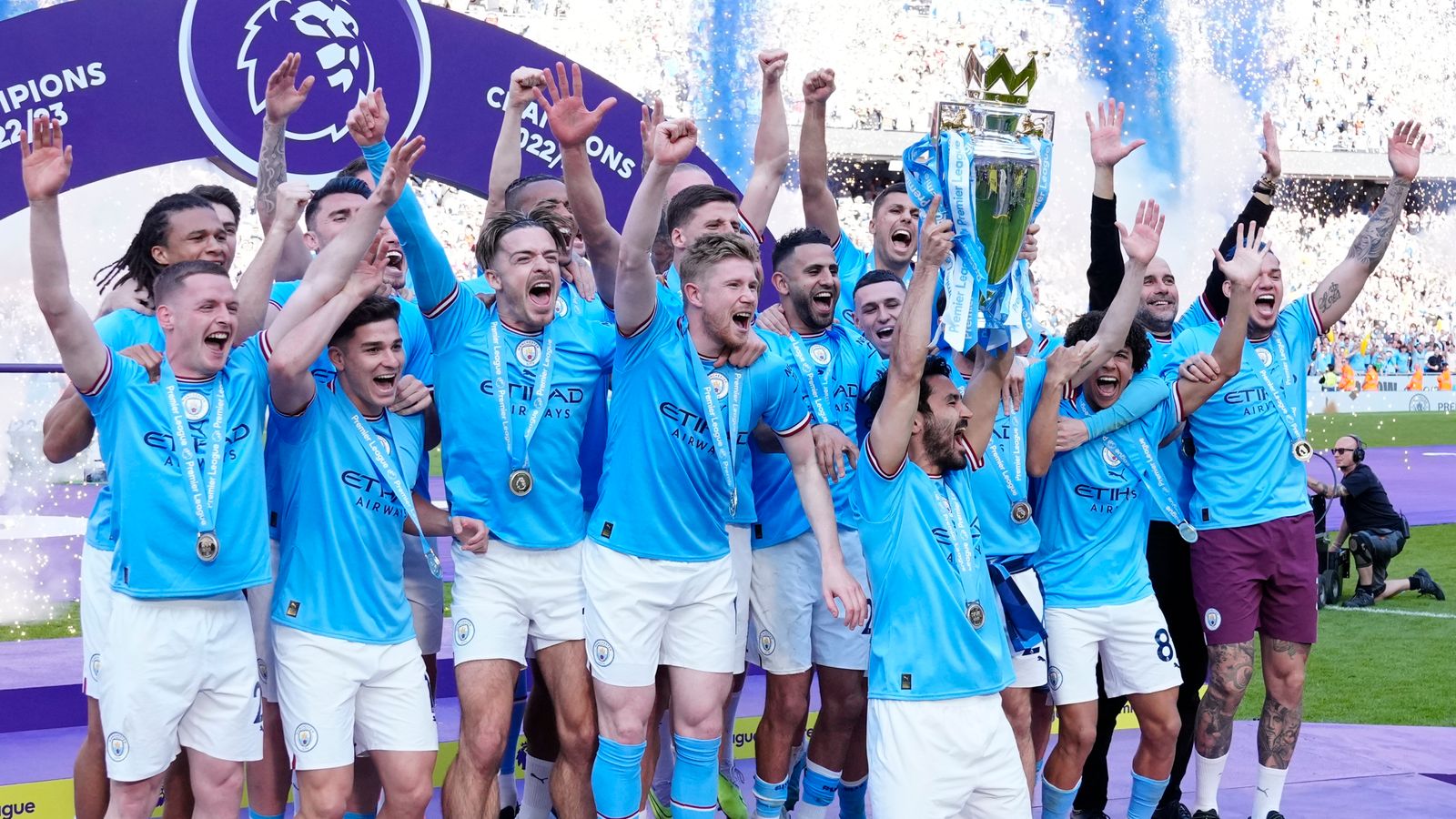 Sky has won broadcast rights to show a record number of Premier League matches in a new four-year deal starting from 2025/26.
Sky Sports has retained the rights to four out of five packages – with the other being retained by TNT Sports – and means that exclusive live coverage will increase by 70%.
Sky Sports will retain its flagship Super Sunday programme, and for the first time, all final games in the season will be live in one place.
The new four-year deal will cover at least 215 Premier League matches each season from 2025/26 to 2028/29.
And in another first, Sky Sports will now be able to offer multiple live matches on a number of weekends at 2pm on Sundays.
The agreements will deliver a total of £6.7bn in revenue across the four-year period.
Dana Strong, group chief executive of Sky, said: "This is a fantastic result for Sky customers, who will see a significant increase in the number of matches from the most iconic league in the world.
"We are proud of our long history with the Premier League and look forward to delivering more engagement, entertainment and innovation to the end of the decade.
"Sky is the undisputed home for sport fans in the UK. Our customers have more of the sports they love and more long-term certainty than ever before, with an unrivalled volume of domestic football, alongside Formula 1, cricket, golf, rugby league, tennis and much more."
Read more:
Premier League to hold fresh New Deal summit amid tensions with clubs
VAR: No changes to that would cause more delays in matches, IFAB says
Richard Masters, Premier League chief executive, said: "We are delighted to announce new deals with Sky Sports and TNT Sports that will extend our partnership for a further four years and see more Premier League matches than ever before shown live from 2025/26 onwards.
"As long-standing and valued partners, Sky Sports and TNT Sports are renowned for consistently delivering world-class coverage and programming.
"We are also extremely pleased to extend our partnership with BBC Sport, which will continue to bring weekly highlights of all Premier League matches to the widest possible audience in the UK.
"The outcome of this process underlines the strength of the Premier League and is testament to our clubs, players and managers who continue to deliver the world's most competitive football in full stadiums, and to supporters, who create an unrivalled atmosphere every week."
TNT Sports secured Package A, which includes 52 matches with the primary kick-off time being 12.30pm.
Within that, they get 18-second picks of matches, 14 fourth picks and all 20 of the fourth and fifth mid-week rounds in the season.