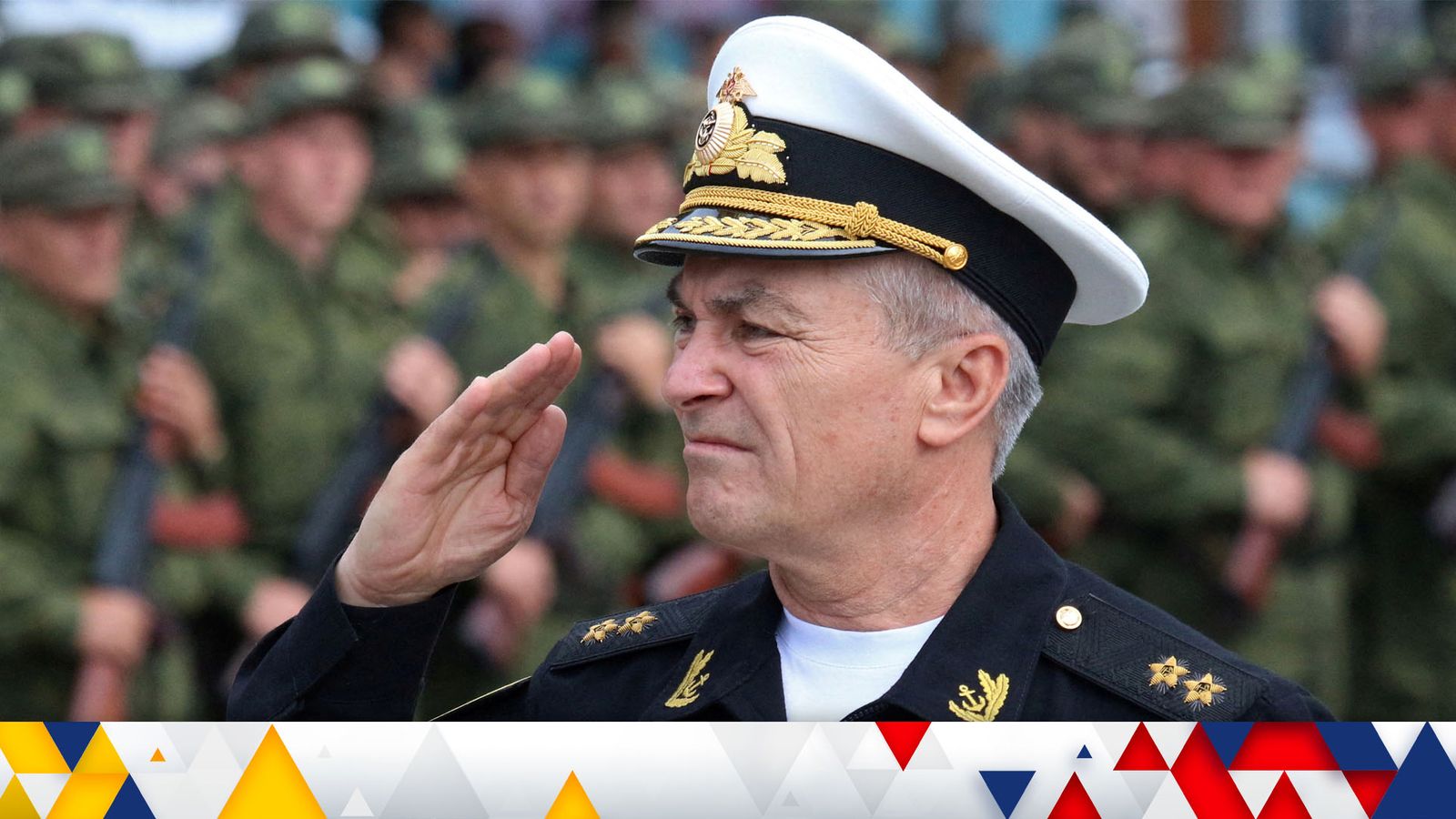 Viktor Sokolov: Top Russian admiral appears in video call – after Ukraine claimed he was killed in missile strike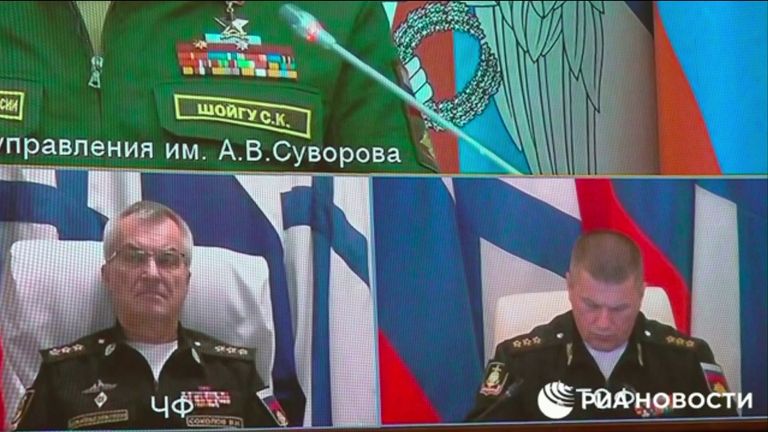 A top Russian admiral has appeared in a video call – a day after Ukrainian special forces claimed he had been killed in a missile strike.
Admiral Viktor Sokolov – the commander of Russia's Black Sea Fleet and one of Russia's most senior naval officers – was reportedly killed in last week's strike on the naval port of Sevastopol, according to Ukrainian officials.
The Russian Defence Ministry did not immediately respond when asked by news agencies to confirm or deny if Mr Sokolov had been killed.
However, the ministry released a video on Tuesday appearing to show Mr Sokolov attending a conference with other top Russian military officials via video link.
Mr Sokolov was not seen speaking in the footage of the conference – led by Russia's defence minister Sergei Shoigu.
It is not clear when the footage was filmed, though Russia's defence ministry claimed the meeting took place on Tuesday.
Ukraine war latest: Russia attacks area bordering NATO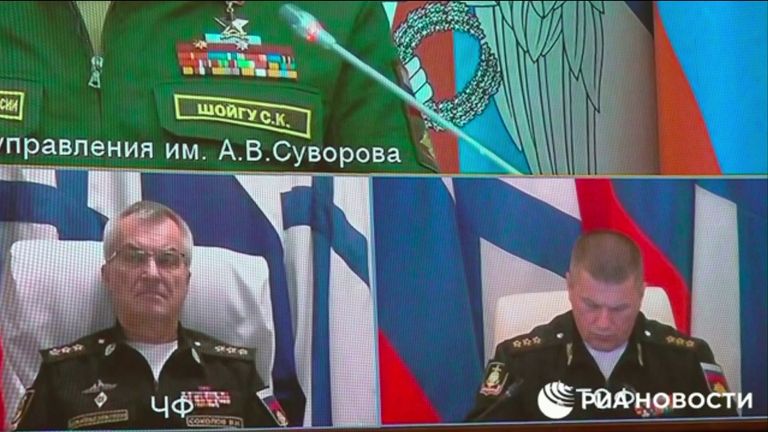 Ukraine special forces said on Telegram: "Since the Russians were urgently forced to publish a response with Sokolov allegedly alive, our units are clarifying the information."
In the video, Mr Shoigu said more than 17,000 Ukrainian soldiers had been killed in September and that more than 2,700 weapons, including seven American Bradley fighting vehicles, had been destroyed.
Both Russia and Ukraine have at times exaggerated enemy losses in the war, while also saying little about their own losses.
Michael Clarke: It is possible Admiral Sokolov lives – but Russia needs to produce more convincing evidence
Sky News' defence and security analyst Professor Michael Clarke says: "We've looked at the video, it's not very clear and it jumps around quite a lot.
"We've located the person on the video who looks most like Sokolov, and it may be him, but it's not a completely clear match.
"It could be Sokolov, looking at previous photographs of him. On the other hand, there's still no proof that this video is really current.
"There's a lot of evidence that Sokolov was in the building that was hit on Friday by a couple of Storm Shadow missiles.
"So it is possible that Sokolov lives. But I think the Russians would have to produce more convincing evidence than this if they want to be taken seriously on this particular issue.
"And it's odd that producing a rather vague video and saying he's here somewhere and leaving it to news organisations like us to try to work out who it might be is less than clear in the message they were trying to send."
On Monday, Ukraine's special forces claimed they had killed Mr Sokolov and 33 other officers in last week's missile attack on the headquarters of Russia's Black Sea Fleet in Sevastopol.
"After the strike on the headquarters of the Russian Black Sea Fleet, 34 officers died, including the commander of the Russian Black Sea Fleet," Ukraine's special forces said on the Telegram messaging app.
Read more:
US delivery of long-range missiles could prove pivotal
What does North Korea want from Vladimir Putin and Russia?
"Another 105 occupiers were wounded. The headquarters building cannot be restored."
Kremlin spokesman Dmitry Peskov declined to comment on Ukraine's claim that it had killed Mr Sokolov, instead referring reporters to the defence ministry.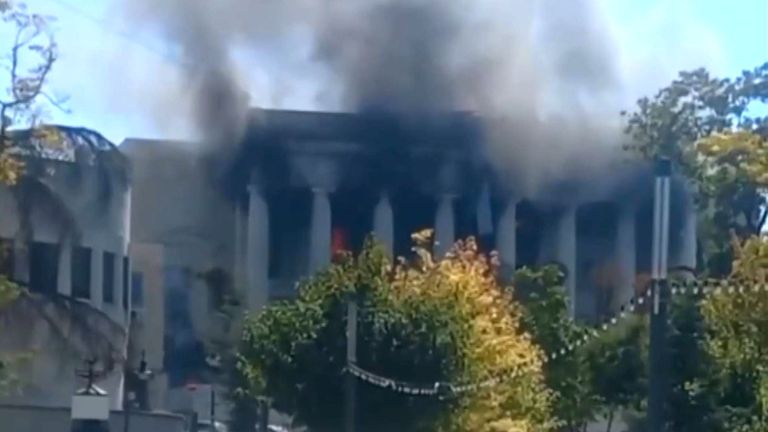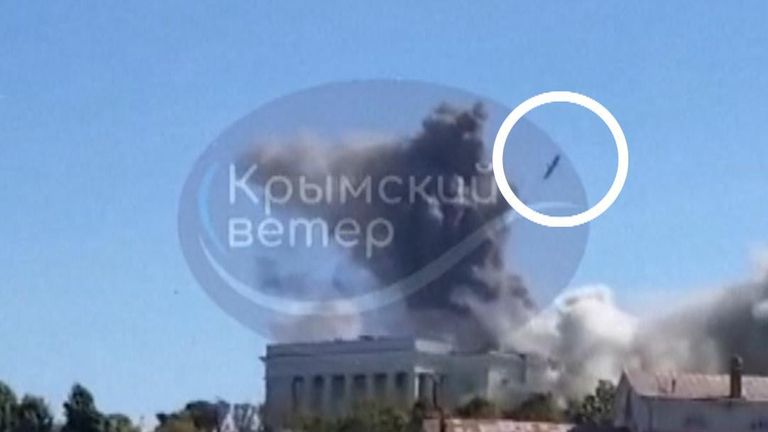 In a statement after the attack, the Russian defence ministry said one serviceman was missing, revising an earlier statement that the man had been killed.
Moscow-installed authorities in Sevastopol also said they were taking extra measures to address Ukraine's increased attacks on Crimea.
The attack came after an earlier strike on Sevastopol, in which a Russian submarine and warship were damaged.
A Ukrainian and a Western source said that British Storm Shadow cruise missiles were deployed in the attack on the port of Crimea, which Russia annexed in 2014.
Vast scale of methane leaks from fossil fuel production and landfill sites exposed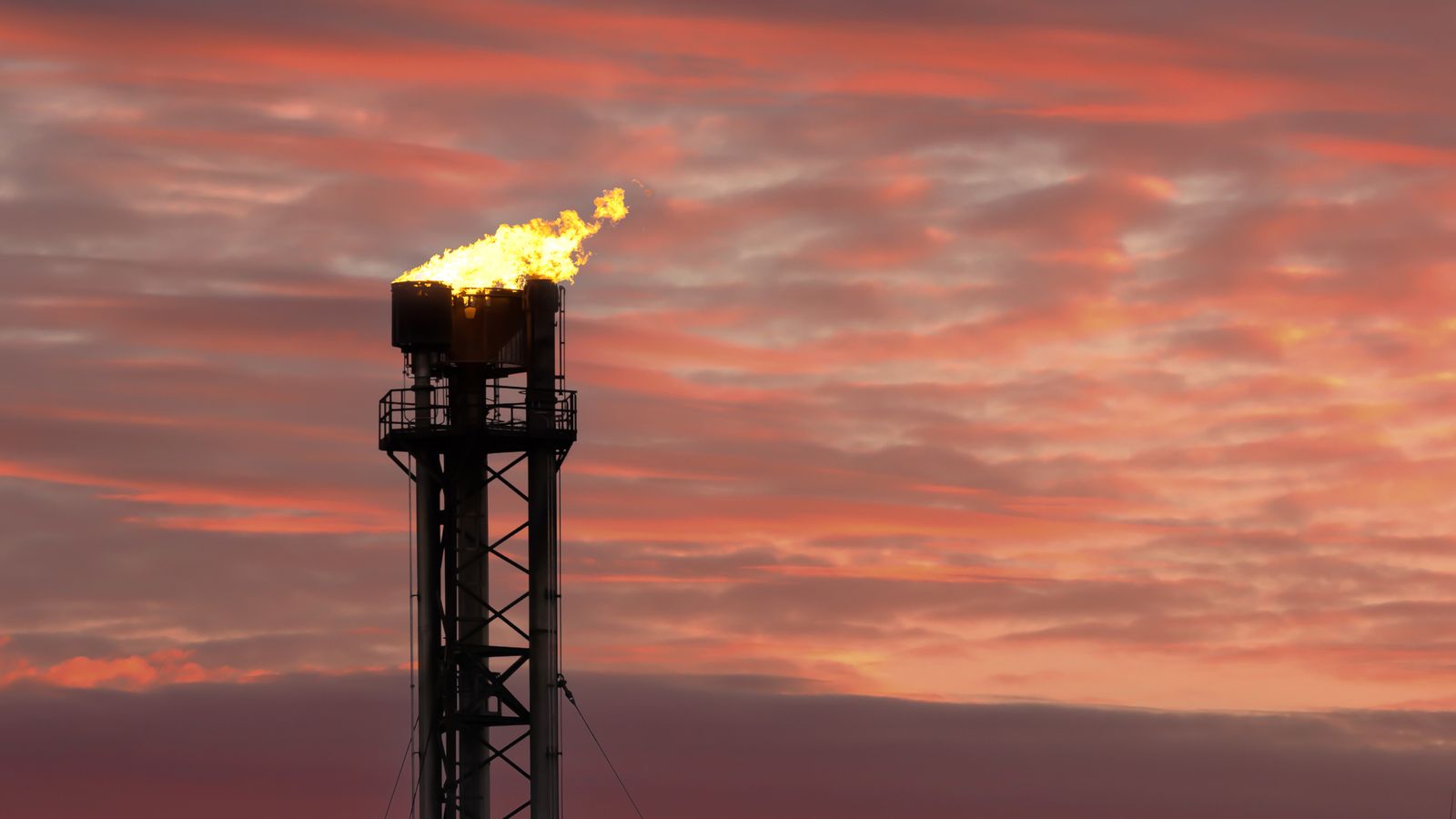 The vast scale of methane leaks from fossil fuel production and landfill sites has been exposed by analysis carried out exclusively for Sky News.
Around 1,300 "super-emitters" of the potent greenhouse gas have been identified so far in 2023 by the monitoring company Kayrros, which uses satellites to detect plumes of the gas.
It looks for non-natural sources of methane – primarily gas wells, pipelines, coal mines and landfill sites.
According to the data, the largest oil and gas source was on the Cheleken Peninsula in Turkmenistan, where a leak from one facility is estimated to have peaked at 333 tonnes per hour in August.
At that rate the hourly release of methane was equivalent to the greenhouse gas emissions from a car driving around 38,000 miles.
Another leak, from a blown-out drilling well in Kazakhstan, released between 21 and 56 tonnes of the methane every hour for 153 days between June and November.
Coal is also a problem with one facility in Shanxi, China, peaking at around 181 tonnes an hour last February.
And the methane release from buried waste at a landfill site in Dhaka city in Bangladesh peaked at 822 tonnes an hour in April.
Antoine Rostand, co-founder of Kayrros, told Sky News being able to observe emissions from space means there is no hiding.
"Previously we could measure the amount of methane in the atmosphere, but now we really know exactly where it's coming from," he said.
"Which country, which company, which assets are emitting methane in the atmosphere."
Kayrros's data shows Turkmenistan had higher methane emissions than any other nation, followed by the United States, India, Russia and Pakistan.
Methane is the natural gas burned by boilers and other appliances in people's homes.
But if it is released without being burned, often during maintenance on pipelines, it acts as a heat "bomb" in the atmosphere.
The gas causes 80 times more global warming as the same amount of carbon dioxide over a 20-year period.
Click to subscribe to ClimateCast with Tom Heap wherever you get your podcasts
But it also represents a huge opportunity for bending the curve on rising temperatures. Because it only persists in the atmosphere for around a decade rather than several centuries, as in the case of carbon dioxide, turning off the tap on emissions would have a rapid impact.
The United States has announced new rules for fossil fuel companies requiring them to monitor and fix leaks, which should reduce methane emissions by 58 million tonnes between 2024 and 2038.
Mr Rostand said the rules are overdue.
"The have the technology, they have the money, they know exactly what to do," he said.
"They're almost lacking any kind of overall regulation.
"A lot of players are doing a bit but some are not. And this is where regulation plays, because then it will put every single producer on an equal footing."
Read more:
Previous decade 'hottest on record'
Why China continues to invest in coal
So far 150 countries have signed up to the Global Methane Pledge, a commitment to reduce emissions by 30% by 2030.
If it is achieved it could reduce the global average temperature by 0.2C and prevent 255,000 premature deaths from extreme heat, according to the Pledge text.
The Kayrros data reveals there are no methane leaks in Europe, but Mr Rostand said the UK and other countries should put more pressure on suppliers of imported natural gas to stop releasing it into the atmosphere.
"It's really a complete waste, because companies can sell it," he said.
"It has an economic value, it's easy to fix. It's the elephant in the room, the low hanging fruit."
Mount Marapi volcano eruption in Indonesia leaves at least 23 dead, officials say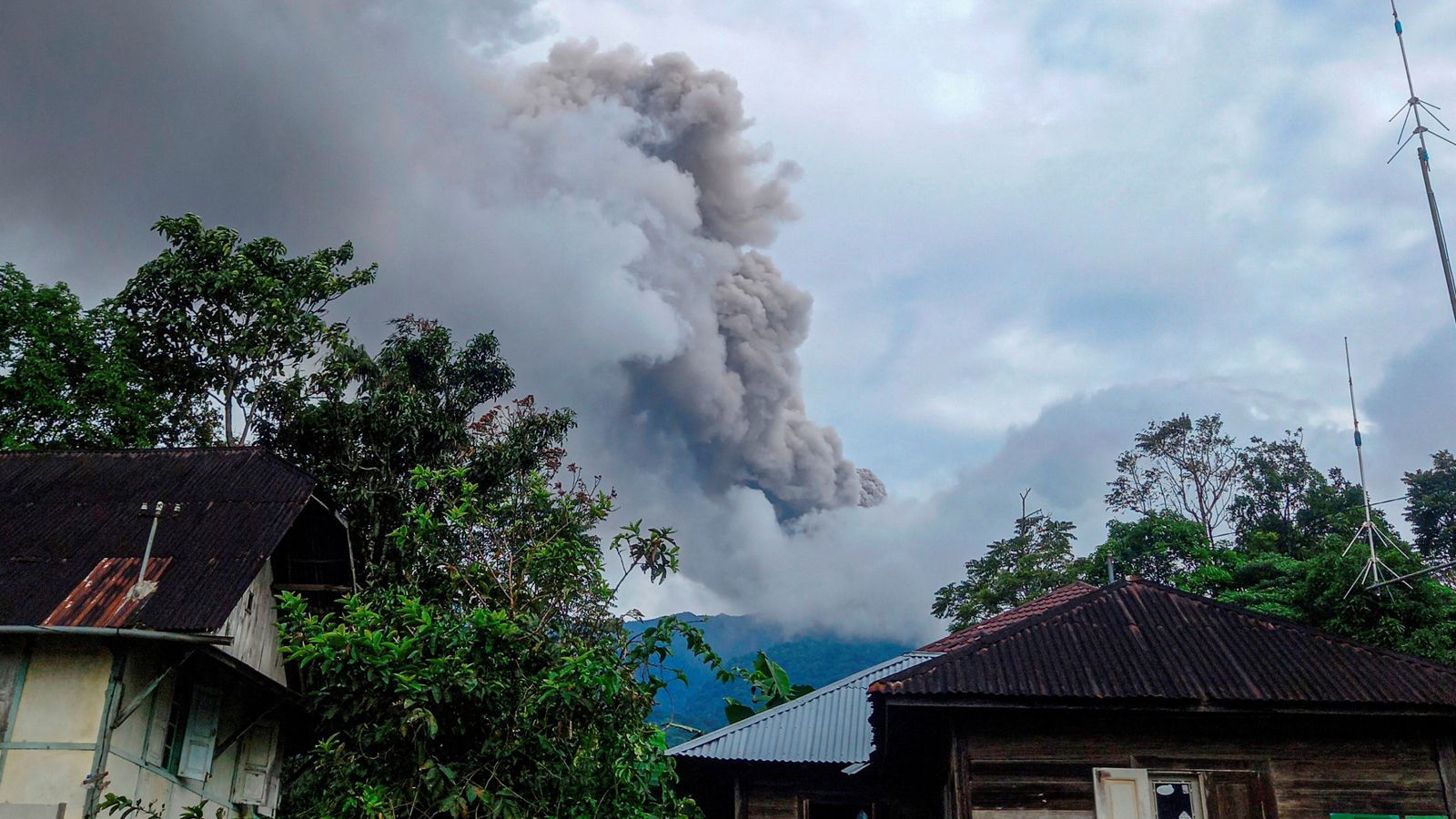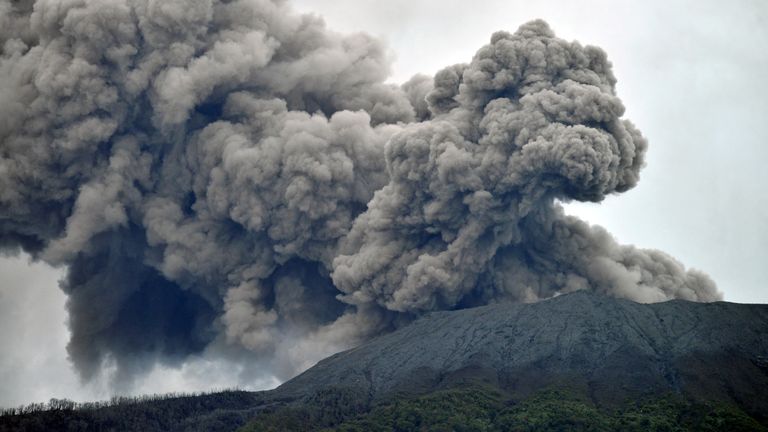 Rescuers racing to find hikers missing after a deadly volcano eruption in Indonesia have found more bodies, raising the number of confirmed and presumed dead to 23.
More than 50 climbers were rescued after Sunday's eruption before search operations were temporarily halted on Monday as Mount Marapi started spewing smoke and ash again.
About 75 people were heading up the 2,891m (9,485 ft) volcano at the time of the eruption.
Eleven climbers were initially confirmed to have died.
The bodies of five climbers were discovered near the eruption site, and a further 18 are presumed dead, said Edi Mardianto, deputy police chief in West Sumatra province, on Tuesday.
"We expect they are no longer alive," he said.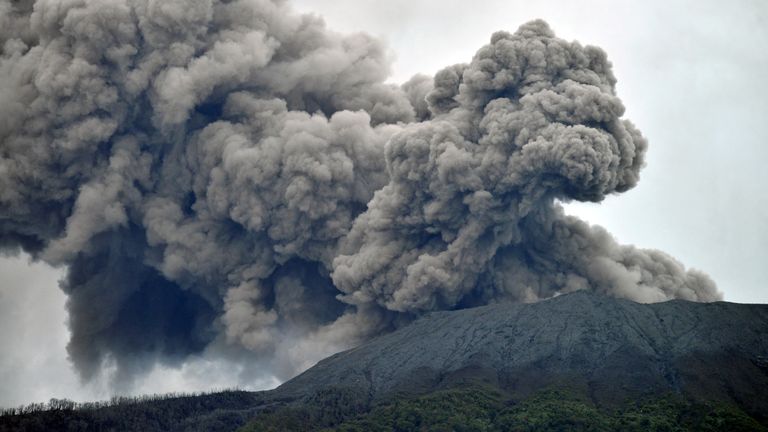 "The team will evacuate and take them to the hospital tomorrow or today to be identified."
A video released by West Sumatra's Search and Rescue Agency showed rescuers evacuating an injured climber on a stretcher off the mountain and into a waiting ambulance to be taken to hospital.
The volcano erupted in Indonesia's West Sumatra province and video showed thick columns of ash reaching up to two miles high, blanketing nearby roads and villages.
Read more world news:
US paddleboarder dies after shark attack in The Bahamas
Traders 'were told of Hamas attack on Israel in advance'
Mount Marapi is one of the region's most active volcanoes and also erupted between January and February.
Its sudden eruptions are difficult to detect because the source is shallow and near the peak, and they are not caused by deep movement of magma, which sets off tremors that register on seismic monitors.
Its most deadly eruption was in April 1979, when 60 people were killed.
It has been at the third highest of four alert levels since 2011 – indicating above-normal volcanic activity, prohibiting climbers and villagers within 1.8 miles of the peak, according to Indonesia's Center for Volcanology and Geological Disaster Mitigation.
Climbers have only been allowed below the danger zone, registering at two command posts or online.
However, local officials acknowledged many people may have climbed higher than permitted and residents also could have been in the area, making the number of people stranded by the eruption impossible to confirm.
Mount Marapi is among more than 120 active volcanoes in Indonesia, which is prone to seismic upheaval due to its location on the so-called Pacific "Ring of Fire" – an arc of volcanoes and fault lines encircling the Pacific Basin.
Munich Airport forced to close after freezing rain and wintry weather hits Germany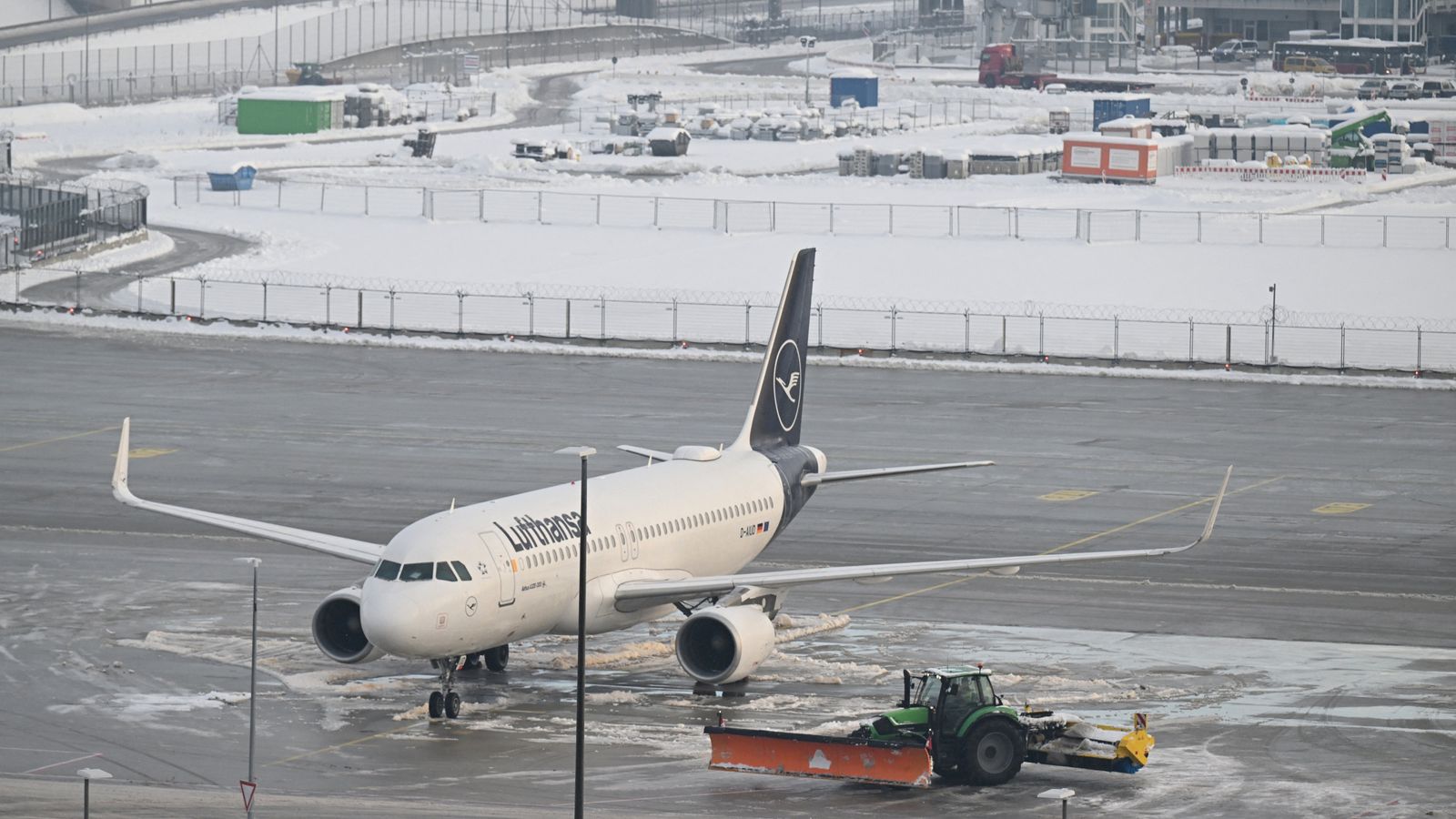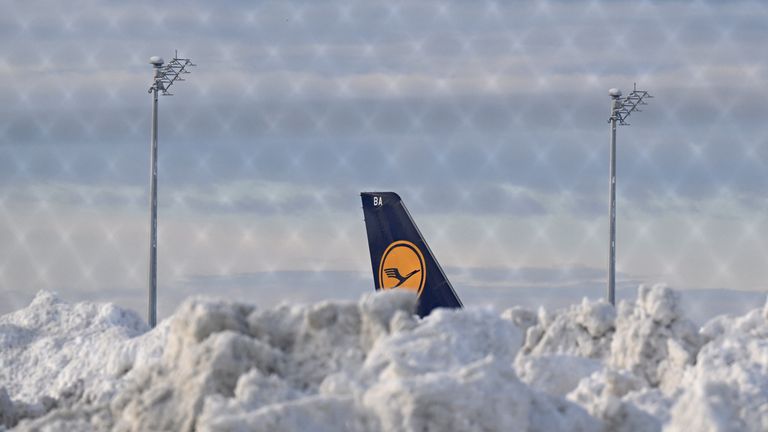 Munich Airport has been forced to close again after being hit by extreme wintry weather, making safe flights "impossible".
Freezing rain hit the German city, forcing the airport to temporarily cancel or postpone all flights on Tuesday morning.
It said there would be no take-offs or landings from 6am until midday in its announcement on Monday night, adding expected precipitation would make safe flights "impossible".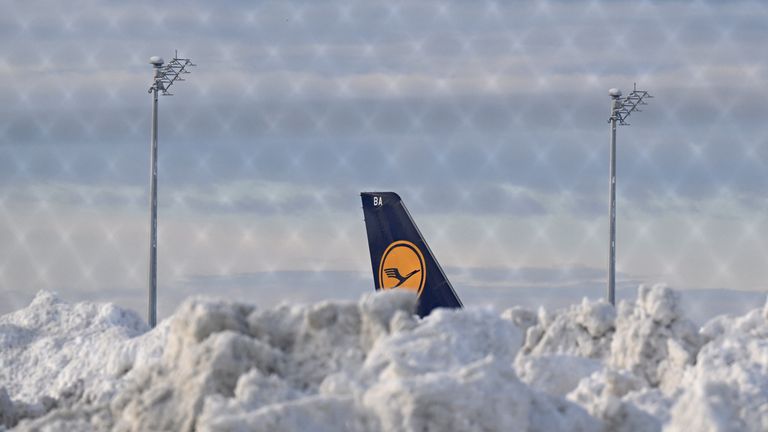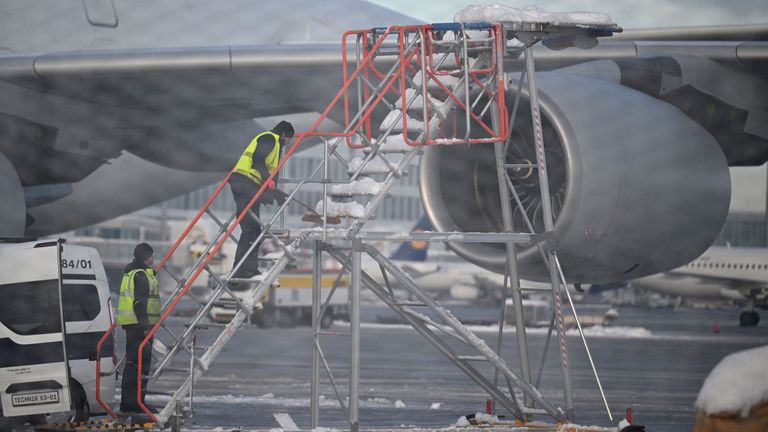 The country's second-biggest airport also warned the majority of flights scheduled for later in the day may face cancellations for safety reasons.
The airport said ice on its runways and apron – where aircraft are stationed – was "extreme", adding that there was "a thick layer of ice as smooth as glass".
It urged passengers to contact their airline before travelling to find out the flight's status and to avoid rebooking at the airport due to "insufficient capacity available".
The suspensions come after all flights at the airport were grounded on Saturday as heavy snowfall blanketed the city and the southern state of Bavaria.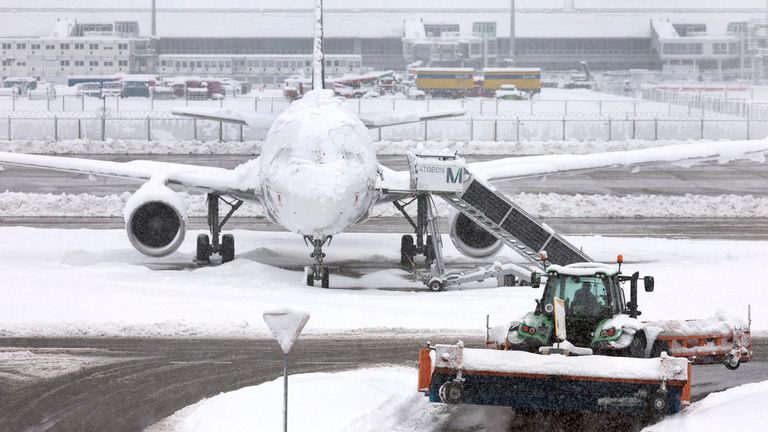 Adverse weather wreaked chaos in the state with car collisions reported and train connections affected.
Read more from Sky News:
Weather in pictures: Snow blankets parts of UK
Police deal with hostage situation at German airport
Two people died in a crash between a car and a tractor in Upper Bavaria, reportedly due to frozen rain on the road's surface.
Meanwhile, the A99 motorway near Munich was closed in both directions after 13 vehicles were reportedly involved in a mass accident.
Train operator Deutsche Bahn said there would be disruption in the Munich area for several days.
Germany's neighbours Austria and Switzerland have also experienced heavy snowfall affecting public transport, raising concerns about possible avalanches.