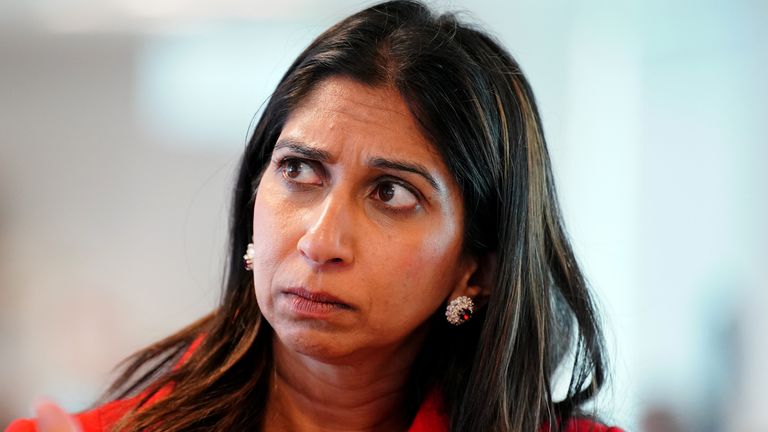 The home secretary has suggested the United Nations 1951 Refugee Convention needs updating to stop "simply being gay or a woman" being a reason for people to claim asylum in the UK.
In a speech to a right-wing thinktank in New York today, Suella Braverman will ask whether the 1951 convention is "fit for our modern age" or "whether it is in need of reform".
She cites the rising number of refugees across the world and those arriving in the UK in small boats as proof we "now live in a completely different time" to when the convention was written.
Here Sky News looks at what the convention says and how difficult it would be to change.
What does it say?
The UN Convention Relating to the Status of Refugees was originally signed by 28 countries, including the UK, in Geneva in July 1951.
As a "post-Second World War instrument" it was "originally limited in scope to persons fleeing events occurring before 1 January 1951 and within Europe", namely the Holocaust.
But it has since expanded and updated with more than 100 countries now signatories.
It defines what a refugee is, what rights they have and what obligations states have to them when they arrive.
According to the convention, a refugee is "someone who is unable or unwilling to return to their country of origin owing to a well-founded fear of being persecuted for reasons of race, religion, nationality, membership of a particular social group, or political opinion".
With the development of international human rights law, the convention says it should now be applied "without discrimination as to sex, age, disability, sexuality, or other prohibited grounds of discrimination".
Analysis:
The city of immigrants is being 'destroyed' by migration
Braverman's rhetoric risks backfiring
It gives refugees the right to "non-discrimination, non-penalisation and non-refoulement".
The "non-penalisation" section means refugees "should not be penalised for their illegal entry or stay" in the country they flee to and recognises that "seeking asylum can require refugees to breach immigration rules".
The "non-refoulement" part bans countries from "expelling or returning a refugee against his or her will, in any manner whatsoever, to a territory where he or she fears threats to life or freedom".
According to the convention, countries are also obliged to give asylum seekers access to "courts, primary education, work, and documentation, including a refugee travel document in passport form".
The convention does not apply to refugees who benefit from another specific UN or equivalent humanitarian programme, for example people from Palestine who fall under the UN Relief and Works Agency for Palestine Refugees in the Near East.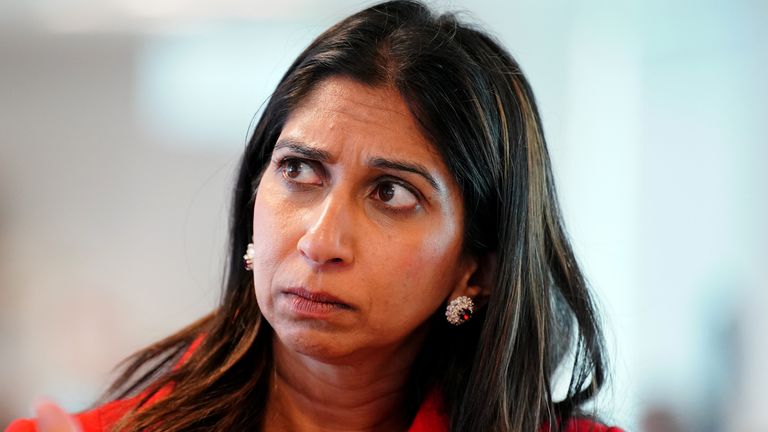 What does Suella Braverman want?
The home secretary says that while after the Second World War, the convention conferred protection on around two million refugees, some data analysis suggests that in the current context, this number is now 780 million.
The UN High Commissioner for Refugees (UNHCR) puts the original figure at one million and the current one at 35.3 million, as of the end of 2022.
Suella Braverman argues that the provisions on having a "well-founded fear of persecution" have been watered down to just "discrimination".
She says this has created an asylum system where "simply being gay, or a woman, and fearful of discrimination in your country of origin is sufficient to qualify for protection".
Can you change the convention?
The original 1951 convention was updated in 1967 to remove the "geographical and temporal limitations" and give it "universal coverage".
Since then it has been "supplemented" according to the "progressive development of international human rights law".
Although the convention itself hasn't changed – the way courts have interpreted it to rule on cases has – providing new case law for their own and other countries.
'Would a female Afghan interpreter for the British army be allowed to stay in the UK?'

Natasha Tsangarides, associate director of advocacy for the charity Freedom from Torture, says Ms Braverman is wrong to say case law now defines a refugee as facing discrimination – not persecution.
"That's incorrect, there's no case law to support that," she told Sky News.
"People, whether they are LGBT or not, need a 'well-founded fear of persecution' to be able to seek asylum."
On the growing numbers of migrants globally, which some estimate could reach a quarter of a billion due to the climate crisis and other conflicts, Ms Tsangarides stresses that isn't the issue.
"It's correct to say that more people are on the move than they were before. But of those displaced people, two thirds stay in their country and just move to a different part.
"Of that third who leave, seven out of ten stay in their region, which means only a small fraction of them come to Europe and try to seek asylum in the UK.
"The asylum system is in chaos, not because more people are coming, but because the Home Office has been presided over by chaotic governments that have neglected the system."
Labour: 'There's a migration system crisis'

Immigration lawyer Harjap Bhangal also says changing the convention or the way it's interpreted by judges and Home Office decision makers won't solve the UK asylum crisis.
Out of 78,768 asylum applications for the year ending June 2023, 71% were approved.
Only six return agreements have been struck in recent years and there is still a Home Office backlog of more than 130,000 cases.
"The problem here is the government isn't sending as many people back as they used to," Mr Bhangal said.
"The removals numbers have been whittled down. That isn't the fault of the convention – it's the machinery and a case of a bad workman blaming his tools."
Official changes, like the one in 1967, have to be approved by all 149 member states, Mr Bhangal added, which with Ms Braverman's lack of success on returns agreements, would be near impossible.
"I don't think she's going to get the support," he said. "At the moment she can't even get EU countries to sign return agreements, so it's not even workable.
"Changing the wording of the convention isn't going to stop the boats – people smugglers don't care about what the official definition of a refugee is."
Expect 'records broken' by Bitcoin ETF: Brett Harrison (ex-FTX US), X Hall of Flame
The former president of FTX US dishes the dirt on his falling out with former Jane Street colleague Sam Bankman-Fried and predicts the spot Bitcoin ETF will far outshine the record-breaking success of the Bitcoin Futures ETF.
Who is this guy anyway?
The ex-president of FTX US, Brett Harrison, tells Magazine that he didn't say a single word to Sam Bankman-Fried during the two-month notice period after he resigned, which was only months before the whole exchange blew up. Even getting a message to SBF to say he was resigning in the first place was hard work.
"I had to talk to other people in the company to formally resign. I wrote one text to Sam and I got back a single heart emoji. That was the last I heard from him," Harrison declares.
Harrison and Bankman-Fried had been colleagues years earlier at quantitative trading firm Jane Street, where Harrison saw his potential while teaching SBF in a course on programming for traders. But things went south real quick between them at FTX.
Harrison claims it was due to Bankman-Fried's inflated ego and his reluctance to accept any feedback or advice.
"Sam hated criticism and, as a result, refused to communicate with me. It drove my decision to quit even further," he says.
Yet, Harrison says he had no clue of the storm about to engulf the company with FTX declaring bankruptcy only a few months after he bailed from the U.S. arm of exchange.
"The rest of us, especially in the U.S., were blindsighted. We were working with regulators, top lawyers, and to have the whole organization fail because of one person's greed, will stay with us for the rest of our life."
However, he feels justice was done in the recent fraud trial against his former boss.
"I do feel the result was absolutely just, and I'm glad that justice was served quickly; I think it was essential that Sam was held accountable for his actions," he declares.
Meanwhile, Harrison wasted no time diving into a new project.
He co-founded Architect.xyz, a DeFi platform that focuses on bridging all the different opportunities in the digital asset space for both institutional and retail investors.
Harrison is a bit of a brainiac and has a computer science degree focused on artificial intelligence (AI) from Harvard University. So, who better to ask about the potential for AI to take over the world?
"I do not think AI is a threat to humanity," he declares, pointing out that AI has been in development for much longer than people think:
"Lots of people are now seeing AI for the first time, they don't appreciate the decades of progress that has gone into it."
Harrison is more concerned about humans using AI to pull off scams and swipe identities more effortlessly.
"It truly is just linear algebra," he says. "The idea that linear algebra is some existential threat to our survival just feels somewhat fanciful to people who have been practitioners in the field for a long time."
What led to Twitter Fame?
Harrison is a smart guy who drops interesting stuff on social media that people seem to dig.
But let's not dance around the fact that the FTX connection is what blew up his follower numbers, with his count hitting its highest weekly peak when FTX took a nosedive in November 2022, when he gained 2,140 followers, according to data from Social Blade.
Back in January, his long rant about his departure from X got nearly 3 million eyeballs. He said he wasn't canned from the FTX gig; it just wasn't his dream job, and SBF was an "insecure, prideful manager."
Content people can expect
If you scroll through Harrison's timeline over the years, you'll notice his glam lifestyle has toned down considerably since the FTX days. 
Back then, he was often seen hanging out with celebs and former prime ministers.
Nowadays, it's way more low-key. Besides throwing in some market talk, Harrison's been sharing snippets about his family life lately. 
He's even flexing about saving toys from the FTX US office that somehow dodged the whole bankruptcy drama.
What type of content does he like?
Harrison loves the blend of genius and goofiness on Crypto X — getting a daily fix of humor and high intellect.
"One of the things I love about Crypto Twitter  is the perfect mix of highly intellectual cerebral, either Market structure or political commentary, and degenerate memes."
However, when we asked about the accounts he's into, he's not that forthcoming. 
After doing some light digging, it turns out he's following 2,100 accounts, and guess who's in the mix? None other than Bankman-Fried's pal Tiffany Fong.
Bitcoin predictions?
Harrison used to avoid making predictions, saying he'd never have predicted the events that happened to him. But that was when things were going too smoothly, and that's all changed. 
Harrison declares there is a very "high probability" that a spot Bitcoin ETF will get approved in the first quarter of 2024.
As for price predictions? Harrison isn't tossing out any six-figure numbers right away.
"In Q1 assuming there is an ETF that's approved. I think something in the $50,000 to $55,000 range feels pretty probable," he states.
He doesn't see Bitcoin hitting six figures until "toward the end of 2024 or early 2025 at the earliest."
He points to the first day of Bitcoin Futures ETF as just a little hint of how optimistic he is about the spot Bitcoin ETF:
"If you remember the day when a Bitcoin Futures ETF was listed the inflows were some of the highest ever seen in the history of ETFs. I think we're going to see even more records broken for a spot Bitcoin ETF."
Subscribe
The most engaging reads in blockchain. Delivered once a
week.
Kenyan crypto tax bill makes it through parliamentary committee
A bill defining crypto assets as securities and imposing capital gains tax on them has made it through a Kenyan parliamentary committee. It will be introduced to the lower chamber of parliament next.
According to the Kenyan newspaper Business Daily on Dec. 4, the Capital Markets (Amendment) Bill, 2023, has been approved by the National Assembly's Finance and National Planning Committee. The report cites the Chairman of the Committee, Kimani Kuria:
"This is a very critical law that will guard our country against proceeds of crime and terrorism financing. Cryptocurrencies are already being traded by millions of Kenyans yet we have no law to govern it. We approve this Bill for publication." 
After the Committee's approval, the bill will head to the reading stage in the National Assembly, the lower chamber of the Parliament of Kenya. 
Related: Wallet crypto bot rolls out on Telegram in Colombia, SA and Kenya
The Capital Markets (Amendment) Bill, 2023, amends the country's tax code, imposing taxes on crypto assets stored on crypto exchanges and digital wallets. In its framework, Kenyans will pay capital gains for the increased crypto market value when they sell or use it in a transaction. While the bill's text is unavailable in full, according to the Business Daily, "banks [will] deduct 20 percent excise duty on all commissions and fees charged on transactions."
Should the bill pass, citizens of Kenya would be obliged to declare all their crypto assets and their value in Kenyan shillings to the Kenya Revenue Authority. The report cites part of the bill:
"A person who possesses or deals in digital currency shall provide the Authority with the following information for tax purposes—the amount of proceeds from the transaction, any costs related to the transaction and the amount of any gain or loss on the transaction." 
While Kenya is only preparing to introduce its crypto taxes, the tax services in other countries have recently been quite vocal in their desire to chase all those who didn't declare their crypto accurately. For example, His Majesty's Revenue and Customs recently demanded that United Kingdom hodlers declare any crypto they failed to report in the last four, six or even 20 years.
Magazine: Real AI use cases in crypto, No. 3. Smart contract audits & cybersecurity
Singapore releases national AI strategy 2.0, plans for 15,000 AI experts
The Singaporean government released its updated national strategy for artificial intelligence (AI) 2.0 on Dec. 4, in which it outlined how it plans to embrace innovation and tackle the challenges coupled with the technology. 
Singapore structured its AI strategy into three distinct systems, consisting of ten "enablers," which drive those systems and then 15 action steps to make the system work. It's first AI strategy was introduced in 2019.
The updated plan's systematic approach focuses on three main areas of its society, including what it calls "activity drivers," "people and communities," and "infrastructure and environment."
Building a smart nation
Among the action steps is Singapore's plan to develop new AI "Centers of Excellence" (CoEs) across companies operating in the country to foster "sophisticated AI value creation and usage in key sectors."
The updated AI plan also has benchmarks of equipping governmental agencies with "specialized knowledge, technical capabilities, and regulatory tools" and "sharpening" AI proficiency in all Singaporean public officers.
According to the vision, Singapore plans to use its government capacity to create resources to support AI adoption in the public sector.
Additionally, it said it plans to boost its quantity of "AI practitioners" or local experts to 15,000 through scaling up AI-specific training programs and technology and AI talent pipelines, and that it "remains open" to global talent.
The report said that various tech training programs centered around AI development have placed over 2,700 individuals in "good jobs" to date.
Increasing compute
Singapore, like many other countries around the world, said it also plans to increase its computing capacity.
To do this, Singapore said it plans to "deepen" partnerships with major players in the industry, including chipmakers and cloud services providers (CSPs), as well as support local Singapore-based compute industry firms.
Related: AI's energy consumption concerns echo Bitcoin mining criticisms, says Heatbit founder
It plans to implement its action steps over the next 3-5 years to support its ambitions in the AI sector.
Singapore follows other countries in its push to embrace AI. Recently, at its AI Safety Summit, the United Kingdom said it plans to invest 300 million pounds into obtaining and operating 2 AI supercomputers to boost its own footprint in the global AI race. 
OpenAI, one of the world's leading AI developers, announced a partnership with G42 in Dubai to expand its reach into the Middle East region.
Meanwhile, the United States, one of the world's top chip manufacturing hubs, has begun to tighten export controls targeting certain countries on its technology to develop and power high-level AI systems.
Magazine: Outrage that ChatGPT won't say slurs, Q* 'breaks encryption', 99% fake web: AI Eye