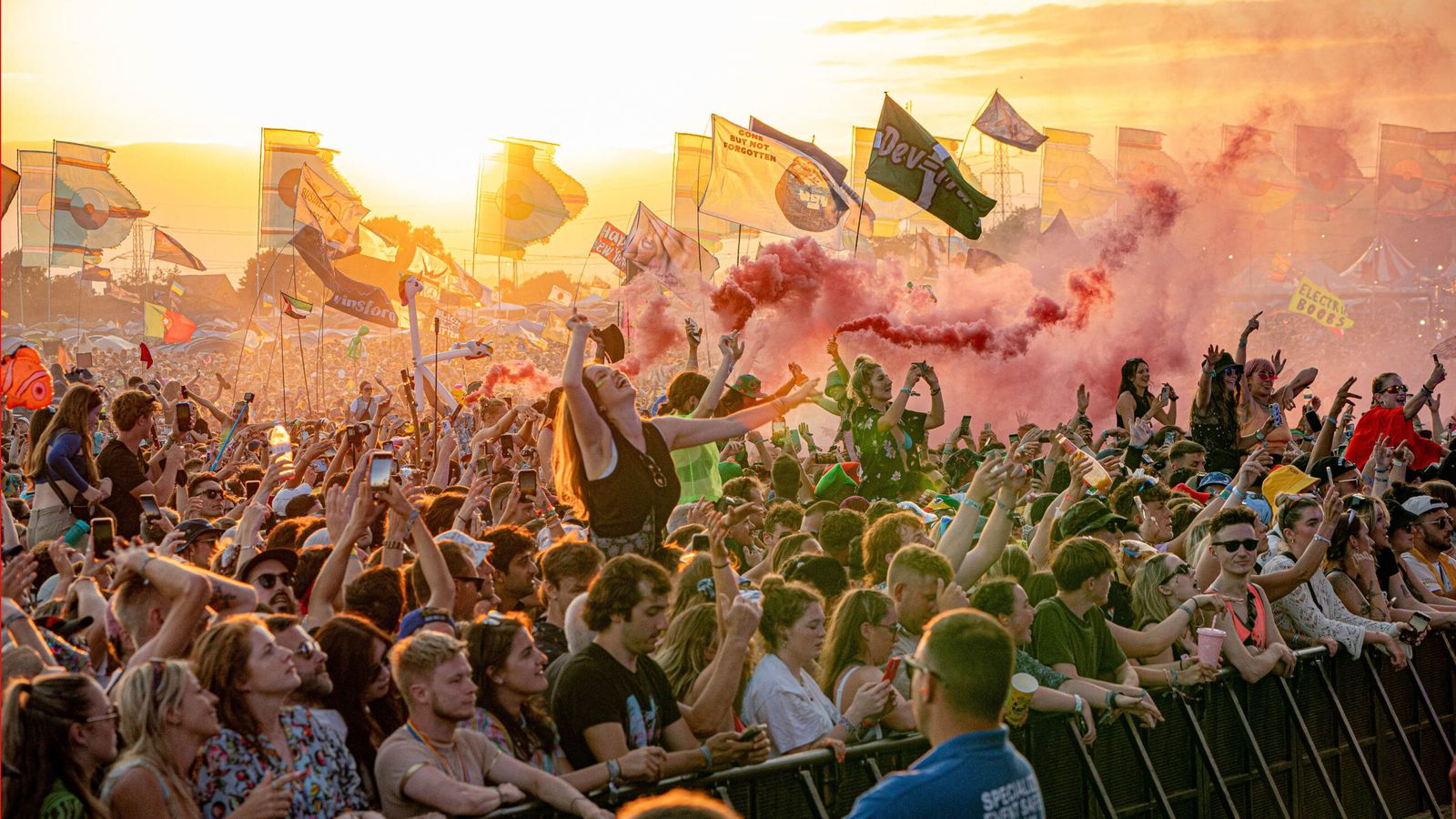 Glastonbury standard tickets go on sale today: Top tips to maximise your chances of getting to the festival
The annual mad scramble for Glastonbury tickets is upon us.
Standard weekend tickets for Glastonbury will go on sale at 9am this morning, after the initial early November sale dates were pushed back due to some confusion over the registration process.
Coach tickets to the iconic event at Worthy Farm in Somerset, which will take place from 26 to 30 June next year, are already sold out after they were released on 16 November.
Here's everything you need to know before trying to get tickets
If you haven't registered yet, you're out of the running for now
Unfortunately if you did not register for buying tickets by the deadline of 5pm on Monday 13 November, you won't be able to apply for standard tickets today.
However, you will still be in with a chance if you register before April 2024, when Glastonbury will have a number of resale dates, selling tickets that have been cancelled (dates yet to be confirmed).
You can apply for that by clicking here.
Where can I get tickets?
Tickets can be bought exclusively at glastonbury.seetickets.com once they become available.
No other site or agency will be allocated tickets, so if you see anyone else claiming to have Glastonbury tickets available for purchase, it's most likely a scam.
What types of tickets are available and when?
Tickets including coach travel went on sale at 6pm on 16 November – but they're all gone now.
General admission tickets go on sale at 9am on Sunday 19 November.
There will be another opportunity to get tickets during the resale dates in April 2024.
If you grabbed the ticket plus coach option, getting the coach that you selected is mandatory and you will only receive your ticket once you are on that coach.
It means that if you bought more than one ticket on 16 November, everyone that you bought for in your transaction needs to get the same coach to Glastonbury.
Children aged 12 and under when the festival takes place are admitted free of charge and do not need a ticket, nor do they need to register.
You will need to reserve additional coach seats for the children if you booked a ticket plus coach travel package, though.
Why does Glastonbury make people register in advance?
It's to avoid ticket touting, Glastonbury says.
All tickets are personalised with a photo of the ticket holder and cannot be transferred to another recipient.
This makes it far more difficult to resell them at a higher price, which is often a major problem seen at other festivals and concerts.
How many tickets can I buy?
You can buy up to six tickets at a time, but all of the people you're buying the tickets for need to be registered with Glastonbury.
You will need their registration numbers and postcodes as well as your own.
How does the booking process work?
Once tickets go up for sale, all potential buyers are sent to a holding page.
Glastonbury says users are held at the holding page until there is space on the booking page. The holding page refreshes every 20 seconds to look for a space on the booking page.
You may see a reduced, bare-looking version of the booking page once you gain entry.
The organisers say this is intentional in order to cope with high traffic and does not mean the site has crashed, so be sure not to refresh or leave the page.
Once you reach the first page of the booking site, you will need to enter the registration number and registered postcode for yourself and the other people you are attempting to book tickets for.
When you proceed, the details you have provided will be displayed on the next page.
Once you have double checked all of your information is correct, click 'confirm' to enter the payment page, where you will need to check/amend your billing address, confirm your payment information, accept the terms and conditions, and complete the check out within the allocated time.
Giving yourself the best chance
Those who are registered and raring to go should remember to get the basics right.
Here are the must-haves if you want to stand any chance of getting a ticket:
• Good internet connection. You won't stand a chance without solid broadband.
• Timekeeping. Make sure you are on the tickets page at exactly 9am on 19 November – even if it means setting an unwelcome alarm on Sunday.
• No distractions. There are time limits during the booking process. If you reach the stage where you have been assigned tickets, you will still need to check/amend your billing address, confirm your payment information, accept the terms and conditions, and complete the checkout within the allocated timeframe.
• Be ready to approve your payment. There is a chance – especially if you are paying for multiple tickets – that you will have to pass additional security questions from your card issuer. Have a device on hand to ensure you are ready to do this swiftly.
• Don't give up. Until you see the ominous 'SOLD OUT' display on the site, there is still a chance. Shortly before that point, there will be a message saying 'all available tickets have now been allocated,' which users often think means their chances are up. What it actually means is that orders are being processed for all the tickets that are available. But if somebody whose order is being processed doesn't take our previous advice and runs out of time, their loss could be your gain.
Does using multiple devices actually help?
You may have seen photos shared on social media of individuals sitting in front of multiple phones, laptops and iPads that are all on the tickets loading page.
Glastonbury's website advises that running multiple devices simultaneously is "a waste of valuable resources, and doesn't reflect the ethos of the festival".
"Please stick to one device and one tab," it adds, "so that you can focus on entering your details without confusing your browser and help us make the ticket sale as quick and stress free as possible for all."
In case your priorities aren't the festival's ethos or making the ticketing process easy for everyone, it is worth noting that you would need to be very confident in your broadband's capabilities to use multiple devices.
For your own sake, you may be better off using one device with concentrated connection rather than several using it in weaker doses.
What about multiple tabs on one device?
It was alluded to in the previous section, but Glastonbury definitively says using multiple tabs will not increase your chances of success.
In fact, it could do the opposite.
Glastonbury's website reads: "Attempting to book tickets online using multiple browser tabs can confuse the ticket sales process and cause your transaction to fail.
"We strongly advise that you use just one browser tab when trying to book tickets, in order to avoid possible problems with your transaction."
How much do tickets cost and do I pay up front?
Tickets for Glastonbury 2024 will cost £355, plus a £5 booking fee.
If you are purchasing general admission tickets, you will just have to pay a £75 deposit and £5 booking fee.
Keep in mind, this is the cost per ticket, so if you are buying six tickets, you will need to pay the deposit and booking fee for each one.
You will then need to pay the remaining cost of your ticket(s) in the first week of April 2024. That's £280 per ticket.
How many people will be trying to get tickets?
More than 2.5 million people tried to get their hands on the 135,000 tickets on offer last year, according to National Broadband.
The ticketing service which deals with Glastonbury, See Tickets, experienced technical problems last year during the sale window on 6 November, later apologising to people who had "issues trying to book".
They didn't specify whether this was due to the amount of website traffic.
Glastonbury co-organiser Emily Eavis apologised afterwards to the "huge number" of people who missed out because "demand far outstripped supply".
We know from Ms Eavis that some 2.4 million people were registered for Glastonbury tickets at the end of 2019, too, so this level of demand is not an anomaly.
When will I receive my ticket?
General admission tickets will be sent out in late-May or June 2024 to those in the UK and the EU.
People who bought a ticket plus coach package will have to wait until they are on their coach to be handed their tickets.
If you live outside of the UK and EU and buy a ticket, it will be available for box office collection unless specified otherwise.
What if I get tickets but can't make it to Glastonbury?
Don't panic; that's what the resale window is for.
If you realise after buying tickets that you cannot attend, simply don't pay the remaining £280 that you owe per ticket before the deadline: 11.59pm on 7 April 2024.
Your deposit will automatically be refunded to you, minus a £25 administration charge.
There's an extra £15 coach cancellation fee on ticket and coach bookings.
Your ticket will then be resold to someone else during the next window.
You can also request a refund any time before Friday 3 May 2024 via See Tickets' Customer Service Page.
From 3 May onwards, tickets are non-refundable.
Do not attempt to sell tickets on yourself. As stated previously, all tickets are personalised and cannot be transferred to another recipient.
What is included with a ticket?
Here is a list of everything Glastonbury says is included with a ticket:
• Entry to the festival, with over 3,000 performances across more than 100 stages
• Five nights camping (with no early entry fees)
• Free programme
• Free mobile phone charging
• Free on-site newspaper
• Free mobile app
• Free firewood
• Kidzfield, where all entertainment, rides and activities are free of charge
• Support for Oxfam, Greenpeace, WaterAid and "hundreds of other worthy causes"
• Funds to improve the festival's infrastructure and environmental impact
UK weather: New warnings issued as 1,500 properties still without power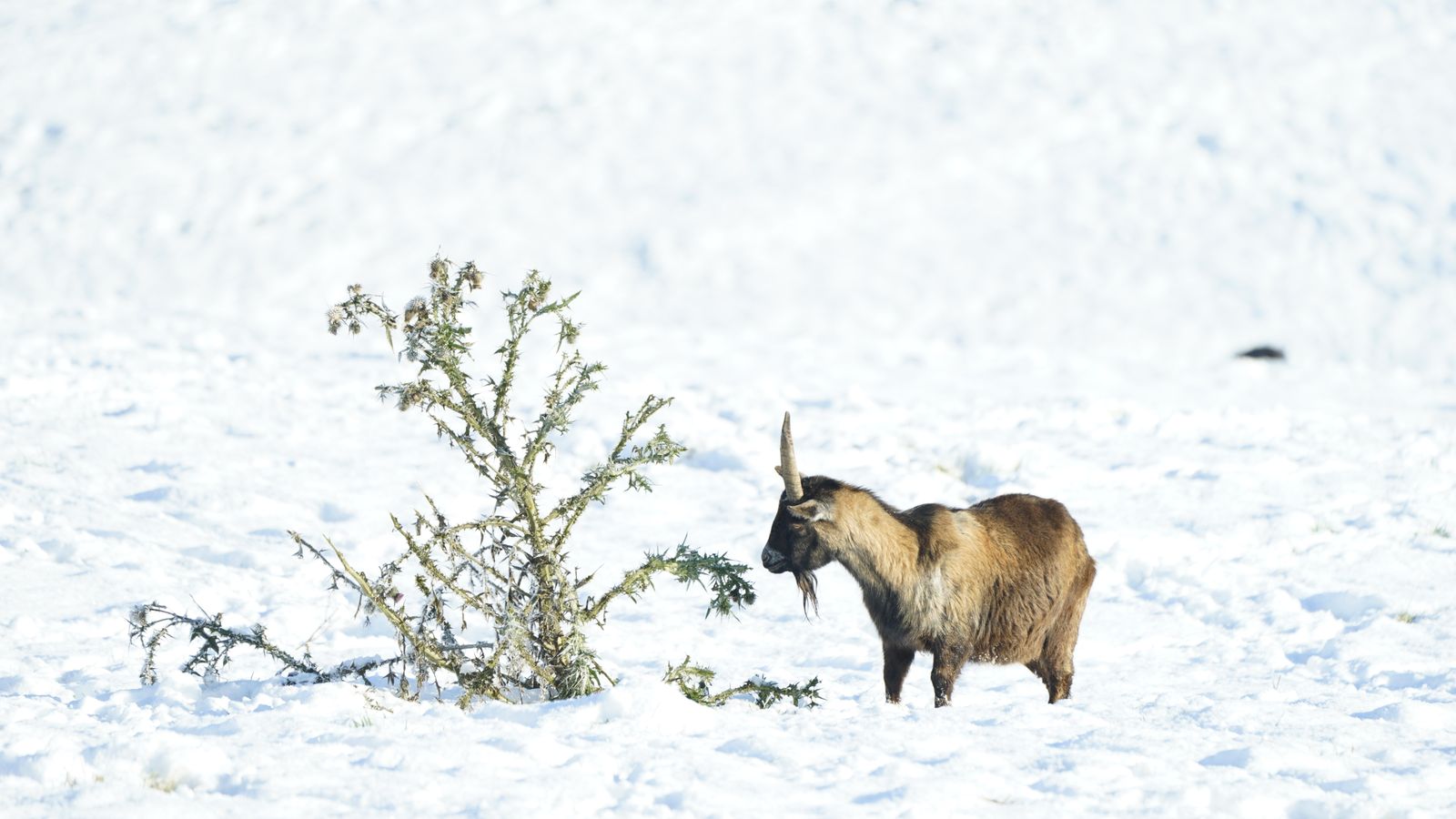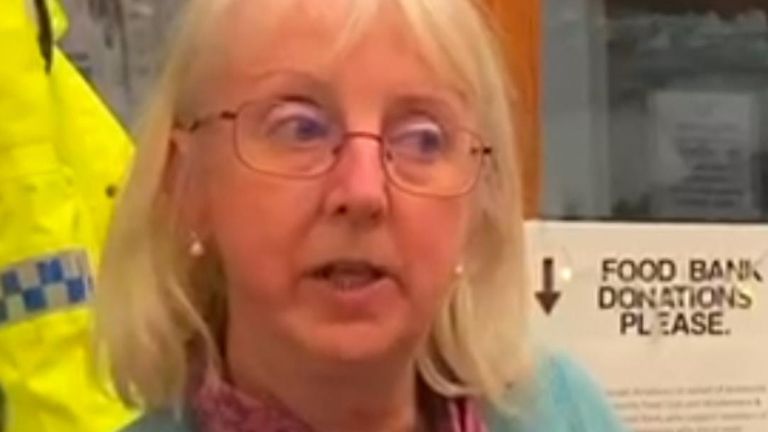 Around 1,500 homes and businesses are still without power after heavy snow caused major power cuts in Cumbria.
It came as much of the country was hit by cold and wet conditions over the weekend, including a low of -12.5C recorded in northern Scotland overnight.
Freezing conditions are forecast to continue on Monday and the Met Office has issued new yellow weather warnings for snow, ice and rain.
Cumbria was one of the worst affected regions over the weekend, with up to 30cm of snow falling in places.
Officials declared a major incident in the county on Saturday and advised people not to travel unless necessary.
Weather latest: Town 'feels like ski resort'
Cumbria residents seek refuge in church

Dozens of motorists in the Lake District were forced to abandon their cars overnight. Many were forced to seek refuge in local community centres, primary schools and a church.
Electricity North West said its engineers had been "battling treacherous conditions" throughout the weekend and were still working on restoring supplies on Sunday evening.
Another 7,500 homes and businesses have been reconnected after earlier being hit by power cuts.
Check the five-day forecast for your area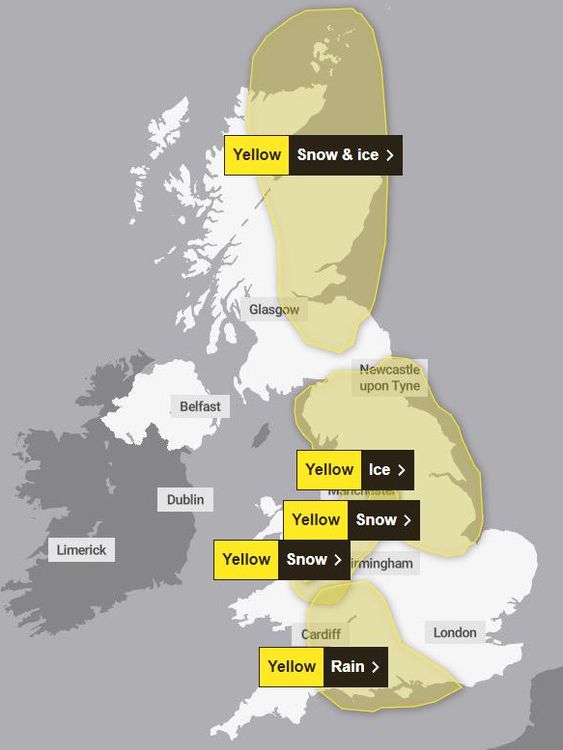 The weather also caused disruption to travel, including at East Midlands Airport, which was forced to temporarily close its runway on Sunday.
It came after some flights were cancelled at Glasgow Airport and London Stansted Airport on Saturday.
Read more from Sky News:
COVID inquiry about 'scapegoating', Johnson's sister says
Woman seen being carried into car is found safe
Pentagon 'aware of reports' US warship attacked in Red Sea
The Met Office's new weather warnings include alerts for ice across much of northern England and parts of the Midlands, as well as snow for higher areas of Wales and the Peak District.
The weather agency said there was a risk that snow will lead to major travel disruption and there could be "accumulations of 2cm to 5cm on some roads above around 150m, and perhaps 10cm to 15cm on roads above around 350m".
The warning runs from Sunday evening until 12pm on Monday.
Weather causing chaos in Cumbria

The Met Office also issued a yellow weather warning for rain across parts of southern Wales and southwest England, with the alert due to come into force from midnight and run until 6pm on Monday.
Forecasters said there was a risk of flooding to some homes and businesses, as well as potential disruption to train and bus services.
The RAC warned northern parts of the country were facing an "ice rink on Monday as snow refreezes overnight" and advised motorists to take care.
Spokesperson Simon Williams said: "We're expecting some very treacherous icy conditions in northern parts, so those who have to drive should exercise great caution.
"If it's possible to delay or even abandon journeys that may well be the best option."
However, Met Office meteorologist Tom Morgan said the weather would likely become milder later in the week.
He added: "So there is an end in sight to the wintry weather."
Rishi Sunak suggests more tax cuts are on the way – but refuses to commit to triple lock manifesto pledge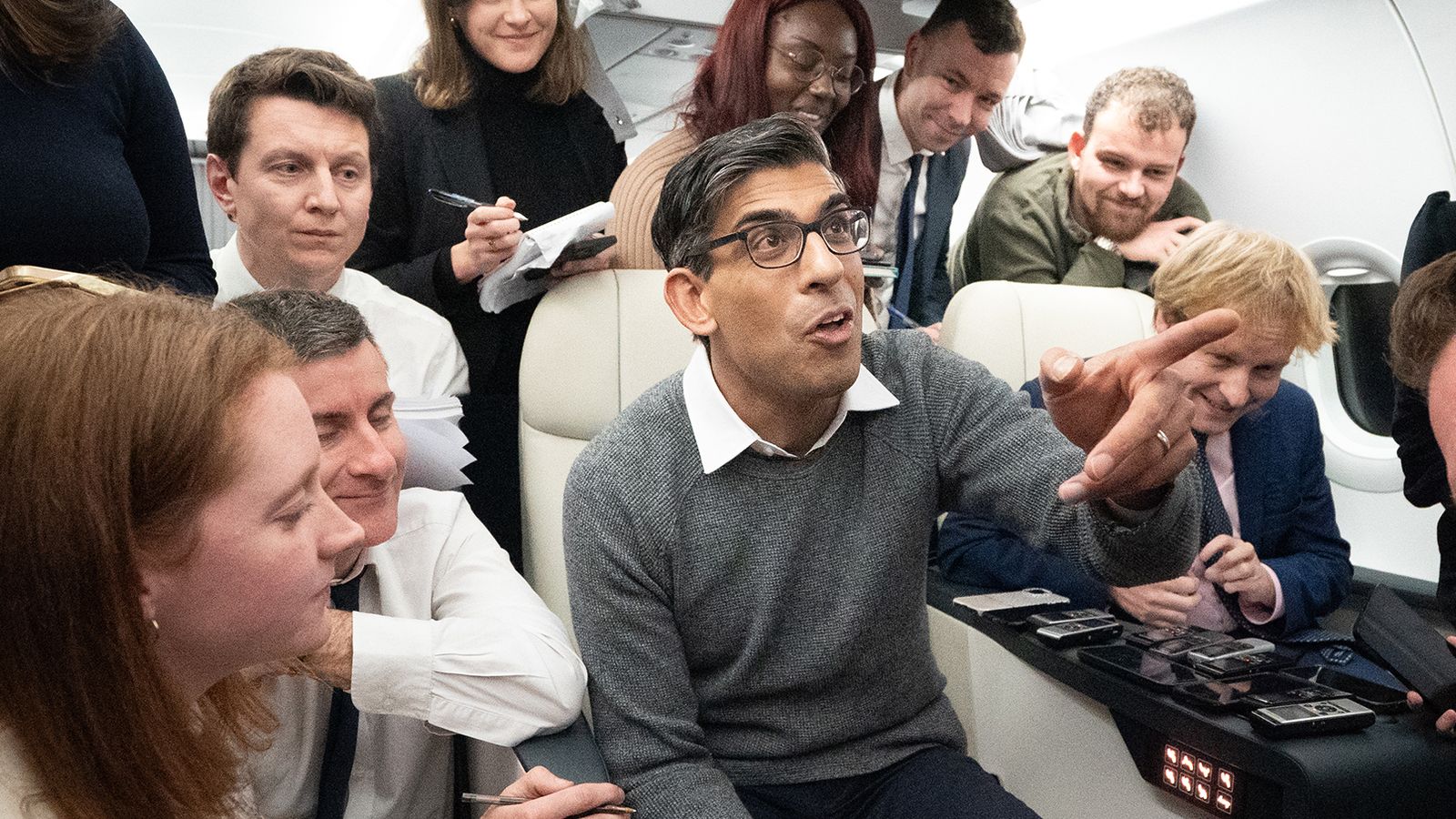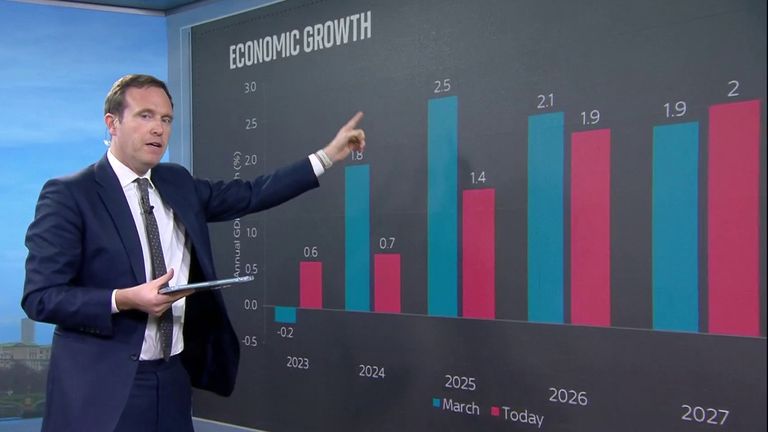 Rishi Sunak has suggested more tax cuts are on the way because the economy has "turned a corner".
The prime minister told reporters that while he would not comment on specifics, trimming taxes was "the direction of travel from this government".
But it came as he refused to say if the pensions triple lock would be in the next Conservative Party manifesto – despite Downing Street insisting in September that it was "committed" to the policy.
Mr Sunak's comments echo similar remarks by his ministers in recent weeks.
Chancellor Jeremy Hunt also said last month that the economy had "turned a corner" just before he unveiled a cut to National Insurance in the Autumn Statement.
However, four million people could also end up paying higher taxes if their wages rise after the government decided to continue the freeze on tax thresholds.
Reports suggest the Conservatives are considering additional cuts in 2024 as the party tries to woo voters and reduce Labour's 20-point lead in opinion polls ahead of the next general election, which must take place by January 28 2025.
Cuts to stamp duty and inheritance tax are among the options reportedly being looked at by ministers.
When asked about the two policies, Mr Sunak said: "I would never comment on specific taxes. But what I will just say, though, is we have turned a corner.
"We have got inflation down, as I said we would, we have grown the economy and we are now focused on controlling spending and controlling welfare so we can cut taxes. So when we can do more, we will."
He added: "We want to grow the economy, we want to reward people's hard work and aspirations and cut their taxes responsibly. That is the direction of travel from this government.
"If you want controlled public spending, controlled welfare and your taxes cut, then vote Conservative."
Read more from Sky News:
Starmer's praise of Margaret Thatcher sparks party backlash
Fury as COP28 head questions 'science' of cutting fossil fuels
Abu Dhabi fund moves to take control of Daily Telegraph
Mr Sunak was unable to make similar promises about the triple lock, which ensures the state pension must rise every April by whichever is highest out of average earnings, inflation or 2.5%.
The policy has come under fire in recent months by critics who claim it has become too expensive and gives the government less financial "headroom" to deal with economic shocks.
Some senior Tories have called for it to be scrapped and Labour has refused to guarantee the triple lock will remain in place if it wins the next election.
While the government continued with the policy in its recent Autumn Statement, ensuring the state pension will rise by 8.5% in April 2024 to £221.20 a week, Mr Sunak refused to be drawn when asked directly if it would be in the next Tory manifesto.
Analysis: Autumn Statement 2023

Speaking to journalists as he flew between the UK and Dubai for the COP28 summit, he replied: "[I'm] definitely not going to start writing the manifesto on the plane, as fun as that would be."
Mr Sunak acknowledged there had been "some scepticism" about if policy was going to form part of the Autumn Statement, but said its inclusion had been "a signal of our commitment to look after our pensioners who have put a lot into our country".
Reindeer block dual carriageway in Suffolk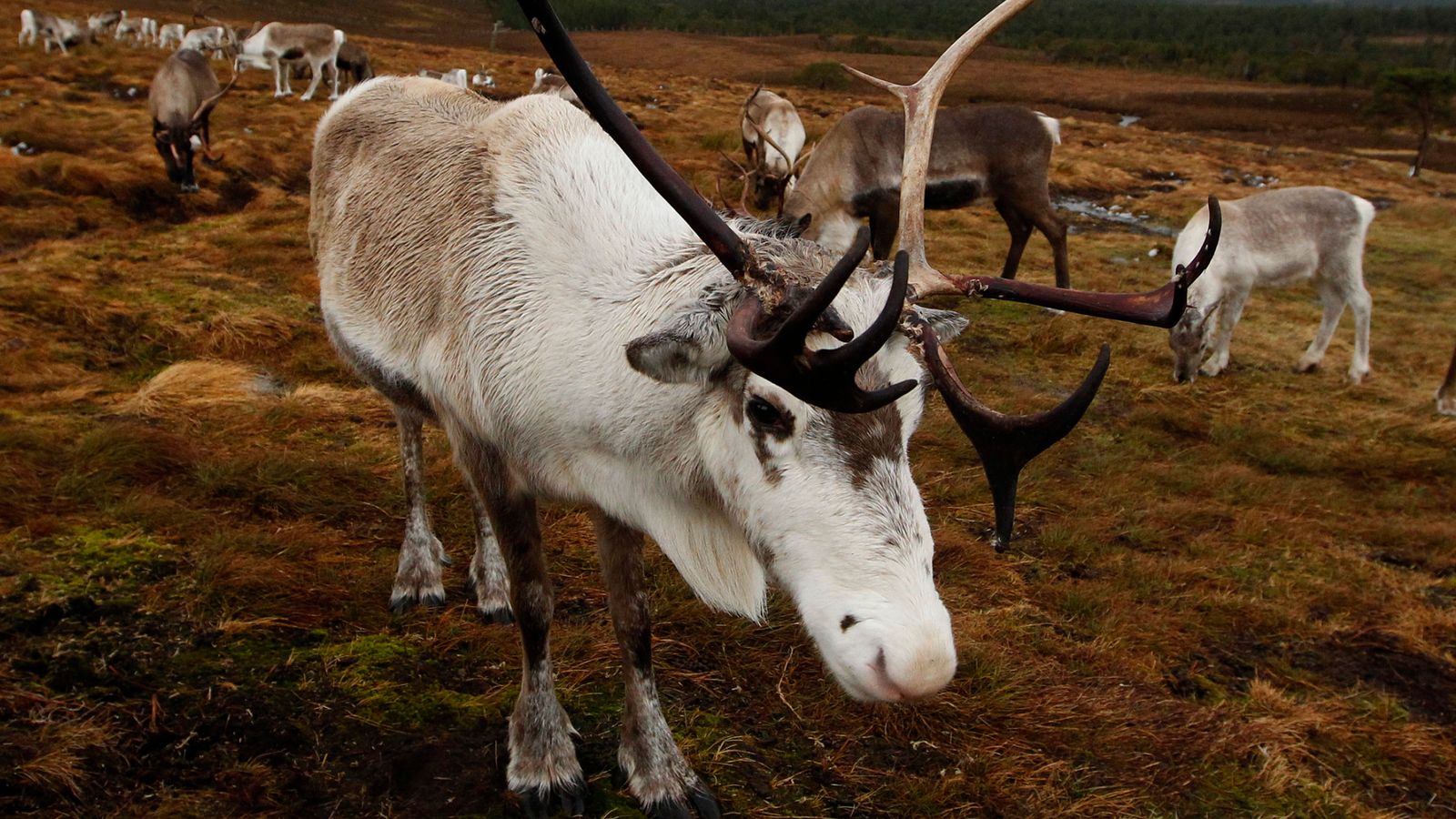 A major road was closed by police in both directions after a "large number" of reindeer wandered in front of traffic.
Police were called to the scene, on the A11 near Barton Mills in Suffolk, at around 3.20pm on Sunday.
National Highways East said no traffic had been able to pass due to the "large number" of the animals on the road and added that police had been "trying to catch them".
The reindeer eventually left the road at around 5.20pm and it was reopened shortly afterwards, officials said.
In an update on X, formerly Twitter, National Highways East confirmed police closed the A11 "in both directions between A1134 and A1101".
There are not thought to be any wild reindeer in England and it is unclear where the animals came from.