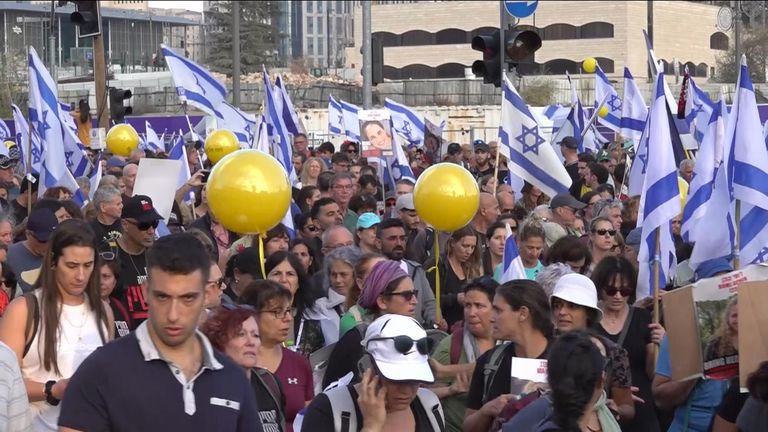 Hamas could release a significant number of Israeli hostages "in coming days", Israel's ambassador to the US has said.
Around 240 hostages were taken during Hamas's deadly cross-border assault into Israel on 7 October, which prompted Israel to invade Gaza in an attempt to wipe out the militant group.
Israel's ambassador to the US, Michael Herzog, said Israel was hopeful a significant number of hostages could be released by Hamas "in coming days".
Israel-Hamas latest: Israel claims Hamas 'hid and murdered hostages' at al Shifa hospital
Israel 'hopeful' hostages may be freed

His comments came after Qatar's prime minister said only "very minor" details remained in a deal between Israel and Hamas.
Sheikh Mohammed Bin Abdulrahman al Thani said mainly "practical and logistical" issues remained, while a White House official said the "very complicated, very sensitive" negotiations were making progress.
Last week Reuters reported Qatari moderators had been seeking a deal between Israel and Hamas to exchange 50 hostages in exchange for a three-day ceasefire which would help boost emergency aid shipments to civilians in Gaza.
Hamas has released four hostages, Israel has rescued one and the bodies of two have been found near al Shifa hospital, where there had been heavy fighting.
On Saturday a senior White House official suggested a hostage release would need to be completed before large amounts of desperately needed aid could enter Gaza.
"A release of a large number of hostages would result in a significant pause in fighting … and a massive surge of humanitarian relief," Brett McGurk, the White House's National Security Council coordinator for the Middle East, said.
Read more:
Gaza on verge of major disease outbreak, WHO warns
What IDF footage from al Shifa tells us about Hamas's alleged presence
Families of Israeli hostages plead for help from Netanyahu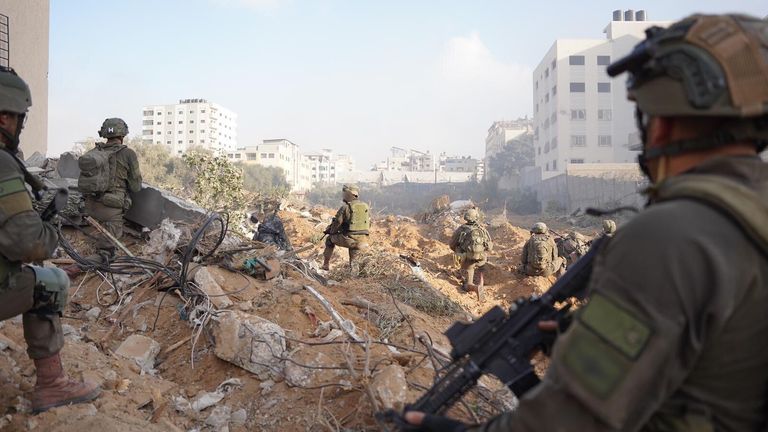 Winter worsens Palestinians' plight
More than two-thirds of Gaza's population of 2.3 million have fled their homes, with the UN agency for Palestinian refugees, UNRWA, struggling to provide basic services to hundreds of thousands of people sheltering in and around schools and other facilities.
Their plight has worsened in recent days with the arrival of winter.
Over the weekend Israel allowed UNRWA to import enough fuel to continue humanitarian operations for another couple of days and to keep internet and telephone systems running.
Gaza 'on precipice of major disease outbreak'

Israel prepares to expand offensive
The talks come as Israel prepares to expand its offensive against Hamas to Gaza's southern half, with increasing airstrikes hitting targets Israel sees as lairs of armed militants.
However, the US has cautioned Israel not to embark on combat operations in the south until military planners have taken into account the safety of Palestinian civilians.
Civilian death toll 'staggering and unacceptable'
Gaza's Hamas-run government said at least 11,500 Palestinians have been killed in Israeli bombardments, with another 2,700 reported missing and believed to have been buried under the rubble. The count does not differentiate between civilians and combatants – Israel says it has killed thousands of militants.
Around 1,200 Israelis have been killed, mainly civilians murdered during Hamas's 7 October attack. The military says 52 Israeli soldiers have been killed.
The civilian death toll in Gaza was "staggering and unacceptable", UN Secretary General Antonio Guterres said, appealing again on Sunday for an immediate humanitarian ceasefire.
IDF: 'Hamas residences raided' in Gaza

Labour shadow foreign secretary visits Israel
Shadow foreign secretary David Lammy is making Labour's first visit to Israel and the Occupied Palestinian Territories since the war erupted and stressed "diplomacy is how we can secure the release of hostages" while protecting Palestinians.
"Hard diplomacy is required with all governments in the region to deliver a longer pause immediately to respond to the shocking humanitarian emergency in Gaza, secure the release of hostages so cruelly taken by Hamas and as a necessary step to an enduring cessation of violence," he said.
Gaza: Decomposing bodies of babies 'seen in footage' from abandoned children's hospital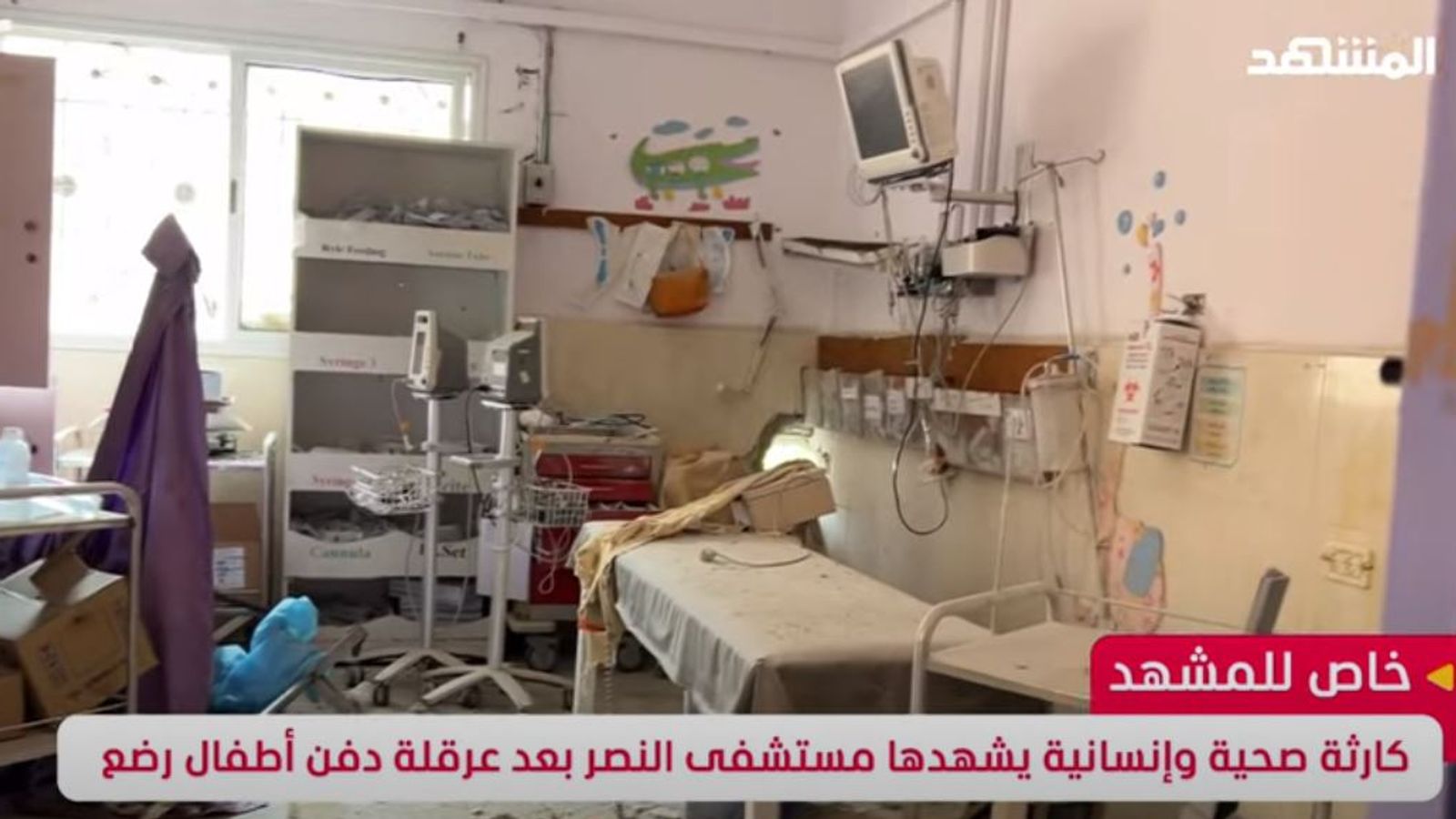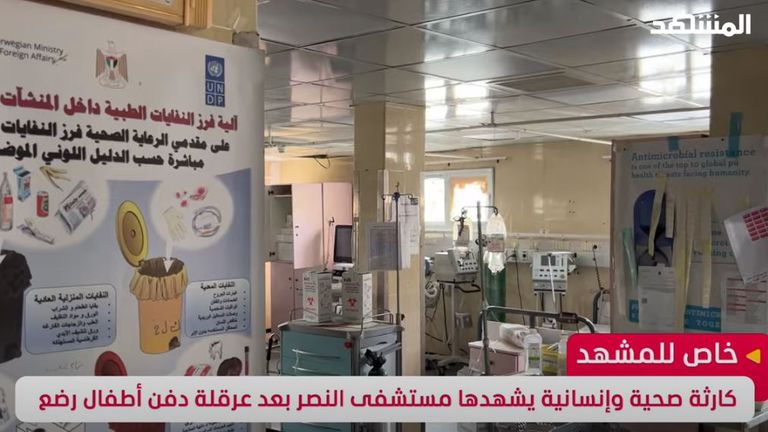 A video taken in an abandoned Gaza hospital appears to show the decomposing bodies of babies who were left behind during evacuations.
The paediatric intensive care unit at al Nasr children's hospital was evacuated around 10 November as the Israeli military continued its ground invasion into northern Gaza and called for people to leave the area.
Follow live: UK launching surveillance flights over Gaza
During the week-long ceasefire, Mohammed Baalousha, a journalist with the Emirati TV channel Al Mashhad, entered the building where he found the bodies of several infants who had to be left in their beds while others escaped.
Warning: This article contains graphic content
Filmed around two weeks after the hospital was emptied, footage from the channel appeared to show at least three of five dead infants, according to Sky News' US partner site NBC.
Their bodies were decaying, including one that had insects appearing to crawl over its chest.
All are near catheters and ventilators and one infant appeared to still be connected to a machine that measures the oxygen levels in blood, with tanks of the gas nearby, NBC reported.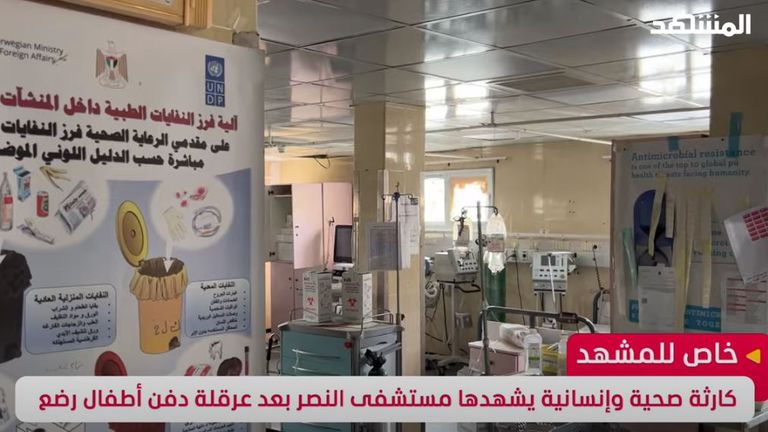 The advanced stages of decomposition of the infants are consistent with the timeframe between them being abandoned and the date the video was shot, two independent forensic pathologists told NBC.
The US broadcaster was unable to verify the status of the infants within this two-week period.
Dr Mustafa al Kahlot, director of the hospital, said staff concluded they could not safely evacuate five babies, several of whom were premature and "on oxygen machines" when Israeli tanks encircled the facility.
"Our evacuation from al Nasr hospital was very difficult and under fire," he told NBC News. "Children cannot be carried by hand or evacuated without oxygen equipment."
In footage taken before the evacuation, Dr al Kahlot is seen in the same hospital room, warning that the building was the target of bombings, and that one child had already died due to a "lack of oxygen".
A similar situation was faced at al Shifa hospital – one of Gaza's largest – which came under intense bombardment by Israeli forces.
Premature babies arrive in Egypt from Gaza

A group of 28 premature babies who were described as having "serious infections" were transported from Gaza to a hospital in Egypt, where they continued to receive treatment.
One nurse, who works with the charity Doctors Without Borders (MSF), was voluntarily working at al Nasr hospital at the time it was evacuated.
'We only took one baby'
An audio recording he took on 10 November described a "sniper shooting" making it impossible for anyone to leave or move from the building, NBC reported.
"Five patients remained in the intensive care unit on the oxygen machine," he is heard saying in the recording. "We left them. We only took one baby."
Read more:
Israel divides Gaza into numbered blocks telling Palestinians to move
The truce has ended – what will Israel do now?
Pro-Palestinian protesters block police cars in south London
"We had to leave patients on the beds. We could not take any patient with us," the same nurse said in a separate video taken within this timeframe and seen by NBC.
Ashraf al Qudra, a spokesperson for the Gaza health ministry, said medical teams could not evacuate the five children by hand as there must be "health standards for transporting them".
He told NBC that he blamed the Israeli military for the infants' deaths.
The International Committee of the Red Cross (ICRC) said it was not involved in any evacuation operations, despite receiving "several requests" for help from hospitals in northern Gaza.
"Footage circulating of deceased newborn babies represents an unspeakable tragedy, an unacceptable reality of how civilians – including babies and children – pay the price in conflict," the ICRC said in a statement.
In response to the claims, the Israel Defence Forces said "it did not operate inside the al Nasr hospital," and that "these allegations are not only false but also a perverse exploitation of innocent lives, used as tools to spread dangerous misinformation".
"This is more evident when taking into account that the IDF assisted in moving newborns from the pediatric ward of the Shifa hospital to safety, as well as provide Israeli incubators in the process," the statement added.
Israel-Hamas war: Israel divides Gaza into numbered blocks telling Palestinians to move before bombings begin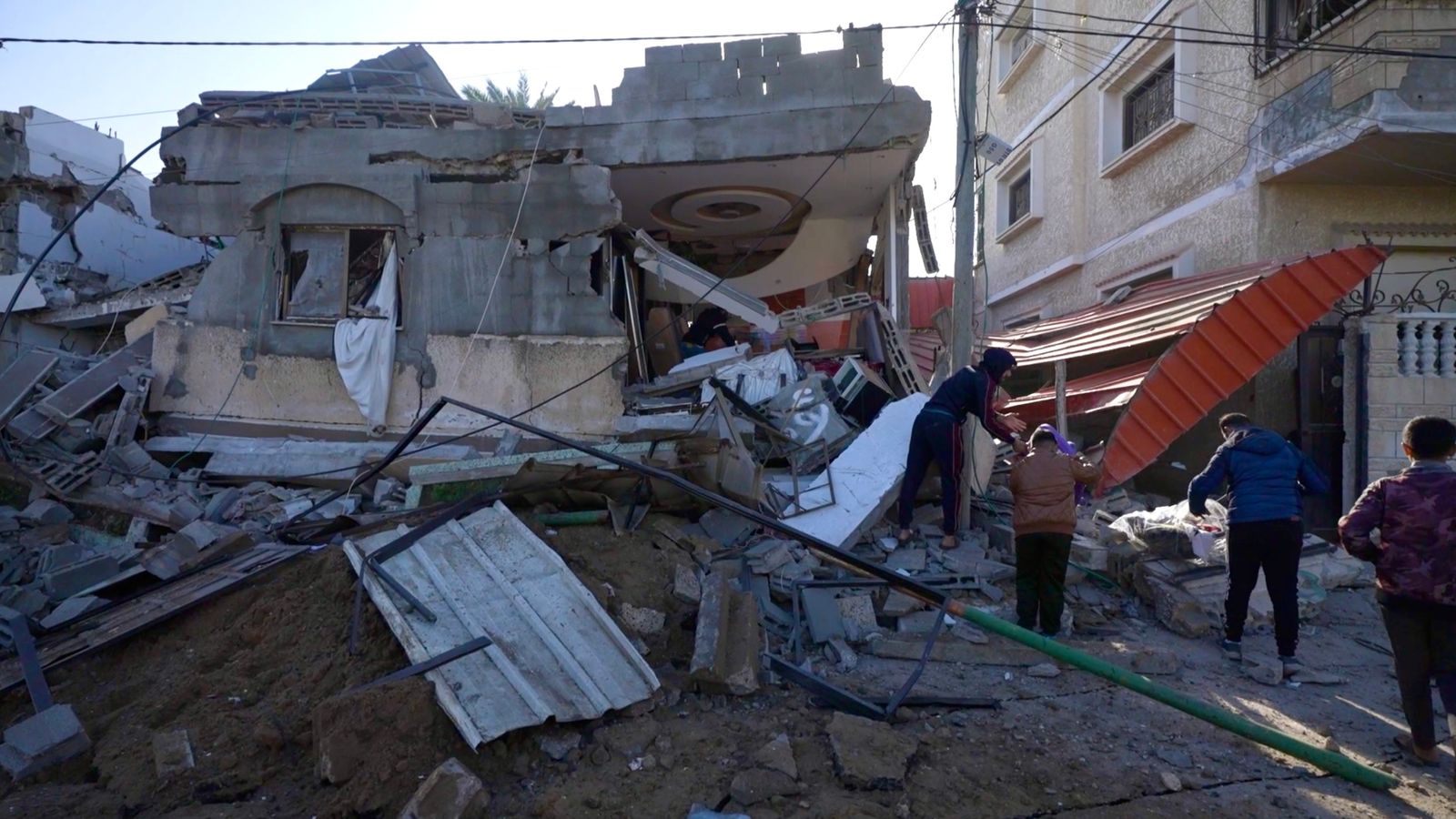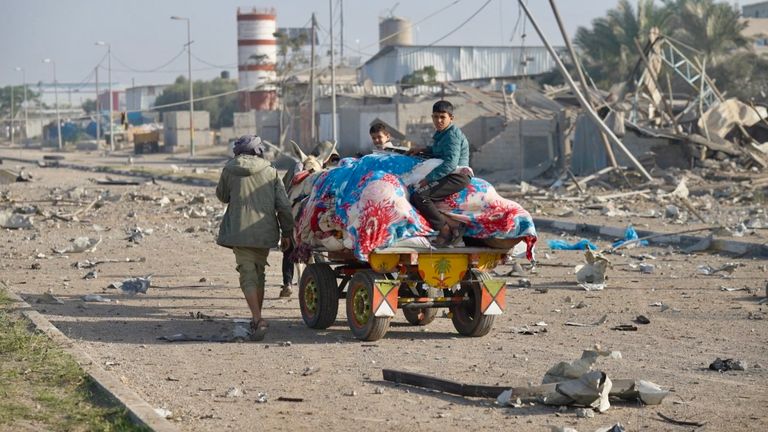 Israel's determination to completely dismantle Hamas means that takeover of the south is an absolute military necessity.
The southern campaign has already started, with air raids in and around the city of Khan Younis fully underway.
The problem is that, to all intents and purposes, most of the surviving Gazan population is now crowded into the south already.
Many had moved south from towns or cities like Gaza City, and have been told by Israeli defence forces they need to move again, further south, to the Rafah Crossing area that borders Egypt, or to the barren coastal strip of al Mawasi.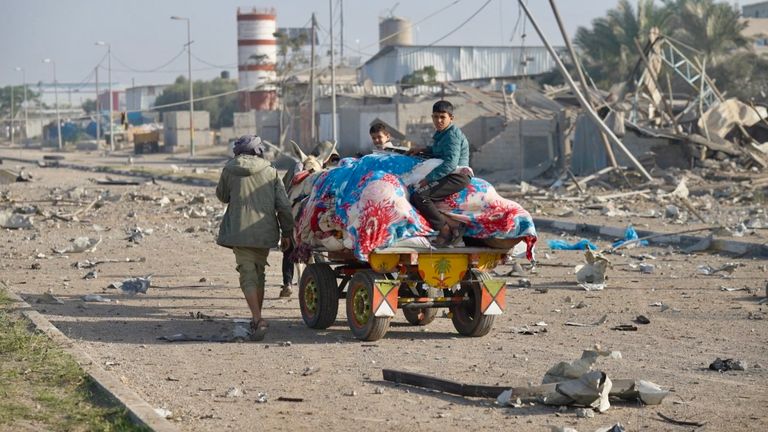 Under the Israeli plan to ensure people move as safely as possible, they have divided Gaza into numbered blocks, and people living there, in theory, will be told when to move before bombings begin.
How long they will have to comply is unknown.
Leaflets have been dropped with a QR code linked to an interactive map with the numbered districts marked on it.
By any metric, to assume people now displaced, living rough, scared and disorientated, and unlikely to have internet when they don't have food or water, could navigate the map would seem a bit of a stretch.
Sky News teams in Gaza met Muhamed Rayis holding the leaflet with the QR code on it. He says he followed the instructions, moved to a safe area, and then got bombed.
"Look at this is the leaflet. How can you bomb civilians in their homes? You're telling people that Wadi Alsalga is safe, how come then you bomb there, at least warn us before you bomb us, they have bombed 3 or 4 houses, they've displaced people, why?"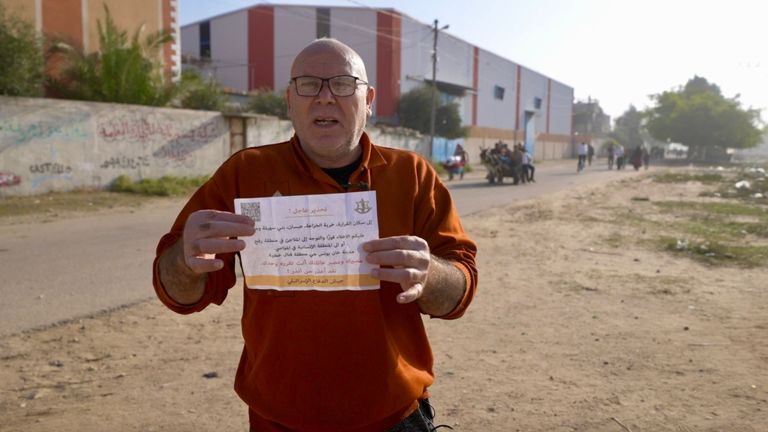 'We do not know where to go'
"We do not know where to go, because they have told us the central area is safe, and we came here and now they started to bomb us here too, so we do not know where to go. This is their leaflet!" he shouted.
What we have seen from our daily feed of pictures from our teams inside Gaza illustrates just how difficult and dangerous living in the south has become – and how difficult it will be for the IDF to complete its operation without killing further large numbers of civilians.
In a smoky haze in Khan Younis, our teams filmed as people tried to move during a break in the aerial bombardment.
They pick their way through what is now a battlefield from the north to the south of the Strip.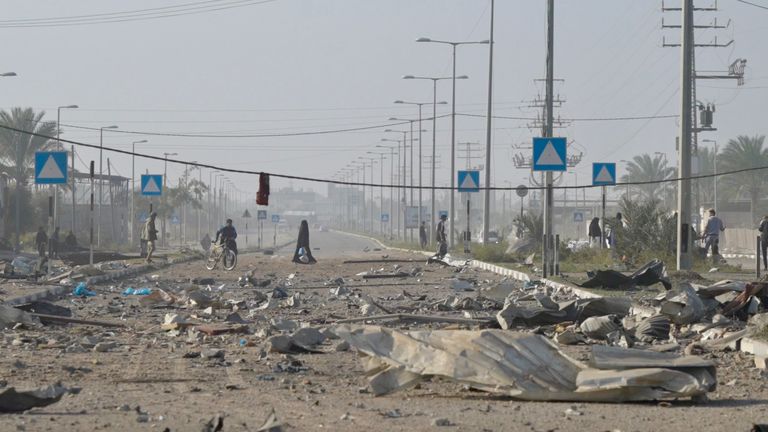 Donkey-drawn carts navigate their way around rubble and battle-scarred roads, while a steady stream of people move on foot. But there is little sanctuary to be found in Gaza.
Another set of pictures, scenes that have become all too familiar, show people heading into the rubble searching for the living and the dead.
It's a constant, just like the airstrikes.
At the Nasser Medical Complex, a survivor dazed and covered in dust makes his way inside.
This man and a little boy alongside are told to sit on the floor in one ward, before being treated for their wounds.
They're among the luckiest of the injured as their injuries aren't severe, but their faces are a picture of pure trauma and shock, and that doesn't just go away.
The more seriously injured are rushed through the crowds, bundled into cars, and taken to the emergency room.
The hospitals that are still functioning in Gaza can barely cope, while the numbers of dead rise every day.
'Death toll may reach 75,000'

Situation is 'catastrophically bad'
The Hamas-controlled health ministry says 70% of fatalities are women and children.
Doctor Nuradin Khatib is a junior doctor at the Nasser Hospital and he says it is a disaster.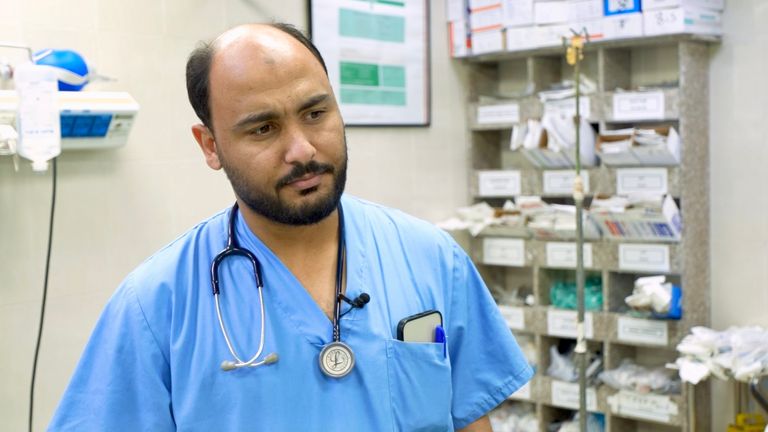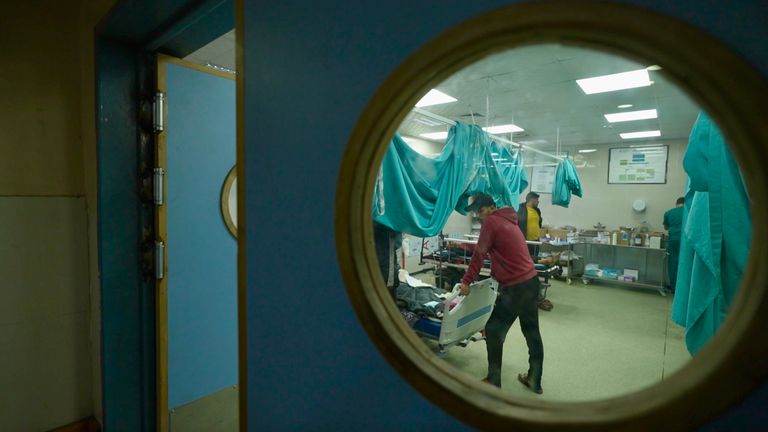 "The pressure on the hospital with the number of patients and injuries has doubled," he said.
"The situation is catastrophically bad, there are no beds for the patients, we have to treat the patients on the hospital floor as there are no beds to put them on, people are short of everything."
"In all honesty the situation is extremely bad, the huge number of the injured as well the other patients who have long-term illnesses in all departments, it is beyond our power," he added.
Read more:
What will Israel do now the truce has ended?
UK surveillance flights over Israel and Gaza to help find hostages
Israel 'knew about Hamas attack plans a year before it happened'
Israeli airstrikes resume in southern Gaza

Aid supplies were initially stopped after the ceasefire ended but appear to have resumed as some aid has entered Gaza -though it's a trickle, and nowhere near enough.
The IDF's operations continue in the north and are developing in the south, and their campaign to oust Hamas continues.
The biggest concern though for the international community is what happens to all the civilians who are not sure where to go to find safety.
Many people in and around Khan Younis in the south have come from the north, and are having to move yet again.
In reality though, there's not much further south they can go.
Click to subscribe to the Sky News Daily wherever you get your podcasts
UK to conduct surveillance flights over Israel and Gaza to help find hostages held by Hamas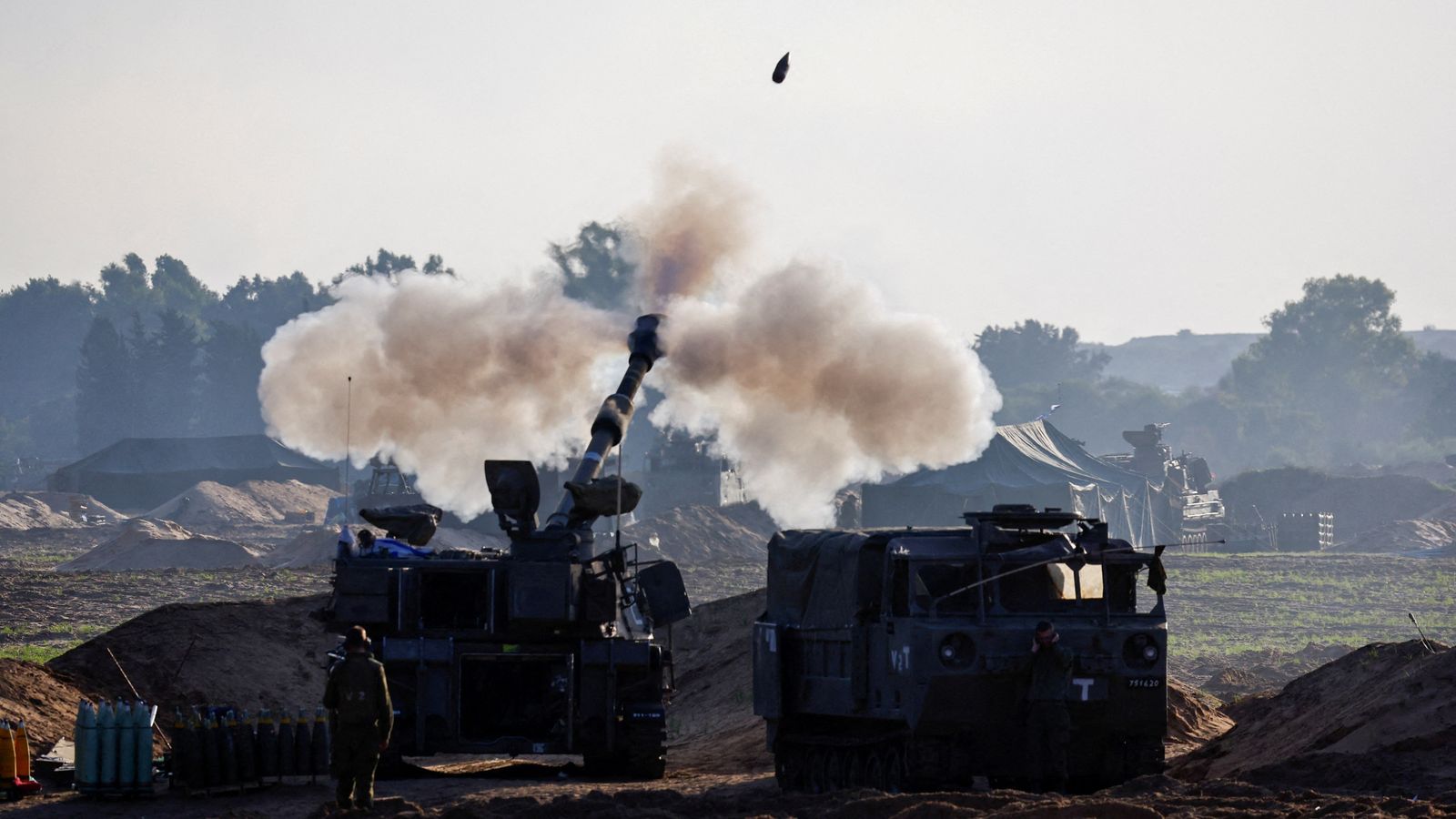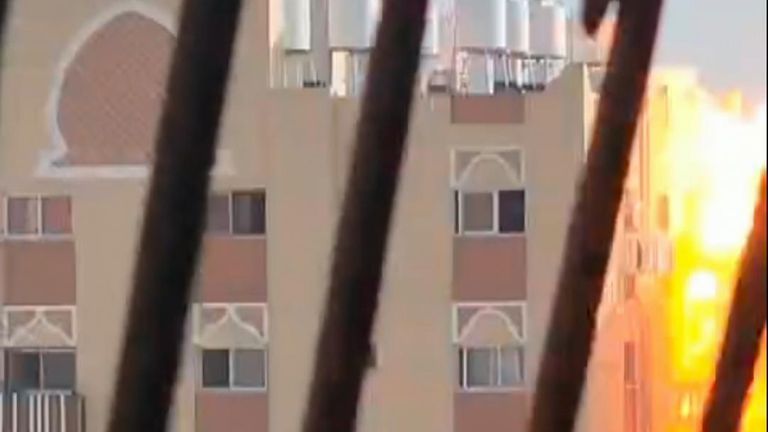 The UK will conduct surveillance flights over Israel and Gaza as part of hostage rescue efforts.
The Ministry of Defence said the surveillance aircraft "will be unarmed, do not have a combat role, and will be tasked solely to locate hostages".
"Only information relating to hostage rescue will be passed to the relevant authorities responsible for hostage rescue," the ministry said in a statement.
The flights will take place over the eastern Mediterranean, including operating in air space over Israel and Gaza.
The MoD said the UK government had been "working with partners across the region to secure the release of hostages, including British nationals, who have been kidnapped" since the Hamas attacks on 7 October.
"The safety of British nationals is our utmost priority," it said.
UK military was deployed to the eastern Mediterranean the week after the 7 October attacks, with RAF aircraft and Royal Navy ships sent to the region.
That was bolstered last week with the UK saying it would send one of its most lethal warships to the Gulf to deter growing threats to shipping from Iran and Iranian-backed groups.
The MoD's announcement came as US vice president Kamala Harris called on Israel to do more to protect civilians.
She reiterated America's stance that Israel has a legitimate military objective against Hamas, but said "too many innocent Palestinians have been killed".
"Frankly, the scale of civilian suffering, and the images and videos coming from Gaza are devastating."
Ms Harris was speaking at COP28 in Dubai, where she also laid out broad American objectives for when the war ends.
She told the Egyptian president that "under no circumstances will the United States permit the forced relocation of Palestinians from Gaza or the West Bank, the besiegement of Gaza, or the redrawing of the borders of Gaza", the White House said in a statement.
Israeli airstrikes resume in southern Gaza

Read more:
Truce with Hamas has ended – what will Israel do now?
Israel sends a clear signal to Hamas as negoations reach impasse
Appeals from the US to protect civilians followed the resumption of fighting on Friday as a seven-day truce came to an end.
Israel's prime minister Benjamin Netanyahu said the country's troops had spent the ceasefire preparing for "absolute victory".
Speaking at a news conference on Saturday, he said he had instructed the Israel Defence Forces (IDF) to resume the war with "increasing intensity".
He said 400 Hamas targets had been "eliminated" since the ceasefire ended. He vowed to continue ground operations, saying Israel's objective of destroying Hamas could not be achieved otherwise.
Strikes have intensified in the south of Gaza, which is now home to most of the strip's two million citizens.
The Hamas-led Gaza health ministry said at least 193 Palestinians had been killed since Friday, adding to the more
than 15,000 Palestinian dead since the start of the war.
Meanwhile, Palestinian militant groups in Gaza said rockets were fired into southern Israel.
There were no reports of damage or injuries by Saturday night.