The Duke and Duchess of Cambridge have said they are "delighted" after the Sussexes announced the birth of their baby daughter – Lilibet "Lili" Diana Mountbatten-Windsor.
Prince Harry and Meghan announced that the infant, a first sibling for Archie, was born on Friday in California.
Lili is named after her great-grandmother the Queen – who was affectionately nicknamed Lilibet by her family – and her grandmother, the late Princess Diana.
William and Kate tweeted late on Sunday to say they were "delighted" with the "happy news".
We are all delighted by the happy news of the arrival of baby Lili.

Congratulations to Harry, Meghan and Archie.

— The Duke and Duchess of Cambridge (@KensingtonRoyal) June 6, 2021
A Buckingham Palace spokesperson said: "The Queen, The Prince of Wales and The Duchess of Cornwall, and The Duke and Duchess of Cambridge have been informed and are delighted with the news of the birth of a daughter for The Duke and Duchess of Sussex."
A statement from the couple's press secretary said that she was born at 11.40am on Friday "in the trusted care of the doctors and staff at Santa Barbara Cottage Hospital in Santa Barbara, California".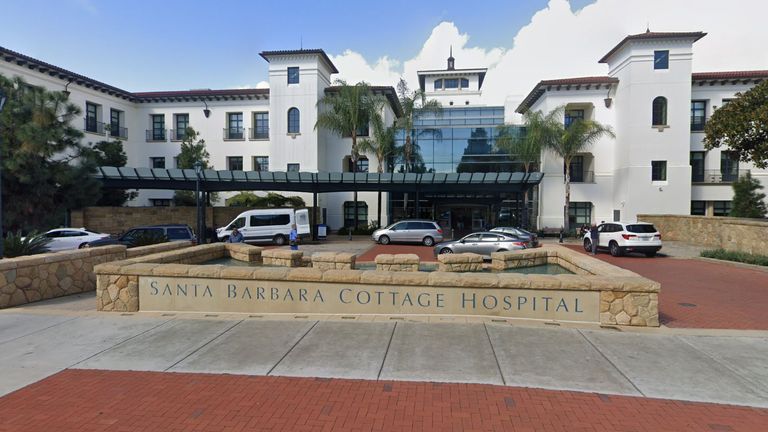 She weighed 7lbs 11oz (3.5kg) and her and Meghan are said to be "healthy and well, and settling in at home".
Harry and Meghan, who live in Montecito, said on their Archewell website: "On June 4, we were blessed with the arrival of our daughter, Lili.
"She is more than we could have ever imagined, and we remain grateful for the love and prayers we've felt from across the globe. Thank you for your continued kindness and support during this very special time for our family."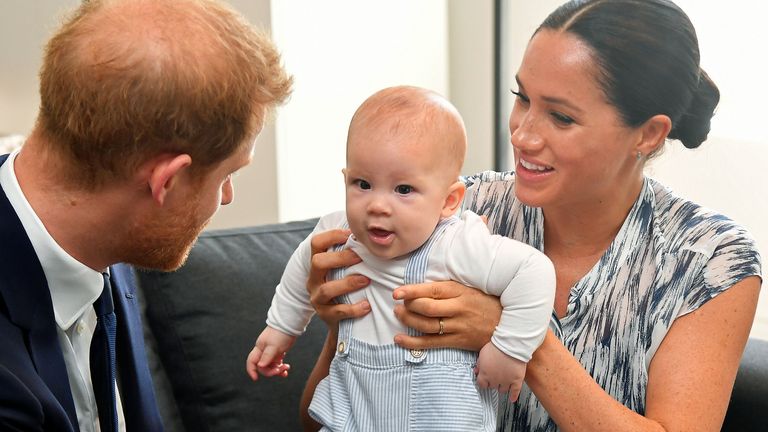 The new baby is the Queen's 11th great-grandchild and the first of the Queen's great-grandchildren to be born outside the UK.
Lilibet was first used when Princess Elizabeth was a toddler and unable to pronounce her own name properly.
Her grandfather, King George V, would affectionately call her 'Lilibet' imitating her own attempts to say Elizabeth.
The nickname stuck and from then on she became Lilibet to her family.
Prince Philip also referred to his wife as Lilibet, writing to his mother-in-law after their wedding: "Lilibet is the only 'thing' in the world which is absolutely real to me."
We are all delighted by the happy news of the arrival of baby Lili.

Congratulations to Harry, Meghan and Archie.

— The Duke and Duchess of Cambridge (@KensingtonRoyal) June 6, 2021
Congratulations to The Duke and Duchess of Sussex on the birth of Lilibet Diana! The Queen, The Prince of Wales and The Duchess of Cornwall and The Duke and Duchess of Cambridge are delighted with the news.

Lilibet is Her Majesty's 11th great-grandchild. pic.twitter.com/dGVeRpd3pK

— The Royal Family (@RoyalFamily) June 6, 2021
Many congratulations to The Duke & Duchess of Sussex on the birth of their daughter.

— Boris Johnson (@BorisJohnson) June 6, 2021
Lili's birth comes three months after her parents gave a controversial interview to Oprah Winfrey about their treatment from the media and the Royal Family.
Lili will be entitled to be a princess and Archie a prince – both with HRH styles – when the Queen dies and Prince Charles becomes king.
This is because they will have moved up the line of succession to become the children of a son of a monarch.
Despite Harry and Meghan quitting as senior working royals, Lili is eighth in line to the throne, coming after Archie, who is seventh in line.
Anyone wishing to send a present is asked to support organisations working for women and girls.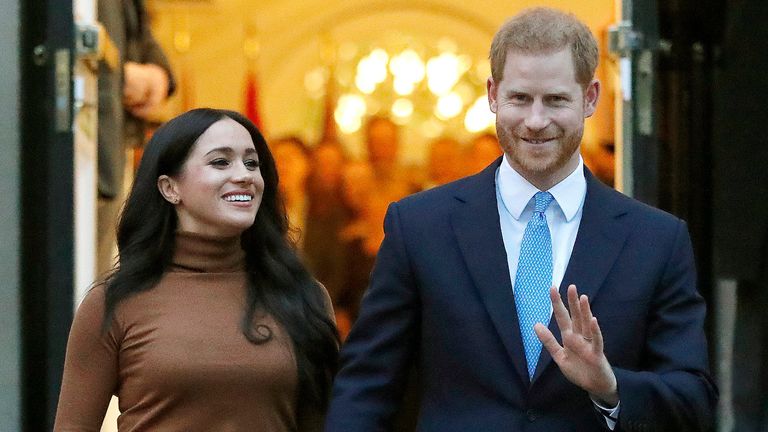 Analysis: The chosen name shows family still matters
By Rhiannon Mills, royal correspondent
For almost 48 hours, they kept the news from the world.
Time for Prince Harry and Meghan to take it all in, and get to know their little girl.
It couldn't be more different from the royal way, where we're used to hearing within hours about the new arrival.
When their son Archie was born in 2019, they were already protective of how the announcement was made.
They did not go with the usual protocol and have a big photocall to present their baby to the world.
However this time, now outside of the royal fold, they have been able to completely control the news how they wanted.
But don't forget since moving away they have worked hard to set themselves up as a global brand, and that means a global spotlight on their personal lives.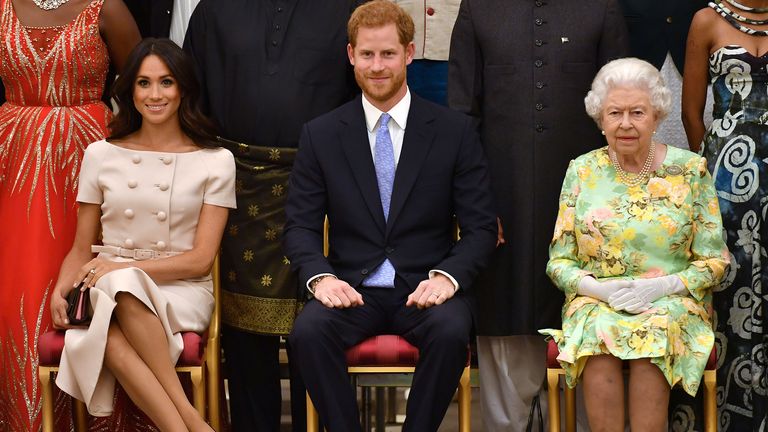 If you couple that with the fact that this is the Queen's 11th great-grandchild, and her first to be born outside of the UK, the international interest in this child is still going to be huge.
The names they've given the little girl also stand out.
To be fair, they often do when the Windsors welcome a new arrival, as we try to dissect why certain names have been chosen.
But their daughter has been given names with the most royal connections.
In previous years that wouldn't necessarily be surprising, but now they do stand out after Harry and Meghan's decision to step away from royal life, and their very public disagreements with other members of the Royal Family.
The choice of Lilibet, the Queen's nickname, is in some ways an unexpected choice but a sign that family still matters despite everything that has been said.
Both Harry and Meghan have spoken warmly about Her Majesty during interviews, despite being critical of the family and the institution that she leads.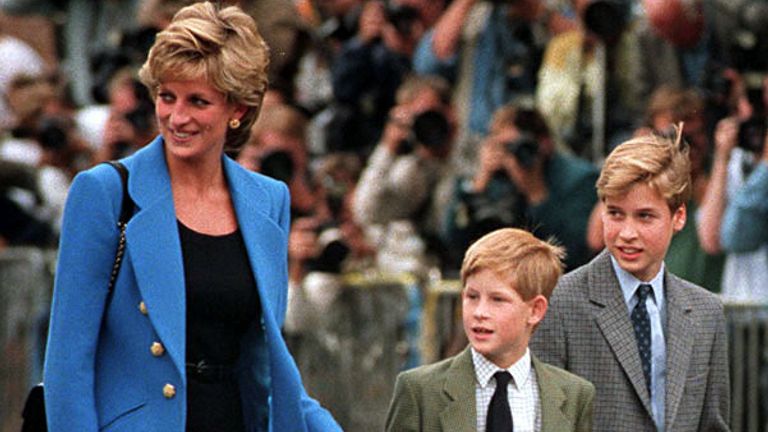 Yes, in recent weeks, Harry has again been very open about how much his mother meant to him during interviews and his response to the scandal around Diana's 1996 appearance on Panorama.
In many ways it was inevitable and a loving tribute from her son that he would want to include Diana as his daughter's middle name.
It's also worth remembering that Prince William's daughter, Princess Charlotte, also has Diana and Elizabeth as her middle names.
In many ways this baby girl, born in California, will have a very different upbringing from her cousin.
But as the Queen has always said in statements, the Sussexes are much loved members of the family, and in her names Lilibet Diana Mountbatten-Windsor will forever be very much part of the Windsor dynasty.
Body of missing boy, 2, found in alligator's mouth in Florida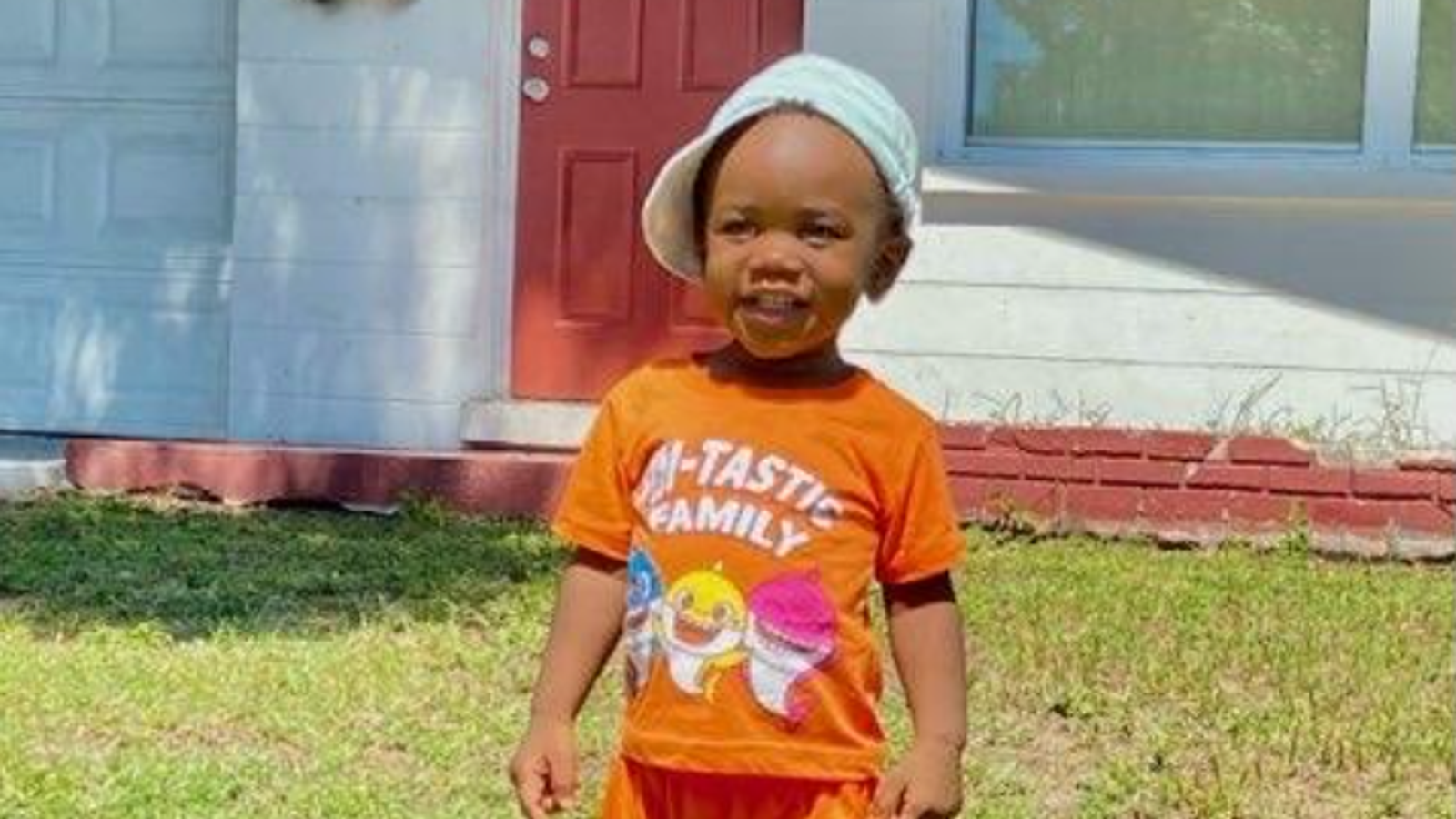 A missing two-year-old has been found dead after his body was spotted in the mouth of an alligator.
Taylen Mosley was reported missing on Thursday after his mother, 20-year-old Pashun Jeffery, was found dead in her apartment in St Petersburg, Florida.
She had been stabbed multiple times, police said on Friday.
The child's father, Thomas Mosley, has been charged with two counts of first-degree murder, police chief Anthony Holloway said.
The child was found near Dell Holmes Park, which is close to Lake Maggiore, almost 10 miles from his mother's apartment, the police chief added.
A detective shot and killed the alligator.
Read more US news:
Stormy Daniels says Trump indictment will 'cause violence'
"We didn't want to find him this way, but at least we can bring some closure to that family now," Mr Holloway said at a news conference.
Family members saw Jeffery and her child on Wednesday, and on Thursday, they asked an apartment manager to check when they couldn't reach her, police said.
A search for the boy included dogs, a drone, and federal and state law enforcement agencies.
The boy's cause of death will be determined by the medical examiner.
Thomas Mosley checked himself into a hospital and had cuts on his arms and hands, the police added.
He was still in hospital on Friday but did not speak to detectives and requested a lawyer, according to police.
Person killed after tornado causes roof collapse at Illinois heavy metal concert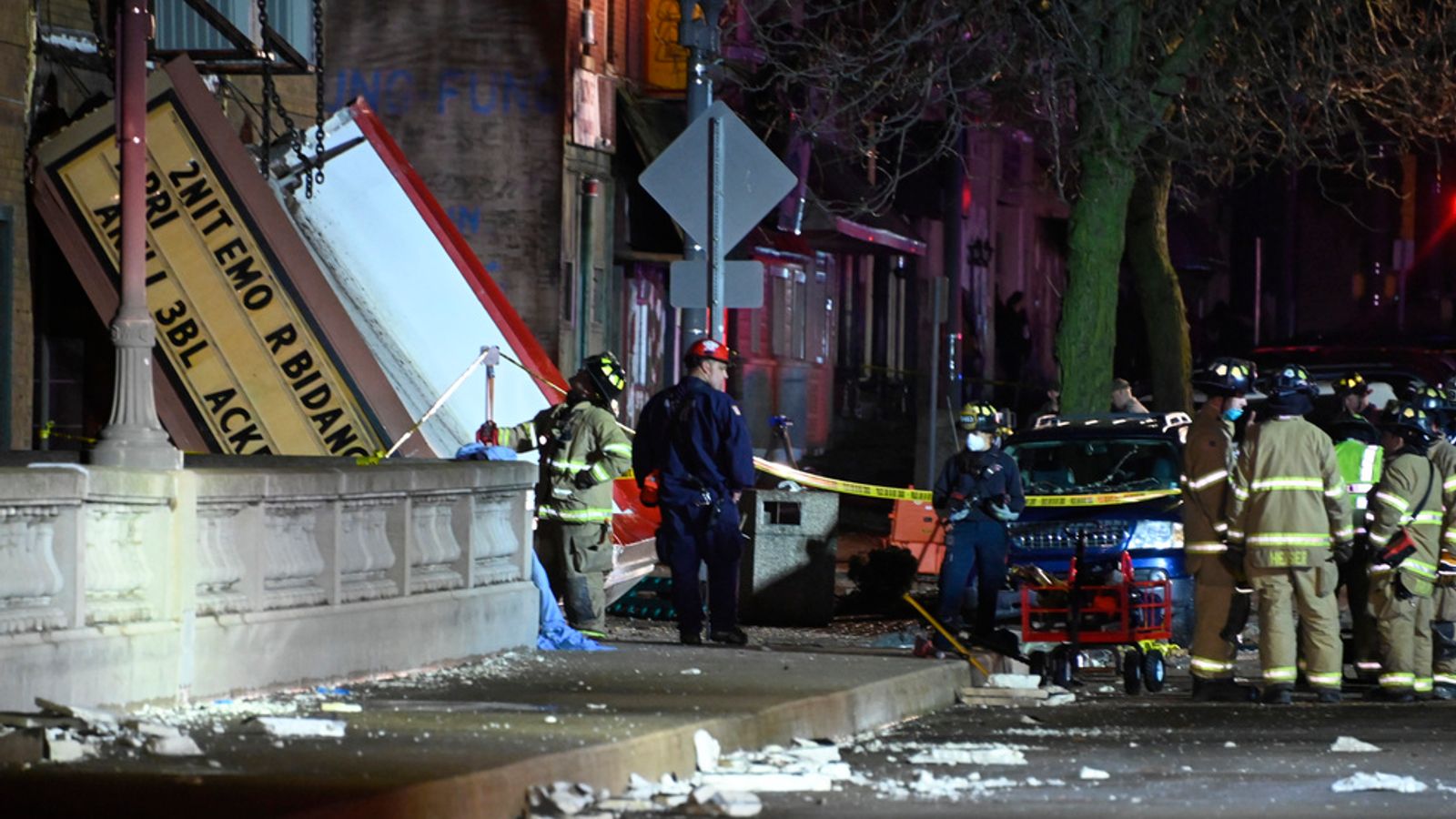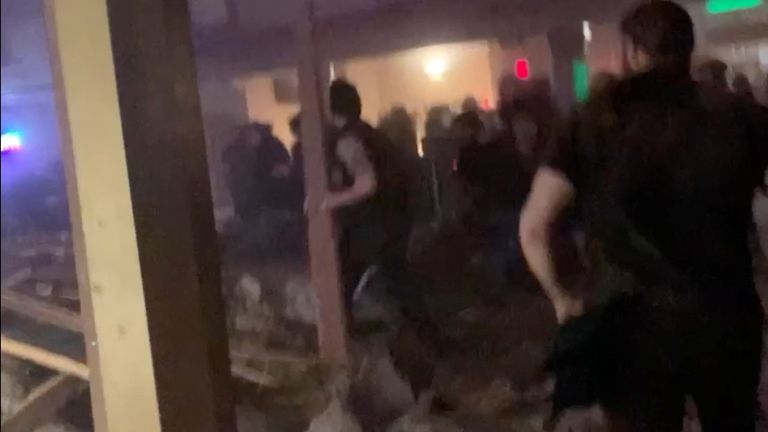 One person has died and 28 were injured after the roof at a heavy metal concert in Illinois collapsed during a storm.
Police in Belvidere, about 50 miles west of Chicago, believe a tornado was to blame and described the scene as "absolute chaos".
It happened as a violent storm system hit the US south and Midwest, causing widespread damage to homes and businesses and killing at least six other people.
Belvedere fire chief Shawn Schadle said there were 260 people at the Apollo Theatre when the collapse happened at about 7.48pm local time on Friday.
He said emergency workers had to deal with downed power lines outside the venue and also had to rescue someone from a lift.
"I was there within a minute before it came down," Gabrielle Lewellyn told local station WTVO-TV.
"The winds, when I was walking up to the building, it went like from zero to a thousand within five seconds."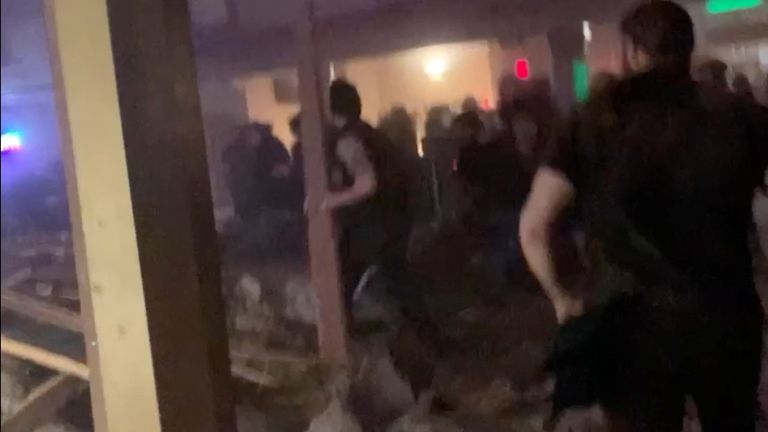 Ms Lewellyn said people at the gig helped rescue victims from the debris.
"They dragged someone out from the rubble and I sat with him and I held his hand and I was (telling him) 'It's going to be okay'," she said. "I didn't really know much else what to do."
Another witness told NBC5 Chicago: "Everybody tried to leave the whole venue through the fire door.
"It was a lot of chaos, so I looked around and saw people in the rubble, and tried to help as many people as possible."
Five of the 28 people hurt sustained severe injuries, authorities said.
It is unclear which – if any – of the bands on Friday night's bill had started playing when the collapse happened.
Twister tears through city Little Rock, Arkansas

Morbid Angel said they were "sheltering in place" in the aftermath, while Crypta band member Taina Bergamaschi said on Instagram that all the acts were "safe and sound".
The roof collapse happened as thunderstorms and tornados caused dozens of injuries and damaged homes in states including Arkansas – where a state of emergency was declared – as well as Iowa and Indiana.
It came a week after tornadoes with winds up to 200mph also flattened parts of Mississippi, killing at least 21 people and destroying many homes.
US tornadoes: Three dead and dozens injured as twisters causes widespread destruction including roof collapse during concert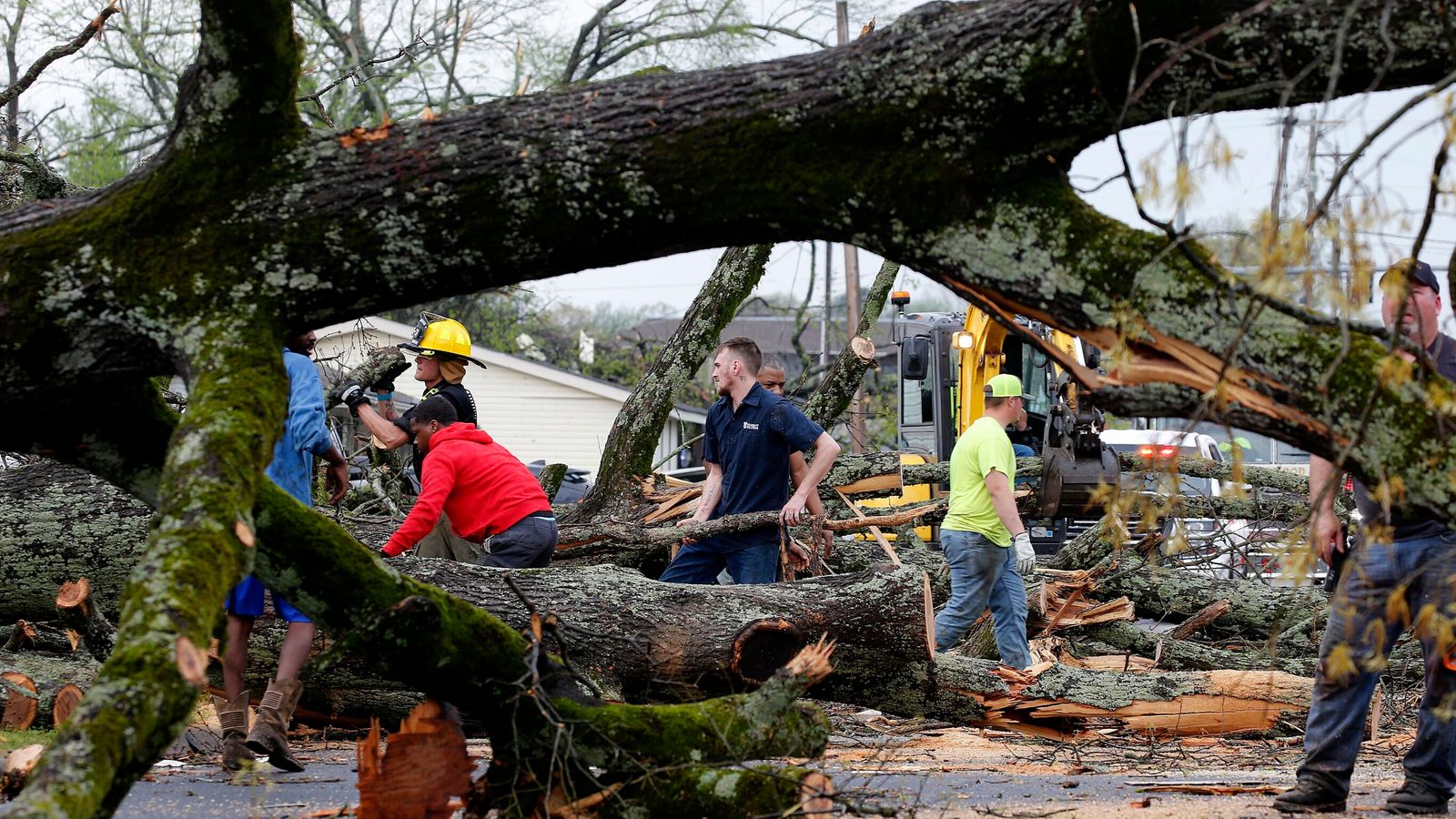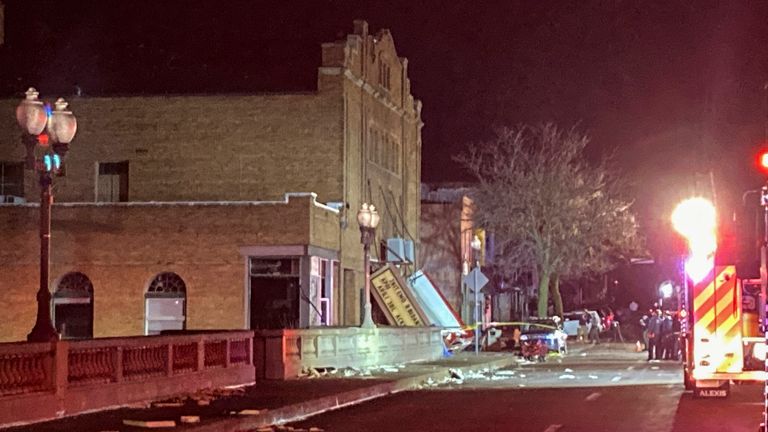 Two people were killed and dozens of people injured after a tornado ripped through the Arkansas capital of Little Rock and surrounding US towns on Friday afternoon.
Elsewhere, a third person died after a theatre roof collapsed in Belvidere, Illinois, during another tornado with 28 people injured as the Midwest struggles with intense and destructive storms.
The collapse happened during a heavy metal concert at the Apollo Theatre in Belvidere, which is about 70 miles northwest of Chicago.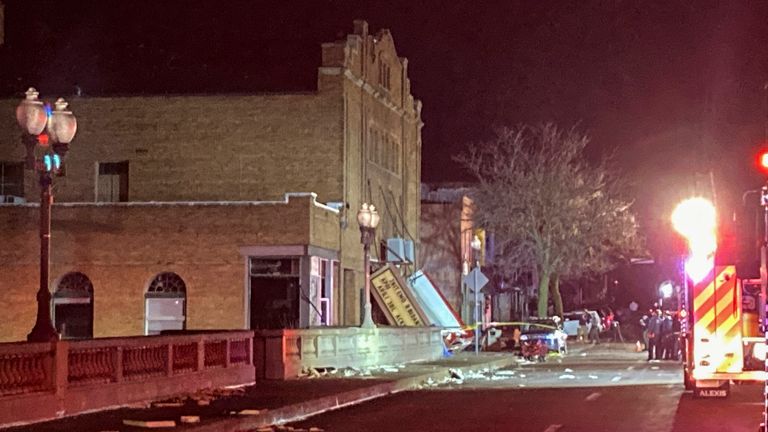 The governor of Arkansas, Sarah Huckabee Sanders, confirmed that two people had died in the twister with several other people reported to be trapped in the destruction.
The tornado also caused widespread wreckage of homes, overturned cars and uprooted trees.
The total number of people injured is unknown. Around 90,000 customers experienced electricity outages in the state.
The mayor of Little Rock, Frank Scott Jr, said on Twitter: "At this time, we know of 24 people who have been hospitalised at Little Rock hospitals and we are not aware of any fatalities in Little Rock."
The Baptist Health Medical Centre in the adjoining town of North Little Rock separately reported it was treating 11 patients from the storm, with one in a critical condition.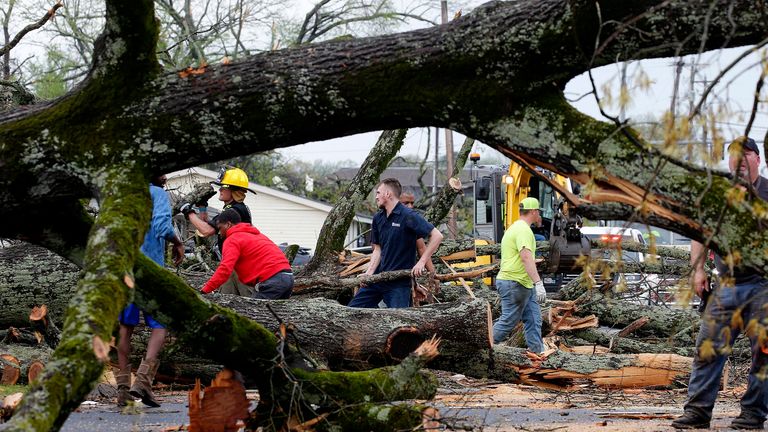 Other towns further away from Little Rock have also reported mass destruction and injuries.
Richard Dennis, the police chief in the town of Wynne – around 100 miles east of Little Rock, told a local television station there was "total destruction throughout the town" with dozens of people trapped.
The twister was caused by one of several violent thunderstorms that have battered the south and Midwest regions of the US – home to some 85 million people.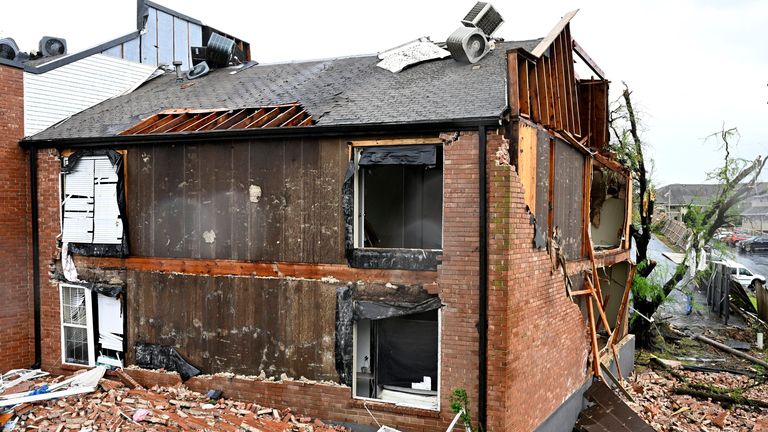 The destructive storm system has also caused other tornados in Iowa, damaging hail in Illinois and wind-whipped grass fires in Oklahoma.
People were urged to evacuate in parts of Oklahoma City to escape the fires.
Meteorologists are forecasting another batch of intense storms next Tuesday in the same large area.
The fatal tornado came as President Joe Biden toured the aftermath of another deadly tornado that struck Mississippi a week ago. It killed at least 21 people and damaged around 2,000 homes.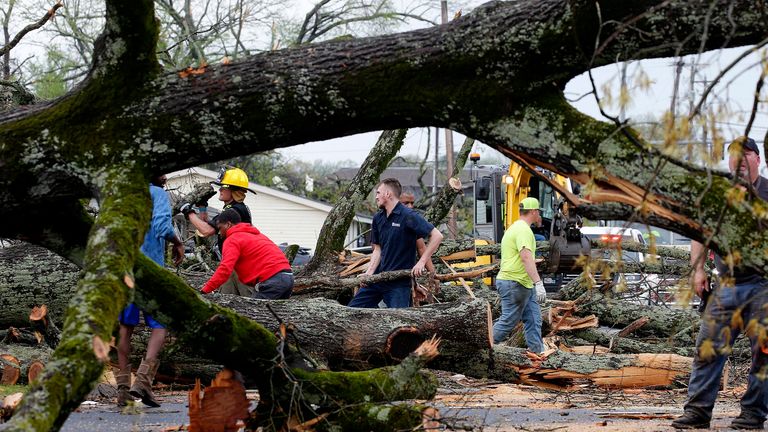 Governor Huckabee Sanders activated 100 members of the Arkansas National Guard to help local authorities respond to the damage throughout the state.
"Praying for all those who were and remain in the path of this storm," Ms Hucakabee Sanders, who declared a state of emergency, said on Twitter.
"Arkansans must continue to stay weather aware as storms are continuing to move through."
In Little Rock, local Niki Scott took cover in the bathroom after her husband called to say a tornado was headed her way.
The aftermath of last week's tornado in Mississippi

She could hear glass shattering as the tornado roared past, and emerged afterward to find that her house was one of the few on her street that didn't have a tree fall on it.
"It's just like everyone says. It got really quiet, then it got really loud," Ms Scott said afterward, as chainsaws roared and sirens blared in the area.