YouTuber Logan Paul avoided a knockout and managed to drag Floyd Mayweather to the final bell during their boxing match in Miami.
Neither man was judged the winner, as per exhibition rules, but Paul emerged with dignity from his bizarre clash against the boxing great.
Paul's only previous boxing match was a loss to fellow YouTuber KSI and he struggled to land punches on Sunday night.
Mayweather, who retired in 2017 with a record of 50 wins and zero defeats, landed a fair share of the punches but Paul was able to battle on.
Mayweather, 44, appeared relaxed and easily evaded Paul's punches early in the match, smiling when an uppercut finally landed in the third round.
Paul, who has 29 million followers on YouTube, said: "I don't want anyone to tell me anything is impossible ever again.
"Everyone has it in them.
"Floyd Mayweather, it was an honour.
"You never know with this guy – I'm going to go home thinking: 'Did Floyd let me survive?'"
He described the match as "the coolest thing ever" before suggesting a rematch.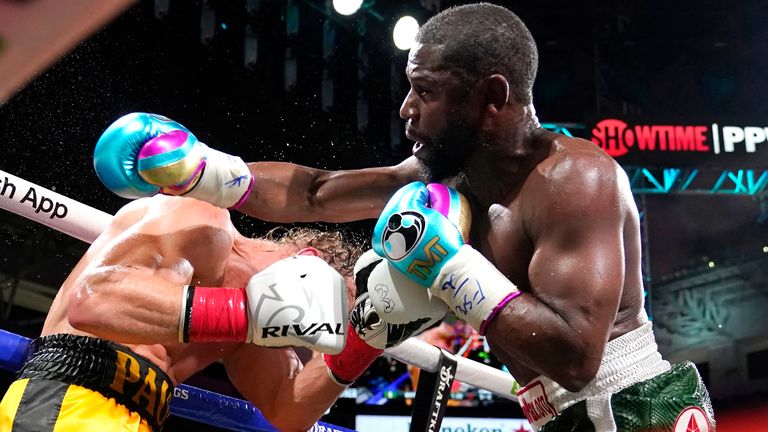 Mayweather said he "had fun" but added: "You've got to realise I'm not 21 anymore.
"He's better than I thought he was – he's a tough, rough competitor.
"I was surprised by him. He knew how to use his weight and tie me up."
Paul, 26, had gone into the match with a substantial height advantage and an extra 35lbs, advantages that would have helped him absorb some of Mayweather's attacks.
Mayweather had been angered in the build-up to the match by Logan's brother Jake, who stole his hat.
Despite this, he remained cool throughout the match.
The exhibition match did not count towards Mayweather's record, which includes wins against boxing greats Oscar de la Hoya, Canelo Alvarez, Manny Pacquiao and Britain's Ricky Hatton.
The eight-round bout may have been an exhibition but it generated huge amounts of interest and cash in ticket sales on pay-per-view TV.
There were no judges and no official winner (the match could only be decided by knockout, technical knockout or disqualification), but both men were expected to have a good payday.
Mayweather, who is nicknamed "Money", said he expects to make more than $50m (£35m), while it's estimated Paul will pocket around $20m (£14m).
Joe Biden and Kevin McCarthy reach 'agreement in principle' on raising US debt ceiling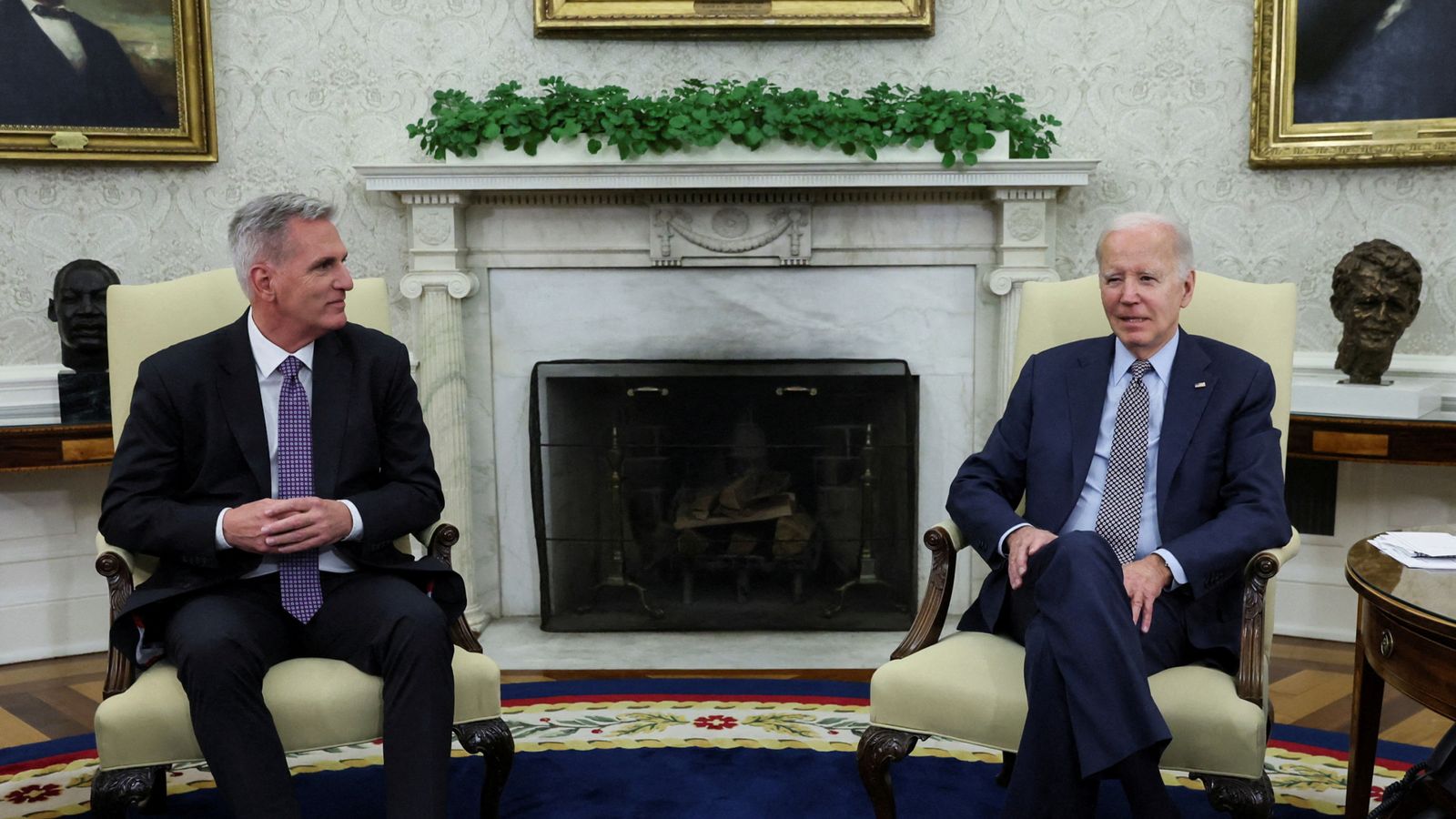 President Joe Biden and House Speaker Kevin McCarthy have reached an "agreement in principle" on raising the US debt ceiling, according to sources in Washington.
The tentative deal would bring to an end the months-long stalemate between the Republican controlled Congress and Democrat run White House.
Currently, the debt ceiling stands at $31.4trn (£25.4trn) with the new limit yet to be announced.
Mr Biden and Mr McCarthy held a 90-minute phone call on Saturday evening to discuss the deal, as the 5 June deadline looms.
Following the conversation, the speaker tweeted: "I just got off the phone with the president a bit ago.
"After he wasted time and refused to negotiate for months, we've come to an agreement in principle that is worthy of the American people."
During a very brief press conference on Capitol Hill Mr McCarthy said they "still have more work to do tonight to finish the writing of it", adding that he expects to finish writing the bill on Sunday, then hold a vote on Wednesday.
The deal would avert an economically destabilising default, so long as they succeed in passing it through the narrowly divided Congress before the Treasury Department runs short of money to cover all its obligations.
Republicans have pushed for steep cuts to spending and other conditions, including new work requirements on some benefit programmes for low-income Americans and for funds to be stripped from the Internal Revenue Service, the US tax agency.
They said they want to slow the growth of the US debt, which is now roughly equal to the annual output of the country's economy.
Read more:
Biden cancels visits to Australia and Papua New Guinea to deal with debt crisis
Could US default on its debt? UK should be praying it doesn't
Exact details of the deal were not immediately available, but negotiators have agreed to cap non-defence discretionary spending at 2023 levels for two years, in exchange for a debt ceiling increase over a similar period, according to Reuters news agency.
The impasse frightened the financial markets, weighing on stocks and forcing the US to pay record-high interest rates in some bond sales.
A default would take a far heavier toll, economists say, likely pushing America into recession, rocking the world economy and cause unemployment to spike.
Winnie The Pooh characters used in US school district's mass shootings safety book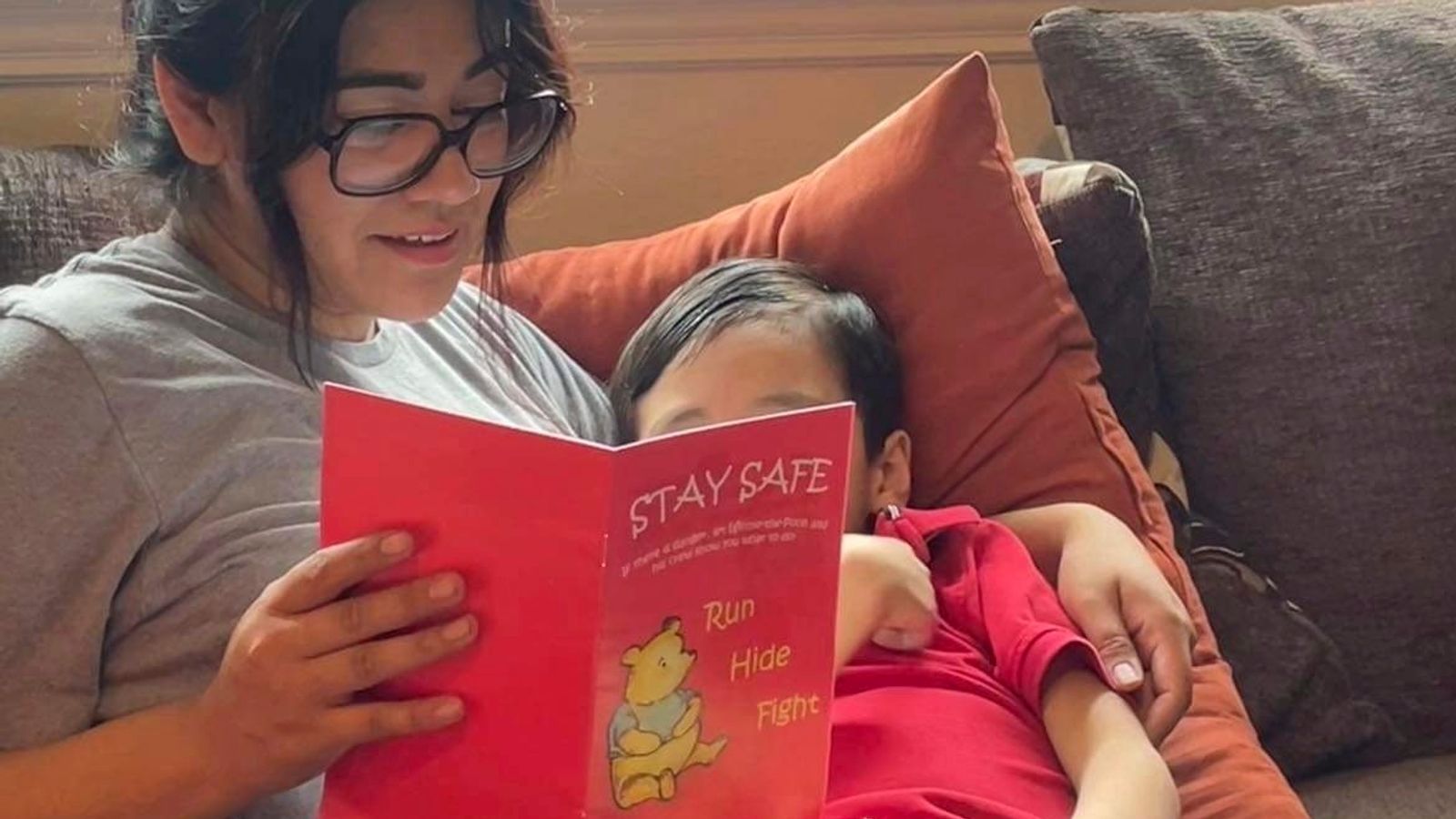 A Dallas school district has apologised after distributing a Winnie The Pooh-themed book about school shootings.
The book is titled Stay Safe: Run, Hide, Fight and its cover says: "If there is danger, let Winnie the Pooh and his crew show you what to do."
Inside, it includes passages such as: "If danger is near, do not fear. Hide like Pooh does until the police appear. Doors should be locked and the passage blocked. Turn off the light to stay out of sight."
Dallas Independent School District said in a statement it works "hard every day to prevent school shootings" by dealing with online threats and improving security measures.
"Recently a booklet was sent home so parents could discuss with their children how to stay safe in such cases," the statement read.
"Unfortunately, we did not provide parents [with] any guide or context. We apologise for the confusion and are thankful to parents who reached out to assist us in being better partners."
The school district did not say how many pupils received the book.
California's governor, Gavin Newsom, was among those who criticised the book, posting on Twitter: "Winnie the Pooh is now teaching Texas kids about active shooters because the elected officials do not have the courage to keep our kids safe and pass common sense gun safety laws."
'It's not exactly cute'
Cindy Campos, whose five-year-old son was sent home with the book, said she cried when she read it.
"It's hard because you're reading them a bedtime story and basically now you have to explain in this cute way what the book is about, when it's not exactly cute," she said.
Ms Campos said it seemed especially "tone deaf" to send it home around the time Texas was marking the anniversary of last year's mass shooting at a school in Uvalde, when a gunman killed 19 children and two teachers.
The book was published by Praetorian Consulting, a Houston-based firm that provides safety, security, and crisis management training and services.
The company says on its website that it uses age-appropriate material to teach the concepts of "run, hide, fight" – the approach US authorities say civilians should take in active shooter situations.
Read more: America's 10 most deadly mass shootings of 2023
Active shooter drills have become common in American schools in recent years.
While many associate the characters of Winnie The Pooh with Disney, they are free to use legally in the US with no repercussions.
US copyright law means that works of authors are available to use by anyone either 70 years after the author's death or 95 years after publication.
As well as the book, AA Milne's characters have also been featured in a recent horror film titled Winnie The Pooh: Blood and Honey.
Boy, 11, 'shot in the chest' by police officer he had called for help
An 11-year-old boy who was shot by a police officer has returned home from hospital after almost a week of treatment.
Aderrien Murry spent five days in hospital with a collapsed lung, lacerated liver, and fractured ribs after the officer shot him in the chest early on Saturday, lawyer Carlos Moore said.
Aderrien was well enough to leave hospital on Wednesday, and is continuing his recovery at home in Indianola, about 95 miles northwest of Jackson, Mississippi.
Mr Moore said the family is "demanding justice".
"An 11-year-old black boy in the city of Indianola came within an inch of losing his life – he had done nothing wrong and everything right."
Mr Moore said that Aderrien's mother Nakala had asked him to call police at about 4am on Saturday after a previous partner had showed up at home.
Ms Murry felt threatened, Mr Moore said, and the child had "called the police to come to his mother's rescue, he called his grandmother to come to his mother's rescue, the police came there and escalated the situation".
Two police officers arrived and one kicked the front door before Ms Murry opened it, telling them that the man had gone but her three children were inside.
Child does not understand why a police officer shot him
Mr Moore said that Sergeant Greg Capers, who is black, yelled out that anyone inside should come out with their hands up.
When Aderrien walked into the living room with nothing in his hands, Capers shot him in the chest, Mr Moore said.
Indianola City Attorney Kimberly Merchant confirmed to Indianola's Enterprise-Tocsin newspaper that Capers was the officer who shot the little boy and Mr Moore said on Thursday that Capers had been suspended with pay while the incident is investigated.
Ms Murry said her son is "blessed" to be alive but he does not understand why a police officer shot him.
Read more US news:
FBI says IRA planned to kill Queen
Mum 'offered son help to dispose of body'
US Capitol rioter pictured with feet on Pelosi's desk jailed
'That's my child, y'all'
She described what had happened as "the worst moment in my life", adding: "I feel like nobody cares – that's my child, y'all."
Mississippi Bureau of Investigation said its agents are looking into what happened and will share their findings with the Attorney General's Office.