'It's uncomfortable and it's not depicted': Rose Byrne on highlighting eating disorders in new show
"You're nothing. You're a ghost, a fat ghost," says the critical inner voice of disillusioned housewife Sheila Rubin, who spends her days booking rooms in cheap motels to binge on fast food.
Beautiful, thin, privileged; on the outside, her life appears perfect. But inside, Sheila, played by Rose Byrne, is battling a complex eating disorder and plodding through a humdrum life in the shadow of her husband, a man who wants his wife to cook, clean, and have threesomes.
And then she discovers the shiny, spandex-wrapped world of aerobics. "Only you have the power to change you" becomes a new mantra.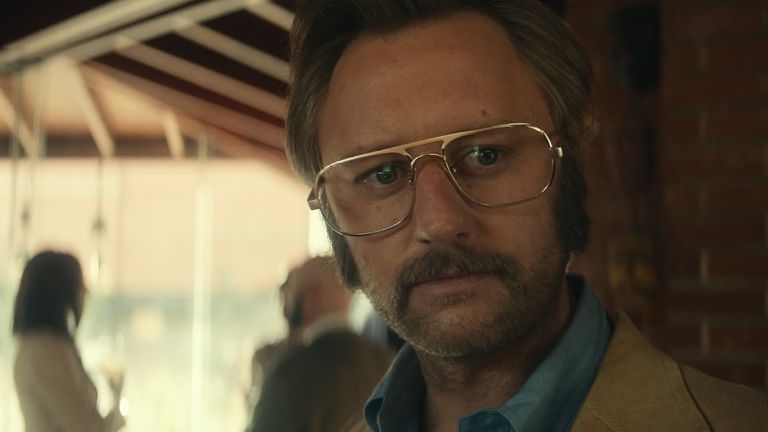 Set against the backdrop of sun-soaked 1980s San Diego, Byrne's new series Physical is a dark comedy about a woman's rise from dutiful wife to lifestyle guru, all the time while fighting her inner demons; it explores the pressures on women – and the pressures women place on themselves – to look a certain way.
The actress, best known for her role as alpha bridesmaid Helen in Bridesmaids, says Sheila is "an extreme version of the duality" of many women.
"She obviously has a terrible illness, an addiction that she's living with, and we meet her at a breaking point," Byrne tells Sky News. "But there is that idea of appearance; on the outside, she looks perfect and she's skinny and pretty and white and all these things but yet she's completely self-destructive inside. She has all these privileges… but yet it doesn't matter.
"I think that is uniquely female in a way, having that kind of inner-destruction. Often I see depictions of, you know, external, and this and that – drinking and that kind of destructive side of women. But I feel like it's often an inside job that we do."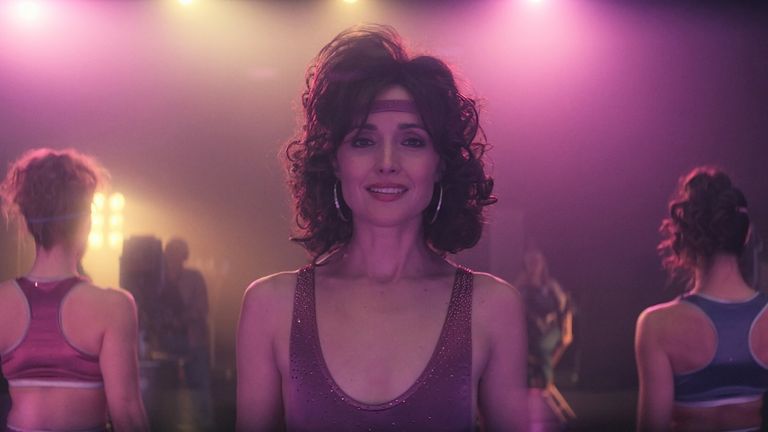 Physical shows that anyone can suffer from issues with their body image, no matter what they look like.
Created by Annie Weisman, known for her work on shows including Desperate Housewives, the story of Sheila's eating disorder is based on the writer's own experiences when she was younger.
"It's uncomfortable and it's not depicted [very often on screen]," says Byrne. "I don't know, why it is that? I mean, it's a hard thing to write about and it's a hard thing to show. I don't think it's particularly something people gravitate toward. This is sort of an opportunity to start a conversation about it."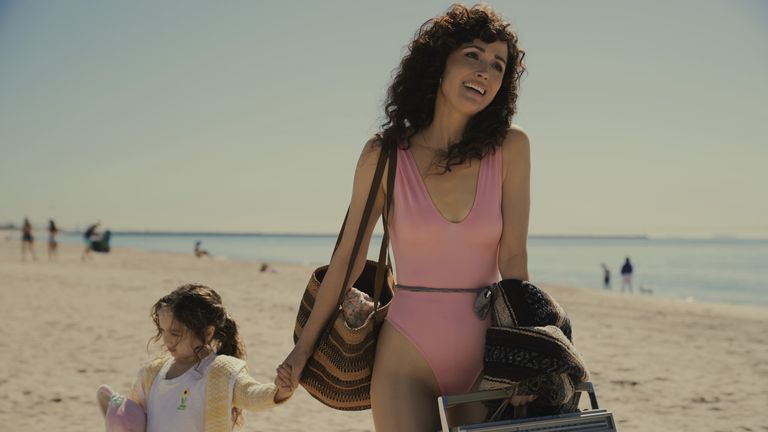 Sheila's story shows the "seediness of the illness and that addictive quality that it has", Byrne adds. "Like any addiction, you know, it's always: 'That was the last time. I just had to do it one more time, and then I'm good and I won't do it again.' And you just keep falling back into this very destructive pattern."
At first, it's the exercise part of the aerobics that Sheila craves, but real empowerment comes when she harnesses the burgeoning technology of videotape to revolutionise the industry. While on-screen workouts are everywhere now, whether it's celebrity DVDs or Instagram lives with wellness gurus, it all stemmed from the trend that emerged in the 1980s.
"It was really hard," Byrne tells Sky News, of channelling her inner Jane Fonda. "You know, I'm not co-ordinated, I'm not a dancer. I'm lazy, essentially. So I really was daunted by this task."
Weisman says she wanted to use the typically female space of aerobics as a force for empowerment.
"Having struggled for decades with eating disorders and feeling really disconnected from my body, aerobics and exercise were a place where you could really embrace a kind of strength and power," she tells Sky News. "And like so many things that are specifically female spaces, I think it gets easily dismissed.
"Whether or not women – or men – have that specific struggle with food, I think a lot of people relate to the idea of having a kind of shameful secret, an obsessive habit that allows them to contain some really difficult and unmanageable feelings.
"We're not interested in exploitation or anything lurid, but really just emotional truth. So I don't think you have to have had an eating disorder to relate. But, you know, eating disorders certainly are a persistent threat in in our culture today."
Another issue the show explores is the power dynamics between men and women.
Sheila masks her problems and her desires and is seemingly a meek and mild wife, taking a backseat to her husband as he bids for state assembly – but while her character lives in the background (at first, at least), Byrne is very much the star of the show.
The issue of female-led films and TV series has been highlighted in recent years as diversity in front of and behind the camera slowly improves, but it seems there are lots of male stars who aren't happy about playing second fiddle to a woman.
"Worth knowing that one of the big reasons so many female-centred projects weren't being made for so long wasn't because they weren't being written and commissioned but because they couldn't find a bankable male star who would agree to play second string," Succession and I Hate Suzie writer Lucy Prebble tweeted earlier in June.
And in February, actress and director Olivia Wilde made headlines for praising her reported boyfriend Harry Styles for taking a supporting role in her female-led film, Don't Worry Darling, saying that "the industry has raised [male actors] to believe it lessens their power (i.e financial value) to accept these roles, which is one of the reasons it's so hard to get financing for movies focusing on female stories".
Subscribe to the Backstage podcast on Apple Podcasts, Google Podcasts, Spotify, Spreaker
Comedian and actor Rory Scovel, who plays Sheila's husband Danny Rubin, says he was more than happy to play a supporting role alongside Byrne.
"I like being employed, first and foremost," he tells Sky News. "So I would do probably anything. I don't relate to the sentiment of needing to be the lead or feel as though I won't play a supporting character to a female lead. I do understand that that is something and I do understand that some people make their decisions and feel that way, but I truthfully just can't relate to it.
"I don't know that I'm so concerned where [a] character falls in the line-up or who the lead actually is. I think it's just exciting to get to be a part of a show that is so well written, telling such an interesting story. It's already fun that it's set in the '80s and we get to wear those clothes and have that look, but also, in quite the opposite sentiment, to get to follow someone like Rose and see her in action…
"I find it to be an education that I need as an artist. I would rather see someone like her showing me literally from the front row how she operates and what she brings to her roles so that I can, you know, hopefully try to educate myself in whatever that is, so that I can be better. So yeah, I feel quite the opposite. I feel very grateful that I got to be a part of the show."
Apple Original series Physical, starring Rose Byrne, premieres on Apple TV+ on Friday 18 June
Tyler Goodson: Man who featured on S-Town podcast shot dead by police in Alabama stand-off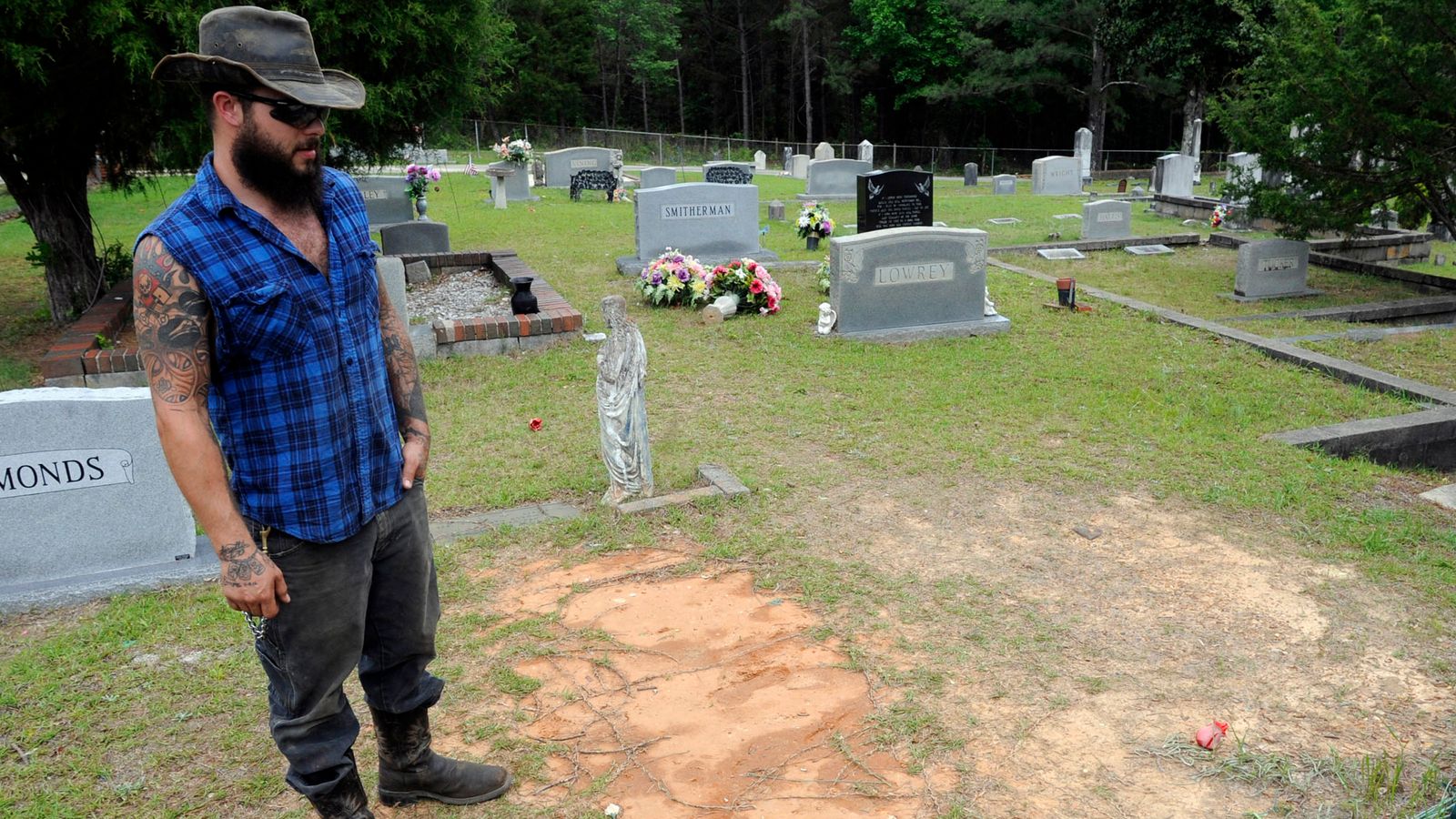 A man who featured in the hit podcast 'S-Town' has been shot and killed by police during a stand-off in Alabama, authorities say.
Tyler Goodson, 32, of Woodstock, was shot and killed by officers after he barricaded himself inside a home and "brandished a gun" at officers on Sunday morning, the Alabama Law Enforcement Agency said.
Police said they were responding to a call when they arrived at the home. They did not explain what led to the call.
Mr Goodson posted a Facebook update at around the time of the incident, according to local media, saying "Police bout [sic] shoot me in my own yard."
The 2017 podcast S-Town told the story of an Alabama man named John B McLemore, who took his own life before the show came out.
S-Town focuses on the eccentric Mr McLemore, a restorer of antique clocks, but ultimately investigates two killings in the town.
Mr Goodson explored his relationship with Mr McLemore in the podcast, saying in episode three: "Because you know, I ain't ever had no daddy worth a damn. He's just about the only daddy I've got."
He was well known in Woodstock's community, which is made up of around 1,500 people.
Read more:
House explodes in Virginia as police surround armed suspect
George Floyd's killer stabbed 22 times by former mafia member
"I know that everyone wants answers and details, myself included," Woodstock mayor Jeff Dodson said in a statement following the shooting.
"Tyler was well known and loved by myself, his family and this community. That love extends far beyond due to the S-Town podcast.
"Please remember at this time that he is so much more than a character to the fans who loved him. This young man was a father, son, brother and friend to many."
Police say they are reviewing the shooting.
Mr Goodson was given a suspended sentence in 2017 after pleading guilty to burglary and theft charges accusing him of taking items from Mr McLemore's property after his death.
Before pleading guilty, Mr Goodson had maintained he was retrieving items that belonged to him.
He told the AP news agency in 2017 that the podcast had brought plenty of attention to both the town and himself, but said neither have done him any favours.
"It's a sad story, especially if you're part of it," he said.
Grand Theft Auto VI: First trailer released early by Rockstar Games after leak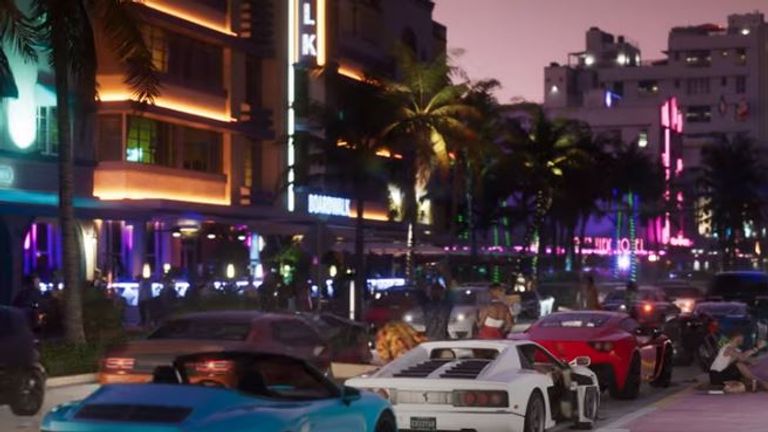 The first trailer has been released for the massively anticipated Grand Theft Auto VI.
It was put out a day earlier than expected after a leaked version went viral on social media on Monday.
Rockstar Games posted on X: "Our trailer has leaked so please watch the real thing on YouTube."
The clip racked up 37 million views in just six hours such is the clamour for the game.
The top comment, liked 343,000 times, says: "We've waited 10 years for this moment and it's finally here."
GTAV is the best-selling title of all time behind Minecraft – with some 185 million units sold – but it's been a decade since it came out.
The trailer for the sequel shows a clone of Miami, the setting for the 2002 game, and features classic elements: fast cars, gangs, shoot-outs – and even an alligator in a convenience store.
It's also the debut of GTA's first female protagonist, Lucia, alongside an unnamed male partner, with the couple apparently on the run as chaos engulfs the city.
The teaser will whet the appetite of gamers but they'll have to wait at least another year – the credits confirming "coming 2025".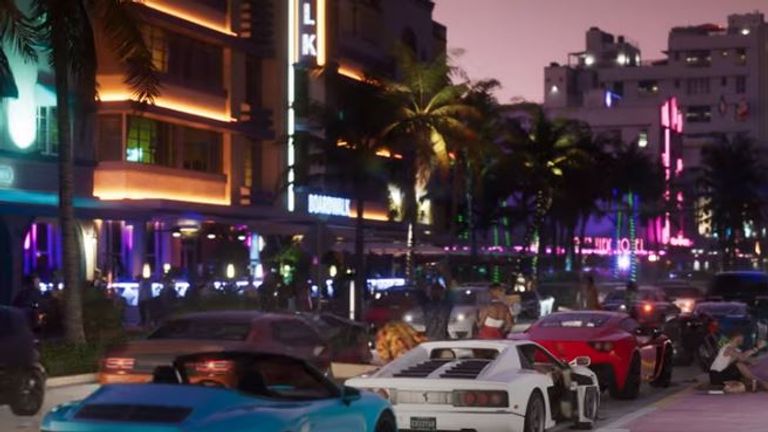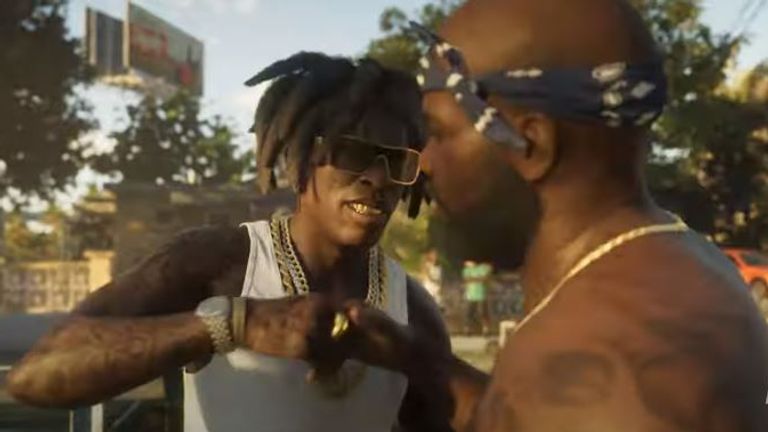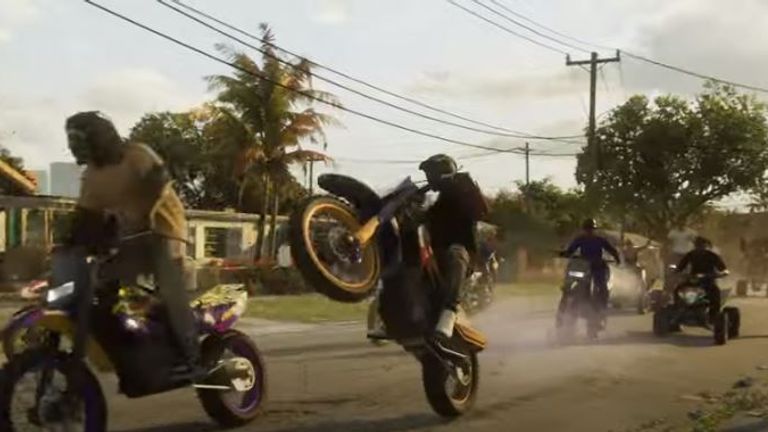 Read more:
The impact of GTAV and why sequel is taking so long
CoD is back – and childhood fans are the ones making it
Last year, 90 minutes of early gameplay leaked online after a hacker gained access to Rockstar's Slack channel.
In one of the industry's most high-profile breaches, dozens of videos showing various robberies, shoot-outs, and open-world driving were posted online.
Rockstar said it was "extremely disappointed" but insisted it wouldn't affect the game's development.
Jason Schreier, Bloomberg's gaming journalist, previously told Sky News that GTAV's popular multiplayer mode was one reason why there hadn't been "quite the same urgency" to get the sequel out.
Earlier versions were released with much shorter gaps in between: GTA III in 2001, Vice City in 2002, San Andreas in 2004, and GTA IV in 2008.
Sky wins broadcast rights to show record number of Premier League matches – increasing coverage by 70%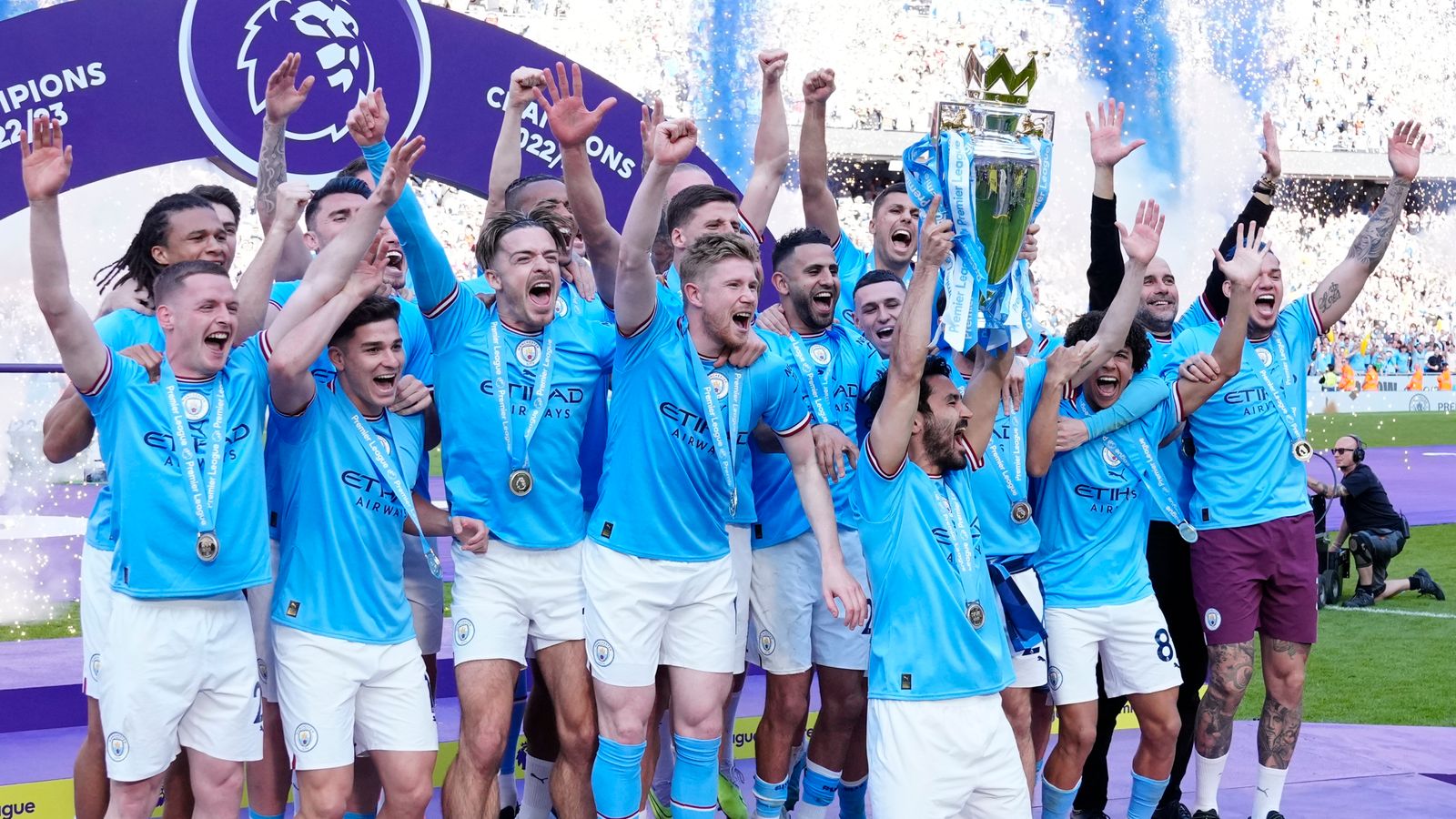 Sky has won broadcast rights to show a record number of Premier League matches in a new four-year deal starting from 2025/26.
Sky Sports has retained the rights to four out of five packages – with the other being retained by TNT Sports – and means that exclusive live coverage will increase by 70%.
Sky Sports will retain its flagship Super Sunday programme, and for the first time, all final games in the season will be live in one place.
The new four-year deal will cover at least 215 Premier League matches each season from 2025/26 to 2028/29.
And in another first, Sky Sports will now be able to offer multiple live matches on a number of weekends at 2pm on Sundays.
The agreements will deliver a total of £6.7bn in revenue across the four-year period.
Dana Strong, group chief executive of Sky, said: "This is a fantastic result for Sky customers, who will see a significant increase in the number of matches from the most iconic league in the world.
"We are proud of our long history with the Premier League and look forward to delivering more engagement, entertainment and innovation to the end of the decade.
"Sky is the undisputed home for sport fans in the UK. Our customers have more of the sports they love and more long-term certainty than ever before, with an unrivalled volume of domestic football, alongside Formula 1, cricket, golf, rugby league, tennis and much more."
Read more:
Premier League to hold fresh New Deal summit amid tensions with clubs
VAR: No changes to that would cause more delays in matches, IFAB says
Richard Masters, Premier League chief executive, said: "We are delighted to announce new deals with Sky Sports and TNT Sports that will extend our partnership for a further four years and see more Premier League matches than ever before shown live from 2025/26 onwards.
"As long-standing and valued partners, Sky Sports and TNT Sports are renowned for consistently delivering world-class coverage and programming.
"We are also extremely pleased to extend our partnership with BBC Sport, which will continue to bring weekly highlights of all Premier League matches to the widest possible audience in the UK.
"The outcome of this process underlines the strength of the Premier League and is testament to our clubs, players and managers who continue to deliver the world's most competitive football in full stadiums, and to supporters, who create an unrivalled atmosphere every week."
TNT Sports secured Package A, which includes 52 matches with the primary kick-off time being 12.30pm.
Within that, they get 18-second picks of matches, 14 fourth picks and all 20 of the fourth and fifth mid-week rounds in the season.