'It's uncomfortable and it's not depicted': Rose Byrne on highlighting eating disorders in new show
"You're nothing. You're a ghost, a fat ghost," says the critical inner voice of disillusioned housewife Sheila Rubin, who spends her days booking rooms in cheap motels to binge on fast food.
Beautiful, thin, privileged; on the outside, her life appears perfect. But inside, Sheila, played by Rose Byrne, is battling a complex eating disorder and plodding through a humdrum life in the shadow of her husband, a man who wants his wife to cook, clean, and have threesomes.
And then she discovers the shiny, spandex-wrapped world of aerobics. "Only you have the power to change you" becomes a new mantra.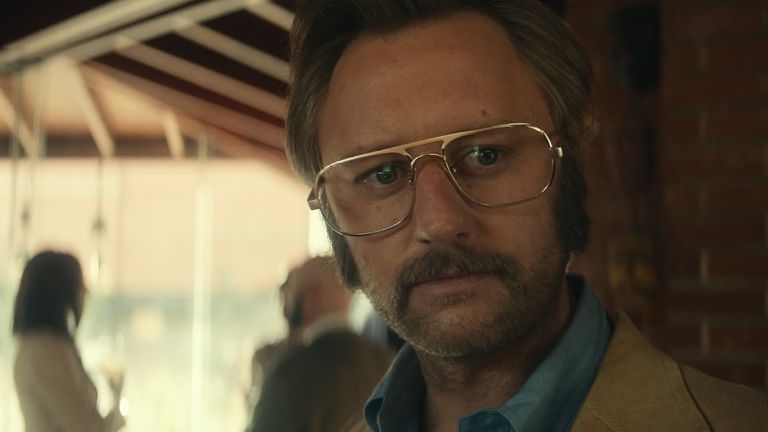 Set against the backdrop of sun-soaked 1980s San Diego, Byrne's new series Physical is a dark comedy about a woman's rise from dutiful wife to lifestyle guru, all the time while fighting her inner demons; it explores the pressures on women – and the pressures women place on themselves – to look a certain way.
The actress, best known for her role as alpha bridesmaid Helen in Bridesmaids, says Sheila is "an extreme version of the duality" of many women.
"She obviously has a terrible illness, an addiction that she's living with, and we meet her at a breaking point," Byrne tells Sky News. "But there is that idea of appearance; on the outside, she looks perfect and she's skinny and pretty and white and all these things but yet she's completely self-destructive inside. She has all these privileges… but yet it doesn't matter.
"I think that is uniquely female in a way, having that kind of inner-destruction. Often I see depictions of, you know, external, and this and that – drinking and that kind of destructive side of women. But I feel like it's often an inside job that we do."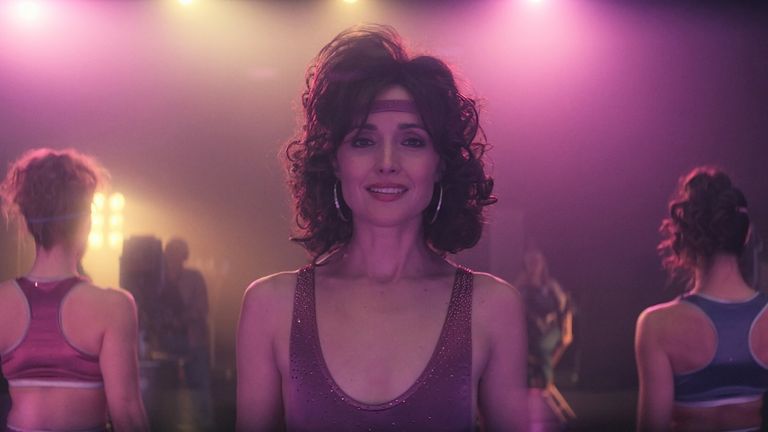 Physical shows that anyone can suffer from issues with their body image, no matter what they look like.
Created by Annie Weisman, known for her work on shows including Desperate Housewives, the story of Sheila's eating disorder is based on the writer's own experiences when she was younger.
"It's uncomfortable and it's not depicted [very often on screen]," says Byrne. "I don't know, why it is that? I mean, it's a hard thing to write about and it's a hard thing to show. I don't think it's particularly something people gravitate toward. This is sort of an opportunity to start a conversation about it."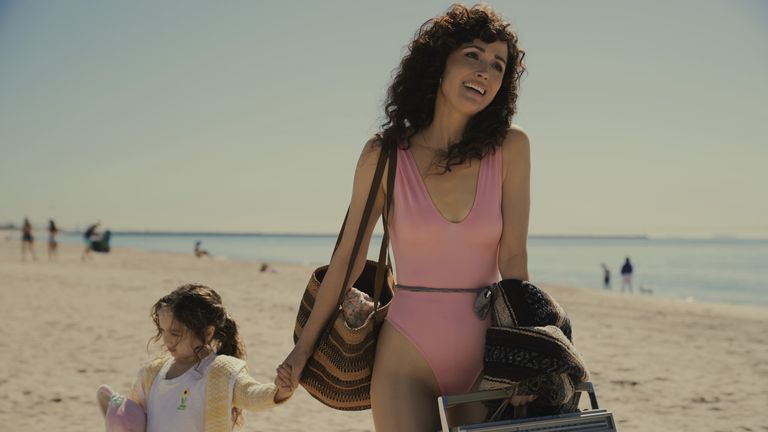 Sheila's story shows the "seediness of the illness and that addictive quality that it has", Byrne adds. "Like any addiction, you know, it's always: 'That was the last time. I just had to do it one more time, and then I'm good and I won't do it again.' And you just keep falling back into this very destructive pattern."
At first, it's the exercise part of the aerobics that Sheila craves, but real empowerment comes when she harnesses the burgeoning technology of videotape to revolutionise the industry. While on-screen workouts are everywhere now, whether it's celebrity DVDs or Instagram lives with wellness gurus, it all stemmed from the trend that emerged in the 1980s.
"It was really hard," Byrne tells Sky News, of channelling her inner Jane Fonda. "You know, I'm not co-ordinated, I'm not a dancer. I'm lazy, essentially. So I really was daunted by this task."
Weisman says she wanted to use the typically female space of aerobics as a force for empowerment.
"Having struggled for decades with eating disorders and feeling really disconnected from my body, aerobics and exercise were a place where you could really embrace a kind of strength and power," she tells Sky News. "And like so many things that are specifically female spaces, I think it gets easily dismissed.
"Whether or not women – or men – have that specific struggle with food, I think a lot of people relate to the idea of having a kind of shameful secret, an obsessive habit that allows them to contain some really difficult and unmanageable feelings.
"We're not interested in exploitation or anything lurid, but really just emotional truth. So I don't think you have to have had an eating disorder to relate. But, you know, eating disorders certainly are a persistent threat in in our culture today."
Another issue the show explores is the power dynamics between men and women.
Sheila masks her problems and her desires and is seemingly a meek and mild wife, taking a backseat to her husband as he bids for state assembly – but while her character lives in the background (at first, at least), Byrne is very much the star of the show.
The issue of female-led films and TV series has been highlighted in recent years as diversity in front of and behind the camera slowly improves, but it seems there are lots of male stars who aren't happy about playing second fiddle to a woman.
"Worth knowing that one of the big reasons so many female-centred projects weren't being made for so long wasn't because they weren't being written and commissioned but because they couldn't find a bankable male star who would agree to play second string," Succession and I Hate Suzie writer Lucy Prebble tweeted earlier in June.
And in February, actress and director Olivia Wilde made headlines for praising her reported boyfriend Harry Styles for taking a supporting role in her female-led film, Don't Worry Darling, saying that "the industry has raised [male actors] to believe it lessens their power (i.e financial value) to accept these roles, which is one of the reasons it's so hard to get financing for movies focusing on female stories".
Subscribe to the Backstage podcast on Apple Podcasts, Google Podcasts, Spotify, Spreaker
Comedian and actor Rory Scovel, who plays Sheila's husband Danny Rubin, says he was more than happy to play a supporting role alongside Byrne.
"I like being employed, first and foremost," he tells Sky News. "So I would do probably anything. I don't relate to the sentiment of needing to be the lead or feel as though I won't play a supporting character to a female lead. I do understand that that is something and I do understand that some people make their decisions and feel that way, but I truthfully just can't relate to it.
"I don't know that I'm so concerned where [a] character falls in the line-up or who the lead actually is. I think it's just exciting to get to be a part of a show that is so well written, telling such an interesting story. It's already fun that it's set in the '80s and we get to wear those clothes and have that look, but also, in quite the opposite sentiment, to get to follow someone like Rose and see her in action…
"I find it to be an education that I need as an artist. I would rather see someone like her showing me literally from the front row how she operates and what she brings to her roles so that I can, you know, hopefully try to educate myself in whatever that is, so that I can be better. So yeah, I feel quite the opposite. I feel very grateful that I got to be a part of the show."
Apple Original series Physical, starring Rose Byrne, premieres on Apple TV+ on Friday 18 June
Avatar is back after 13 years – but will the sequel live up to the original?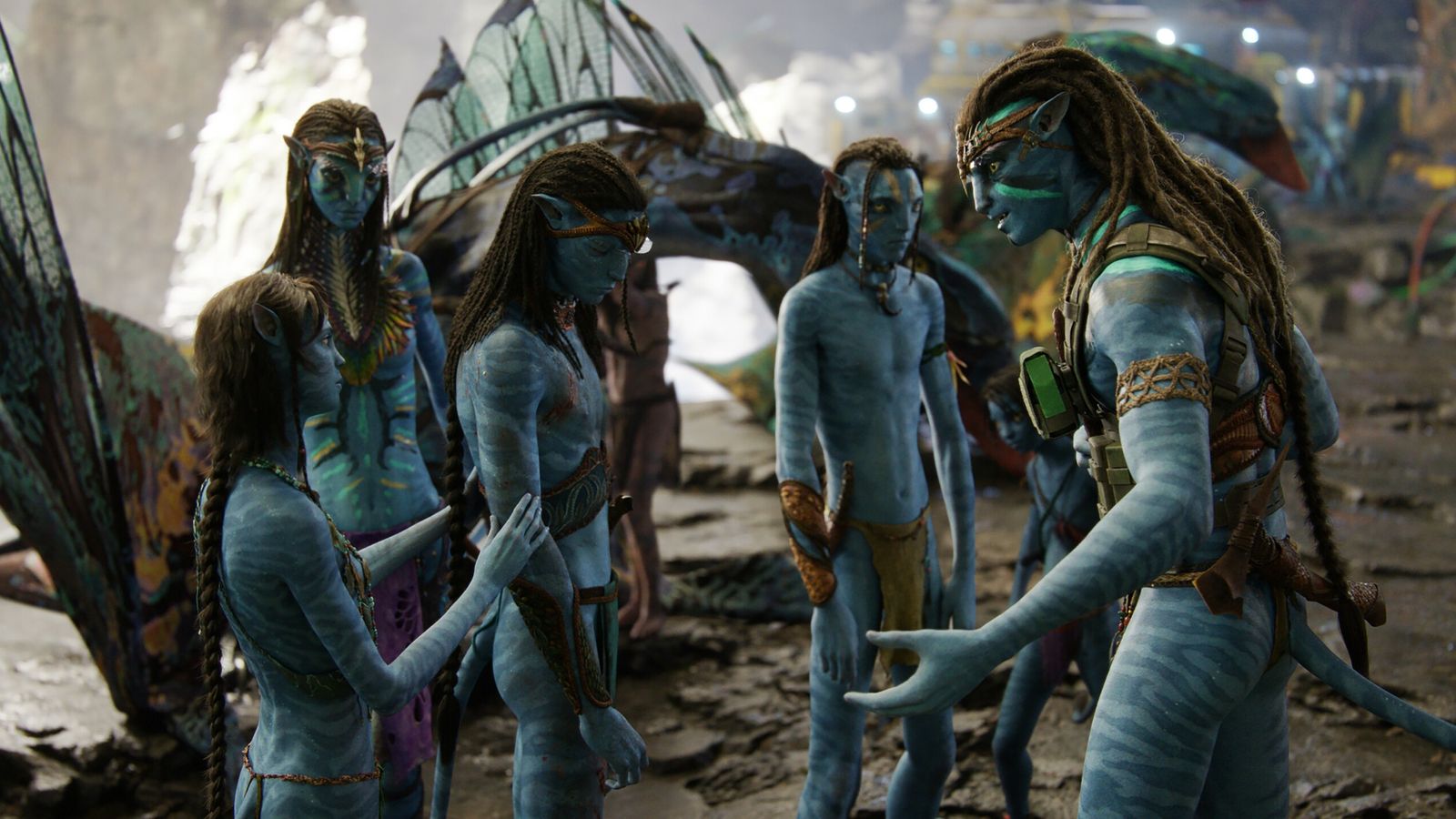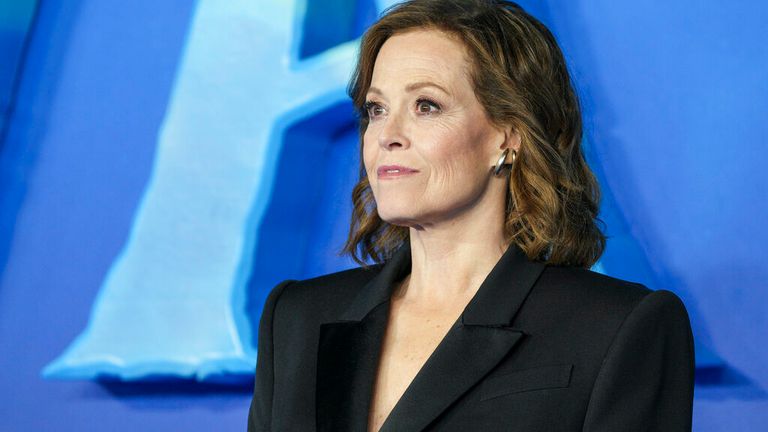 Thirteen years on, James Cameron's mega-budget Avatar sequel opens in cinemas next week, hoping to illicit that same appetite in cinemagoers for the 3D magic of the first.
While the medium has fallen out of favour, it remains Cameron's preferred choice of viewing.
But not only will cinemagoers need 3D glasses – coming in at a whopping three hours and 10 minutes, it also requires stamina.
Click to subscribe to Backstage wherever you get your podcasts
With production costs totalling around £285m (up there with the most expensive films ever made), to make it worth Disney's while, the epic has to at least end up making it into the top five highest grossing movies of all time.
To do so, it needs audiences to want to see it more than once, which perhaps isn't too unreasonable when you factor in that a huge amount of the money generated in both of Cameron's previous blockbusters – Titanic and the first Avatar – came from cinemagoers paying to see the film's multiple times.
But in a cost of living crisis do we have the cash now?
The film sees Sam Worthington return to the role of Na'vi leader Jake Sully and is rooted around the family he now has with warrior Neytiri, played by Zoe Saldana.
"The movie's mighty," Worthington told Sky News.
"It's a mighty film, and very heart-wrenching.
"We all went through a pandemic together as a whole world, and that's a connection that we all have to each other… and it's about us being connected as individuals – I think that's very important to relate to and really take to heart."
Thanks to the magic of motion capture, Sigourney Weaver returns, playing Jake Sulley's adoptive teenage daughter.
'I needed to see it twice'

"It's an experience so immersive and also takes your breath away," she told Sky News, adding that she will need to see the film once more to get the full experience from it.
The sequel also features Kate Winslet in the cast as the matriarch of an ocean-bound clan.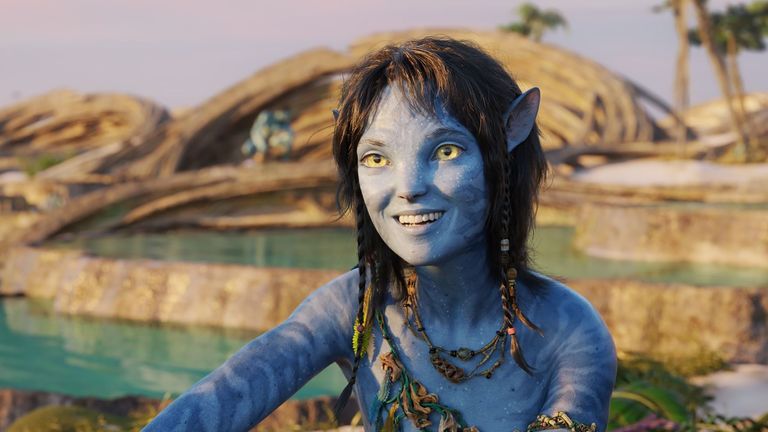 For the Oscar-winning actress it was a chance to work, once again, with the filmmaker who put her on the Titanic:
"He (Cameron) asked and I said yes. Why on earth would I not?," she told Sky News.
"Also, my children would never have allowed me to. They were like… just do it."
Kate Winslet on accepting Avatar role

Cameron, who overtook his own movie, Titanic, with Avatar as the highest grossing film ever in 2009, has already set the wheels in motion for the next films in the franchise – and spent much of the last decade preparing.
"It was a lot of time spent working on the script for four movies, production design for four movies, a bunch of new technology we needed," he said.
"And then we started at full tilt five years ago… and then we shot two movies, actually part of the third one."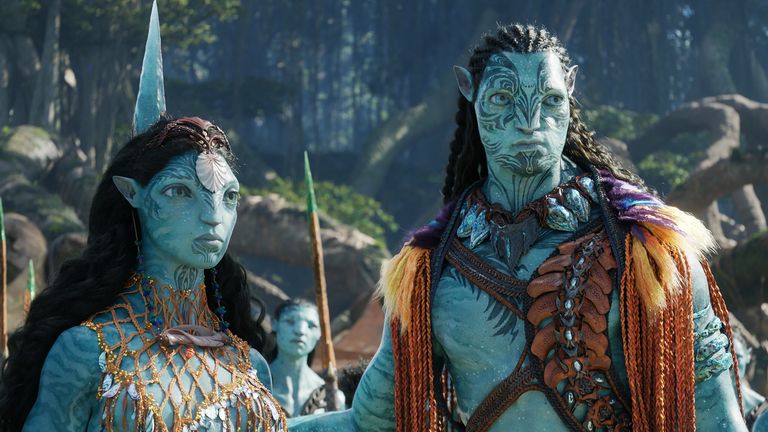 Cameron also describes his new sci-fi epic as a "love letter to the oceans".
"A lot of people [in 2009] picked up on the messaging around the rainforest and around the plight of indigenous cultures around the world.
"We have that in spades now because nothing has really got that much better – in the meantime, this one is my love letter to the oceans and a cry for people everywhere to be responsible for guardianship of the oceans."
Right now the Na'vi's survival might just depend on what happens off-screen more than on.
Avatar: The Way of Water is in cinemas on 16 December.
Stephen Bear: Reality TV star on trial accused of sharing garden sex tape on OnlyFans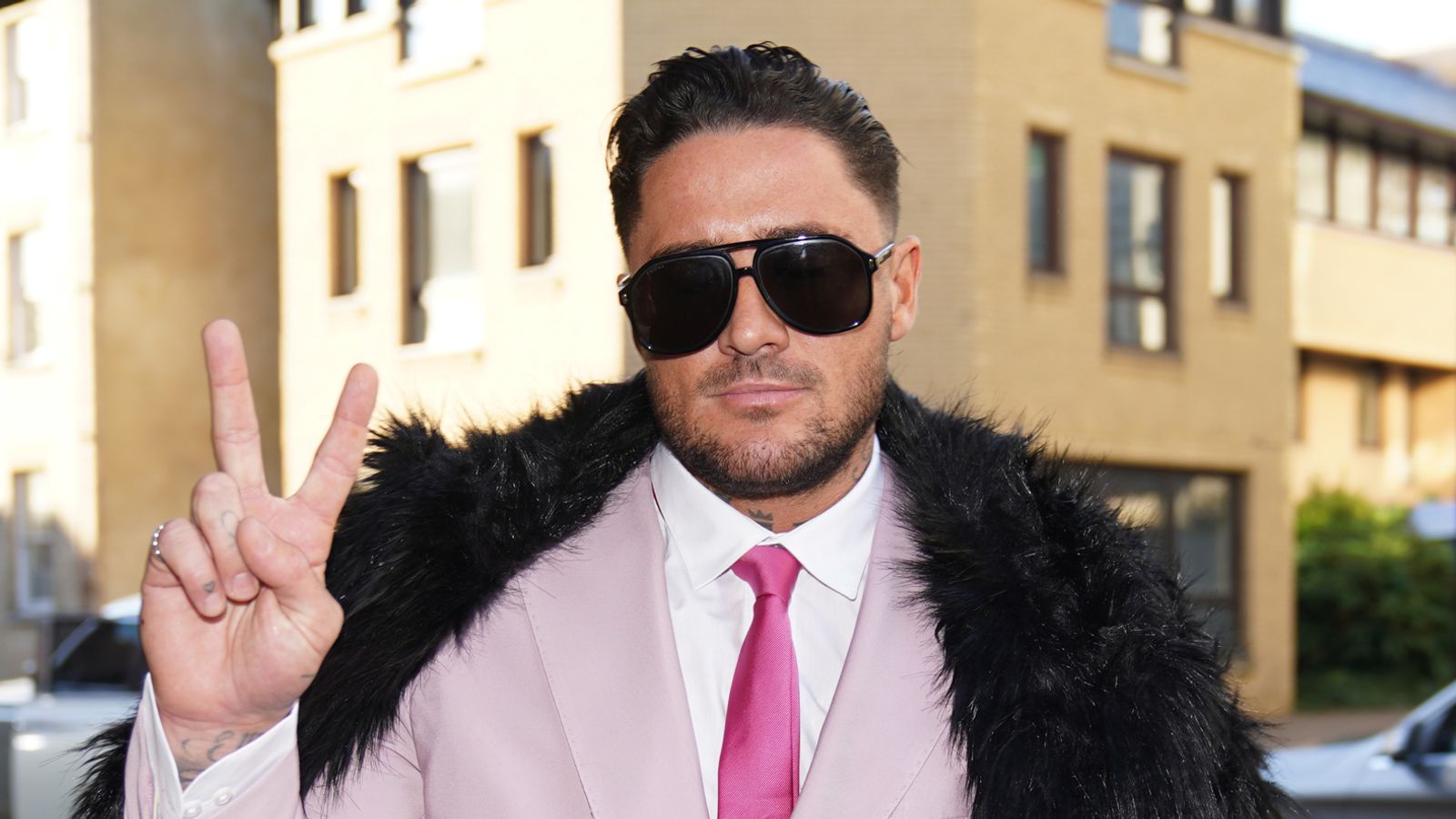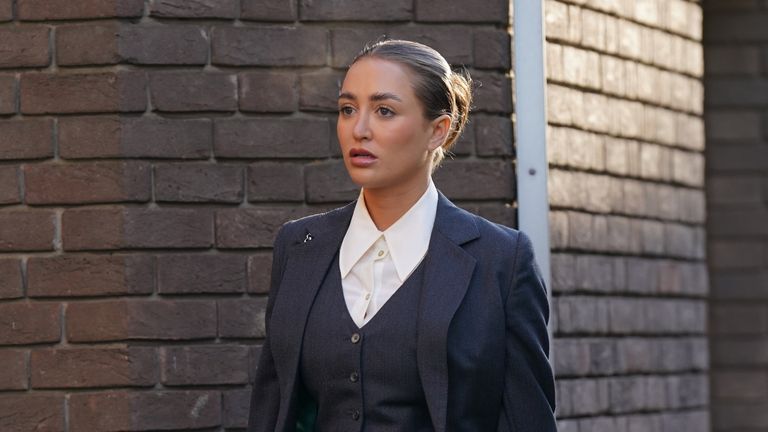 A reality TV star has appeared in court accused of sharing a garden sex tape on the online subscription platform OnlyFans.
Stephen Bear is accused of voyeurism and two counts of disclosing private, sexual photographs and films.
The 32-year-old, who won Celebrity Big Brother in 2016, came to Chelmsford Crown Court wearing a pink suit and fur coat. He denies the charges.
The trial heard Bear had sex with his ex-girlfriend Georgia Harrison in his garden before sharing footage of it – caught on his CCTV cameras – on OnlyFans.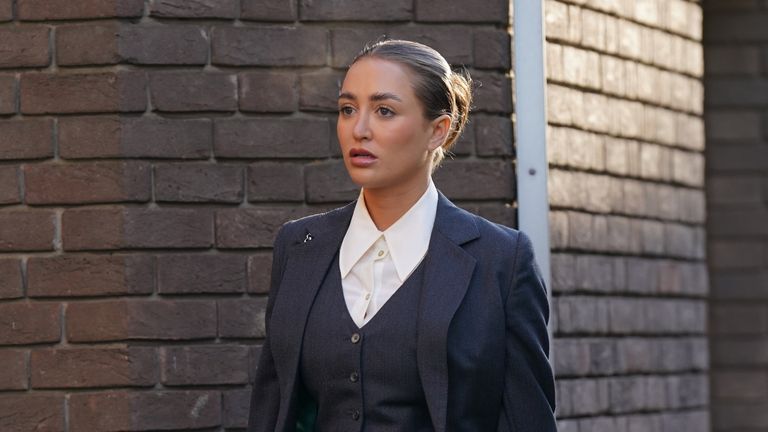 Ms Harrison, who has appeared on several reality shows including The Only Way Is Essex (TOWIE), waved her right to anonymity in relation to the case.
Jacqueline Carey KC, opening the prosecution case, said: "In August 2020 the complainant Georgia Harrison met up with her former boyfriend Stephen Bear.
"They had some lunch and had some drinks and ended up back at his house in Loughton (in Essex).
"They engaged in consensual sexual intercourse in his garden.
"What she didn't know but he did was Mr Bear had CCTV cameras in his garden that recorded them having sex."
The barrister said that later that day Bear told Ms Harrison and showed her the footage.
"She told him never to send it to anyone and made it plain how upset she would be if he did," said Ms Carey.
She went on to say that Bear sent the footage to someone on WhatsApp that night "despite knowing how upset she would be if the footage were to get out".
She told the court that Bear later uploaded the footage "either himself or had it uploaded to OnlyFans and profited financially".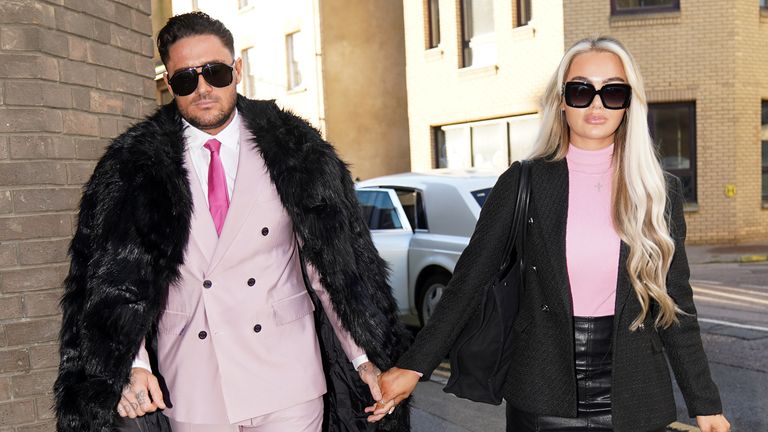 Ms Carey added: "The defendant was effectively selling the footage to get money".
OnlyFans is a platform known for adult content, which enables fans to pay creators for their photos and videos.
Bear, of Loughton in Essex, arrived at court with his current girlfriend Jessica Smith, in a chauffeur-driven white Rolls Royce.
He wore a pastel pink suit, fuchsia tie, black fur coat and dark sunglasses.
The alleged offences are said to have taken place in August 2020 and in November 2020.
Bear was arrested in January 2021 at Heathrow Airport following a trip to Dubai, and charged in May 2021.
Click to subscribe to Backstage wherever you get your podcasts
The case had originally been scheduled for February this year but was pushed back.
Bear won Celebrity Big Brother in 2016 after finding fame on Ex On The Beach. He went on to co-present just Tattoo Of Us with Charlotte Crosby on MTV in 2017, and has appeared on Celebs Go Dating for Channel 4 and Eating With My Ex for BBC Three.
His former girlfriend, Ms Harrison, 27, has appeared on shows such as Love Island and Olivia Meets Her Match.
The trial, which is expected to last at least four days, continues.
Kirstie Alley: Cheers star dies after short illness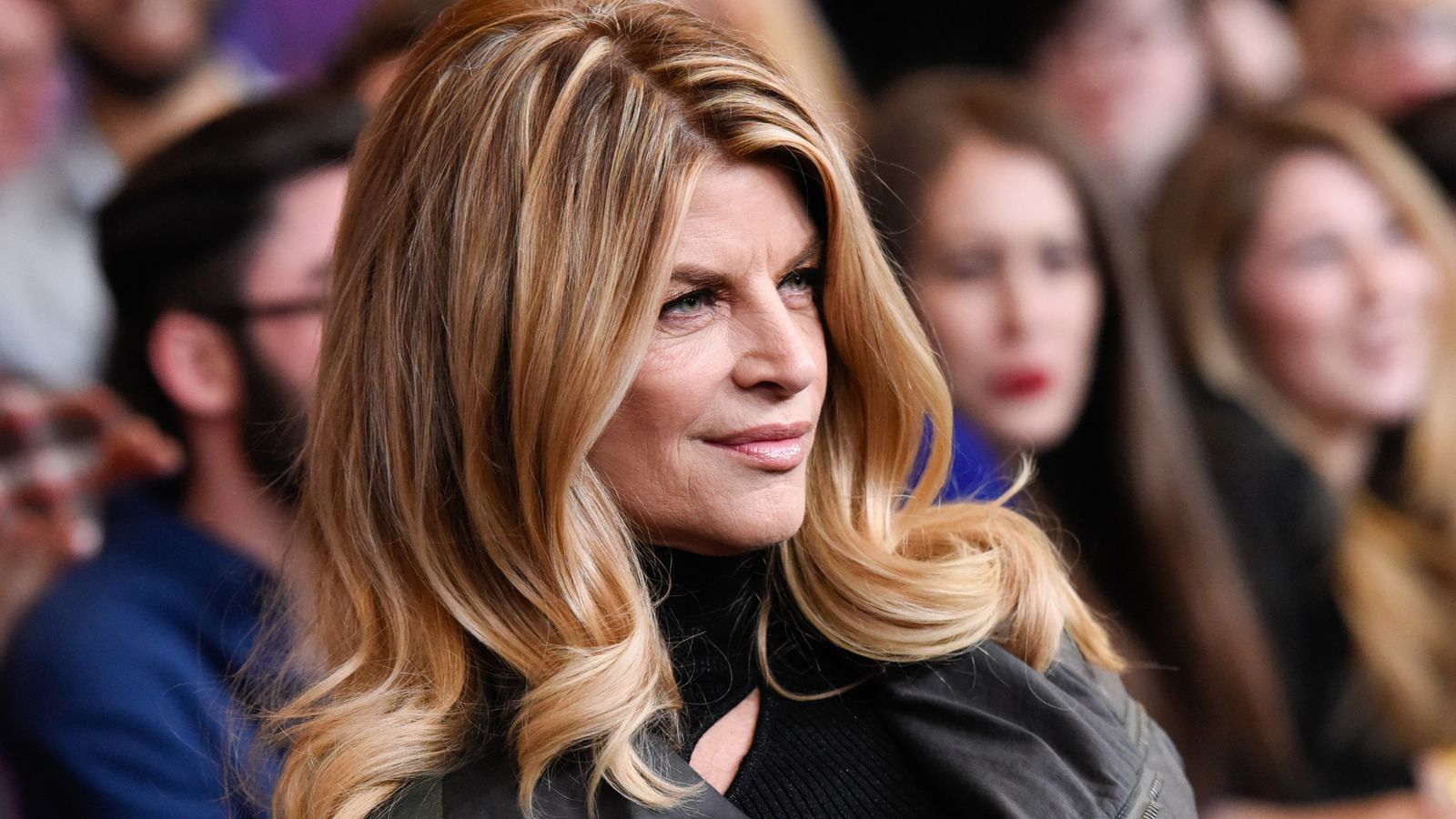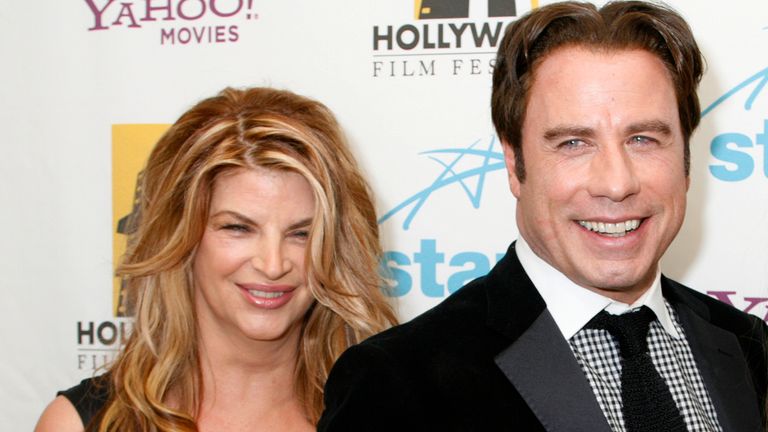 Kirstie Alley – who shot to fame after appearing in the US sitcom Cheers – has died at the age of 71.
In a statement, her children said: "We are sad to inform you that our incredible, fierce and loving mother has passed away after a short battle with cancer, only recently discovered.
"She was surrounded by her closest family and fought with great strength, leaving us with a certainty of her never-ending joy of living and whatever adventures lie ahead."
Alley was best loved for her role as Rebecca Howe in the long-running US comedy Cheers, in which she appeared as the on-off love interest of Boston bar owner Sam, played by Ted Danson.
She also starred alongside John Travolta in the successful 1989 romantic comedy Look Who's Talking.
The actor paid tribute to her on social media. "Kirstie was one of the most special relationships I've ever had. I love you Kirstie," he wrote on Instagram, alongside a photo of the late star. "I know we will see each other again."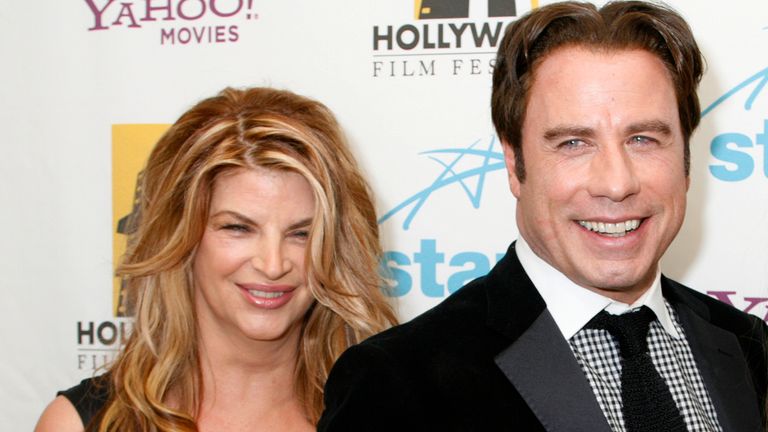 From 1997 to 2000 she had her own sitcom on US network NBC, Veronica's Closet.
Later, in 2018 she took part in UK Celebrity Big Brother, in which she finished as runner-up.