Europe is gearing up to enjoy one of its most eagerly awaited football tournaments in years, as it attempts to shrug off the impact of the pandemic on organised sports.
But the countries where the delayed Euro 2020 matches will be played vary significantly in terms of how badly hit they currently are by the virus.
And the cities that are hosting the group and knockout ties vary even more.
In all, 10 countries will play host to spectators, with football being played at 11 stadiums and arenas. In the United Kingdom, the both England's national stadium, Wembley, and Scotland's – Hampden Park – will be used.
Thousands of fans will still gather in stadiums, with many more expected to mix at meeting points in city centres. So far, two Spanish players, two Swedes and several Czechs have been among those testing positive before the European Championships have even begun.
The cities where matches will take place will be: Amsterdam, Baku, Bucharest, Budapest, Copenhagen, Glasgow, London, Munich, Rome, St Petersburg and Seville.
Dublin and Bilbao were previously proposed as venues but UEFA's Executive Committee met in late April and decided that, largely because of COVID rates, fans would have difficulties attending matches.
In any event, fans from across the continent will face all kinds of obstacles attending the matches in the remaining venues.
The capacities at most of the grounds are being cut to allow social distancing to take place, substantially reducing the number of seats available.
Below are some of the restrictions and problems anyone who wants to attend matches at the 11 grounds will face.
Much of what is listed for stadiums outside the UK is based the latest information received by UEFA from the local authorities and is constantly evolving and changing so should be checked against local government requirements:
Wembley, London
Three group matches, two last-16, two semi-finals and the final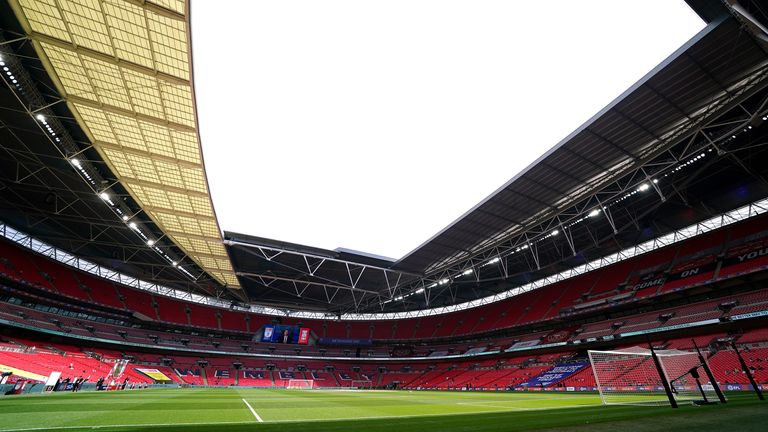 Wembley has been the beneficiary of deteriorating COVID situations in other European countries, gaining several matches that were due to be played elsewhere.
But overseas fans wanting to come to London face all kinds of hurdles until the restrictions are finally relaxed.
Anyone from outside the Common Travel Area of the UK and Ireland must have a negative test in the 72 hours before arrival (assuming they are not a non-UK/Irish resident coming from a red list country, from where travel is banned) and then quarantine on arrival according to government requirements, having filled in a passenger locator form.
Everyone based in the UK going to the stadium, for the group matches at least, must have had an NHS test and trace approved negative lateral flow test or have proof of full vaccination using the government's app.
Ticket holders based elsewhere must also have evidence of a negative lateral flow test.
Numerous other regulations will be in place for people able to enter the ground.
Hampden Park, Glasgow
Three group matches, one last-16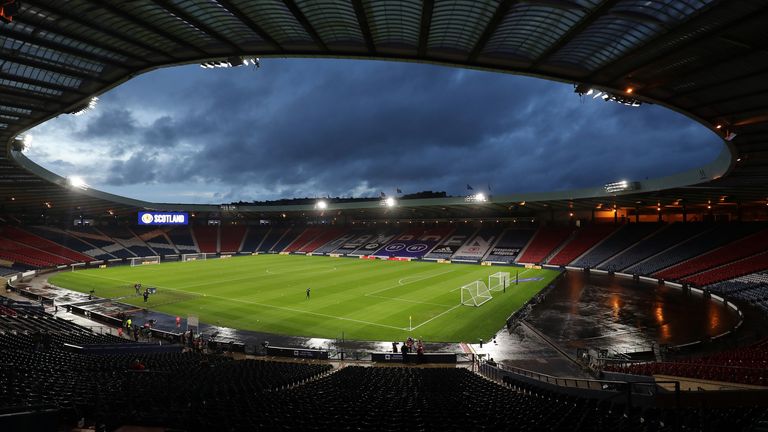 The rules for getting to Scotland from abroad are similar to those when arriving in England, with quarantine rules also in place for people coming from amber countries and there are specific restrictions on people coming from parts of northwest England and the Republic of Ireland.
Unlike in Wembley, fans attending matches at Hampden Park will not need proof of a negative COVID test to gain entry, but the Scottish government has said the policy will be reviewed if the situation changes.
Johan Cruyff Arena, Amsterdam
Three group matches, one last-16
Anyone wanting to go to Ajax's home ground will first have to check if they are allowed into the Netherlands.
The UK is not currently considered a "safe" country so a ban on entry applies, assuming someone is not a national of an EU country.
People from EU countries and selected other 'exempt' countries can still visit but the rules are complex and should be checked with the Dutch authorities.
Before going to the stadium, fans must have passed a free, bookable COVID test and then follow a number of other rules.
Olympic Stadium, Baku
Three group matches, one quarter final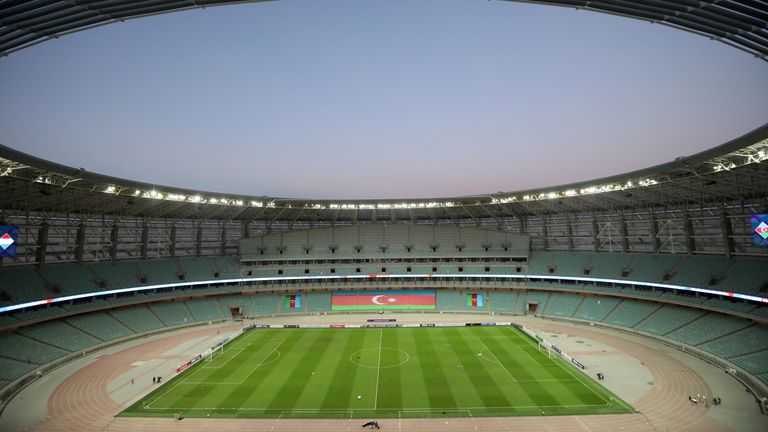 To go to Azerbaijan, only people from Turkey, Switzerland, the UK and any relevant quarter-finalist country will be able to obtain a visa on arrival if they have a valid match ticket.
From 10 June, people from Russia and Turkey will be able to visit only if they have either passed a verified PCR COVID test or have proof of full vaccination.
Everyone else cannot enter the country to watch a match but, like Netherlands and all the countries on this list other than the home nations, Azerbaijan is on the UK's amber list, meaning anyone visiting would be going against government advice and would have to quarantine on return.
Currently, a COVID-19 test will not be required for stadium entry in Baku.
National Stadium, Bucharest
Three group matches, one last-16
The UK is currently on Romania's red list, which means that anyone wanting to go to the country, as well as following any appropriate immigration procedures, must provide proof of full COVID-19 vaccination or show evidence of immunity or provide a negative PCR test result and leave within 72 hours.
Several EU countries are on Romania's amber and green lists, so visitors from those places will have to follow other rules.
All ticket holders attending group stage matches at the stadium must get a COVID-19 wristband before heading there, which requires a range of testing options.
Puskas Arena, Budapest
Three group matches, one last-16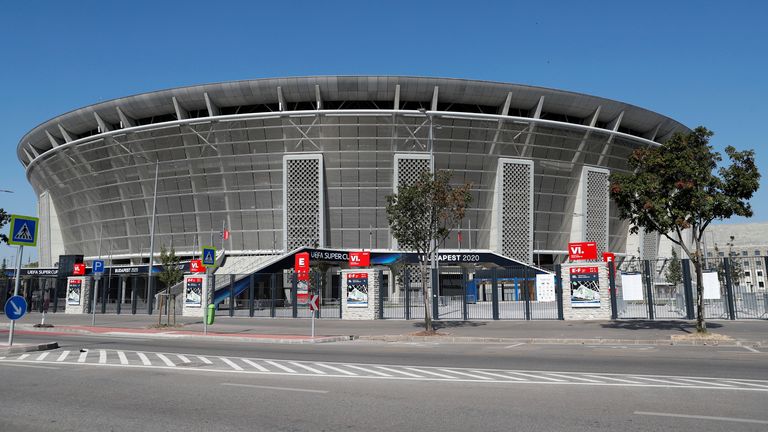 At first glance, the Puskas Arena might look like a good option to see some high quality football, as the authorities have said they are allowing all of the seats to be occupied, making it the only venue that will be full to capacity.
But, while visitors to the ground might be able to lay their hands on a valid COVID test result – which is required to get the wristband necessary to enter the stadium – providing evidence of full UK vaccination – which is the other way to get one – is unlikely to be sufficient as the UK does not yet have a reciprocal arrangement with Hungary.
The above requirements are also necessary to enter Hungary.
Parken Stadium, Copenhagen
Three group matches, one last-16
People from the UK cannot currently enter Denmark unless they have a "worthy purpose for entry", such as work, business or studies. Different rules are in place for people who live part or all of the time in the EU.
Anyone who makes it to the ground, will need to show a valid negative test result, proof of immunity or proof of full vaccination.
Football Arena, Munich
Three group matches, one quarter-final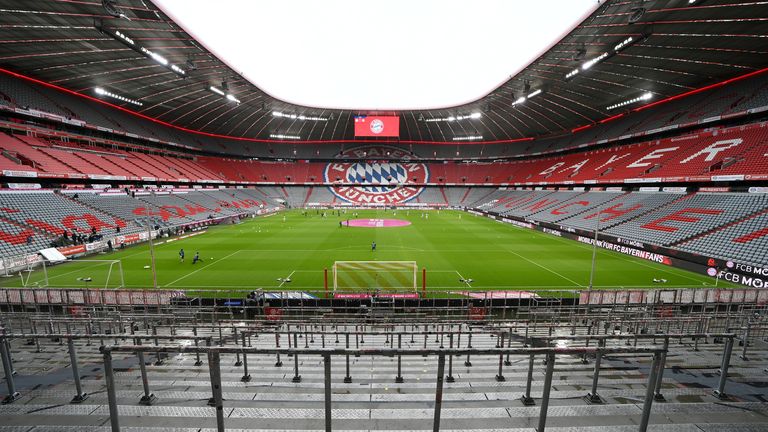 Germany has designated the UK an area where virus variants of concern exist and, therefore, travel is pretty much banned unless someone is German or has an exceptional excuse.
Those who do arrive from the UK are subject to a two-week quarantine.
Anyone who makes it to the stadium needs to show their valid ID and wear an FFP-2 face mask as well as carrying their ticket.
Olimpico Stadium, Rome
Three group matches, one quarter-final
Since 7 April, entry to Italy from the UK has no longer been restricted to Italian residents but measures continue to apply.
There is a requirement to present a negative test result or quarantine on arrival.
To enter the stadium, any ticket holders who are not Italian must provide a negative COVID-19 molecular or antigen test result that is not older than 48 hours at the time of kick-off (in Italian or English, in printed or electronic form).
Saint Petersburg Stadium, St Petersburg
Six group matches, one quarter-final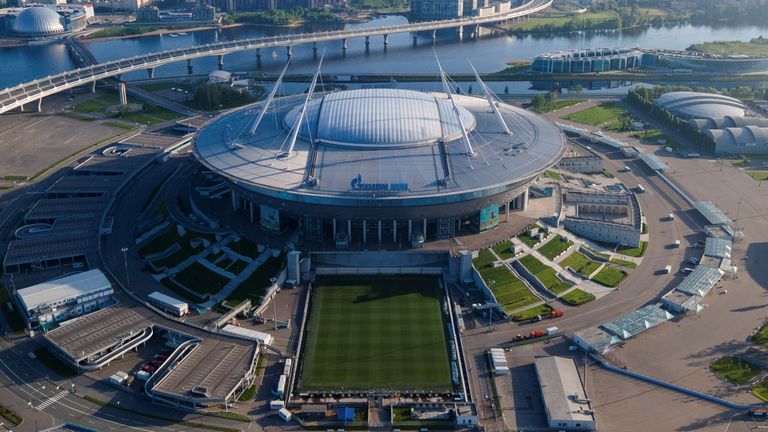 In April, the Russian government said nationals of various countries including the UK could now travel to Russia so long as they had the appropriate documents.
Normally a visa is required by UK citizens to enter Russia, but a travel exemption has been created and will be in place for all UEFA EURO 2020 games in Saint Petersburg. It will allow travelling fans from other nations with matchday tickets to enter Russia without a visa but with some additional necessary documents.
A FAN ID is required, along with proof of a negative COVID-19 PCR test dated no earlier than three calendar days before arriving and those on international flights to Russia need a COVID-19 pre-travel screening form.
Stadium La Cartuja, Seville
Three group matches, one last-16
Spain is yet to set specific requirements for fans travelling to watch the football but generally UK residents are allowed to enter the amber-listed country subject to various requirements.
All passengers entering Spain are still required to complete a health control form before they travel and have to undergo various checks when they arrive.
Sir Keir Starmer to pledge 'biggest ever' transfer of power as Labour report outlines sweeping reform plans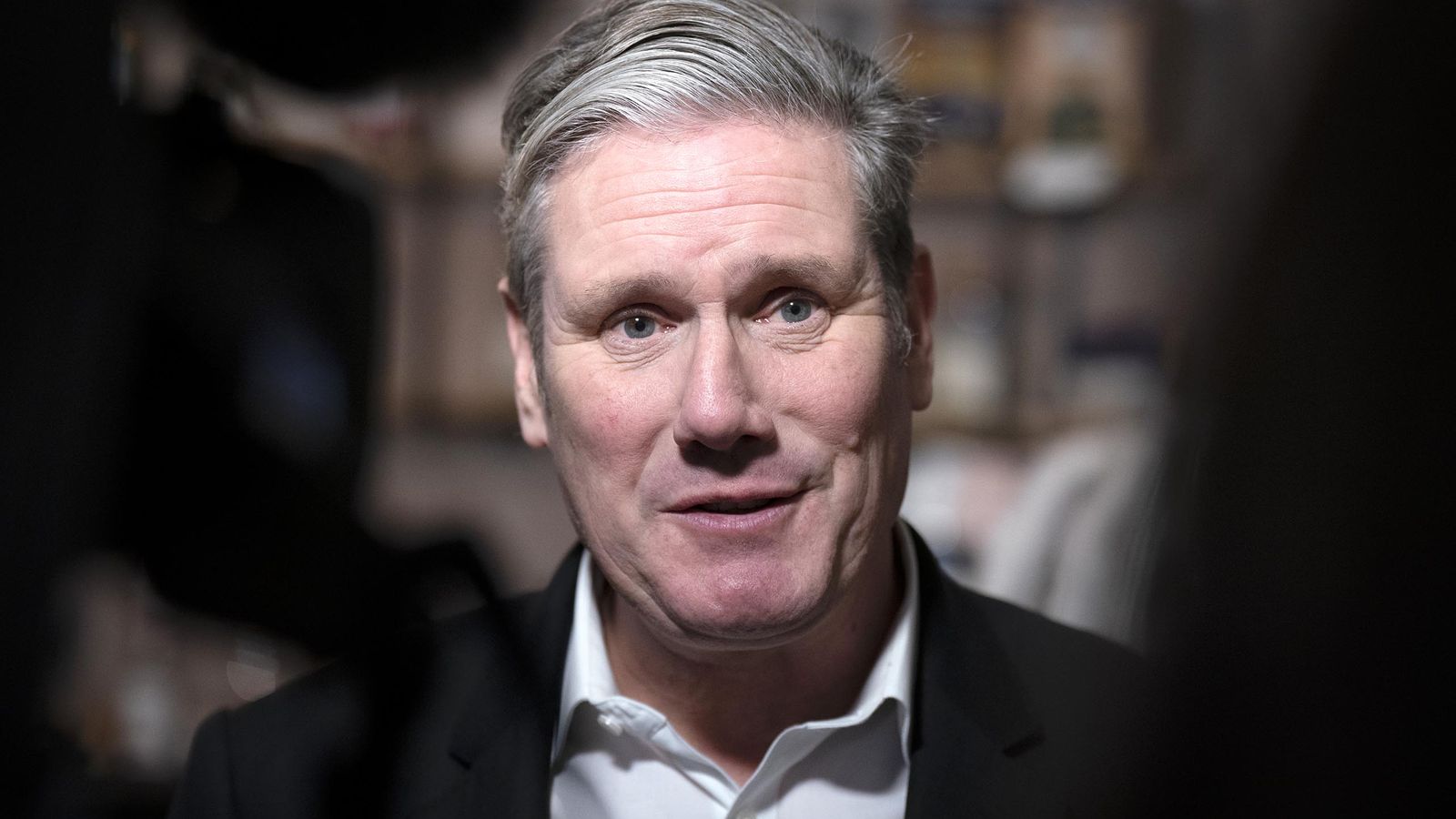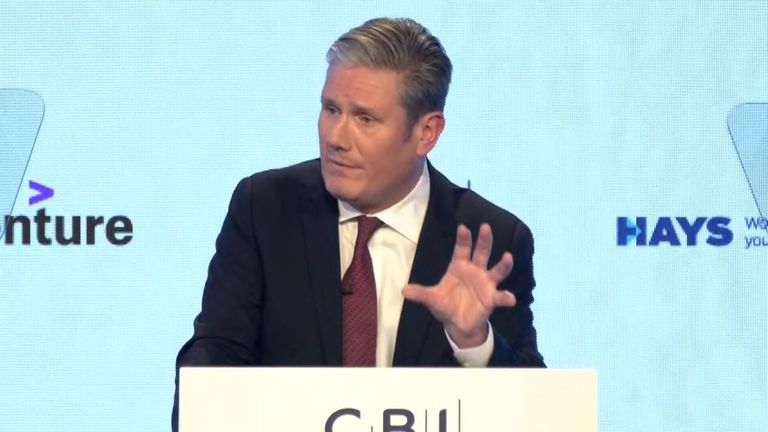 Sir Keir Starmer will promise the "biggest ever transfer of power from Westminster to the British people", as the Labour leader launches a report recommending handing new economic, taxation and law-making powers to mayors and devolved governments.
The report on the UK's future, carried out by former prime minister Gordon Brown, also recommends sweeping constitutional reform in an attempt to "clean up politics".
It includes replacing the House of Lords with a democratic chamber, banning almost all second jobs for MPs, and moving 50,000 civil servants – 10% of the workforce – out of London.
The decentralisation of power and money away from Westminster will be pitched as a continuation of Tony Blair's reforms and Labour's answer to the Tories' levelling up agenda – as Sir Keir looks to pitch himself as a prime minister-in-waiting with a serious plan for Britain.
But the Labour leader will not accept any of the recommendations on Monday when he launches the report, arguing instead that they will now be consulted on, raising obvious questions as to whether policy proposals will match the rhetoric should Labour win the next election.
However, a source close to the Labour leader insisted that Sir Keir wouldn't have let recommendations reach the final report if he wasn't minded on implementing them.
He described the report as a "blueprint" to address these issues and "work out where to go in the next two years".
"We're serious about implementation," said a Labour figure.
"This is methodical, Keir Starmer working through how you pull the levers."
'We have to make Brexit work'

What else is in Starmer's plan?
Labour's view is that George Osborne's Northern Powerhouse or Boris Johnson's levelling up agenda were the right ambition but failed to grasp that it only works if power is devolved away from Westminster, rather than handing out pots of money from London.
As such, one key recommendation of the commission will be to end the system of distributing funds from Whitehall, with money instead being devolved to local areas to make those decisions.
Within the 40 recommendations in the report are plans to give devolved governments, mayors and local authorities new powers over transport and housing, economic development and job creation.
Sir Keir also wants to develop 300 "economic clusters" around the country – from precision medicine in Glasgow to creative media in Bristol and Bath – with the aim of doubling growth in the UK.
The report, commissioned by Sir Keir two years ago, will also recommend transferring 50,000 civil servants – just over 10% of the current workforce – out of Whitehall in order to devolve decision-making and jobs out of London.
Sir Keir also wants to "clean up" politics and bring in reform.
As such, he's likely to back proposals to end MPs from having second jobs and introduce new rules to "end the undue influence of wealth and foreign money" in politics.
Read more:
Tories should be extremely worried by swing in Chester by-election
Sir Keir's dig over private school tax stirs up hornet's nest that could leave him stung
The Labour leader also wants to "get rid of the indefensible House of Lords" with the report recommending a new, democratically elected second chamber to represent the regions and nations of the UK.
However, the Labour leader has suggested he might not be able to do this until Labour wins a second term, raising questions as to whether such a commitment would appear in the next Labour manifesto.
Speaking at the launch of this report in Leeds on Monday, Sir Keir is expected to say that the "centre hasn't delivered" as he pledges to "rebalance the economy and bring about higher standards in public life".
The Labour leader will also frame this report as a response to both the Brexit and Scottish independence referendums.
"I argued for remain. But I couldn't disagree with the basic case that many leave voters made to me. They wanted democratic control over their lives," Sir Keir will say, arguing these frustrations of "a Westminster system that seems remote" was also a drive for the 2014 independence referendum.
"People know Britain needs change. But they are never going to get it from the Tories.
"I am determined that, with Labour, people will get the change they deserve."
Iran morality police behind detention of Mahsa Amini 'shut down', official says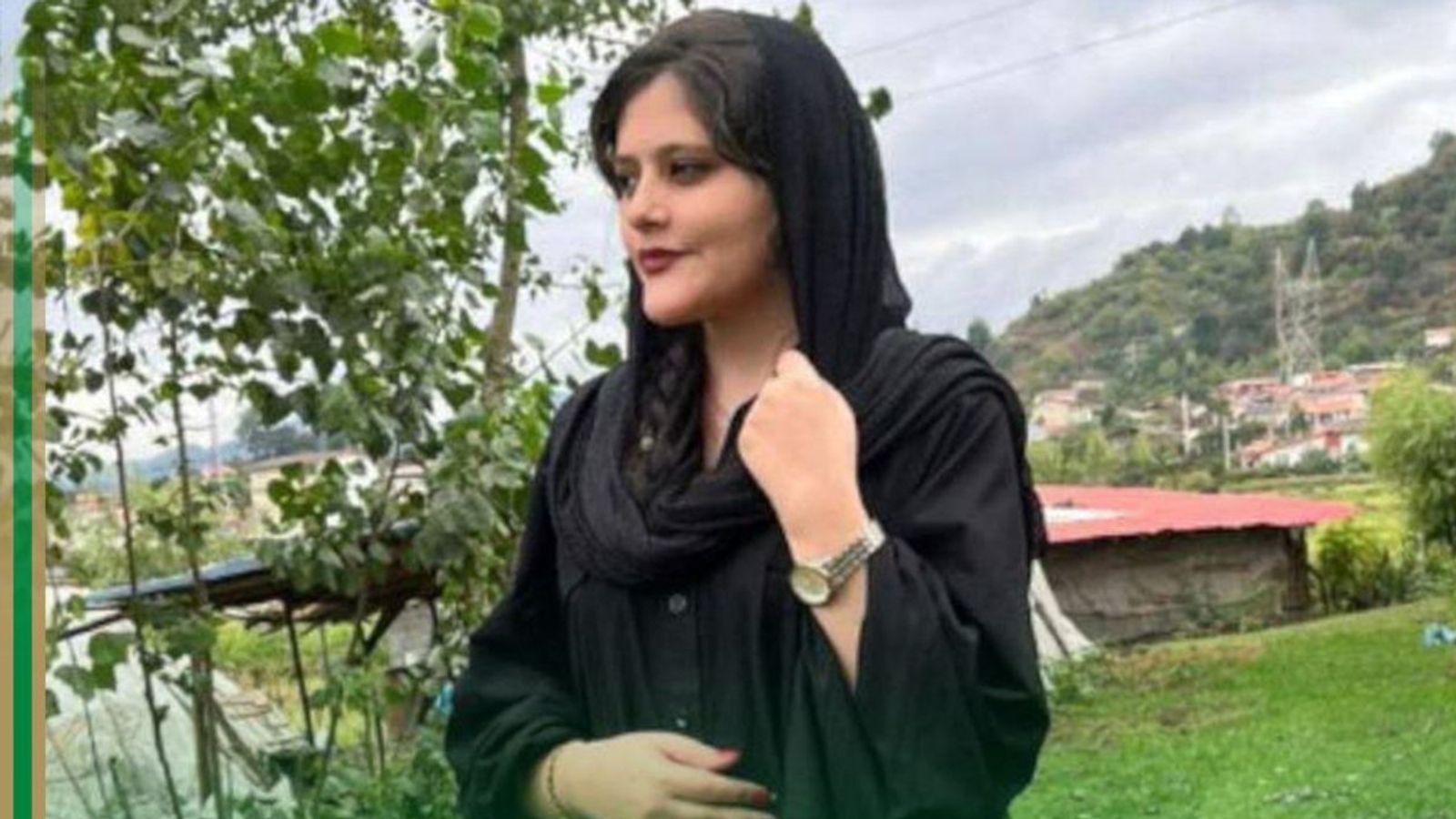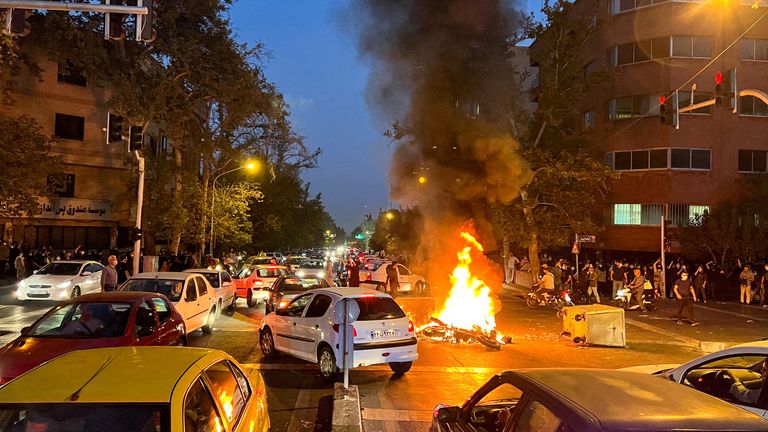 Iran's attorney general has said the morality police, the force which detained Mahsa Amini and enforces the country's dress code has been "closed".
Mohammad Jafar Montazeri was cited by the Iranian Labour News Agency saying that the force had been disbanded.
Iran's Interior Ministry, which is the authority in charge of the morality police, has yet to comment on the status of the force.
Mr Montazeri was quoted saying: "The same authority which has established this police has shut it down", adding that the morality police was not under the judiciary's authority, which "continues to monitor behavioural actions at the community level".
The morality police was sanctioned by the UK following the death of Ms Amini, 22, who died in police custody after she was detained for allegedly not properly covering her hair with a headscarf – known as the hijab – which is mandatory for Iranian women.
The force has also gained criticism for its violent crackdown on the subsequent nationwide protests following Ms Amini's death.
The activist HRANA news agency said 470 protesters had been killed as of Saturday, including 64 minors. It said 18,210 demonstrators were arrested and 61 members of the security forces were killed.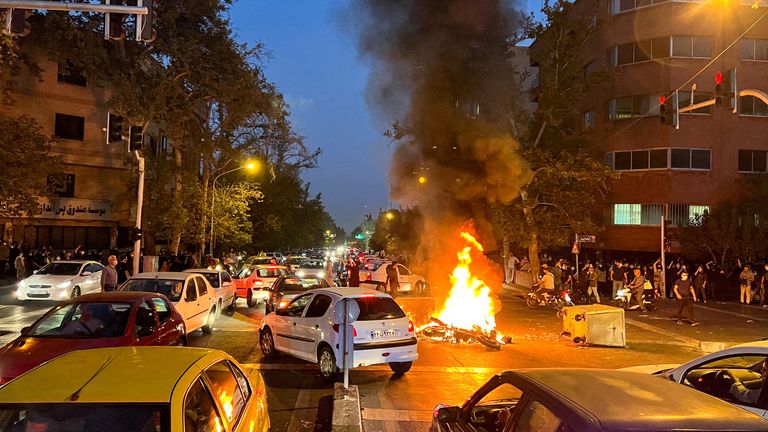 Iranian actresses, activists and protesters have posted pictures without wearing the hijab in solidarity with the anti-government demonstrations.
On Sunday, protesters called for a three-day strike this week as they seek to maintain pressure on authorities over Ms Amini's death.
Protests are planned on the day President Ebrahim Raisi is due to address students at Tehran University on Wednesday.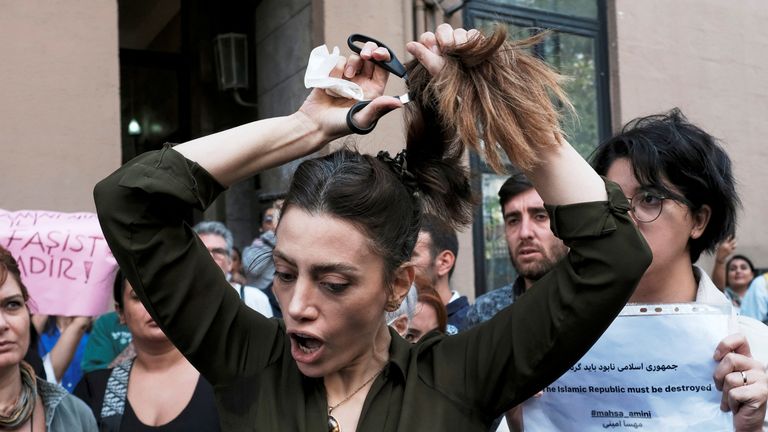 Iran says reviewing mandatory headscarf law
Following the widespread unrest, Mr Montazeri said Iran is reviewing the law that requires women to cover their heads.
Quoted by the ISNA news agency, Mr Montazeri said: "We are working quickly on the issue of hijab and we are doing our best to use a wise solution to deal with this phenomenon that hurts everyone's heart."
He added that a meeting has been held with the parliament's cultural commission and results will be seen "within the next week or two".
Top Iranian officials have repeatedly said Tehran would not change the Islamic Republic's mandatory hijab policy, which
requires women to dress modestly and wear headscarves.
Iranian climber 'forgot' hijab

Elnaz Rekabi's family home destroyed
In Iran, the family home of female Iranian rock climber Elnaz Rekabi, who competed abroad without wearing a hijab, has been demolished.
Iran's official judiciary news agency, Mizan, said on Saturday that the destruction of her brother's home was due to its "unauthorised construction and use of land" and took place months before the climber competed at an international rock climbing competition in South Korea.
Read more:
Iran's full jails mean arrested women are being held in houses
'Conditions in our country are not right' Iran player says
However, anti-government activists say the demolition was targeted. Iranian authorities have not publicly confirmed the demolition.
The 33-year-old did not wear a mandatory headscarf required of female athletes from the Islamic Republic at a competition in October. A later Instagram post attributed to the athlete, described her appearance without a hijab as accidental – although it was not clear whether she wrote it.
The Iranian government routinely pressures activists at home and abroad, often airing what rights groups describe as coerced confessions on state television.
World Cup 2022: Olivier Giroud and Kylian Mbappe both break records as France reach quarter-finals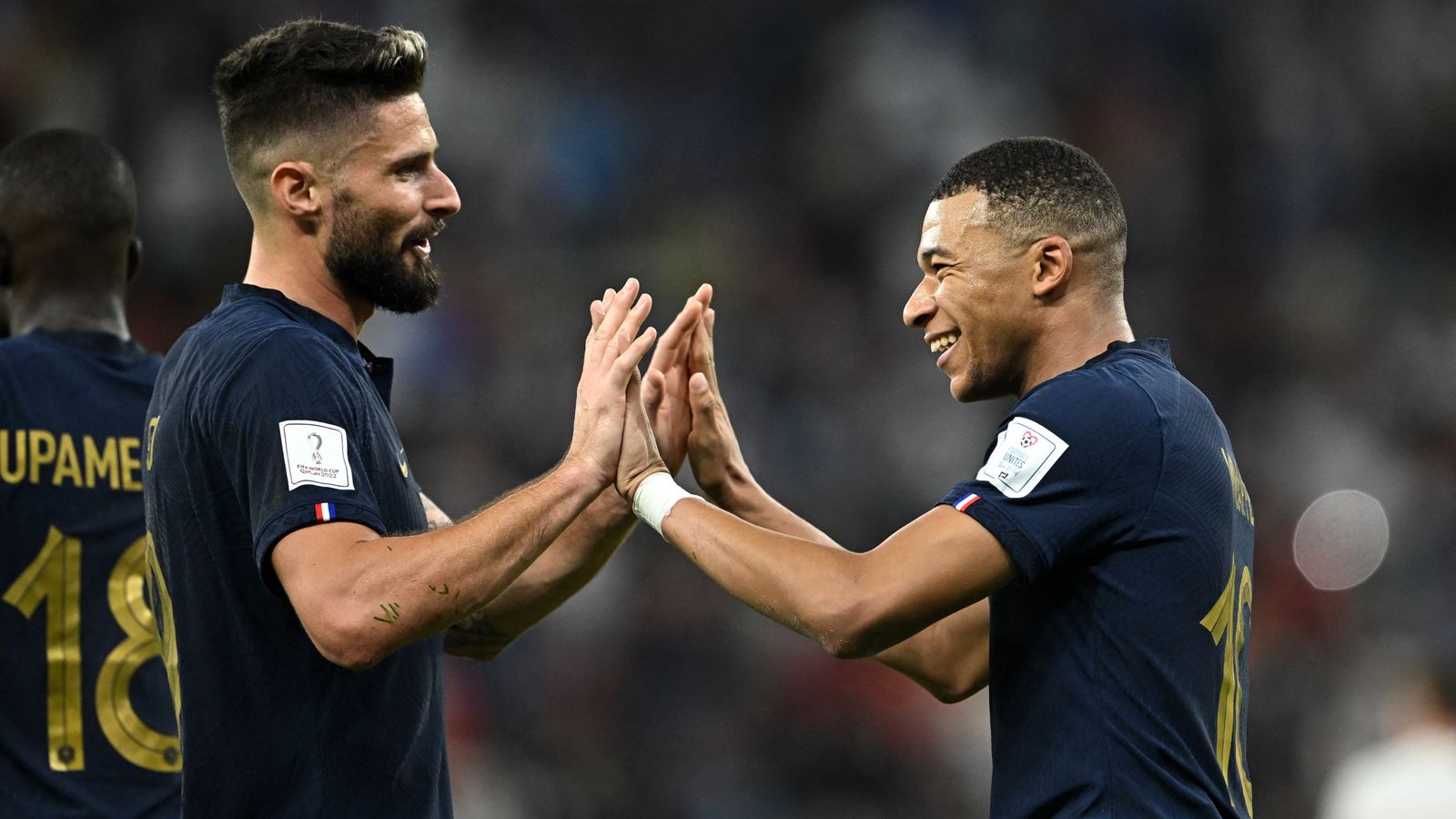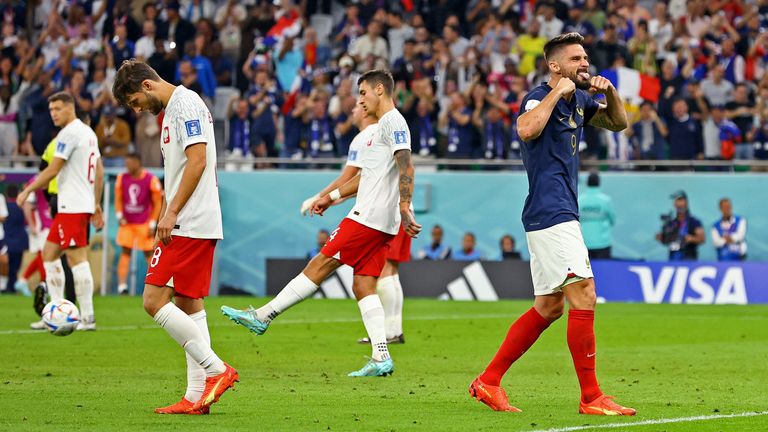 France await the winner of England's World Cup last-16 clash with Senegal after strikers Olivier Giroud and Kylian Mbappe both broke scoring records in a comfortable 3-1 win over Poland.
The reigning World Cup champions claimed victory as Giroud made history by becoming France's all-time top goalscorer during the match at Al Thumama Stadium in Qatar.
World Cup 2022: Follow live updates from last-16 matches
Giroud entered the record books with 52 goals after hitting the back of the net at the end of the first half.
The 36-year-old previously drew level with fellow ex-Arsenal striker Thierry Henry – who held the record of 51 goals – after netting a double in France's 4-1 win against Australia in their opening Group D game.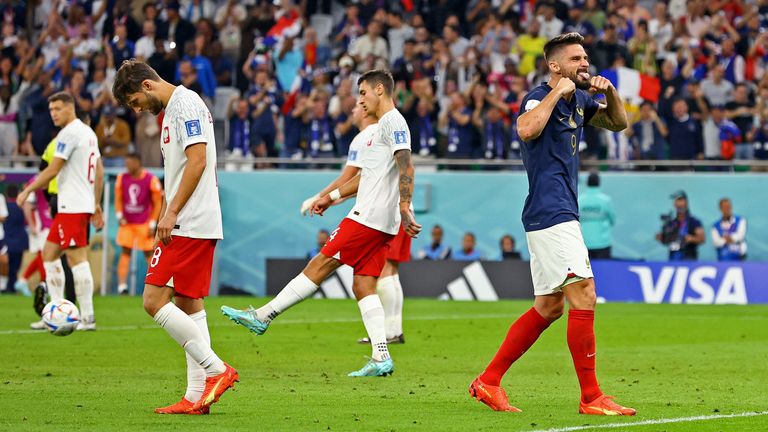 Mbappe scored the other two goals, becoming the first player to score eight – and then nine – World Cup goals before their 24th birthday.
His first of the night came in the second half at 73 minutes, before striking gold again in the 91st.
Poland's Robert Lewandowski clawed back a stoppage-time consolation from the penalty spot to end the game 3-1.
Now all eyes are on the Al Bayt Stadium as Group B winners England come face to face with Senegal for their first knockout match on the world stage since the agonising extra-time semi-final defeat to Croatia in 2018.
The game is set to kick off at 7pm GMT.