A Wallabies debut for ex-NRL star Suliasi Vunivalu will have to wait with the winger to miss the upcoming Tests against France with a hamstring injury.
Vunivalu hobbled off the field in Queensland's 31-24 Super Rugby Trans-Tasman loss to the Blues last weekend and Wallabies coach Dave Rennie says the injury is significant enough to rule him out of the three-Test series against the French next month.
"Obviously a reasonably serious hamstring injury," Rennie told AAP.
"That's going to see him miss the French series and we'll know a little bit more detail beyond that but he certainly won't be available for France."
Despite the setback, Rennie was hopeful Vunivalu will have opportunity to make his Test debut later in the international season.
"We're really happy with his progress. The Reds have done a really good job with him," Rennie said.
"Disappointing for him but his job really is to rehab quickly and try and get back.
"We've got a lot of Tests and so there's a lot of opportunity for him to still play for us."
Injured five-eighth James O'Connor is expected to be named when Rennie names his squad for the French series on Sunday.
The Reds captain was a late scratching for the Blues game with a neck injury and hasn't travelled to New Zealand for their last fixture of 2021 against the Hurricanes in Wellington.
"He's been getting stingers for about the last four to five weeks," Rennie said.
"We anticipate him being right."
Rennie is unfazed about concerns the French are reportedly unhappy about strict quarantine requirements before their travel to Australia.
The Wallabies coach is confident the issues will be sorted and hasn't been forced to make changes to his own plans due to the uncertainty.
"As we know, from last year, we thought our first Test was in Brisbane and two weeks later, we were in Wellington," Rennie said.
"It is what it is.
"What I know is, from a quarantine point of view, it's pretty good for the sporting teams, like we had in New Zealand and like the Argentinians had here in Australia.
"The French will be able to come in, they'll be able to train fully and prepare well. I'm sure there's no issues around it."
Lewis' 2 HRs put 'win' in Twins; slide ends at 18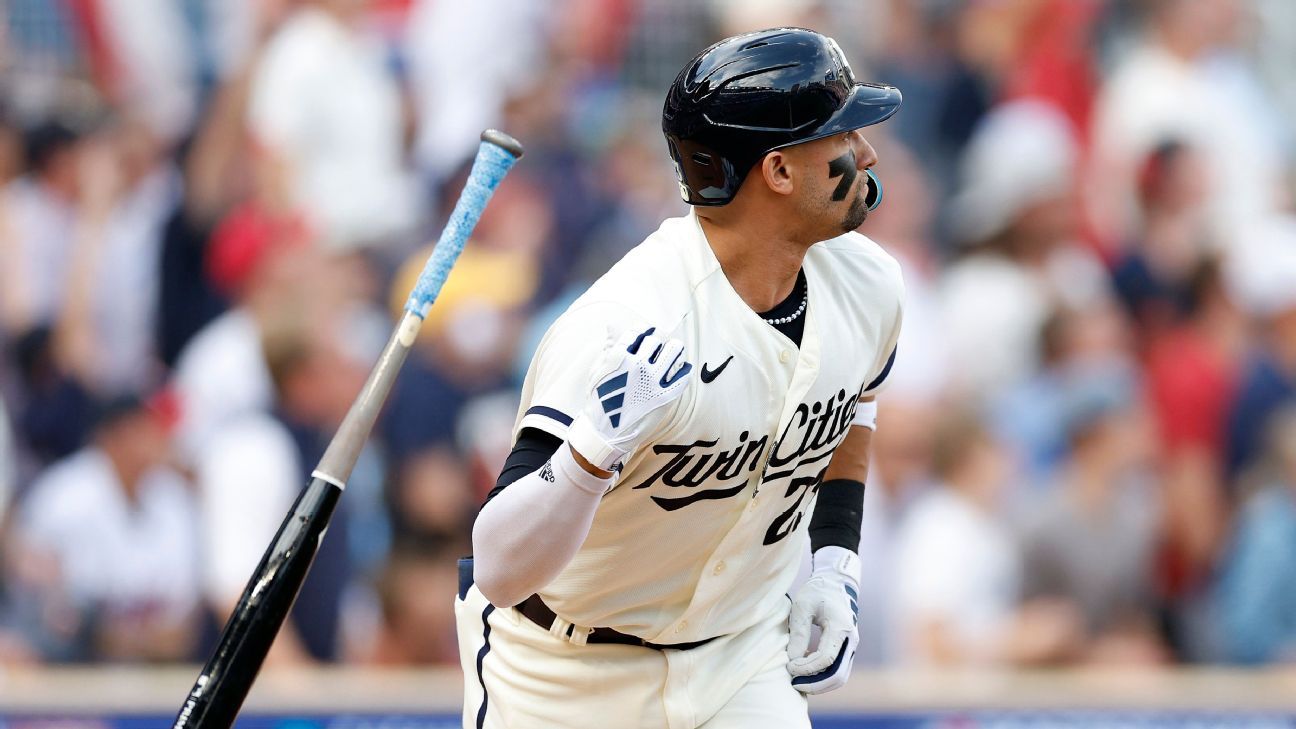 MINNEAPOLIS — Royce Lewis smashed Minnesota's 18-game postseason losing streak into the seats, homering in each of his first two at-bats to carry the Twins to a 3-1 victory over the Toronto Blue Jays in the opener of their AL Wild Card Series on Tuesday.
Lewis hit a two-run shot off Kevin Gausman in the first inning and a leadoff drive in the third, sending the home dugout and the sellout Target Field crowd into a frenzy.
"It means a lot, and it means a lot that the fans encouraged us," Lewis told ESPN during his on-field interview. "They had that energy for us. They brought it, and we brought it for them."
The bigger celebration occurred a few hours later when Jhoan Duran pitched a hitless ninth to close the first victory in the playoffs for the Twins since Oct. 5, 2004. They had the longest postseason losing streak in major North American professional sports. It was the first home win for the Twins in the playoffs since Game 1 of the ALCS in 2002 at the Metrodome.
Lewis was a 3-year-old then. He's the type of big-time player — with five grand slams in 70 career games — that could lead the Twins on an actual postseason run instead of just hanging a division title banner and leaving the party after three or four days.
Returning from a left hamstring strain that kept him out for the last two weeks, Lewis became the third player in MLB history to hit home runs in each of his first two career postseason plate appearances, following Evan Longoria for the Tampa Bay Rays in 2008 and Gary Gaetti for the Twins in 1987.
Pablo Lopez also delivered a strong playoff debut for Minnesota, permitting one run and five hits in 5 2/3 innings. He wore a Johan Santana jersey to the ballpark, a nod to not only his Venezuelan boyhood hero but the last Twins pitcher to win a postseason game.
Gausman's day for the Blue Jays was more bumpy, finishing four innings with three hits and three walks. The right-hander frequently asked for a new ball early in his outing and had trouble at one point with the wireless PitchCom device that is used to prevent sign stealing. Gausman had only one start shorter than this in 2023, when he logged 3 1/3 innings on May 4.
The teams will meet again Wednesday afternoon in Game 2 of the best-of-3 series (4:30 p.m., ESPN). Game 3 would be Thursday, with the entire series in Minnesota under MLB's postseason format.
The Blue Jays finally got on the board when Kevin Kiermaier's two-out single drove in Bo Bichette in the sixth, but they left nine runners on base.
The Blue Jays carried their own October angst into this series, having not won a postseason game since the 2016 ALCS. They took two-game sweeps as wild cards in 2020 and 2022, and Bichette and Vladimir Guerrero Jr. — two franchise cornerstones and the celebrated sons of former major leaguers — have not yet won a postseason game.
Glove work
López and his four relievers got plenty of defensive help. Michael A. Taylor made a diving catch of a sharp line drive to center by Alejandro Kirk in the second and a leaping grab at the wall to take an extra-base hit away from a fuming Matt Chapman in the sixth. Max Kepler crashed against the same padding to catch Guerrero's long fly ball in the fourth.
The most vital play of all was later in that inning, when Kiermaier's two-out roller eluded third baseman Jorge Polanco as Bichette rounded for home with two outs. Carlos Correa backed him up from shortstop and threw a strike to the plate to get Bichette and end the inning.
Swing-and-miss
The Gausman-López matchup marked the first time that the top two strikeout pitchers during the regular season in one league faced each other in the playoffs since Justin Verlander and CC Sabathia in Game 1 of the Tigers-Yankees ALDS in 2011.
Up next
Blue Jays: RHP Jose Berrios (11-12, 3.65 ERA) will start Game 2 against the team he pitched 5½ seasons for until a trade to Toronto on July 30, 2021. He made postseason starts for the Twins in 2019 and 2020. "I love pitching in this ballpark because the dugout is so close, so I look like I throw 100," Berríos said.
Twins: RHP Sonny Gray (8-8, 2.79 ERA) will take the mound Wednesday for the first postseason start for the 11-year veteran since 2017 in Game 4 of the ALDS for the Yankees.
The Associated Press contributed to this report.
Buffs star Hunter likely to miss next two games
Colorado two-way star Travis Hunter will likely miss the team's next two games as he continues to recover from a lacerated liver, coach Deion Sanders said Tuesday.
"Let's say two or three [weeks]," said Sanders, when asked about Hunter's recovery. "It would be my dream and desire for him to stay out until after the bye week."
The Buffaloes (3-2, 0-2 Pac-12) play at Arizona State on Saturday and host Stanford next week before they will have a week off before traveling to UCLA on Oct. 28.
"Travis is doing well," Sanders said. "He was out of practice today coaching his butt off. He's one of the best coaches we have."
Hunter suffered the injury during Colorado's win against Colorado State on Sept. 16. With him unavailable, the Buffaloes have lost their past two games, to Oregon (42-6) and USC (48-41).
In 10 quarters prior to the injury, Hunter, whom Sanders has called the team's best player on both sides of the ball, had 16 receptions for 233 yards on offense and an interception, two pass breakups and nine tackles on defense.
Colorado was also without Sanders' son, safety Shilo Sanders, against USC on Saturday, but his return is expected to come sooner, the coach said.
Iowa QB McNamara (ACL) out rest of season
Iowa senior quarterback Cade McNamara will miss the remainder of the 2023 season with an ACL tear in his left knee, coach Kirk Ferentz announced Tuesday.
"It is not good," Ferentz said. "Not positive. I was suspicious of that the other night. He's got an ACL injury, so that's going to have to be repaired. He'll be out for the season, stay with the team, be supportive and continue to be a part of our team."
McNamara, who had been dealing with a quad injury since fall camp, left Saturday's 26-16 victory over Michigan State early in the first quarter.
He completed 3 of 5 passes for 46 yards before leaving. He couldn't put any weight on his leg, had to be helped off the field and was eventually replaced by sophomore Deacon Hill.
In relief of McNamara, Hill, who transferred from Wisconsin after last season, had 11-of-27 passing for 115 yards with a touchdown and an interception against the Spartans.
"Deacon stepped in and did a real nice job," Ferentz said. "Not a big surprise. We've seen great improvement with him the last eight weeks. But Cade's missed a lot of practice time, so that's helped [Hill] move forward a little bit."
McNamara, who led Michigan to the Big Ten title and the College Football Playoff in 2021, throwing for 2,576 yards and 15 touchdowns, came into the program amid high expectations after the Hawkeyes' offense struggled for much of the 2022 season.
In four-plus games this season, he had thrown for 505 yards with four touchdowns and three interceptions.
"It's just a really tough break — considering the last two years for him," Ferentz said. "He's had more of his share of obstacles and challenges from a health standpoint. Your heart goes out to guys when they're fighting hard to go out and have a chance to compete and don't have that opportunity due to health challenges. But the good news is he should be fine once the recovery is over. A tough deal for him."
Ferentz added that he believes McNamara's "intention" is to return to Iowa for his final year of eligibility in 2024 and said he hopes McNamara will be 100 percent healthy by June after having surgery next week.
Iowa's offense ranks second-to-last in the FBS in averaging 240.8 yards per game, and its 133.8 passing yards per game sits third worst in the country.
The Hawkeyes (4-1, 1-1 Big Ten West) host Purdue (2-3, 1-1 Big Ten West) on Saturday.