Britain's economy grew by 2.3% in April as the high street and hospitality sector reopened, official figures show.
That meant that GDP was a record 27.6% larger compared with the same month last year when the nation was in the grip of the first coronavirus lockdown.
Chancellor Rishi Sunak hailed it as a "promising sign that our economy is beginning to recover".
Live COVID updates from the UK and across the world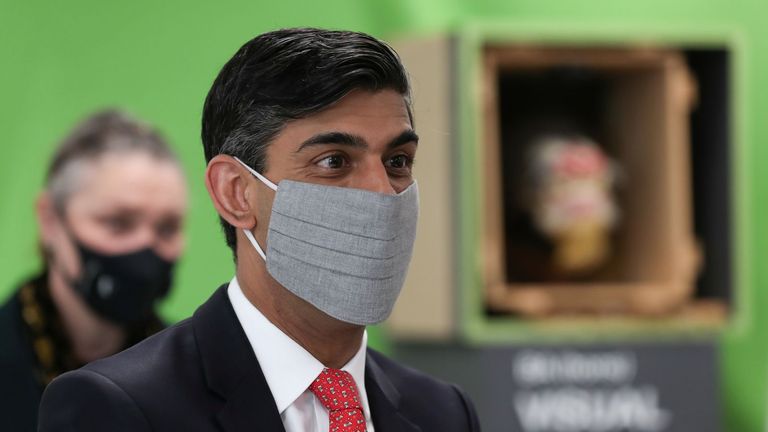 The data from the Office for National Statistics (ONS) covers a period when non-essential retail as well as outdoor drinking and dining were allowed to resume – on 12 April.
It followed a subdued start to the year when latest lockdown measures had sent the economy into reverse gear.
The ONS said that April's monthly growth was the fastest since July last year, when businesses were reopening after the initial period of coronavirus restrictions.
But it still left gross domestic product (GDP) 3.7% below its pre-pandemic peak of February 2020.
Jonathan Athow, ONS deputy national statistician for economic statistics, said GDP was boosted by strong growth in retail spending as well as schools – which had returned in March – being open for the full month, and the start of the reopening of the hospitality sector.
There was also an increase in car and caravan sales as well as negative one-off factors such as car plant shutdowns and oil field maintenance.
Pubs reopen doors in Stockton-on-Tees

Meanwhile, trade friction following the end of the Brexit transition period continued to have an impact.
"Exports of goods have now, broadly, recovered from the disruptions seen at the beginning of the year," Mr Athow said.
"However, imports of goods from the EU are still significantly down on 2020 levels."
Monthly imports from non-EU countries were the highest since records began in January 1997, the ONS said.
The chancellor said: "Today's figures are a promising sign that our economy is beginning to recover."
But he added that, while a million people had come off furlough across March and April, many workers still required continued support.
The COVID-19 pandemic resulted in GDP shrinking by nearly 10% in 2020, the biggest collapse in 300 years.
Forecasters predict that as Britain emerges from the crisis it will see a consumer-led bounce back with the fastest pace of growth since the Second World War.
'Thank goodness' for recovery – but longer term relatively weak, says BoE governor

But there are fears that a delay to the 21 June date for the end of lockdown measures could hold back the recovery.
UK GDP shrank by 1.5% in the first quarter though on a monthly basis the economy has been recovering ever since a 2.5% contraction in January, posting growth of 0.7% in February and 2.1% in March.
April's growth figure was broadly in line with economists' expectations.
Thomas Pugh, UK economist at Capital Economics, said: "The jump in GDP in April was another sign that consumers are raring to spend as the economy reopens.
"GDP is on track to return to its February level before the end of the year.
"If anything, the economy could regain its pre-crisis level even sooner."
Members of scandal hit-CBI begin confidence vote on lobby group's future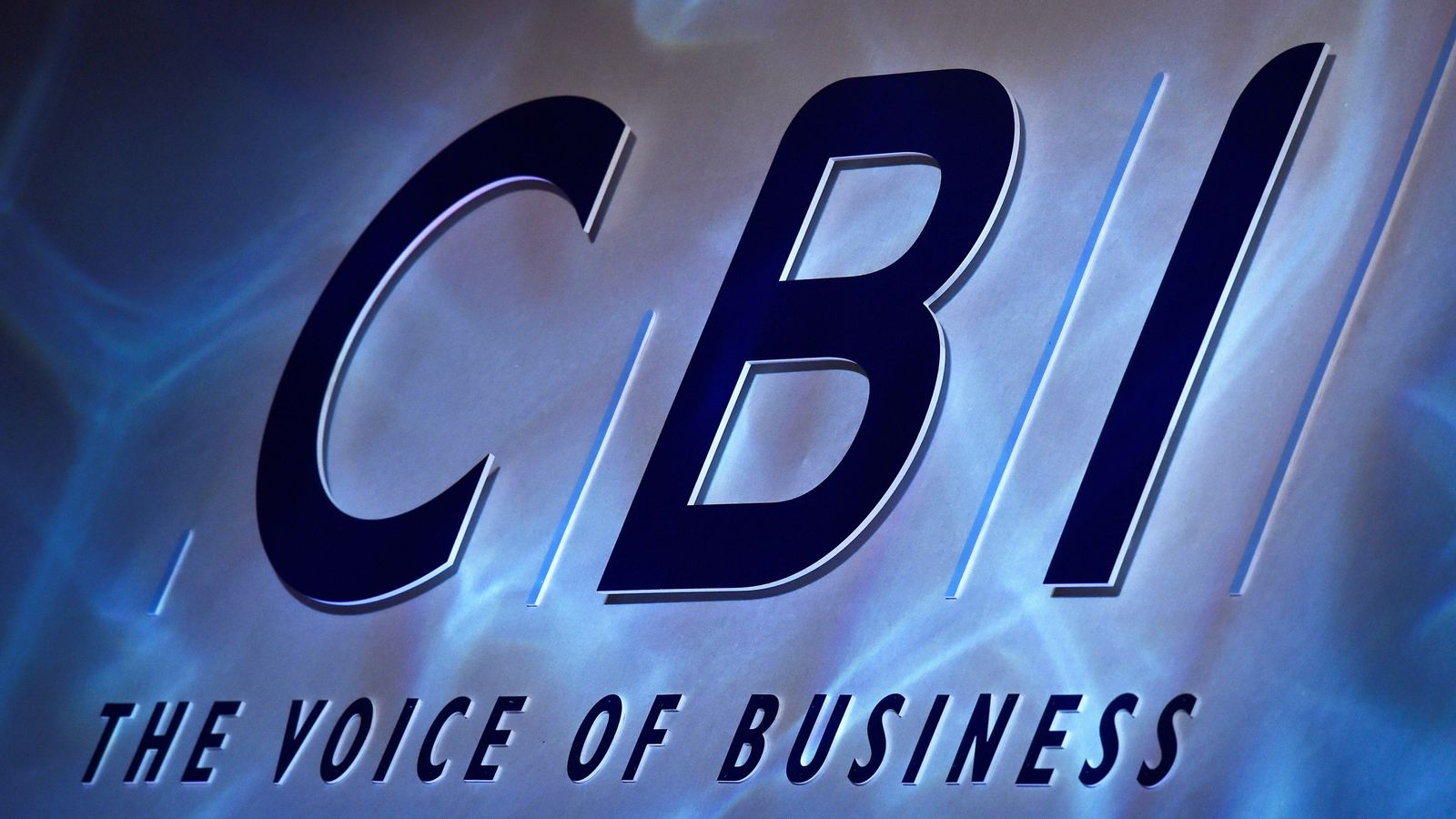 CBI members are to begin voting today on the future of the business lobby group, following a series of scandals.
The organisation was plunged into disarray after claims of serious sexual assault were made by CBI employees against colleagues.
Today it will launch what it describes as an "ambitious 'programme of change'", with adjustments to its governance, culture, people processes, and refinement of its core purpose.
More than 1,000 business leaders were asked for their thoughts on the organisation's future in surveys, focus groups, and listening sessions across the UK.
The results of the confidence vote will be revealed at an extraordinary general meeting (EGM) on 6 June.
Rain Newton-Smith, CBI director general, said "radical and rapid changes" were being made, with the organisation "well on the road to recovery".
She added: "Our society faces serious challenges from a cost of living crisis to climate change, with an urgent need to create truly sustainable growth across regions and nations of the UK, as well as on the global stage.
"We need a strong voice of business, backed by a depth of economic analysis and insights from across the whole economy and entire country.
"A renewed CBI can once again have a voice on the serious economic challenges the UK faces, with a general election approaching at pace.
"The CBI has a unique role.
"We will work in collaboration and partnership with our members on these shared challenges, which is why this programme of change is so important. There is not a moment to lose."
Sky News revealed earlier this month that the CBI had drafted in Principia, a business ethics consultancy, to aid a review of its culture.
This week, Sky's City editor Mark Kleinman reported that the CBI's board had drafted in lawyers to prepare for a prospective insolvency filing.
In April, the UK's biggest business group suspended most of its activities pending the outcome of a review by law firm Fox Williams – Ms Newton-Smith said on Wednesday that the recommendations from this review have all been "either completed or (are) in progress".
Listen and subscribe to the Ian King Business Podcast here
But some members decided the damage was already done, and suspended or ended their membership. Among those companies to quit were the Association of British Insurers, BMW Group, Aviva, and the British Beer & Pub Association.
It was all sparked by allegations made by at least a dozen female CBI employees against some of their male colleagues, which included claims of rape, stalking and harassment.
A number of the allegations are being investigated by the City of London Police.
Longer lorries allowed on Britain's roads despite fears over risks to pedestrians and cyclists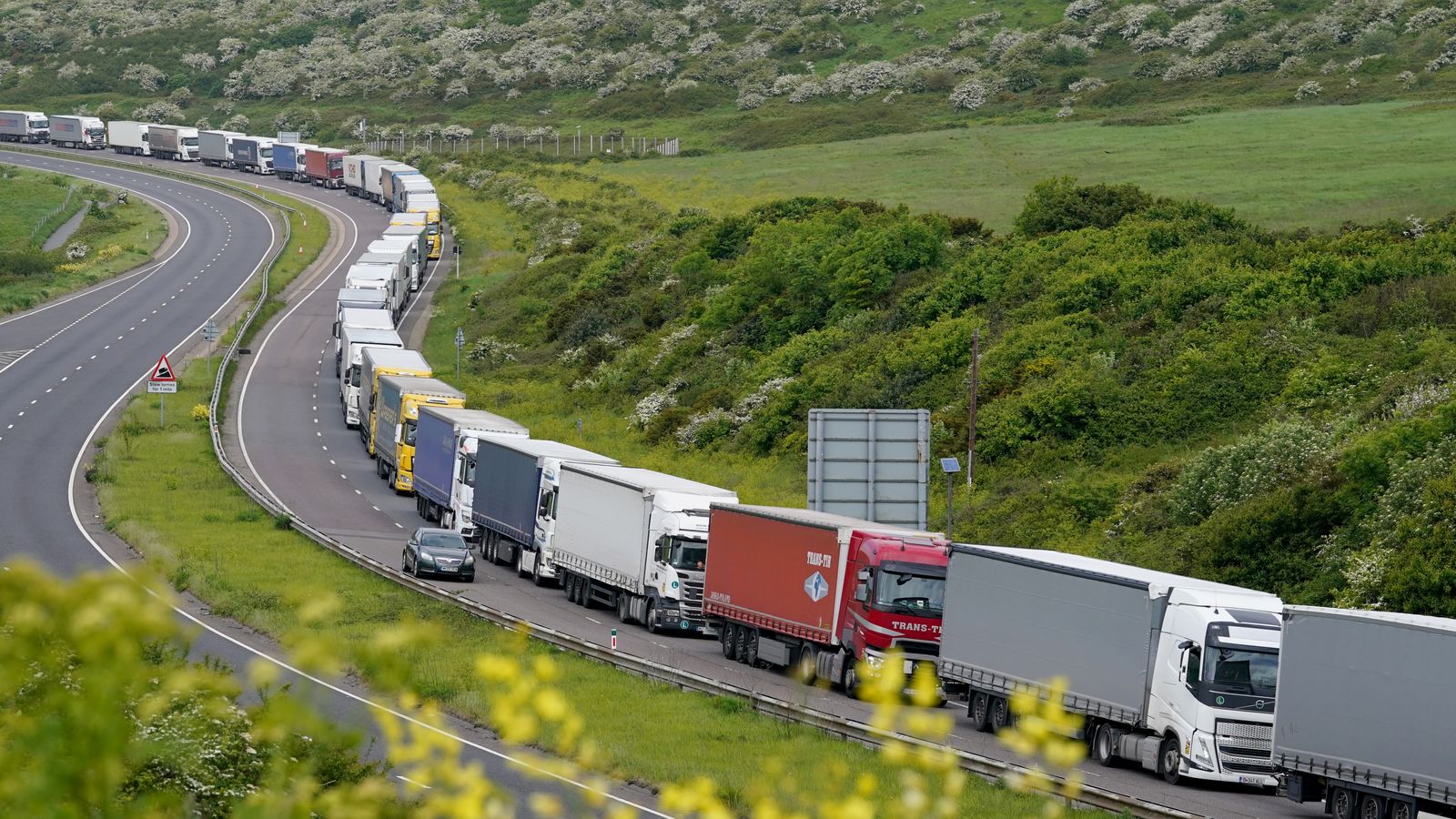 Longer lorries are now allowed on Britain's roads to enable more goods to be carried on fewer journeys.
This is despite fears about the risks for pedestrians and cyclists as the vehicles have a larger tail swing – meaning their rear end covers a greater area when turning – and extended blind spots.
Lorry trailers up to 61ft (18.55m) long – some 6ft 9in (2.05m) longer than the standard size – are allowed to be used from 31 May.
The DfT has previously said the new lorries will be able to move the same volume of goods as current trailers in 8% fewer journeys.
Read more:
New laws to allow longer lorries on UK roads 'could cost lives' of pedestrians and cyclists
The policy is expected to generate £1.4n in economic benefits and take one standard-size trailer off the road for every 12 trips.
An 11-year trial of longer lorries has demonstrated they are safe for use on public roads, according to the DfT.
The study found they were involved in "around 61% fewer personal injury collisions than conventional lorries", the department said.
A Government-commissioned report published in July 2021 revealed that 58 people were injured in incidents involving longer lorries between 2012 and 2020.
Roads minister Richard Holden said: "A strong, resilient supply chain is key to the Government's efforts to grow the economy.
"That's why we're introducing longer semi-trailers to carry more goods in fewer journeys and ensure our shops, supermarkets and hospitals are always well stocked."
Read more:
Road deaths rise to more than 1,500
Lorry left hanging off bridge after M1 crash
However, some organisations are concerned at the move – including Cycling UK.
Its campaigns manager Keir Gallagher said at the time of the government's decision: "At a time when funding for infrastructure to keep people cycling and walking safer has been cut, it's alarming that longer and more hazardous lorries could now be allowed to share the road with people cycling and walking.
"Before opening the floodgates to longer lorries rolling into our busy town centres and narrow rural lanes, further testing in real life scenarios should have been done to assess and address the risks."
Rail strikes to cause more disruption with walkouts affecting FA Cup final and Epsom Derby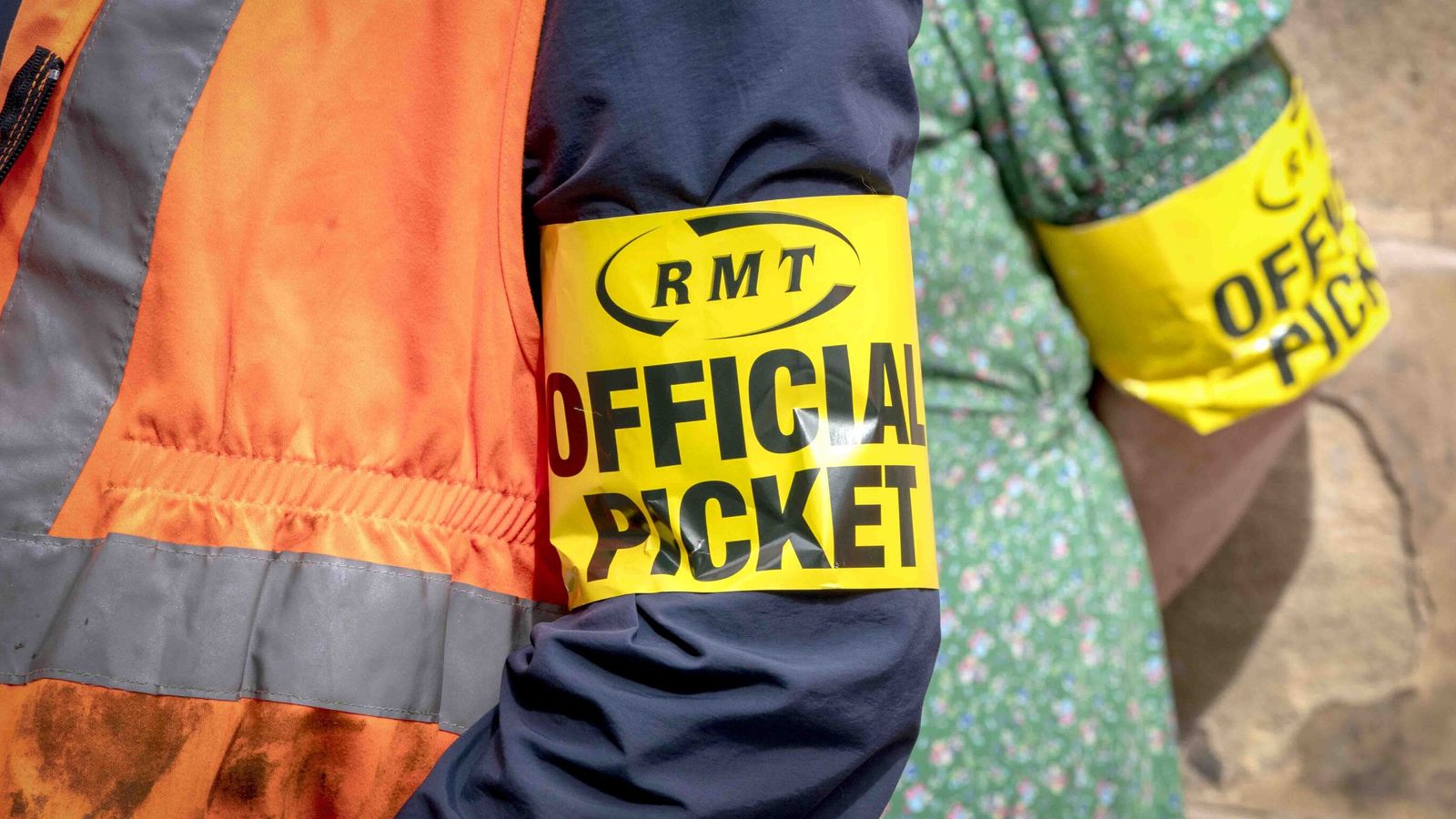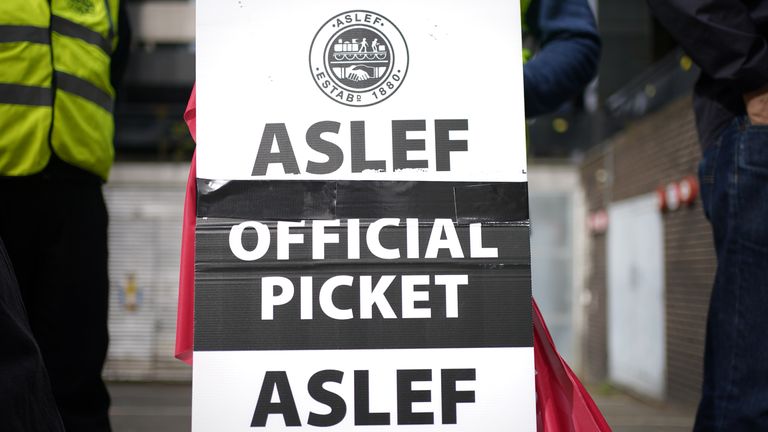 Rail passengers are set to suffer fresh travel disruption over the next few days due to more strikes in long-running disputes over pay, jobs and conditions.
Train companies are warning that services will be "severely reduced" because of industrial action by drivers and other workers.
Members of the drivers' union Aslef will walk out on Wednesday and 3 June, while the Rail, Maritime and Transport union (RMT) has called a strike on 2 June.
Passengers are being advised to plan ahead and check the times of first and last trains.
Read more on train strikes:
Which services will be affected by industrial action this week?
Mick Whelan, general secretary of Aslef, told the PA news agency there was "no waning in enthusiasm" from train drivers to continue taking industrial action.
He said: "We are determined to get a resolution and remain in this for the long haul.
"It is time for the government to step back from interference which is preventing a deal – drivers, in line with other workers, deserve a pay rise after four years without one and inflation running over the last 12 months north of 10%."
The strikes will affect 15 train companies, with services due to start later and finish much earlier than usual – typically between 7.30am and 6.30pm.
On the RMT strike day, around half of the network will shut down, with around 50% of normal services running.
On Aslef strike days, around 40% of trains will be running but there will be wide regional variations, with some operators running no services at all.
It is likely that evening services on some lines will be affected on the days before each strike and the mornings following strikes.
Aslef will also start an overtime ban at 15 train operating companies on 1 June that could cause disruption, especially in and out of London.
The industrial action will affect football fans travelling to London for the FA Cup final between Manchester City and Manchester United on Saturday at Wembley Stadium.
Fans wishing to travel to the game by train from Manchester have been advised not to attempt to do so on the day.
There will be a limited service on Friday due to the RMT industrial action.
A Rail Delivery Group (RDG) spokesperson said: "The upcoming rail strikes called by the Aslef and RMT leadership will not only affect our passengers' daily commute but will also impact those travelling to and from the FA Cup final and other events across the country, causing disappointment and frustration for tens of thousands of people.
"It will also inconvenience families who have been looking forward and have planned their half-term holidays. It will also further burden our people who have already lost thousands of pounds at a time of financial strain."
Train strikes cause travel misery

Read more:
Number of days lost to strike action in 2022 highest since 1989
The unions say they have not been given a pay offer it can recommend to their members and support for industrial action remains strong among workers as well as the public.
Aslef says train drivers have not had a pay rise for four years.
Both unions claim the government is preventing the train companies making an acceptable offer, which ministers deny.
A Department for Transport spokesperson said: "The government has facilitated a fair and reasonable pay offer, now union leaders must do the right thing and put this to their members."