A summit between Boris Johnson and Vladimir Putin might be possible if Russia's president ceases "malign activity" against the UK and its allies, the defence secretary has signalled.
Ben Wallace said it was important to offer a "path out, a path to improvement" and called a landmark meeting between Mr Putin and US President Joe Biden this week a "really welcome start".
But the senior minister told Sky News that Western powers would judge Moscow on what it does next before any warming of ties, which have been brought to a post-Cold War low by Russia's annexation of Crimea in 2014 and the Salisbury spy poisonings.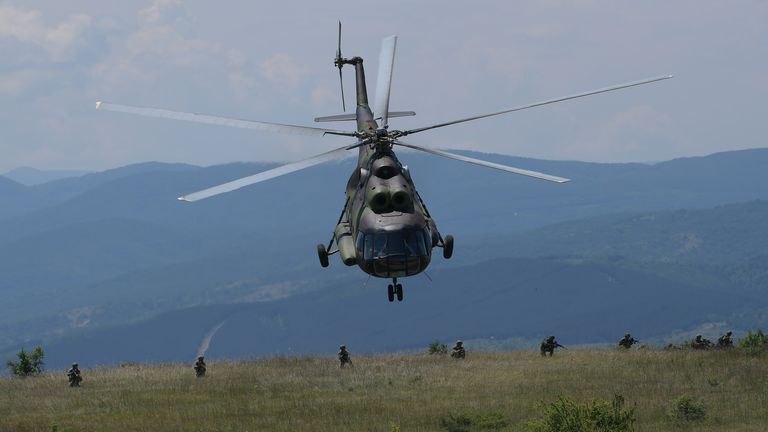 Asked if he thought the Kremlin might want relations with the UK to improve, the defence secretary said: "I hope so. But we will judge them on their actions. Diplomacy is only valuable if the actions that follow actually make a difference."
He said he remained concerned about an incident last month when the Russia-backed regime of Belarus forced a civilian airliner to land and seized a journalist on board.
Mr Wallace, who spoke on a two-day trip to Serbia this week, the first by a British defence secretary, also pointed to the poisoning of Russian opposition leader Alexei Navalny.
"We, unfortunately, still see malign activity. But I think we will judge President Putin by his actions," he said.
As to whether there was a chance of a UK-Russia summit, Mr Wallace indicated it was a possibility if the Russian president showed some positive signs of change.
"Boris Johnson is clearly open to meet anyone where there is an important step to be made and stepping towards normalising relations with Russia will obviously and hopefully come, but it comes following certain actions," he said.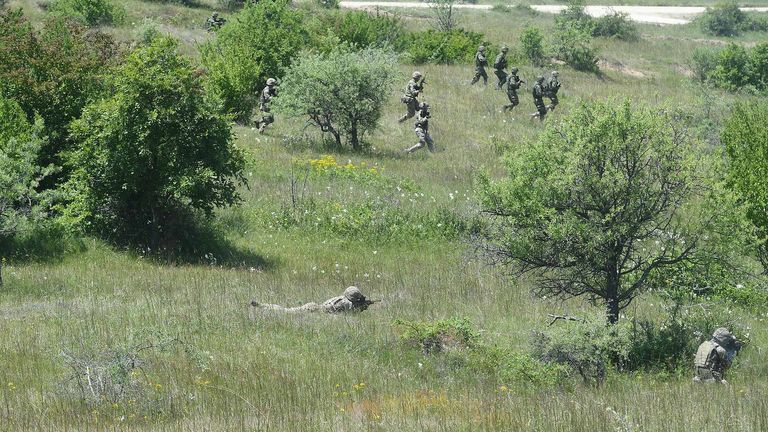 "Crimea is still illegally occupied in Ukraine and there are still things to resolve."
Pressed again on whether he hoped such a summit could possibly happen, the defence secretary said: "I don't want a permanent friction between Russia and the West. That is not in anybody's interest.
"It is not in the interests of the Russian people, it's not in the interests of the economy of Russia, it's not in the interests of my population and constituents either.
PM on 'disappointing' Russia relationship

"Listen, no one wants conflict. No one wants friction but that is not cost-free, you have to lift that based on behaviours."
He said the Kremlin must recognise and respect "other people's sovereignty and the international rule of law" before any improvement in relations, such as a lifting of sanctions, could happen.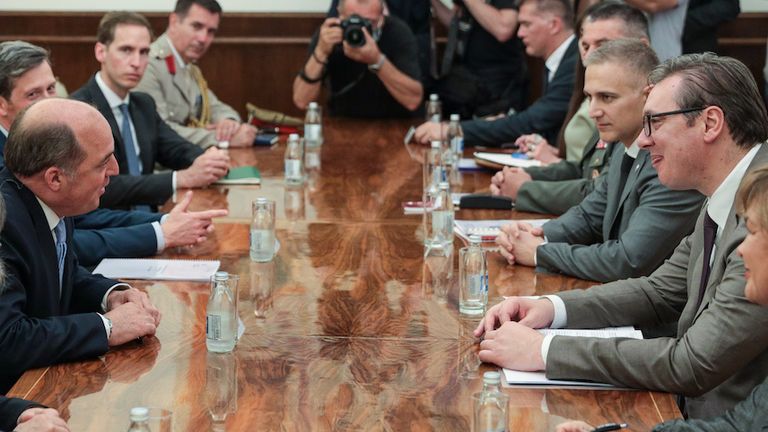 "But we've always got to offer people a path out, a path to improvement and I think that bilateral between President Biden and President Putin is a really welcome start," Mr Wallace added, referring to the summit in Geneva on Wednesday.
He was speaking on the sidelines of a multinational military exercise at a base in the south of Serbia, about six miles from the border with Kosovo.
Troops, equipped with armoured vehicles, a helicopter and a small drone, practised how to respond to a terrorist attack on a convoy and deal with rioting civilians, as Mr Wallace, Serbian defence minister Nebojsa Stefanovic and other officials watched from a stand.
'Mr Putin, are you a killer?'

With 70 British soldiers involved, the UK was the largest foreign contributor to the exercise – dubbed "Platinum Wolf" – which takes place across two weeks and, as well as Serbian forces, includes troops from eight other nations, such as France and the United States.
The visit by Mr Wallace is evidence of the UK's desire to strengthen ties with a country it once bombed as part of a NATO mission during the Kosovo War more than 20 years ago, but which it previously fought alongside during both world wars.
"The Balkans matter for the security of Europe," Mr Wallace said. "It's always mattered. That is why 80 years ago we were standing on hills together side by side pushing back the Nazis. That importance, that geographic importance, that strategic importance still matters today."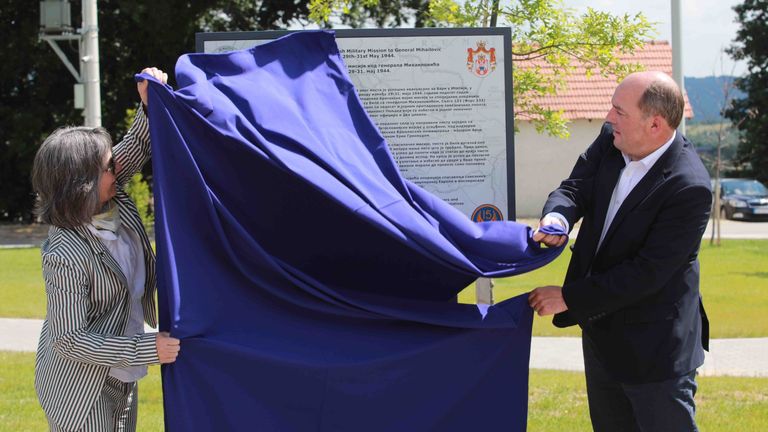 Underlining the challenges in this region, at the same time as British troops train with the Serbian military, forces from Serbia are conducting an exercise with their Russian and Belarussian counterparts in Russia.
Asked whose forces Serbia liked training with more – British or Russian – the Serbian defence minister told Sky News: "We are militarily neutral, so we don't have to prefer to train with either, we can choose both and that's our advantage.
He added: "We get the best from East and West in training capabilities, in learning about the tactics… As a militarily neutral country we want to work with everyone in order to get our army as professional as possible."
Somalia truck bombing kills 15 people and wounds 40 others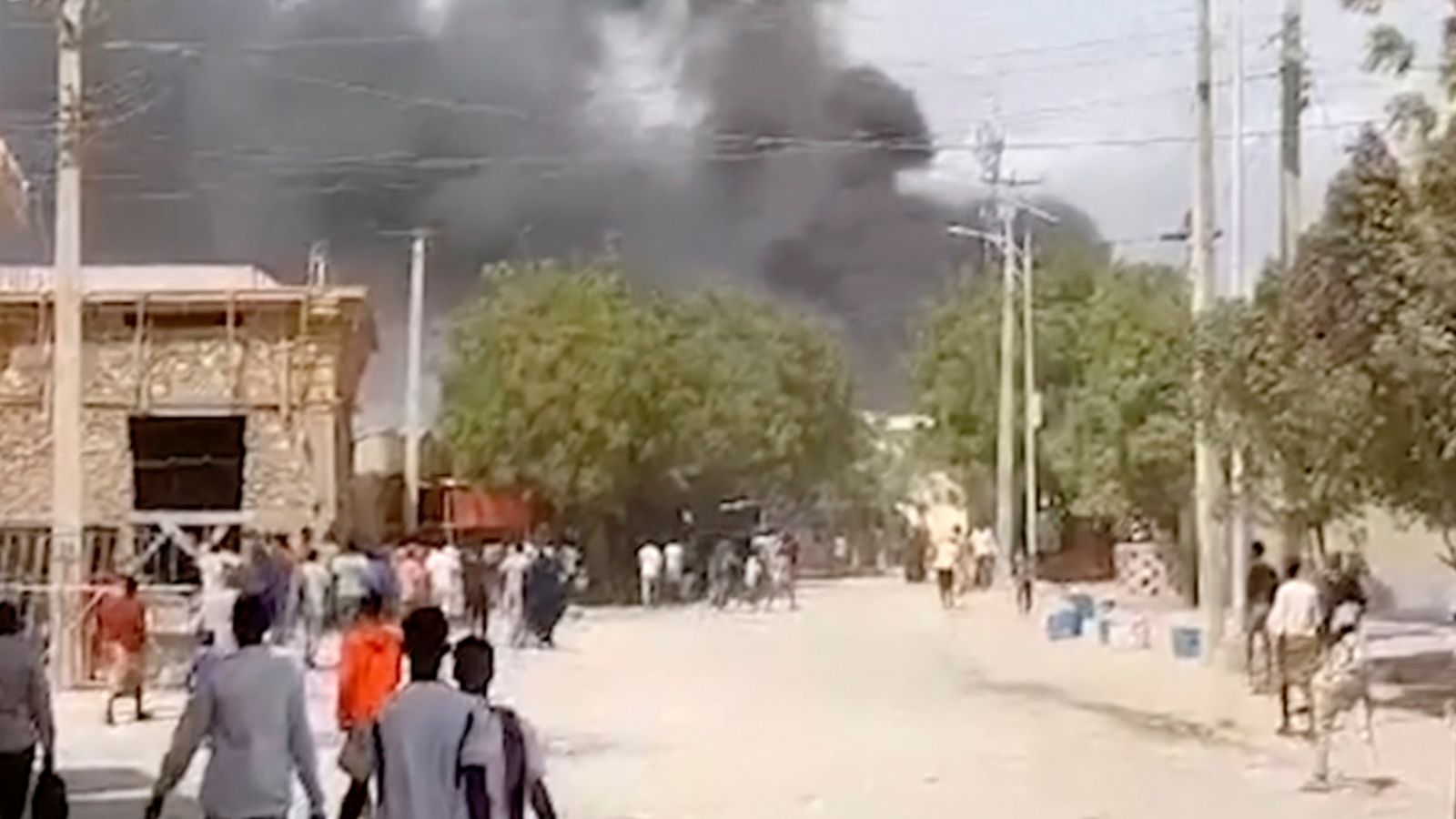 A bombing at a checkpoint in Somalia has killed at least 15 people and wounded 40 others, authorities have said.
Images on social media showed a damaged truck cab on fire and black smoke billowing from the scene in the central city of Beledweyne.
No one has immediately claimed responsibility, including Al Shabaab, which often carries out attacks and controls parts of Somalia.
Police officer Ahmed Aden said the dead included five police officers who fired on the truck in a failed attempt to stop it from ramming into the nearby checkpoint.
Shops nearby were reduced to rubble, with reports of people missing beneath the debris.
It was a truck loaded with explosive devices that forcefully passed through the government-manned checkpoint, and a pick-up vehicle belonging to security personnel was chasing it when it exploded," said witness Abdikadir Arba, who said he was about 200 metres away and was one of the first responders.
Abdifatah Mohamed Yusuf, director-general of the Hirshabelle Ministry of Humanitarian and Disaster Management, confirmed the deaths.
"Twenty of the wounded have been admitted to Beledweyne hospitals, while another 20 are in critical condition, prompting a request for their airlift to Mogadishu for advanced medical treatment," he said.
Read more on Sky News:
Somalia is fighting a battle on all fronts
At least 20 killed in hotel attack
Locust swarms risk food crisis
Hirshabelle is a state that includes Beledweyne. It has been the centre of the Somali government's latest military offensive against extremists from Al Shabaab.
Click to subscribe to the Sky News Daily wherever you get your podcasts
Al Shabaab has been battling Somalia's central government for more than a decade, aiming to establish its rule based on strict interpretation of Islamic sharia law.
Fugitive on run for more than 30 years laughs as he's finally caught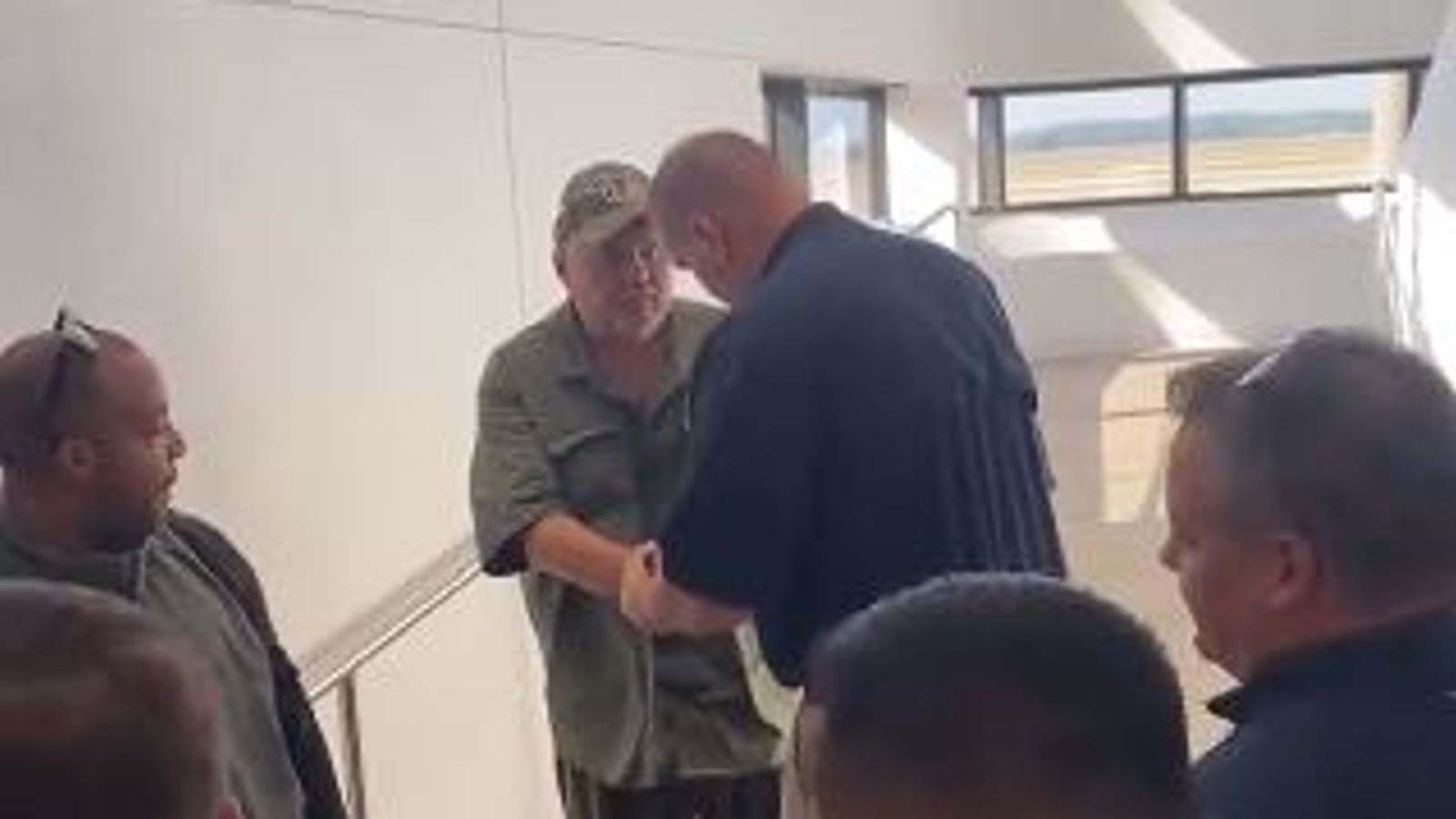 A fugitive convicted of attempted murder who evaded police for more than 30 years has been caught.
Greg Lawson, who had been on the run for 32 years, laughed and asked officers "how are you doing?" as he was handcuffed in Huatulco, Mexico.
Lawson, 63, fled Louisiana, in the US, just before a jury found him guilty of shooting a man called Seth Garlington in 1991 – sparking an FBI manhunt in May that year.
In a video shared by FBI News Orelans on X, formerly known as Twitter, Lawson is seen wearing a short-sleeve shirt and camouflage cap.
With police officers in escort, he patted someone on the shoulder while laughing, before another officer turned to handcuff him.
Douglas Williams Jr, the agent in charge of FBI New Orleans, said the capture would not have been possible without the help of authorities in Mexico.
"We want to thank our partners and the public in this case, who never gave up hope that justice could be served for Mr Lawson's victim," he said.
"There is no doubt that Mr Lawson might still be in the wind if our partners in Mexico had not been willing to deal with this so swiftly."
The FBI said they had always suspected Lawson was hiding out in Mexico, but a "tip" they received earlier this month appeared to confirm their theory.
Read more:
Murderer who escaped prison by 'crab-walking' up wall caught
Man fleeing Venezuela faces goodbye to pet squirrel after 3,000-mile journey
He was arrested on Tuesday, 19 September, and was taken into custody back in Louisiana.
According to a local Louisiana news channel, KTBS, Lawson had a "fistfight" with Mr Garlington in a car park at a petrol station.
Court documents, they added, claim Lawson forced Mr Garlington's vehicle off the motorway, with Lawson then firing shots.
When the jury came back from deliberation to confirm the guilty verdict, Lawson had already run away.
The FBI had offered a $10,000 (£8,200) reward for his capture.
Sweden: Chunk of motorway collapses in landslide – leaving three in hospital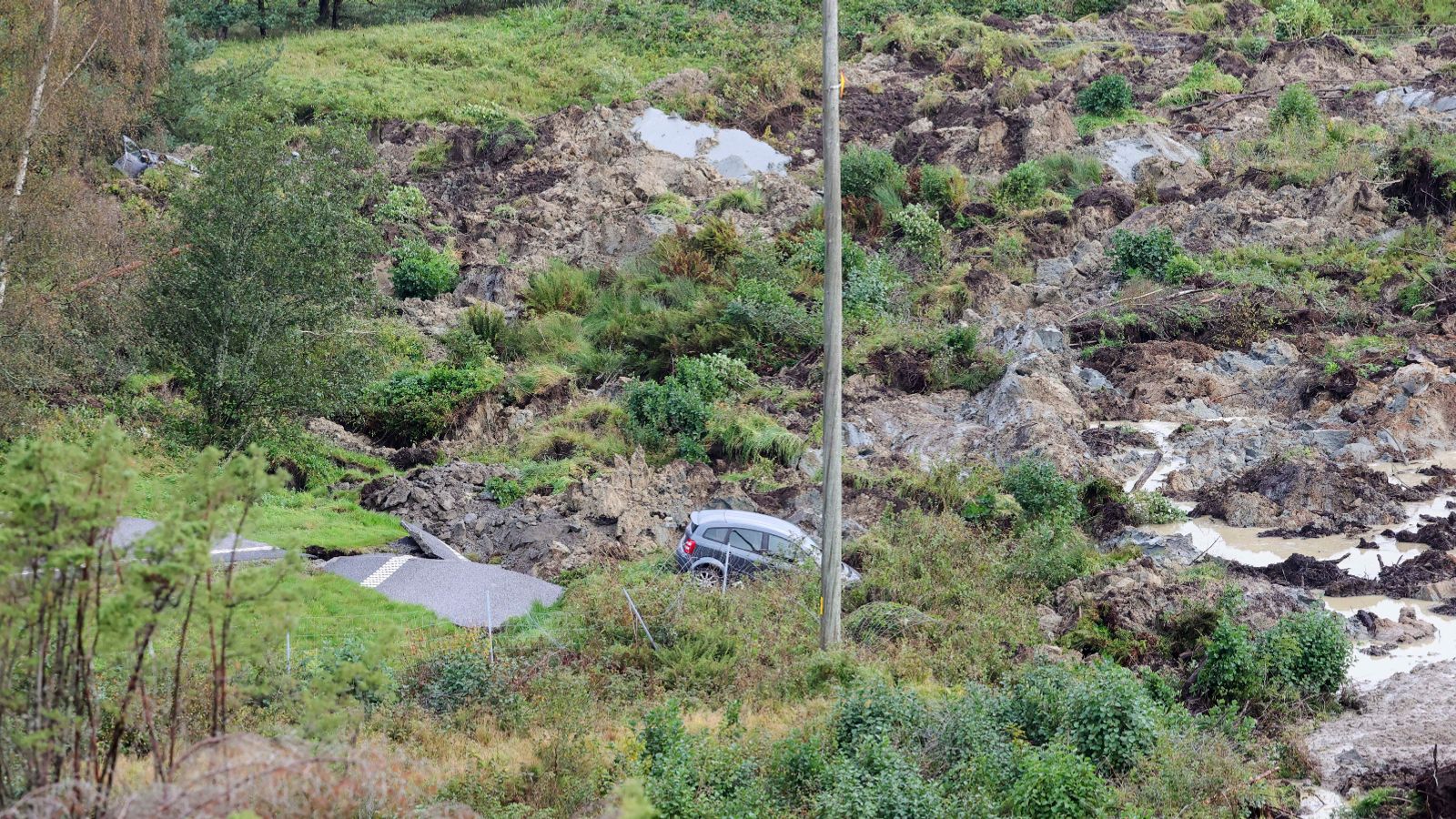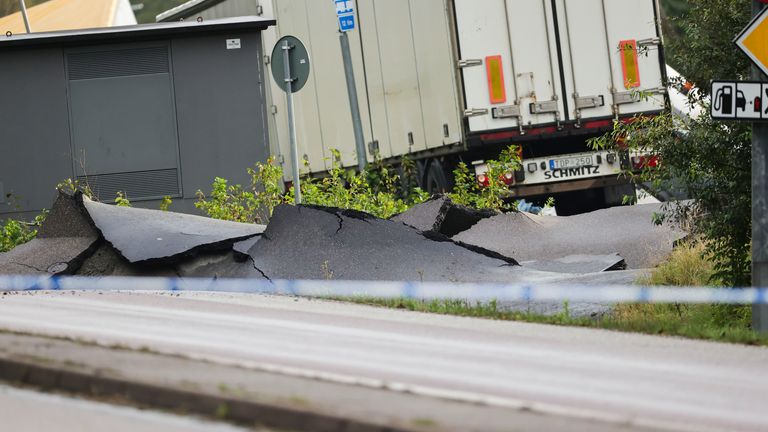 Three people have been taken to hospital after a large chunk of a motorway in Sweden collapsed in a landslide early on Saturday morning.
Police said at least four cars and a bus skidded off the E6 motorway – connecting Gothenburg in Sweden to Norway's capital Oslo – near the small town of Stenungsund.
Several buildings were also damaged, including a Burger King restaurant.
The landslide has affected a total area of around 700 x 200 metres, which is roughly equivalent of 21 football pitches.
"The hardest hit parts of the landslide area measure around 150 x 100 metres," the Gothenburg Rescue Services added in a statement.
"A number of people have been helped out of vehicles in the slide area with the help of fire personnel and a helicopter."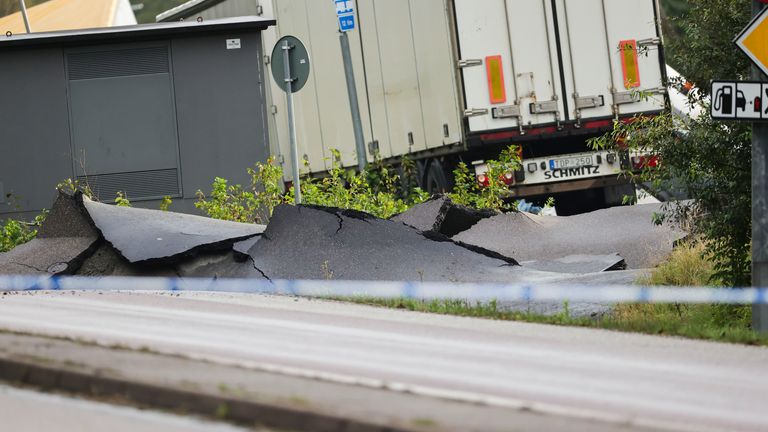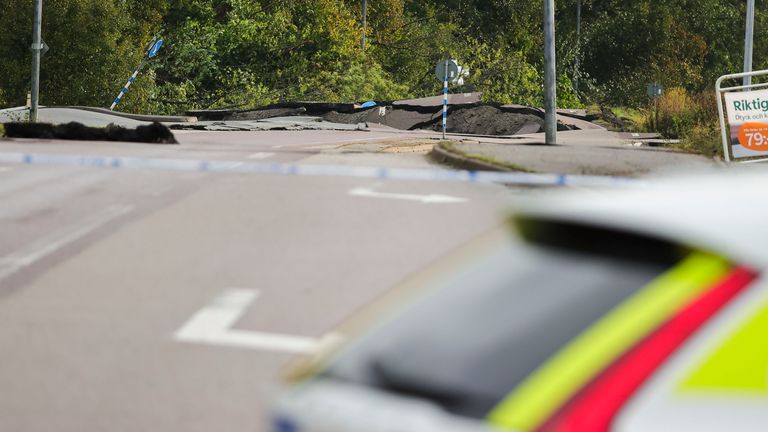 Rescue services say further landslides cannot be ruled out.
Police say nobody is suspected of a crime, but an investigation has been launched into whether a construction site nearby caused the landslide.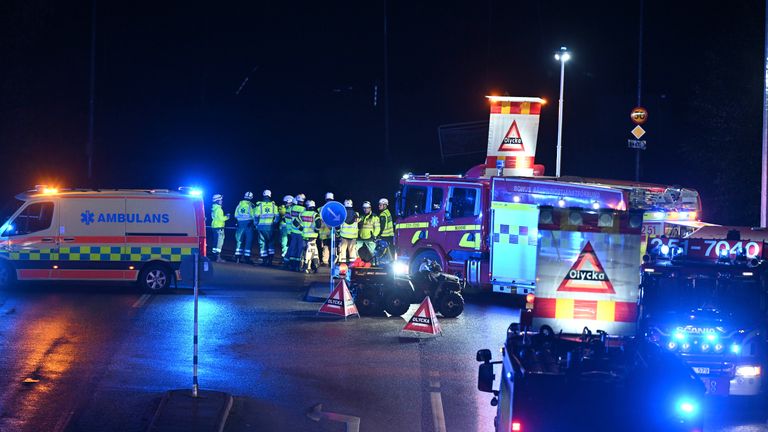 There has also been heavy rainfall in the area over the past few days.
Swedish news agency TT reported several cars and one truck had fallen into cracks caused by the landslide, while rescue services told public broadcaster SVT all people have been helped out.
Specially trained dogs were on the scene to ensure no people had been overlooked among the debris.