As well as the football being played, you may have noticed that Euro 2020 is also host to a secondary, but nonetheless entertaining tactical contest in the media room.
It began a few days ago when Cristiano Ronaldo took umbrage at sharing his news conference with two bottles of Coca-Cola. The Portugal captain removed the soft drinks from the desk in front of him and replaced them with a bottle of water.
He may have publicly slighted one of Euro 2020's main corporate sponsors, but Ronaldo's act of defiance soon inspired a group of copycats.
France's Paul Pogba upset another tournament benefactor by removing a bottle of Heineken that had been placed in front of him.
Paul Pogba mirrors Cristiano Ronaldo's Coca-Cola snub by removing a Heineken bottle from his Euro 2020 press conference.
It's thought that the midfielder may have removed the bottle due to his Muslim faith, unaware that it was actually a non-alcoholic version of the beer.
Andriy Yarmolenko was next up, with the Ukraine winger swapping bottles around while cheekily attempting to forge a few new sponsorship deals of his own.
On the back of his two-goal heroics against Switzerland the previous day, Italy midfielder Manuel Locatelli took a leaf directly out of Ronaldo's book by exchanging Cokes for mineral water. Even Russia's head coach Stanislav Cherchesov had a little fun during his media conference by helping himself to a complimentary swig of Coke.
The ongoing "bottle battle" at Euro 2020 hasn't done Coca-Cola many favours either, with a dramatic $4 billion fall in share price ensuing in the aftermath of Ronaldo's high-profile snub.
It's certainly not the first time a partnership deal has backfired, with football witnessing more than its fair share of corporate hiccups over the years. Here's a few:
1. Chevrolet's Man United and Liverpool mashup
Chevrolet made a hash of things in 2013 when they attempted to bring fans of Manchester United and Liverpool together in the name of brand unity.
The company had multi-million pound deals with both clubs at the time and thus created an advert that spliced together players from either side of the divide, all reciting a message about how special their respective teams are.
As you might expect, the advert was immediately denounced by both sets of rival fans, with Chevy forced to beat a rather hasty retreat to the drawing board.
2. The wrong Wonga logo for Newcastle
Newcastle's new 2015/16 kit has a massive error on it http://t.co/htAKZsbhSo pic.twitter.com/wooL0v9TZB

— Indy Football (@IndyFootball) May 20, 2015
Newcastle United made a similar mess of their kit launch in 2015 when they somehow managed to unveil their latest shirt with the wrong brand logo on the front.
The problem stemmed from the fact that sponsors Wonga had rebranded mere hours before the kit was launched, leaving Newcastle with a shirt that was out-of-date right from the off.
3. Dulux paint Tottenham in a bad light
Tottenham were at their Spursy best when they broke news of a major new commercial development toward the tail end of the 2020-21 season.
Spurs revealed Dulux had become their official paint supplier only for the company to kick off their new partnership by openly mocking them on Twitter.
It's the perfect match – Dulux has become the first ever Official Paint Supplier to football giant Tottenham Hotspur!

To kick things off the Dulux Dog took a tour of the stadium to inspect the decorating work that's underway…#Dulux #THFC #COYS pic.twitter.com/qI6HbgZP2U

— Dulux UK | Colour & Inspiration (@duluxuk) April 15, 2021
First Dulux began by sharing a meme of Spurs' empty trophy room, then followed up by suggesting their famous dog mascot could do a better job in defense than any of the current back-four.
Less than an hour into Tottenham's partnership with Dulux and it's fair to assume they haven't let the social media team know about it. pic.twitter.com/VuEXnvkw1Y

— Nick Reilly (@NickJWReilly) April 15, 2021
Narrator: "In hindsight, Tottenham's decision to partner with Dulux was a rather serious misstep." pic.twitter.com/oDABsSEIHf

— HLTCO (@HLTCO) April 15, 2021
Unsurprisingly, a contrite apology followed soon thereafter as they tweeted: "We're deeply sorry for the posts from Dulux this morning in response to the announcement of our relationship with @SpursOfficial .These do not reflect how proud we are to be the Official paint Supplier of the Club. We're investigating what happened and apologise to all Spurs fans."
4. Ansu Fati can't drive yet
Barcelona starlet Ansu Fati made a stuttering start to his commercial endeavours after signing up to become an ambassador for Cupra, the Spanish motor company.
The deal saw Fati presented with his very own top-of-the-line sports car, with the only hitch being that the 18-year-old winger didn't have a driving license after injury issues prevented him from taking his test.
5. A 'Boiler Man' mascot
West Brom fans were faced with a stark reminder of their plight after starting the 2018-19 season in the Championship following their relegation from the top flight the previous campaign.
As if to really ram it home, the Baggies introduced their new mascot to fans before the first game of the season — a man dressed as a boiler, named "Boiler Man."
Colin the Combi (to give him his official name) received a vociferous reception at the Hawthorns, which was not very cordial.
6. Don't bet on Antonio
West Ham forward Michail Antonio bore the brunt when the club's shirt sponsors got ideas above their station back in 2016.
After losing against Chelsea, the Hammers' partners at Betway decided to criticise Antonio's performance, singling out the utility man as "an accident waiting to happen" on social media.
Betway formally apologised to Antonio after the game for their "inappropriate" comment but the tweet in question is still up on their official account.
7. Man United get tapped up
Manchester United command a vast, bulging portfolio of corporate affiliations all around the world, boasting everything from snack noodle partners to official club tractors.
Principal partner to @ManUtd, we celebrate the 20th anniversary of the team's historic Treble win with the Treble Collection. #KohlerUnited pic.twitter.com/AobwiiNL46

— Kohler United (@KohlerUnited) June 3, 2019
However, it was United's collaboration with Kohler that raised eyebrows in 2019 when the American plumbing supply company decided to pay homage on the anniversary of the 1999 treble in the only way they knew how.
As a historic mark of respect for one of United's greatest-ever triumphs, Kohler released a special set of taps, engraved with various references to that balmy night in Barcelona against Bayern Munich.
Sales must have been through the roof, or down the sink — as the case may be.
8. Delays on the line
Preston North End marked their progression to the 2014-15 League One playoff final at Wembley by allowing Virgin Trains to sponsor their shirts.
Preston fans face issues getting to Wembley by rail for the play-off final, despite being sponsored by Virgin Trains http://t.co/XTfsXbjh2M

— BBC Lancashire (@BBCLancashire) May 14, 2015
Sadly, due to planned maintenance work on the line, Virgin were not able to operate any trains from Preston to London ahead of the game. This left thousands of North End fans having to traipse to the national stadium by coach to watch what was ironically dubbed "The Replacement Bus Final" by those in attendance.
Preston ended up beating Swindon 4-0 on the day to seal promotion in style, so at least it wasn't a total wash-out.
9. Oh Lord…
When it comes to naming rights, one of the most amusing side effects of such a deal came at Burnley in 2015.
One of the stands at Turf Moor is named after the Clarets' greatest-ever chairman, Bob Lord — a revered character who oversaw the most successful period in the club's history, winning the First Division championship in 1960 and reaching the FA Cup final the year after.
The Totally Wicked Bob Lord Stand and the snow on the Pennines: pic.twitter.com/NcrY3kLDrY

— Richard Jolly (@RichJolly) January 17, 2015
However, a partnership with an unfortunately upbeat e-cigarette brand somewhat served to undermine the reverence with which Lord's name is spoken around the place.
Lord was many things, but "Totally Wicked" almost definitely isn't one of them.
10. Nicklas Bendtner's pants
Nicklas Bendtner wearing his Paddy Power lucky pants after scoring the equalising goal! #Euro2012 pic.twitter.com/X01UwVS5

— Paddy Power (@paddypower) June 13, 2012
Denmark striker Nicklas Bendtner revealed a pair of bookmaker-branded underpants when he scored in a 3-2 defeat to Portugal at Euro 2012.
Bendtner, who got both goals as Denmark came from 2-0 down to level the match before conceding a late winner, revealed branding from Irish bookmaker Paddy Power during celebrations of the equaliser.
UEFA didn't see the funny side and the 24-year-old Arsenal forward was banned for one match and fined €100,000.
"It is just a pair of lucky boxer shorts that I used in the first game as well and have used before the tournament," he said, possibly with tongue firmly in cheek. "I didn't know I was breaking any rules but I am aware of that now."
11. The wrong drink can cost you…
Euro 2020 players, beware. Coca-Cola has history here. Ronaldinho once forfeited a huge sponsorship deal with the brand after he conducted his introductory unveiling news conference at Atletico Mineiro in 2012 from behind two cans of rival drink Pepsi.
Coke pulled the plug on a deal worth around $750,000-a-year after watching Ronaldinho sip a Pepsi (who sponsored Mineiro) in front of the watching world.
Coca-Cola said in a statement: "Coca-Cola recognises the career and value of Ronaldinho. However due to recent developments it has become impossible to continue the partnership."
Marcelo Pontes, Coca-Cola marketing chief, told Brazilian newspaper O Estado de Sao Paulo: "The fact that the player has appeared with a can of Pepsi was the straw that broke the camel's back. The sponsorship had become embarrassing."
Buckeyes great Laurinaitis joins Ohio State staff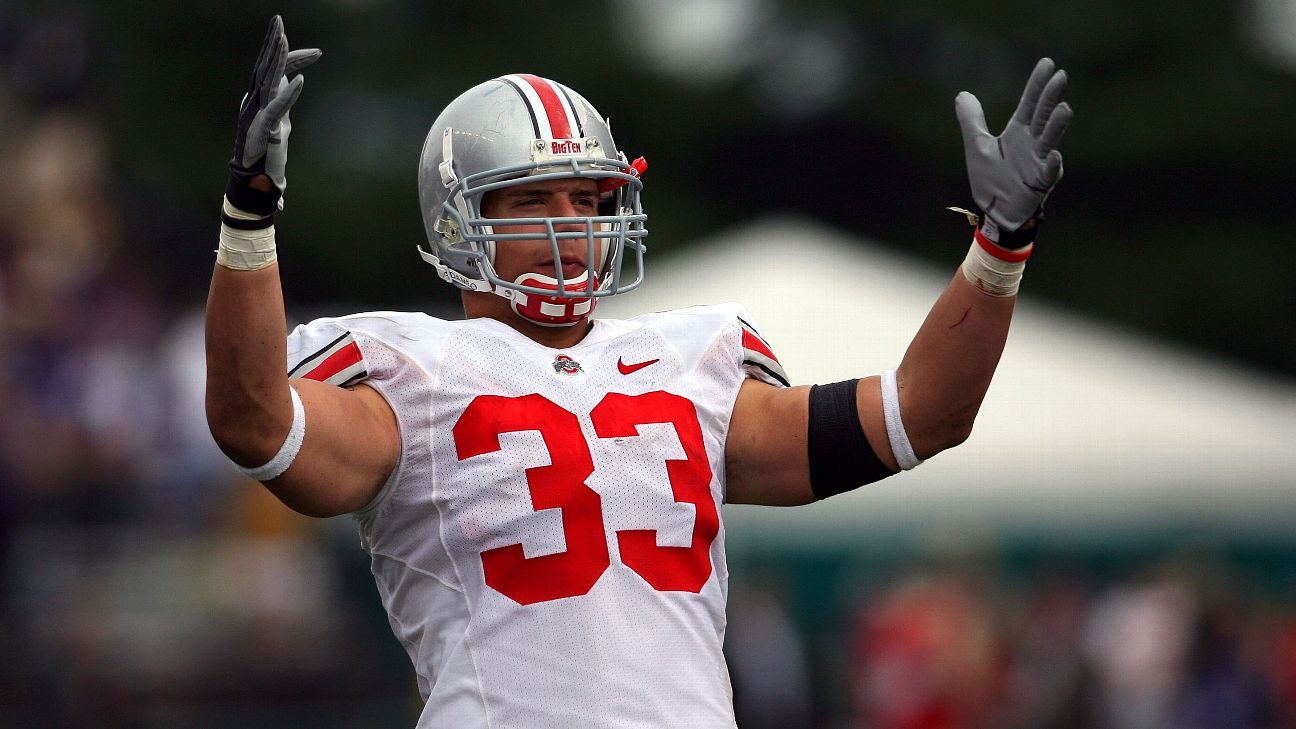 Ohio State is adding James Laurinaitis, one of the most decorated defensive players in program history, to its coaching staff as a defensive graduate assistant for the 2023 college football season.
Laurinaitis, a former Buckeyes linebacker, is one of only eight players in team history to earn All-America honors three times. A two-time captain, he won the Bronko Nagurski Award as the nation's top defensive player and the Butkus Award as the top linebacker in college football. Laurinaitis spent the 2022 season as a graduate assistant at Notre Dame, working under his former Ohio State teammate Marcus Freeman.
The 36-year-old will work primarily with Ohio State's linebackers. He twice earned Big Ten Defensive Player of the Year honors and was a second-round pick in the 2009 NFL draft. Laurinaitis became the then-St. Louis Rams' all-time leading tackler with 852 stops in seven years. He retired from the NFL after the 2016 season with New Orleans.
"I am thrilled for our program and especially for our current and future Buckeyes who will benefit so much from having James on staff," coach Ryan Day said in a statement. "James is a terrific young man with wisdom as a Buckeye and experience as an eight-year NFL veteran. He is going to be a very important part of our program going forward."
Laurinaitis played at Ohio State alongside Brian Hartline, whom Day recently promoted to offensive coordinator
Spartans making deals in fracas vs. Wolverines
ANN ARBOR, Mich. — At least four more Michigan State football players facing misdemeanor charges for a skirmish inside the Michigan Stadium tunnel will likely have their cases dismissed in exchange for community service and other conditions, lawyers said Friday.
"It's going to happen outside of court," said Max Manoogian, an attorney for Angelo Grose. "There is going to be no criminal responsibility whatsoever. There are no admissions being made, no pleas being tendered."
Scuffles broke out in the tunnel after Michigan defeated Michigan State 29-7 on Oct. 29. Video showed Michigan State players pushing, punching and kicking Michigan's Ja'Den McBurrows.
Seven players were charged, though only one, Khary Crump, faced a felony. That charge was dropped in early January in exchange for a guilty plea to a misdemeanor. His record will be scrubbed clean if he stays out of trouble while on probation.
Grose, Itayvion Brown, Brandon Wright and Justin White returned to court Friday and agreed to sign up for a special program, MLive.com reported.
"Participants work with a case manager to create and successfully complete a plan for accountability. Upon completion of that plan, charges are dismissed," said Victoria Burton-Harris, chief assistant prosecutor in Washtenaw County.
Manoogian predicted charges would be dismissed in six months.
"They're going to do some good work in the community, do a little bit of philanthropic work, jump through a couple of hoops and the prosecutor's going to dismiss the case on their own," he said.
NHL Power Rankings: Projecting playoff chances for all 32 teams

The 2023 NHL All-Star Game is on tap next weekend, and once the break is over, the volume of trades should really start heating up as teams fall into the "playoff contender" and "there's always next year" cohorts.
As of this point, there are no teams that have clinched a playoff spot, and no team is mathematically eliminated either. So let's take a look at each team's current playoff chances (per FiveThirtyEight), and identify what could go right or wrong to reverse that trend.
How we rank: A panel of ESPN hockey commentators, analysts, reporters and editors rates teams against one another — taking into account game results, injuries and upcoming schedule — and those results are tabulated to produce the list featured here.
Note: Previous ranking for each team refers to the most recent edition, published Jan. 20. Points percentages are through Thursday's games.

Previous ranking: 1
Points percentage: 83.33%
Next seven days: @ FLA (Jan. 28), @ CAR (Jan. 29), @ TOR (Feb. 1)
Playoff chances: >99%. Boston should be offended their odds aren't an even 100%. The Bruins are a postseason lock, and then some.
Previous ranking: 2
Points percentage: 72.34%
Next seven days: vs. SJ (Jan. 27), vs. BOS (Jan. 29), vs. LA (Jan. 31), @ BUF (Feb. 1)
Playoff chances: >99%. Carolina would have to face the mother of all rough patches to not make a fifth consecutive postseason appearance. And that's saying a lot, considering the Hurricanes have weathered their share of adversity and keep coming out on top.
Previous ranking: 4
Points percentage: 68.75%
Next seven days: @ DAL (Jan. 27)
Playoff chances: 95%. New Jersey is tracking toward just its second playoff appearance in 10 years. An imminent fall off the rails is wildly unlikely, and the Devils project to be one of the must-watch clubs in what will be a talent-packed Eastern Conference field.
Previous ranking: 5
Points percentage: 69.39%
Next seven days: vs. OTT (Jan. 27), vs. WSH (Jan. 29), vs. BOS (Feb. 1)
Playoff chances: >99%. Toronto reaching 18-wheeler-off-a-cliff territory is all that could negate earning a playoff spot. How far the Leafs end up going in the postseason is a whole other calculation, of course.
Previous ranking: 3
Points percentage: 67.02%
Next seven days: vs. LA (Jan. 28)
Playoff chances: >99%. Tampa Bay is a sure thing — at least to reach another postseason. The Lightning's biggest potential for derailment (aside from compounding injuries) might be fatigue. Headlining the Stanley Cup Final three seasons in a row takes its toll. Is there load management in the future to safeguard against disappointment? Stay tuned.
Previous ranking: 7
Points percentage: 65.00%
Next seven days: vs. NJ (Jan. 27)
Playoff chances: 97%. Dallas has lost consecutive games in regulation only once since November, and just four times total this season. The Stars will carry that promise into a surefire postseason opportunity.
Previous ranking: 6
Points percentage: 63.00%
Next seven days: vs. PHI (Jan. 28), vs. STL (Jan. 30)
Playoff chances: 93%. Winnipeg should have no trouble staying on course to a well-deserved postseason slot. The Jets' only potential stumbling block could be figuring out how to maximize the luxury of an (almost) healthy roster, without disrupting chemistry that's taken them so far already.
Previous ranking: 9
Points percentage: 64.89%
Next seven days: vs. CGY (Jan. 27), vs. CBJ (Jan. 28)
Playoff chances: 93%. Seattle needs its goaltending to hold up. That's it. Because there's little else that could hold this high-powered Kraken crew back from their inaugural playoff showing.
Previous ranking: 10
Points percentage: 62.50%
Next seven days: vs. VGK (Jan. 27)
Playoff chances: 89%. New York is on thin ice in the ultracompetitive Metropolitan Division. Teams are breathing down their neck already, and to hold tight in the top three, GM Chris Drury can't be shy about adding a player (or two) ahead of the trade deadline. That insurance would help prevent New York from slipping into wild-card territory.
Previous ranking: 8
Points percentage: 62.25%
Next seven days: @ NYR (Jan. 27), @ NYI (Jan. 28)
Playoff chances: 82%. Vegas needs its health. Injury troubles have pushed the Golden Knights off track before, and they've been an issue already throughout this season. Vegas squirrelling away wins early should protect their postseason potential, though — barring a further pileup of ailments to come.

Previous ranking: 14
Points percentage: 58.51%
Next seven days: vs. STL (Jan. 28)
Playoff chances: 93%. Colorado just recorded its longest win streak of the season — at six games — and looks increasingly like the reigning Stanley Cup champion we expected. And when the Avalanche are hitting their stride, there's little doubt playoffs lay ahead.
Previous ranking: 12
Points percentage: 60.00%
Next seven days: @ FLA (Jan. 27), @ TB (Jan. 28), @ CAR (Jan. 31)
Playoff chances: 63%. Los Angeles can pump up their playoff outlook as buyers before trade deadline. The salary cap won't make it easy, but the Kings' adding another left-shot defenseman, bottom-six forward or even a depth goaltender would aid in holding off Edmonton or Calgary for the Pacific Division's third seed.
Previous ranking: 11
Points percentage: 59.57%
Next seven days: vs. BUF (Jan. 28)
Playoff chances: 81%. Minnesota must fear a surging Avalanche (and really, who doesn't?) The Central was suffocating enough, and now that Colorado is climbing, the Wild have to keep pace or risk duking it out for a wild-card berth into the postseason.

Previous ranking: 13
Points percentage: 59.18%
Next seven days: vs. CHI (Jan. 28)
Playoff chances: 86%. Edmonton has racked up wins lately thanks to overall improved play, from forward balance to strong special teams to dialed-in defense. The Oilers can't rest on their laurels or revert back to bad habits like leaning too heavily on its stars. Edmonton's postseason hopes — and success — depend on being more multi-dimensional than that.

Previous ranking: 16
Points percentage: 59.38%
Next seven days: vs. SJ (Jan. 28)
Playoff chances: 75%. Pittsburgh looked poised, at one point, to be a powerhouse. Currently, they barely hold a playoff spot. The Penguins can improve their odds by adding forward depth ahead of the deadline, and hoping certain defensive stalwarts — including Kris Letang and Brian Dumoulin — can keep flourishing.

Previous ranking: 18
Points percentage: 56.12%
Next seven days: @ SEA (Jan. 27)
Playoff chances: 56%. Calgary must find its identity. It's not all the way locked in yet. To make the postseason, Calgary has to execute like a playoff-caliber team. But putting on a full 60-minute effort might be the easy part. The Flames' challenge is to keep coming together, decide what they really are and lean into it.
Previous ranking: 15
Points percentage: 56.86%
Next seven days: @ TOR (Jan. 29), @ CBJ (Jan. 31)
Playoff chances: 59%. Washington is in that middle-of-the-pack position that makes a pre-trade-deadline move imperative. The Capitals need to target blue-line help. John Carlson is hurt now, and if there's an opportunity to bolster the back end sooner than later, Washington could boost its postseason positioning that much faster.
Previous ranking: 20
Points percentage: 57.29%
Next seven days: @ MIN (Jan. 28), vs. CAR (Feb. 1)
Playoff chances: 35%. Buffalo is at a crossroads: Are they a young team standing pat until next season, or is a playoff push now in their sights? Because the opportunity to swing big is there. The Sabres' best chance of a springtime berth involves adding defensive depth, possibly targeting an impactful bottom-six forward, continued excellence from its top-six group and consistent goaltending. Buffalo has surprised all season; what else is up its sleeve?
Previous ranking: 17
Points percentage: 56.25%
Next seven days: No games
Playoff chances: 43%. Nashville longs for consistency. Juuse Saros is playing well in net (.920 save percentage) and the Predators have improved offensively since Christmas into a top-15 goal-scoring team. To extend its second-half potential into a postseason shot, Nashville has to get consistent scoring every game.
Previous ranking: 22
Points percentage: 52.00%
Next seven days: vs. LA (Jan. 27), vs. BOS (Jan. 28)
Playoff chances: 30%. Florida needed better goaltending to turn its season around. Now, the Panthers just need healthy goaltenders. Sergei Bobrovsky was sidelined last week with a lower-body issue and Spencer Knight is just back from injury himself. Alex Lyon has been there to help, but Florida has simply got to give its goalie — whoever that is — all the support it can up front to have a shot at playoffs.
Previous ranking: 23
Points percentage: 53.19%
Next seven days: @ NYI (Jan. 27)
Playoff chances: 4%. Detroit showed some serious early-season promise, and they're still an above-.500 team. If the Red Wings can start scoring again, and if Ville Husso can get some help, and if Detroit can tighten up defensively … maybe they find a way back to what worked before. If not, the Red Wings could be looking for a golden draft lottery ticket.
Previous ranking: 19
Points percentage: 51.00%
Next seven days: vs. DET (Jan. 27), vs. VGK (Jan. 28)
Playoff chances: 13%. New York has been in an offensive drought since mid-December. If that doesn't change fast, and the Islanders still hold postseason aspirations, then GM Lou Lamoriello must target forward help on the trade market. And then hope that kick-starts better performances from within.
Previous ranking: 21
Points percentage: 50.00%
Next seven days: @ COL (Jan. 28), @ WPG (Jan. 30)
Playoff chances: 12%. St. Louis' best chance of a postseason push is keeping all of its best players — including an eventually healthy Vladimir Tarasenko and Ryan O'Reilly — in the fold. And potentially being buyers instead of sellers ahead of the trade deadline. And then going on a magical win-almost-every-night kind of run. So yeah, it would be a lot.
Previous ranking: 24
Points percentage: 49.00%
Next seven days: @ WPG (Jan. 28)
Playoff chances: 1%. Philadelphia not being the worst team in their division is a (relative) achievement. There's always next year to — maybe — get back in the playoff mix.
Previous ranking: 25
Points percentage: 47.87%
Next seven days: @ TOR (Jan. 27), vs. MTL (Jan. 28), @ MTL (Jan. 31)
Playoff chances: 1%. Ottawa rallied to overcome a slow start with its 12-5-2 run through late fall. Since then, the Senators have simply fallen. Would getting — and staying — fully healthy have kept Ottawa's previous momentum and playoff hopes alive? A question that will linger into the planning for next season.
Previous ranking: 28
Points percentage: 38.78%
Next seven days: @ CAR (Jan. 27), @ PIT (Jan. 28)
Playoff chances: less than 1%. San Jose won't be appearing in the postseason. But the Sharks could emerge as big winners at the trade deadline by moving marquee players like Timo Meier and Erik Karlsson in deals that set San Jose up for long-term success in the future. A fine consolation prize.
Previous ranking: 27
Points percentage: 44.90%
Next seven days: @ OTT (Jan. 28), vs. OTT (Jan. 31)
Playoff chances: less than 1%. Montreal losing Cole Caufield for the rest of the season was the end of any lingering postseason dreams. No matter. The Canadiens have a young core and plenty of potential playoff opportunities in their future.
Previous ranking: 26
Points percentage: 42.71%
Next seven days: vs. CBJ (Jan. 27)
Playoff chances: less than 1%. Vancouver responded surprisingly well to a coaching change last season. Can they do it again? Last season, the Canucks went from last in the Pacific to missing the playoffs by two points after Bruce Boudreau slid behind the bench. Rick Tocchet would be some sort of magician to coax an even better run out of Vancouver now … but hey, anything is possible.
Previous ranking: 29
Points percentage: 37.76%
Next seven days: @ ANA (Jan. 28)
Playoff chances: less than 1%. Arizona won't parlay great performances from the likes of Karel Vejmelka and Clayton Keller into playoff games right now. But there are still a couple more years of possibility that Mullet Arena will host an NHL playoff tilt. And that's fun to think about!
Previous ranking: 30
Points percentage: 36.17%
Next seven days: @ EDM (Jan. 28)
Playoff chances: less than 1%. Chicago is "Bound for Bedard" — as was their plan. The Blackhawks can help the cause by finding trade partners for Patrick Kane and Jonathan Toews, and really embracing the franchise's future direction.
Previous ranking: 32
Points percentage: 35.71%
Next seven days: vs. ARI (Jan. 28)
Playoff chances: less than 1%. Anaheim can see the big picture here. Playoffs are out, clearly. But the Ducks have cap space to spare, a trade deadline looming to start the healing — er, improving — process and great odds in the Connor Bedard sweepstakes. And those are the odds that really matter for Anaheim.
Previous ranking: 31
Points percentage: 34.38%
Next seven days: @ VAN (Jan. 27), @ SEA (Jan. 28), vs. WSH (Jan. 31)
Playoff chances: less than 1%. Columbus has yet to win consecutive games in regulation this season, so the playoffs will remain something of a pipe dream.