As well as the football being played, you may have noticed that Euro 2020 is also host to a secondary, but nonetheless entertaining tactical contest in the media room.
It began a few days ago when Cristiano Ronaldo took umbrage at sharing his news conference with two bottles of Coca-Cola. The Portugal captain removed the soft drinks from the desk in front of him and replaced them with a bottle of water.
He may have publicly slighted one of Euro 2020's main corporate sponsors, but Ronaldo's act of defiance soon inspired a group of copycats.
France's Paul Pogba upset another tournament benefactor by removing a bottle of Heineken that had been placed in front of him.
Paul Pogba mirrors Cristiano Ronaldo's Coca-Cola snub by removing a Heineken bottle from his Euro 2020 press conference.
It's thought that the midfielder may have removed the bottle due to his Muslim faith, unaware that it was actually a non-alcoholic version of the beer.
Andriy Yarmolenko was next up, with the Ukraine winger swapping bottles around while cheekily attempting to forge a few new sponsorship deals of his own.
On the back of his two-goal heroics against Switzerland the previous day, Italy midfielder Manuel Locatelli took a leaf directly out of Ronaldo's book by exchanging Cokes for mineral water. Even Russia's head coach Stanislav Cherchesov had a little fun during his media conference by helping himself to a complimentary swig of Coke.
The ongoing "bottle battle" at Euro 2020 hasn't done Coca-Cola many favours either, with a dramatic $4 billion fall in share price ensuing in the aftermath of Ronaldo's high-profile snub.
It's certainly not the first time a partnership deal has backfired, with football witnessing more than its fair share of corporate hiccups over the years. Here's a few:
1. Chevrolet's Man United and Liverpool mashup
Chevrolet made a hash of things in 2013 when they attempted to bring fans of Manchester United and Liverpool together in the name of brand unity.
The company had multi-million pound deals with both clubs at the time and thus created an advert that spliced together players from either side of the divide, all reciting a message about how special their respective teams are.
As you might expect, the advert was immediately denounced by both sets of rival fans, with Chevy forced to beat a rather hasty retreat to the drawing board.
2. The wrong Wonga logo for Newcastle
Newcastle's new 2015/16 kit has a massive error on it http://t.co/htAKZsbhSo pic.twitter.com/wooL0v9TZB

— Indy Football (@IndyFootball) May 20, 2015
Newcastle United made a similar mess of their kit launch in 2015 when they somehow managed to unveil their latest shirt with the wrong brand logo on the front.
The problem stemmed from the fact that sponsors Wonga had rebranded mere hours before the kit was launched, leaving Newcastle with a shirt that was out-of-date right from the off.
3. Dulux paint Tottenham in a bad light
Tottenham were at their Spursy best when they broke news of a major new commercial development toward the tail end of the 2020-21 season.
Spurs revealed Dulux had become their official paint supplier only for the company to kick off their new partnership by openly mocking them on Twitter.
It's the perfect match – Dulux has become the first ever Official Paint Supplier to football giant Tottenham Hotspur!

To kick things off the Dulux Dog took a tour of the stadium to inspect the decorating work that's underway…#Dulux #THFC #COYS pic.twitter.com/qI6HbgZP2U

— Dulux UK | Colour & Inspiration (@duluxuk) April 15, 2021
First Dulux began by sharing a meme of Spurs' empty trophy room, then followed up by suggesting their famous dog mascot could do a better job in defense than any of the current back-four.
Less than an hour into Tottenham's partnership with Dulux and it's fair to assume they haven't let the social media team know about it. pic.twitter.com/VuEXnvkw1Y

— Nick Reilly (@NickJWReilly) April 15, 2021
Narrator: "In hindsight, Tottenham's decision to partner with Dulux was a rather serious misstep." pic.twitter.com/oDABsSEIHf

— HLTCO (@HLTCO) April 15, 2021
Unsurprisingly, a contrite apology followed soon thereafter as they tweeted: "We're deeply sorry for the posts from Dulux this morning in response to the announcement of our relationship with @SpursOfficial .These do not reflect how proud we are to be the Official paint Supplier of the Club. We're investigating what happened and apologise to all Spurs fans."
4. Ansu Fati can't drive yet
Barcelona starlet Ansu Fati made a stuttering start to his commercial endeavours after signing up to become an ambassador for Cupra, the Spanish motor company.
The deal saw Fati presented with his very own top-of-the-line sports car, with the only hitch being that the 18-year-old winger didn't have a driving license after injury issues prevented him from taking his test.
5. A 'Boiler Man' mascot
West Brom fans were faced with a stark reminder of their plight after starting the 2018-19 season in the Championship following their relegation from the top flight the previous campaign.
As if to really ram it home, the Baggies introduced their new mascot to fans before the first game of the season — a man dressed as a boiler, named "Boiler Man."
Colin the Combi (to give him his official name) received a vociferous reception at the Hawthorns, which was not very cordial.
6. Don't bet on Antonio
West Ham forward Michail Antonio bore the brunt when the club's shirt sponsors got ideas above their station back in 2016.
After losing against Chelsea, the Hammers' partners at Betway decided to criticise Antonio's performance, singling out the utility man as "an accident waiting to happen" on social media.
Betway formally apologised to Antonio after the game for their "inappropriate" comment but the tweet in question is still up on their official account.
7. Man United get tapped up
Manchester United command a vast, bulging portfolio of corporate affiliations all around the world, boasting everything from snack noodle partners to official club tractors.
Principal partner to @ManUtd, we celebrate the 20th anniversary of the team's historic Treble win with the Treble Collection. #KohlerUnited pic.twitter.com/AobwiiNL46

— Kohler United (@KohlerUnited) June 3, 2019
However, it was United's collaboration with Kohler that raised eyebrows in 2019 when the American plumbing supply company decided to pay homage on the anniversary of the 1999 treble in the only way they knew how.
As a historic mark of respect for one of United's greatest-ever triumphs, Kohler released a special set of taps, engraved with various references to that balmy night in Barcelona against Bayern Munich.
Sales must have been through the roof, or down the sink — as the case may be.
8. Delays on the line
Preston North End marked their progression to the 2014-15 League One playoff final at Wembley by allowing Virgin Trains to sponsor their shirts.
Preston fans face issues getting to Wembley by rail for the play-off final, despite being sponsored by Virgin Trains http://t.co/XTfsXbjh2M

— BBC Lancashire (@BBCLancashire) May 14, 2015
Sadly, due to planned maintenance work on the line, Virgin were not able to operate any trains from Preston to London ahead of the game. This left thousands of North End fans having to traipse to the national stadium by coach to watch what was ironically dubbed "The Replacement Bus Final" by those in attendance.
Preston ended up beating Swindon 4-0 on the day to seal promotion in style, so at least it wasn't a total wash-out.
9. Oh Lord…
When it comes to naming rights, one of the most amusing side effects of such a deal came at Burnley in 2015.
One of the stands at Turf Moor is named after the Clarets' greatest-ever chairman, Bob Lord — a revered character who oversaw the most successful period in the club's history, winning the First Division championship in 1960 and reaching the FA Cup final the year after.
The Totally Wicked Bob Lord Stand and the snow on the Pennines: pic.twitter.com/NcrY3kLDrY

— Richard Jolly (@RichJolly) January 17, 2015
However, a partnership with an unfortunately upbeat e-cigarette brand somewhat served to undermine the reverence with which Lord's name is spoken around the place.
Lord was many things, but "Totally Wicked" almost definitely isn't one of them.
10. Nicklas Bendtner's pants
Nicklas Bendtner wearing his Paddy Power lucky pants after scoring the equalising goal! #Euro2012 pic.twitter.com/X01UwVS5

— Paddy Power (@paddypower) June 13, 2012
Denmark striker Nicklas Bendtner revealed a pair of bookmaker-branded underpants when he scored in a 3-2 defeat to Portugal at Euro 2012.
Bendtner, who got both goals as Denmark came from 2-0 down to level the match before conceding a late winner, revealed branding from Irish bookmaker Paddy Power during celebrations of the equaliser.
UEFA didn't see the funny side and the 24-year-old Arsenal forward was banned for one match and fined €100,000.
"It is just a pair of lucky boxer shorts that I used in the first game as well and have used before the tournament," he said, possibly with tongue firmly in cheek. "I didn't know I was breaking any rules but I am aware of that now."
11. The wrong drink can cost you…
Euro 2020 players, beware. Coca-Cola has history here. Ronaldinho once forfeited a huge sponsorship deal with the brand after he conducted his introductory unveiling news conference at Atletico Mineiro in 2012 from behind two cans of rival drink Pepsi.
Coke pulled the plug on a deal worth around $750,000-a-year after watching Ronaldinho sip a Pepsi (who sponsored Mineiro) in front of the watching world.
Coca-Cola said in a statement: "Coca-Cola recognises the career and value of Ronaldinho. However due to recent developments it has become impossible to continue the partnership."
Marcelo Pontes, Coca-Cola marketing chief, told Brazilian newspaper O Estado de Sao Paulo: "The fact that the player has appeared with a can of Pepsi was the straw that broke the camel's back. The sponsorship had become embarrassing."
SMU-UCF moves to Wed. in 2nd hurricane delay
UCF's home game against SMU in Orlando, Florida, has changed dates for a second time because of the damage caused by Hurricane Ian this week. The Knights will now host the Mustangs on Wednesday (7 p.m. ET, ESPN2), the schools announced.
The game had originally been pushed back from Saturday to Sunday because of the threat of the impending storm, but the flooding and general havoc caused by the hurricane that swept across Florida on Wednesday led to the contest being moved again.
Both schools had a bye on the weekend of Oct. 8, allowing for their American Athletic Conference opener to be pushed back.
At least nine people have been confirmed dead in the United States as a result of the hurricane — a number that is almost certain to increase as officials confirm more deaths and search for people. More than 2 million people in Florida have lost power this week.
UCF enters the game 3-1 after defeating Georgia Tech on Saturday. SMU comes in at 2-2 after back-to-back losses at Maryland and to TCU at home.
Information from The Associated Press was used in this report.
The biggest regular-season series in a decade? Why Mets-Braves showdown could shake up October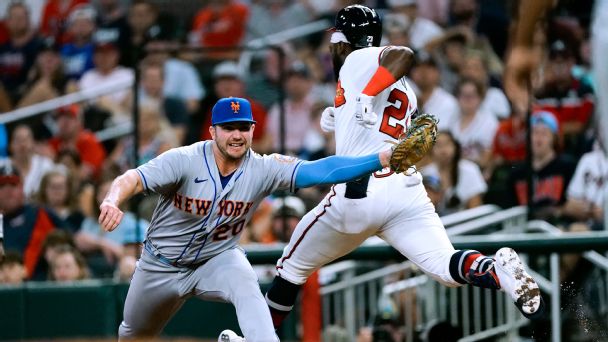 The fact that there is a division title hanging in the balance as the New York Mets and Atlanta Braves meet this weekend might come as a surprise for anyone who was watching the National League East standings earlier this season. What was once a 10.5-game lead for New York in early June and still as large as seven games on Aug. 10 has turned into a down-to-the-wire battle, with both teams chasing 100 wins in one of the best division races of the wild-card era.
But while Mets fans are likely a tad stressed by this stretch run, their star first baseman begs to differ.
"This is fun — this is really, really fun, being in a race like this," Pete Alonso said Tuesday after a Mets loss and Braves win briefly tied the teams for first place.
Luckily for baseball fans, the two teams square off for one final series this weekend in Atlanta that will start with New York a game up in the standings. Due to the unknown aftereffects of Hurricane Ian, the exact schedule could change, but an improved forecast makes it seem more likely they'll play all three games this weekend.
Rain delayed or not, the series sets up as the biggest of the 2022 regular season, about as big as you can get in this new 12-team postseason world — and, arguably, the most important regular-season series since at least 2012 (more on that in a minute).
Watch: Mets-Braves on Sunday Night Baseball, 7 ET
Yes, both teams have clinched playoff spots, but given the ramifications of winning the division and receiving a first-round bye compared to having to use your best starters out of the gate in a best-of-three wild-card series — where anything can happen — both teams desperately want to win the division, and which one does will shape the shape the entire MLB postseason.
"The hope is to have a good series against New York this weekend," Braves outfielder Ronald Acuña Jr. said Tuesday. "The division is on the line."
One advantage for the Mets: They lead the season series 9-7, so they need to win only one of the three games to clinch the season series, which would give them the tiebreaker edge and the division title if the two teams finish with the same record (tiebreaker games have sadly been eliminated). Both teams have their rotations lined up, with Chris Bassitt, Jacob deGrom and Max Scherzer scheduled to face Max Fried, Kyle Wright and Charlie Morton, although the Braves will be without Rookie of the Year candidate Spencer Strider, who is on the injured list with a strained oblique. The Mets have also are calling up their top prospect, catcher Francisco Alvarez for the series.
Outside of eliminating the risk of having your season end three days into the playoffs, the biggest key in avoiding the wild-card series is what it does to your rotation for the next round — especially since there are fewer off days in this year's postseason after the schedule was condensed because of the lockout. The best-of-five division series, for example, will be played over a potential six days rather than seven.
Here's how the Braves playoff rotation lines up if they don't win the division:
Friday, Oct. 7, WC Game 1: Max Fried
Saturday, Oct. 8, WC Game 2: Kyle Wright
Sunday, Oct. 9, WC Game 3: Charlie Morton
Then if they advance, in the division series:
Tuesday, Oct. 11, NLDS Game 1: Bryce Elder/Jake Odorizzi or Morton
Wednesday, Oct. 12, NLDS Game 2: Fried
Friday, Oct: 14, NLDS Game 3: Wright
Saturday, Oct. 15, NLDS Game 4: Morton or Elder/Odorizzi
Sunday, Oct. 16, NLDS Game 5: Game 1 starter
Now, the Braves are holding out hope that Strider can return in the postseason, although given the nature of oblique injuries, that feels a little ambitious for at least the first couple of rounds. But you can see the impact: If you have to play in the wild-card series, and are fortunate enough to move on, you're going to end up using your No. 3 or 4 starter twice in the division series if it goes the distance. That's an even bigger deal for Atlanta if Strider is sidelined and it's the rookie Elder or the struggling veteran Odorizzi making that extra start instead of Fried.
The Mets have a deep rotation as well, but they would certainly prefer deGrom lined up to start twice in the division series:
Friday, Oct. 7, WC Game 1: Jacob deGrom
Saturday, Oct. 8, WC Game 2: Max Scherzer
Sunday, Oct. 9, WC Game 3: Chris Bassitt
Then in the division series:
Tuesday, Oct. 11, NLDS Game 1: Taijuan Walker/Carlos Carrasco or Bassitt
Wednesday, Oct. 12, NLDS Game 2: deGrom
Friday, Oct: 14, NLDS Game 3: Scherzer
Saturday, Oct. 15, NLDS Game 4: Bassitt or Walker/Carrasco
Sunday, Oct. 16, NLDS Game 5: Game 1 starter
The one caveat here is it's possible the Game 2 starter could come back and start Game 5 on three days of rest. That's rarely done these days, however, and even last postseason when Morton broke his leg in Game 1 of the World Series the Braves elected to give starts to Tucker Davidson and Dylan Lee rather than pitch anybody on short rest.
Playing in the Wild Card Series isn't necessarily a sentence to an early exit. The Nationals won when it was a single game in 2019 — in which they used both Scherzer and Stephen Strasburg — and ended up going all the way. (It did help that the NLCS was a four-game sweep, giving their staff a few extra days of rest heading into the World Series.)
But there's another incentive to avoiding the wild-card series: which side of the bracket the division runner-up will end up in. The division winner will be the No. 2 seed in the National League and play the St. Louis Cardinals or the third wild-card team (most likely the Philadelphia Phillies or Milwaukee Brewers) in the NLDS. The division runner-up gets the No. 4 seed, would have to play the San Diego Padres (the likely No. 5 seed) in the wild-card round — and then the 107-win (and counting) Los Angeles Dodgers in the NLDS, having just used their top two starters to get there in the first place.
Winning the division also delays starting the clock on the fatigue factor for your pitching staff. While you will hear some mention that the days off between the end of the regular season and the start of the division series can hurt a team — this year, that would be five days — there is no evidence that's the case. But giving at least your top two starters one fewer start and some extra days off? That sounds like a very good thing in today's max-effort pitching world.
Look at what happened to the Dodgers last season: They lost that epic NL West race to the San Francisco Giants and started Scherzer in the wild-card game, which meant he couldn't start again until Game 3 of the NLDS against San Francisco. With the Dodgers down 2-1 in the series, Walker Buehler started Game 4 on short rest and then they used Julio Urias and Scherzer in relief in Game 5.
You can debate some of Dave Roberts' choices there, but after starting Game 2 of the NLCS against the Braves (two days after his relief appearance) and lasting just 4⅓ innings in a game the Dodgers lost, Scherzer came up with a dead arm and was unable to start Game 6 of the series — which Buehler started again on short rest and pitched poorly as the Dodgers lost and went home.
Bottom line: The less scrambling you have to do with your staff, the better — and, again, this year's schedule makes it more difficult to do what the Dodgers tried to do last year anyway, which was use their three healthy starters and bullpen their way through the fourth spot in the rotation (or use somebody on short rest).
Which team would benefit more from the bye week, allowing some extra rest for their pitchers? I'd probably say the Mets, given the health issues deGrom and Scherzer have had this season. Plus, deGrom is coming off his worst start since 2019 with the lowly A's tagging him for five runs in four innings. This is an extremely small sample, but note his ERAs this season:
4 days of rest: 4.15 (three starts)
5 days of rest: 3.52 (four starts)
6+ days of rest: 1.00 (three starts)
Scherzer has good ERAs at all three levels, but check out his OPS and strikeout-to-walk ratio:
4 days of rest: .602 OPS, 4.36 SO-to-BB
5 days of rest: .533 OPS, 8.33 SO-to-BB
6+ days of rest: .460 OPS, 33.0 SO-to-BB
Seems like getting them a little extra rest could be a big deal in how far the Mets go.
So we're set up for a big series. Now back to my statement of the biggest regular-season series in a decade. I went back to the start of the wild-card game era in 2012 and checked out the tightest division races each full season (no, wild-card races don't count) and the records heading into the final series those teams played against each other. Here are the closest comparisons.
2022 NL East
New York: 98-58
Atlanta: 97-59
Date: Sept. 30-Oct. 2
2021 NL West
San Francisco: 85-49
Los Angeles: 85-49
Date: Sept. 3-5
An epic race, but the final matchup came early in September — the two didn't play each other in their final 25 games.
2018 NL Central
Chicago: 83-59
Milwaukee: 82-62
Date: Sept. 10-12
This was the season we ended with two division ties, as the Dodgers and Rockies both finished 91-71 in the NL West. The Brewers won their final eight games (including the tiebreaker) to finally catch the Cubs, but the two clubs last played Sept. 10-12.
2016 AL East
Boston: 85-64
Baltimore: 82-67
Date: Sept. 19-22
The Red Sox were three up on the Orioles when they started a four-game series on Sept. 19. The Red Sox took all four to essentially wrap up the division.
2015 NL Central
St. Louis: 98-58
Pittsburgh: 95-61
Date: Sept. 28-30
St. Louis and Pittsburgh did meet in the next-to-last series of the season. The Cardinals won the first game and then after a rainout they split a doubleheader, clinching the division for St. Louis.
2014 AL Central
Detroit: 84-68
Kansas City: 83-69
Date: Sept. 19-21
The Tigers took the first two games of a three-game series and held on to win the division by one game.
2013 NL Central
Pittsburgh: 81-58
St. Louis: 80-60
Date: Sept. 6-8
The Cardinals swept a three-game series and never relinquished the lead, winning the division by three games.
2012 AL West
Texas: 93-66
Oakland: 91-68
Date: Oct. 1-3
Finally, a series to rival this Mets-Braves matchup — although the two clubs weren't quite as strong. They met in Oakland for the final series of the season and the A's took all three games to capture the division.
So there you have it. This Mets-Braves series tracks as the important regular-season series since at least 2012 — and since these teams are better than the A's and Rangers, it feels even bigger than that one, even if both teams have another series to finish the season.
There are big names and big stars slated to pitch. It involves two of the top franchises in the sport. The implications also go beyond just New York and Atlanta — like, to Los Angeles, where the Dodgers probably aren't too anxious to face deGrom and Scherzer in a best-of-five series. Alonso is ready. I can't wait to see how Acuna and Austin Riley and Michael Harris II perform in these big moments. This is baseball at its regular-season best.
Toronto out and Detroit in? Teams most likely to rise and fall in the playoff race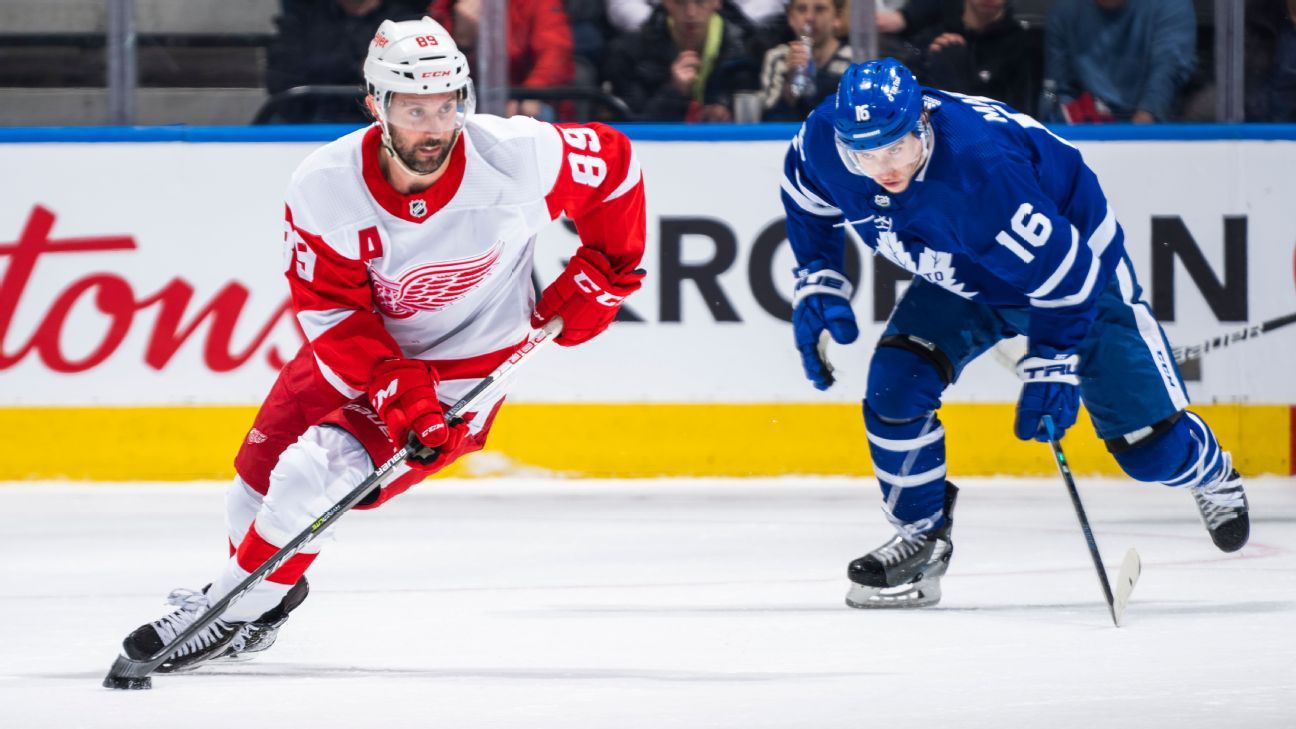 In hockey, it's hard to go from the outhouse to the penthouse, because playoff contenders refuse to move out.
Of the 16 teams that made the 2022 Stanley Cup playoffs, 12 of them were in the midst of multiyear postseason appearance streaks. If you include the COVID-19 bubble qualification series in 2020 — when the NHL allowed 24 teams to advance to the postseason — the Pittsburgh Penguins haven't missed the playoffs since the 2005-06 season, when Sidney Crosby was a rookie. The Washington Capitals and Nashville Predators have eight-season streaks. The Boston Bruins and Toronto Maple Leafs have qualified in six straight seasons.
The Colorado Avalanche (5), Tampa Bay Lightning (5), Carolina Hurricanes (4), St. Louis Blues (4), Edmonton Oilers (3), Florida Panthers (3) and Minnesota Wild (3) all have streaks going. The only postseason newbies last year: the Calgary Flames, Dallas Stars, Los Angeles Kings and New York Rangers. And the Stars played for the Stanley Cup in 2020!
Meanwhile, take a look at the 10 worst teams at the end of the 2019-20 season. Only two have qualified for the Stanley Cup playoffs since then: the Montreal Canadiens, who emerged from the all-Canadian North Division to play for the Cup in 2021 before spiraling into a rebuild; and the Kings, who made the playoffs last season for the first time since 2017-18.
Yet every year, there's hope — that one of the "sure things" falls down the standings to open up a playoff spot for an upstart. That one of the lottery teams is suddenly ahead of schedule on its rebuild and surprises with a playoff berth.
Here's a look at the most likely candidates to miss the playoffs — and the most likely to leap into those open spots — in each division for the 2022-23 season.
How to watch the 2022-23 NHL season on ESPN networks — including 103 exclusive games and the out-of-market package (over 1,050 games)