This week, a doubleheader at Pocono Raceway marks the 18th and 19th races of the 36-race NASCAR season: the end of the first half and start of the second.
Despite being only halfway through the season, there has been no shortage of interesting, historic or just downright odd statistical storylines.
Hendrick Motorsports owns the first half
With eight wins in 17 races to start the season, Hendrick Motorsports has already surpassed its total from last season (in 36 races), and its total from the 2018 and 2019 seasons combined. It's on pace for its first double-digit win season since 2014 (13) and the team record of 18 in 2007 is in play.
Hendrick also enters Pocono on a five-race win streak, the longest by a team since Hendrick won five straight in 2014. Hendrick (who else?) had a six-race win streak in 2007.
The big wins for Hendrick were at the Circuit of the Americas (Chase Elliott) and Charlotte (Kyle Larson), the 268th and 269th wins in team history. The first tied Petty Enterprises' record for most by a Cup Series team, and the second broke that record.
Petty Enterprises had held that wins record since 1960, even though its last win came courtesy of John Andretti — another great last name in motorsports lore — in 1999.
Hendrick's 270th win, at Sonoma, came with Larson beating Elliott to the line. It was the fourth straight 1-2 finish for Hendrick, tying the record set by Carl Kiekhaefer's team in 1956.
Larson comes to Pocono with six consecutive top-two finishes, the seventh different driver in series history to have a streak that long. He joins Richard Petty, David Pearson, Darrell Waltrip, Tim Flock, Jeff Gordon and Kevin Harvick. Harvick was the last to have a streak of six-plus races, going eight straight over the 2014 and 2015 seasons.
Larson wasn't the only driver hitting milestones for Hendrick in the first half.
Chase Elliott: sixth road course win tied him for third-most in Cup Series history. 40.0 win percentage is second all-time behind Dan Gurney.

William Byron: 11 straight top-10 finishes is fourth-longest streak in team history, behind Jeff Gordon (21 and 14) and Jimmie Johnson (13).

Alex Bowman: 10 laps led in Richmond win was the second-fewest dating back to 1990 (Kevin Harvick: 3 in 2013)
Another milestone victory for Hendrick came with its 267th Cup win, this one at Dover, courtesy of Alex Bowman. What made that win notable was that Larson was second, Elliott third and Byron fourth. It was just the fourth 1-2-3-4 finish for a team in Cup Series history.
The most recent time it happened was in November 2005 at Homestead, when Roush Fenway Racing did it with Greg Biffle, Mark Martin, Matt Kenseth and Carl Edwards.
Before that, it happened in Dec. 1956 and April 1957 with DePaolo Engineering, both times with Fireball Roberts winning the race, with Paul Goldsmith, Curtis Turner, Ralph Moody and Marvin Panch filling out their scorecard.
---
Busch nears a record … that he can break in 2023
Last season, it took nearly the entire year for Kyle Busch to taste victory in the Cup Series, doing it in race 34 of the 36-race season. This season, he got there in race No. 11 at Kansas.
It was his 17th consecutive season with a win, tying David Pearson for the second-longest streak in series history. It trails only Richard Petty's 18-year run from 1960-77 for Cup Series record.
There's no reason to believe he can't get there — he'll just have to wait until 2023 to have sole possession of that record.
---
Brad Keselowski winning at Talladega wasn't a surprise; he has long established himself as one of the premier restrictor plate race drivers in series history.
The way he picked up the victory was more of a surprise, leading only lap 191 (of 188 scheduled laps, thanks to overtime) of the race and winning by about a tenth of a second.
That was Keselowski's sixth career win with a last-lap pass, putting him one away from the series record (that we can tell — there are several races that don't have lap-by-lap leaders).
What's even more amazing is that Talladega was the third time that Keselowski won a race by leading in only the final lap. In Cup Series history, that has happened only 23 other times, with no other driver doing it more than once.
---
Variety is the spice of life
The Cup Series season started with seven different winners in seven races (and 10 winners in the first 11 races). Going back to the start of the Modern Era in 1972, it's just the fifth time that a season has started with that many different winners in a row. The only seasons with more were in 2000 (10) and 2003 (9).
And that's without a pair of the dominant drivers from 2020, Denny Hamlin and Harvick, winning a race yet this season.
The first four winners of the season — Michael McDowell, Christopher Bell, Byron and Larson — combined to win just once all of last season. And none of them finished better than 14th in points. It was the first time since 1986 that the first four winners of a season each had fewer than 10 career wins at that time of their victory.
In 1986, Geoff Bodine, Kyle Petty, Terry Labonte and Morgan Shepherd won the first 10 races.
Those wins by McDowell and Bell were the first of their Cup careers (and Byron's was just his second win). The only other times in Cup Series history the first two races of a season were won by first-time winners came in 1949 and 1950 — the first two seasons in Cup Series history.
More on McDowell, whose upset win in the Daytona 500 remains one of the best stories in recent memory: He won in his 358th career start; the only other driver in series history with that many starts prior to getting his first win was Michael Waltrip, who won the 2001 Daytona 500 in his 463rd start.
McDowell, like Keselowski, led only the final lap. He's the third driver to win the 500 leading only in the final lap, joining Austin Dillon in 2018 and Kurt Busch in 2017.
---
Hamlin still seeking first win
With all the variety in Victory Lane, one driver we haven't seen win yet is Hamlin, who won seven times last year. But it's not like Hamlin hasn't been successful.
Hamlin started the year with eight top-five finishes in the first nine races, the first driver to start a season off like that since Dale Earnhardt in his storied 1987 season. Except "The Intimidator" won six of the first nine races that year.
Hamlin's year also started with a fifth-place finish at Daytona, after leading 98 laps. The last five drivers to lead at least that many in the Daytona 500 failed to win. The last driver to lead that many and win? Earnhardt, in 1998.
---
New track … who dis?
For those who wanted to see more variety in the NASCAR schedule, 2021 has been the season for you.
We had the first dirt track race since Sept. 30, 1970. A mere 18,443 days between dirt track races.

We've had road course races at Daytona, Austin and Sonoma, with four more to come. Seven road course races crushes the record for most in a season, which was four in the 1957 and 1964 seasons.

There have been first Cup races at Nashville, Circuit of the Americas (Austin) and the Bristol Dirt Track. The Indianapolis Road Course will host its first later this year. The last time we had at least three new venues debut in a season was 1969, when we got inaugural races at Michigan, Kingsport, Dover, Talladega and Texas World Speedway.
'I truly believe he's going to shock the world:' Inside Patrick Kane's rehab and why he picked the Red Wings
For nearly six months, the greatest active American-born hockey player, the one fans call Showtime, lived in obscurity. As Patrick Kane recovered from hip resurfacing surgery — a bold move to breathe new life into his career at age 35 — he relocated his family to Toronto.
For three hours a day, Monday through Friday, Kane worked with chiropractor Ian McIntyre, who oversaw the rehab. Then he got on the ice. Kane's skating coach, Randi Milani, made sure his locker rooms at the local rinks were farthest away from the lobby. She insisted that LiveBarn, the ubiquitous arena streaming service, was turned off, and often reserved ice time under fake names. Sessions included Kane battling in drills with retired defenseman Cody Golobeuf and shooting on free agent goalie Chris Gibson. Spectators who somehow caught wind were kindly told to get lost.
When it was finally time for Kane to meet with NHL suitors, a series of Zoom calls with teams interested in signing the free agent, one head coach remarked: "Wait, you were in Toronto, the center of the hockey universe, this whole time?"
It marked a new era for Kane. The winger has won nearly everything there is to win — three Stanley Cups, league MVP, playoff MVP, a scoring title — while captivating the biggest crowds with inimitable dangles. But, Kane said, he had "a little bit of a sour taste in my mouth after last year."
After being traded away from the rebuilding Chicago Blackhawks, his home for 16 seasons, Kane's short stint with the New York Rangers underwhelmed by his standards. Kane had six goals and 19 points in 26 games as the Rangers were eliminated in the first round of the playoffs by the Devils. "Going to New York was a new challenge for me," Kane said. "I was really excited about it but it didn't really go the way I expected or the team expected. I figured at that point it was probably time to do something to give myself a chance to get back to a high level — almost more mentally rather than physically. I don't want to say [I was] miserable, but I was thinking about [my hip] every day."
Kane was willing to tear it all down — opting for a procedure with little proof of concept in the NHL, powering through 116 treatment sessions to relearn movement patterns. Risky would be an understatement.
"It was no man's land in terms of what to expect," McIntyre said.
But Kane's confidence barely wavered. He still considers himself one of the top players in the league, when healthy. Kane believed, firmly, he had more to give. So he attacked rehab with his signature meticulousness and intensity.
If Kane finds the success he's expecting, his legend will only grow — and he could set a new path forward for other players.
"No one's really come back from this type of surgery, but no one has done what he's done to recover this way," Milani said. "Right now, he's moving better now than he was a few years ago. It's crazy. I truly believe he's going to shock the world. It's going to be unreal."
---
KANE'S HIP BEGAN bothering him in the 2020 NHL bubble — and only got worse. Kane's crossover left over right was "pretty much nonexistent," he said. By last season, those close to Kane described him as essentially playing on one leg.
"Anytime I would take a hit on the right side of the hip, the joint would kind of compress and it would basically feel like bone on bone," Kane said. "So your leg like shuts down for like 30 or 45 seconds. It's just painful, right? You're almost playing the game not to get hit, which you can't do in this league."
Kane was reluctant to have surgery. He loved the game too much, he couldn't imagine taking time away. Once the Rangers were eliminated, Kane's agents at CAA took him to see Dr. Edwin Su at New York's Hospital of Special Surgery.
"When I saw his hip, it was completely, completely worn out," Su said. "It's incredible he was still able to play, and play at a pretty high level."
Hip resurfacing surgery involves placing a metal ball on top of the head of the femur (thighbone), capping it like a tooth, then fitting the socket with a thin metal shell. It was first performed in the United States in 2006, when the implant was FDA approved, meaning there's still not much long-term data on several aspects. Su said hip resurfacing has fallen out of favor among many surgeons who are concerned about the impact of metal-on-metal, and it represents less than 1% of artificial hips in the United States. The ideal candidate is a healthy, young (under 50) male. Only two NHL players have returned to the ice after having their hip resurfaced: Ed Jovanovski, who retired after 37 games, and Nicklas Backstrom, who stepped away after playing eight games this season,17 months after his procedure.
Kane peppered Su with questions, but at the core he wanted to know: will this make me better?
"If you're still playing with such a bad hip," Su told Kane. "Then there's no doubt it should make you better."
Su was particularly confident about Kane's prognosis. Other athletes underwent hip resurfacing as a last resort, having done several procedures beforehand. That meant bone cartilage was shaved down, leading to muscle atrophy. "Part of [Kane's] incredible recovery is that he did this right off the bat instead of having other surgeries and letting the condition deteriorate further," Su said. "He also may have more success than others because he's incredibly fit. He's not really heavy. He's just an agile person."
Su downplayed potential risks of hip resurfacing, even in a high-impact sport like hockey.
"The only thing holding this artificial hip in place is the joint capsule, the tissue and the muscle force. So it would have to be really unusual, but you could imagine some sort of collision where the leg is basically torqued in a way that pulls it out of the socket," Su said. "That would definitely be worrisome, but hockey I don't think is a high risk. I'm more worried about football, because of the pile-ons."
Since Kane's operation, Su has performed a double hip resurfacing on free agent Jesse Puljujarvi, who is 25, and said there is another active NHL player who is considering. "The biggest risk was the unknown factor," Kane said. "But from what it sounds like, more guys will end up having the surgery. Hopefully I'll be a pioneer and play for a long time."
Kane underwent the surgery in June. Almost immediately, his pain disappeared. Within two weeks, he was on a skating treadmill. A week later, he was jumping off a box. "So I think when he got to us, he thought 'wow this is going to go fast,'" McIntyre said. "But then I showed him some very easy things that he couldn't do, that was humbling for him. Then, the light switch went off. He wanted to be the best at it."
---
Why Patrick Kane joining the Red Wings is 'massive'
Kevin Weekes explains why Patrick Kane signing with the Red Wings is such an impactful move.
AS HE PLAYED through his injury, those close to Kane said he was bothered when people commented on his limp.
"Even after the surgery that was something that surprised him, that he was still limping," McIntyre said. "But some of that movement isn't in your hip, it's in your brain. If you've been limping for 2½ years, you can fix the joints but your brain still acts like it's hurt."
McIntyre said the arthritis in Kane's hip severely impacted his range of motion — something he needed to relearn after the operation.
"If I asked him to rotate on his hip on a small elastic band, when he came back to the beginning, it would snap back," McIntyre said. "He had no strength to hold himself in that position. Being such a good athlete, he just found a way to work around it. Which is remarkable, because he couldn't move."
McIntyre and strength coach Jason Martin progressively added exercises for Kane. Many were mundane and tedious. Kane had only one speed: diligence. If Kane did nine reps perfectly and messed up on the 10th, he would start doing the 11th, 12th and 13th unprompted.
"I was surprised by how hard he was on himself, despite all that he accomplished in his career, and having arguably the best hands in the world," said Golobeuf, who joined the on-ice sessions once Kane was ready to absorb contact. "The look in his eyes if he mishandled one time, I was like, 'Whoa.' And then the focus he'd have on the next rep would be incredible. I think it's important for young guys to know a guy that good also works that hard."
But Kane also has traits that are unteachable: how he processes the game, how he dials in when the puck is on his stick.
Sometimes Golobeuf would say something on the ice, met with no reaction from Kane. Golobeuf would wonder: Did I say it loud enough? Could he hear me?
"He was so in the zone," Golobeuf said. "I feel like he doesn't hear anything outside of his own head."
---
A COUPLE OF TEAMS were willing to sign Kane on July 1, when he became a free agent. Kane preferred to wait, finishing out his rehab to see how he felt. He also wanted to see how the season shook out.
Kane met with five teams on Zoom. He met with another general manager, Florida's Bill Zito, in Toronto. The options were intriguing. Zito pitched for Kane to play alongside Aleksander Barkov, one of the few players in the league who processes the game at a similar level. Kane could live out his childhood dream of playing for the Buffalo Sabres. He could team up with fellow American Auston Matthews and help the Maple Leafs (and Canada) break through their Stanley Cup drought. The defending champion Vegas Golden Knights rolled out an entire deck. On his call with the Boston Bruins, Kane nerded out over X's and O's with coach Jim Montgomery. Following nearly every call, Kane was personally recruited by the team's star players.
"I could say so many good things about different teams I talked to and their interest in me was incredible," Kane said. "I mean, some teams you don't really expect to have interest in you, and they do, and it's a good feeling."
Kane watches as much hockey as anyone in the NHL. His nightly routine is putting his three-year-old son, Patrick Kane III, down to bed – "then watch hockey the rest of the night," he said. He asked pointed questions about teams' medical staffs, their personnel and systems — even their neutral and defensive zones.
Kane also showed a level of humility, repeatedly saying: 'I know I need to earn my spot' and that he didn't expect to play on a team's top line or top power-play unit.
But as Kane went through the process, in the back of his mind, he always came back to Detroit. At age 14 Kane moved away from home to play for the Michigan-based Honeybaked AAA program, where he billeted with Red Wings legend Pat Verbeek. Kane fell in love with Detroit, which was just as obsessed with hockey as he was. He adored the Red Wings' history and tradition.
But the Red Wings, who have been in a timeframe-less rebuild, still had to win Kane over.
"Our approach, me and [GM] Steve [Yzerman], was to be simple, direct and honest," coach Derek Lalonde said, knowing that whatever he said, Kane would fact check with one of his good friends, Alex DeBrincat. Lalonde had a vision for Kane — including pairing him with DeBrincat early, finding ways to create wide ice, where he thrives, and maximizing Kane's ability to play off his off hand.
The Red Wings are looking to break a seven-year playoff drought. For the last several years, they've subtracted ahead of the trade deadline, which dejected the group – especially last season. "Steve [Yzerman] has a plan, he's extremely patient," Lalonde said. "But Kane choosing us, it's a credit to what the guys built and what they're doing. This is the first shot in the arm."
Lalonde had heard stories about what type of competitor and teammate Kane is. A few of Lalonde's friends, including Tampa Bay assistant Jeff Blashill, were on the staff of the USA 2018 World Championship team.
"It was one of the first years Chicago missed the playoffs, so he went to the World Championships," Lalonde said. "They won the bronze medal, they had an end of the tournament party. He's the only guy who wore his medal during the whole thing. Those are the things that were in my head before meeting him. And then once I did [meet him], I was maybe even more impressed. It's like talking to the CEO of a company. He's inquisitive about all of the right things."
Kane agreed to terms with the Red Wings on Nov. 28. The team had already departed for New York for a game against the Rangers as Kane reported to the facility for his physical. Once he cleared, Kane had a request: he wanted to fly to New York as soon as possible, to join his new teammates.
Kane has been patient with his debut. When he finally gets back in a game, a culmination of the quiet hard work he's been putting in since June, he wants to be Showtime again.
"I'm very optimistic," Kane said. "Hopefully I'll be even better than I was in the past."
Additional reporting by ESPN's Stephania Bell.
Sources: Texas A&M to hire K-State's Klein as OC
Texas A&M is set to hire Kansas State offensive coordinator Collin Klein for the same role under new coach Mike Elko, sources told ESPN.
Klein, a former quarterback for Kansas State who finished third in Heisman Trophy voting in 2012, had emerged as one of the nation's top young playcallers. Klein, 34, has spent almost his entire career at his alma mater, serving as quarterbacks coach and becoming the team's sole playcaller before the 2022 season under coach Chris Klieman.
Notre Dame pursued Klein for its offensive coordinator vacancy after the 2022 season, and Klein has drawn some interest for head-coaching opportunities.
Since the start of the 2022 season, Kansas State ranks 20th nationally in scoring (34.9 PPG). In 2022, when Kansas State won the Big 12, the offense finished in the top 10 in school history in 11 categories, including second in offensive yards (5,863), fourth in rushing yards (2,916) and fifth in yards per game (418.8).
Offensive line coach Connor Riley is expected to be a candidate to replace Klein, a source said. The 25th-ranked Wildcats will face No. 18 NC State in the Pop-Tarts Bowl on Dec. 28 in Orlando, Florida.
GoPowerCat.com first reported Klein accepting the Texas A&M job early Wednesday.
College football transfer portal updates: Latest news on who's in and out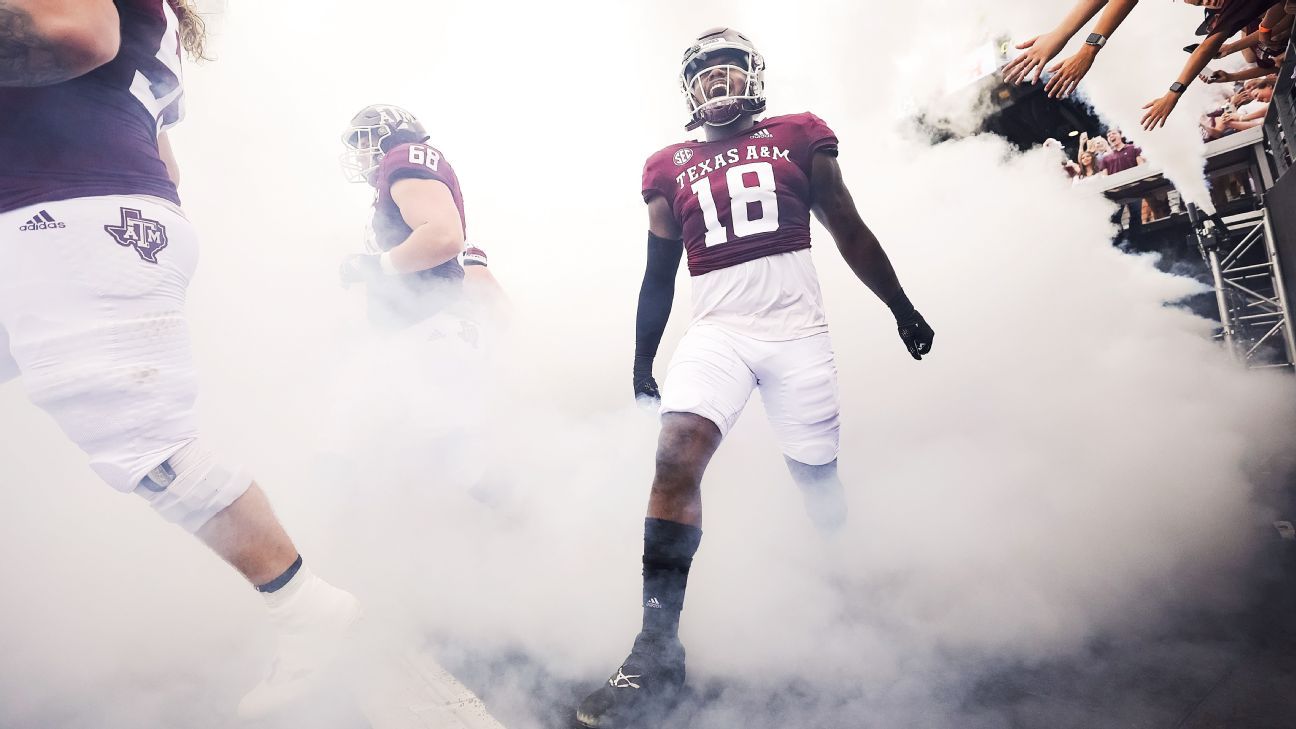 College football's 30-day winter transfer portal window is open, as players have until Jan. 2, 2024, to enter the portal for their one-time transfers. It doesn't mean they have to find their new schools by then — or that they can't return to their previous schools — but they have 30 days to decide whether they want to be in the portal.
More than 1,000 players officially entered the transfer portal on Monday. A few of the quarterbacks who already are in the portal include Ohio State's Kyle McCord, Washington State's Cam Ward, Duke's Riley Leonard, Oregon State's DJ Uiagalelei and UCLA's Dante Moore.
Who's next to enter the portal? We're tracking notable players entering (and exiting) the portal, with the latest news and updates on how the 2024 season could be transformed:

coverage:
Ranking best players in portal
Top available transfer QBs

Latest transfer portal entries

Portal entrants from before the window officially opened
Christian-Lichtenhan is a 6-foot-10, 315-pound junior, originally from Davis, California. He redshirted in his freshman season at Colorado in 2020, but played in five games along the offensive line during the 2021 season. He started in eight games in 2022, and was the starting left tackle this season for coach Deion Sanders. He is departing from an offensive line that struggled mightily in pass protection during 2023.
---
Ward transferred into the WSU program from Incarnate Word prior to the 2022 season, where he was a second team FCS All-American player and the Southland Conference offensive player of the year. He went 10-3 in 2021 with Incarnate Word and threw for 4,648 yards, 47 touchdowns and 10 interceptions.
He continued that success in 2022 at Washington State and was an All-Pac-12 Conference honorable mention player. He started all 13 games and threw for 3,231 yards and 23 touchdowns.
---
After starting his career at Notre Dame, Pyne transferred to Arizona State last season. But because of injuries, he was sidelined for the most of 2023, only appearing in two games in September. In those two appearances, he threw two touchdowns and three interceptions. Pyne expects to have three seasons of eligibility left once he graduates with his degree.
---
The South Alabama wide receiver had over 1,300 receiving yards for the Jaguars this season to pair with seven touchdowns. He's in the portal as a graduate transfer.
---
Moore was the No. 2 prospect overall in the 2023 class out of Detroit, Michigan. He originally committed to Oregon out of high school, but flipped to UCLA and signed with the Bruins. Moore appeared in nine games this season as a true freshman and threw for 1,610 yards, 11 touchdowns and nine interceptions. Prior to his commitment, he showed interest in Michigan State, Texas A&M, LSU, Miami and Michigan among others.
---
The former Clemson QB, who was one of the big names in the portal last season is planning to leave the Beavers. In his lone season in Corvalis, DJU was improved in almost every category compared this previous two seasons starting at Clemson. In 2023, Uiagalelei threw for 2,638 yards and accounted for 27 total touchdowns.
---
Morris, a sophomore, began the season as NC State's backup with plans to be a backup and redshirt. He ended up starting four games before opting to sit out the rest of the season to preserve his redshirt. Morris played last season as a true freshman after Devin Leary went out for the season with an injury. Morris has thrown for 1,367 yards with 14 touchdowns and six interceptions, completing 57.8 percent of his passes during his career at NC State.
Clark was a starter on the defensive line for the Wolfpack. He had 22 tackles in 2023.
---
Collins, a junior, will be immediately eligible for his final year. He has caught 91 passes for 1,290 yards and 11 touchdowns over three seasons.
---
Leonard, a junior, started all 13 games for the Blue Devils during the 2022 season and threw for 2,967 yards, 20 touchdowns and six interceptions. He also had 699 rushing yards and 13 rushing touchdowns and was an All-ACC honorable mention selection for his performance. He played in seven games this season, missing games because of a toe injury suffered against Louisville, and finished the season with 1,102 yards passing, three touchdowns and three interceptions. He added on four rushing touchdowns and 352 yards on the ground.
---
Coastal Carolina starting quarterback Grayson McCall entered his name in the transfer portal as a grad transfer on Wednesday. McCall dealt with an injury this season that allowed him to play in just seven games where he threw for 1,919 yards, 10 touchdowns and six interceptions under new coach Tim Beck. McCall threw for 2,700 yards, 24 touchdowns and two interceptions in 11 games during the 2022 season. He has 10,005 career passing yards and 88 career touchdowns.
---
Peebles, a graduate transfer, played 411 snaps this season, racking up four sacks, 40 total tackles and a forced fumble. He had 3.5 sacks over the 2021 and 2022 seasons.
---
Bedford, who started 10 games this season and played both right guard and right tackle, is the 17th Hoosiers player to enter the portal since Nov. 27, according to ESPN's Tom VanHaaren. That includes four of their starting offensive linemen. Bedford allowed just one sack in 2023.
---
The Owls' sophomore quarterback is moving on after starting two years for Temple. He was AAC rookie of the year in 2022. In his career, he has thrown for 6,104 yards with 41 touchdowns and 24 interceptions.
---
Cincinnati defender Deshawn Pace announced that he will enter the transfer portal. He plays the STAR position for the Bearcats, a safety and linebacker combination, and led the team in total tackles in 2023 with 80 tackles. Pace also led the team in tackles for loss with 11 and had five pass breakups on the season.
---
Rudolph, who had 46 catches for 499 yards and two touchdowns this season, intends to enter the transfer portal, a source told ESPN's Pete Thamel. Rudolph caught 51 passes for 892 yards and seven scores in 2021.
---
Kaliakmanis had 1,838 passing yards with 14 touchdowns and nine interceptions, while completing 53.1% of his attempts for Minnesota, which finished 5-7. He added two rushing touchdowns. He took over as Minnesota's top quarterback after starting five games as a freshman in 2022, going 3-2 with 946 passing yards and three touchdowns. He has two seasons of eligibility left.
---
After replacing Sam Hartman, who transferred to Notre Dame last year, Griffis struggled this season. He went 124-for-207 for 1,553 yards with nine touchdowns and seven interceptions as Wake Forest finished 4-8. Wake Forest backup QB Santino Marucci also announced he would be transferring.
---
A sophomore from Minnesota, Burks has decided to leave Purdue. With 47 catches for 629 yards and seven scores, Burks was the Boilermakers' leading receiver in 2023. Burks was a three-star recruit in the Class of 2021.
THANK YOU PURDUE
FOREVER A BOILERMAKER 🖤 pic.twitter.com/6JErgcHWop

— 𝐃𝐞𝐢𝐨𝐧 𝐁𝐮𝐫𝐤𝐬 (@deionkburks) November 28, 2023
---
After an up-and-down career with the Hurricanes, Van Dyke entered the transfer portal, saying, "I am looking forward to the next chapter and what my future holds." A fourth-year junior, had been the starter since the 2021 season. He threw for 2,931 yards, 25 touchdowns and six interceptions in 10 games in 2021. His performance that season earned him ACC Rookie of the Year and ACC Offensive Rookie of the Year honors. Injuries and inconsistency hampered his next two seasons as Van Dyke threw 17 interceptions over the last two seasons and has played for three different offensive coordinators.
Chaney, a sophomore, had 478 yards rushing this season and two touchdowns. He was, at certain times, the Canes' feature back, and he had double-digit carries in three games and 106 yards against Georgia Tech and 85 yards against Florida State.
---
Correll, who started 10 games for the Irish this season, enters the portal as a graduate transfer and will have one year of eligibility remaining. Correll was a veteran presence on the Notre Dame line but missed the final two games of the season with a concussion. He was a four-star prospect, ranked No. 148 in the 2019 ESPN 300.
Osafo-Mensah started one game this season before finding a reserve role on the Irish defense. In five seasons in South Bend, he had 47 tackles and five sacks.
---
A sophomore receiver, McAlister had a big season for the Broncos in 2023. He had 47 catches for 873 yards and five scores. He averaged 18.6 yards-per-catch in 2023.
---
Brown, a sophomore who saw limited action in 2023, has decided to leave USC. He had only three catches on the year. He was a highly ranked recruit in USC's 2022 recruiting class. Ranked No. 64 overall, Brown was the highest-ranked offensive recruit in the class.
---
Part of an exodus of Hoosiers players after the firing of coach Tom Allen, Indiana has four of five starting offensive linemen entering the portal. Benson and Carpenter will be graduate transfers, while Smith and Bedford have multiple years of eligibility left.
---
Howard, who led Kansas State to a Big 12 title in 2022, has decided to move on as a graduate transfer. Howard led Kansas State with 2,643 passing yards and 24 touchdowns with eight interceptions, completing 61.3% of his passes. After sharing time with Adrian Martinez to begin the 2022 season, he emerged as the Wildcats' top quarterback for their run to a conference title. Howard, who will have one year of eligibility left, has 5,786 career passing yards with 48 touchdowns — a team record — and 25 interceptions, as well as 934 career rushing yards and 19 touchdowns.
Ward will move on as a graduate transfer after four seasons at Florida State before playing for the Wildcats in 2023. He has had more than 500 yards rushing in a season the past three seasons and 17 career touchdowns.
---
After starting 23 games over three seasons in Waco, Shapen has decided to transfer. As a true junior this season, he will have at least one season of eligibility remaining. He had 2,188 yards passing with 13 touchdowns in 2023. Shapen is a former four-star recruit from the Class of 2020.
---
Will Rogers, who has thrown for 94 career touchdowns, is leaving Starkville after the Mississippi State coaching change. Rogers played in every game in the 2021 and 2022 seasons before injuries limited his 2023 season. In eight games this season, Rogers threw for 1,626 yards, 12 touchdowns and four interceptions. In four seasons with the Bulldogs, Rogers threw for 12,315 yards, completing 69.4% of his passes.
— Will Rogers (@Wrogers__2) November 24, 2023
---
Houser, a redshirt freshman, who played in seven games this season, plans to transfer and has three years of eligibility remaining. He played in 11 games this season and finished with 1,132 passing yards with six touchdowns and five interceptions.
---
A day after the Hoosiers fired coach Tom Allen, their starting QB is moving on as well. Sorsby, who started parts of the 2023 season, played in 10 total games and finished with 1,587 yards, 15 touchdowns and five interceptions. He also had 286 yards rushing and four touchdowns on the ground. He was a three-star recruit in the Class of 2022.
---
With Cam Rising returning for a seventh year and Bryson Barnes, who started for for most of the 2023 season also back, Utah freshman signal-caller Johnson has decided to move on. Johnson started three games this season, going 2-1, and accounting for 734 total yards and 12 touchdowns. From Clovis, California, he was a four-star recruit and ranked 93rd overall in the 2022 ESPN 300.
---
Johnson, who started 12 games at LSU in 2021, then eight over two seasons at Texas A&M, is entering the portal as a graduate transfer. He was the Aggies' starter in 2022 for three of their first four games before being injured and redshirting. Johnson then battled Conner Weigman for the starting job this season. After Weigman was injured in late September, Johnson was again the starter for the next five games before injuring his ribs. In total, Johnson has thrown for 5,853 yards and 47 touchdowns over four collegiate seasons. Johnson was a four-star recruit in the Class of 2020, ranked No. 129 overall in the ESPN 300.
---
Shough started his career at Oregon before going to Texas Tech. He has accounted for 36 touchdowns in five collegiate seasons and was an ESPN 300 recruit in the Class of 2018.
---
Cottrell entered the portal after the firing of Aggies coach Jimbo Fisher. Cottrell, a freshman from Milton, Florida, had just one catch for 13 yards (it went for a touchdown) this season. A four-star recruit in the Class of 2023, Cottrell was the 23rd overall receiver in the class.