The last century's space race was a competition between the world's great powers and a test of their ideologies. It would prove to be a synecdoche of the entire Cold War between the capitalist United States and the socialist Soviet Union.
The starting pistol in the race to the future was fired in 1961 when President John F Kennedy committed to "achieving the goal, before this decade is out, of landing a man on the moon and returning him safely to the Earth" and it ended with a US victory on 24 July 1969 when the crew of the Apollo 11 mission splashed down safely in the Pacific Ocean.
There are no such stakes in today's race. The values of the future aren't in question, merely the egos of three billionaires. One of these men is launching his private spacecraft off the planet on Sunday. Another follows suit soon after.
So here's how they compare and what you need to know: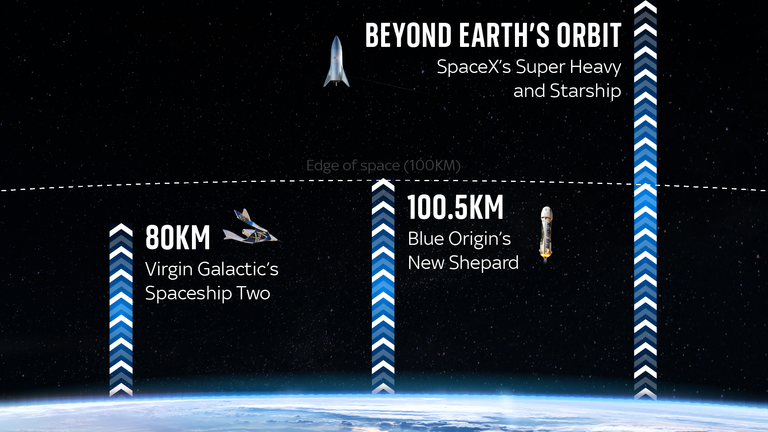 ---
Sir Richard Branson
Age: 70
Estimated Net Worth: $5.8bn (£4.2bn)
Company: Virgin Galactic
Launch date: 11 July
"My mum taught me to never give up and to reach for the stars," said Sir Richard Branson announcing that he was going to be among the first people his spaceflight company launches on a mission.
Unfortunately, not only will Virgin Galactic's mission fall short of the stars, the two-and-a-half hour mission will also fall short of space, at least according to the internationally agreed definition.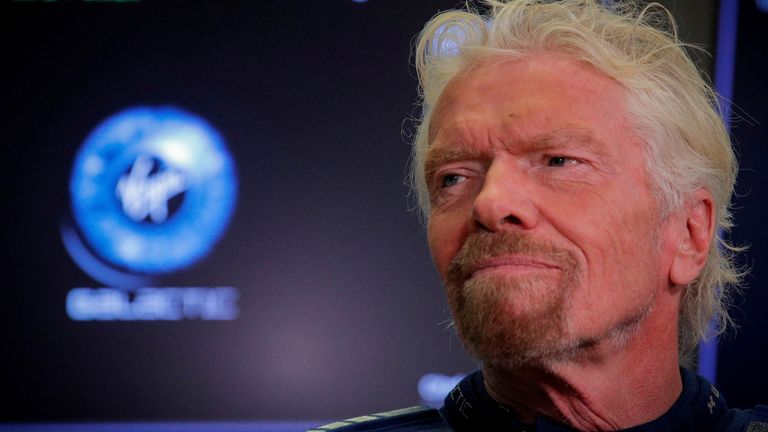 VSS Unity is a spaceplane (perhaps just a plane?) that launches in mid-air from the belly of a carrier aircraft at an altitude of about 15km, and then flies up to an altitude of about 80km, allowing the passengers to feel nearly weightless for approximately six minutes and glimpse the curvature of the Earth.
The problem for Sir Richard is that the Federation Aeronautique Internationale (FAI) defines the boundary between Earth's atmosphere and outer space as 100km above Earth's mean sea level, the so-called Karman Line, 20km higher than he is going to travel.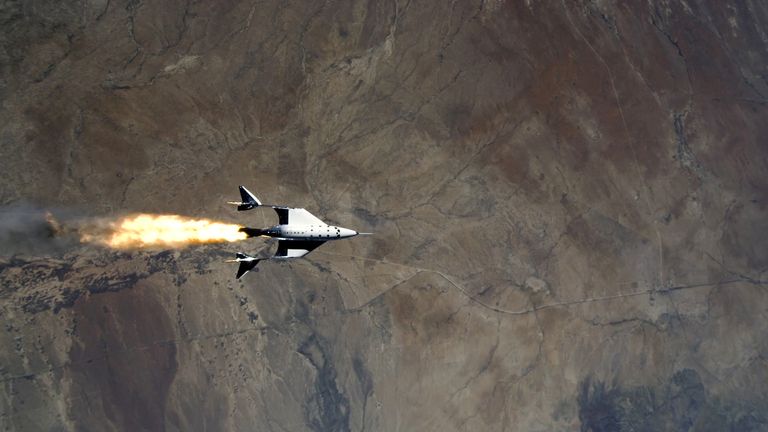 The definition of the edge of space is a bit of a challenge. Earth's atmosphere doesn't suddenly end but becomes progressively thinner at greater altitudes. In very simple terms, physicist Theodore von Karman's solution was to define the edge of space as the highest point at which an aircraft could fly without reaching orbital velocity.
While Karman himself and the FAI regards this altitude as 100km, Sir Richard has the US Air Force and NASA on his side. They both place the boundary of space at 80km above mean sea level, partially because putting it at 100km would complicate issues regarding surveillance aircraft and reconnaissance satellites for the US – although the Department of Defence subscribes to the FAI definition.
It's not clear whether this definition is covered by the small print of Virgin Galactic's customer tickets, but ultimately the company aims to be operating multiple space tourism flights a year, and already has more than 600 customers for the $250,000 (£189,000) seats – including Justin Bieber and Leonardo DiCaprio.
---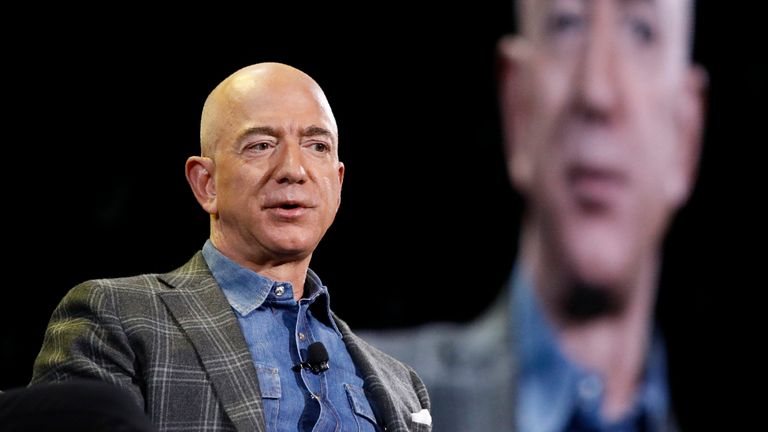 Jeffrey Bezos
Age: 67
Estimated Net Worth: $198bn (£144bn)
Company: Blue Origin
Launch date: 20 July
"Ever since I was five years old, I've dreamed of traveling to space. On 20 July, I will take that journey with my brother," said Jeff Bezos, announcing his seat on a journey to the edge of space.
Blue Origin's New Shepard rocket is capable of actually making it there, with a maximum achieved altitude of above 100km, but how high it will bring its four passengers hasn't yet been confirmed.
These passengers will be Jeff Bezos, his brother Mark, a mystery customer who paid $28m (£20m) for the seat in an auction, and 82-year-old Mary Wallace "Wally" Funk, a woman who had astronaut training in the 1960s but was denied the chance to go into space because of her gender.
While the mission will be scooped to launch by Virgin Galactic, by inviting Wally Funk it has managed to scoop Branson on getting a famous victim of gender injustice into space – she had previously put money down to fly with Virgin Galactic.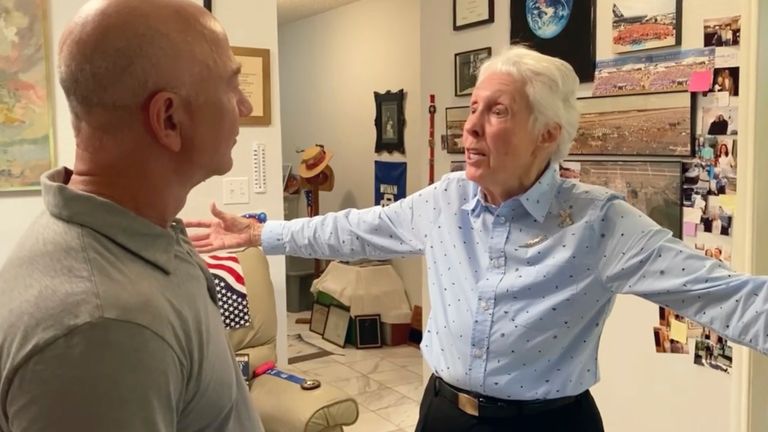 It will take three minutes to take the passengers up to the required altitude, at which point they will have three minutes more in which to enjoy their sudden near-weightlessness. They'll be allowed to unbuckle their seatbelts and float around, as well as examine the curvature of the Earth through one of the capsule's windows. Just over 10 minutes after launch, the spacecraft will land back on Earth.
The 20 July flight will fittingly occur on the anniversary of the moon landings in 1969, but unlike the Apollo missions there will be no human piloting the modules. Instead, Blue Origin's New Shepard spacecraft is completely autonomous and will follow a programmed mission timeline before parachuting back to Earth.
The company has said that it expects to sell seats for more tourism flights in the future, but it isn't clear how this will happen and the tickets for New Shepard are yet to go on general sale.
---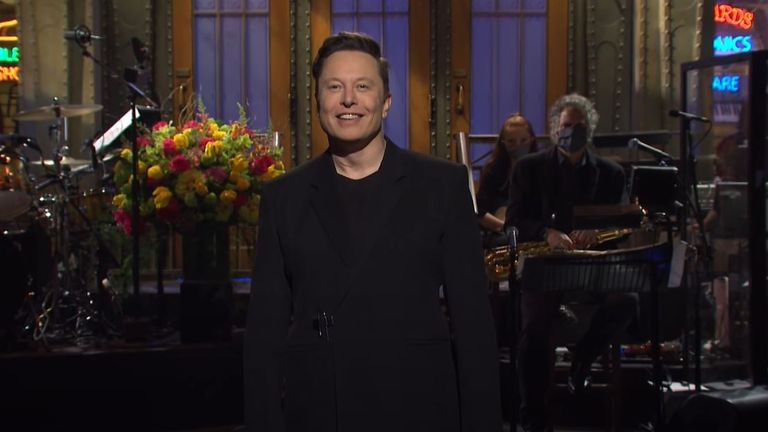 Elon Musk
Age: 50
Estimated Net Worth: $167bn (£121bn)
Company: SpaceX
Launch date: Unknown
"I want to die on Mars – just not on impact," Elon Musk once quipped, although he hasn't announced his immediate intention to travel into space at all.
Unlike both Bezos and Branson, Musk's private spaceflight company, SpaceX, has a long and successful history of launching payloads way beyond the 100km mark.
SpaceX has announced it will be launching an all-civilian mission into orbit by the end of the year, with the passengers actually orbiting around the planet for up to four days before returning to Earth.
All four crew seats on the mission have been paid for by Jared Isaacman, the founder of Shift4 Payments, who has declined to reveal the costs.
Isaacman is donating two of the seats to St Jude Children's Research Hospital in Memphis, with one being given to a staff member there, and another intended to be raffled off to a member of the public. He hopes to raise $200m (£145m) for the hospital, alongside a $100m (£72m) donation of his own.
Elon Musk hasn't mentioned flying on this mission himself, although he has long articulated a plan to travel to Mars, plans that have been described as a dangerous delusion by Britain's chief astrophysicist Lord Martin Rees.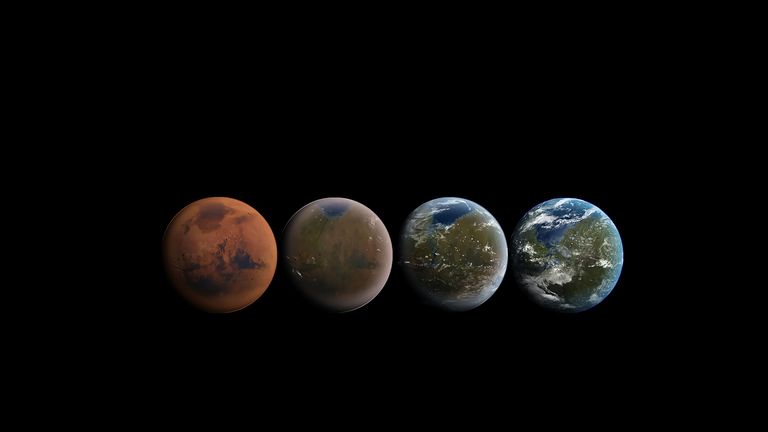 Back in 2016, Musk outlined his vision of building a colony on Mars "in our lifetimes" – with the first rocket propelling humans to the Red Planet by 2025.
For many years the company used an image of the Martian surface being terraformed (turned Earth-like) in its promotional material. However, a NASA-sponsored study published in 2018 dismissed these plans as impossible with today's technology.
Recently Musk has tweeted he believed it was "possible to make a self-sustaining city on Mars by 2050, if we start in five years" but as of yet, SpaceX has not planned any missions to the planet.
Kevin McCarthy: US House Speaker removed from office for first time in history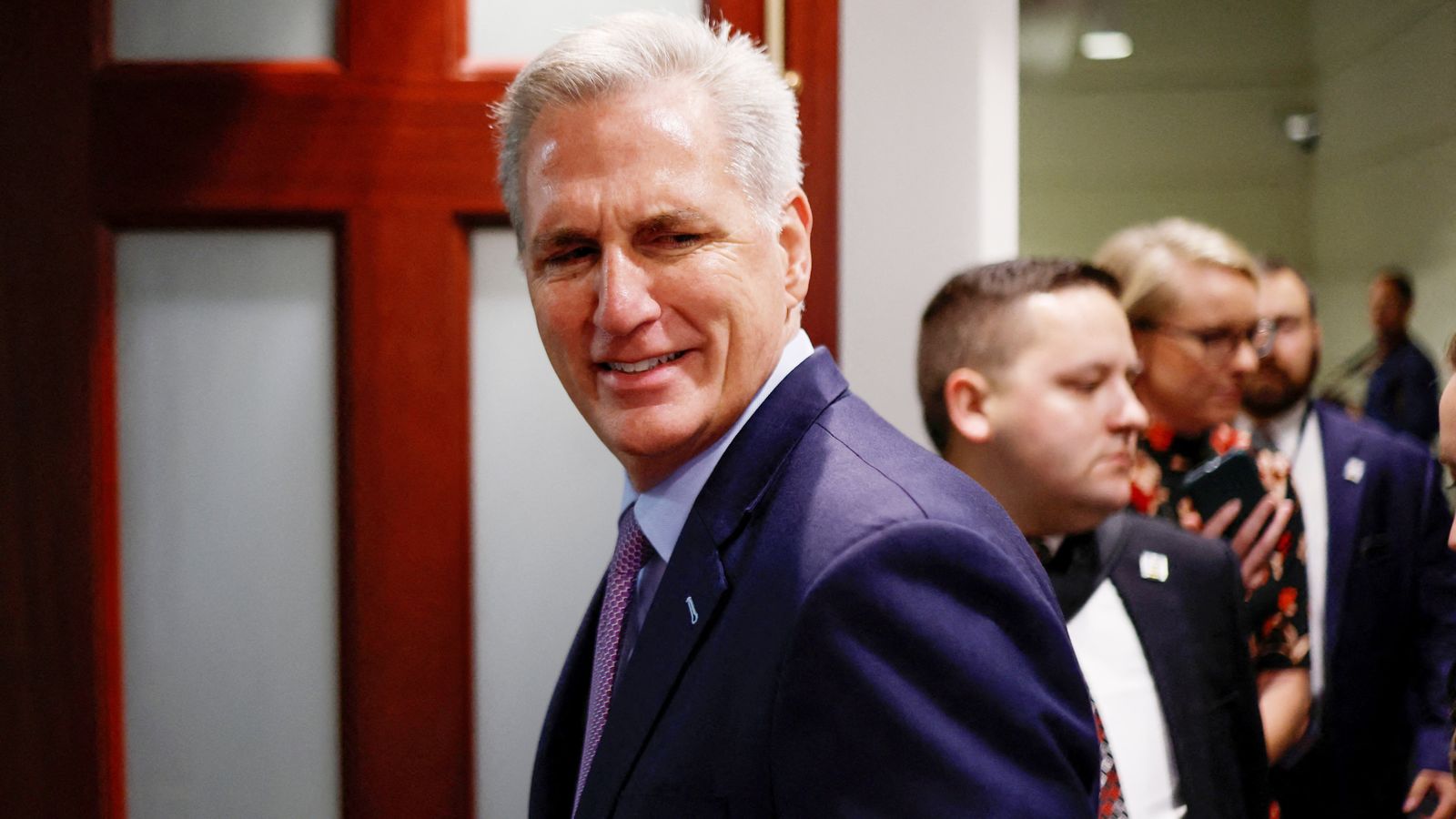 US House Speaker Kevin McCarthy has been removed from office after a historic challenge to his leadership from his own party.
The Republican faced a motion to vacate, which was triggered by Donald Trump ally Matt Gaetz on Monday, just months after securing the position in 15 rounds of voting.
It is the first time in the country's history that House representatives have voted the Speaker out.
Behind closed doors early on Tuesday, Mr McCarthy told fellow Republicans: "If I counted how many times someone wanted to knock me out, I would have been gone a long time ago."
Several Republicans, however, had said they were sticking with Mr McCarthy as they emerged from the meeting, during which they said he received standing ovations.
It follows a decision made by Mr McCarthy over the weekend to cooperate with the Democrats to keep the government running rather than risk a shutdown.
It is a move that angered Mr Gaetz and other far-right Republicans, as Mr McCarthy relied on Democratic votes to pass a temporary funding extension on Saturday that avoided a partial government shutdown.
A band of about 20 Republicans had forced Mr McCarthy's hand by repeatedly blocking other legislation.
Mr Gaetz and his allies said they were frustrated by the slow pace of spending legislation on Mr McCarthy's watch.
Republican Representative Tim Burchett, who said he would vote to oust Mr McCarthy, said: "We took a whole month of August off. I think that that's pretty telling."
Read more:
Hunter Biden pleads not guilty to three firearm charges
Donald Trump generated 'more than $100m' through fraud, court hears
Another day of history in US politics
It's political pantomime, without the laughs.
To look at the House of Representatives is to see the turbulence of America's political ecosystem.
The ousting of Kevin McCarthy leaves the lower chamber of Congress in a state of paralysis.
There will be an interim Speaker but his or her role will effectively amount to finding a permanent replacement.
It is a dysfunction at the heart of power, an extension of the fault lines that fracture the modern-day Republican Party.
Never before has a House Speaker been ejected in this way, another day of history in US politics
The history-makers at the wheel have travelled a distance from the party fringes to positions of influence.
Matt Gaetz is the high-profile House representative who tabled the motion to oust McCarthy.
He's prominent amongst a hard-line conservative core of House Republicans, Trump-aligned, and bent on reshaping party traditions and reorientating its trajectory to the right.
It is a tail that can wag the dog and this episode is clear evidence of it.
The rules dictate that just one representative – Mr Gaetz in this case – can trigger a vote to oust the Speaker.
That arrangement was a deal Mr McCarthy struck in January to appease his party's right wing and enable his accession to the position of Speaker.
It didn't look like clever politics by Mr McCarthy at the time and it looks even less so today.
Today, politics are harder in a party whose politics have changed.
Not all are convinced by Mr Gaetz's intentions, with some Republicans believing he is angling for a change at a higher office.
"It seems very personal with Matt. It doesn't look like he's looking out for the country or the institution," Mr McCarthy said.
Mr Gaetz has denied he is spurred on by a dislike of Mr McCarthy.
'Apocalyptic scene' as coach crashes off overpass near Venice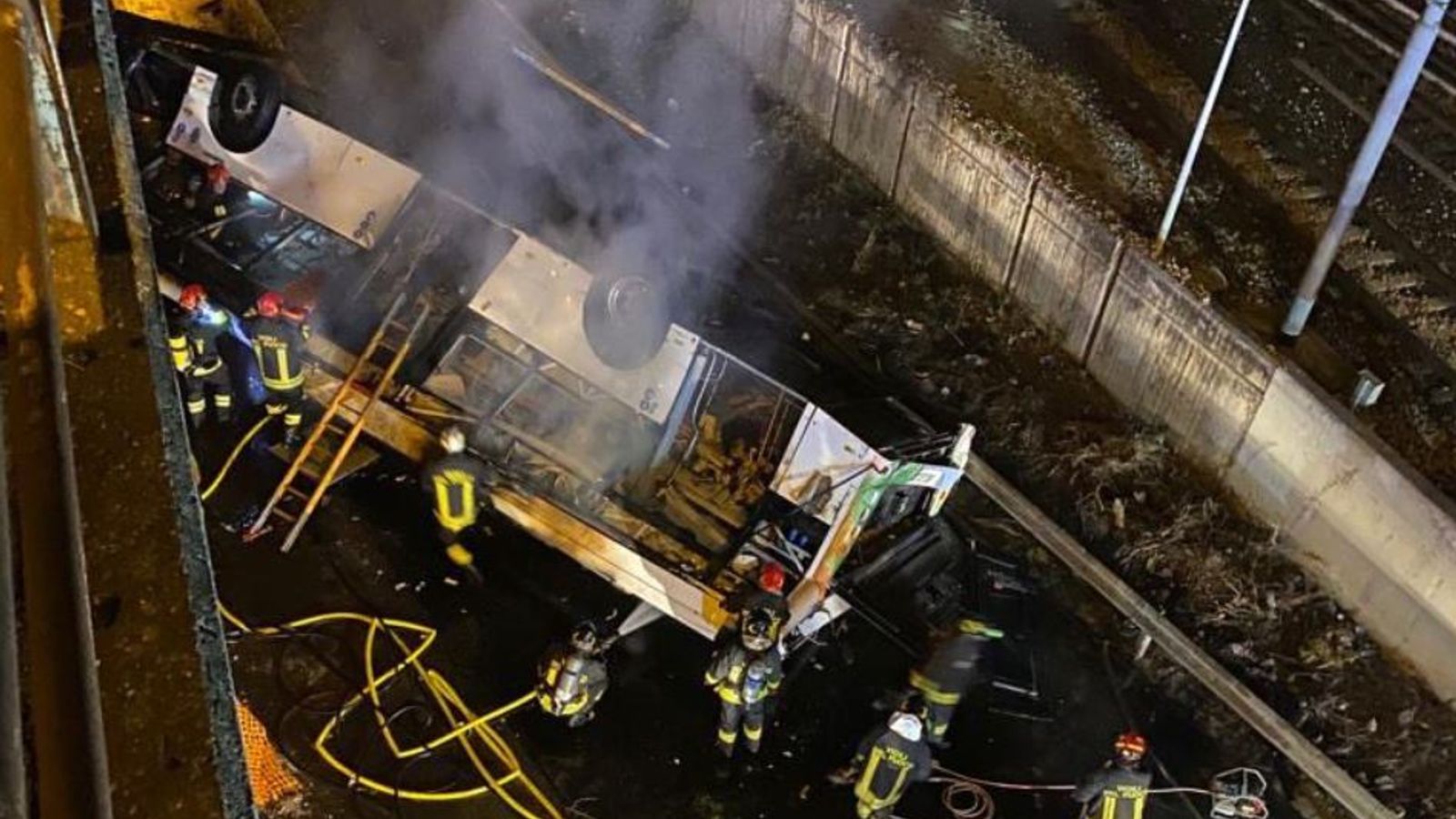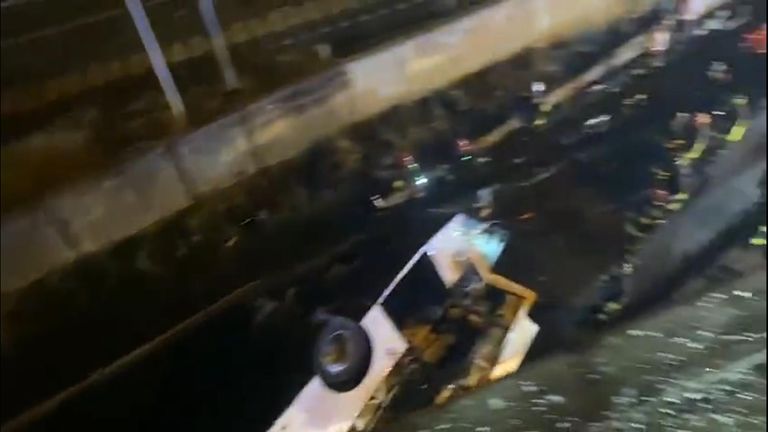 At least 21 people have died in a coach crash near Venice in northern Italy, according to authorities.
Another 18 people were injured in the crash on Tuesday evening, with Italian police confirming there were tourists of "various nationalities" on board.
There were at least two children among the passengers, police added, while Venice's mayor, Luigi Brugnaro, said they found Ukrainian passports at the scene.
"Several of the victims were foreigners, we found Ukrainian passports," he said.
With rescue operations ongoing, the number of deaths could climb higher.
"The bus was rented for its guests by Camping Jolly in Marghera," police said.
"On board, at the time of the accident, there were tourists of various nationalities. Also with them were at least two minors."
Mr Brugnaro described the incident as a "terrible tragedy".
"I immediately ordered the city to go into mourning, in memory of the many victims who were in the crashed bus," he posted on social media.
"An apocalyptic scene, there are no words."
Several people have died in a coach crash near Venice in northern Italy

The coach fell close to railway lines after veering off a road in the district of Mestre, which is connected to Venice by a bridge, Italian television and news agencies reported.
According to Sky Italia, 18 bodies have so far been dragged from the wreckage after the coach fell 15 metres (49ft) onto electricity lines and caught fire.
The cause of the accident was still unclear, but one of Italy's national police forces said officers are on the scene to investigate and to "give aid" to those hurt.
The railway is also "currently interrupted".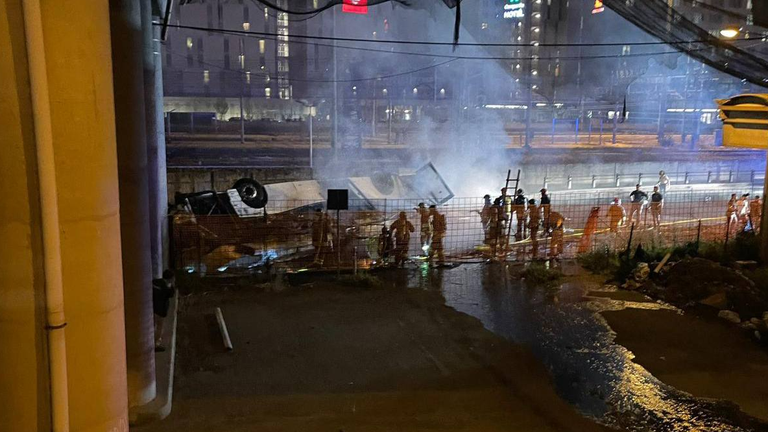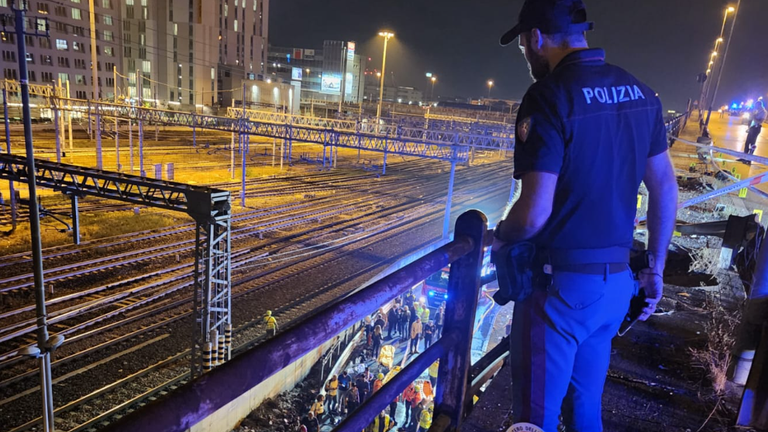 Italy's prime minister, Giorgia Meloni, said her thoughts are with the victims.
"I express my deepest condolences, my personal and that of the entire government, for the serious accident that occurred in Mestre," she posted on social media.
"My thoughts are with the victims and their families and friends. I am in close contact with the Mayor Luigi Brugnaro and with the Minister (of the interior) Matteo Piantedosi to follow the news on this tragedy."
Italy has suffered a number of deadly bus crashes in recent years.
In 2013, 40 people died when a bus plunged off a viaduct in southern Italy in one of the country's worst road accidents.
Four years later, 16 people on a bus carrying Hungarian students died in an accident near the northern city of Verona.
This breaking news story is being updated and more details will be published shortly.
Please refresh the page for the fullest version.
You can receive breaking news alerts on a smartphone or tablet via the Sky News app. You can also follow @SkyNews on X or subscribe to our YouTube channel to keep up with the latest news.
Thailand: Boy, 14, arrested as three shot dead in Bangkok's Siam Paragon Mall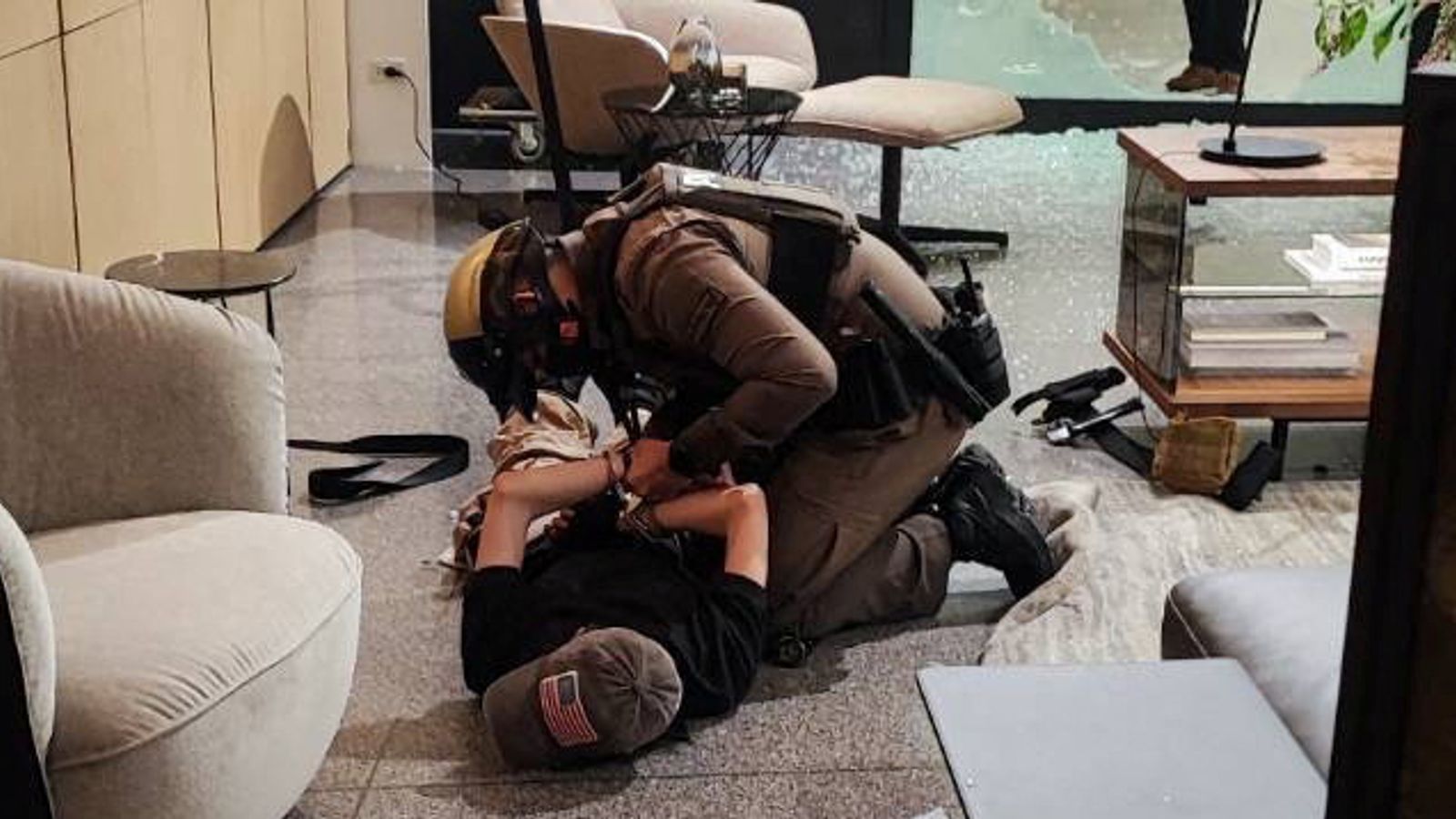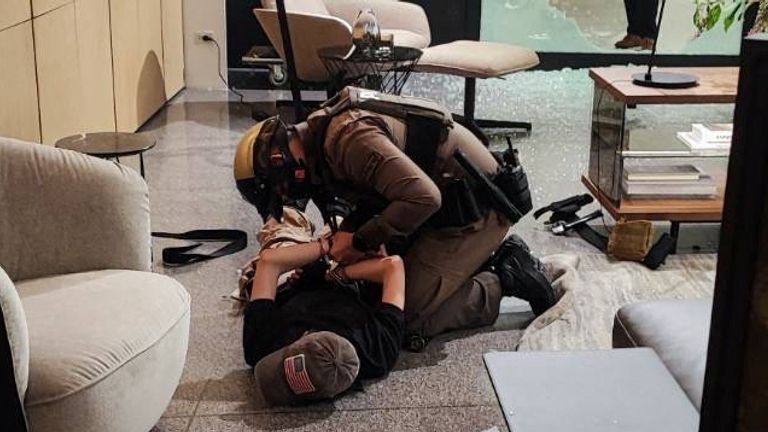 A 14-year-old has been arrested after three people were shot dead in a Bangkok shopping centre.
Footage shows crowds fleeing the Siam Paragon Mall – a luxury complex in the Thai capital – while some hid inside.
Emergency services said three people had been killed and six wounded in the afternoon shooting.
The suspect is just 14 years old, according to police.
Photos show him pinned to the floor and being handcuffed and an officer picking up a gun.
One of the injured is reported to be a foreign national.
The teenager was cornered at nearby Siam Kempinski Hotel at around 5.10pm and surrendered without a struggle, Bangkok Post reported.
The central investigation bureau earlier shared a grainy image of him wearing a cap and khaki cargo trousers.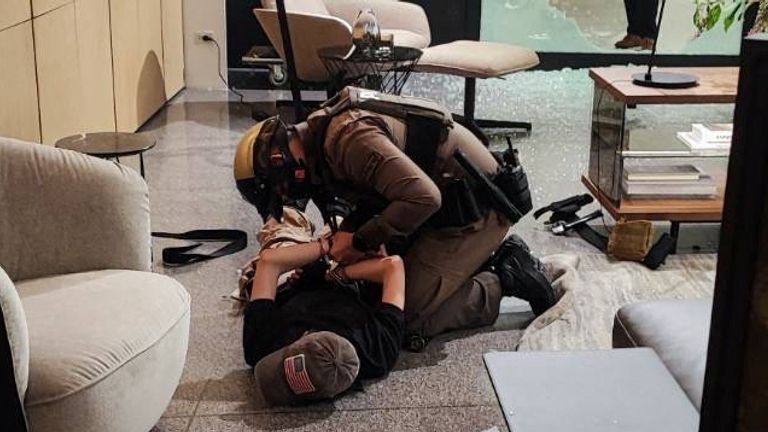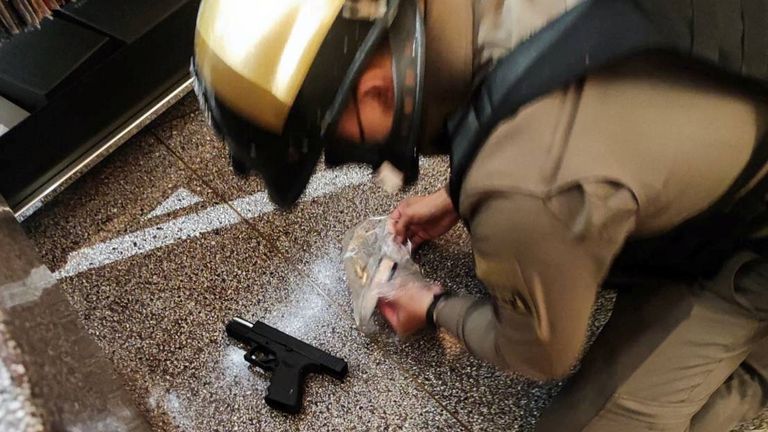 The local Siam train stop was closed and people prevented from leaving the station as emergency services responded.
Read more from Sky News:
Family wants answers over Briton's death in Vietnam
First-ever space debris fine issued
Prime Minister Srettha Thavisin posted on X: "I am aware of the shooting event at Siam Paragon and have ordered the police to investigate. I am most worried about public safety,"
Authorities said later that the situation was under control.
Gun violence is common in Thailand. Last year, an ex-police officer killed 22 children in a nursery shooting.
In 2020, a disgruntled soldier killed at least 29 people and wounded 57 in a rampage in and around the city of Nakhon Ratchasima.