Anyone over the age of 12 who travels to Malta after Tuesday must present a proof of full vaccination before they will be allowed into the country.
Authorities will require a recognised COVID-19 vaccination certificate, such as the type issued by Malta, the European Union or the United Kingdom's NHS.
Children aged between five and 12 only need to present a negative PCR test, and the under-fives are exempt.
While the rule applies to everyone, regardless of where they come from, the rules are slightly different for people from the UK, according to Visit Malta and the move effectively bans those aged 12-17 who currently cannot be vaccinated in the UK, unless they are part of a trial, as well as millions of adults who are yet to be vaccinated.
Other countries in the EU, under its green passport system, say anyone who is certified to have been vaccinated, has had a negative PCR test result or has certifiably recovered from COVID-19 can cross their borders, but Malta has decided to only recognise those who are fully vaccinated.
In late June, the country announced it would not accept the NHS app as proof of vaccination, but relented at the start of this month.
Health minister Chris Fearne said: "Malta will be the first EU country taking this step."
In the past few weeks, Malta has been a popular option for UK holidaymakers as it is on the UK's green list, meaning anyone returning does not have to quarantine unless they have a positive test. It is also not on the green watch list, indicating it is not expected to move to the amber list imminently.
The change in rules comes amid a surge in cases across the Mediterranean island, which has a population of just over half a million.
On 1 July, Malta had 46 active cases but by Friday the number had risen to 252.
Good news! From 01 July the Malta Ministry for Health has announced that it will accept proof of full vaccination in the form of digital COVID passes, including the NHS app or the vaccination certificate in digital or downloaded PDF form. pic.twitter.com/ko89uPtx37

— Visit Malta UK (@VisitMaltaUK) July 1, 2021
Malta's vaccination rates have been high, with 79% of Maltese adults receiving both jabs so far.
Despite that, the Maltese government says 90% of new cases are among the unvaccinated with many of those linked to travel.
The government has also closed English-language schools from Wednesday, after several positive cases linked to those locations were identified.
Israel accuses Hamas of violating truce deal – military operations set to resume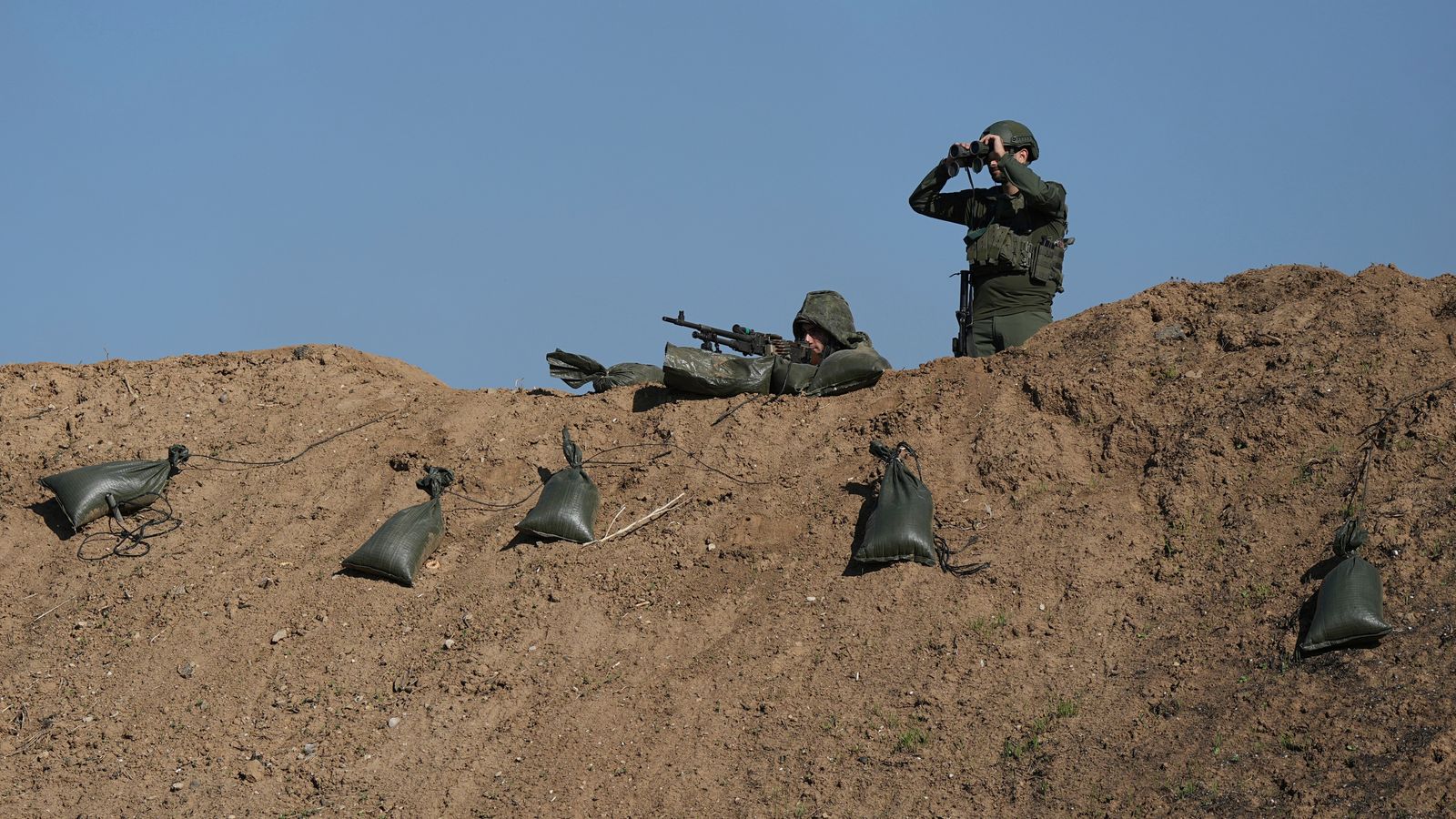 Israel's military has resumed combat in Gaza after accusing Hamas of violating the seven-day truce.
A spokesperson for Israel Defence Forces said: "Hamas violated the operational pause and in addition fired toward Israeli territory."
Around 30 minutes after the ceasefire was due to end, the Israeli military said its fighter jets were striking Hamas targets in the Gaza Strip.
Israel-Gaza latest: Follow live
Images on social media showed large plumes of dark smoke rising over the densely built-up Jabalia refugee camp.
IDF spokesperson Daniel Hagari said multiple rockets had been launched from Gaza towards Israel.
The ceasefire was due to expire at 7am local time (5am UK) on Friday – with the IDF claiming it was "ready" and willing to continue military operations.
A total of 79 Israeli hostages have been released by Hamas over seven consecutive days, with hundreds of Palestinians freed from prisons in exchange.
About 140 hostages remain in Gaza.
Reaching agreements on hostage releases appeared to be getting harder as most women and children had already been released.
International mediators – including diplomats from Qatar, Egypt and the US – had been working to extend the temporary truce.
This breaking news story is being updated and more details will be published shortly.
Please refresh the page for the fullest version.
You can receive Breaking News alerts on a smartphone or tablet via the Sky News App. You can also follow @SkyNews on X or subscribe to our YouTube channel to keep up with the latest news.
An end to the Israel-Hamas truce approaches – but the people of Gaza are desperate for help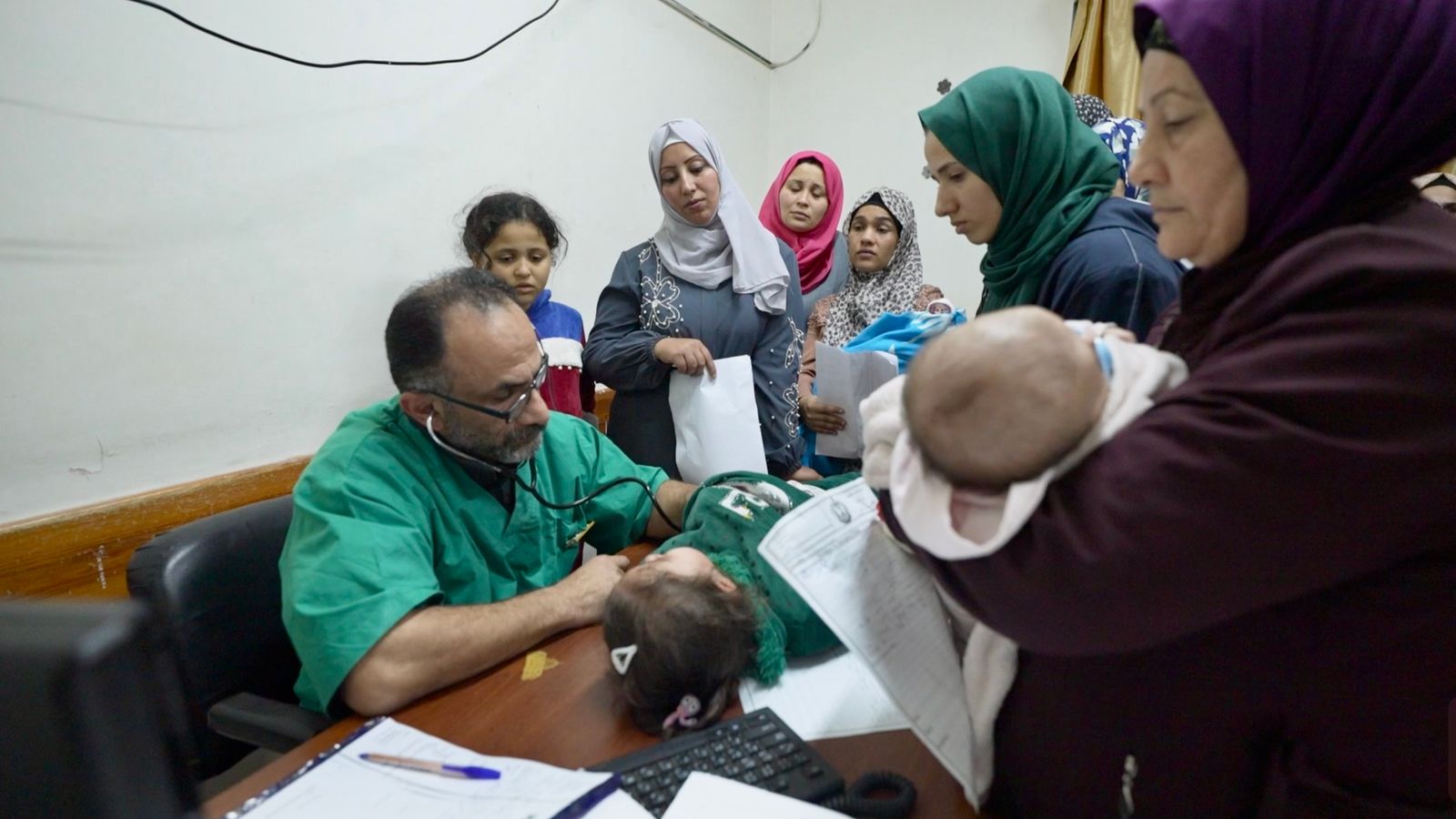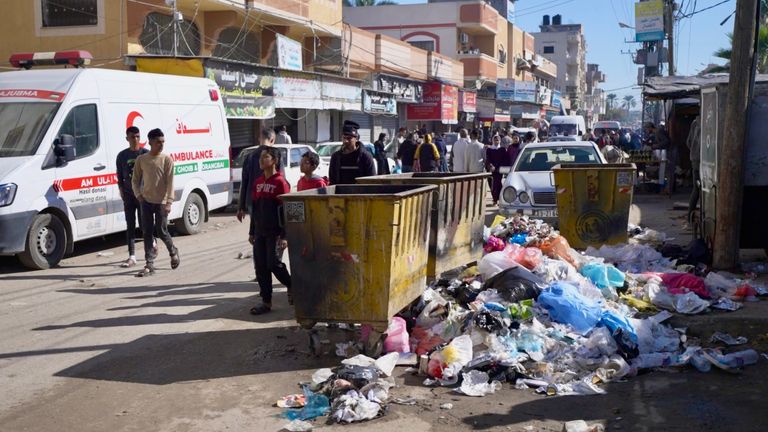 The ceasefire clock is ticking down and everyone in Gaza knows it.
In the calm, people have been flooding to hospitals looking for treatment – almost overwhelming doctors.
At a hospital in southern Gaza, a Sky News team filmed as patient after patient was brought in for treatment, many of them children, with undiagnosed illnesses.
Follow the Israel-Hamas war live, as more hostages are released
The hospital's corridors were crammed, with the injured placed on rickety beds.
In one doctor's room, mother after mother entered with their ill children, desperate for help.
There is a real fear of a major spread of disease among the civilians, who are largely homeless and barely finding enough food to survive.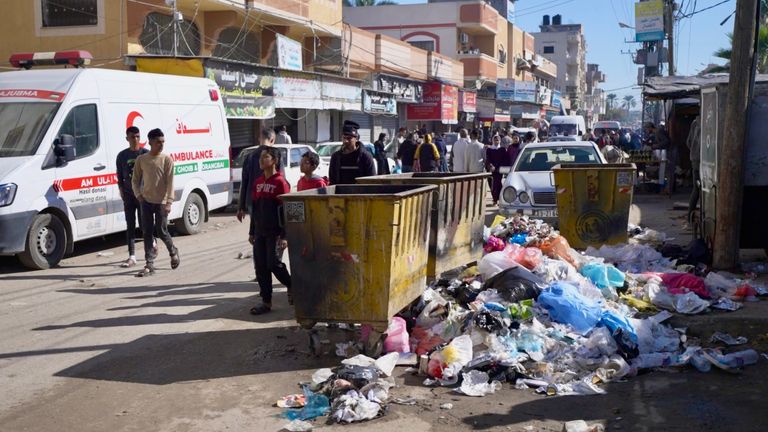 The head of the safety unit of the Ministry of Health in Gaza told Sky News the basic lack of hygiene and lack of clean water is making problems worse.
"There are many different types of diseases, such as skin diseases between the refugees, especially gut diseases and diarrhoea," Estamily A'adeni explained.
"As you may know most of the displaced people have a basic lack of hygiene because of their evacuation, and lack of water hygiene, this is why we see an increase in some cases such as skin disease, respiratory illness, and children in particular are suffering from diarrhoea," he added.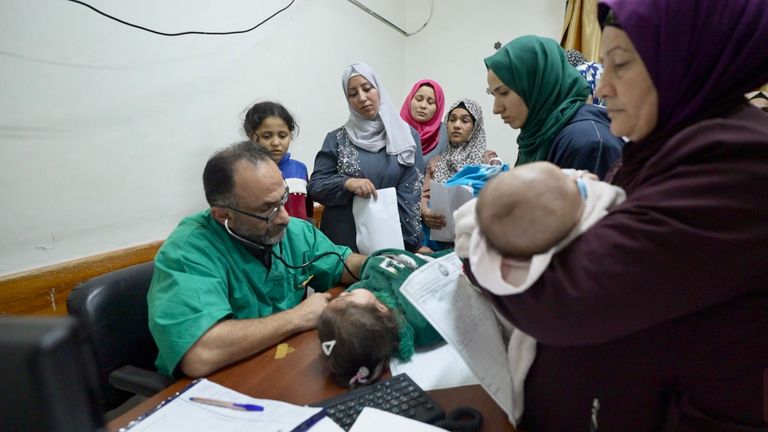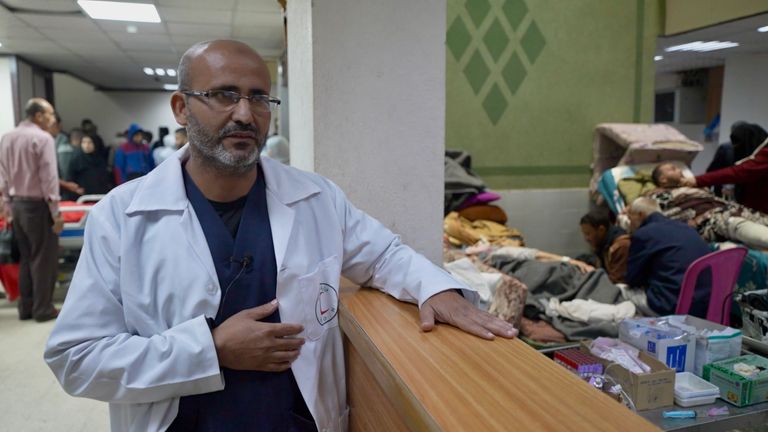 Read more:
Hamas releases two Russian hostages after Kremlin negotiations
Who are the first 61 Israeli hostages released by Hamas?
Aid deliveries have continued both to the south and the north of the Gaza Strip, and the quantity of it coming in has increased.
But aid agencies have consistently said it is hopelessly inadequate.
People are increasingly desperate, and they know that when the war resumes life will get even worse.
Hundreds of thousands have already moved south, and they face the very real prospect of having to move again.
Of course, the current ceasefire has been entirely dependent on the release of hostages in Gaza, and the release of Palestinian prisoners in Israeli jails.
At the permanent vigil for hostages at a square in Tel Aviv, it's clear that people are desperate for them to be returned.
At the same time though, there is widespread support for a resumption of the war on Hamas. And this is a conundrum for the Israeli government and the military – and Hamas of course always knew it would be.
This complex process has so far been remarkably successful, with negotiators staying in constant touch with both Israel and Hamas.
The vigil site itself is dominated by an enormous, fully dressed dinner table with place settings for all the hostages. Silhouetted pictures of people are hung over the back of chairs to symbolise that they're still missing.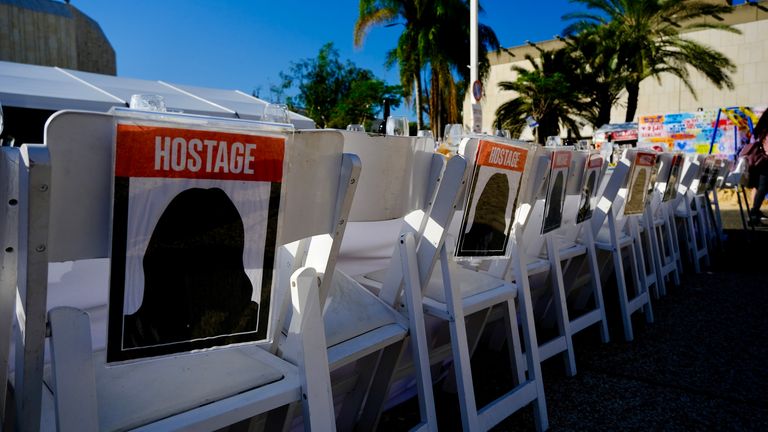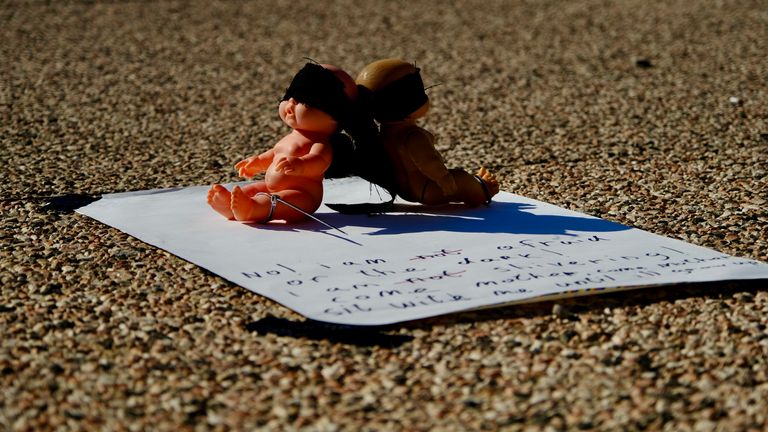 Chairs without the pictures represent the hostages who have been released and are now in hospital or back with their families in Israel.
Hundreds of people wander around the square looking at installations – including bound and blindfolded toy dolls that represent the children being held.
A few gazebos have been set up by survivors of the various kibbutzim attacked by Hamas on 7 October. Pictures of the dead and missing from the individual kibbutz adorn the gazebos, and people come to mourn and chat with friends and relatives.
In the crowd I met Sandra Cohen. I asked her if she, like others here, believed the war against Hamas had to restart, and I asked her about the complexities of the IDF's tactics – how to attack Hamas and get the hostages out.
"They have a dilemma because getting them out and having a full destruction of the tunnels could put them in harm's way, so they take it day by day and they do it slowly, obviously they have drones that watch and see what's happening, but they do want to get them back alive, and we just have to wait and see what happens."
Henry Kissinger: Former United States secretary of state has died aged 100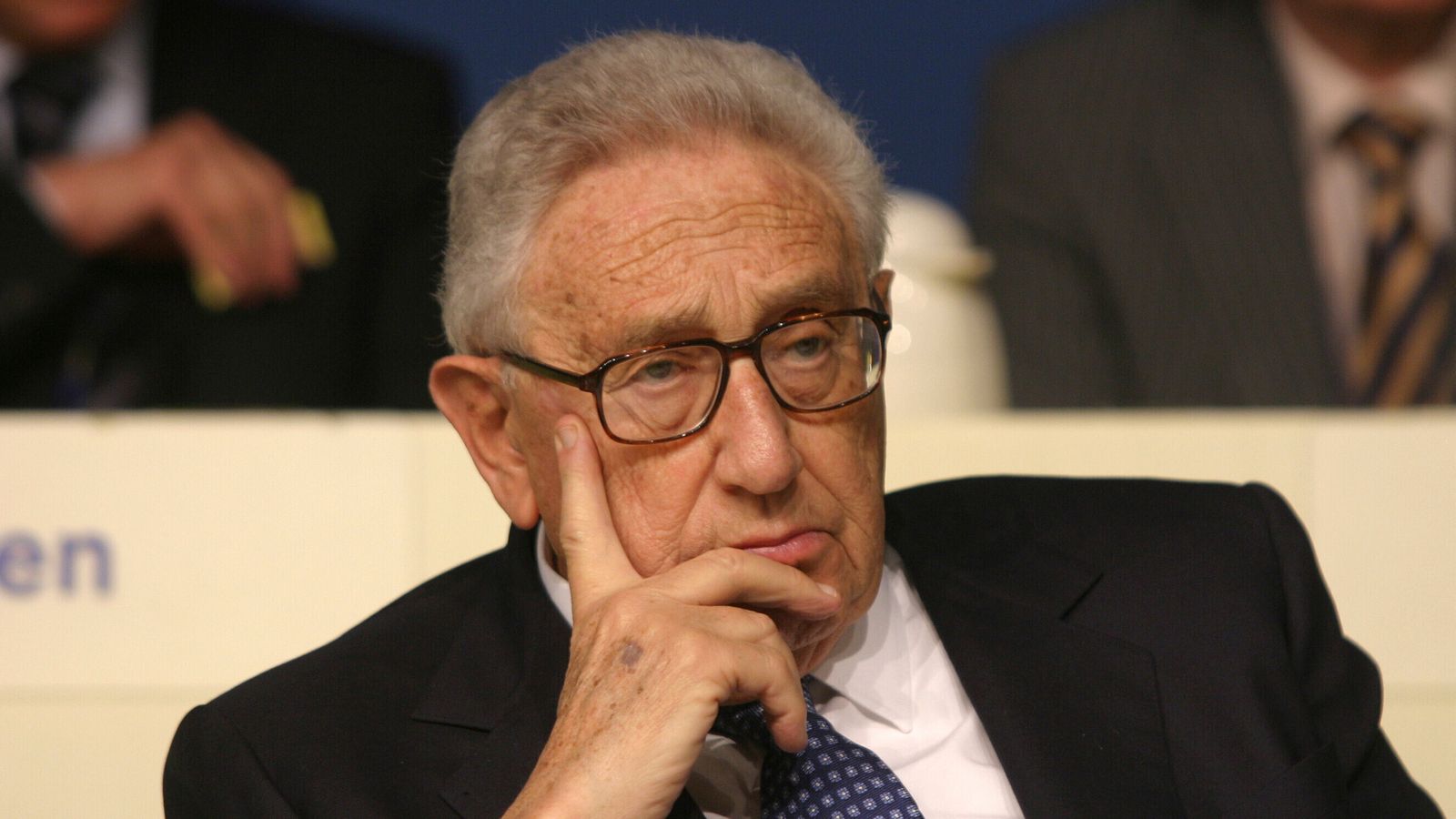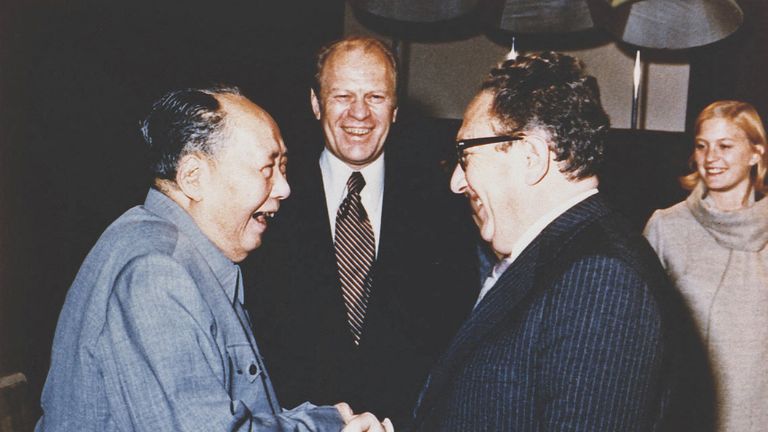 Former United States secretary of state Henry Kissinger has died aged 100.
He passed away at his home in Connecticut on Wednesday, according to a statement from Kissinger Associates Inc.
The veteran politician had major influence on American foreign policy under Presidents Richard Nixon and Gerald Ford.
Born in Germany in 1923, Mr Kissinger fled the Nazi regime with his family as a teenager and settled in the US in 1938.
During eight years as a national security adviser and secretary of state, Dr Kissinger was involved in major foreign policy events including the first example of "shuttle diplomacy" seeking peace in the Middle East, secret negotiations with China to defrost relations between the burgeoning superpowers and the instigation of the Paris peace talks seeking an end to the Vietnam conflict.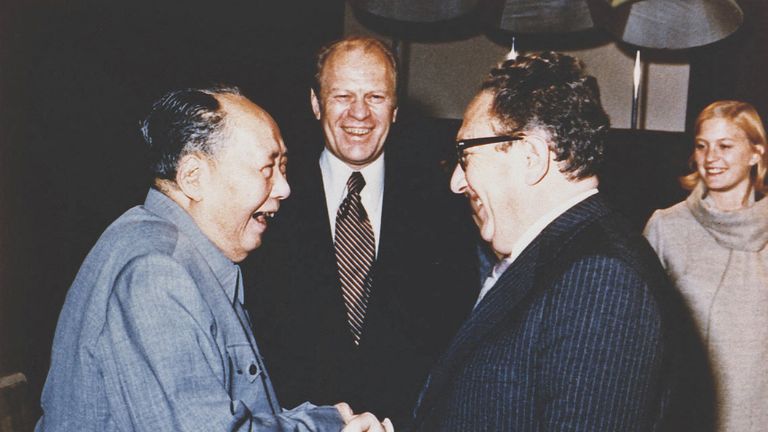 Analysis: A 'top diplomat' for some, a 'war criminal' for others
In 1973 he was jointly awarded the Nobel Peace Prize for his efforts to negotiate an end to the Vietnam War.
However, Dr Kissinger, along with President Nixon, also bore the brunt of criticism from the US's allies following the fall of Saigon to North Vietnamese forces in 1975 as the remaining US personnel fled what is now known as Ho Chi Minh City.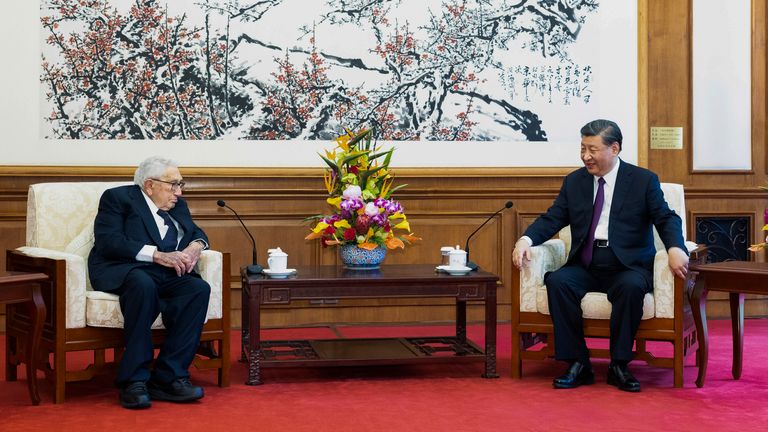 His influence over US diplomacy – which continued long after he left office – has not been without controversy, and some activists called for him to be prosecuted for war crimes.
He remained active in politics, even after his 100th birthday in May, attending meetings in the White House, publishing a book on leadership styles, and testifying before a Senate committee about the nuclear threat posed by North Korea.
In July 2023 he made a surprise visit to Beijing to meet Chinese President Xi Jinping.
Kissinger was a statesman for the ages
Henry Kissinger was a statesman for the ages – a scholar and celebrity who once spoke of how he was able to "do things" for a number of presidents.
But while the things he did earned him the moniker "top diplomat" for some, others chose "war criminal".
As president Nixon's architect-in-chief on US foreign policy, Kissinger built a relationship with the world based on American self-interest and, in doing so, drafted a legacy that divided opinion.
Supporters hail the "realpolitik", a pragmatism that underpinned how the Nixon administration interacted with allies and adversaries.
Kissinger's proactive engagement with China and diplomatic craft in dealings with the Soviet Union – dialogue, detente and nuclear arms control – is credited with reshaping the course of the Cold War.
His shuttle diplomacy during the 1973 Arab-Israeli war in the early seventies helped to contain the conflict and, in 1973, he shared a Nobel Peace Prize for his part in ending American involvement in the Vietnam War.
During his early life, after becoming a naturalised US citizen in 1943, Dr Kissinger joined the US Army the same year and was awarded a Bronze Star.
He would go on to serve with US counter intelligence in occupied Germany.
Dr Kissinger earned his bachelor's, master's, and PhD degrees at Harvard University, where he taught international relations for almost 20 years before President Nixon appointed him national security advisor in 1969.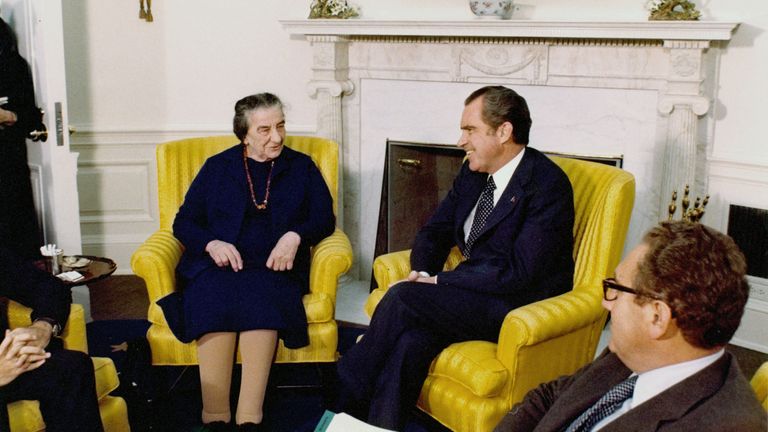 He is survived by his wife of nearly 50 years, Nancy Maginnes Kissinger, two children by his first marriage, David and Elizabeth, and five grandchildren.
According to the statement from Kissinger Associates: "He will be interred at a private family service. At a later date, there will be a memorial service in New York City."
Senator and former presidential candidate Mitt Romney paid tribute to Dr Kissinger on X describing him as a "great one" and saying: "Fortunate indeed is America for his lifetime of diplomacy, wisdom, and love of freedom."
Winston Lord, former US ambassador to China and Dr Kissinger's one time special assistant said: "The world has lost a tireless advocate for peace.
"America has lost a towering champion for the national interest. I have lost a cherished friend and mentor.
"Henry blended the European sense of tragedy and the American immigrant's sense of hope."
Cindy McCain, the wife of late Senator John McCain said: "Henry Kissinger was ever present in my late husband's life.
"While John was a POW and in the later years as a Senator & statesman.
"The McCain family will miss his wit, charm, and intelligence terribly."