A 14-year-old girl has made history by becoming the first African American to win the 96-year-old US Scripps National Spelling Bee.
Zaila Avant-garde, a sporting prodigy with several Guinness World Records to her name for dribbling multiple basketballs at a time, won the event by correctly spelling Murraya – a genus of tropical Asiatic and Australian trees.
The confident teenager from New Orleans appeared relaxed, peppering pronouncer Jacques Bailly with questions about Greek and Latin roots, and bantering with the judges and moderators before jumping and twirling for joy on stage as she was told she was right and was declared the champion to claim the $50,000 (£36,308) top prize.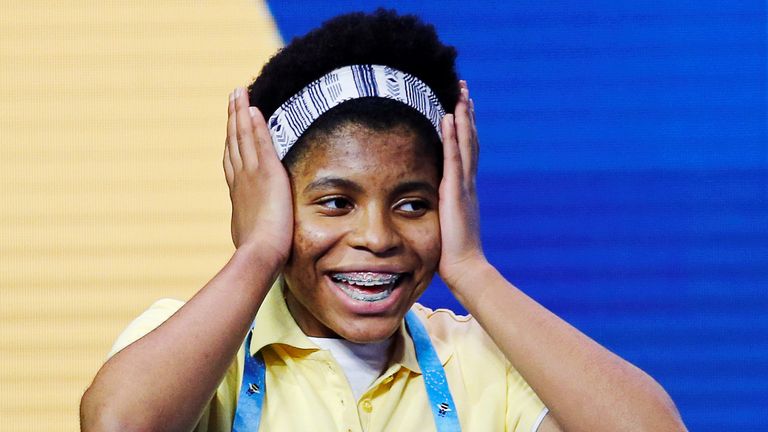 "I was pretty relaxed on the subject of Murraya and pretty much any other word I got," she said afterwards.
It wasn't all plain-sailing, though. She had struggled with another botanical word.
Pausing at the unstressed sound in the middle of Nepeta, a word for another plant genus, she collected herself, started again, and nailed it.
Zaila, who hopes to one day play in the WNBA or even coach in the NBA, described spelling as a side hobby, even though she routinely practiced for seven hours a day.
She is the first black contestant to win since Jody-Anne Maxwell of Jamaica in 1998, also the only international winner.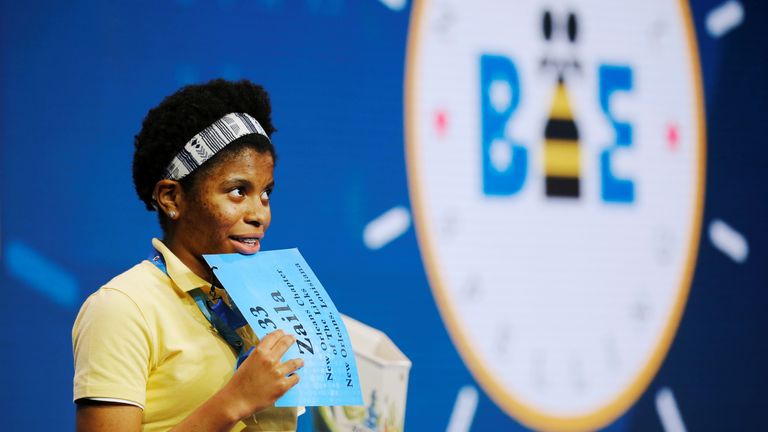 Ahead of the final, she told the Associated Press that she hoped to inspire other African Americans, who she said might not have the money to pay for the tutorials needed to be competitive.
She even thought of MacNolia Cox, who in 1936 became the first black finalist at the bee and wasn't allowed to stay in the same hotel as the rest of the contestants.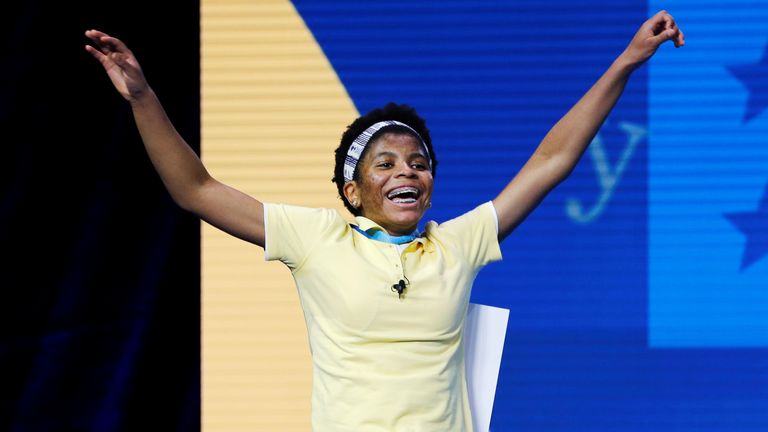 Many top Scripps spellers start competing when they are of nursery age. Zaila only started a few years ago, after her father, Jawara Spacetime, watched the competition on TV and realised his daughter's affinity for doing complicated maths in her head could translate well to spelling.
She began working with a private coach, Cole Shafer-Ray, a 20-year-old Yale student and the 2015 Scripps runner-up.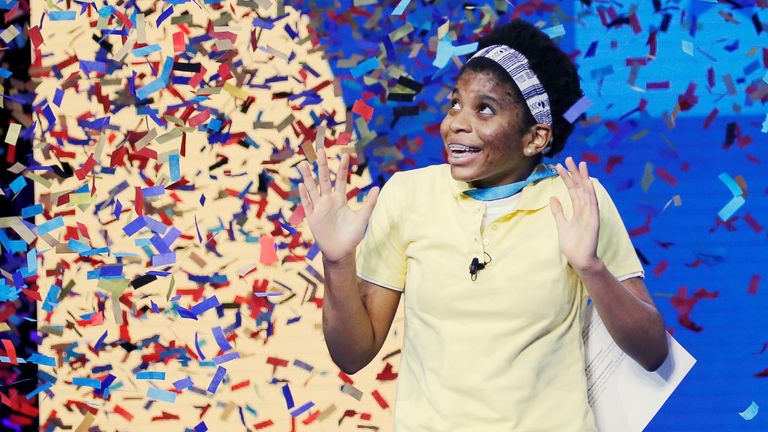 He said: "Usually to be as good as Zaila, you have to be well-connected in the spelling community. You have to have been doing it for many years. It was like a mystery, like, 'Is this person even real?'
"She really just had a much different approach than any speller I've ever seen. She basically knew the definition of every word that we did, like pretty much verbatim. She knew, not just the word but the story behind the word, why every letter had to be that letter and couldn't be anything else."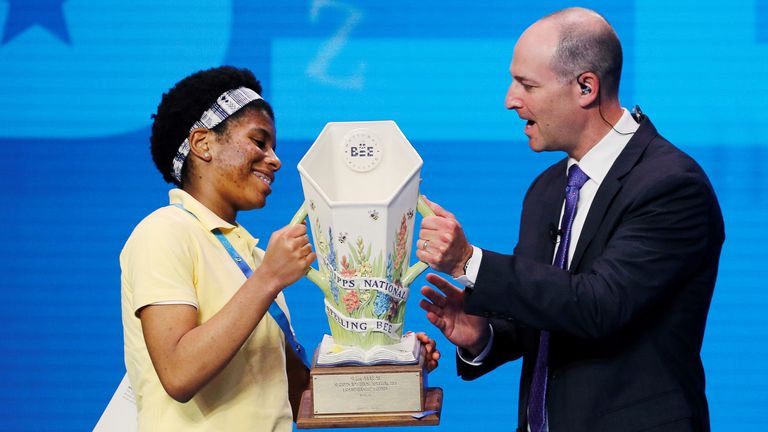 Zaila's win also breaks a streak of at least one Indian-American champion every year since 2008, with children of South Asian descent dominating the competition.
Chaitra Thummala, 12, of San Francisco, came in second after misspelling neroli oil, but still took home $25,000 (£18,156).
Bhavana Madini, 13, of New York finished third with the $15,000 (£10,893) prize, after being eliminated while trying to spell athanor – a type of furnace.
The competition finals returned before a live audience at the Walt Disney World Resort near Orlando after being cancelled last year because of the coronavirus pandemic.
Moment of hammer attack on Paul Pelosi shown in new police bodycam video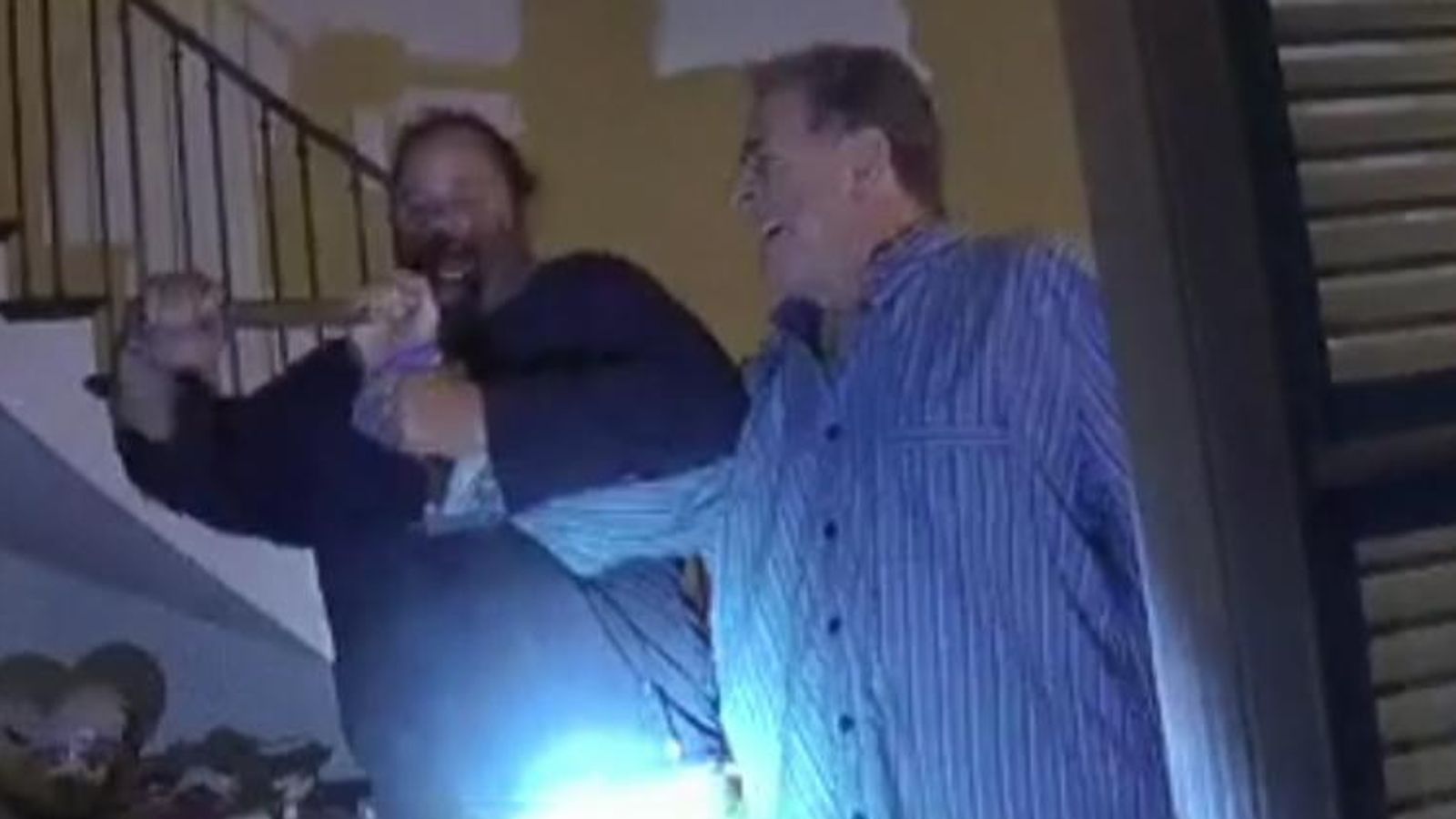 Police bodycam video has been released showing the moment a man attacked Nancy Pelosi's husband with a hammer in his San Francisco home.
Officers knock repeatedly on the front door – when it opens Mr Pelosi is holding the head of the hammer while the intruder is gripping the handle and trying to prise the 82-year-old's hand away.
Mr Pelosi refuses to let go, before the suspect suddenly seizes control and lunges at him with the weapon.
It's at this point Sky News has decided to stop the footage.
Police rush in, jump on the attacker and push him face down on the ground as Mr Pelosi lies motionless next to him.
The 28 October attack knocked Mr Pelosi unconscious and he had surgery to repair a skull fracture and serious injuries to his arm and hands.
Former US House speaker Nancy Pelosi, one of the most senior politicians in the US, was David DePape's intended target but was in Washington at the time.
She said on Friday that she wasn't going to watch the video.
"I have not heard the 911 call. I have not heard the confession. I have not seen the break-in. And I have absolutely no intention of seeing the deadly assault on my husband," she said.
Mrs Pelosi said her husband was "making progress" but it will "take more time".
The video is part of evidence newly released after journalists challenged a decision to keep it out of public view.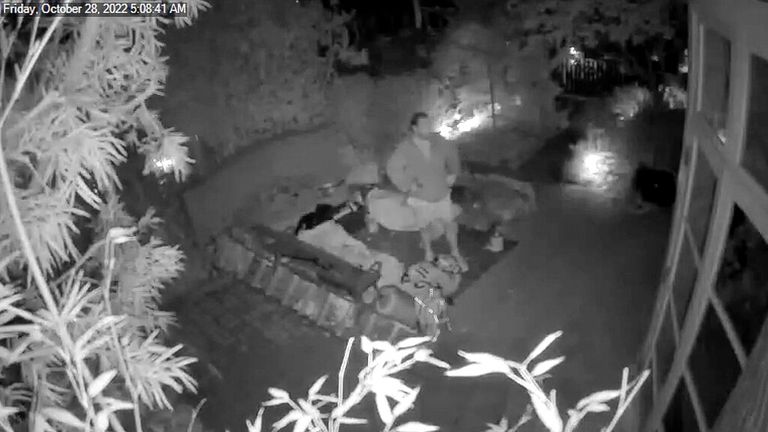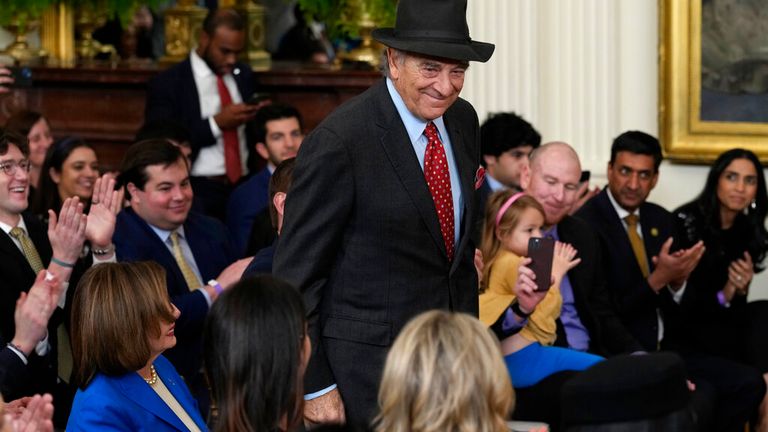 It also includes some of Mr Pelosi's 911 call, images from police surveillance cameras and video from DePape's police interview.
The surveillance video shows the suspect using a hammer to smash the glass of a door to get into the house.
DePape, 42, denies all the charges against him. They include attempted kidnapping, attempted murder, elder abuse and burglary.
High profile politicians are likely to be concerned after seeing this footage
Both the prosecution and the defence teams in this case argued against the release of the footage of this attack, saying it would impact suspect David DePape's right to a fair trial and fuel "distorted facts" around the case.
But a persistent campaign by news organisations convinced the judge that there was not a compelling reason to keep the footage, 911 call and a portion of a police interview with DePape under wraps.
It is, perhaps, no surprise that Nancy Pelosi doesn't want to watch such a brutal attack on her husband of 59 years caught on police body-worn cameras. But the surveillance footage of DePape allegedly wandering around the perimeter of the couple's San Francisco home before breaking in is also eye-opening.
Capitol police, charged with protecting the Pelosi family home, were apparently patrolling the property just metres away, seemingly unaware DePape was inside until a 911 call from Paul Pelosi. It has prompted a review of security procedures for high profile politicians.
Police said he told them there was "evil in Washington" and that he planned to hold Mrs Pelosi hostage for allegedly lying to the public.
He also believed the discredited theory that the US election was stolen from Donald Trump.
Court documents also reveal he told officers he was on a "suicide mission" while in interviews DePape named Tom Hanks as among other targets.
Immigration officials identified him as a Canadian citizen who was in the US illegally after entering as a visitor.
Daniel Harris: British teenager whose videos were linked to two mass murders in US is jailed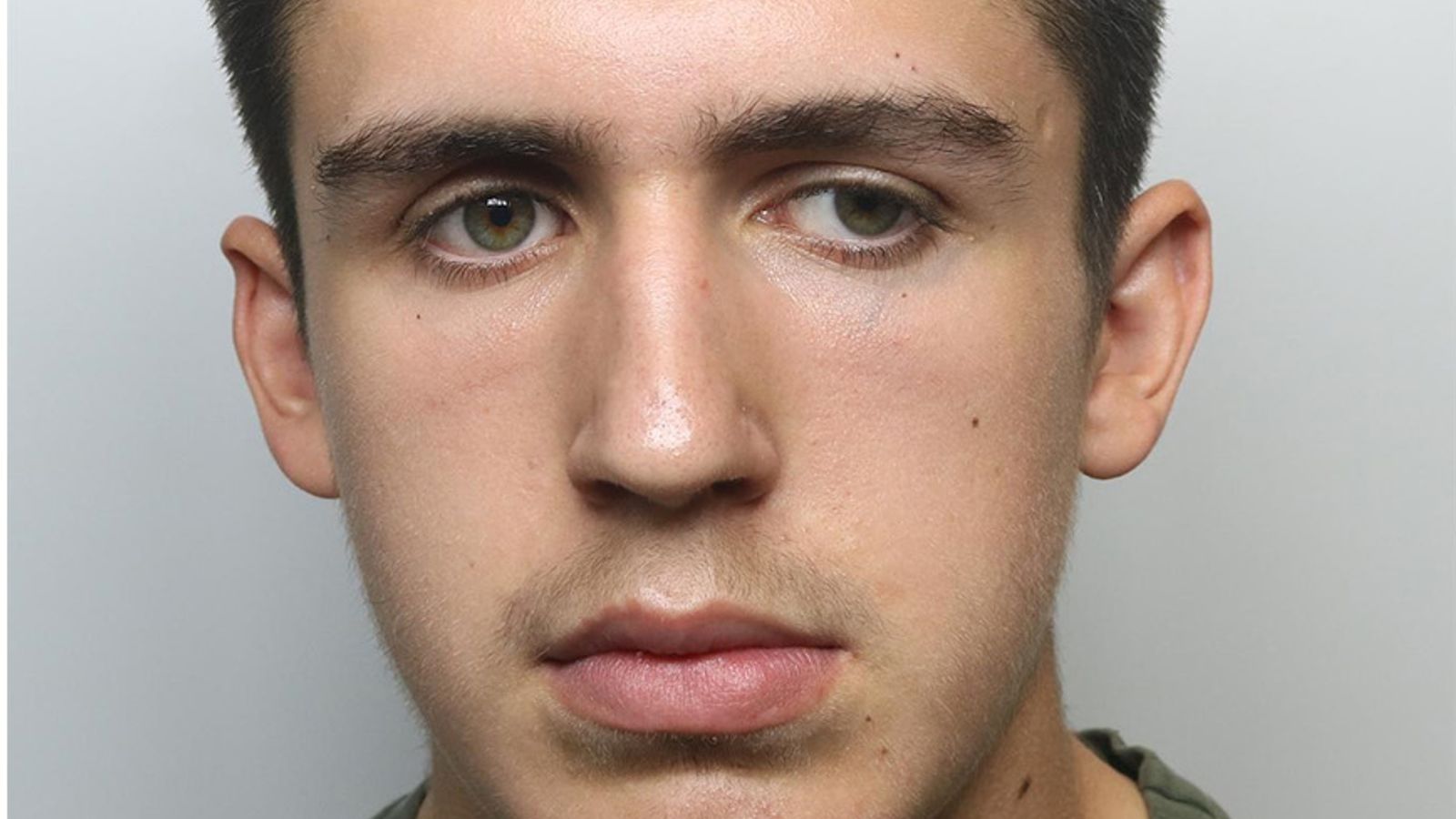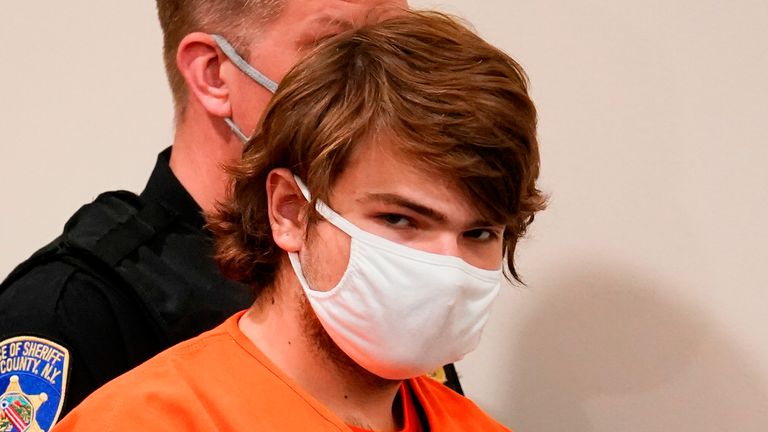 A British teenage extremist has been jailed after his far-right videos were linked to two mass murders in the US.
Daniel Harris used an online platform called World Truth Videos to disseminate a "call to arms" for his violent racist beliefs, a court heard.
The 19-year-old from Glossop in Derbyshire was convicted of five counts of encouraging terrorism and one of possessing a 3D printer for the purposes of terrorism after a trial at Manchester Crown Court.
He was sentenced to 11-and-a-half years in jail, and a further three years on licence.
Prosecutors said US mass killer Payton Gendron was "encouraged and, in part, motivated to do what he did" by Harris.
Gendron murdered 10 black people in a mass shooting in Buffalo, New York, in May 2022 while livestreaming the attack. Within hours, Harris produced a video celebrating the killing spree.
Gendron, 19, had left a comment on one of Harris's videos two months before the mass shooting, saying: "You are not alone my friend :)".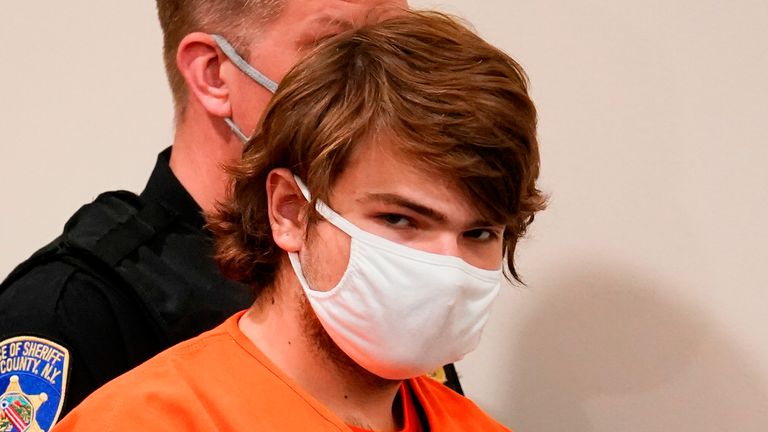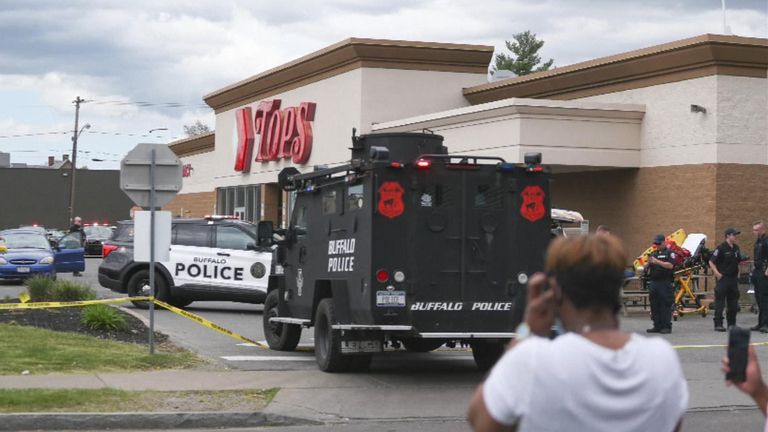 The video included lessons to be learned from Brenton Tarrant, who livestreamed an attack in which he killed 51 people at mosques in New Zealand in March 2019.
Gendron had also taken an image from another of Harris's videos and used it as the main image on his "manifesto".
Prosecutor Joe Allman said Gendron was "inspired" by Harris's material.
The British teenager also influenced Anderson Lee Aldrich, the only suspect in a shooting at a gay bar in Colorado, the court was told.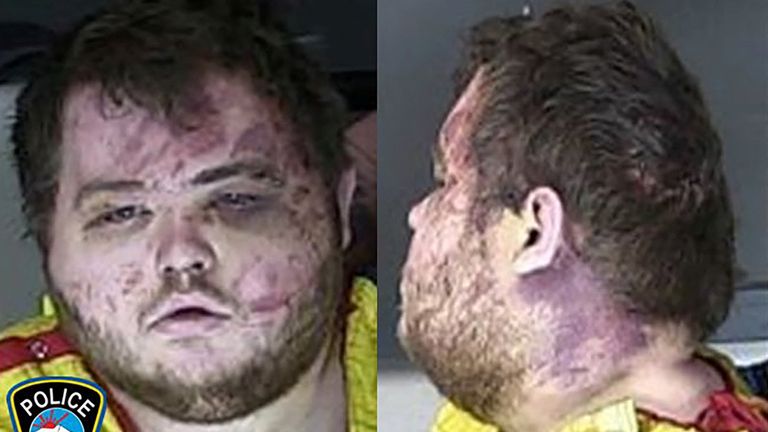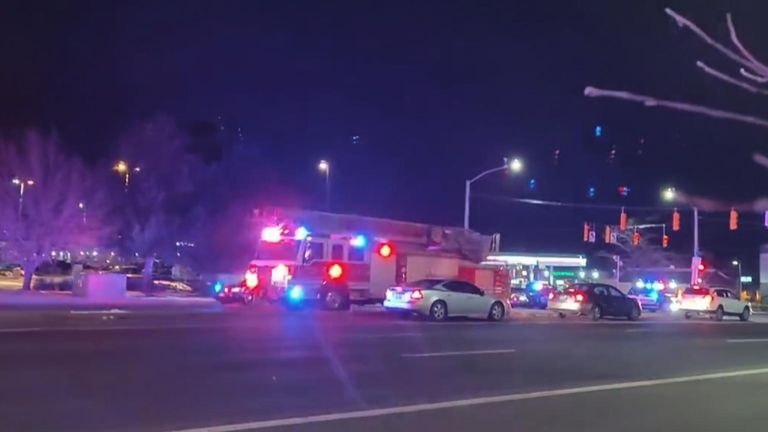 Aldrich, 22, allegedly killed five people during an indiscriminate firearms attack in Colorado Springs, in November last year – while Harris was on trial in the UK.
Aldrich – who is yet to enter pleas over the Colorado shooting – "accessed material" produced by Harris, Mr Allman said.
The prosecutor told the court one of Harris's videos was posted on the "brother site" to a website with links to what appeared to be a livestream of Aldrich preparing to carry out the attacks.
Mr Allman said: "The Crown say it demonstrates that individuals of the greatest concern have accessed the material produced by Mr Harris."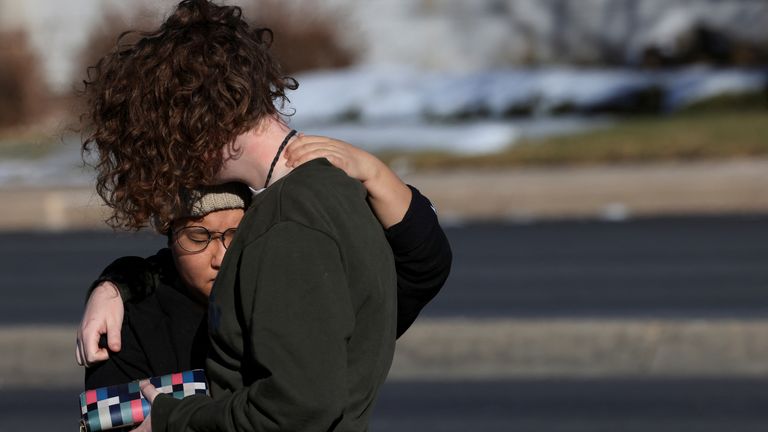 Read more:
What is 'great replacement theory' in Buffalo killer's manifesto?
Buffalo shooting 'fuelled by diet of hate'
Harris was described in court as an "influential online propagandist for a violent and deeply racist ideology".
His videos glorified mass killings and were "tantamount to a call to arms to those who shared, or who could be persuaded to share Mr Harris's world view," Mr Allman said.
Under the pseudonym "BookAnon", Harris's videos "encouraged and gave instructions for carrying out acts of terror against those deemed not to be part of the white European race," the court heard.
One video showed how to make an assault rifle using a 3D printer and when police raided Harris's grandfather's house, they found that he had begun making the parts himself.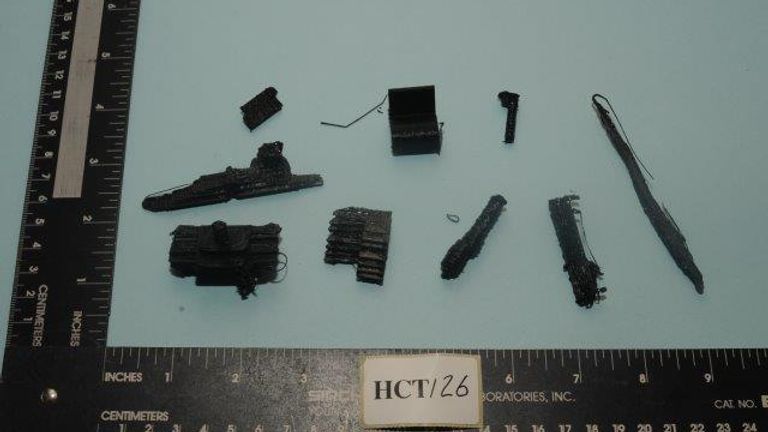 'Toxic rhetoric with untold influence'
After the teenager's conviction, Detective Inspector Chris Brett said attempts were initially made to engage with Harris through the Prevent programme, which aims to stop people becoming terrorists.
"It soon became clear he was pretending to be deradicalised whilst encouraging terrorism online," Mr Brett added.
"The threat he caused meant we had to act in order to ensure the safety of the wider public."
Mr Brett said Harris "clearly demonstrated a disdain for law enforcement and public order, as well as an admiration for those who had committed atrocities in terrorist attacks overseas".
"By posting these videos online, Harris' toxic rhetoric could have had untold influence on countless people across the world – such actions will not be tolerated," the senior officer said.
He added that officers made "the rather chilling discovery of attempts to make component parts of a firearm printed from his 3D printer" during a search, which "showed a clear intent to create a deadly weapon".
Tyre Nichols killing: US braced for release of 'sickening' footage of officers 'beating up driver' who later died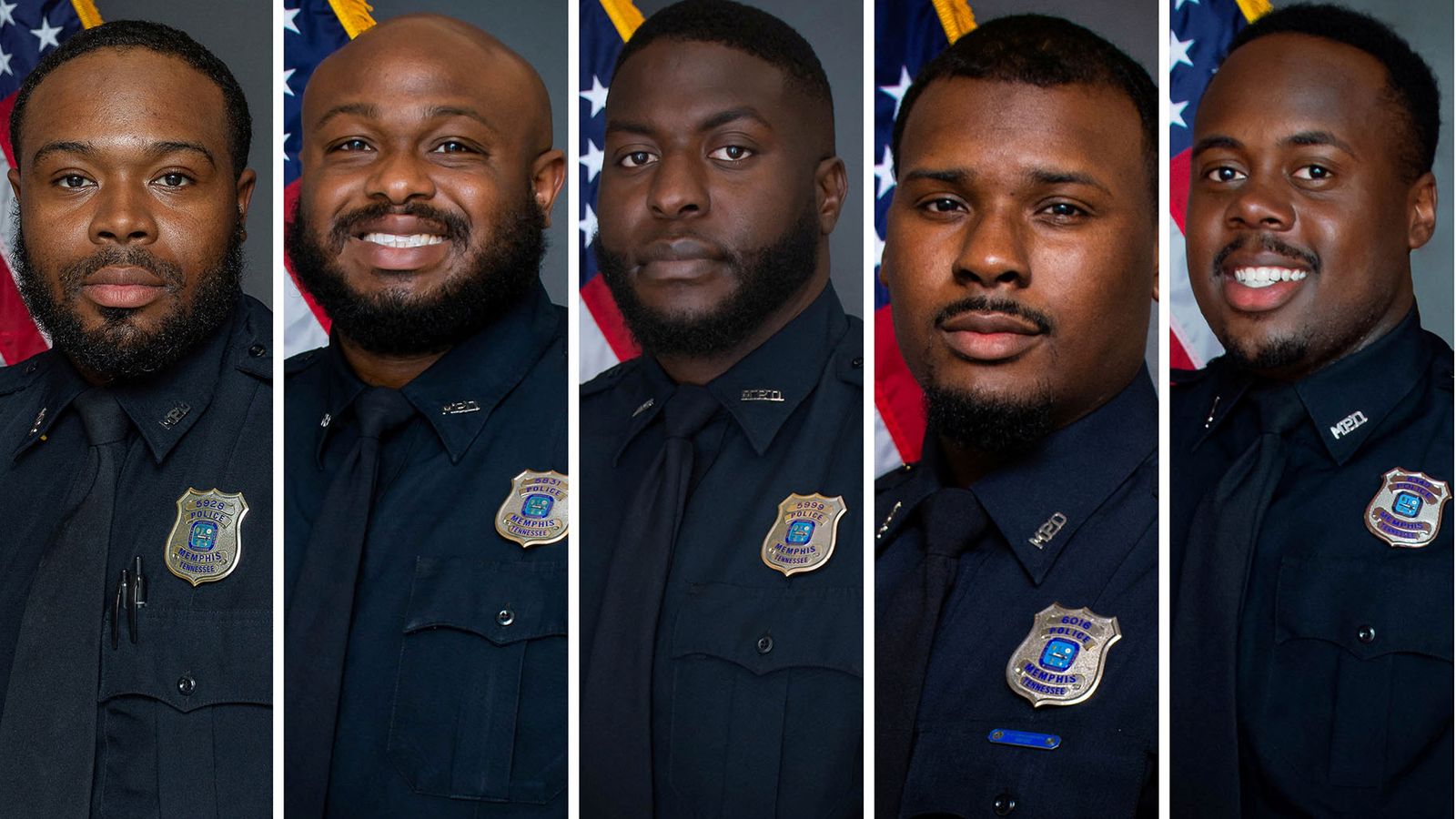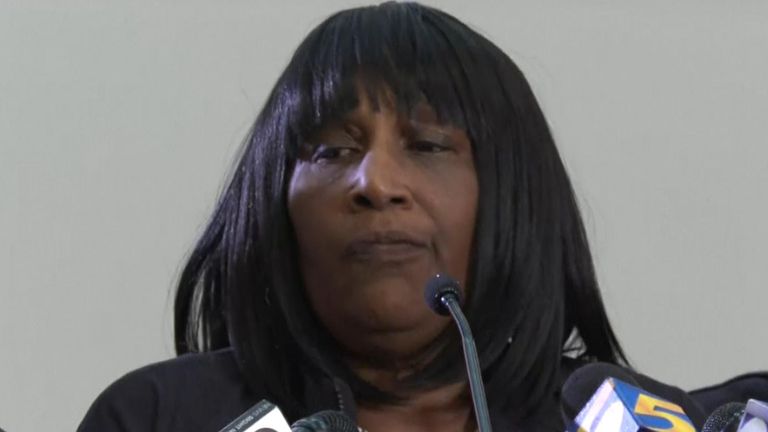 Five former police officers have been charged with murder over the death of a black driver who was allegedly beaten up after a traffic stop.
Tyre Nichols, 29, died in hospital three days after the confrontation in the city of Memphis, Tennessee, on 7 January.
Bodycam footage of the altercation is expected to be released on Friday evening.
A lawyer for the Nichols' family who has seen the footage said he was used as "a human pinata".
Joe Biden, the president, called for any protests to be peaceful after the charges on Thursday.
Nichols, a father of one, was arrested after he was stopped for reckless driving, police said, before he was allegedly beaten by the officers for three minutes.
The mother of Tyre Nichols asks 'What happened to the humanity?'

The five black officers involved in the arrest were sacked after a police investigation found they used excessive force or failed to intervene and help him.
They are Tadarrius Bean, Demetrius Haley, Emmitt Martin III, Desmond Mills Jr and Justin Smith, who are between 24 and 32.
Cerelyn Davis, the Memphis police chief, has asked for calm when the video footage is made public.
"I expect you to feel what the Nichols family feels," she said. "I expect you to feel outrage in the disregard of basic human rights."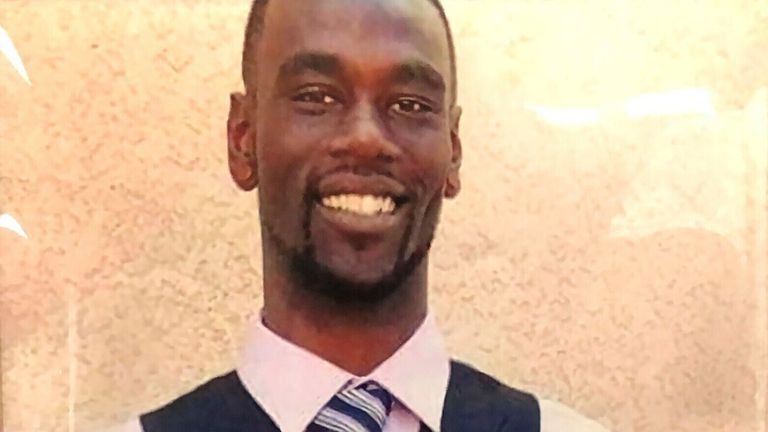 David Rausch, the director of the Tennessee Bureau of Investigation, said he was sickened by what he saw in the police body-worn camera videos.
"What happened here does not at all reflect proper policing," he said. "This was wrong. This was criminal."
Steve Mulroy, the district attorney, said the five officers have been charged with second-degree murder, aggravated assault, aggravated kidnapping and official misconduct at a news conference on Thursday.
He said that after Mr Nichols was stopped in his car, there was "an altercation" and officers used pepper spray on him.
Mr Nichols fled on foot.
"There was another altercation at a nearby location at which the serious injuries were experienced by Mr Nichols," Mr Mulroy said.
The Memphis police department said in an initial statement that an ambulance was called because Mr Nichols "complained of having a shortness of breath" and that he was taken to hospital in critical condition.
Mr Mulroy said he would not comment on the legality of the initial traffic stop.
He said the investigation would continue and he would not rule out additional charges.
Second-degree murder will go a considerable distance in meeting public expectations
America has been here before.
A black man dead at the hands of police officers, with the brutality captured on camera.
Rodney King and George Floyd are just two names that define a deadly dysfunction in the institution that exists to protect and serve.
Now add Tyre Nichols – 29 years old, a father and family man who worked at FedEx and enjoyed skateboarding. "Nobody's perfect," said his mother RowVaugn, "But he was damn near".
We are told the events leading up to his death are contained in a video lasting an hour, multiple angles of what has been trailed as a savage assault. A lawyer for the Nichols family spoke of him being beaten "like a human pinata".
The Friday night release of the footage is shrouded by a sense of dread, given its potential to ignite violent street protest of the sort seen in the wake of the 2020 killing of George Floyd.
In Memphis, they are aware of the danger.
It explains why the build-up to the release of the footage has been choreographed around charges for the police officers involved.
In a place where the public demands accountability, laying charges of second-degree murder will go a considerable distance towards meeting expectations.
Charges of murder in the second degree accuse the officers of knowingly killing Mr Nichols.
Does it make a difference that the five men in uniform were black? Perhaps. Time will tell if, and how, that plays into the wider public response.
President Biden framed it thus: "Tyre's death is a painful reminder that we must do more to ensure that our criminal justice system lives up to the promise of fair and impartial justice, equal treatment and dignity for all.
"We also cannot ignore the fact that fatal encounters with law enforcement have disparately impacted black and brown people."
It is a matter of power and its abuse. The latest episode will soon be laid bare – and Memphis is braced.
President Biden said: "Outrage is understandable, but violence is never acceptable.
"Tyre's death is a painful reminder that we must do more to ensure that our criminal justice system lives up to the promise of fair and impartial justice, equal treatment and dignity for all."
The Nichols family watched the police footage on Monday with their lawyer, Ben Crump, who compared the beating to the 1991 assault by police on Rodney King in Los Angeles that was captured on video and prompted mass protests and police reforms.
Read more:
Woman in car dragged for eight miles underneath truck
Teacher shot by six-year-old student texted loved ones to say school was failing to act
"He was defenceless the entire time. He was a human pinata for those police officers," Antonio Romanucci, Mr Crump's co-counsel, told reporters.
Mr Crump said Nichols' last words heard on the video were of him calling for his mother three times.
Each of the five sacked officers had served in the department for between two and a half and five years, and were dismissed from the force last Saturday.
The officers could not be reached for comment.
Blake Ballin, a lawyer representing Mills, said at a news conference that the former officer was "devastated to find himself charged with a crime".
Ballin was joined by William Massey, representing Martin. Both former officers intended to plead not guilty, their lawyers said.