As many as 60,000 people could die from flu this winter and a combination of seasonal viruses and COVID-19 could leave the NHS "unable to cope", according to a report.
The stark warning was made by scientists who say the flu season could be particularly deadly but the enhanced flu jab programme and rapid tests for flu could help to mitigate the risks.
COVID-19 restrictions meant that many respiratory viruses were not able to spread last winter as they normally would and this has concerned some virologists who say population immunity to seasonal respiratory illnesses might be compromised.
As people socialise more these viruses will spread again.
The new report from the Academy of Medical Sciences says flu and RSV (respiratory syncytial virus) hospital admissions and deaths could be twice that seen in a "normal" year and could coincide with an increase in COVID-19 infections.
Professor Sir Stephen Holgate, chair of the Expert Advisory Group which wrote the report, said: "There are four main challenges: firstly a surge in respiratory viruses could cause wide-spread ill health and put pressure on the NHS.
"Secondly, we're dealing with a third wave of COVID-19 and multiple outbreaks and the NHS has got to catch up with the backlog that it has accumulated over the last 15 months or so, and that's going to be a real challenge.
"Thirdly, the NHS is already under pressure, so is likely not to be able to cope with these winter challenges going forward.
"Finally the worse physical and mental health within the UK population due to the pandemic."
He added: "Society as a whole will have learned from the last 15 months that it isn't acceptable that (we had) all these respiratory viruses washing around in the winter and nearly closing our National Health Service.
"If there are things we should do top prevent transmission we should do that. Even if it means wearing masks and respecting each other's space."
He added: "We really do deserve to have a change in the way we operate as a society to stop the annual continual pressure on the health service created by all these viruses and that just means a change in behaviour."
And due to the current wave of infections the NHS could face difficulties trying to catch up on the backlog of care – with more than five million people in England on the waiting list.
The report highlights other problems that the health service faces going into winter including staff shortages and reduced bed capacity.
On top of this, people putting off seeking help for illness could also lead to a rise in support needed for conditions such as asthma, heart attack and stroke this winter.
They also called for the expansion of COVID-19 testing to also include tests for flu and RSV – for instance if GPs were able to quickly confirm whether a patient has flu they would be able to prescribe their antiviral medication sooner which means that the person's illness would be reduced, and lessen the burden on the NHS.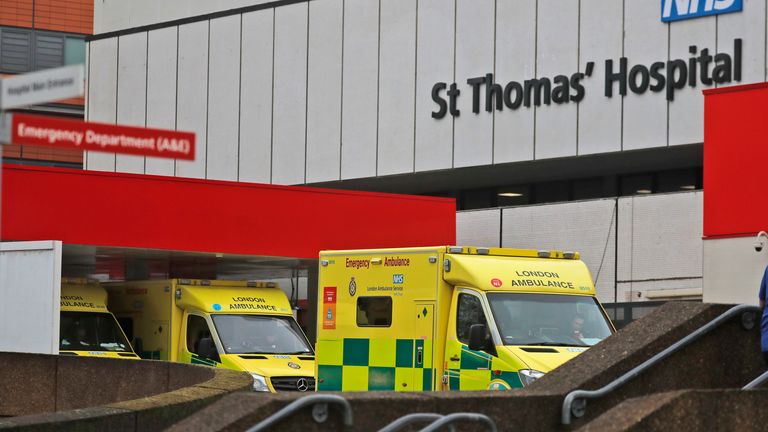 Professor Dame Anne Johnson, president of the Academy of Medical Sciences and Expert Advisory Group member, added: "We're not saying we're about to have the worst winter ever, we're saying we have got a bunch of uncertain things that could hit us in winter that we need to think about mitigating now."
She added: "I hope we will take forward some of these behavioural changes as a society. When you're sick, stay out of the way because that's actually when you're most infectious, get your test – if you have got COVID you need to continue with that careful self isolation."
Dame Anne said that the flu figures are "uncertain" and the 60,000 figure is an "an unlikely worst case scenarios", adding" flu is horribly unpredictable".
Professor Azra Ghani, Expert Advisory Group member, added: "We have never experienced this type of thing where society has really shut down and really reduced transmission to this extent. It's very difficult to know what impact this will have.
"It's really just a warning to say 'we can do something about this , this isn't an inevitable, we can put measures in place and reduce the impact'."
'You'll be asked to leave' without a mask on London's public transport

The report's authors think the flu season could come earlier than usual because of the lack of immunity but say this could actually be beneficial as there is more pressure on the NHS further into the winter.
Sir Patrick Vallance commissioned the report to examine the challenges facing the NHS this winter.
In addition to a deadly winter flu surge the study warned the health service is already under pressure and will struggle to cope with these additional winter challenges as it faced a shortage of beds and trained staff.
But the reports authors stressed the predictions are based on a worst case scenario with no interventions.
A faster vaccine rollout, the autumn booster campaign and increased testing capacity for COVID and flu will help significantly in reducing the impact of these extra pressures on the NHS.
Rishi Sunak to pitch himself as prime minister to 'fundamentally change the country'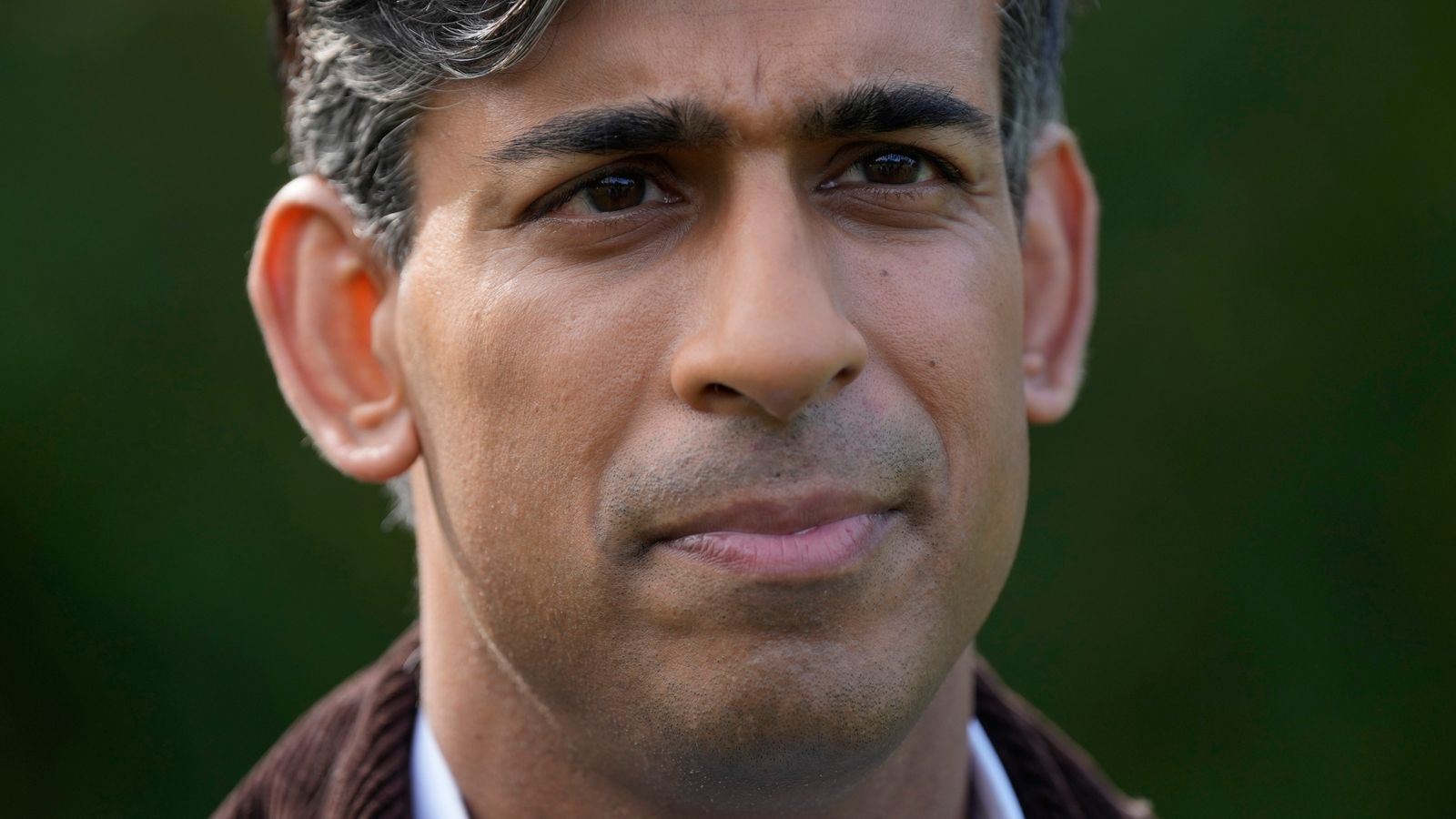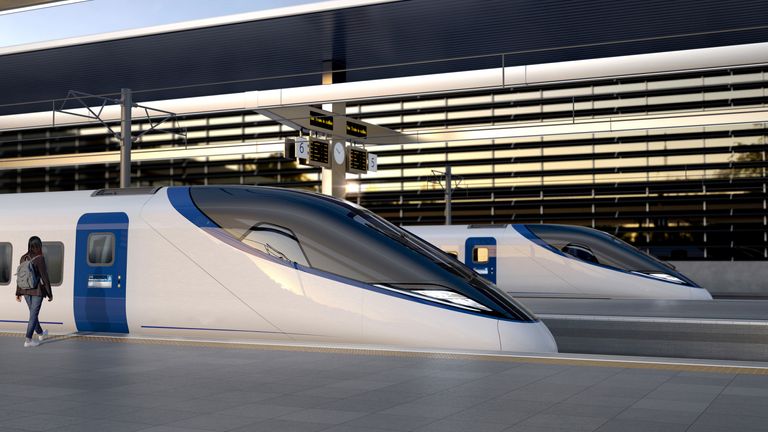 Rishi Sunak will try to convince the public he is the person to "fundamentally change the country" and fix Westminster's "broken system" – despite the fact his party has been in government for 13 years.
In his speech to the Tory Party conference, the prime minister will present himself as a reformer who is prepared to take difficult decisions, unlike opponents, who take "the easy decision, not the right one".
Mr Sunak will tell the conference hall that politics "doesn't work the way it should" and that his Labour opponent, Sir Keir Starmer, is "betting on voters' apathy."
The speech will round off what has been a chaotic four days at the party's annual conference in Manchester – an event that has been overshadowed by the announcement that the northern leg of HS2 will not go ahead as originally envisioned.
Instead, services will run between Birmingham and Manchester but they will not be high speed and they will use the existing West Coast Mainline track.
The development prompted Greater Manchester mayor Andy Burnham to accuse the government of treating people in the north as "second-class citizens".
Election would be 'massive distraction' – Tory conference latest
He warned the government: "To pull that plug here in Manchester would show complete contempt to the city region and to the north of England as a whole."
The Tory mayor for the West Midlands, Andy Street, also warned it would be "an incredible political gaffe" allowing opponents to accuse Mr Sunak of having decided to "shaft the north".
In his speech, Mr Sunak will rail against "30 years of a political system which incentivises the easy decision, not the right one – 30 years of vested interests standing in the way of change".
He will reflect on his first year in Number 10 and acknowledge a "feeling that Westminster is a broken system".
No high speed link north of Birmingham


"It isn't anger, it is an exhaustion with politics," he will say.
"In particular, politicians saying things, and then nothing ever changing.
"And you know what? People are right. Politics doesn't work the way it should."
Sunak: 'No one wants an election'

Poll shows most voters think Sunak is doing a bad job
A new poll of 1,000 people from Ipsos UK suggests most voters think Rishi Sunak is doing a bad job when it comes to hitting his goals.
On inflation, 57% said Mr Sunak was doing a bad job, up from 55% in May.
Some 54% said he was doing a bad job on growing the economy, up from 50% in May.
And 54% of people said he was doing a bad job on reducing national debt – up from 49%.
On cutting NHS waiting lists, dissatisfaction sits at 71%, compared to 62% in May.
On 'stopping the boats', two-thirds of people said he was doing a bad job.
The poll was carried out just before the Conservative party conference.
And he will say: "Politicians spent more time campaigning for change than actually delivering it.
"Our mission is to fundamentally change our country."
Read more:
Sunak to announce £30bn of transport spending in conference speech
Braverman says Andrew Boff should be allowed back into conference
As well as the HS2 announcement, Mr Sunak has also been undermined by his predecessor Liz Truss, who drew big conference crowds as she demanded immediate tax cuts to "make Britain grow again".
Mr Sunak has instead compared himself to the late Baroness Thatcher, who tackled inflation before cutting taxes during her premiership between 1979 and 1990.
While Mr Sunak has repeatedly sought to dodge questions over HS2, he did say on Tuesday that the costs of the project had gone "far beyond" what had been predicted, and the sums involved were "enormous".
The HS2 scheme was given a budget of £55.7bn in 2015 but costs have ballooned, with an estimate of up to £98bn – in 2019 prices – in 2020.
HS2 won't be high speed between Manchester and Birmingham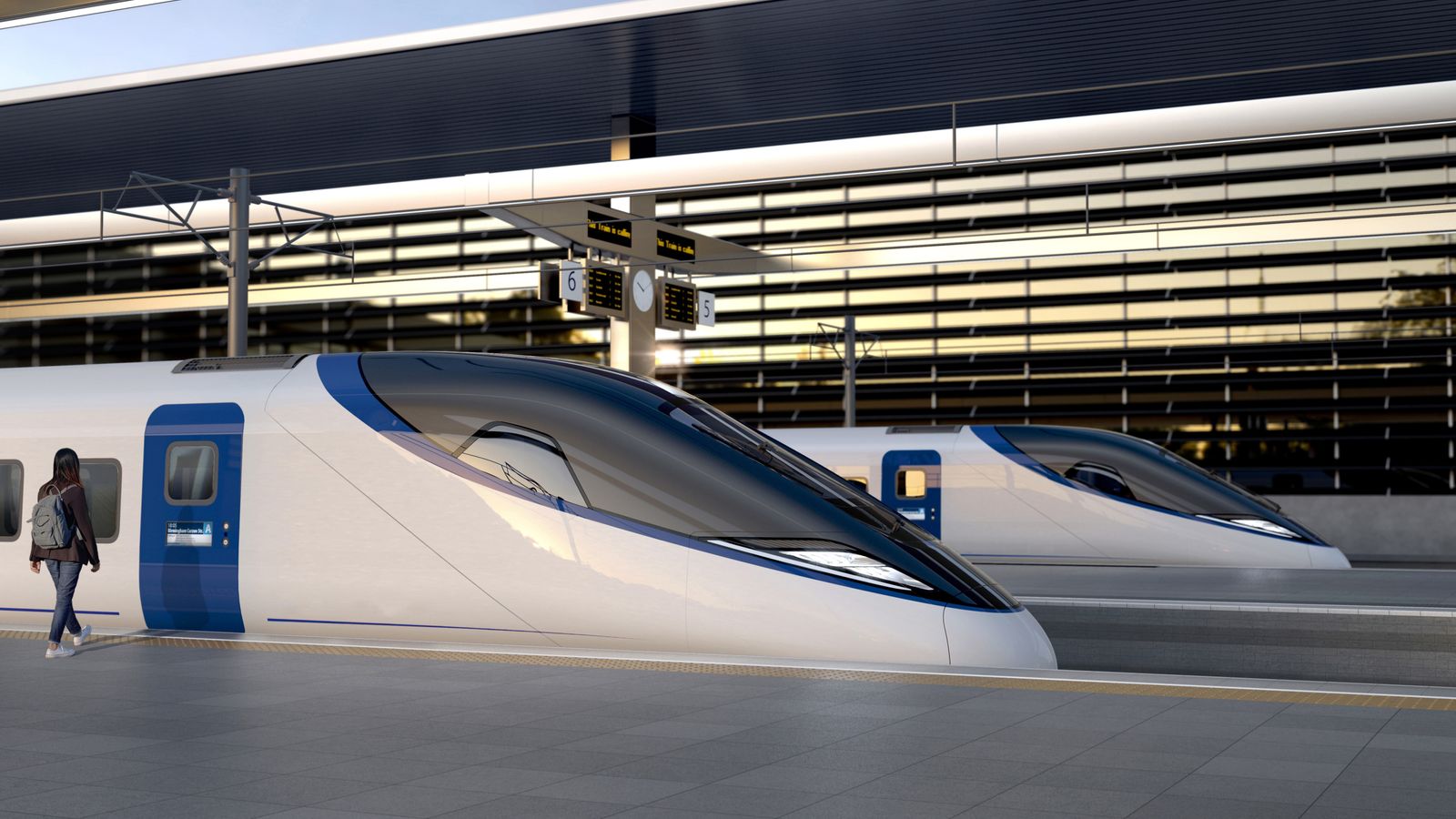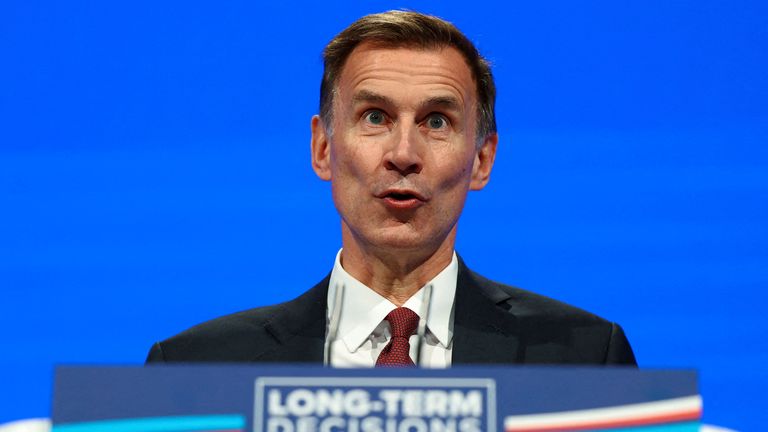 HS2 will start at Euston rather than Old Oak Common – but between Birmingham and Manchester it will not be high speed, Sky News understands.
The rail line will stop in Manchester, but from Birmingham it will switch to use existing West Coast Mainline track.
It will therefore not be high speed after Birmingham – effectively confirming days of speculation that the northern leg of the controversial project has been shelved.
Alongside the doubt over Manchester, there have also been question marks over Euston station and whether the line would terminate there as originally planned.
There had been rumours that it could stop at Old Oak Common instead, but Sky News understands the rail line will stop at Euston in a move that could be designed to placate critics.
Conservative member ejected during Suella Braverman speech – Tory conference latest
The development, broken on the Politics Hub with Sophy Ridge programme, follows repeated attempts by Rishi Sunak and other members of the Cabinet to bat away questions regarding the future of the northern leg of the project.
The government initially tried to downplay the original reports, saying they were "incorrect" and that no "final decisions" had been made regarding the northern leg, known as phase two.
But despite their attempts, questions over HS2 have dominated Mr Sunak's first party conference as leader and prime minister.
The northern leg of HS2 between Birmingham and Manchester is to be scrapped, Sky News understands.

Speaking at event near the conference venue, Greater Manchester Mayor Andy Burnham immediately hit out at the plans, saying: "If media reports are to be believed tonight, HS2 will leave central London, it will go to the Home Counties and the Chilterns underground, and it will get to Birmingham and then it will go onto traditional tracks."
He said 40 businesses had written to prime minister tonight to urge him not to pull the plug.
"If you think about that for a moment, you know that will be a permanent statement for people in the north of England that they are second class citizens when it comes to transport infrastructure," he added.
"It beggars belief in some ways that they are going to do this, they are going to pull the plug on that infrastructure that would pave the way for that new east-west line across the north, promised in not one, not two, but three Conservative manifestos.
"But to pull that plug here in Manchester would show complete contempt to the city region and to the north of England as a whole."
Mr Burnham told the audience: "We say to them tonight: it isn't too late from our point of view, you could invite us in.
Osborne: 'Tragedy to shelve HS2'

"Do not pull the plug on this city while you are in this city.
"If you do do those things, people here will never forget."
The first indications that the leg to Manchester could be scrapped came after it was reported last month ministers were considering shelving the northern phase because of concerns about spiralling costs and severe delays.
According to The Independent, a cost estimate revealed that the government has already spent £2.3bn on stage two of the railway from Birmingham to Manchester, but that ditching the northern phase could save up to £34bn.
The reports immediately drew criticism from across the political divide, including from former Conservative prime ministers Boris Johnson and Theresa May.
Speaking on the Politics Hub with Sophy Ridge, Science and Technology Secretary Michell Donelan said the latest reports were "still speculation".
"I know, having worked around the cabinet table with the prime minister, that he is somebody who is very thorough when it comes to the detail," she said.
"So I'm going to give him the time and wait and see what he says tomorrow."
Read more:
What's next for transport in the north after HS2 cut?
The HS2 revelation could not be more disruptive for Rishi Sunak
Asked why the government was not confirming what is happening on HS2, Ms Donelan said ministers wanted to "get it right" on the project.
"If I was the prime minister, I'd be doing exactly what he's doing," she said.
VAR audio of Liverpool's wrongly disallowed goal in Spurs defeat released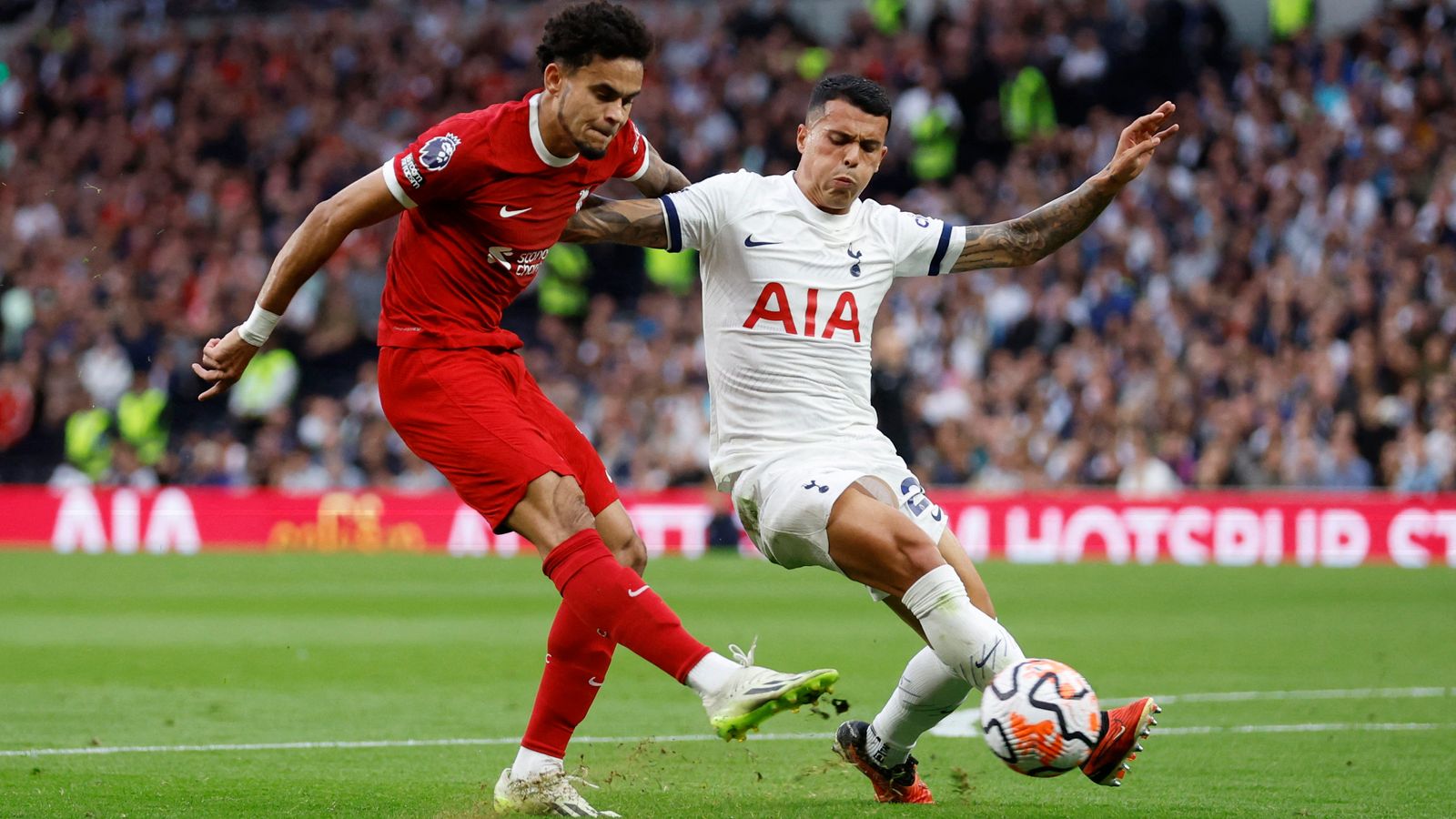 The full transcript from the VAR audio
VAR: Possible offside, Diaz.
Assistant referee 2: Give it.
Assistant referee 1: Coming back for the offside, mate.
VAR: Just checking the offside. Delay, delay. Give the kick point, let's go. Kick point please?
Referee: Yeah, no worries mate.
Replay operator: So, here we are. Just get a tight angle.
VAR: Yeah, give me 2D line ready after this one for frame two after that.
Replay operator: So frame two there?
VAR: That's fine. Perfect, yeah. 2D line on the left boot.
Replay operator: Let me just switch angles.
VAR: Romero, I think it is?
Replay operator: I think it might be this angle better? Happy with this angle?
VAR: Yep.
Replay operator: 2D line on the boot?
VAR: 2D line on the boot.
Replay operator: Yeah, okay. So 2D line on the boot.
VAR: And stop. Check complete, check complete. That's fine, perfect.
Assistant referee 1: Playing.
Referee: Cheers mate.
VAR: Thank you mate.
Referee: Well done boys, good process.
Replay operator: Wait, wait, wait, wait. The on-field decision was offside. Are you happy with this?
Assistant VAR: Yeah.
Replay operator: Are you happy with this?
Assistant VAR: Offside, goal, yeah. That's wrong that, Daz.
VAR: What?
Replay operator: On-field decision was offside. Are you happy with this image? Yeah, it's onside. The image that we gave them is onside.
Assistant VAR: He's played him, he's gone offside.
VAR: Oh *expletive*
Replay operator: Delay, delay. Oli's (PGMOL Hub Ops) saying to delay, Oli's saying to delay.
VAR: Pardon?
Replay operator: Oli's calling in to say delay the game. The decision is onside.
VAR: Can't do anything.
Replay operator: Oli's saying to delay, Oli's saying to delay.
VAR: Oli?
Fourth official: Yeah?
Replay operator: Delay the game, to delay the game? Stop the game.
VAR: They've restarted the game. Can't do anything, can't do anything.
Assistant VAR: Yeah, they've restarted. Yeah.
VAR: I can't do anything. I can't do anything. *expletive*