More than one million children in England were off school last week due to coronavirus-related reasons, official figures show.
It is a new record high since schools reopened in March amid the COVID-19 pandemic.
Live COVID updates from the UK and around the world
Can schools recover from the impact of the pandemic?

Data released by the Department for Education shows around 14.3% of all pupils in state-funded schools were absent from class on 15 July – a total of 1.05 million.
This is up from 11.2% on 8 July and 8.5% on 1 July.
Of these, 773,700 pupils were self-isolating due to possible contact with a case of coronavirus from inside school, while 160,300 pupils after possibly coming into contact with a COVID-19 case outside school.
A total of 47,200 pupils had a confirmed case of coronavirus, and 34,800 pupils were absent as a result of COVID school closures.
Around 34,500 pupils had a suspected case of coronavirus, the data showed.
Meanwhile, an estimated 6.6% of teachers and school leaders were absent due to COVID on 15 July, an increase from 8 July (5.4%) and 1 July (4.2%).
For teaching assistants and other staff, the proportion was estimated to be 6.4% on 15 July, up from 5.2% on 8 July and 3.9% on 1 July.
COVID-19: School bubbles burst

DfE figures also show that almost one in four pupils were absent from state-funded schools in England on 15 July.
This includes all absences, not just those due to COVID.
Total pupil attendance was 76.7% on 15 July, compared with 80.4% on 8 July and 83.4% on 1 July.
In primary schools, pupil attendance was 82.8% on 15 July, while for secondary schools it was 67.3%.
Reacting to the figures, Labour's shadow education secretary Kate Green said: "The Conservatives have abandoned the nation's children with no action taken to turn the tide on rising cases in schools.
"Parents and schools have been crying out for help, but the Conservatives have washed their hands of their responsibility to keep children learning.
"The government must take action to keep children learning for the last week of term, and ensure that by September schools have the support they need to avoid further disruption to children's education."
Schools rescue package 'completely inadequate'

MP Munira Wilson, health spokesperson for the Liberal Democrats, said the country was "in the midst of an education crisis which is worsening by the day".
"The prime minister needs to act today on this if schools are to return in autumn," she said.
"He must act without delay to protect millions of children's mental health and wellbeing. As he told the country last night – If not now, then when?"
Earlier this month, Education Secretary Gavin Williamson announced the school bubble system is being scrapped in England and only those who test positive for COVID-19 will have to self-isolate.
From 16 August pupils will no longer have to self-isolate if they are a close contact of someone who tests positive.
Schools will also no longer need to stagger start and finish times, and children who are contacted by Track and Trace as being a contact of someone who has tested positive will be advised to take a PCR test.
Investigations into '80 robberies a day' closed last year without suspect identified, claim Lib Dems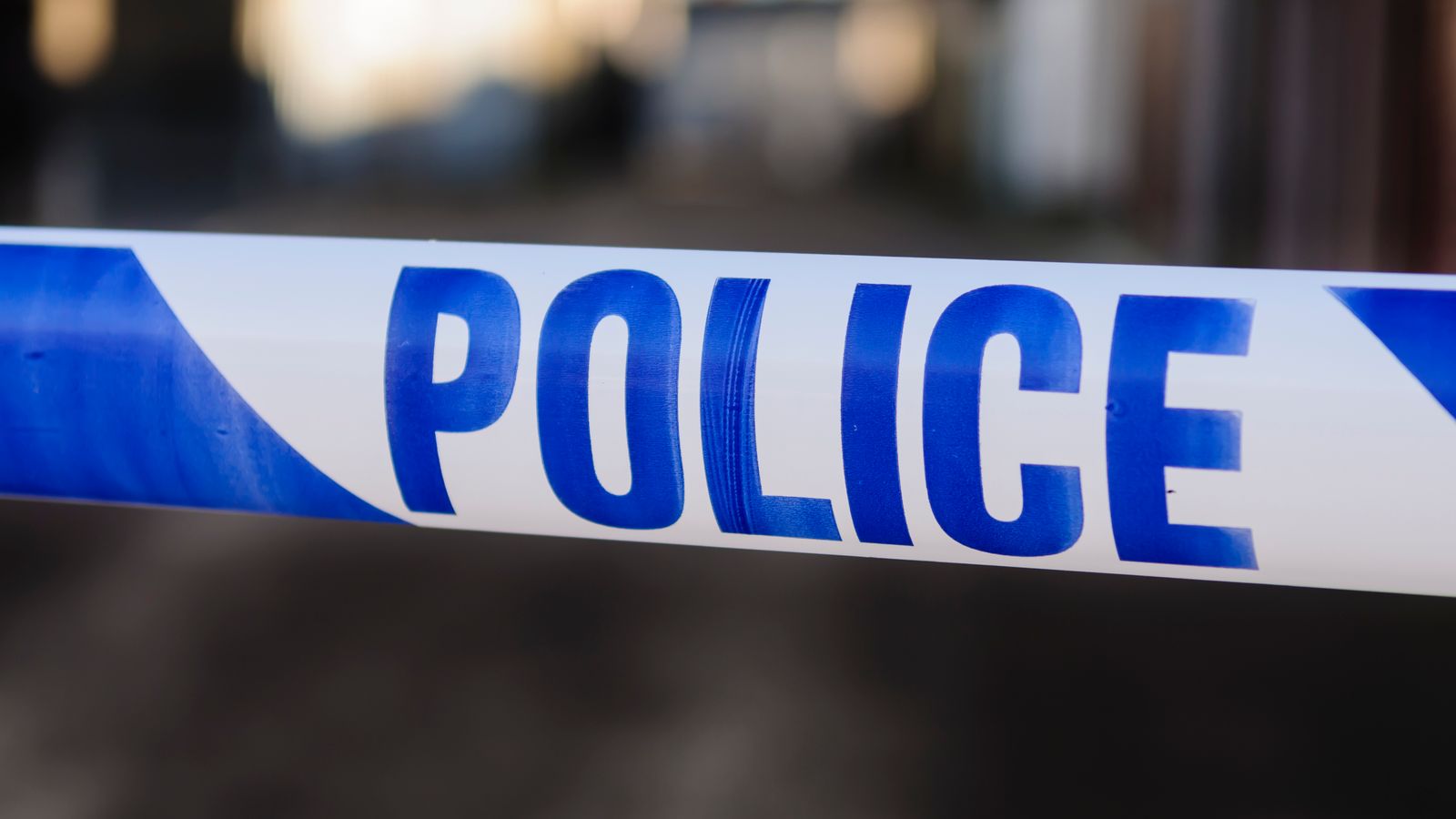 Investigations into some 80 robberies a day were closed last year without a suspect being identified, the Liberal Democrats have claimed.
The party also said it had commissioned research which showed 30,000 muggings across England and Wales went unsolved in 2022.
The Lib Dems have accused Home Secretary Suella Braverman of becoming "embroiled in endless scandals" while criminals are "let off the hook".
The Home Secretary herself faced claims she had been left "off the hook" after it was confirmed she would not face an independent investigation into allegations she broke the ministerial code when it came to how she handled her speeding ticket.
Prime Minister Rishi Sunak defended his decision not to launch a formal investigation into his home secretary, saying he spent "time going through" what had happened.
Ms Braverman asked officials if she could attend a private speed awareness course after a speeding offence.
Research from the House of Commons Library shows more than one in two robbery reports (54%) went unsolved, the Lib Dems said.
A suspect was charged in fewer than one in 12 (8%) instances, according to the party.
The figures include cases where personal property has been robbed and which include violence or threats to the victim.
The worst performing force according to the Lib Dem figures was West Midlands Police, with a suspect charged in just 4% of robberies reported in 2022.
It was closely followed by Northamptonshire (5%), Avon and Somerset (6%) and Hampshire (6%), the research showed.
Click to subscribe to Beth Rigby Interviews… wherever you get your podcasts
Lib Dem Treasury spokesperson Sarah Olney MP commissioned the research.
"These shocking figures show muggings are being effectively decriminalised, with far too many violent criminals let off the hook," she said.
"People are being left feeling unsafe walking down their own local streets, because this Conservative government has slashed neighbourhood policing to the bone.
"Crime victims are being abandoned while the Home Secretary Suella Braverman is embroiled in endless scandals."
Read more from Sky News:
'Honey Monster' killer handed life sentence for double jeopardy murder
Mother and father who murdered baby on Christmas Day 2020 jailed
Carer who climbed into teenage girl's bed 'was sleepwalking'
A Home Office spokesman said it expects police to "take all incidents seriously".
"Robbery is an invasive and unsettling crime for victims and we expect police to take all incidents seriously," he said.
"We are providing police with the resources they need, having delivered on our commitment to recruit 20,000 additional police officers by March 2023, the highest it has ever been.
"We are also supporting police by providing funding for crime prevention measures, including better street lighting and CCTV, and equipping police with better technology to help their investigations and catch more criminals."
Jeff Stelling: Tributes to Sky Sports presenter following his final Soccer Saturday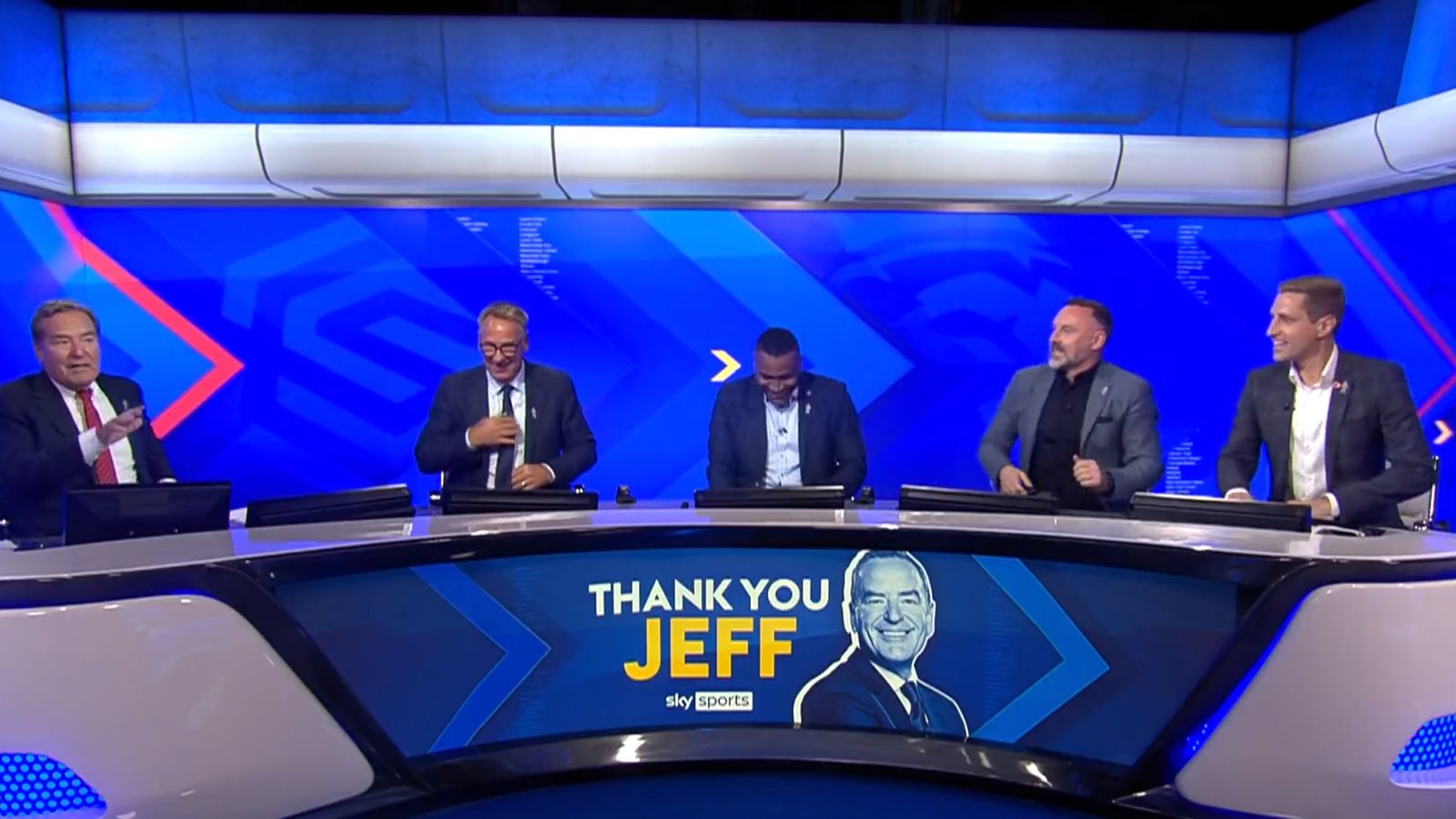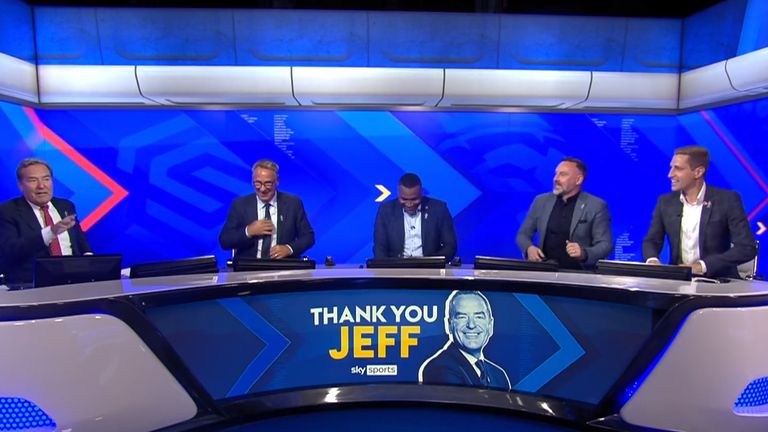 Tributes have poured in for Sky Sports presenter Jeff Stelling following his final Soccer Saturday show.
The 68-year-old marked his departure with an emotional farewell – which included the revelation that he had received a surprise phone call from Elton John.
Stelling said he was left "starstruck" when the legendary singer – once the owner of Watford football club – rang him at home to wish him well ahead of his final Soccer Saturday appearance.
"Elton John rang me this week," Stelling said.
"Someone asked me the other day if I have ever been starstruck, and yeah… I was starstruck when Elton John rang me at home to say 'thank you very much for all you have done'.
"He (Elton) said to me: 'Every week I watch the show and every week you tell me Watford are losing, and every week you tell me Hartlepool (the team Stelling supports) are losing – so I feel like we are kindred spirits'."
Following a celebratory montage and round of applause at the end of Sunday's Soccer Special programme, Stelling joked: "Thanks for the applause. I mean this is tricky because I've changed my mind."
Stelling paid tribute to all those who work on the show, including the call centre staff, runners, production crew and commentators.
He said: "It's a team game."
Stelling said his time at Sky had been "absolutely wonderful".
He added: "It's been the best job that anybody could possibly wish for.
"My wife Lizzie takes great pleasure in saying 'you're the luckiest man ever to take a breath'. And you know what, I don't tell her this often but she's right."
Stelling ended the show by paying tribute to the viewers for their incredible support.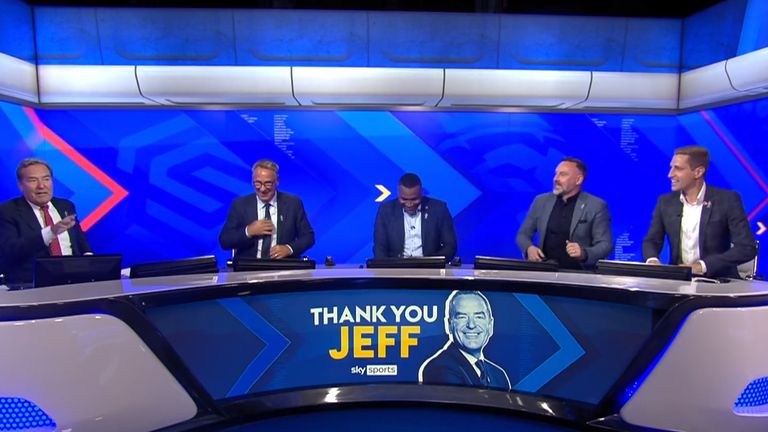 Stelling last month announced his intention to step down after more than 30 years at Sky and 25 years at the helm of the flagship football results show.
He said it was the "right time" to move on and give Sky Sports viewers a break from his "relentless rants, bad gags and over-the-top celebrations of Hartlepool United goals".
Well-wishers took to social media to pay tribute.
Son Robbie posted: "Well done dad, so proud of you.
"You've put your heart and soul into the show and have no doubt left a mark on more than just the world of football.
"As a father and broadcaster, you have taught me so much about football and life.
"You are the best there has ever been."
Piers Morgan tweeted: "Very few people get to leave a long-running job in TV whilst still at the absolute peak of their powers – but Jeff Stelling just did it.
"Thanks for all the fun, excitement, entertainment and incredible professionalism, Jeff – you'll be greatly missed."
Former This Morning presenter Eamonn Holmes tweeted: "Jeff Stelling… Do something you love and you will never work a day in your life. You have never worked. You are The Goat. Respect. Enjoy the next chapter."
LBC presenter Iain Dale thanked Stelling for "hours and hours of tremendous sports broadcasting".
He added: "Few people should ever be described as 'total legends' but Jeff really is one. Every football fan's best friend."
FootballJOE posted: "Twenty-five years of some of the best laughs on telly. Thanks for being the voice and face of football on a Saturday."
Hartlepool United wished fan Stelling "all the best", adding: "Our local hero."
FC Halifax Town joked: "All the best in your retirement. You're always welcome to Halifax vs Hartlepool next season, we will try not to call it off twice this time."
NFL UK said "congrats on an incredible stint", declaring: "You'll be missed from our screens."
On Friday, Prostate Cancer UK thanked Stelling for wearing the charity's badge for the past eight seasons.
A spokesperson added: "You have shared our message to millions of football fans, many of whom have been at risk of prostate cancer."
Stelling's charity football march for Prostate Cancer UK will take place this September.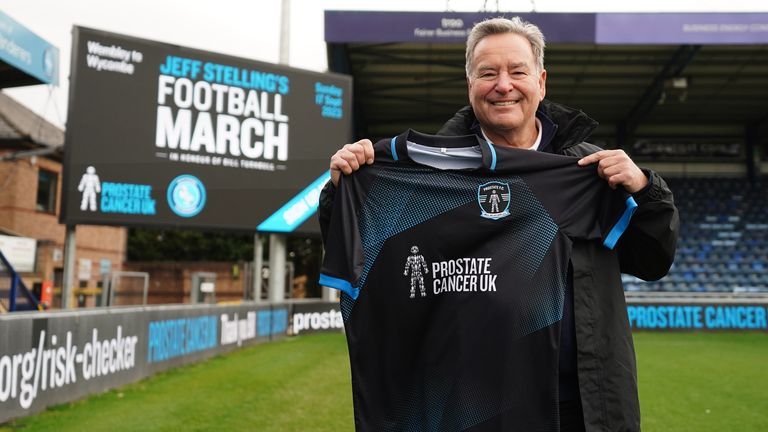 TV presenter Chris Kamara also posted an early tribute, describing Stelling as the "best broadcaster" he has ever met.
In the post on Thursday, he said: "I am getting my tribute in early because Jeff has been a massive part of my life and I love him to bits.
"One of the things I do miss is working with the maestro. There will never be another. You are 'Unbelievable Jeff' – and always will be."
Stelling joined Sky in 1992. He was also the main host for the broadcaster's live Champions League coverage between 2011 and 2015.
He previously announced plans to leave Soccer Saturday at the end of the 2021/22 campaign but stayed for another season.
Stelling announcing his decision to step down

Gary Hughes, Sky Sports' director of football, previously said: "Jeff has been synonymous with Saturday afternoon football for decades, exciting and enthusing football fans everywhere.
"His unique broadcasting ability and passion for the game has made Soccer Saturday an unmissable fixture for fans and has won him a multitude of awards.
"He will be sorely missed."
Athlete dies while swimming in Swansea Triathlon, organisers say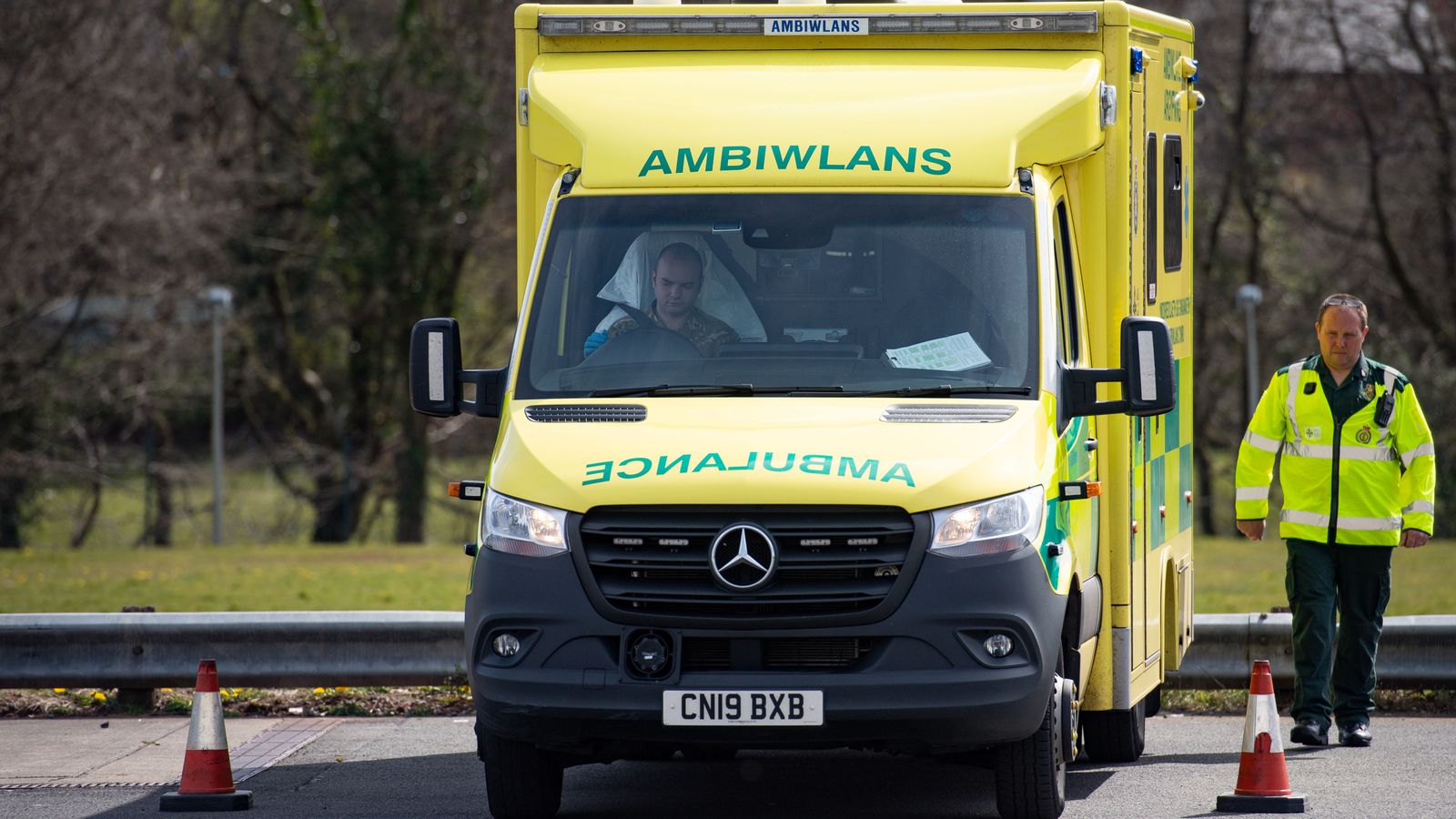 An athlete died while swimming in the Swansea Triathlon on Sunday morning.
In a statement posted on Facebook, Activity Events Wales – which runs the event with the University of Wales Trinity Saint David (UWTSD) – said: "It is with heavy hearts that we confirm the passing of an athlete during the swim section of today's triathlon.
"Our most sincere condolences go out to the family.
"We would like to thank the incredible efforts of the swim safety team, St John Ambulance, the rapid response team, the police, volunteers and members of the public involved at the scene," the statement added.
The Welsh Ambulance Service told Sky News they were called to a medical emergency at 9.15am in Swansea.
"We sent a rapid response vehicle, an emergency ambulance, and the Emergency Medical Retrieval and Transfer Service," a spokesman said.
"We were also supported by St John's Ambulance. This is all the information we can provide at this time."
Meanwhile, a spokesperson for UWTSD told WalesOnline: "The university is sad to hear the news that an individual has passed away during the Swansea Triathlon today.
"As sponsors of the event, we send our deepest condolences to the family and those affected by this tragedy."
Around 1,500 people were expected to compete in the triathlon today, which included a 750m swim, a 20km bike ride and a 5km run.
Sky News has contacted South Wales Police, who declined to comment, and St John Ambulance.