Parts of China have been hit by "the heaviest rain in 1,000 years" – with footage showing underground train carriages filling with water.
More than 20cm of rain fell on the city of Zhengzhou, Henan province, in a single hour on Tuesday. In the recent European floods, the worst-hit areas of Germany saw 18.2cm over three days.
At least 12 people died in the floods and 100,000 were forced to flee their homes, according to China's state news agency Xinhua.
Very distressing scenes in Zhengzhou right now where there is severe flooding. People trapped in subway – some rescued but other videos appear to show dead bodies pic.twitter.com/6Uv0liJfRJ

— Tom Cheshire (@chesh) July 20, 2021
Floodwater surges through Chinese subway

Cars float down flooded road in China

Pictures and video from the region showed torrents of water flowing down streets, with rescuers working to evacuate people who had become trapped.
Power was cut to some parts of the city, trains were suspended, roads were closed and flights delayed.
Posts on social media showed commuters trapped in waist-deep flood water on a subway train.
Woman rescued from raging floodwaters

One internet user wrote on social media: "The water outside the cabin was rising, and it was leaking in from the door.
"The water reached my chest.
"I was really scared, but the most terrifying thing was not the water, but the increasingly diminishing air supply in the cabin."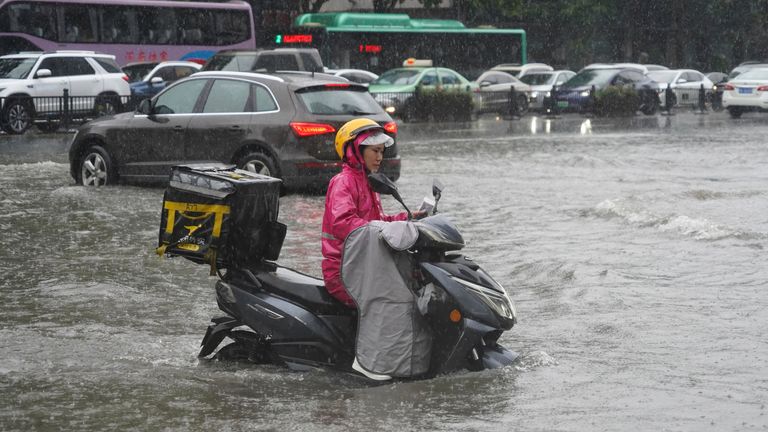 Sky News Asia correspondent Tom Cheshire tweeted: "Very distressing scenes in Zhengzhou right now where there is severe flooding. People trapped in subway – some rescued but other videos appear to show dead bodies."
Zhengzhou, the capital of Henan, has a population of more than 10 million and is located on the bank of the Yellow River – one of China's largest waterways.
Other cities in Henan – including Ruzhou – have also been ravaged by the waters.
The Shaolin Temple in Dengfeng had to close, and an aluminium plant in the city exploded, sending water surging into the facility.
The Longmen Grottoes – a UNESCO World Heritage site featuring buddhas etched into limestone dating back as far as 500 AD – are also threatened by the flooding.
Driver surrounded by floodwater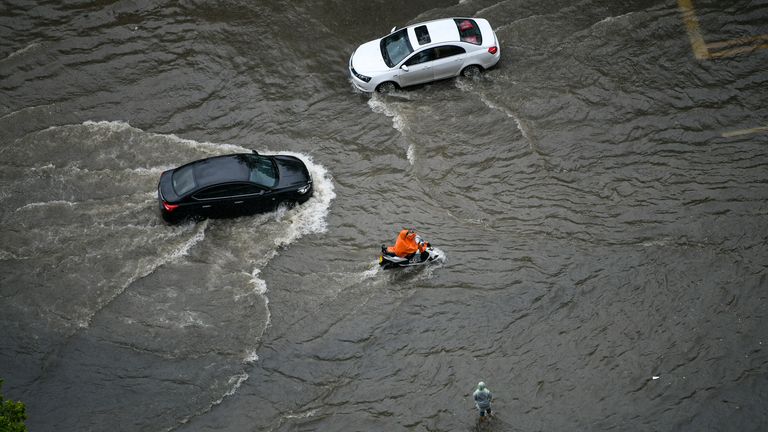 More than 30 reservoirs in Henan have exceeded their warning levels and overnight the rainfall caused a 20-metre breach in the Yihetan dam in the city of Luoyang west of Zhengzhou.
In Zhengzhou, the flood control headquarters said the city's Guojiazui reservoir had been breached.
From Saturday to Tuesday, 3,535 weather stations in Henan saw rainfall exceeding 5cm, of which 1,614 had levels above 10cm and 151 above 25cm.
Subscribe to ClimateCast on Spotify, Apple Podcasts, or Spreaker
Speaking on state television, Chinese President Xi Jinping said: "Flood prevention efforts have become very difficult."
Flooding is not uncommon in China during the rainy season, but the expansion of cities and conversion of agricultural land into housing has put more people closer to danger.
Forecasters are predicting the downpours to end by Thursday.
Sir Keir Starmer to pledge 'biggest ever' transfer of power as Labour report outlines sweeping reform plans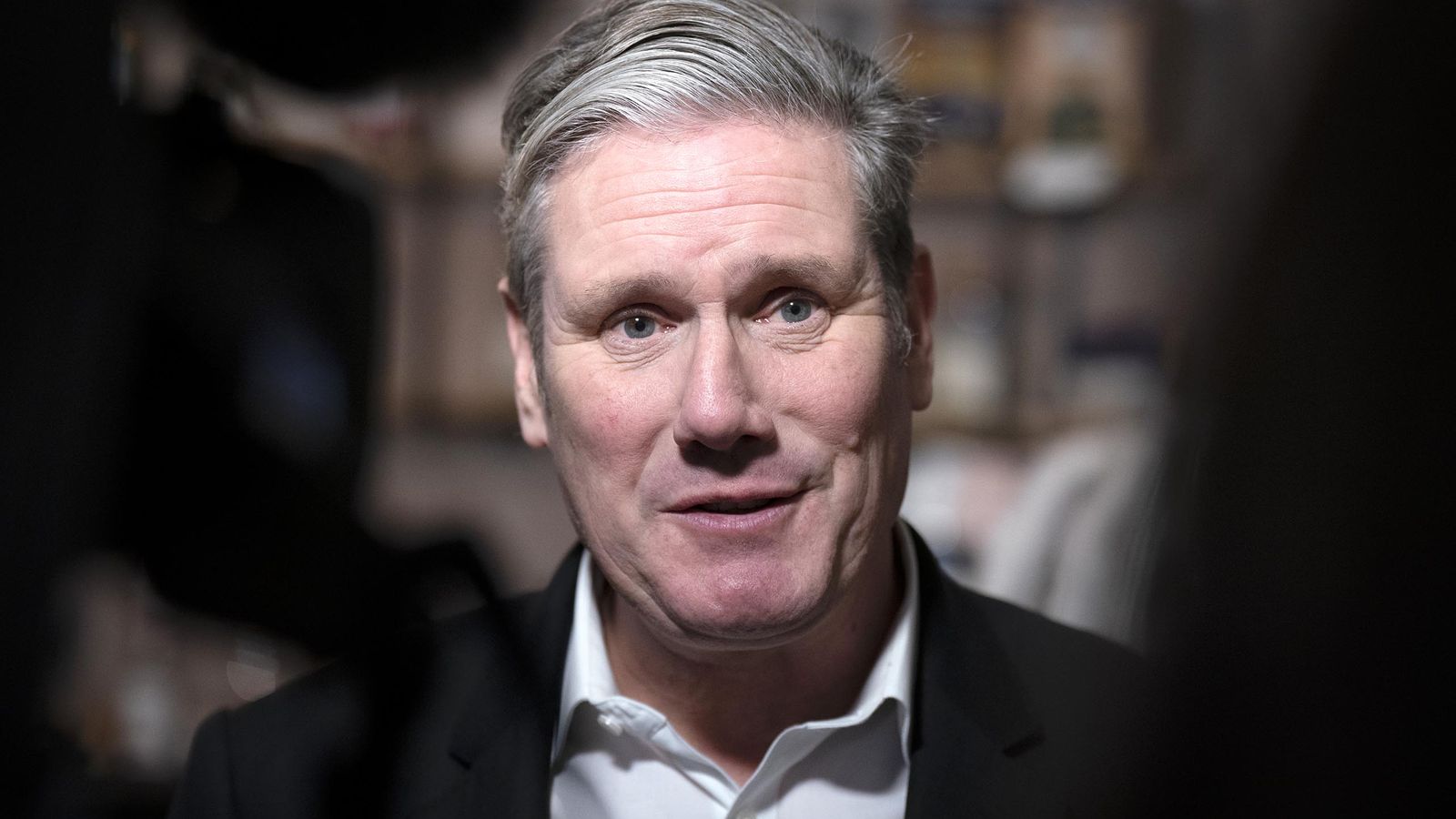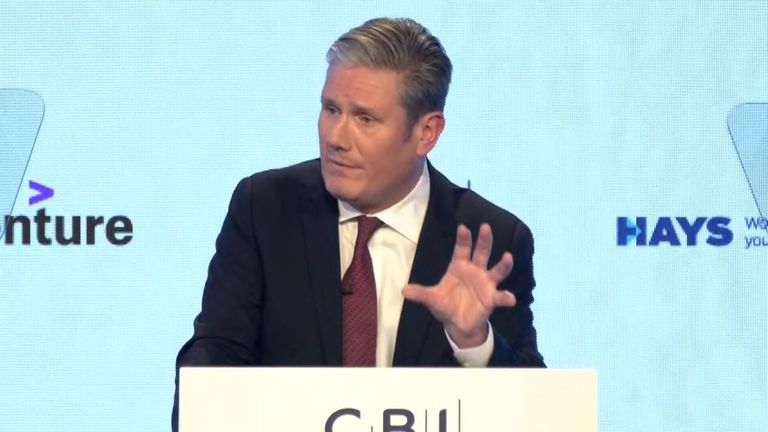 Sir Keir Starmer will promise the "biggest ever transfer of power from Westminster to the British people", as the Labour leader launches a report recommending handing new economic, taxation and law-making powers to mayors and devolved governments.
The report on the UK's future, carried out by former prime minister Gordon Brown, also recommends sweeping constitutional reform in an attempt to "clean up politics".
It includes replacing the House of Lords with a democratic chamber, banning almost all second jobs for MPs, and moving 50,000 civil servants – 10% of the workforce – out of London.
The decentralisation of power and money away from Westminster will be pitched as a continuation of Tony Blair's reforms and Labour's answer to the Tories' levelling up agenda – as Sir Keir looks to pitch himself as a prime minister-in-waiting with a serious plan for Britain.
But the Labour leader will not accept any of the recommendations on Monday when he launches the report, arguing instead that they will now be consulted on, raising obvious questions as to whether policy proposals will match the rhetoric should Labour win the next election.
However, a source close to the Labour leader insisted that Sir Keir wouldn't have let recommendations reach the final report if he wasn't minded on implementing them.
He described the report as a "blueprint" to address these issues and "work out where to go in the next two years".
"We're serious about implementation," said a Labour figure.
"This is methodical, Keir Starmer working through how you pull the levers."
'We have to make Brexit work'

What else is in Starmer's plan?
Labour's view is that George Osborne's Northern Powerhouse or Boris Johnson's levelling up agenda were the right ambition but failed to grasp that it only works if power is devolved away from Westminster, rather than handing out pots of money from London.
As such, one key recommendation of the commission will be to end the system of distributing funds from Whitehall, with money instead being devolved to local areas to make those decisions.
Within the 40 recommendations in the report are plans to give devolved governments, mayors and local authorities new powers over transport and housing, economic development and job creation.
Sir Keir also wants to develop 300 "economic clusters" around the country – from precision medicine in Glasgow to creative media in Bristol and Bath – with the aim of doubling growth in the UK.
The report, commissioned by Sir Keir two years ago, will also recommend transferring 50,000 civil servants – just over 10% of the current workforce – out of Whitehall in order to devolve decision-making and jobs out of London.
Sir Keir also wants to "clean up" politics and bring in reform.
As such, he's likely to back proposals to end MPs from having second jobs and introduce new rules to "end the undue influence of wealth and foreign money" in politics.
Read more:
Tories should be extremely worried by swing in Chester by-election
Sir Keir's dig over private school tax stirs up hornet's nest that could leave him stung
The Labour leader also wants to "get rid of the indefensible House of Lords" with the report recommending a new, democratically elected second chamber to represent the regions and nations of the UK.
However, the Labour leader has suggested he might not be able to do this until Labour wins a second term, raising questions as to whether such a commitment would appear in the next Labour manifesto.
Speaking at the launch of this report in Leeds on Monday, Sir Keir is expected to say that the "centre hasn't delivered" as he pledges to "rebalance the economy and bring about higher standards in public life".
The Labour leader will also frame this report as a response to both the Brexit and Scottish independence referendums.
"I argued for remain. But I couldn't disagree with the basic case that many leave voters made to me. They wanted democratic control over their lives," Sir Keir will say, arguing these frustrations of "a Westminster system that seems remote" was also a drive for the 2014 independence referendum.
"People know Britain needs change. But they are never going to get it from the Tories.
"I am determined that, with Labour, people will get the change they deserve."
Iran morality police behind detention of Mahsa Amini 'shut down', official says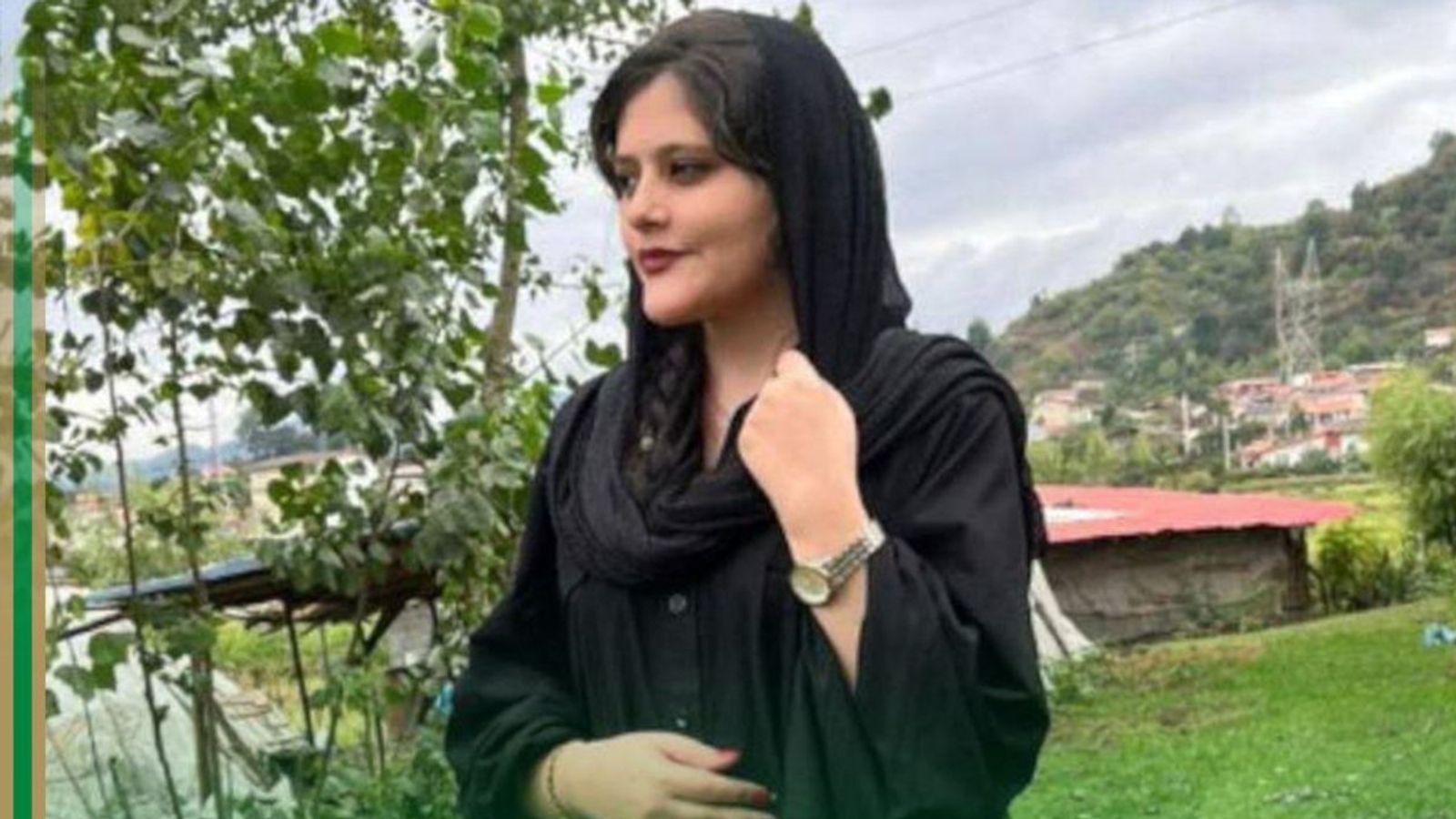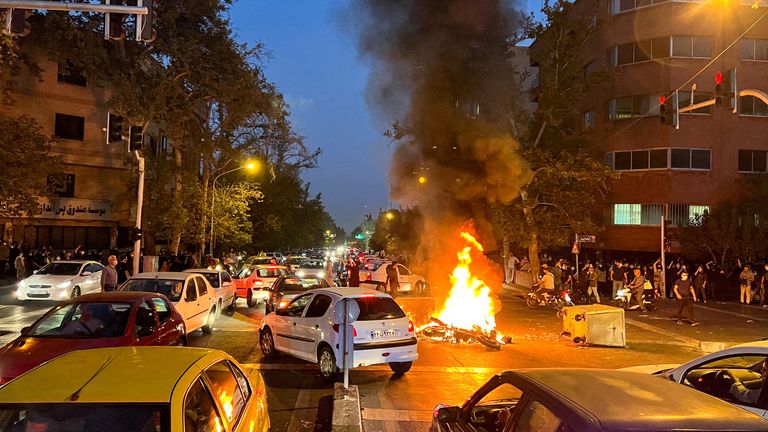 Iran's attorney general has said the morality police, the force which detained Mahsa Amini and enforces the country's dress code has been "closed".
Mohammad Jafar Montazeri was cited by the Iranian Labour News Agency saying that the force had been disbanded.
Iran's Interior Ministry, which is the authority in charge of the morality police, has yet to comment on the status of the force.
Mr Montazeri was quoted saying: "The same authority which has established this police has shut it down", adding that the morality police was not under the judiciary's authority, which "continues to monitor behavioural actions at the community level".
The morality police was sanctioned by the UK following the death of Ms Amini, 22, who died in police custody after she was detained for allegedly not properly covering her hair with a headscarf – known as the hijab – which is mandatory for Iranian women.
The force has also gained criticism for its violent crackdown on the subsequent nationwide protests following Ms Amini's death.
The activist HRANA news agency said 470 protesters had been killed as of Saturday, including 64 minors. It said 18,210 demonstrators were arrested and 61 members of the security forces were killed.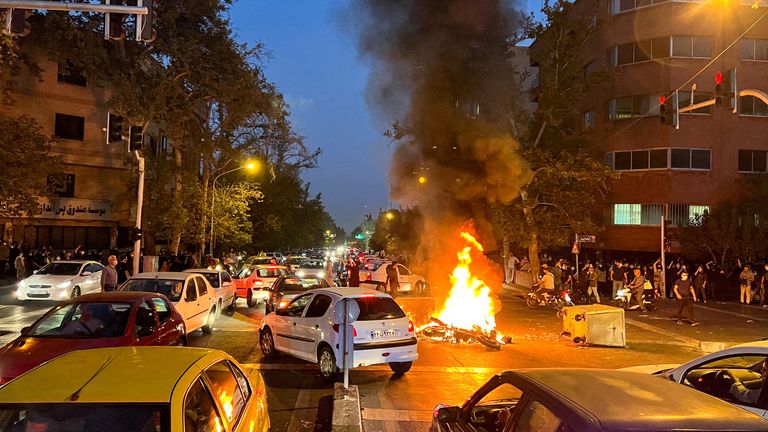 Iranian actresses, activists and protesters have posted pictures without wearing the hijab in solidarity with the anti-government demonstrations.
On Sunday, protesters called for a three-day strike this week as they seek to maintain pressure on authorities over Ms Amini's death.
Protests are planned on the day President Ebrahim Raisi is due to address students at Tehran University on Wednesday.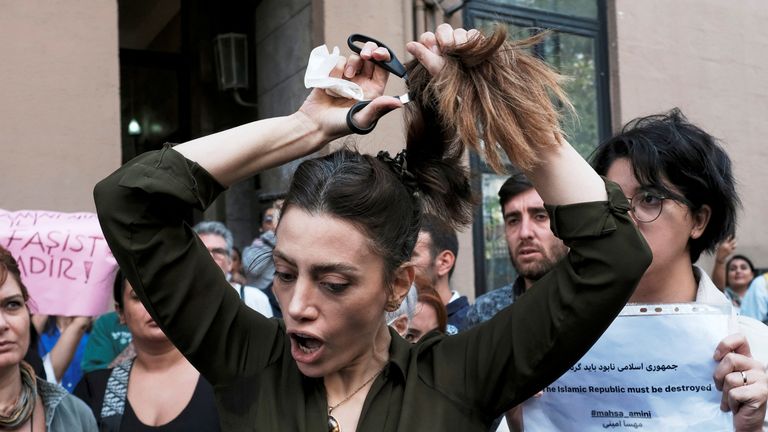 Iran says reviewing mandatory headscarf law
Following the widespread unrest, Mr Montazeri said Iran is reviewing the law that requires women to cover their heads.
Quoted by the ISNA news agency, Mr Montazeri said: "We are working quickly on the issue of hijab and we are doing our best to use a wise solution to deal with this phenomenon that hurts everyone's heart."
He added that a meeting has been held with the parliament's cultural commission and results will be seen "within the next week or two".
Top Iranian officials have repeatedly said Tehran would not change the Islamic Republic's mandatory hijab policy, which
requires women to dress modestly and wear headscarves.
Iranian climber 'forgot' hijab

Elnaz Rekabi's family home destroyed
In Iran, the family home of female Iranian rock climber Elnaz Rekabi, who competed abroad without wearing a hijab, has been demolished.
Iran's official judiciary news agency, Mizan, said on Saturday that the destruction of her brother's home was due to its "unauthorised construction and use of land" and took place months before the climber competed at an international rock climbing competition in South Korea.
Read more:
Iran's full jails mean arrested women are being held in houses
'Conditions in our country are not right' Iran player says
However, anti-government activists say the demolition was targeted. Iranian authorities have not publicly confirmed the demolition.
The 33-year-old did not wear a mandatory headscarf required of female athletes from the Islamic Republic at a competition in October. A later Instagram post attributed to the athlete, described her appearance without a hijab as accidental – although it was not clear whether she wrote it.
The Iranian government routinely pressures activists at home and abroad, often airing what rights groups describe as coerced confessions on state television.
World Cup 2022: Olivier Giroud and Kylian Mbappe both break records as France reach quarter-finals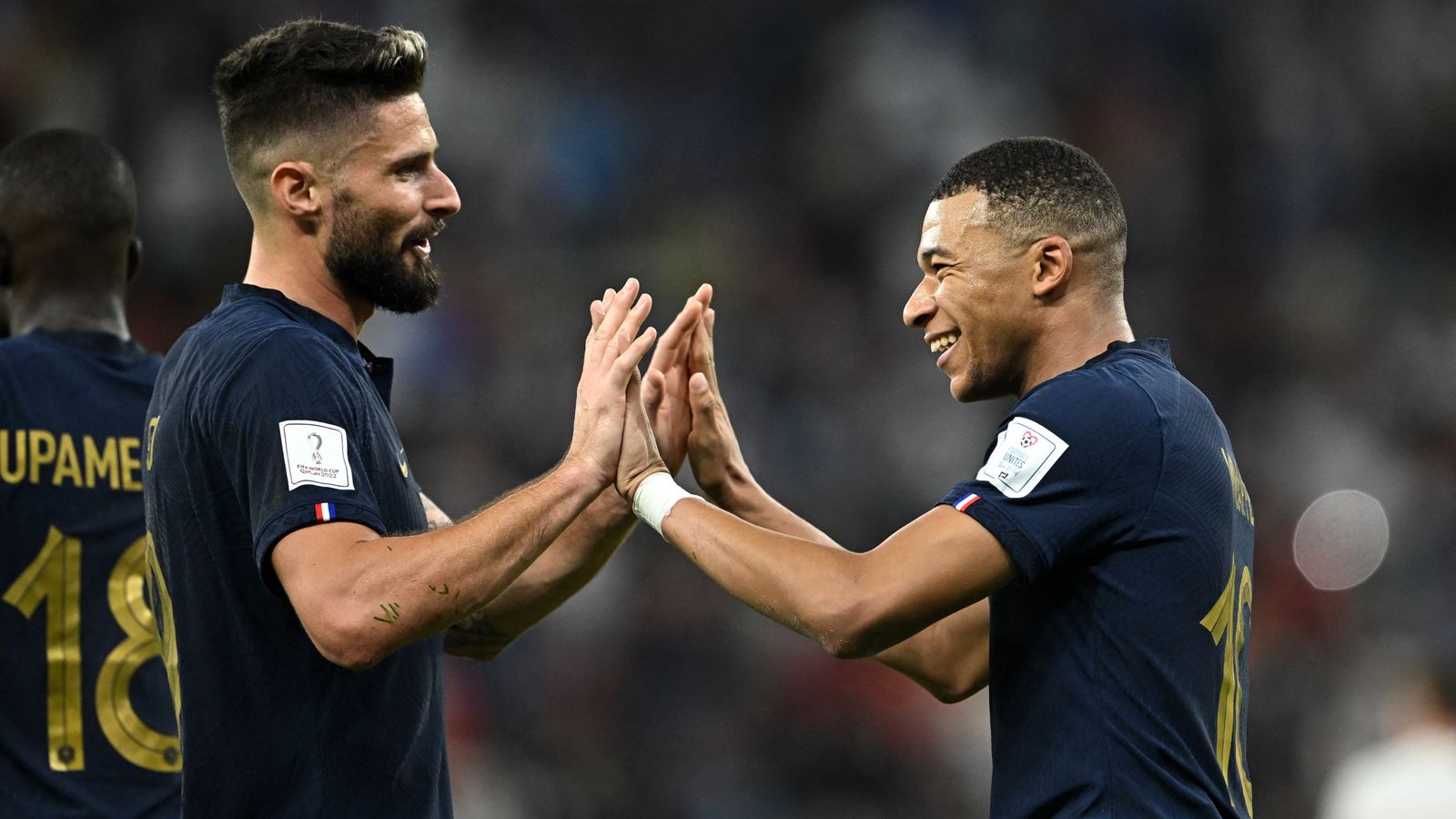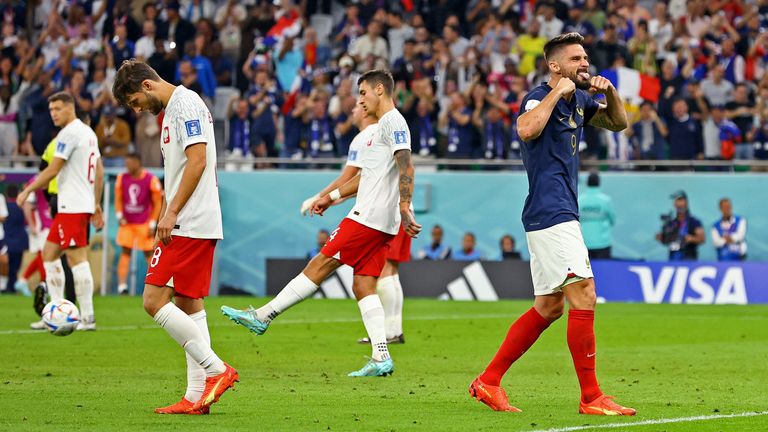 France await the winner of England's World Cup last-16 clash with Senegal after strikers Olivier Giroud and Kylian Mbappe both broke scoring records in a comfortable 3-1 win over Poland.
The reigning World Cup champions claimed victory as Giroud made history by becoming France's all-time top goalscorer during the match at Al Thumama Stadium in Qatar.
World Cup 2022: Follow live updates from last-16 matches
Giroud entered the record books with 52 goals after hitting the back of the net at the end of the first half.
The 36-year-old previously drew level with fellow ex-Arsenal striker Thierry Henry – who held the record of 51 goals – after netting a double in France's 4-1 win against Australia in their opening Group D game.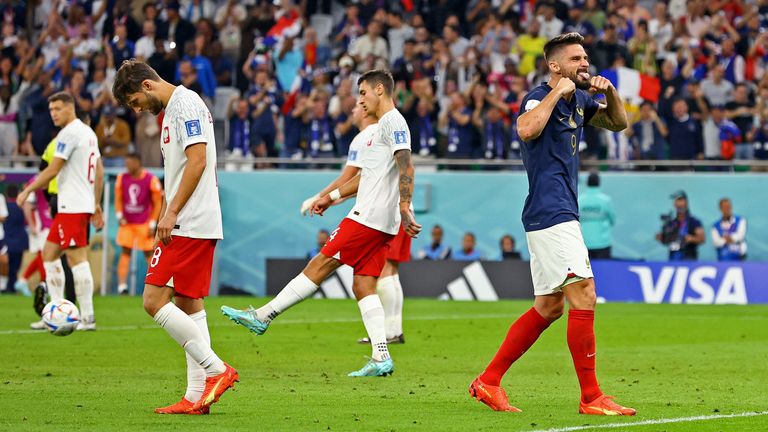 Mbappe scored the other two goals, becoming the first player to score eight – and then nine – World Cup goals before their 24th birthday.
His first of the night came in the second half at 73 minutes, before striking gold again in the 91st.
Poland's Robert Lewandowski clawed back a stoppage-time consolation from the penalty spot to end the game 3-1.
Now all eyes are on the Al Bayt Stadium as Group B winners England come face to face with Senegal for their first knockout match on the world stage since the agonising extra-time semi-final defeat to Croatia in 2018.
The game is set to kick off at 7pm GMT.