'The infrastructure can't cope': South African healthcare workers struggle to deal with third wave
Dr Angelique Coetzee is a GP in the South African capital Pretoria, where she has run a family clinic for the past 33 years.
But she has never known anything like COVID-19.
She said: "If you have never been in such a situation, you can't imagine what it is like. We've been dealing with 30 or 40 positive cases every day. The pressure is extreme.
"If you look at a country like Australia where they have a few cases, well I would see their national caseload in a couple of days. Can you imagine?"
When we first spoke in June, Dr Coetzee seemed on the verge of tears.
She said: "If I speak to you now, that means someone with COVID will not been seen – and there is no point trying to message. I don't have time to answer."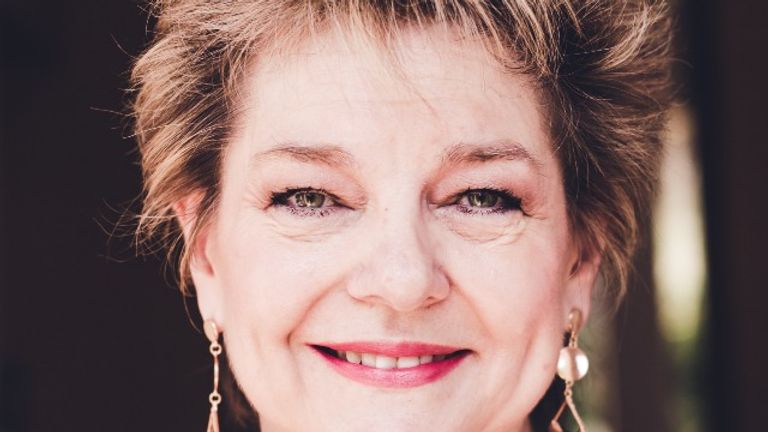 South Africa has found itself in the grips of a Delta variant-driven "third wave" of infection.
The caseload has been brutal, outstripping the first two waves by a factor of three.
The country's acting health minister says this surge has now peaked in the province of Gauteng, where the cities of Pretoria and Johannesburg are situated but Dr Coetzee says her personal and professional burden has barely changed.
She said: "We have been seeing fewer patients on a daily basis this week but the weather is colder and COVID-19 patients are turning up with pneumonia so we are seeing sicker patients than we have been during the last three or four weeks."
South Africa's beleaguered public-run health system has struggled to cope with wave after wave of the virus.
Lacking sufficient beds and qualified staff, city hospitals used casualty departments as holding centres where patients wait for space to free up – sometimes for days.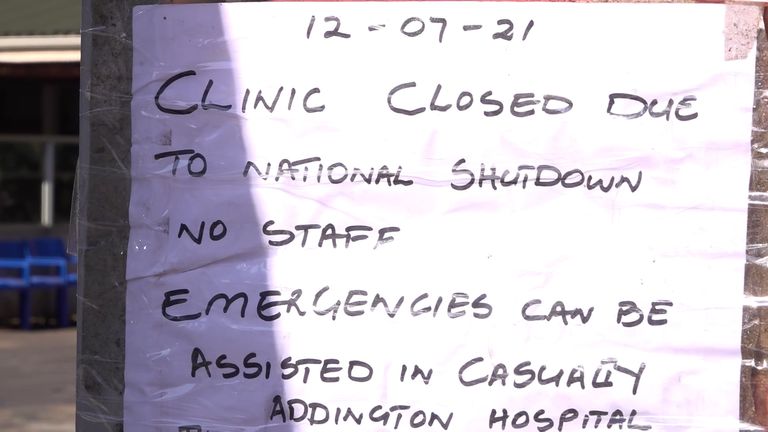 "This is the third wave we have experienced, comes less than six months (after the second) and the infrastructure can't cope," said Dr Coetzee.
"Most patients need oxygen and I try to admit them to hospital but because of (capacity) problems I have had to treat them at home. We have been waiting for 24 to 48 hours before we could get them cylinders, dealing with the stress of trying to manage patients without oxygen with the knowledge that if we don't make a plan they are going to die. All this while the surgery is full, full, full. It is so very stressful."
The extreme working patterns and the mental pressures that come with it have been felt in unexpected ways.
"I have had colleagues who have had motor vehicle accidents. One was so tired after work that he drove his car into a tree," she said.
"The second one was hit at a crossroads – and a lady doctor reversed into a garage door because she had forgotten to open it. The most bizarre things that happen in a short space of time but it shows you the pressure they are under."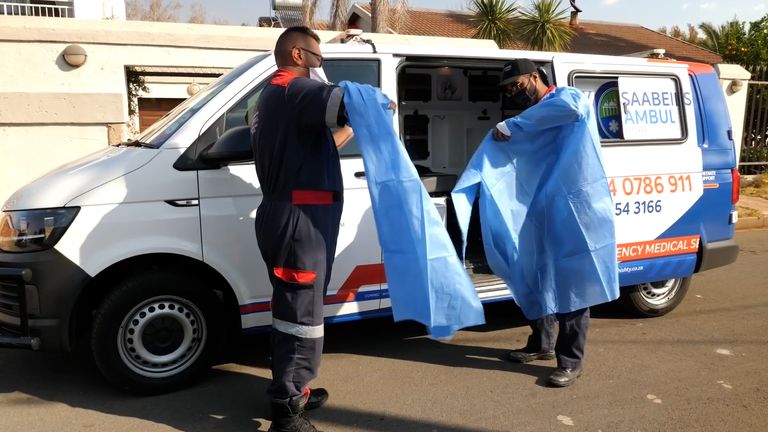 Dr Coetzee has been operating on the very edge within a healthcare system that was been put under severe strain.
There are no support workers or home visits or specialist consultations for most people in South Africa.
Instead, GP's like Dr Coetzee try to do it all.
"You become distant after a while but you try to carry on and on. I think that is the only way to survive it," she said.
Yanga Booi is a 32-year-old nurse working at the intensive care unit at Thelle Mogoerane Regional Hospital in Vosloorus, on the outskirts of Johannesburg.
He says the hospital is poorly equipped and the staff have been insufficiently prepared during the pandemic.
He said: "The health system in South Africa did a complete spin when the pandemic hit our shores. We were put in the spotlight and given this false sense of heroism, but it wasn't the right sort of attention because when we went to work, the hospital was in a worse state that than it was before.
"We were ill-prepared from the beginning, and we are still not prepared."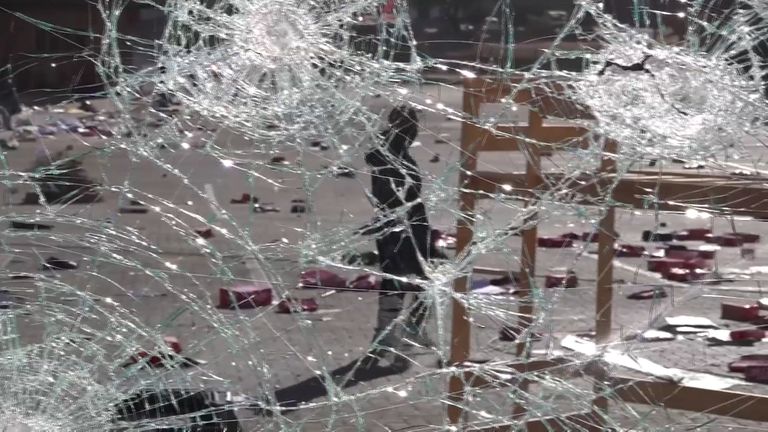 The hospital in Vosloorus provides beds and treatment but Booi says COVID testing at the facility is not reliable and patients are not properly isolated.
"We cannot be sure who has COVID because we get so many false negatives. It's like we wait for people to get sick or drop dead, then look into the COVID thing," he said.
"I remember admitting a patient who was negative on admission and so we didn't isolate him. A few days later he died and we found out that he was positive.
"It's a sad situation because the hospital does not have an isolated ICU ward for COVID patients. It's a general ICU with isolation rooms and we admit COVID patients to it – some people have it and others don't. We cannot be sure."
Mr Booi says dozens of his colleagues have paid a terrible price over the course of three separate waves of infection in South Africa.
He said: "It is unfortunate that we have had to watch our colleagues dying from this… countless members of staff have gone, it's not just nurses, it's the doctors, it's the clerks, it's the porters."
The 32-year old, who took up the profession when he was offered a government bursary, says he was "deeply afraid" when the pandemic arrived.
Yet 17 months later he has noticed a change in himself and others.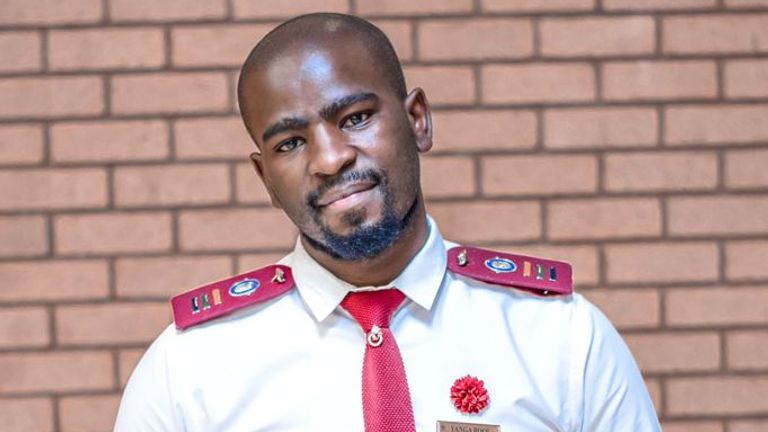 He said: "The loss of life has caused us to grow a thick skin, just like when we came into the profession. Our first experiences with death were terrifying but then we got accustomed to people dying and that is what has happened with COVID.
"We are used to the virus we know it is here to stay and we must find ways to keep going."
Dr Shabir Mahdi is dean of the faculty of health sciences at Witwatersrand University in Johannesburg and is a source of expertise and fearless criticism in a country that has struggled in all aspects of its pandemic response.
Dr Mahdi says the ferocity of South Africa's third wave of infection came as a "huge surprise".
He said: "The current resurgence far exceeds what we have experienced either in the first or second wave in the number of documented cases. In fact, the numbers of new cases diagnosed on a daily basis is three times what it was at the time of the peak of the first and second wave."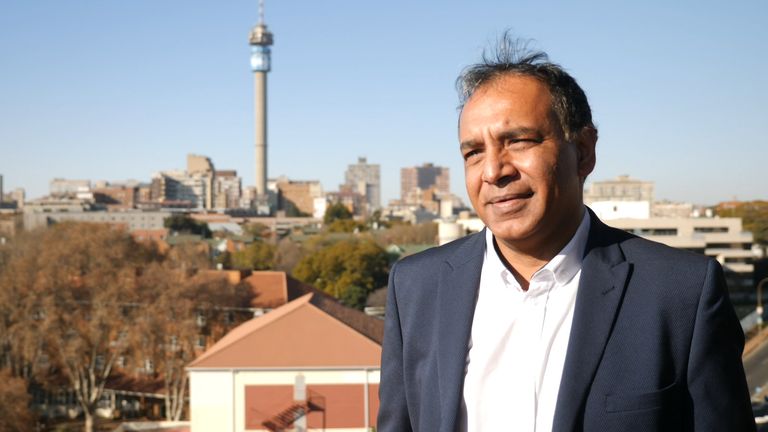 However, this eminent viriologist is unsparing in his criticism of the government's response.
While the magnitude of the Delta-fuelled third instalment could not have been predicted, he says health officials knew another wave was coming at the beginning of South Africa's winter season.
He said: "In a province like Gauteng where 25% of the population live, our hospitals are completely overwhelmed but at the same time, we have beds that are literally vacant in the same hospitals and we can't actually use those beds because some official in some government department forgot that you actually need to have health care workers available to actually staff those beds."
Afghanistan: Three British men being held in Taliban custody – including 'danger tourist' who returned after army evacuation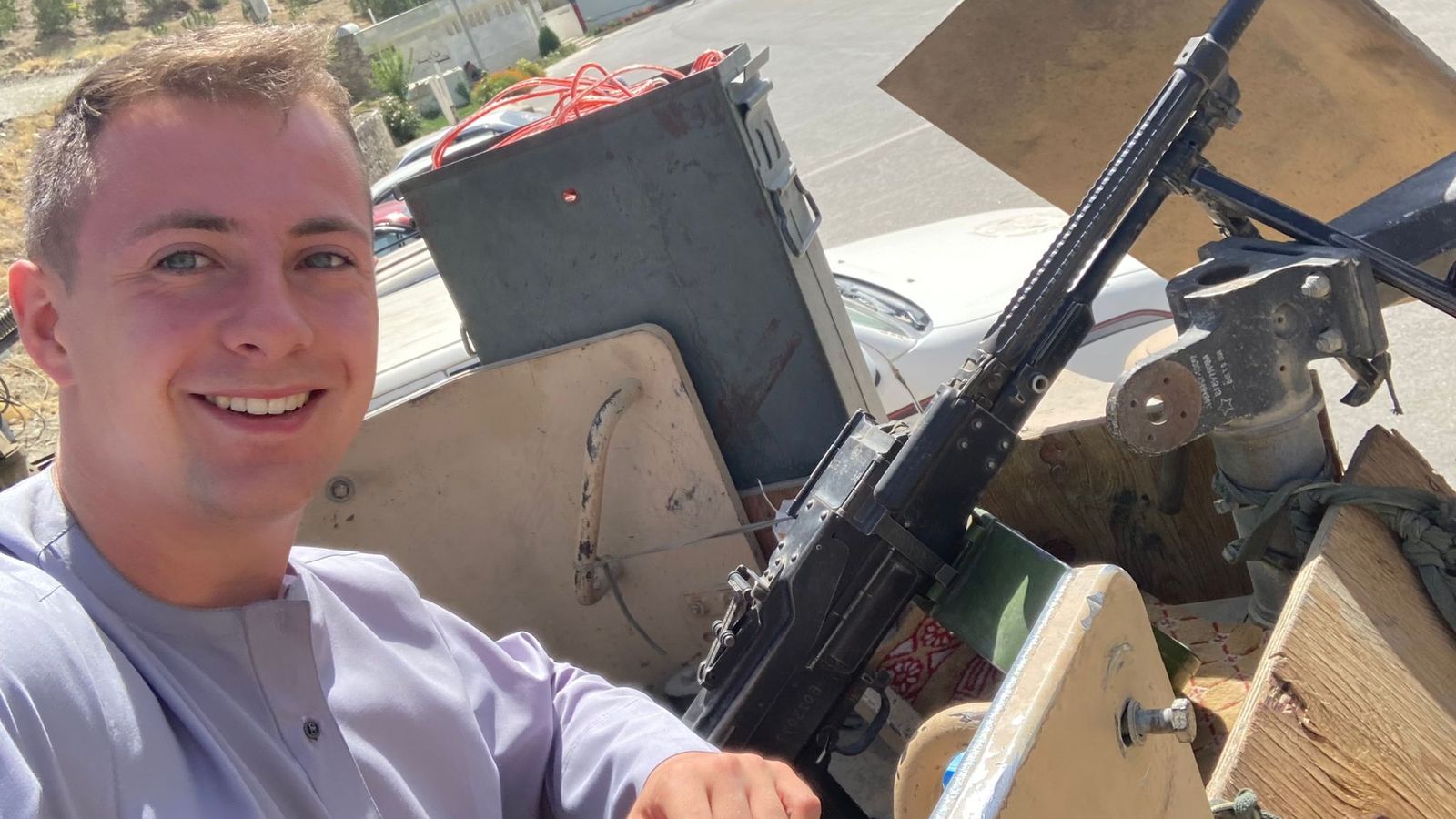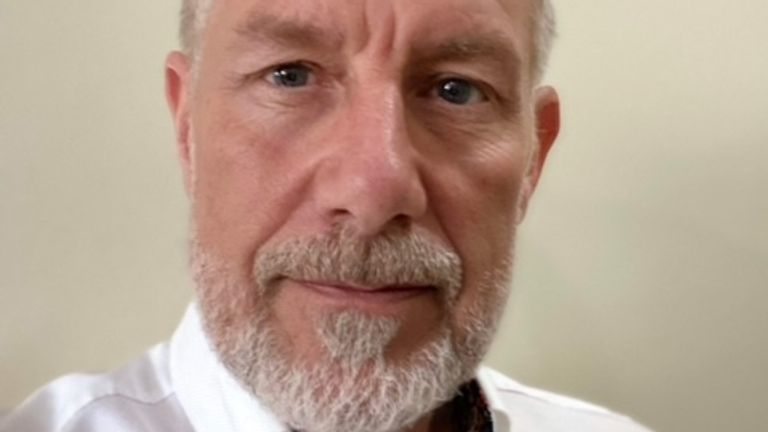 Three British men are being held in Taliban custody in Afghanistan – including so-called "danger tourist" Miles Routledge who returned to the country after being evacuated by British armed forces less than two years ago.
The other two men are charity medic Kevin Cornwell and another unnamed UK national who manages a hotel in Kabul. They are believed to have been held by Taliban secret police since January.
A Foreign, Commonwealth and Development Office (FCDO) spokesperson said: "We are working hard to secure consular contact with British nationals detained in Afghanistan and we are supporting families."
Mr Routledge, 23, has gained fame – and attracted controversy – by travelling to dangerous countries and posting about it online.
In August 2021 he was on a "holiday" in Afghanistan when he was caught up in the chaos in the capital as the Taliban took control of the country.
He chose the war-torn country having looked up a list of the most dangerous places to visit in the world, despite the Taliban taking control of more and more of the country at the time.
Mr Routledge thanked the British Army after he was among those evacuated during the Kabul airlift.
He appears to have returned to the country since then.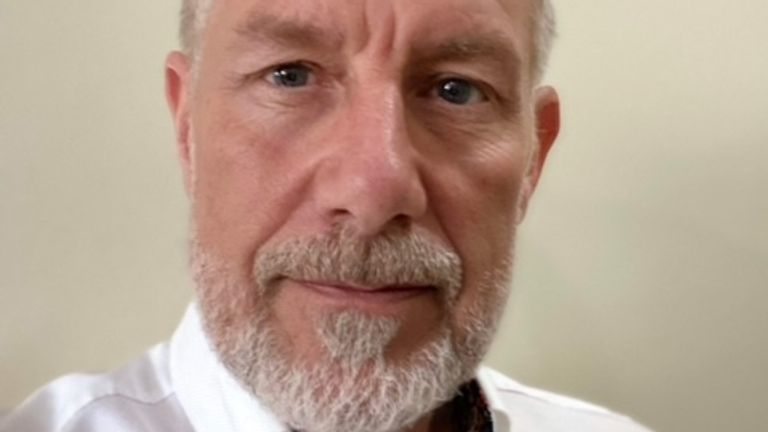 Read more:
Woman fears for her life if she is sent back to Afghanistan
Taliban leader tells officials to sack their sons
Mr Cornwell, 53, was arrested at his hotel by officers from the Taliban's General Directorate of Intelligence (GDI) on 11 January.
He is accused of having an illegal firearm in the safe in his room, but his family say he had been granted a licence for the firearm.
The FCDO continues to advise UK citizens against all travel to Afghanistan based on the security risks involved, including the possibility of detention by the Taliban authorities.
Yoghurt thrown over women in Iran for not covering their hair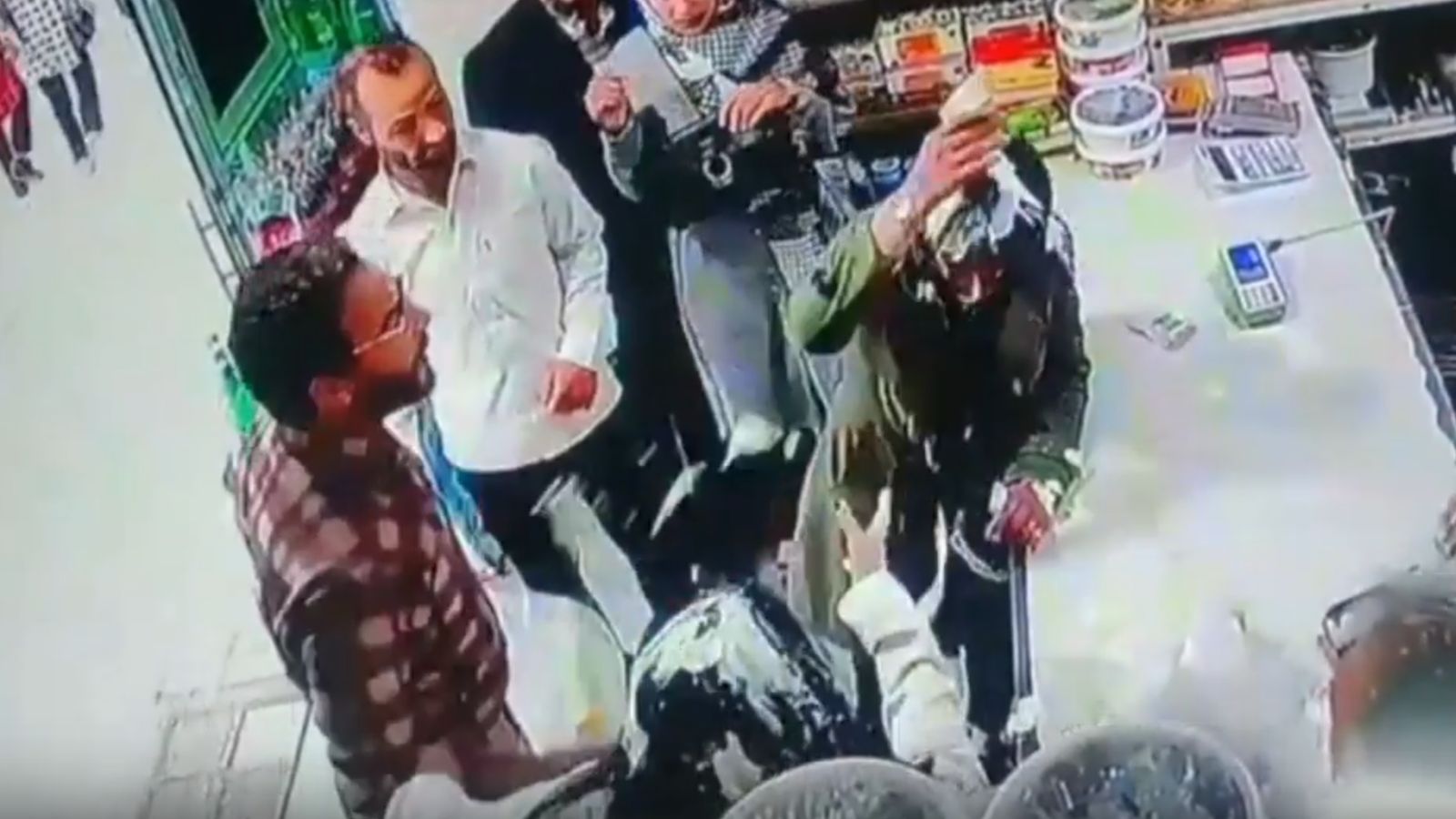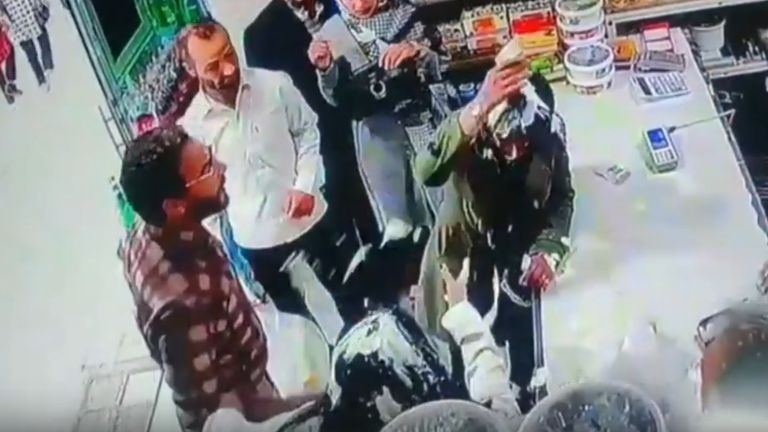 Two women in Iran who went into a store while not fully covering their hair had yoghurt thrown over them by a man, in an incident captured on video.
CCTV footage showing the "yoghurt attack", believed to have taken place in the city of Shandiz in northeast Iran, has been spreading on social media.
Iran's President Ebrahim Raisi insisted that the hijab is the law in the country, in response to the widely shared clip.
It shows a man in a chequered shirt getting increasingly animated as he speaks to one of the women.
He is then seen grabbing a pot of what is believed to be yoghurt and throwing it over the pair before being confronted by another man and pushed out of the store.
Read more on Iran:
Shotgun pellets in activist's back won't end fight for freedom
Following the incident, the two women have been arrested for not covering their hair, according to judicial authorities.
The man has also been arrested for insulting the women, public disorder and "unconventional promotion of virtue".
Authorities said the owner of the dairy shop, who confronted the attacker, had also been warned.
Reports on social media showed his shop had been shut, although he was quoted by a local news agency as saying he had been allowed to reopen and was due to "give explanations" to a court.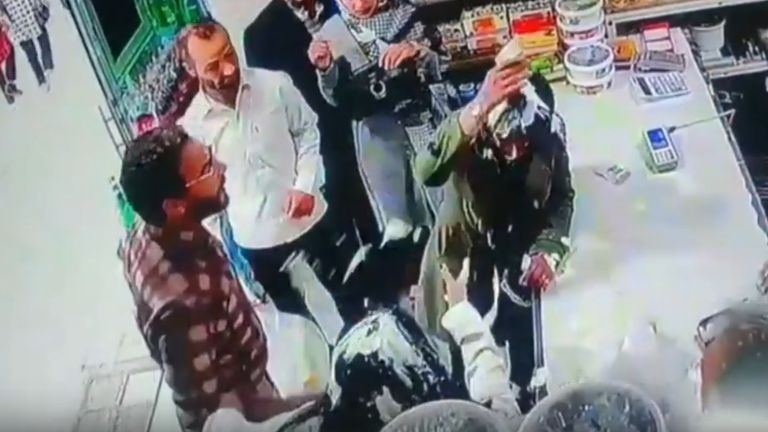 President Raisi said: "If some people say they don't believe [in the hijab]… it's good to use persuasion…
"But the important point is that there is a legal requirement… and the hijab is today a legal matter."
Women in Iran had already been warned by the regime's judiciary chief that they will be prosecuted "without mercy" if they are seen in public without a veil.
Following protests in recent months, Gholamhossein Mohseni Ejei said on Saturday: "Unveiling is tantamount to enmity with [our] values.
"Those who commit such anomalous acts will be punished and will be prosecuted without mercy."
Iran has been rocked by huge waves of protests following the death of Mahsa Amini in September.
The 22-year-old Kurdish-Iranian woman died while in the custody of Iran's morality police.
Women to be prosecuted 'without mercy' for not wearing veils, says Iran's judiciary chief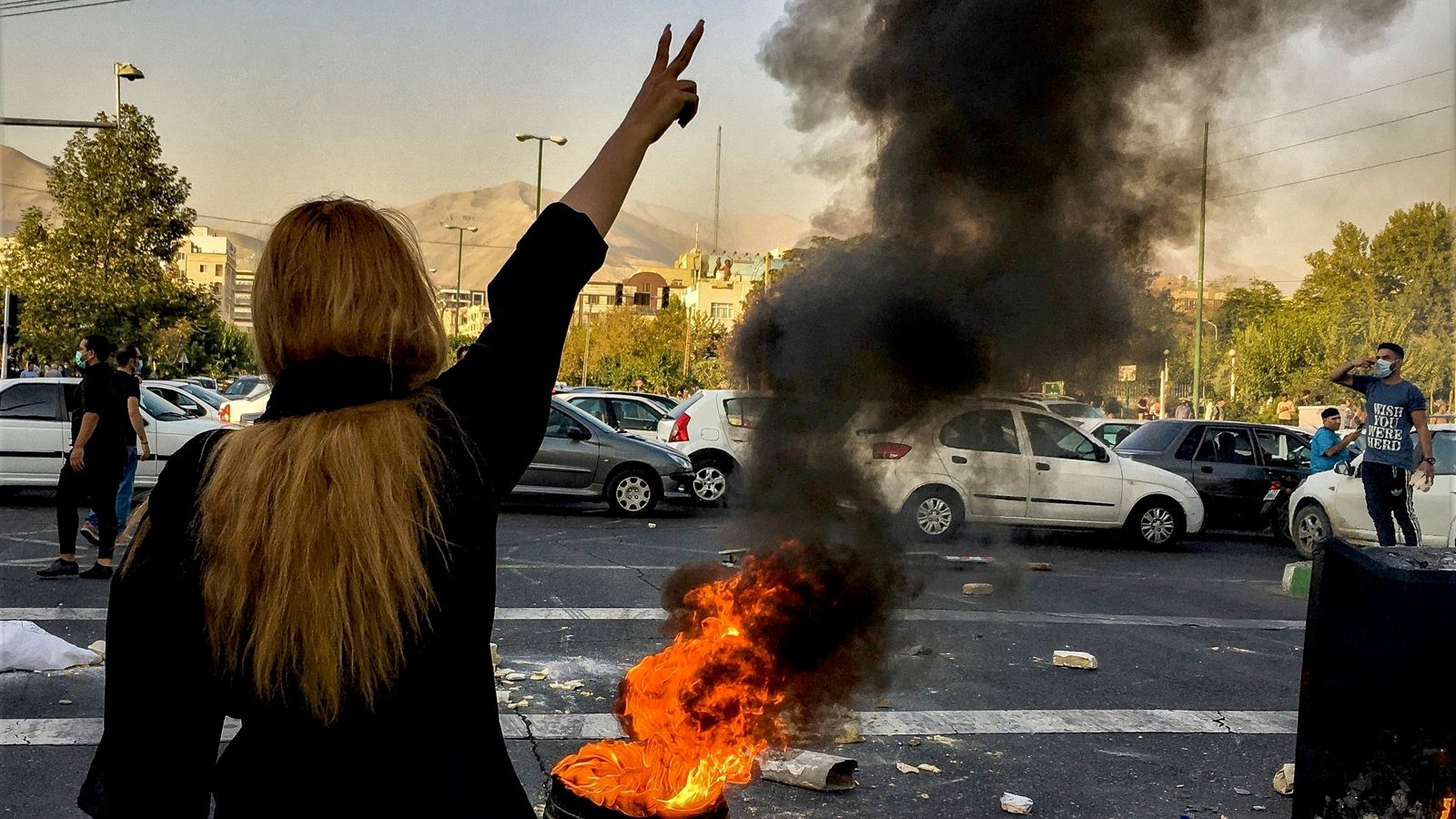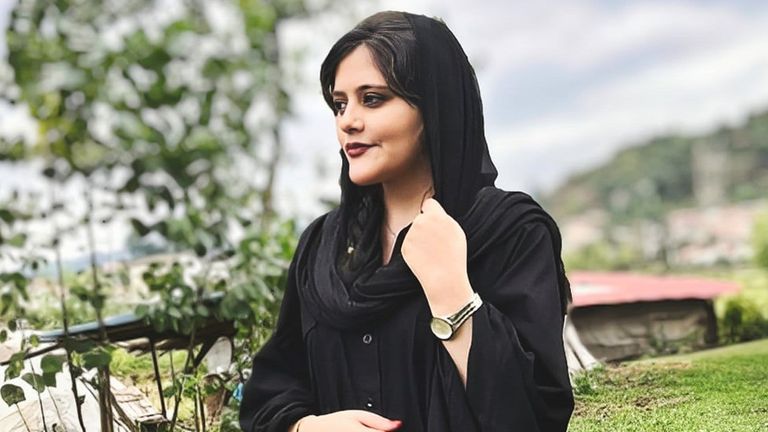 Women will be prosecuted "without mercy" if they are seen in public without a veil, Iran's judiciary chief has warned.
Following protests in recent months, Gholamhossein Mohseni Ejei said on Saturday: "Unveiling is tantamount to enmity with [our] values.
"Those who commit such anomalous acts will be punished and will be prosecuted without mercy."
He did not specify what the punishment would be, but violations of state laws on hijabs have seen people face arrest, fines, imprisonment and even the death sentence.
Women across the country have been refusing to wear their headscarves following the death of 22-year-old Mahsa Amini in September.
Ms Amini had been arrested for allegedly breaking the law on headscarves and died in police custody.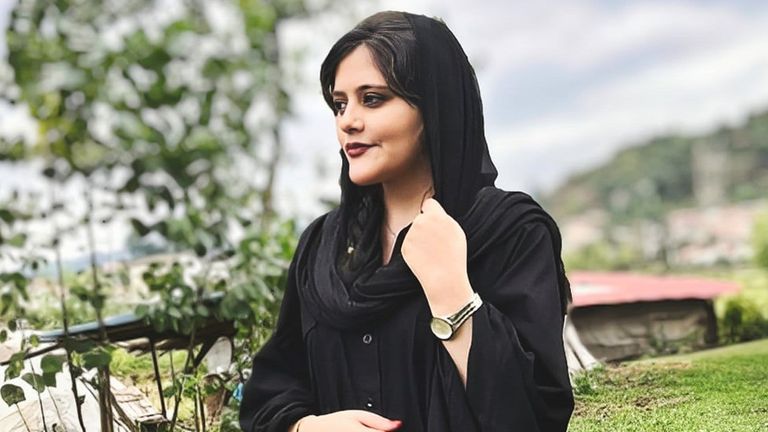 Nationwide street protests were met with a severe police crackdown.
Human Rights Activists, a group that has been tracking the crackdown from inside Iran, has reported more than 19,700 people being arrested during the demonstrations.
Another group, Iran Human Rights (IHR) estimates that 500 of them, including 70 minors, were killed by the regime.
Previously, Mr Ejei said that 22,000 people arrested during recent protests have now been pardoned.
Iran protesters speak about punishment

Read more:
200 shotgun pellets buried in activist's back
Iranian actress posts picture without headscarf
Iranian women have now moved their fight online, with many posting videos of themselves with their hair and bodies exposed.
Under Iran's Islamic Sharia law, women are obliged to cover their hair and wear long, loose-fitting clothes to disguise their figures.
Describing the veil as "one of the civilisational foundations of the Iranian nation" and "one of the practical principles of the Islamic Republic," the interior ministry said in a statement on Thursday that there would be no "retreat or tolerance" on the issue.
The authorities are encouraging people to confront women who break hijab laws – something that has previously seen religious extremists physically attack them in public.