When Ted Lasso first arrived on our screens in the summer of 2020, it couldn't have come at a better time.
TV audiences who had been through tough experiences in their own lives due to the COVID-19 pandemic – and had also been starved of real football matches while teams were locked down – couldn't resist the story of the relentlessly optimistic American football coach brought to the UK to train the fictional AFC Richmond.
After charming viewers, the success of the series continued during awards season earlier this year, with Jason Sudeikis, who plays the lead role and co-created the show, going viral for picking up his Golden Globe while wearing a tie-dye hoodie.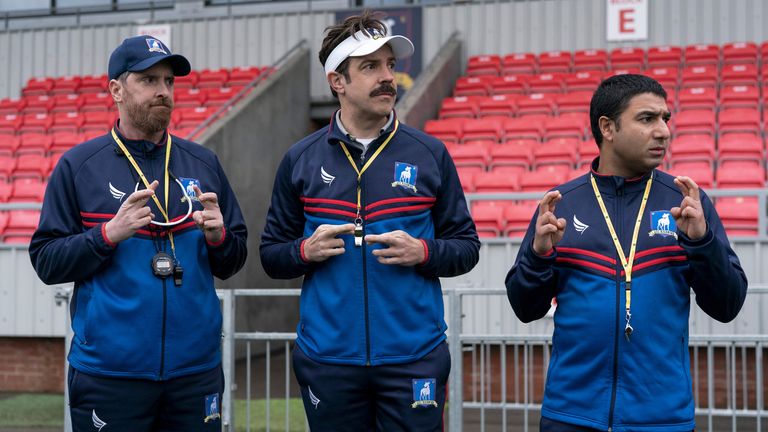 More recently, the series earned 20 Emmy nominations – including a whopping six for supporting cast members – and a second series has just launched.
Sudeikis told Sky News' Backstage Podcast it was almost straight away that he realised they were on to a winner.
"The show premiered on a Friday and then on Monday we got a call from Apple saying, hey, we want to do a second season," he says. "In this day and age of no longer having Nielsen ratings or box office earnings showing up on a Monday morning, that was a little bit of a tell."
But it was the impact the programme had on social media that really brought home to Sudeikis how much it meant to fans, particularly after a speech in episode six given by Ted, which re-purposes a real press conference moment by NBA star Allen Iverson in which he talks about missing practice.
"When that started to permeate, like sort of started to spread around the internet [and] social media culture, that was something that really resonated then," he says. "Then we started getting messages back and people saying things to us.
"Our more active writers and producers and cast members that are more inclined to using social media, when they started getting certain messages about how much people were enjoying the show and feeling thankful for the show, that was really moving and telling."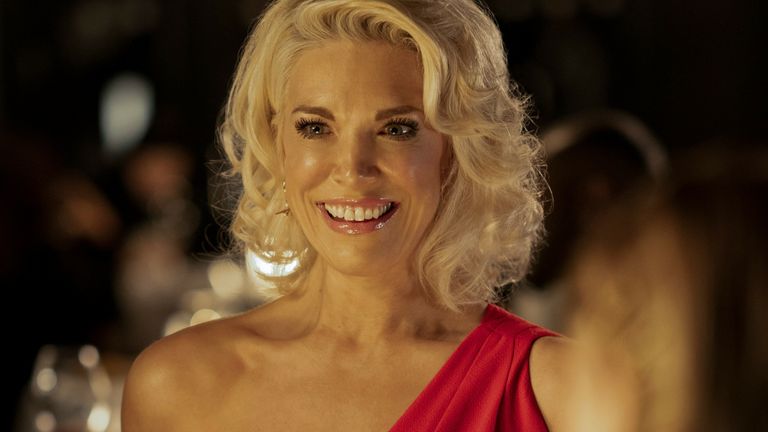 Production for the second series began in London in January, marking the first time the cast and crew could mark the success of the show together. However, the strict COVID regulations that productions had to adhere to meant those celebrations were sadly muted.
"We all had to wear masks and we weren't allowed to hug, so it was sort of anticlimactic," says Brendan Hunt, another of the show's creators, who plays the enigmatic Coach Beard.
"It was like going to Christmas with the family but you're all wearing hazmat suits – it's hard to open presents!"
Hannah Waddingham, who plays the club's fabulous owner Rebecca, agrees. "The COVID police, as I called them, were literally… you'd see someone and you'd want to go, 'Oh my God, what about the show's success?' and they'd go 'no, no, no, stay apart'.
"I desperately wanted to give Nick Mohammed a squeeze, playing Nate, or just rub his cheeks or something because he's so brilliant in it, and you just couldn't get anywhere near anyone. And it continued like that for the whole of season two."
Subscribe to the Backstage podcast on Apple Podcasts, Google Podcasts, Spotify, Spreaker
For Sudeikis – who is often asked about where he ends and Ted Lasso begins – the reaction from fans to the show, and the character, has been welcome.
"It's actually been really, really nice getting back here to the States, Brooklyn specifically, and walking around, going to see the Brooklyn Nets at Barclays and having, you know, fathers and sons, when I'm there with my son, stop and asking for photos.
"And, you know, I always said yes before, but I don't feel pressured to do it now – I just feel like I like what they're stopping for. And the messages that they exchange of appreciation and really caring about this show has been really cool."
The second series of Ted Lasso is streaming on Apple TV Plus. Hear our review on this week's episode of Backstage, the film and TV podcast from Sky News.
Taylor Swift crowned Time magazine's Person of the Year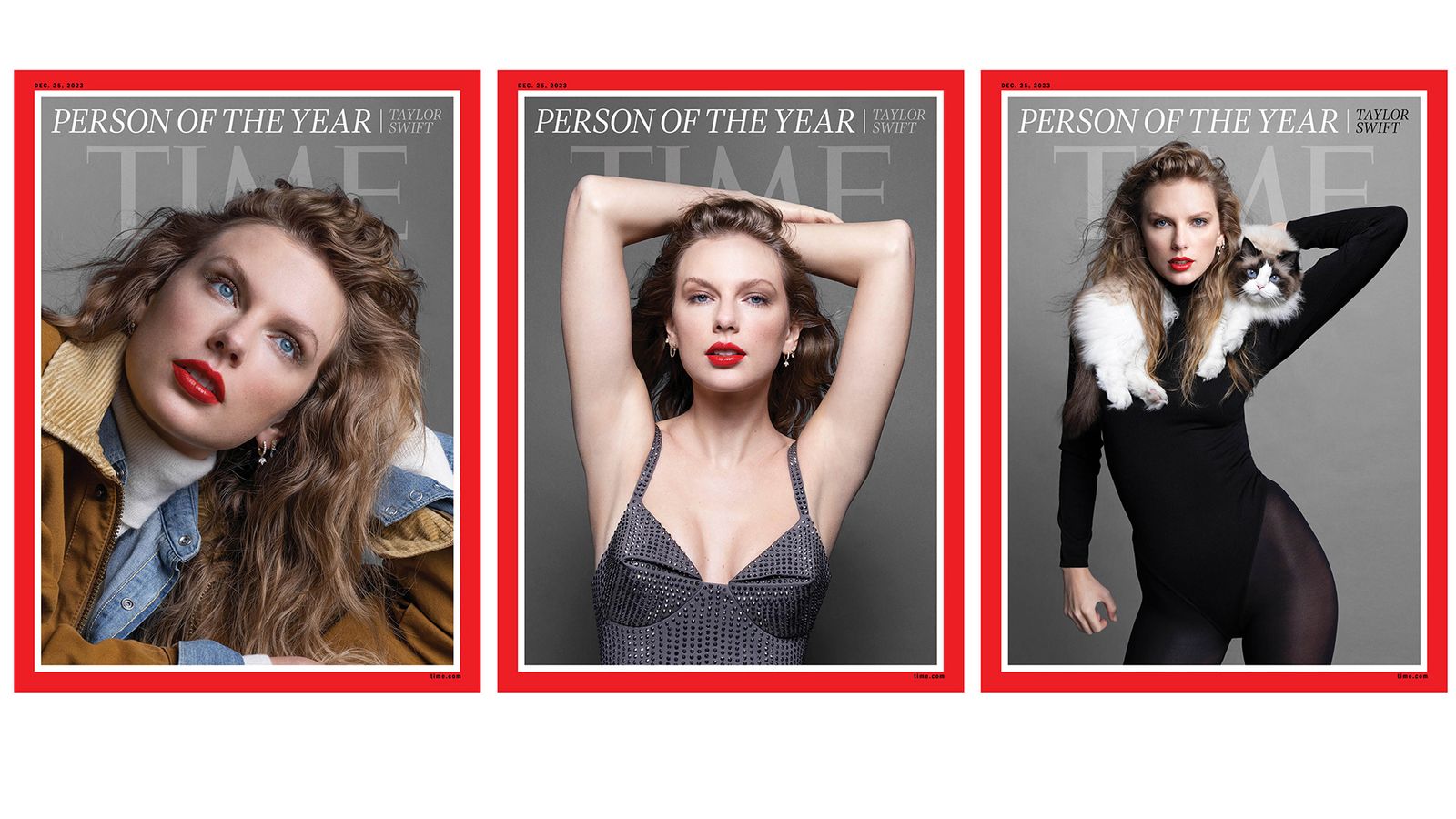 Taylor Swift has been named Time magazine's Person of the Year for 2023.
The music star, 33, told the publication: "This is the proudest and happiest I've ever felt, and the most creatively fulfilled and free I've ever been.
"Ultimately, we can convolute it all we want, or try to overcomplicate it, but there's only one question: Are you not entertained?"
The Shake It Off singer beat a range of finalists to take the title, including Barbie, former US president Donald Trump's prosecutors and the King.
It tops off a record-breaking year for Swift, and she has collected several other end-of-year awards.
People Magazine named her 2023's most intriguing person of the year while Forbes awarded her the title of the world's most powerful woman in media and entertainment.
The 12-time Grammy winner also became Spotify's most-streamed artist globally, with her songs being streamed more than 26 billion times.
She recently scored her seventh Grammy nomination for song of the year – overtaking Sir Paul McCartney and Lionel Richie.
Her Eras Tour is set to gross more than $1bn while the film version was the highest grossing concert film ever.
She also re-released new versions of her third and fifth albums Speak Now and 1989, which was sparked by a feud with music executive Scooter Braun over ownership of Swift's masters.
Former Time Person of the Year winners in recent years include Volodymyr Zelenskyy, Joe Biden and Kamala Harris, Elon Musk and Greta Thunberg.
Time's editor-in-chief Sam Jacobs said on NBC's Today programme: "Picking one person who represents the eight billion people on the planet is no easy task.
"We picked a choice that represents joy. Someone who's bringing light to the world," he said.
"She was like weather, she was everywhere."
Time awards the title to "the individual, group, or concept that has had the most influence on the world throughout the previous 12 months."
US actors' union SAG-AFTRA hails 'enormous victory' as it ratifies deal that ended strike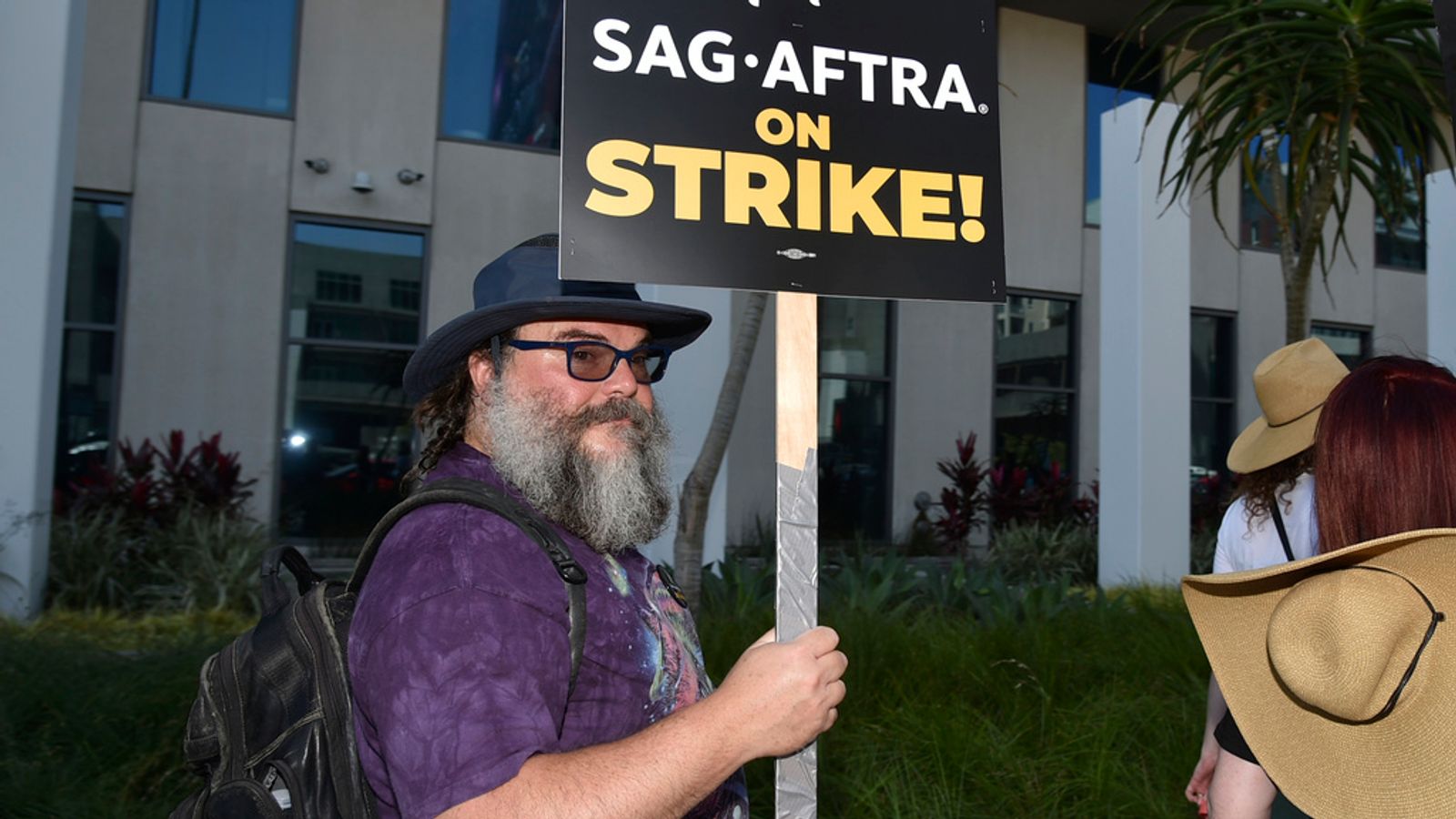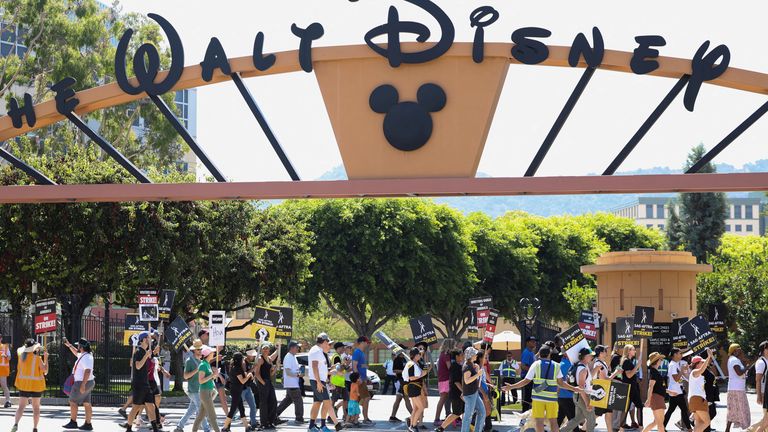 The US actors' union has said the deal that ended its months-long strike was an "enormous victory" after it was ratified last night.
About 78% of SAG-AFTRA (Screen Actors Guild – American Federation of Television and Radio Artists) members voted in favour of the contract, with a turnout of around 38%.
The walkout lasted 118 days and brought Hollywood to a standstill, halting productions on film and television shows.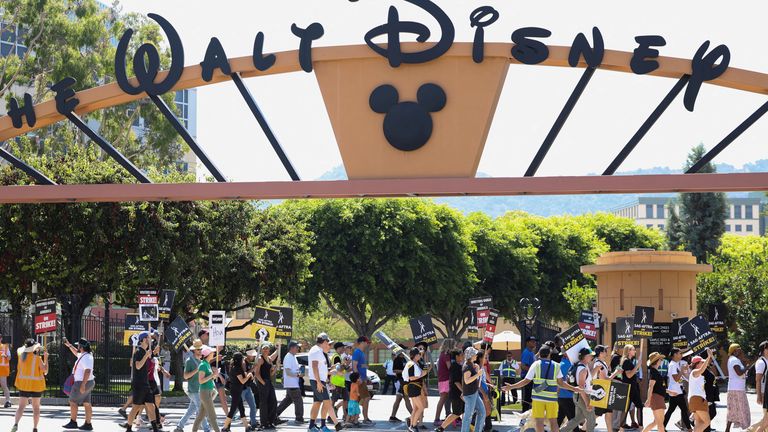 The strike ended on 9 November when a tentative agreement was reached between the union and the Alliance of Motion Picture and TV Producers (AMPTP). It began on 14 July, with pay disputes and the threat of artificial intelligence being the main issues.
SAG-AFTRA president Fran Drescher and chief negotiator Duncan Crabtree-Ireland said: "Today we close out one of the most important chapters in recent entertainment industry history.
July: 'We will not allow you to take away our dignity'

"This contract is an enormous victory for working performers, and it marks the dawning of a new era for the industry. Getting to this point was truly a collective effort.
"With the ratification of this agreement, SAG-AFTRA members will receive unprecedented wage escalation, significantly improved streaming compensation, and the first-ever crucial protections around the use of artificial intelligence technology."
Read more:
The Hollywood stars who supported the actors' strike
Brian Cox and Simon Pegg among British stars to back action
The deal now specifies compensation has to equate to the amount of work that would have been done by the actor, while companies have to get the consent of performers to use their facial features as part of the creation of any synthetic elements.
Click to subscribe to Backstage wherever you get your podcasts
The actors' strike came at the same time as the Writers Guild of America action, which was resolved in September, as the union agreed to a deal with studio bosses after 146 days on the picket line.
Denny Laine: Paul McCartney pays tribute after Moody Blues singer and Wings guitarist dies aged 79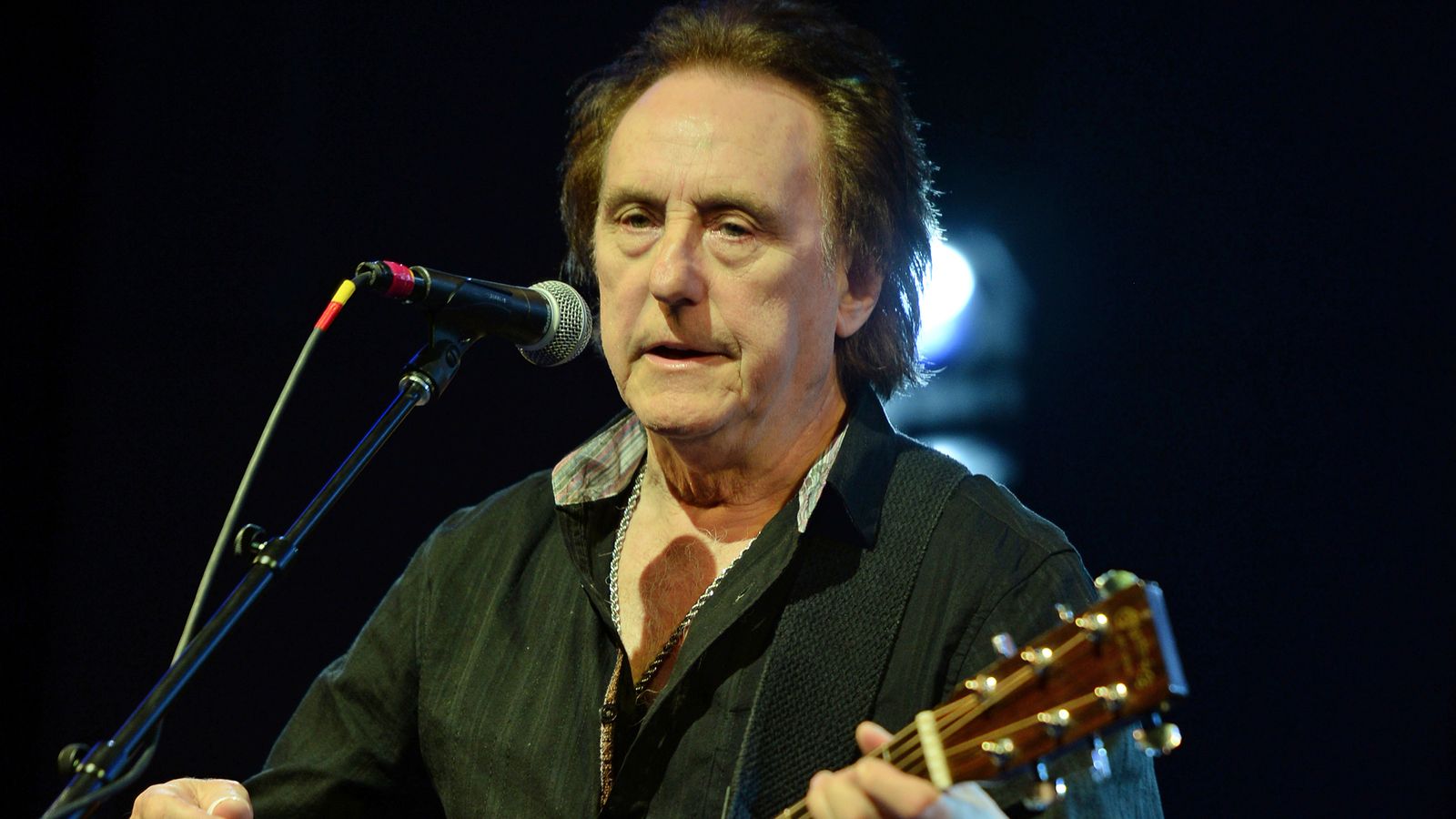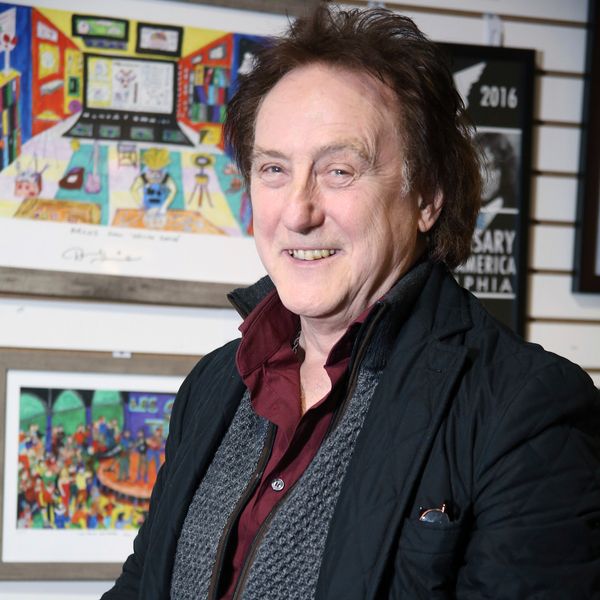 Denny Laine, the lead singer of English rock band the Moody Blues and guitarist with Wings, has died aged 79.
The co-founder of both Wings, which also featured Sir Paul McCartney, and The Moody Blues "passed away peacefully" following a battle with lung disease.
In an Instagram statement, Elizabeth Hines wrote that it was an "absolute honour and privilege to not only be his wife, but to care for him during his illness and vulnerability".
She wrote: "My darling husband passed away peacefully early this morning.
"I was at his bedside, holding his hand as I played his favourite Christmas songs for him. He's been singing Christmas songs the past few weeks and I continued to play Christmas songs while he's been in ICU on a ventilator this past week.
"He and I both believed he would overcome his health setbacks and return to the rehabilitation centre and eventually home.
"Unfortunately, his lung disease, Interstitial Lung Disease (ILD), is unpredictable and aggressive; each infection weakened and damaged his lungs. He fought every day. He was so strong and brave, never complained.
"All he wanted was to be home with me and his pet kitty, Charley, playing his gypsy guitar."
Read more:
Musicians react to AI songs flooding the internet
Rare photos from Cavern Club found
McCartney's childhood home opened for unsigned artists
Sir Paul posted on Instagram to pay tribute to Laine, saying he was "very saddened" by his ex-bandmates passing.
He said: "I have many fond memories of my time with Denny: from the early days when The Beatles toured with the Moody Blues.
"Our two bands had a lot of respect for each other and a lot of fun together. Denny joined Wings at the outset. He was an outstanding vocalist and guitar player.
"His most famous performance is probably 'Go Now', an old Bessie Banks song which he would sing brilliantly. He and I wrote some songs together, the most successful being 'Mull of Kintyre' which was a big hit in the Seventies.
"We had drifted apart, but in recent years managed to re-establish our friendship and share memories of our times together.
"Denny was a great talent with a fine sense of humour and was always ready to help other people. He will be missed by all his fans and remembered with great fondness by his friends. I send my condolences and best wishes to his wife, Elizabeth and family.
"Peace and love Denny. It was a pleasure to know you. We are all going to miss you."
Ms Hines also wrote that the support from the public "brought him to tears", and said her "world will never be the same".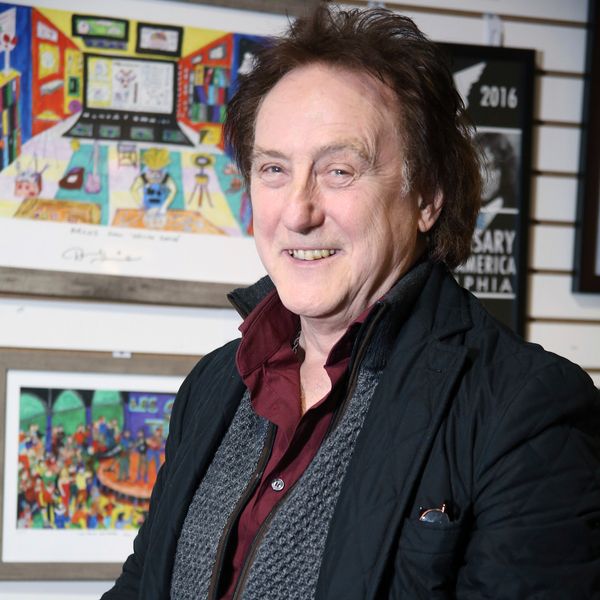 She added: "Denny was an amazingly wonderful person, so loving and sweet to me.
"He made my days colourful, fun and full of life-just like him. Thank you sweetie for loving me, for all the laughter, friendship, fun and for asking me to be your wife. I will love you forever.
"Please give Denny's friends and family the time and privacy needed as we grieve our loss."
Born Brian Hines in Tyseley, Birmingham, in October 1944, Laine had been a member of Birmingham-formed The Moody Blues during the 1960s.
He quit the band shorty after releasing The Magnificent Moodies in 1965 over a conflict with their record label.
He then joined Sir Paul and Linda McCartney in the Wings line-up in 1971 before departing the band in the 1980s.
Laine was also part of the World Classic Rockers, a touring act which had Donovan, Spencer Davis and founding member of The Eagles Randy Meisner play at various times.