Three days before Amy Winehouse's death from alcohol poisoning in July 2011, her goddaughter Dionne Bromfield, a 15-year-old singer, finished school for the summer and rushed to the Camden Roundhouse to perform.
It was her biggest gig yet, her friends were coming to watch and she was full of excitement. For a young singer dreaming of a career in music, just like her "Aunty Amy", it was a big day.
Amy Winehouse turned up unexpectedly to support her, their moments together onstage captured by someone in the crowd, filming on a mobile phone.
This would be the superstar's last public performance.
As I watched the grainy mobile phone footage later, for me this was the stand-out moment of all the news coverage around Winehouse's death – she's so evidently falling apart but trying so desperately to be there for her goddaughter.
Dionne Bromfield has shared her story from that night in On Stage With Amy Winehouse, the latest episode of StoryCast '21 – a Sky News podcast series telling 21 stories from the year 2000 to 2021.
Listen below.
Subscribe to Storycast 21 now on Apple Podcasts, Spotify, Google Podcasts, Spreaker
It was 10 years ago, 23 July 2011, when I got the call from a music PR.
It was a sunny day but I was sitting in a windowless newsroom, working a 12-hour shift, and the world was also reacting to the tragedy of the horrific terror attack in Norway the previous day. It was a call I won't forget.
Winehouse had been found in bed at home by a bodyguard with two empty vodka bottles by her side, bringing to a tragic end her very public struggle with drug and alcohol addiction. She was just 27.
Breaking the news and witnessing the outpouring of grief that followed felt unprecedented at the time, I remember a little girl with beehive hair laying flowers outside her house in Camden Square, alongside crowds in tears, Winehouse's dad Mitch, and tributes from Mark Ronson and Kelly Osbourne; visibly stunned.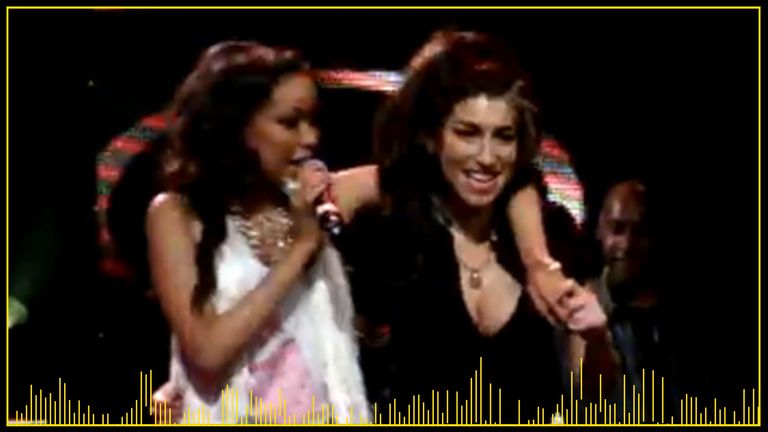 Covering celebrity deaths is part of the job as an entertainment journalist, but this was no ordinary pop star; when Winehouse died, everyone had an opinion.
People were devastated, her fragility so profound, and tears turned to anger and blame; tragedies such as this can often turn toxic as grief mixed with the spotlight takes its toll.
We wanted to find out about the real Amy Winehouse.
We spoke to people who knew her, Joe Mott, Kim Dawson, Piers Hernu, her teacher Sylvia Young, former record label bosses, her biographer Chas Newkey-Burden, and countless critics such as Paul Gambaccini.
But I didn't call the one young woman who knew the singer like no one else. The Amy behind the icon. Behind the headlines. Behind the instantly recognisable beehive, eyeliner and tattoos. The "Aunty Amy".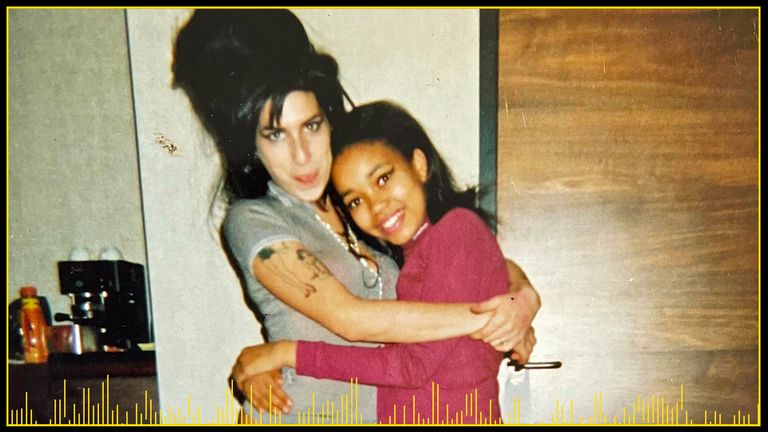 Dionne Bromfield, now 25, was Amy's goddaughter and musical protégé. The one who "Amy always put her best self forward to".
"I kind of looked at her as a mother and a big sister… Aunty Amy, I mean, she loved it when I called her that."
When Winehouse set up her own record label Lioness, Bromfield was her first signing. She helped her launch her first album, even joining her on Strictly Come Dancing as a backing singer to support her launch.
"She just had a really, really close bond with me from a young age. My mum noticed that, and Amy really wanted to kind of take me under her wing musically and just on a personal level," she tells me during Onstage With Amy Winehouse.
"Amy was, like, made to be an amazing mum and an amazing wife. That was like her thing and her purpose for life… She loved to cook. She cooked meatballs all the time," Dionne laughs. "They weren't the best…
"She was a really simple girl. And it's just everything around her was amplified and massive and big. So, yeah, the Amy I know is a loving, caring, funny and an extremely talented person. All the other stuff is just noise."
At the time of Winehouse's death, it didn't feel right to approach a 15-year-old to pay tribute. But it seems a decade on, Bromfield is ready to talk about her Aunty Amy. I meet her at the Jazz After Dark club in Soho, a favourite bolthole of Winehouse and now something of a shrine to her, the walls covered in her portraits.
Bromfield notices one painting of the icon, in which she is wearing a pair of earrings she lent her during a shopping trip.
"She was like 'oh, I don't have any earrings and I really like your earrings. Can I wear yours… please?' I never saw them again. God knows where they are now."
Walking into the dark club from the bright sunshine, Bromfield is incandescent. Like many young women in the music industry now, she seems switched on but refreshingly transparent. In many ways the antithesis of the Amy Winehouse as painted by the paparazzi, but simultaneously somehow strikingly similar.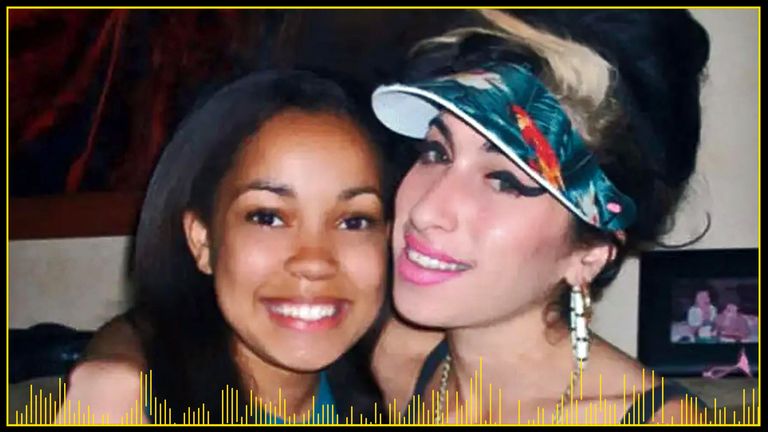 Cast your mind back to the Amy Winehouse who burst on to the scene in 2003, the one I remember first seeing in her music video for Stronger Than Me: fantastically unpolished, sassy and mischievous. The similarities with her goddaughter are obvious.
Bromfield says she remembers the last time she saw her godmother, the time they shared together on stage, "so vividly".
"She came out for Mama Said, which was one of her favourite songs of mine, and she had a little dance, a little bit of backing vocals and then walked off."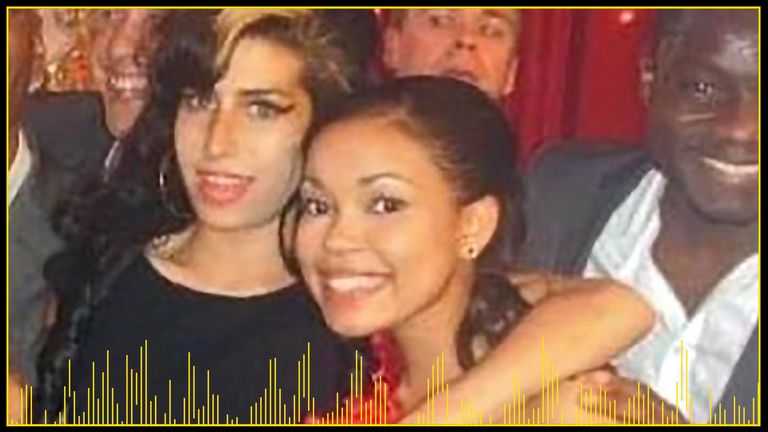 Bromfield says it has taken a long time to process Winehouse's death. She was performing at a festival in Wales a few days later when the news broke.
"I remember going, okay, and carried on doing what I was doing, it didn't really make sense in my head. It didn't register. And I just kept on getting dressed to go and do my gig. It was more like, I literally saw her three days earlier and she was so positive she was glowing and everything. How are we going from this, to this?"
Winehouse had released her first album, Frank, in 2003. In 2005, she met Blake Fielder-Civil, whom she married in 2007. It was a marriage, she would later admit, based on taking drugs.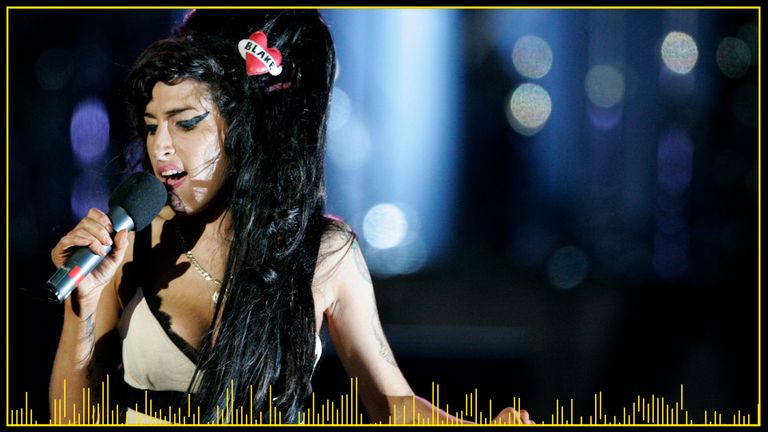 Yet in 2006 she released her critically acclaimed second album Back To Black, which would go on to become one of the UK's biggest selling albums ever. It was the heartbreak of the record, many of the songs about Fielder-Civil, which resonated.
Her multiple Grammy award wins broke records and brought huge international success.
The contrast between her sultry and striking talent as a singing sensation and the depths of her darkness is perhaps what has come to define her legacy.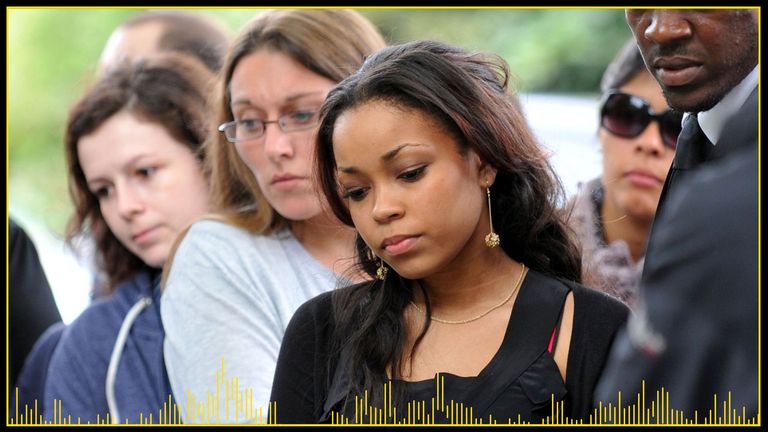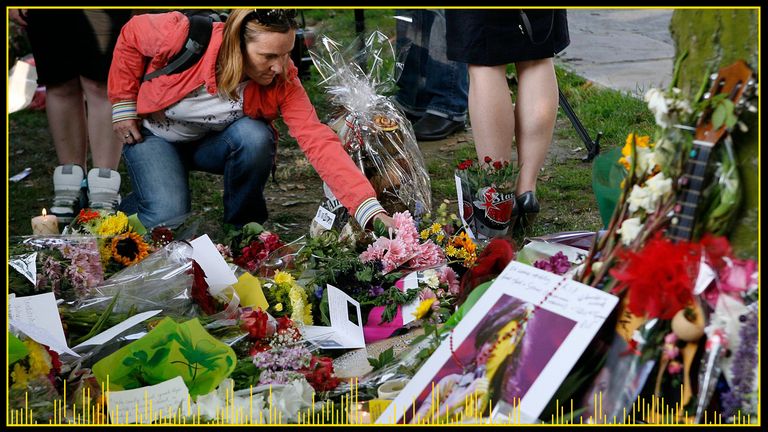 At the time I remember people described a sense of inevitability about the death of Winehouse. In interviews, her father Mitch had said he had feared the worst might happen.
But Bromfield says there was nothing inevitable about it.
"To me, it didn't feel like something that was on the cards," she says. "She was really full of life that night. So, yeah, it was not a person who had given up on life."
The fact she hadn't given up, and still had so much more to give, is perhaps why Amy Winehouse will continue to be remembered.
And for Bromfield, her godmother, her musical mentor and "Aunty Amy", will always be a part of her future, as well as her past.
You can listen to On Stage With Amy Winehouse and the rest of StoryCast '21 by clicking here.
Russell Brand 'ripped holes in woman's tights' and 'refused to call her taxi until she performed a sex act'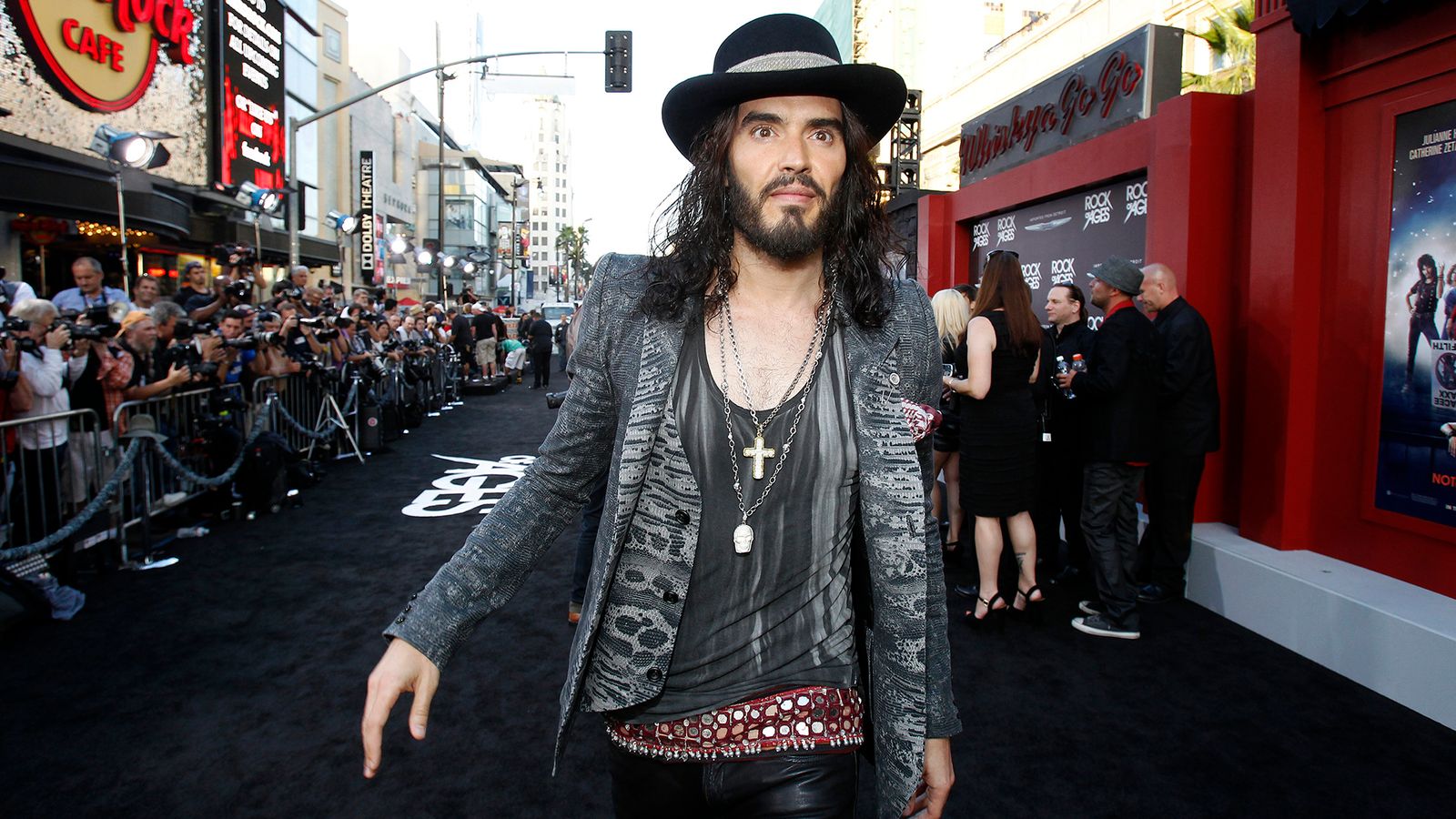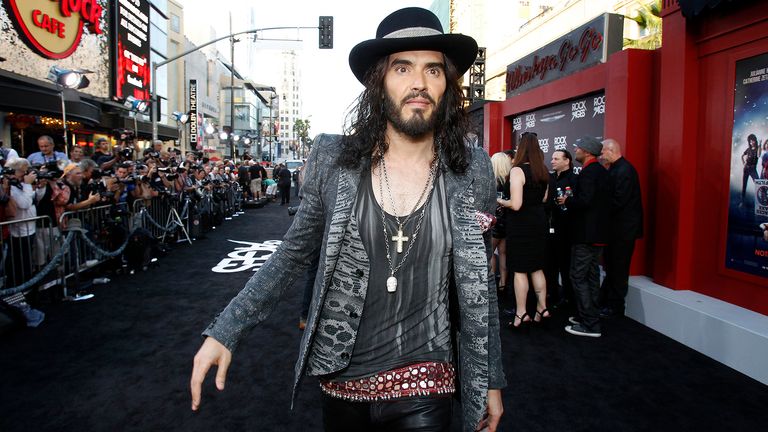 A woman has told Sky News that Russell Brand made her feel "vulnerable and intimidated" – and alleges he refused to call her a taxi until she performed a sex act.
It comes as new allegations continue to emerge about the comedian's behaviour, as another organisation cut ties with him.
Sarah, whose name has been changed, claims she met Russell Brand on an aeroplane where he "seemed friendly and charming".
He invited her for breakfast and a walk after the flight and she agreed to travel in his limousine.
"He changed," she says, "like he wasn't friendly and charming in the limo. He was aggressive and I felt very vulnerable and intimidated."
She describes Brand "jumping" on her.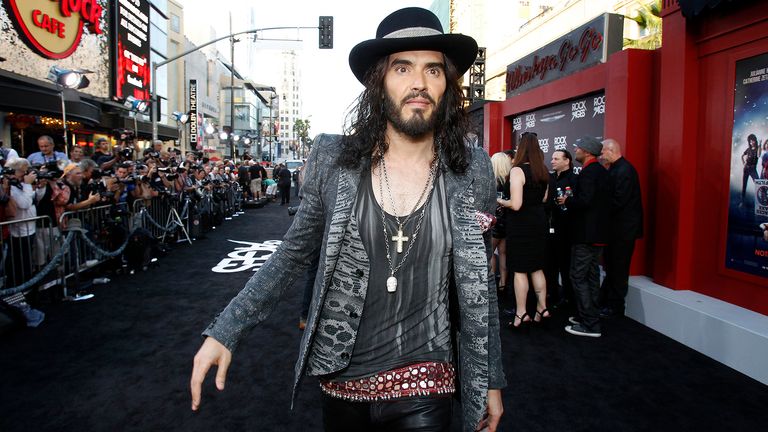 "The limo driver was turning around a few times because I was saying no, but he ripped a hole – more than one hole – in the tights that I was wearing," she says.
Sarah says they drove straight to Brand's house where they had consensual sex.
"I mean, it was consensual. I didn't say no," she said, "but I feel like there's a fine line between being forced and being coerced, you know, like being in a situation where the only way out is just to get it over and done with and leave."
She claims Brand then refused to call her a taxi until she performed oral sex on him.
"I wanted to leave and I said, 'I need to get a taxi'. And he said, 'I'm not going to get you a taxi until you do this', which was a sex act."
She describes feeling "really trapped" and wanting to "scale that house."
Sky News has reached out to Russell Brand's representatives for comment.
Read more:
The allegations in full
Stars' past warnings resurface
From drug addict to controversial comedy star
'No, no, no'
The BBC, meanwhile, has said it is looking into new allegations by another woman who claimed he exposed himself to her.
The woman, whom the BBC is naming 'Olivia', said she was working in the same building as Brand 15 years ago in Los Angeles when the incident happened.
She claims she answered the door to Brand and his team, and when she went into the bathroom she noticed he was behind her.
Speaking to the BBC, she claims Brand said he was going to have sex with her, to which she replied "no, you're not".
Olivia then alleges Brand showed her his genitals to which she responded with "no, no, no".
She says she returned to her desk afterwards and texted a BBC employee in the office about what had happened.
The employee told her that he knew because Brand was talking about it in the studio, on Radio 2.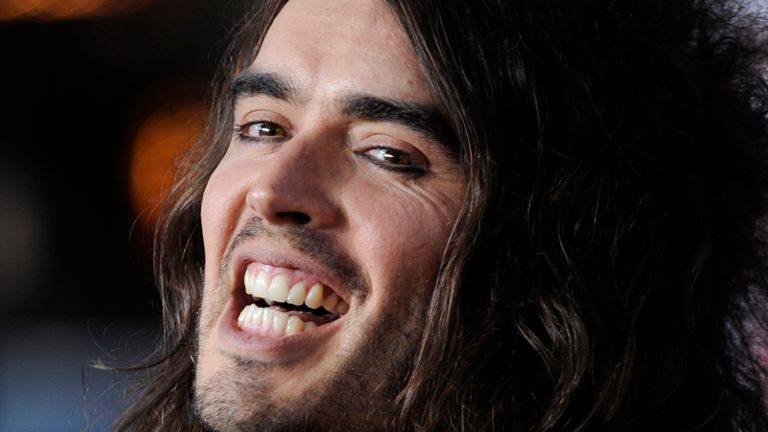 In the broadcast, which aired on 21 June 2008, Brand is heard speaking to his co-presenter Matt Morgan about it.
Morgan said: "[It's been] 25 minutes since he showed his w**** to a lady," and referred to "the receptionist".
Brand is apparently heard laughing in the background.
According to the BBC report, Olivia never made a complaint, but management was informed in 2019 and no formal action was taken.
The BBC said it was sorry to hear the allegations and would investigate them as part of a review into Brand's time at the BBC.
In a statement reported on BBC News, Matt Morgan said: "I was not aware until now of the nature of this encounter.
"I've expressed my regrets now looking back at the impact of the show and this is a further example.
"The recent coverage has been very distressing to read and I reiterate my absolute condemnation of any form of the mistreatment of women."
Dispatches programme makers speak

'Open secret'
Comedian Nish Kumar has also spoken out, on his Pod Save The UK podcast, describing the presence of alleged sexual predators as an "open secret" on the comedy scene.
Brand, 48, has previously been accused of rape, sexual assault and abuse by four other women between 2006 and 2013.
He has denied all the claims – saying that his relationships have always been consensual.
The accusations were first reported by the Sunday Times, The Times, and Channel 4's Dispatches earlier this month.
The Metropolitan Police subsequently said it had received a sexual assault allegation against Brand dating back to 2003.
As a result, a number of organisations have now cut ties with the presenter.
C4 boss: Brand allegations 'disgusting'

The latest to end its association with Brand is the Treasures Foundation, which said it had been "extremely saddened" by the allegations.
In a statement, the charity said it was "founded on Christian principles" and is "totally committed to advocating for the voices of women".
It continues: "As a result of the recent media investigation into Russell Brand, we have made the decision to no longer receive any support from Mr Brand, and the Stay Free Foundation.
"Moving forward our focus remains on the women under our care."
Comedian Nish Kumar says presence of sexual predators in industry is 'open secret' following Russell Brand allegations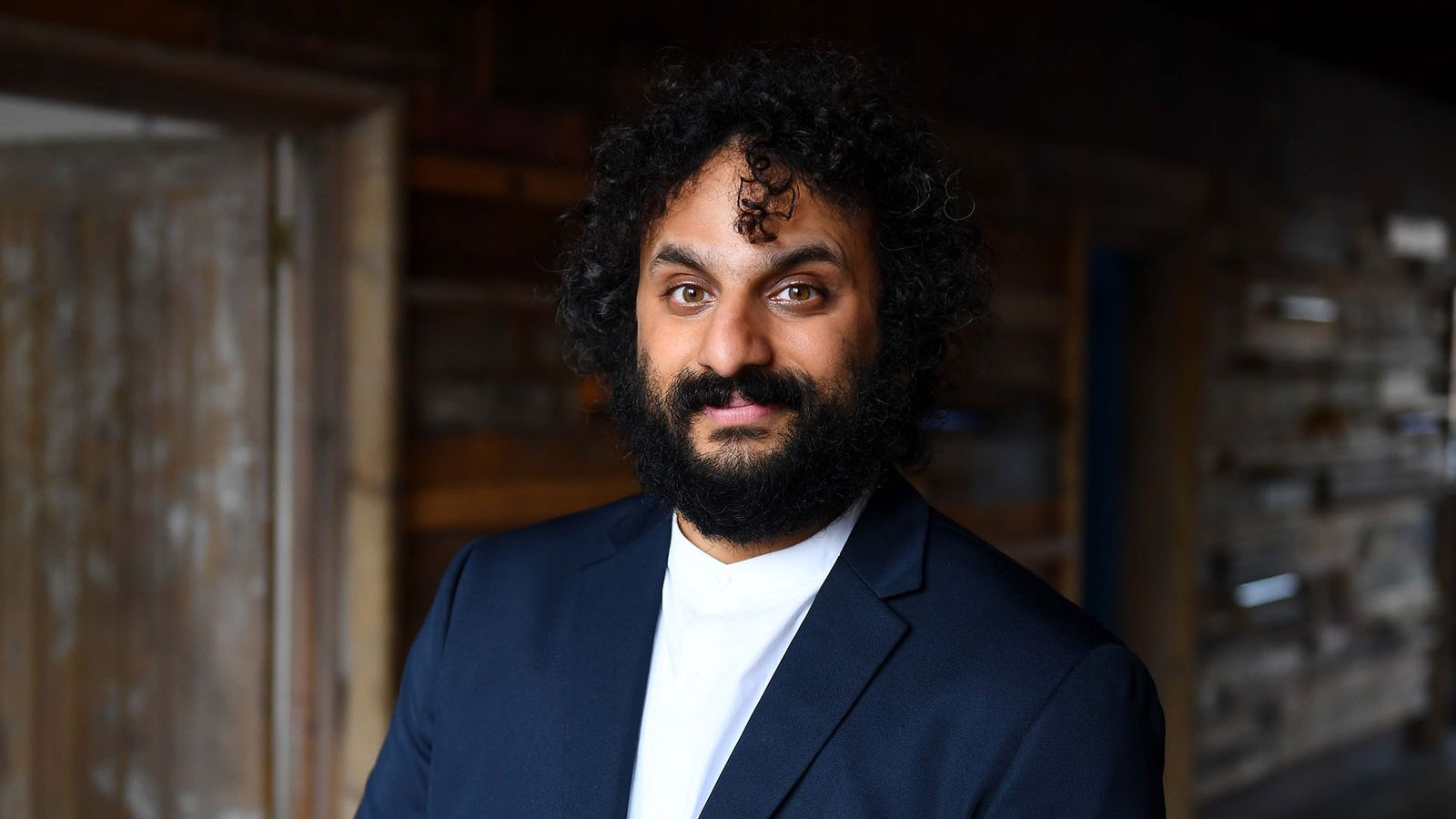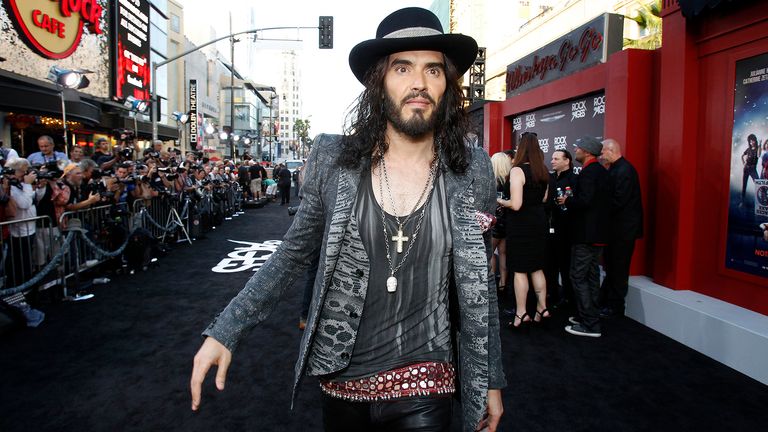 Nish Kumar says young women have been advised to steer clear of dressing rooms used by 'predators' still working on the comedy scene.
The comedian also said the knowledge of Russell Brand's alleged abuse against young women was "a well-known open secret on the comedy circuit" and he thinks it's likely "there's more allegations to come".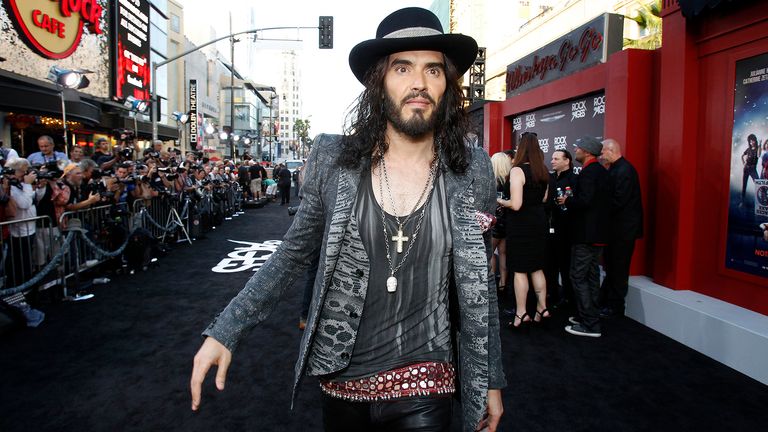 Brand has been accused of rape, sexual assault and abuse and sexual misconduct by a number of women – claims he vehemently denies.
Speaking on his Pod Save The UK podcast, Kumar said: "This stuff is still happening, there are still people working in comedy who are the subject of open secrets.
"There are still people who work in comedy that we can't name because again, of the threat of lawsuits. And there are still people working in comedy who people will say, 'Oh, we don't send young women into their dressing room'."
The 38-year-old added: "Now at that stage for me, you should be sacked from that job. If you can't have someone be around young women, they have no place in any kind of workplace.
"The tolerance of it is something that we are going to have to actually have a reckoning with."
Kumar, who previously hosted The Mash Report and Late Night Mash – said he first heard about Brand's alleged wrongdoings in mid-2017, and that "from that point onwards it was well known".
He said it went on to be discussed by multiple comedians at the Edinburgh Fringe Festival in 2018.
However, he said the "very specific and serious allegation" against Brand that he had first been made aware of was not one that was discussed in the Channel 4 Dispatches programme which aired at the weekend.
For that reason, Kumar said he thinks "it is possible that there's more allegations to come".
Click to subscribe to the Sky News Daily wherever you get your podcasts
Pointing to Brand's diminishing TV work in the UK after 2019, Kumar said: "That's simply because increasingly people were just not willing to work with him. Everyone was afraid to talk about it because of the threat of lawsuits, you know?
"And so, the only power people had was to withdraw participation from shows involving Russell Brand."
Abuse of power is an industry wide problem
He said as a comedian working in the industry, he too felt a sense of "guilt" and "complicity".
Kumar said: "Watching it as a cisgendered, heterosexual male comedian, you feel a certain sense of guilt and a certain sense of complicity because you've been working with production companies and producers who are providing an infrastructure that allows predators to thrive."
He said the "indulgence" of top talent was "an issue that cuts across all of the industries," and which needed to be addressed.
Kumar concluded: "The only people to come out of this with anything approaching any credibility are the victims who have been brave enough to step forward and the journalists who have worked extremely hard to produce rigorous pieces of journalism so that they could get around the threats of a very powerful man's lawyers."
Read more:
The allegations in full
Stars' past warnings resurface
From drug addict to controversial comedy star
Brand, 48, was initially accused of rape, sexual assault and abuse by four women with the alleged offences taking place between 2006 and 2013.
The comedian and presenter denies the claims, and says all his relationships have been consensual.
Following the report by the Sunday Times, The Times and Channel 4's Dispatches, two further women have come forward with allegations against Brand.
The Metropolitan Police says it has received an allegation of sexual assault against him dating back to 2003.
The BBC also says it is looking into allegations by a woman who claims Brand exposed himself to her and then laughed about it afterwards on his Radio 2 show.
In the wake of the claims, numerous companies have cut ties with Brand including his management company, a women's charity and several of his YouTube sponsors.
Sky News has approached Russell Brand for comment.
Angus Cloud: Euphoria star's cause of death revealed as accidental overdose
Euphoria actor Angus Cloud died from an accidental overdose from a lethal combination of drugs, a California coroner's report has found.
The 25-year-old was found unresponsive at his family home in Oakland in July.
Cloud died of a lethal mix of methamphetamine, fentanyl, cocaine and benzodiazepines, the Alameda County Coroner's Bureau confirmed to Sky News' partner network NBC News.
Following his death, Cloud's mother said on social media that she believed her son "did not intend to end his life," and said he had been talking about his plans for himself and his family in the hours before he died.
His family also spoke about his battles with mental health, saying, "we hope that his passing can be a reminder to others that they are not alone and should not fight this on their own in silence".
The actor had been mourning the death of his own father from mesothelioma (a type of cancer) and had travelled to Ireland to bury him the week before his death.
Cloud was best known for playing the drug dealer Fezco opposite Zendaya on hit teen drama show Euphoria.
He was working in a restaurant in Brooklyn, New York, when he was scouted for his first acting role by Euphoria's casting director.
Read more:
Lizzo faces new harassment claims from former wardrobe designer
Man dies driving off collapsed bridge following Google Maps
Following his death, Euphoria creator Sam Levinson said: "There was no one quite like Angus. He was too special, too talented and way too young to leave us so soon. He also struggled, like many of us, with addiction and depression.
"I hope he knew how many hearts he touched. I loved him. I always will. Rest in peace and God Bless his family."
:: Anyone feeling emotionally distressed or suicidal can call Samaritans for help on 116 123 or email jo@samaritans.org in the UK. In the US, call the Samaritans branch in your area or 1 (800) 273-TALK.