Three days before Amy Winehouse's death from alcohol poisoning in July 2011, her goddaughter Dionne Bromfield, a 15-year-old singer, finished school for the summer and rushed to the Camden Roundhouse to perform.
It was her biggest gig yet, her friends were coming to watch and she was full of excitement. For a young singer dreaming of a career in music, just like her "Aunty Amy", it was a big day.
Amy Winehouse turned up unexpectedly to support her, their moments together onstage captured by someone in the crowd, filming on a mobile phone.
This would be the superstar's last public performance.
As I watched the grainy mobile phone footage later, for me this was the stand-out moment of all the news coverage around Winehouse's death – she's so evidently falling apart but trying so desperately to be there for her goddaughter.
Dionne Bromfield has shared her story from that night in On Stage With Amy Winehouse, the latest episode of StoryCast '21 – a Sky News podcast series telling 21 stories from the year 2000 to 2021.
Listen below.
Subscribe to Storycast 21 now on Apple Podcasts, Spotify, Google Podcasts, Spreaker
It was 10 years ago, 23 July 2011, when I got the call from a music PR.
It was a sunny day but I was sitting in a windowless newsroom, working a 12-hour shift, and the world was also reacting to the tragedy of the horrific terror attack in Norway the previous day. It was a call I won't forget.
Winehouse had been found in bed at home by a bodyguard with two empty vodka bottles by her side, bringing to a tragic end her very public struggle with drug and alcohol addiction. She was just 27.
Breaking the news and witnessing the outpouring of grief that followed felt unprecedented at the time, I remember a little girl with beehive hair laying flowers outside her house in Camden Square, alongside crowds in tears, Winehouse's dad Mitch, and tributes from Mark Ronson and Kelly Osbourne; visibly stunned.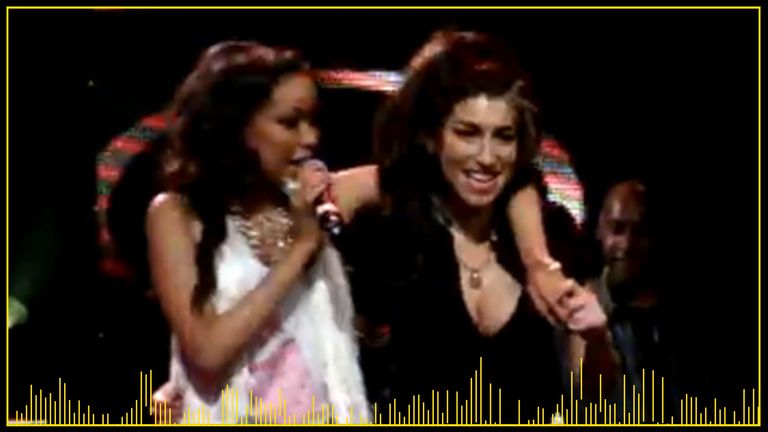 Covering celebrity deaths is part of the job as an entertainment journalist, but this was no ordinary pop star; when Winehouse died, everyone had an opinion.
People were devastated, her fragility so profound, and tears turned to anger and blame; tragedies such as this can often turn toxic as grief mixed with the spotlight takes its toll.
We wanted to find out about the real Amy Winehouse.
We spoke to people who knew her, Joe Mott, Kim Dawson, Piers Hernu, her teacher Sylvia Young, former record label bosses, her biographer Chas Newkey-Burden, and countless critics such as Paul Gambaccini.
But I didn't call the one young woman who knew the singer like no one else. The Amy behind the icon. Behind the headlines. Behind the instantly recognisable beehive, eyeliner and tattoos. The "Aunty Amy".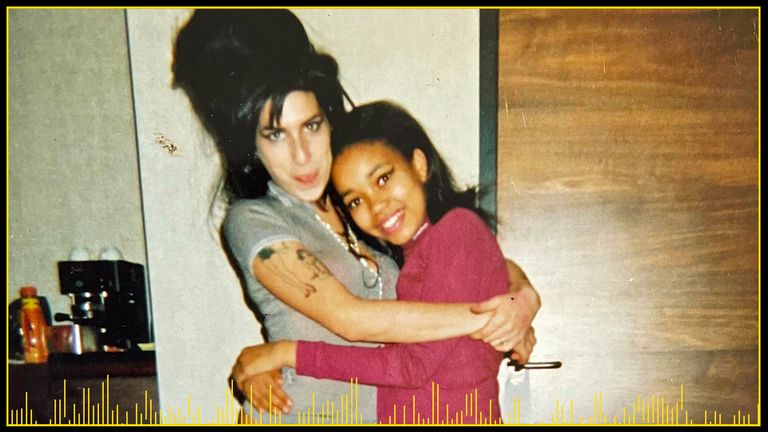 Dionne Bromfield, now 25, was Amy's goddaughter and musical protégé. The one who "Amy always put her best self forward to".
"I kind of looked at her as a mother and a big sister… Aunty Amy, I mean, she loved it when I called her that."
When Winehouse set up her own record label Lioness, Bromfield was her first signing. She helped her launch her first album, even joining her on Strictly Come Dancing as a backing singer to support her launch.
"She just had a really, really close bond with me from a young age. My mum noticed that, and Amy really wanted to kind of take me under her wing musically and just on a personal level," she tells me during Onstage With Amy Winehouse.
"Amy was, like, made to be an amazing mum and an amazing wife. That was like her thing and her purpose for life… She loved to cook. She cooked meatballs all the time," Dionne laughs. "They weren't the best…
"She was a really simple girl. And it's just everything around her was amplified and massive and big. So, yeah, the Amy I know is a loving, caring, funny and an extremely talented person. All the other stuff is just noise."
At the time of Winehouse's death, it didn't feel right to approach a 15-year-old to pay tribute. But it seems a decade on, Bromfield is ready to talk about her Aunty Amy. I meet her at the Jazz After Dark club in Soho, a favourite bolthole of Winehouse and now something of a shrine to her, the walls covered in her portraits.
Bromfield notices one painting of the icon, in which she is wearing a pair of earrings she lent her during a shopping trip.
"She was like 'oh, I don't have any earrings and I really like your earrings. Can I wear yours… please?' I never saw them again. God knows where they are now."
Walking into the dark club from the bright sunshine, Bromfield is incandescent. Like many young women in the music industry now, she seems switched on but refreshingly transparent. In many ways the antithesis of the Amy Winehouse as painted by the paparazzi, but simultaneously somehow strikingly similar.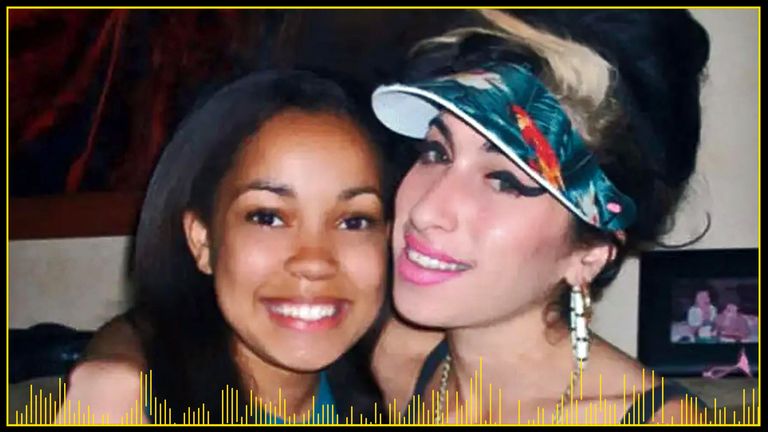 Cast your mind back to the Amy Winehouse who burst on to the scene in 2003, the one I remember first seeing in her music video for Stronger Than Me: fantastically unpolished, sassy and mischievous. The similarities with her goddaughter are obvious.
Bromfield says she remembers the last time she saw her godmother, the time they shared together on stage, "so vividly".
"She came out for Mama Said, which was one of her favourite songs of mine, and she had a little dance, a little bit of backing vocals and then walked off."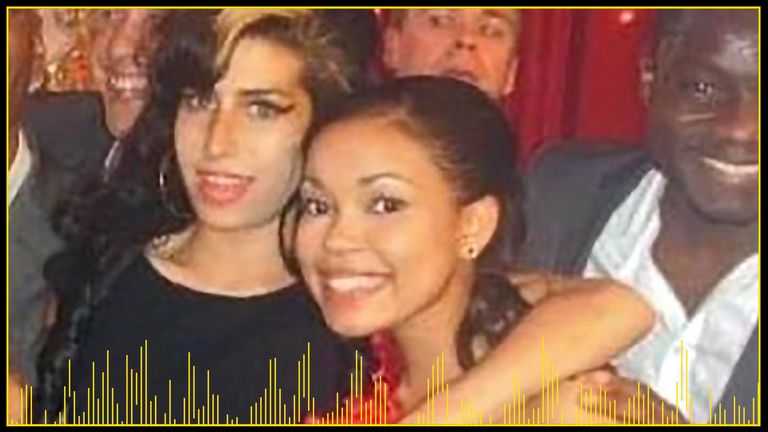 Bromfield says it has taken a long time to process Winehouse's death. She was performing at a festival in Wales a few days later when the news broke.
"I remember going, okay, and carried on doing what I was doing, it didn't really make sense in my head. It didn't register. And I just kept on getting dressed to go and do my gig. It was more like, I literally saw her three days earlier and she was so positive she was glowing and everything. How are we going from this, to this?"
Winehouse had released her first album, Frank, in 2003. In 2005, she met Blake Fielder-Civil, whom she married in 2007. It was a marriage, she would later admit, based on taking drugs.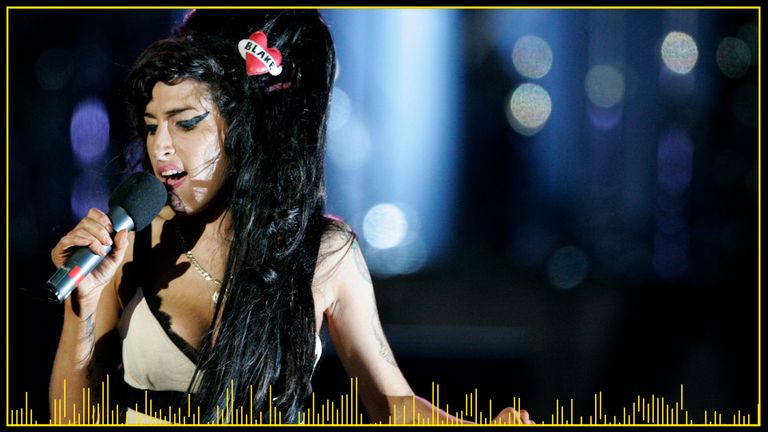 Yet in 2006 she released her critically acclaimed second album Back To Black, which would go on to become one of the UK's biggest selling albums ever. It was the heartbreak of the record, many of the songs about Fielder-Civil, which resonated.
Her multiple Grammy award wins broke records and brought huge international success.
The contrast between her sultry and striking talent as a singing sensation and the depths of her darkness is perhaps what has come to define her legacy.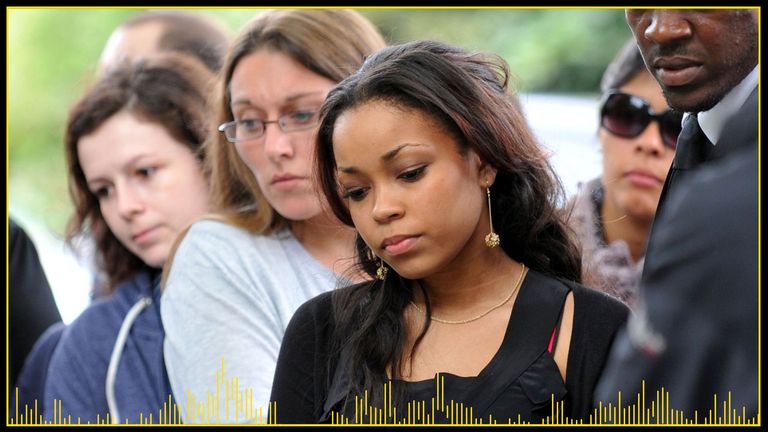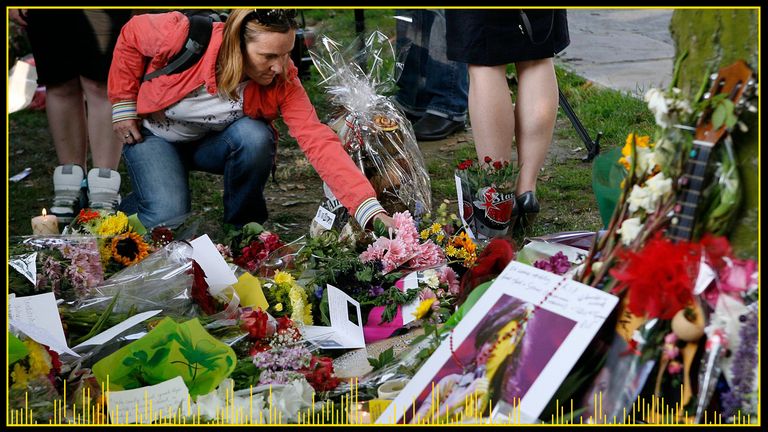 At the time I remember people described a sense of inevitability about the death of Winehouse. In interviews, her father Mitch had said he had feared the worst might happen.
But Bromfield says there was nothing inevitable about it.
"To me, it didn't feel like something that was on the cards," she says. "She was really full of life that night. So, yeah, it was not a person who had given up on life."
The fact she hadn't given up, and still had so much more to give, is perhaps why Amy Winehouse will continue to be remembered.
And for Bromfield, her godmother, her musical mentor and "Aunty Amy", will always be a part of her future, as well as her past.
You can listen to On Stage With Amy Winehouse and the rest of StoryCast '21 by clicking here.
Liev Schreiber on his $1m fundraising for Ukraine: 'Doctors are carrying out open heart surgery by flashlight'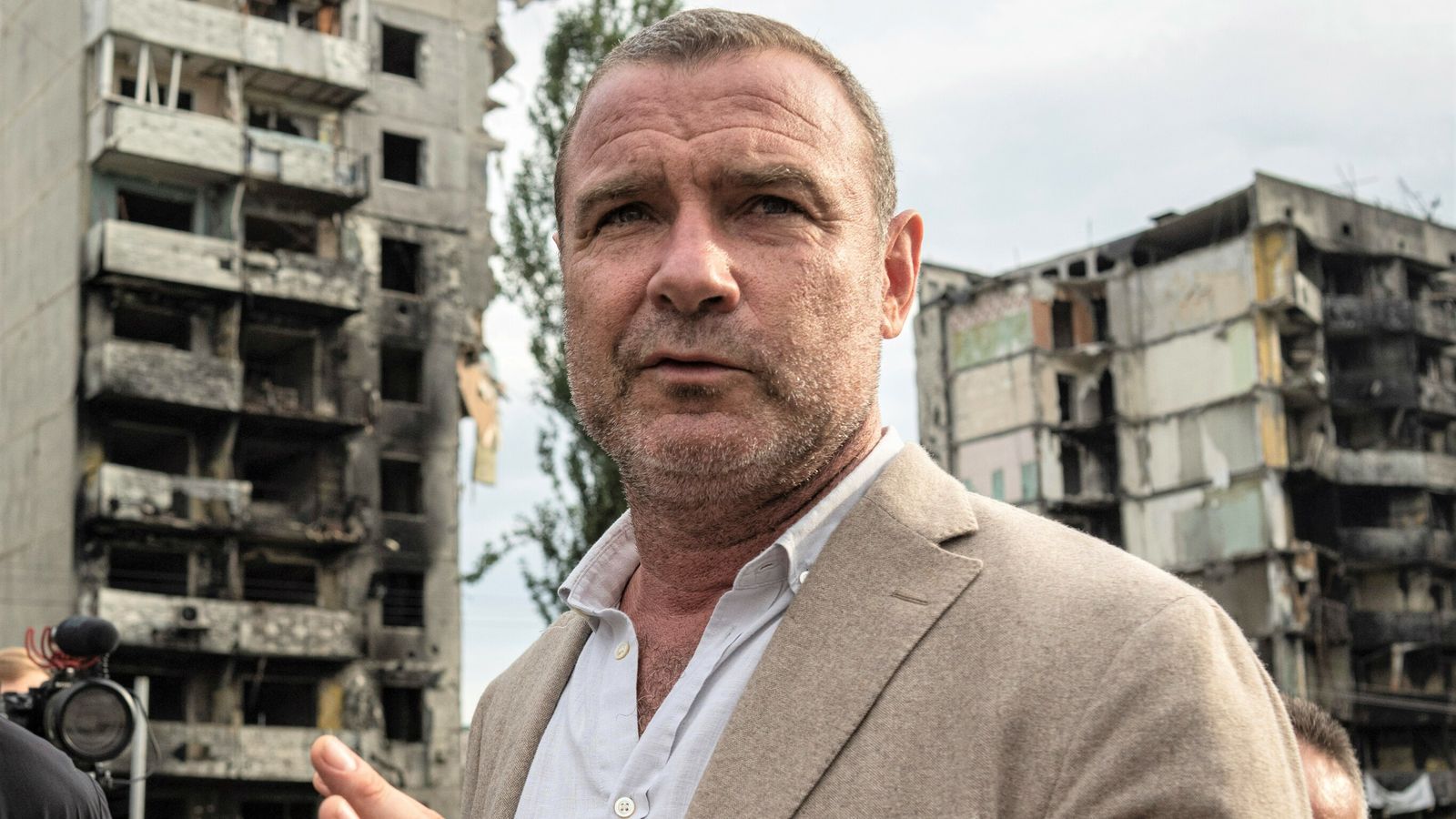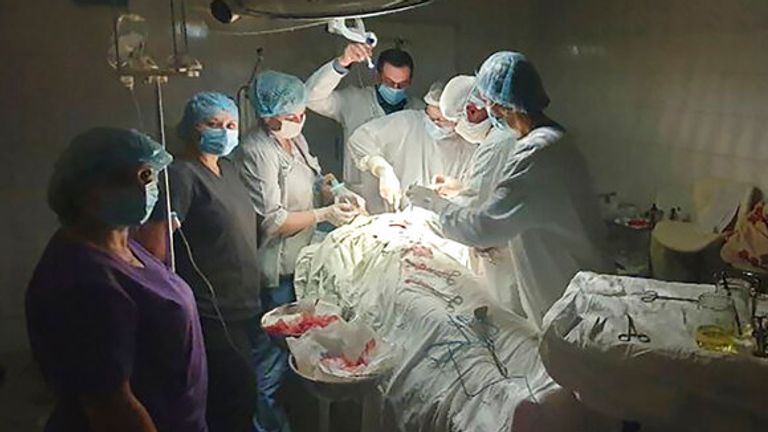 As Russian missile strikes against Ukraine's power and water supplies ramped up in recent weeks, images of surgeons carrying out life-saving work by torchlight started to make headlines around the world.
Liev Schreiber, who you might know as Hollywood "fixer" Ray Donovan in the hit TV series, or for his roles in films varying from blockbuster X-Men Origins: Wolverine to the Oscar-winning Spotlight, had already been fundraising to support a range of organisations in Ukraine since the start of the war. But the stories emerging about hospitals being plunged into darkness made him want to do more.
The American actor, whose grandfather was a Polish-Ukrainian immigrant, has launched an appeal to raise $1m (about £833,000) to buy generators to help medics in need; to give them the basic conditions of light and warmth in which to continue their work should power outages continue.
Speaking to Sky News in a UK exclusive interview, Schreiber said he felt he had no choice but to help.
"Russia's strategy of responding to military advances by attacking civilian infrastructure has gotten pretty drastic," he said. "They've done a tremendous amount of damage to the energy infrastructure in Ukraine. What we are doing, is just to [help] hospitals and doctors… for them to be able to continue to do the work that they need to do, which is so essential, to keep people alive.
"There's a couple of hospitals that have had these extraordinary examples of doctors completing open heart surgeries by candlelight and flashlight. These are incredibly capable medical professionals. What we're trying to do is to raise money to buy generators, to keep all of these hospitals lit so that the medics and the surgeons can do their work."
Schreiber, a five-time Golden Globe and three-time Emmy nominee, is an ambassador for Volodymyr Zelenskyy's United24, set up by the president to raise funds for the country following the outbreak of the war.
He has now been joined by five fellow United24 ambassadors – footballer Andriy Shevchenko, heavyweight boxer Oleksandr Usyk, astronaut Scott Kelly, tennis player Elina Svitolina and historian Timothy Snyder – who are all supporting the generator fundraising campaign. Generators start at about $8,000. In just over a week, they have raised $220,000 (about £179,000).
Russia has reportedly been carrying out attacks on Ukraine's electricity transmission and heating infrastructure since October, in what Kyiv and its allies say is a deliberate campaign to harm civilians. The Kremlin has rejected accusations that it targets civilian facilities.
Saving lives in the dark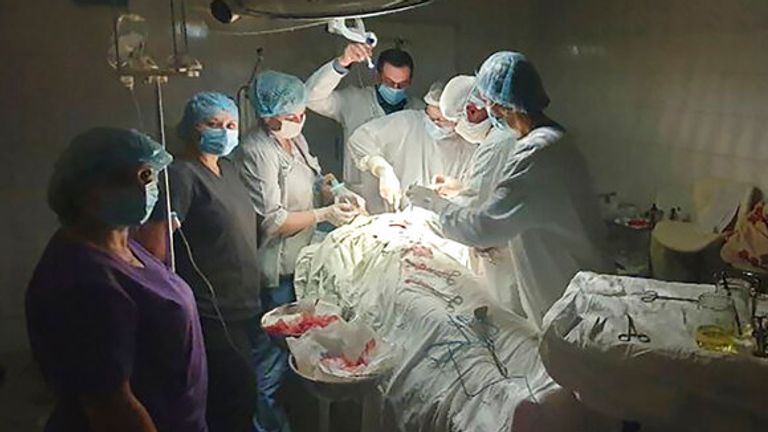 This photograph was shared by cancer surgeon Oleh Duda, who was in the middle of a complicated surgery at a hospital in the city of Lviv when explosions were heard nearby. Moments later, the lights went out, and he had no choice but to keep working with only a headlamp for light before a generator brought the power back after three minutes. "These fateful minutes could have cost the patient his life," the surgeon said in an interview.
The operation on the patient's major artery took place on 15 November, when the city in western Ukraine suffered blackouts as Russia unleashed yet another missile strike on the power grid, damaging nearly 50% of the country's energy facilities.
In Kyiv, the city's Heart Institute posted a video of similar scenes earlier in November, of surgeons operating on a child's heart with the only light coming from headlamps and a battery-powered flashlight.
"The medical infrastructure… has just been decimated in Ukraine," Schreiber said. "Just to keep those doctors working at saving lives is so crucial right now."
The actor has visited Ukraine three times so far year and his Instagram page is almost solely dedicated to calls for support, as well as clips of the "heroes" he has met there and the work he has carried out himself in and around the country to raise funds and deliver aid.
As well as partnering with United24, he is also the co-founder of BlueCheck, a crisis response organisation set up just weeks after the war broke out with the aim of fast-tracking urgent financial support to Ukrainian non-governmental organisations (NGOs) – helping to fund everything from psychological support programmes to the evacuation of orphans.
'Did I have that level of courage? I felt the answer was no. So I had to do the best I could'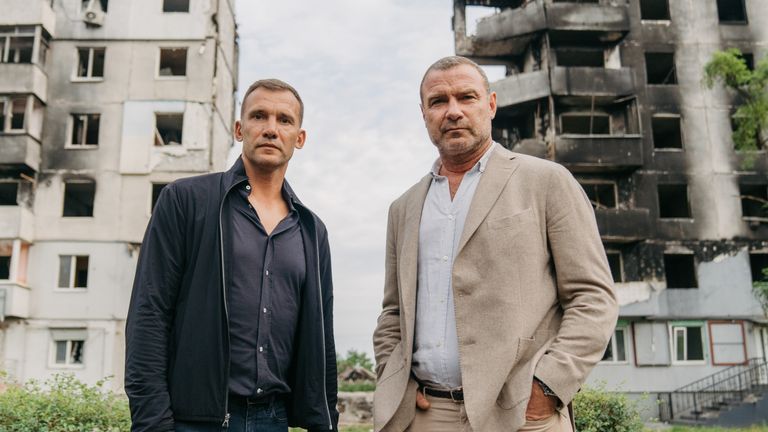 While he is connected through his Ukrainian heritage, Schreiber says it is something bigger that has compelled him to offer his support. "As I sat on my couch with my children watching this war develop, and watching these normal Ukrainian men say goodbye to their wives and children, knowing that they may never see them again as they were loaded on to buses to fight in a war in which they were wildly outmanned and outgunned…
"The idea that it was an existential crisis for them, that without these men going to war, Ukraine would cease to exist. They would lose their ability to vote for their own leaders, to have their own homes, to speak their own language, to raise their children the way they wanted to, to love whom they wanted to love… Anything, everything would be gone.
"That pure idea of democracy for me feels like it's being challenged all around the world right now. And I felt like when I saw that, particularly in front of my own children, questions were raised for me: Could I do that? Was I Ukrainian? Did I have that level of courage? And I felt like the answer was no. So I had to do the best that I could do, being as Ukrainian as I was – which I'm not, I'm American – I felt like I owe a debt to my grandparents and my ancestors who fought that particular fight over 80 years ago, and it's now being fought again.
"As we see disinformation and misinformation popping up all over the world, it feels like Ukraine is the sort of stark example where it's incredibly clear what's happening. Maybe not to folks who are limited to Kremlin media, but for the rest of us, it's very clear how fragile our democracy is and that we need to protect it and that we need to cherish the freedoms and liberties that we have and that were earned by our ancestors."
'We are all brothers and sisters and we need to think like that'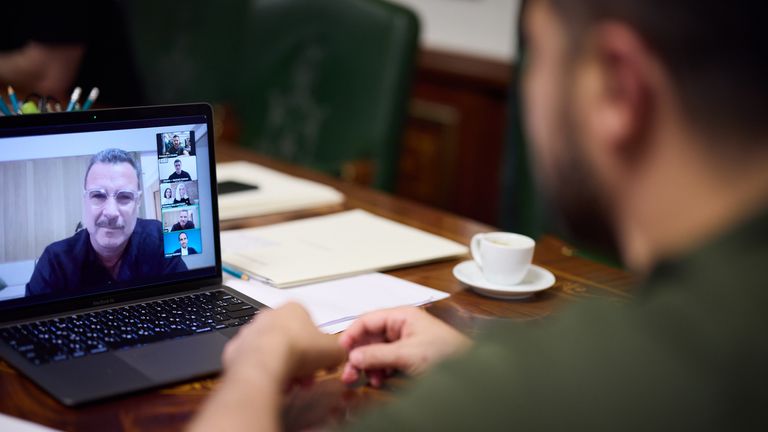 Schreiber, who is a parent to two teenagers with his former partner, actress Naomi Watts, said as a father he could not sit by and do nothing.
"The life that [my children] have, the luxuries that are afforded them because of the battles my grandparents fought and the opportunities that I've been allowed, are not just granted," he said.
"It feels like public discourse has lost a kind of civility and I think that's being reflected in this war. I need my children to know what's important. I need my children to know what the values are and principles that are important to me are, which is that we treat each other with civility and humanity."
Horrified by the images and news reports coming out of Ukraine at the start of Russia's war, the world was quick to respond with donations of money, essentials and support. But nine months on, the initial groundswell of support has inevitably dipped.
Read more: Eyewitness – what the strikes on energy mean for Ukraine's winter
Schreiber said the Ukrainians he has spoken to are in "remarkably good spirits… just incredibly resilient people and they're convinced that it's just a matter of time before this is over and they're victorious".
But he still hopes people will continue to show support for the country in any way possible.
"We are all brothers and sisters and we need to think like that. And we need, especially at this time of year, to be aware of those in need. And these Ukrainian people are deeply in need right now."
Liev Schreiber is fundraising for United24
Sir Elton John to headline Glastonbury in last UK gig of farewell tour after 52 years on the road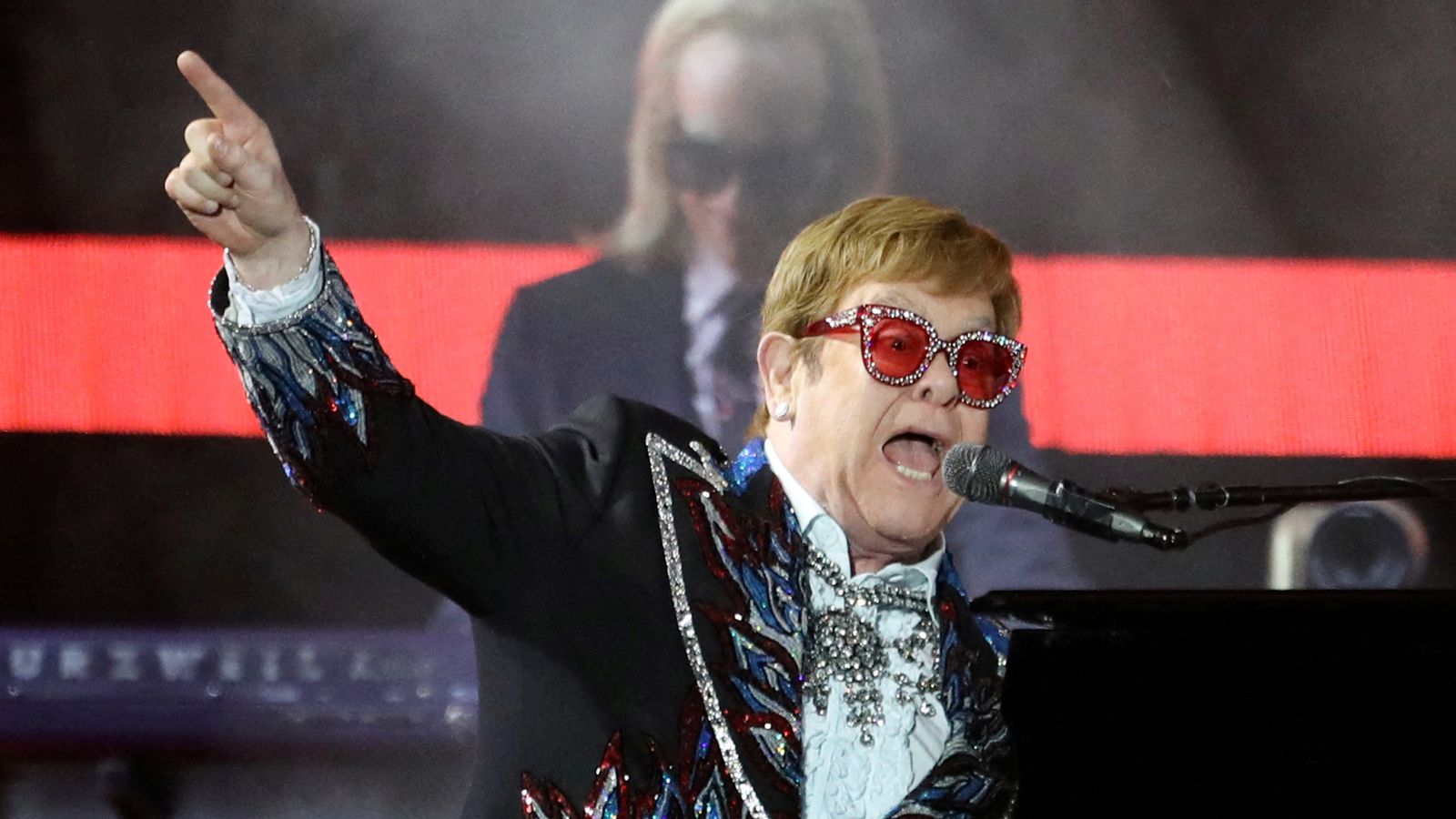 Sir Elton John is to headline at next year's Glastonbury Festival in his final ever gig in the UK on what has been billed as his farewell tour after more than 50 years on the road.
The Rocket Man singer will play the Pyramid Stage on the last night of the popular, sold-out event at Worthy Farm in Somerset, which runs from 21-25 June 2023.
Sir Elton said he "couldn't be more excited" to be appearing at Glastonbury 2023.
Glastonbury co-organiser Emily Eavis has promised it will be "the mother of all send offs".
The veteran megastar has been performing around the world as part of his marathon Farewell Yellow Brick Road tour which began in September 2018 before it was disrupted by the COVID-19 pandemic.
He said: "As the end of my Farewell Yellow Brick Road tour comes into view, there is no more fitting way to say goodbye to my British fans.
"They have been beyond brilliant, and have supported me through all the highs and lows of my career.
"Every week I speak to new artists on my radio show and Glastonbury is often cited as a pivotal moment in launching their careers – the festival's genuine, enthusiastic support for the best emerging talent is something I've long admired.
"I've been talking to Emily Eavis about it over the last few weeks and I can't wait to embrace the spirit of the greatest festival in the world. It's going to be incredibly emotional."
Ms Eavis said: "It gives me enormous pleasure to let you know that the one and only Elton John will be making his first ever Glastonbury appearance, headlining the Pyramid Stage on the Sunday night next year.
"This will be the final UK show of Elton's last ever tour, so we will be closing the festival and marking this huge moment in both of our histories with the mother of all send offs.
"We are so very happy to finally bring the Rocket Man to Worthy Farm."
The veteran singer's 300-plus date worldwide run is due to conclude next summer and will mark his retirement from touring after 52 years.
So far it has seen him perform across Europe with shows in Milan, Paris and Frankfurt, and he also recently ended the North American part of the tour at the Dodger Stadium in Los Angeles.
The final leg will include dates in Australia, New Zealand and European shows next year.
Throughout the tour, the megastar has treated fans to elaborate shows filled with extravagant costumes, spectacular visuals and classics from his catalogue including Tiny Dancer, Rocket Man, Your Song and hit recent number one single Cold Heart, which was a collaboration with pop star Dua Lipa.
In 2018, he announced his farewell world tour after deciding to bow out of live performing to spend more time with his two children.
The singer has had a glittering career that has seen him release a hit single in every decade since the 1970s, and notch up worldwide record sales of 300 million.
This year at Glastonbury Billie Eilish, Sir Paul McCartney and Kendrick Lamar headlined, with Diana Ross performing in the traditional Sunday Legends slot.
Sir Paul's Saturday headline slot on the Pyramid Stage saw the former Beatle become the festival's oldest solo headliner, performing a week after he celebrated his 80th birthday.
Indiana Jones And The Dial Of Destiny: First trailer revealed as Harrison Ford returns for fifth film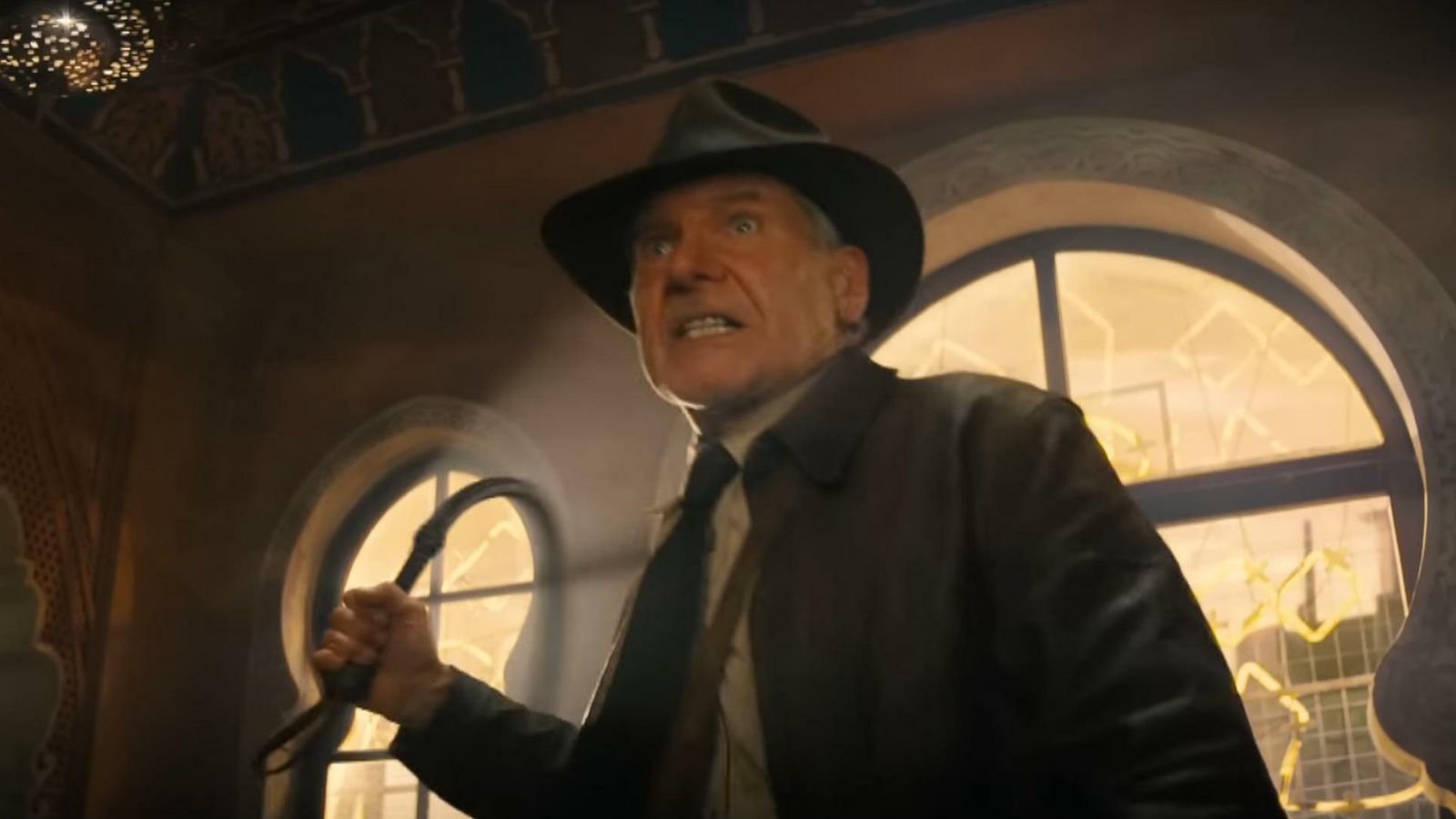 The first trailer has been released for the new Indiana Jones movie – with the title now revealed as The Dial Of Destiny.
Harrison Ford is back at age 80 as the famous whip-cracking archaeologist, more than 40 years after first playing the character.
Chase sequences, Nazi villains, a huge rolling boulder, and Ford riding a galloping horse through New York City all feature in the clip.
Indy's friend Sallah, played by Welsh actor John Rhys-Davies, is also back.
He's heard telling the adventurer: "I miss the sea. I miss waking up every morning wondering what wonderful adventure the new day will bring to us."
Ford's character reminisces: "I don't believe in magic, but a few times in my life I've seen things, things I can't explain.
"And I've come to believe it's not so much what you believe, it's how hard you believe it."
The actor is 'de-aged' in many of the sequences and looks similar to how he appeared in the previous films.
Phoebe Waller-Bridge also shows up in the trailer as his goddaughter, while Mads Mikkelsen and Antonio Banderas are the other big names involved.
The Dial Of Destiny is due to be released on 30 June and is directed by James Mangold, the filmmaker behind Le Mans 66, Logan and Johnny Cash biopic Walk The Line.
Indiana Jones, along with Han Solo, are the two roles that have defined Ford's career – and fans will be hoping for a better movie than the last reboot.
Kingdom Of The Crystal Skull (2008) was widely regarded as a disappointment despite being directed by Steven Spielberg, who did the original trilogy.