The Milwaukee Bucks are the 2021 NBA champions after rallying from a 2-0 series deficit against the Phoenix Suns.
Now what?
We're not wasting any time spinning forward to next season, where a host of current contenders and potential superteams will aim to unseat Giannis Antetokounmpo & Co. in 2022.
What will the Los Angeles Lakers look like in Year 3 of the LeBron James–Anthony Davis partnership? What kind of juggernaut will the Brooklyn Nets evolve into as their star trio of Kevin Durant, James Harden and Kyrie Irving (hopefully) returns to full health? Are these Suns one and done, or is a repeat Finals trip in their future?
Let's take a way-too-early look at where all 30 teams stand immediately following the Bucks' impressive road to the NBA championship.
Note: These rankings are based on where the members of our panel (ESPN's Tim Bontemps, Nick Friedell, Andrew Lopez, Tim MacMahon, Kevin Pelton, Royce Young and Ohm Youngmisuk) think teams belong heading into next season, taking into account potential player movement and the draft. Title odds for 2022 by Caesars Sportsbook by William Hill.

1. Milwaukee Bucks
2020-21 record: 46-26
Result: NBA champions
2022 title odds: +900
The Bucks went all-in last offseason in trading for Jrue Holiday and were repaid for doing so by winning the title Tuesday night with their victory over the Suns in Game 6 of the NBA Finals. With Holiday, Khris Middleton and Giannis Antetokounmpo all locked up long term, Milwaukee should be a threat in the East for years to come. The focus now will be on whether Milwaukee is able to re-sign P.J. Tucker, who is an unrestricted free agent, and whether it can come up with an extension for Donte DiVincenzo, the Bucks' talented young shooting guard who missed most of the playoffs after undergoing ankle surgery. — Bontemps
---
2. Brooklyn Nets
2020-21 record: 48-24
Result: Lost in East semis
2022 title odds: +230
For their first full season together, the Big Three in Brooklyn had a difficult end to the year, with injuries derailing the superteam nature of the roster and leaving Kevin Durant essentially trying to carry the Nets alone. It was an awkward season overall, with injuries, health and safety protocols and plenty of getting-to-know-you going on, but clearly the path forward for the Nets is bright. They have some questions on the complementary side of the roster, with Spencer Dinwiddie declining his player option and low-salary players Blake Griffin, Bruce Brown and Jeff Green set to become free agents. The Nets are top heavy for good reason, but as this postseason showed, quality depth can be just as valuable at times. — Young
---
3. Phoenix Suns
2020-21 record: 51-21
Result: Lost in NBA Finals
2022 title odds: +1500
After a disappointing loss in the NBA Finals, the Suns have to figure out one thing: how to get back and win it all. As the Western Conference gets healthier, the Suns' road back to another Finals will start this offseason with a decision on Chris Paul's future. The Point God has a $44.2 million player option that would likely carry the Suns into the luxury tax. Paul could opt out of the deal and try to secure more guaranteed money with more years, though. Phoenix is also looking at negotiating the rookie extensions of former No. 1 pick Deandre Ayton and Mikal Bridges. — Lopez
---
4. Los Angeles Lakers
2020-21 record: 42-30
Result: Lost in Round 1
2022 title odds: +400
For the defending champion Lakers, a first-round exit against the Suns with LeBron James still not 100% and Anthony Davis knocked out of the series by injury had a silver lining: After going through the shortest offseason in NBA history, the Lakers get a relatively normal break this offseason. James and Davis should be healthy in October and ready to go for a second title together. Still, there are questions about who will surround them with up to 11 Lakers becoming free agents, including starting point guard Dennis Schroder hitting unrestricted free agency after turning down a contract extension. — Pelton
---
5. Philadelphia 76ers
2020-21 record: 49-23
Result: Lost in East semis
2022 title odds: +1800
Following their disastrous second-round exit at the hands of the Hawks, the 76ers enter the offseason with one question looming over the franchise: Is it finally time for the Ben Simmons–Joel Embiid partnership to be dissolved? If it is, Daryl Morey, Philadelphia's president of basketball operations, will have to craft a deal that can allow the Sixers to find the playoff breakthrough they've been searching for. If it isn't, then all eyes will be on Simmons this fall to see if he can fix his free throw issues from the playoffs, and if he can add some semblance of a jumper to his arsenal. — Bontemps
---
6. Utah Jazz
2020-21 record: 52-20
Result: Lost in West semis
2022 title odds: +1500
How much luxury tax is new owner Ryan Smith willing to pay after the Jazz finished the regular season with the NBA's best record but were bounced in the second round of the playoffs? The extensions for franchise cornerstones Rudy Gobert and Donovan Mitchell start next season, which puts Utah right at the luxury tax line before free agency opens. That means the Jazz will have to pay an especially steep price to keep point guard Mike Conley, a must if Utah intends to contend in the immediate future. It could also factor into the decision on using the $5.9 million taxpayer midlevel exception, perhaps on a player who could be utilized at center in small-ball lineups. — MacMahon
---
7. Denver Nuggets
2020-21 record: 47-25
Result: Lost in West semis
2022 title odds: +2500
Nikola Jokic had an MVP campaign, and the Nuggets looked like legitimate title contenders until Jamal Murray tore his ACL. Without Murray, they couldn't make it out of the second round of the playoffs. Now the Nuggets have to patiently wait for Murray to heal while building on what they had going before Murray went down. Denver can give Michael Porter Jr. a five-year, $168 million max extension this offseason or let him become a restricted free agent in 2022. Porter had a stretch in the second half when he played like a star. Aaron Gordon, who came in a big trade at the deadline, is set to enter the last season of his contract; Paul Millsap and JaVale McGee are free agents; and Will Barton and JaMychal Green can opt out of their deals. Meanwhile, the Nuggets have to improve their backcourt depth. — Youngmisuk
---
8. Atlanta Hawks
2020-21 record: 41-31
Result: Lost in East finals
2022 title odds: +3000
The Hawks shocked just about everyone outside of Atlanta with their run to the conference finals, and they might have made it even further had Trae Young not injured his ankle by stepping on an official's foot. Young's impressive performance in the playoffs (28.8 points, 9.5 assists) showed he could carry a team when it matters. But will his team look the same next season? John Collins' status as a restricted free agent could mean Young will be without one of his favorite targets. But with Young's play and Nate McMillan's interim tag being lifted, there's still plenty of optimism moving forward. — Lopez
---
9. LA Clippers
2020-21 record: 47-25
Result: Lost in West finals
2022 title odds: +2000
The Clippers redeemed themselves for their 2020 bubble meltdown with a resilient run to the Western Conference finals, but they enter the offseason with uncertainty surrounding their future and that of Kawhi Leonard. The franchise player had surgery to repair a partially torn ACL, and it remains to be seen how much of next season he could miss. Also, Leonard has a player option in his deal and can become a free agent in August. Back in December, Leonard said, "Obviously, if I'm healthy, the best decision is to decline the player option. But that doesn't mean I'm leaving or staying." Serge Ibaka also has a player option. Reggie Jackson's playoff surge might have increased his value on the free-agent market beyond what the Clippers can give him. Paul George will need help to keep the Clippers in contention until Leonard returns (if he doesn't opt out and sign elsewhere). The Clippers can still use additional front-court depth and a point guard/leader who can improve their IQ/offensive efficiency. — Youngmisuk
---
10. Dallas Mavericks
2020-21 record: 42-30
Result: Lost in Round 1
2022 title odds: +3000
The Mavericks already made some major changes, hiring the tandem of GM Nico Harrison and head coach Jason Kidd to replace the departed duo of Donnie Nelson and Rick Carlisle. The immediate challenge: upgrading the roster in Dallas' final offseason of salary-cap flexibility before the supermax extension Luka Doncic is expected to sign this summer kicks in. The Mavs recognize the need to add another playmaker to complement Doncic. Can they find a way to do that and re-sign Tim Hardaway Jr.? — MacMahon
---
11. Miami Heat
2020-21 record: 40-32
Result: Lost in Round 1
2022 title odds: +3000
The bubble hangover was real for a Miami team that could never find the same kind of magic it had during its push to the 2020 Finals. Jimmy Butler and Bam Adebayo will be motivated to prove that their run wasn't just a flash in the pan, but Heat president Pat Riley will have some tough roster decisions to make. Respected veterans Goran Dragic and Andre Iguodala both have team options, and point guard Kendrick Nunn is a restricted free agent. The Heat still have plenty of top-line talent, but they need young shooter Tyler Herro to take another step in his development to fortify the team's depth. Riley also must decide what to do with Victor Oladipo, who is an unrestricted free agent and is coming off another quad injury. — Friedell
---
12. Golden State Warriors
2020-21 record: 39-33
Result: Lost in West play-in
2022 title odds: +1000
It's a big offseason for a Warriors squad that hopes to jump back into the thick of the Western Conference playoff picture. Stephen Curry reminded everybody that he can still play at an MVP level while dominating at times during the 2020-21 season. Andrew Wiggins registered arguably the most complete season of his eight-year career. Draymond Green showed that he can still be a dominant force when motivated — but even with all that the Warriors still couldn't make it back to the playoffs. Now the organization must hope that veteran Klay Thompson can return to form after missing two years because of ACL and Achilles injuries and 2020 No. 2 overall pick James Wiseman can find his form after an up-and-down rookie season. The Warriors also must find more depth, likely in the form of the No. 7 and No. 14 picks in the 2021 draft. — Friedell
---

13. Boston Celtics
2020-21 record: 36-36
Result: Lost in Round 1
2022 title odds: +5000
After one of the most stable organizations in the league went through some massive changes — Brad Stevens replacing Danny Ainge atop the organization, Ime Udoka replacing Stevens on the sidelines and the Celtics' trade swapping Kemba Walker and their first-round pick for Al Horford — Boston enters the offseason with two key questions to answer. The first is whether the Celtics will re-sign Evan Fournier, whom they acquired at the trade deadline and is an unrestricted free agent. The other is whether they can agree to a long-term contract extension with Marcus Smart — and if not, whether the team will attempt to trade him, rather than risk him leaving next summer for nothing. — Bontemps
---
14. New York Knicks
2020-21 record: 41-31
Result: Lost in Round 1
2022 title odds: +6000
The curse of overachieving, as the Knicks did in 2020-21, is it raises the expectations for the following year. It will now be up to New York to try to raise its talent level to meet the rising bar. There are a few things left for them to sort out. First, New York has to see if Julius Randle is willing to take a contract extension. Second, it has to decide whether to decline Mitchell Robinson's very affordable team option, making him a restricted free agent, or pick it up — meaning he will be an unrestricted free agent in 2022. Finally, with a bunch of cap space, will New York try to use it or again be patient? — Bontemps
---
15. Memphis Grizzlies
2020-21 record: 38-34
Result: Lost in Round 1
2022 title odds: +8000
GM Zach Kleiman has done an excellent job as the architect of the Grizzlies' rapid rebuild, but his one major misfire so far has been the expensive trade for forward Justise Winslow. Will the Grizzlies cut their losses and decline Winslow's $13 million option — giving them $22 million of salary cap space — or will they give the 25-year-old another season to prove he can be the playmaking wing Memphis envisioned as a complement to Ja Morant? Another complicated issue: Can the Grizzlies and Jaren Jackson Jr. (given his injury history) agree to an extension of his rookie deal that makes sense for both sides? — MacMahon
---
16. Portland Trail Blazers
2020-21 record: 42-30
Result: Lost in Round 1
2022 title odds: +5000
The offseason already has been sloppy for the Blazers, starting with the transition from long-time coach Terry Stotts to Chauncey Billups. Besides the controversial nature of the hire (Billups faced rape allegations in 1997) and the questions over transparency that came with it, the Blazers are in a pinch in trying to satisfy the ambitions of Damian Lillard. General manager Neil Olshey indicated after Portland's first-round exit to the Nuggets that the existing roster wasn't the issue, so any changes might be on the fringes, with internal development around Billups' approach being the focus. But there always looms the nuclear option, with CJ McCollum's name routinely coming up in trade rumors. Could Olshey make a bold play to try to bump the Blazers back to the top half of the West? — Young
---

17. Indiana Pacers
2020-21 record: 34-38
Result: Lost in East play-in
2022 title odds: +6000
Who says you can't go home again? Rick Carlisle did just that after resigning from his coaching position with the Mavericks to head back to Indiana for a third time: He was an assistant from 1997 to 2000 and then head coach from 2003 to '07. Indiana is coming off a season in which it missed the playoffs for the first time in six years, and there is no plan for a rebuild. Now, whether Indiana tries to run it back with a healthier version of last season's roster or makes some moves to change it up remains to be seen. — Lopez
---
18. Charlotte Hornets
2020-21 record: 33-39
Result: Lost in East play-in
2022 title odds: +10000
The Hornets just missed a playoff berth, but the future still appears bright in Charlotte thanks to the breakout play of LaMelo Ball. The 19-year-old point guard gave the Hornets the type of electricity they've been searching for in recent years, and with the improved play of a young core that includes Devonte' Graham, P.J. Washington, Miles Bridges and Malik Monk, the Hornets appear to have the pieces in place to push back into the postseason. Gordon Hayward's ability to stay on the floor will be crucial for a young team that has a promising future with Ball paired alongside veteran guard Terry Rozier. — Friedell
---
19. Toronto Raptors
2020-21 record: 27-45
Result: Missed postseason
2022 title odds: +6000
Toronto's lost season in Tampa, Florida, proved to be a blessing in one way, at least, as the Raptors jumped up in the lottery to nab the fourth overall selection in next week's NBA draft. That will guarantee the Raptors, assuming they don't trade the pick, will come away with one of the star players in the top tier of this year's draft class: Cade Cunningham, Jalen Green, Evan Mobley or Jalen Suggs. While that decision will come first, the next is whether Toronto will be able to retain point guard Kyle Lowry. After choosing not to trade him at the deadline, the Raptors now at least have the opportunity to keep him with the team he has been with the past nine years, assuming a deal can be struck that makes sense for both sides. — Bontemps
---
20. Washington Wizards
2020-21 record: 34-38
Result: Lost in Round 1
2022 title odds: +10000
With new coach Wes Unseld Jr. replacing Scott Brooks, Washington GM Tommy Sheppard will be focused on doing what he can to surround Bradley Beal with a winning product. The trade for Russell Westbrook helped get the Wizards into the playoffs despite a COVID-19 outbreak that threatened their season. Now Sheppard has to continue building a winner, and that starts with keeping Beal, who enters the last guaranteed year of his contract. Washington must improve its defense, add impactful veterans but also continue to develop young talent such as Rui Hachimura, Deni Avdija and Daniel Gafford. Getting healthy will help after losing Thomas Bryant and Avdija to season-ending injuries. — Youngmisuk
---
21. New Orleans Pelicans
2020-21 record: 31-41
Result: Missed postseason
2022 title odds: +8000
After a disappointing finish to the season, New Orleans and coach Stan Van Gundy parted ways after just one 72-game stretch. Now, Phoenix Suns assistant Willie Green will be tasked with trying to get the Pelicans on the right track. The Pelicans have major decisions to make with restricted free agents Lonzo Ball and Josh Hart as well as whether they'll trade or keep the No. 10 pick in the upcoming draft. But ultimately Green will have to make a roster centered around Zion Williamson and Brandon Ingram work better than Van Gundy did. — Lopez
---
22. San Antonio Spurs
2020-21 record: 33-39
Result: Lost in West play-in
2022 title odds: +25000
After making the playoffs for an NBA-record-tying 22 consecutive seasons, the Spurs have now missed the playoffs in back-to-back years after falling short in the bubble in 2020 and losing in the play-in tournament in 2021. The biggest question facing the Spurs this season will be what happens with several of the team's veterans who are now free agents, starting with DeMar DeRozan. If DeRozan, Patty Mills and Rudy Gay move on, the Spurs could be major players in free agency or could even get assets back in a potential DeRozan sign-and-trade deal if they choose that route. — Lopez
---
23. Chicago Bulls
2020-21 record: 31-41
Result: Missed postseason
2022 title odds: +10000
The Bulls took a big swing when they traded for veteran big man Nikola Vucevic at the deadline, but it didn't pan out the way the organization hoped. Now the Bulls have to find a way to improve without a top-10 pick this year (not to mention another future first-rounder headed Orlando's way) while big cap questions persist. Zach LaVine became an All-Star for the first time this past season and will be looking for a max extension in the near future. Will the Bulls try to use their salary cap space this summer to hammer out a deal with him or use it somewhere else? What about former No. 7 pick Lauri Markkanen? He hasn't improved the way the Bulls hoped and appears headed for a fresh start somewhere else. Chicago remains in the middle of a rebuild, but it is unclear how much it will be able to improve without the draft capital that most young teams use to improve. — Friedell
---
24. Sacramento Kings
2020-21 record: 31-41
Result: Missed postseason
2022 title odds: +25000
A 31-41 finish saw the Kings tie the Clippers (from 1976-77 through 1990-91) for the longest playoff drought in NBA history. New GM Monte McNair preached patience in his first year, hoping to avoid the mistakes of his predecessors, and added All-Rookie First Team pick Tyrese Haliburton to a backcourt that already included De'Aaron Fox and Buddy Hield. This season, the pressure will be on third-year head coach Luke Walton to improve Sacramento's dismal defense, which ranked last in the league by allowing 116.5 points per 100 possessions. Re-signing starting center Richaun Holmes, an unrestricted free agent, would help. — Pelton
---
25. Minnesota Timberwolves
2020-21 record: 23-49
Result: Missed postseason
2022 title odds: +30000
After a strong finish to the regular season and some positive growth under coach Chris Finch, the Wolves are entering the offseason with some expectations. The development of Anthony Edwards was a significant positive from an overall tough season, and in the games in which the Wolves had their full roster available, they were competitive against even the upper crust of the West. General manager Gersson Rosas hasn't been shy about roster tweaks, saying after the season he believes they have a current core of five players to build on, but are in need of seven or eight additions. They traded this year's first-round pick to the Warriors two seasons ago to add D'Angelo Russell, so the additional help will have to come via trades or their midlevel exception in free agency. — Young
---

26. Detroit Pistons
2020-21 record: 20-52
Result: Missed postseason
2022 title odds: +30000
Despite last year's 20-52 finish, there's reason for hope in the Motor City. The first draft for GM Troy Weaver yielded a pair of hits in All-Rookie First Team pick Saddiq Bey and second-team selection Isaiah Stewart. (The jury is still out on No. 7 overall pick Killian Hayes.) Meanwhile, Team USA Olympian Jerami Grant showed the ability to shoulder a heavy scoring load with reasonable efficiency. To that core, the Pistons add this year's No. 1 overall pick. Although that will likely still translate into a lottery team in 2021-22, the long-term future is bright in Detroit. — Pelton
---
27. Cleveland Cavaliers
2020-21 record: 22-50
Result: Missed postseason
2022 title odds: +30000
This year's No. 3 pick will be Cleveland's highest pick since taking Andrew Wiggins No. 1 overall in 2014. The Cavaliers need to add a star and decide on the future of guard Collin Sexton. Sexton has shown the ability to score prolifically with above-average efficiency but might not fit well if Cleveland drafts a guard (likely Jalen Green or Jalen Suggs) and is due a rookie extension. With internal development and a full season from center Jarrett Allen (a restricted free agent), the Cavaliers should take a step forward after winning 60 games over the past three seasons. — Pelton
---
28. Orlando Magic
2020-21 record: 21-51
Result: Missed postseason
2022 title odds: +30000
Another painful rebuild is underway for a Magic franchise that hasn't been nationally relevant since trading away Dwight Howard in 2012. Former Mavericks assistant coach Jamahl Mosley takes over for Steve Clifford and is tasked with trying to build out a young roster that has big question marks. Markelle Fultz and Jonathan Isaac are each coming off serious knee injuries as the Magic hold out hope that both can be key parts of their future. It is important that Magic president Jeff Weltman and his staff hit on the team's lottery picks (No. 5 and No. 8) in the upcoming draft as the group continues to evaluate forward Wendell Carter Jr., who is up for a potential rookie extension. — Friedell
---
29. Oklahoma City Thunder
2020-21 record: 22-50
Result: Missed postseason
2022 title odds: +50000
The Thunder have been quite transparent about their intentions, using the back end of last season to position themselves for the highest draft pick possible. The pingpong balls didn't bounce their way, as they ended up with the sixth overall pick, complicating their building plan. But general manager Sam Presti is prudent, and patient, and won't let that disappointment throw him off his game. He has more levers than anyone to pull if he wants to move up in the draft. But beyond who the Thunder take at No. 6 (or wherever), they also will look to lock up Shai Gilgeous-Alexander to an extension, solidifying a core player for the long term. — Young
---
30. Houston Rockets
2020-21 record: 17-55
Result: Missed postseason
2022 title odds: +50000
The most important decision the Rockets have to make this summer is what to do with the second overall pick in the draft. GM Rafael Stone intends to explore all options, including trading down, but Houston is certainly enamored with the star potential of Jalen Green after the teenage guard starred for the G League Ignite. He could be a great fit with the rebuilding Rockets' promising young nucleus that includes Christian Wood, Kevin Porter Jr., Jae'Sean Tate and Kenyon Martin Jr. — plus a stockpile of future first-round picks. Houston has interest in re-signing veteran forward/center Kelly Olynyk. — MacMahon
How Jacob deGrom decided to ditch New York and become a Texas Ranger
Chris Young, the head of baseball operations for the Texas Rangers, called Bruce Bochy on Thursday with news that stunned the new manager. "Jacob wants to come with us," Young said.
Bochy's response: "Are you kidding me?"
Bochy knew the Rangers were going to be aggressive in their negotiations with Jacob deGrom, and he had been impressed by the pitcher in a Zoom meeting with deGrom and his wife, Stacey Harris, in the days before Thanksgiving. But Bochy had assumed that the process would play out for days and perhaps weeks to come as deGrom considered the possibility of leaving the New York Mets, the organization that had drafted him in 2010.
Instead, deGrom made his decision quickly, agreeing to terms on a five-year, $185 million million contract without even giving the Mets an opportunity to present a final offer, based on interviews with a dozen sources involved in deGrom's free agency. According to sources, Mets general manager Billy Eppler learned about deGrom's deal with the Rangers on Friday evening, just minutes before the news broke — and more than a day after deGrom had closed his deal with Texas.
For some in the Mets' organization, that last bit of silent treatment from deGrom was confirmation of what they had suspected even during the season: that deGrom, the Cy Young Award-winning pitcher who warmed up to Lynyrd Skynyrd's "Simple Man" before his starts, probably preferred to pitch somewhere other than New York City.
Georgia, Michigan, TCU, Ohio St. picked for CFP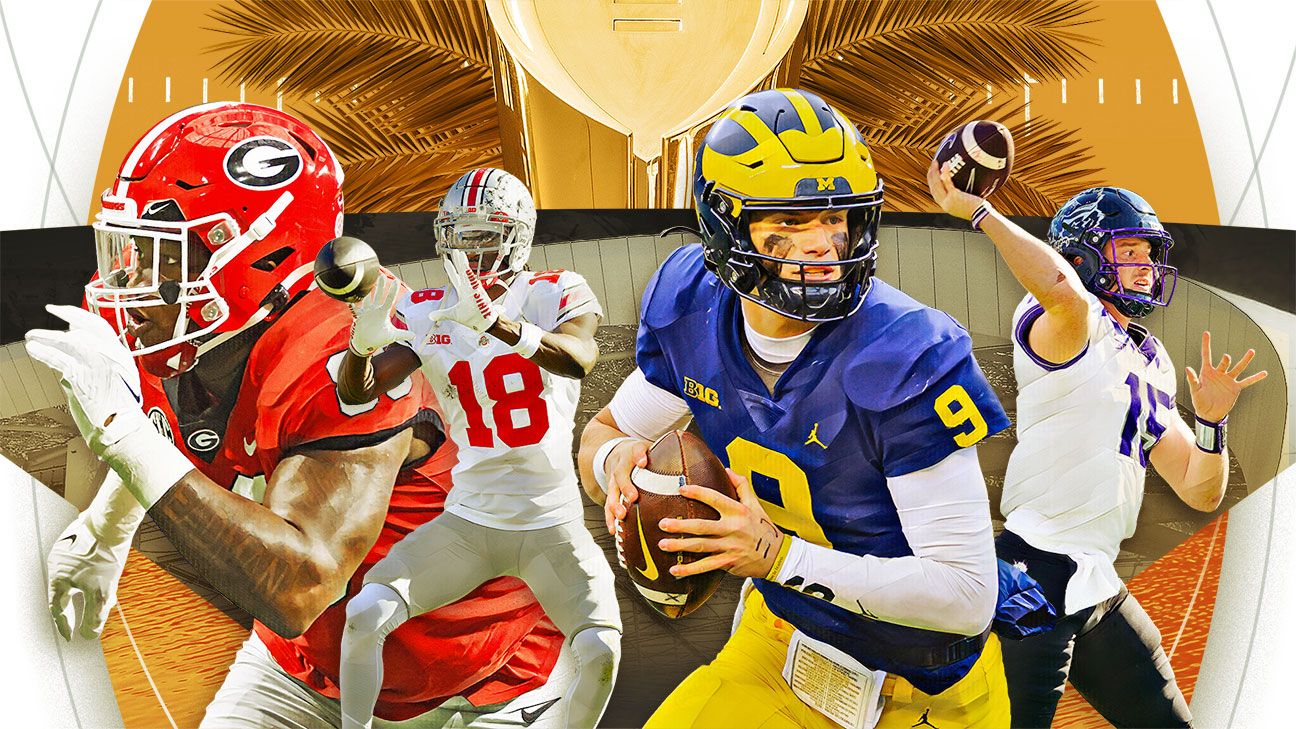 Georgia, Michigan, TCU and Ohio State will play for the national championship after being chosen for the College Football Playoff on Sunday.
After not playing in a conference championship game, the Buckeyes (11-1) moved up one spot following USC's loss in the Pac-12 title game Friday to give the Big Ten two playoff teams for the first time in the format's nine-year history.
No. 4 Ohio State will face No. 1 Georgia in the Chick-fil-A Peach Bowl, and No. 2 Michigan will face No. 3 TCU in the Vrbo Fiesta Bowl on Dec. 31.
The CFP National Championship presented by AT&T will be played Jan. 9 at SoFi Stadium in Inglewood, California.
Georgia opened as a 7-point favorite over Ohio State at Caesars Sportsbook, and Michigan is a 9-point favorite over TCU.
TCU (12-1) held on to its No. 3 ranking after losing in overtime in the Big 12 championship game to Kansas State. The Horned Frogs and Buckeyes are the fifth and sixth teams to make the College Football Playoff without winning a conference title.
Horned Frogs coach Sonny Dykes said he was concerned about his team's playoff status after the loss but added that he had faith in the selection committee.
"I think we're certainly deserving," Dykes said.
At a watch party for TCU players and staffers at its Fort Worth, Texas, campus, cheers broke out when the Frogs landed in the bracket during the announcement show.
Alabama (10-2) had hoped to make a jump into the top four following USC's and TCU's losses, with coach Nick Saban lobbying for his team Saturday.
"If we played any of those teams that are on the edge of getting in, would we be the underdogs or the favorite?" Saban said on Fox at halftime of the Big Ten championship.
The Crimson Tide were ranked fifth by the selection committee.
Committee chairman Boo Corrigan, the athletic director at NC State, said Ohio State's big wins over Penn State and Notre Dame helped push the Buckeyes in over Alabama.
"As we looked at the total body of work, the committee was comfortable with Ohio State at No. 4 and Alabama at 5," Corrigan said in an interview on ESPN.
Georgia (13-0) and Michigan (13-0) are in the playoff for the second straight year. They won their respective conference title games handily Saturday and will look to become the fourth team to win the CFP with an undefeated record.
The only time Georgia and Ohio State have previously played was in the 1992 Citrus Bowl, a 21-14 Bulldogs victory. TCU, whose only national title came in 1938, has never played Michigan.
Corrigan said the committee did not make any special effort to avoid having a rematch of Ohio State and Michigan in a semifinal. The Buckeyes and Wolverines have never played outside of their annual regular-season game in a rivalry that dates back to 1902.
The Associated Press contributed to this report.
CFP preview: First look at Georgia-Ohio State, Michigan-TCU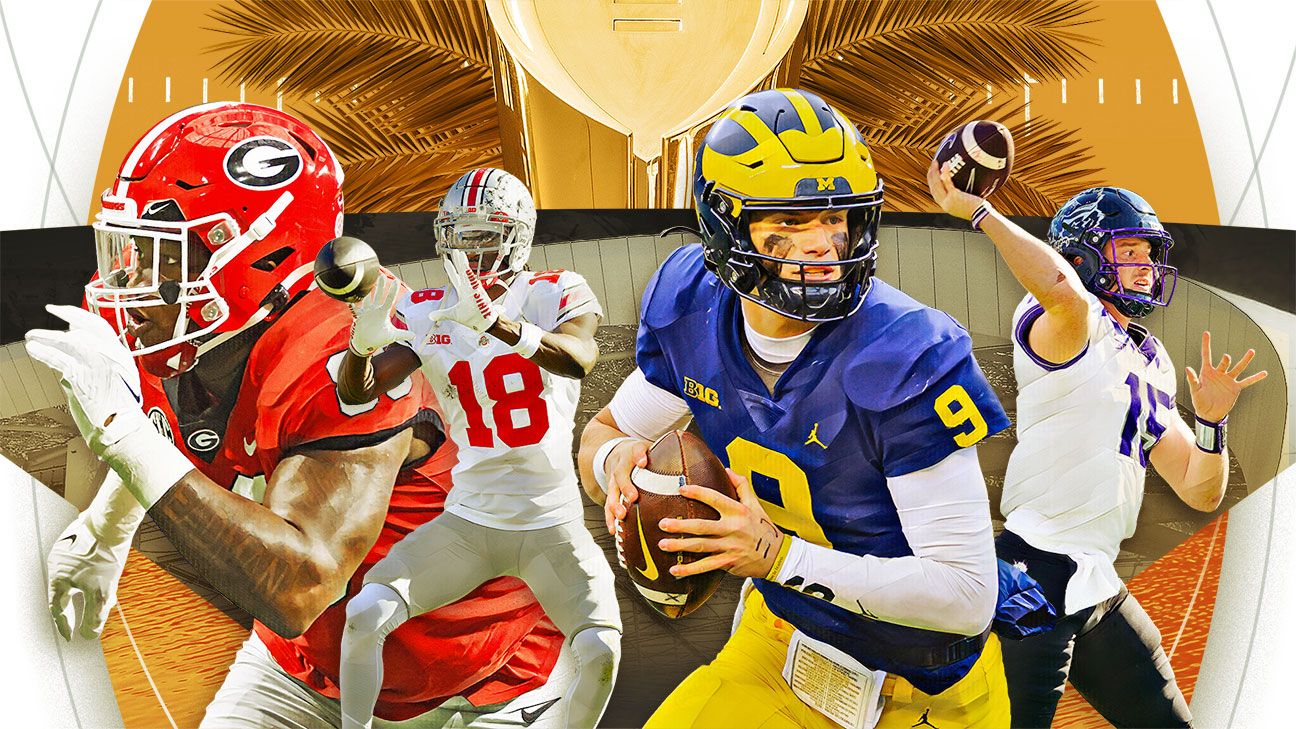 Nick Saban tried. Alabama's coach found whatever megaphone was available to him Saturday night to publicly plead the Crimson Tide's case to make the College Football Playoff.
He suggested looking at the top four through the lens of, "How are they playing at the present?" He asked, "If we played these teams in question, would we be underdogs in the game or not?"
But the committee didn't budge. Betting lines aren't part of their criteria, after all. They meet in Grapevine, Texas, not Las Vegas.
There would be no leapfrogging Ohio State or TCU. In the end, the math was simple: The top three of Georgia, Michigan and TCU remained the same, out went USC by virtue of a second loss in the Pac-12 championship game, and in slipped the Buckeyes, who moved up one spot to No. 4. Which means, for just the second time since the CFP began in 2014, Alabama will not be part of the semifinal round.
So we have new blood: The Horned Frogs become the first team from the Big 12 not named Oklahoma to reach the playoff.
And we have an old rivalry: The Buckeyes and Wolverines will play their respective semifinal games for a chance to meet for the national championship.
And we have a chance for some more history: Georgia is seeking to become the first repeat champion of the CFP era.
Here's a first look at the semifinal games.

No. 1 Georgia vs. No. 4 Ohio State
CFP Semifinal at the Chick-fil-A Peach Bowl
When: Saturday, Dec. 31 at 8 p.m. ET
Where: Mercedes-Benz Stadium, Atlanta
How to watch: ESPN and ESPN App
Opening line via Caesars Sportsbook: Georgia by 7
Georgia
Key player: Georgia's defense shouldn't be this good again. Repeating last season's success would have been hard enough, even if it had not lost five first-round draft picks to the NFL. But maybe the most talented player on that defense from a year ago — Jalen Carter — did come back. And after dealing with nagging injuries the first half of the season, he has showed what a game-wrecker he can be of late. In his past six games, he had 24 tackles, 6.5 tackles for loss, three sacks and two forced fumbles. Big and strong enough to plug the running lanes, and quick and agile enough to rush the passer, Carter must be accounted for.
X factor: Georgia's offense is effective, of course. It has a three-headed monster at running back with Kenny McIntosh, Kendall Milton and Daijun Edwards. And quarterback Stetson Bennett is a threat whether he's throwing from the pocket or scrambling for yards. What's more, he has mismatches at tight end in Brock Bowers and Darnell Washington to lean on. But who's the go-to receiver? Who's the deep threat? Ladd McConkey is solid with 51 receptions and five touchdowns, but those aren't exactly eye-popping numbers, and he's undersized at 6-foot. Fellow receivers Marcus Rosemy-Jacksaint and Dillon Bell have only two touchdowns apiece.
How Georgia wins: The formula isn't terribly complicated. Kirby Smart built the Bulldogs to win the line of scrimmage on both sides of the ball. So start from the inside out. Carter and the defensive line suffocate the running game (2.97 yards per rush during the regular season, sixth lowest in the FBS) and get in the face of the quarterback (31% pressure rate). Meanwhile, the offensive line powers a strong running game (5.5 yards per rush, eighth best among Power 5 teams) and protects the quarterback (seven sacks, tied for second fewest in the FBS). Throw in a savvy veteran quarterback (Bennett) and an All-America tight end (Bowers), and all the ingredients to reach the national championship game are there. — Alex Scarborough
Ohio State
Key player: Quarterback C.J. Stroud had a Heisman-type season going until the Michigan game, with 3,330 passing yards, 37 touchdowns and six interceptions on the year. Stroud threw for 349 yards and two touchdowns against the Wolverines but also had two interceptions. The Buckeyes were dealing with injuries to running back TreVeyon Henderson and Miyan Williams, while freshman Dallan Hayden had just two carries. With converted linebacker Chip Trayanum getting most of the carries, Stroud becomes that much more important if Ohio State isn't fully healthy at running back. He has been the leader of the offense this season, and while the loss to rival Michigan was a big setback, he can make up for it in the playoffs.
X factor: Wide receiver Marvin Harrison Jr. is one of the best receivers in the country. He has continuously made ridiculous catches throughout the season and makes plays most receivers can't. The Buckeyes are dealing with injuries to the ground game and have also been without receiver Jaxon Smith-Njigba, so Harrison is vital to the offense on this stage. If he can provide a reliable target for Stroud and get in the end zone, Ohio State should be able to hang with any of the other semifinalists.
How Ohio State wins: The defense needs to limit big plays. It has done a good job of limiting explosive plays all season but showed some weaknesses against the Wolverines, who were able to score multiple long touchdowns through the air and on the ground. The offense has proved that it can put points on the board, but now the defense has to meet the challenge of playing a top-notch offense and have its best game yet. — Tom VanHaaren
---
No. 2 Michigan vs. No. 3 TCU
CFP Semifinal at the Vrbo Fiesta Bowl
When: Saturday, Dec. 31 at 4 p.m. ET
Where: State Farm Stadium, Glendale, Arizona
How to watch: ESPN and ESPN App
Opening line via Caesars Sportsbook: Michigan by 9
Michigan
Key player: Running back Donovan Edwards had 216 rushing yards and two touchdowns in Michigan's win against Ohio State. With Blake Corum out, Edwards' performance will be key for the Wolverines. The run game is critical to the Michigan offense, and Edwards' ability to establish the run and open up the passing game will be a key for the Wolverines.
X factor: Michigan has been a second-half team all season, with a plus-186 point differential after halftime. That is the second-highest margin for any FBS team through 12 games over the past 10 years. The Wolverines have been able to wear out their opponents in every game and have not shown any signs that they will slow down after outscoring Ohio State 28-3 in the final regular-season game and Purdue 29-9 in the Big Ten championship game. Coach Jim Harbaugh has praised strength and conditioning coach Ben Herbert for those second-half surges, which have been a signature for Michigan all season.
How Michigan wins: If the Wolverines can establish their running game and control the clock as they have all season, plus mix in some big plays through the air from quarterback J.J. McCarthy, they should have a good shot. McCarthy has continuously called this a "smashfest" team, and the Wolverines relish beating their opponents up front. Michigan showed it can strike through the air if it has to against Ohio State, but its ideal scenario is having success on the ground first. — Tom VanHaaren
TCU
Key player: Max Duggan attempted another wild comeback Saturday against Kansas State, but the Frogs came up just short for the first time in six of those scratch-and-claw games this season. But Duggan has been unflappable, never more so than in a late comeback win on the road at Baylor, when he led two fourth-quarter scoring drives without TCU's best running back (Kendre Miller, who has 1,342 rushing yards this season, the most at TCU since LaDainian Tomlinson in 2000), top two receivers (Quentin Johnston and Derius Davis) and no timeouts. Duggan has thrown for 3,321 yards and 30 touchdowns to just four interceptions, and his 25 career rushing touchdowns are in the top 10 in school history. Duggan calmly piloted the Frogs to victory after falling behind by 17 to Oklahoma State and 18 to Kansas State in the regular season. That's why he's a leading contender for the Heisman Trophy.
X factor: Quentin Johnston. The 6-4, 215-pound junior receiver is a big-play threat with first-round draft potential but has been hobbled for much of the season. When TCU has turned to him, he has been huge, including a key third-down catch with the game on the line in the fourth quarter at Texas, and a 55-yard touchdown catch down late against Kansas State. The Horned Frogs were able to rest him against Iowa State to get him ready for the postseason. When he was healthy, Johnston showed his potential with a two-game stretch against Oklahoma State and on the road against Kansas, when he combined for 22 catches for 386 yards and two touchdowns. On Saturday against Kansas State, he caught four passes for 139 yards. A return to that type of threat would be a huge boost for TCU.
How TCU wins: The Frogs have employed a mix of thunder and lightning to keep opponents on the ropes, particularly in the second half. TCU had 17 plays of at least 50 yards this season, second only to Tennessee in the FBS. Duggan ranks third nationally in completion percentage on passes of 20 or more yards downfield at a 54.7% clip with 12 touchdowns on such plays, tops in the country. And Miller rushed for more than 1,000 yards between the tackles and is tough to bring down, ranking third in the Big 12 with 650 yards after contact. If the Frogs can remain patient and pound away with Miller, they'll be able to open up the field for their playmakers and a roster loaded with speed. — Dave Wilson