Two weeks after the largest anti-government demonstrations in decades in Cuba, activist groups say more than 500 protestors are still missing.
Thousands of people across the island marched through the streets in several towns and cities on 11 July, calling for democracy and sweeping economic reform in the country amid major food and medicine shortages.
Scores of people were arrested by plain clothes police officers and many families say they still haven't heard from their loved ones or been informed of their whereabouts.
Sky News is unable to independently verify the figures of the missing but the lawyers' group Cubalex says hundreds of people, many of them teenagers, have been detained.
Katiuska Mustelier Sosa is a Cuban exile living in Miami and says her brother, Enrique, has not been seen by friends or family on the island since he attended a protest in Guantanamo.
Katiuska shared a video with Sky News, filmed by another protestor, showing Enrique, 38, marching through the streets chanting "libertard!" meaning freedom.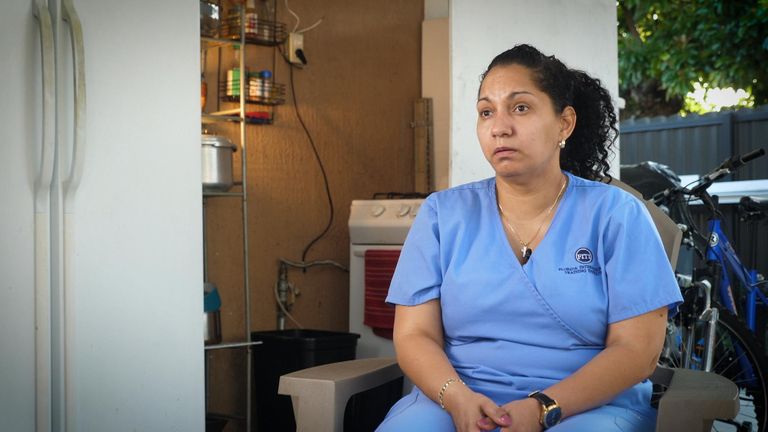 She believes he was arrested shortly afterwards and is now being held at a state security prison although she does not know exactly where.
"My family hasn't been able to see him. We're very worried, because we don't know what state he's in," she said "we worry he has been beaten."
The family fears history might be repeating itself because 14 years ago Katiuska's father, a political prisoner, disappeared from jail with just two months left on his sentence. She moved to Miami four years ago but two of her three children, Sarai, 11, and Daniel, 15, remain in Cuba.
"It is better for me to be here so I can send money back and they can eat," she said, "I'm very worried for my brother – but I'm also worried for my family and my kids too. They're very scared, they say 'mum we're worried you're going to say too much over there, and then we won't be able to see you again'. They're really scared, because the regime is capable of doing whatever they want against us, that's for sure.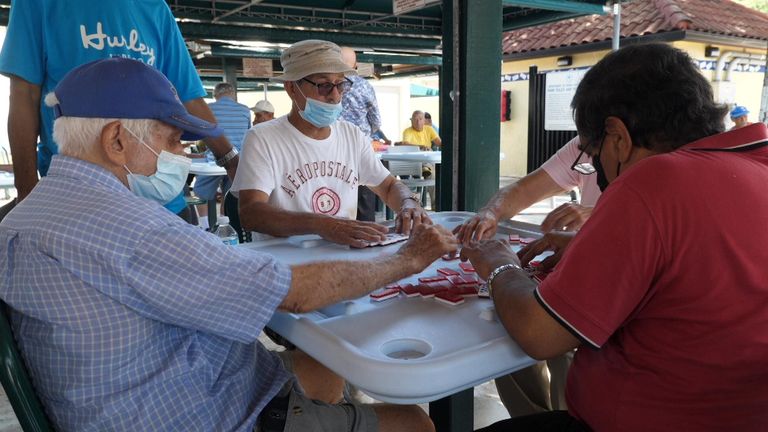 "I think this is the beginning of an uprising, but I know it won't be easy. Because this government – this dictatorship – will not abandon power," she added, "For this reason we need international help and support."
Janniset Rivero, a spokesperson for the Center for a Free Cuba based in Washington DC, believes more than 500 protestors are missing and says many have been convicted in summary trials with no defence present. "It is much more than that because they are continuing arresting people now," she says, "in Cuba there is no rule of law. Those trials are illegal and the families haven't even been able to see the accused.
"The regime is afraid of the people because people have gone to the streets to shout freedom so they are now trying to exert control over the population."
The Cuban government claims there is a disinformation campaign surrounding the protests.
Carlos Fernandez de Cossio, General Director for the US Division of Cuban Ministry of Foreign Affairs, said summary trials that protestors in Cuba are receiving are not unfair and that they are receiving counsel.
"It is part of the Cuban criminal system as it is part of the criminal system of many countries," he said, "and there's nothing unfair or extraordinary about it. It is part of the many lies that are being disseminated in Cuba."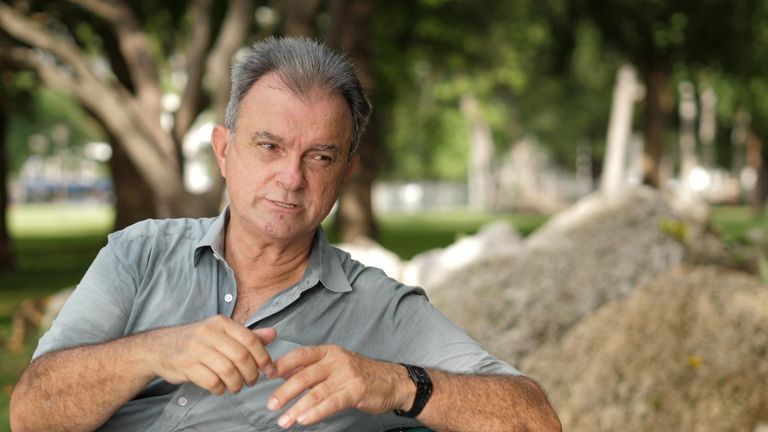 In Little Havana, the heart of Miami's Cuban community they have witnessed ill-fated attempts to overthrow the communist government but many believe this time is different. Ramon Saul Sanchez left Cuba at 12 years old and has devoted his life to fighting the government from Miami. He thinks the use of social media with protestors filming and broadcasting themselves online is a fundamental difference to previous uprisings.
"This is why the regime immediately turns off internet when there has been a revolt," he said, "What they're doing right now is slowing it down so pictures and videos can't be sent so easily. If we had social media 20 years ago what we've seen now probably would have happened then."
There haven't been any widespread protests in Cuba since 11 July and Sanchez believes that although people may not take to the streets again today or tomorrow, they will eventually. "I now believe I will be able to return to Cuba again in my lifetime," he says.
Darryl George: Family sues state governor after student suspended over dreadlocks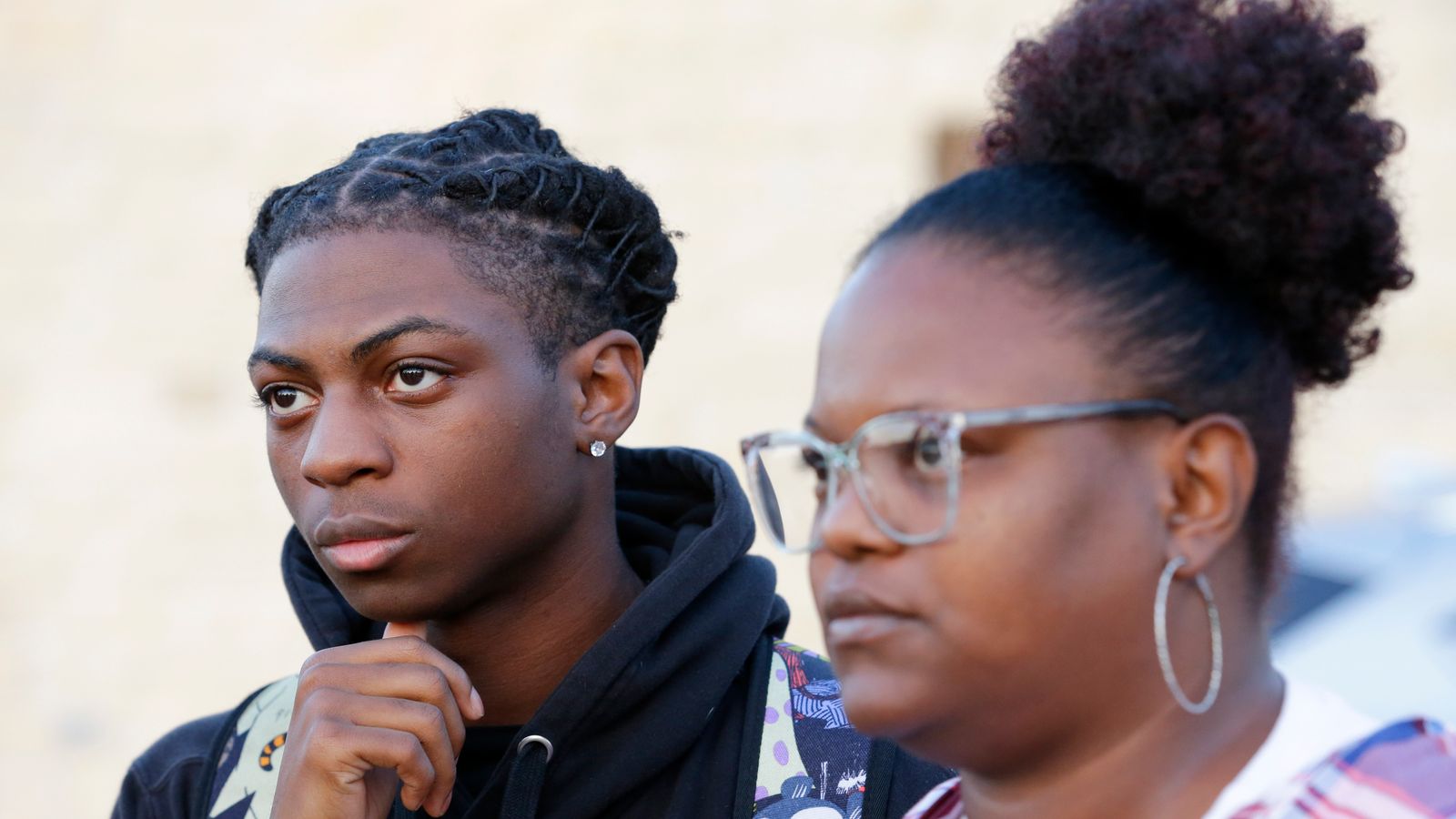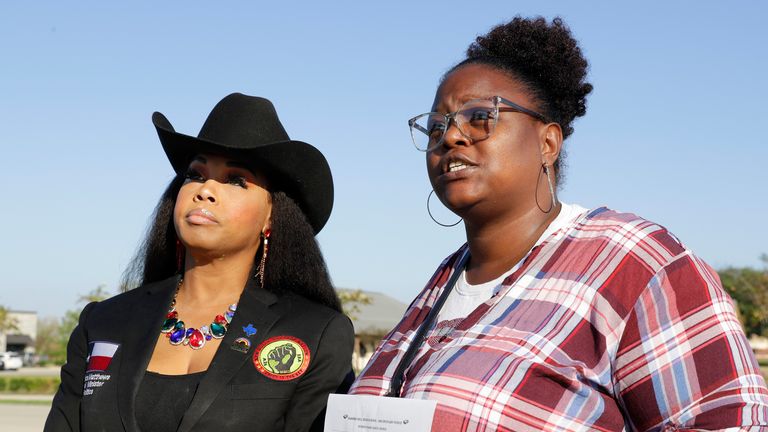 The family of a black student who was suspended from school in a row over his hairstyle has filed a lawsuit against the state's governor and attorney general.
Darryl George, 17, a junior at Barbers Hill High School in Mont Belvieu, has been expelled since 31 August because school officials said his dreadlocks fall below his eyebrows and ear lobes, violating the district's dress code.
His mother Darresha George has denied this and said his hair is neatly tied and twisted in dreadlocks on top of his head.
The lawsuit accuses Texas Governor Greg Abbott and Attorney General Ken Paxton of failing to enforce the CROWN Act, a new state law outlawing racial discrimination based on hairstyles.
The lawsuit claims the pair, in their official duties, failed to protect Darryl's constitutional rights against discrimination and violated his freedom of speech and expression.
Darryl George "should be permitted to wear his hair in the manner in which he wears it because the so-called neutral grooming policy has no close association with learning or safety and when applied, disproportionately impacts Black males," according to the lawsuit.
Second complaint in hair row
On Tuesday, his mother previously filed a formal complaint against the Texas Education agency and said Darryl was harassed and mistreated by officials because of his hair.
They claim during his suspension he was forced to sit for eight hours on a stool and was denied the free hot lunch he was eligible to receive.
Read more on Sky News:
911 call released after fighter jet pilot ejects and lands in back garden
Fugitive on run for more than 30 years laughs as he's finally caught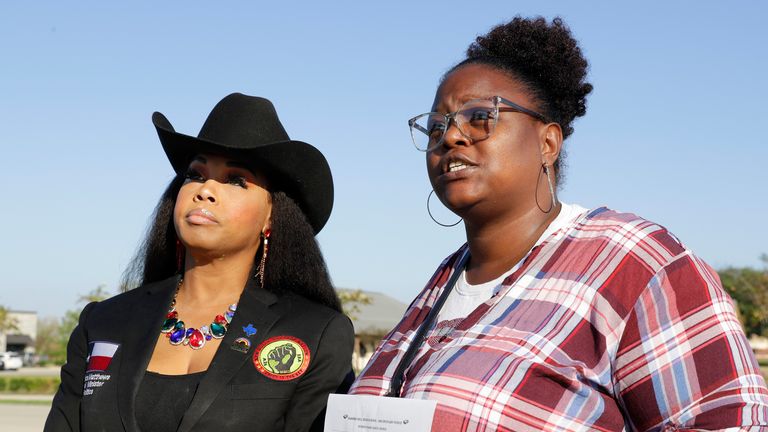 The agency is investigating the complaint.
Florida: Alligator killed after being discovered holding human remains in mouth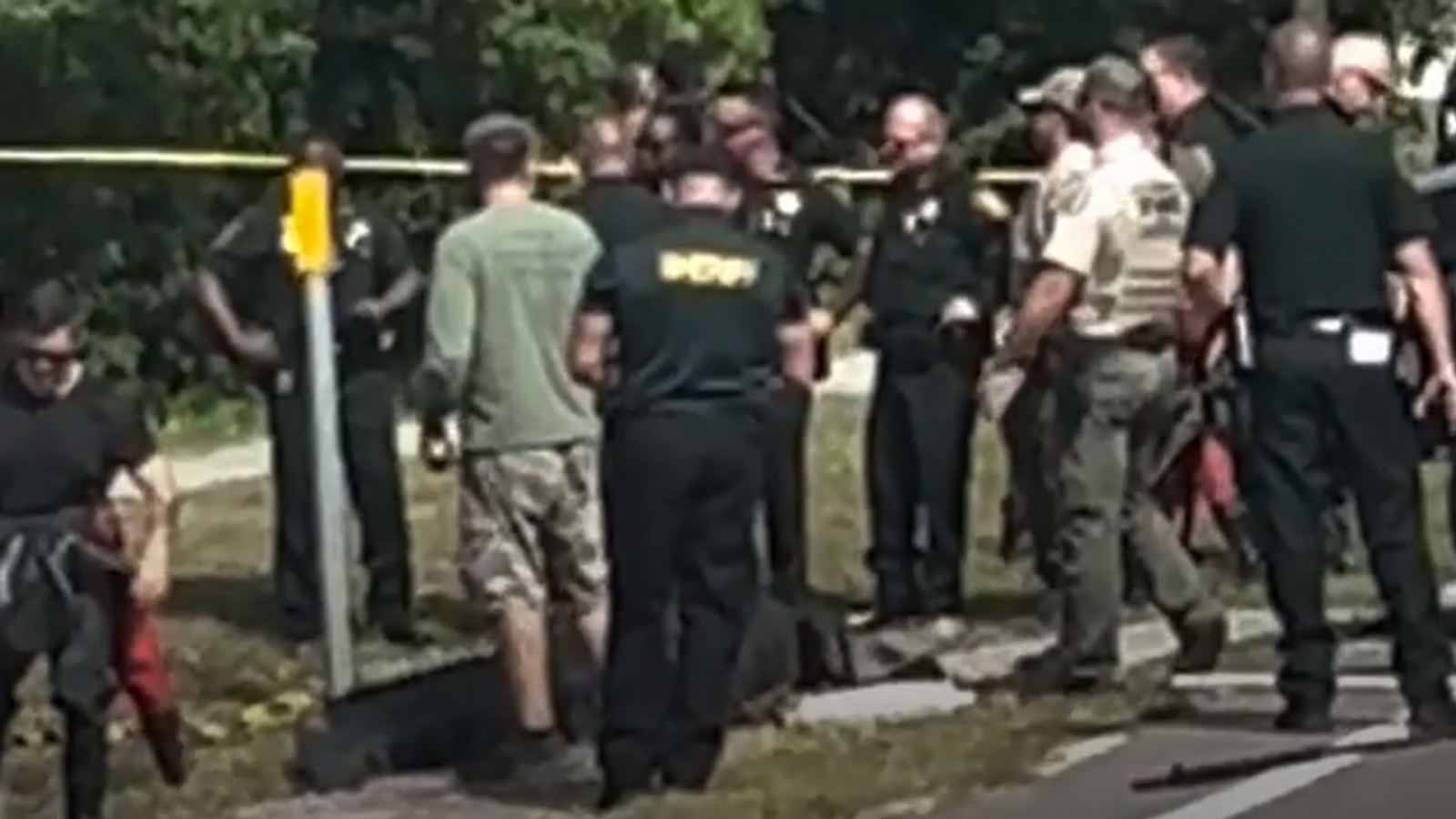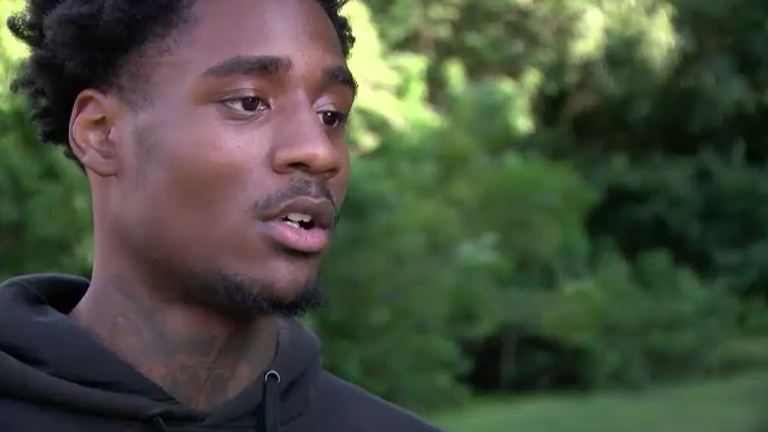 An alligator was spotted with human remains in its mouth by a passer-by in Florida.
The 13-foot reptile was spotted by Jamarcus Bullard in a canal in Largo, about 20 miles west of Tampa.
He said he saw the the alligator and a corpse in the water on Friday afternoon.
"I threw a rock at the gator just to see if it was really a gator and like it pulled the body, like it was holding on to the lower part of the torso, and pulled it under the water," he told a TV affiliate of NBC News, Sky News' US partner network.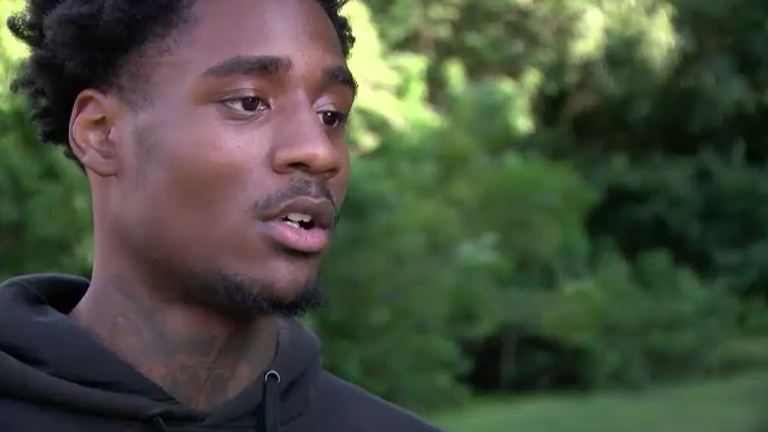 Bullard said he started recording on his phone and contacted the authorities.
A video he shared with the news station showed an officer with the Florida Fish and Wildlife Conservation Commission measuring the reptile.
The 13-foot, 8.5-inch male alligator was removed from the water and was "humanely killed," the Pinellas County Sheriff's Office said in a statement, adding that the remains of an adult had also been recovered.
No details about the deceased have yet been released and an investigation is under way.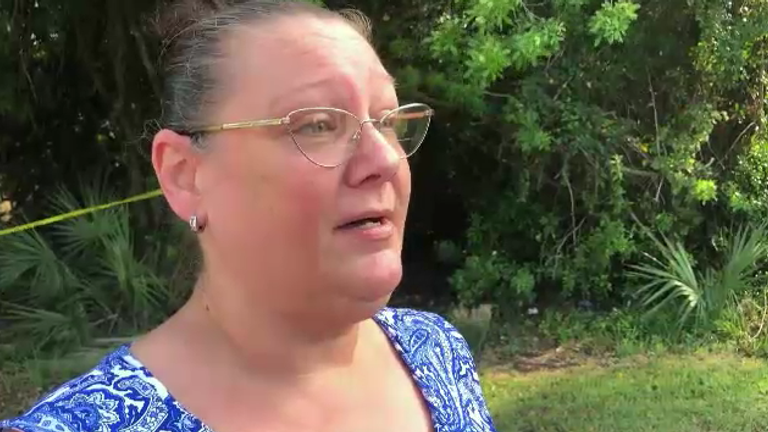 The medical examiner's office will conduct an autopsy to determine the cause of death.
The discovery has left some locals nervous with Jennifer Dean telling WFLA that her children frequently walk by the canal.
Bullard also said he walks near the water to and from work and will be more careful now.
US death row inmate Anthony Sanchez executed for rape and murder of Juli Busken after being caught by his DNA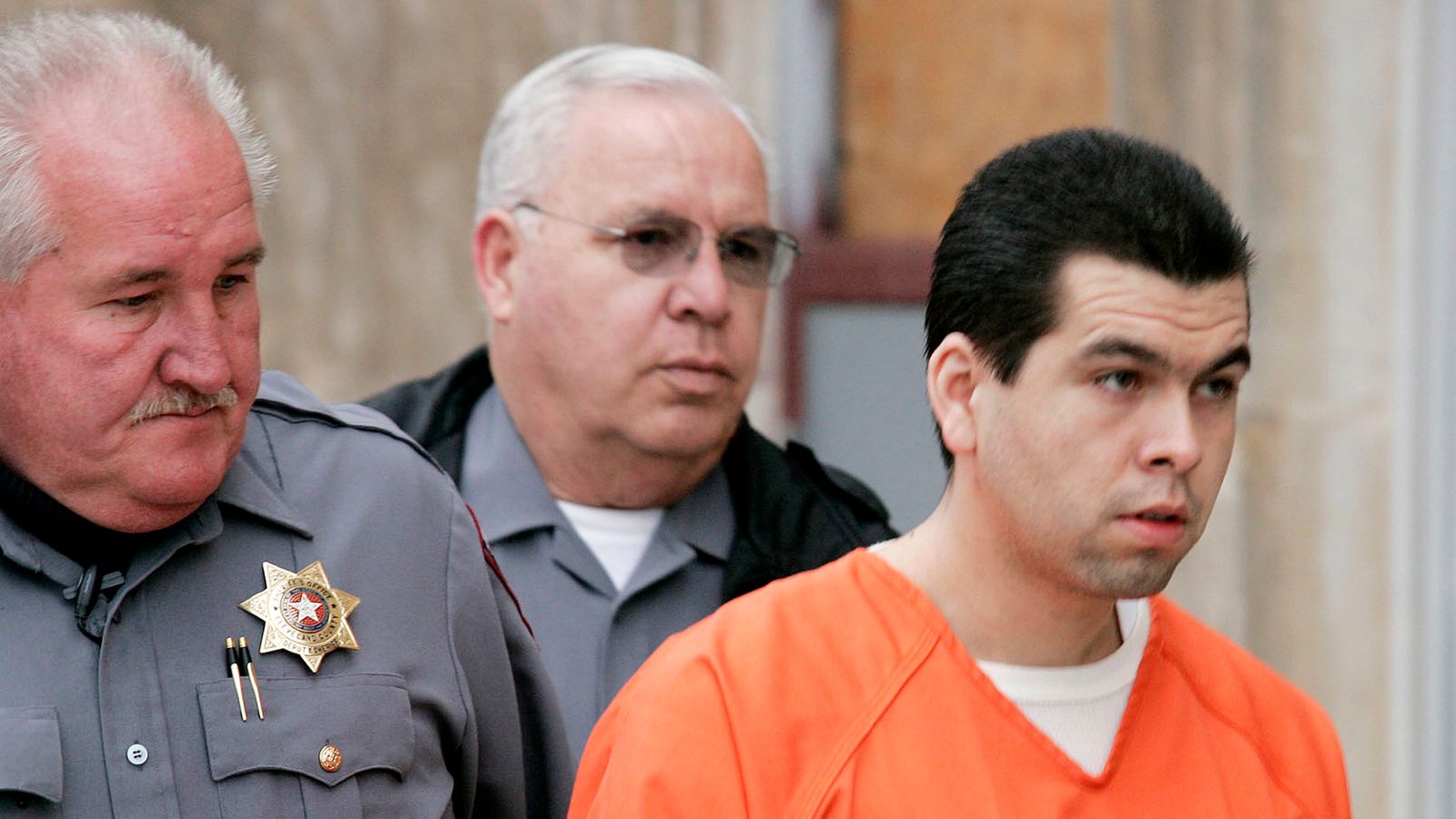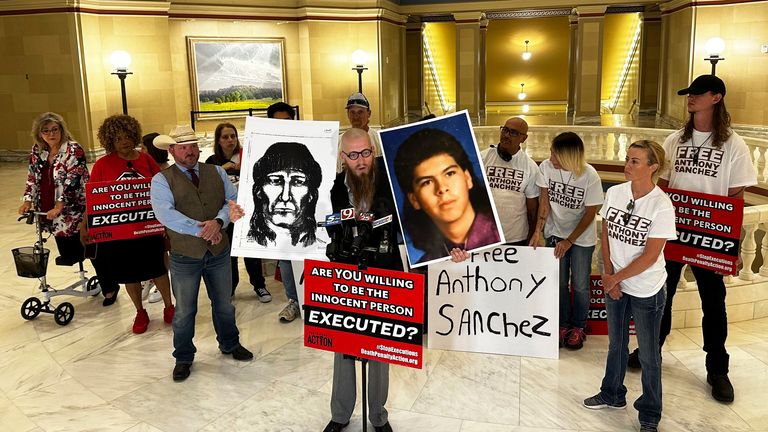 A man has been executed in the US for the rape and murder of a dance student which went unsolved for years until DNA from the crime scene was matched to him while he was in prison for burglary.
Anthony Sanchez, 44, protested his innocence as he was strapped down in the death chamber at the Oklahoma State Penitentiary in McAlester.
He was declared dead 11 minutes after the lethal drugs started to be administered.
While Sanchez maintained he had nothing to do with the 1996 killing of 21-year-old Juli Busken, he took the unusual step of opting not to present a clemency application to the state's pardon and parole board, which many viewed as the last chance to spare his life.
Ahead of his execution, Sanchez criticised his former lawyers and thanked his supporters, including his spiritual adviser who was in the chamber with him.
He said: "I'm innocent.
"I didn't kill nobody."
At one point during the procedure, a member of the execution team entered the chamber and reattached an oxygen monitor that prison officials said had malfunctioned.
Read more:
Star's cause of death revealed after inquest
Man dies driving off collapsed bridge following Google Maps
Shortly before he was put to death, the US Supreme Court rejected a request for a stay of execution submitted by his new lawyer, who had said he needed more time to go through the case evidence.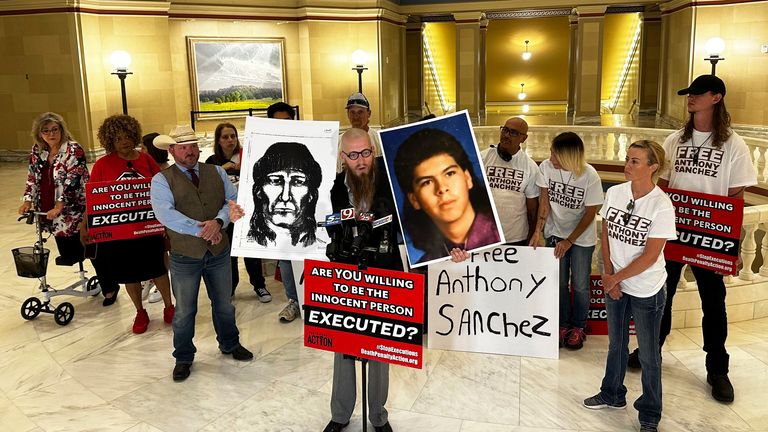 Juli Busken's family 'has found closure and peace'
Ms Busken had just completed her last term at the University of Oklahoma when she was abducted on 20 December 1996, from the car park of her apartment complex.
Her body was found later near a lake on the outskirts of Oklahoma City.
She had been bound, raped and shot in the head.
Busken had performed as a ballerina in several dance performances during her time at the university and a scholarship was set up in her name at the College of Fine Arts.
Years later, Sanchez was in jail for burglary when DNA from the victim's clothing was matched to him.
He was convicted and sentenced to die in 2006.
None of Ms Busken's family attended Thursday's execution, but state attorney general Gentner Drummond said he had spoken to them several times in recent months.
He said: "Juli was murdered 26 years, nine months and one day ago. The family has found closure and peace."
'False DNA'
Sanchez had long maintained his innocence.
In an interview earlier this year from death row. "That is fabricated DNA.
"That is false DNA. That is not my DNA. I've been saying that since day one."
He said he had declined to seek clemency because even when the five-member pardon and parole board takes the rare step of recommending it, governor Kevin Stitt was unlikely to grant it.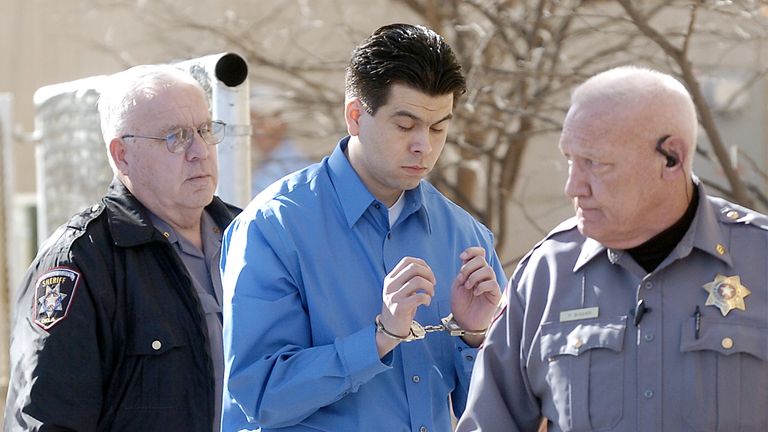 Sanchez said: "I've sat in my cell and I've watched inmate after inmate after inmate get clemency and get denied clemency. Either way, it doesn't go well for the inmates."
Mr Drummond maintained the DNA evidence unequivocally linked Sanchez to Ms Busken's killing.
He said the odds of randomly selecting an individual with the same genetic profile were one in 94 trillion.
'Brutal rapist and murderer'
"There is no conceivable doubt that Anthony Sanchez is a brutal rapist and murderer who is deserving of the state's harshest punishment," Mr Drummond said in a recent statement.
A private investigator hired by an anti-death penalty group argued the DNA evidence may have been contaminated.
Ballistic evidence
But former Cleveland county district attorney Tim Kuykendall, who was the county's top prosecutor when Sanchez was tried, has said while the DNA evidence was the most compelling at trial, there was other evidence linking him to the killing, including ballistic evidence and a shoe print found at the crime scene.
Mr Kuykendall said recently: "I know from spending a lot of time on that case, there is not one piece of evidence that pointed to anyone other than Anthony Sanchez.
"I don't care if a hundred people or a thousand people confess to killing Juli Busken."
Sanchez is the third inmate put to death in Oklahoma this year and the tenth since the state resumed carrying out the death penalty in 2021 ending a six-year moratorium introduced over concerns about its execution methods.