Two weeks after the largest anti-government demonstrations in decades in Cuba, activist groups say more than 500 protestors are still missing.
Thousands of people across the island marched through the streets in several towns and cities on 11 July, calling for democracy and sweeping economic reform in the country amid major food and medicine shortages.
Scores of people were arrested by plain clothes police officers and many families say they still haven't heard from their loved ones or been informed of their whereabouts.
Sky News is unable to independently verify the figures of the missing but the lawyers' group Cubalex says hundreds of people, many of them teenagers, have been detained.
Katiuska Mustelier Sosa is a Cuban exile living in Miami and says her brother, Enrique, has not been seen by friends or family on the island since he attended a protest in Guantanamo.
Katiuska shared a video with Sky News, filmed by another protestor, showing Enrique, 38, marching through the streets chanting "libertard!" meaning freedom.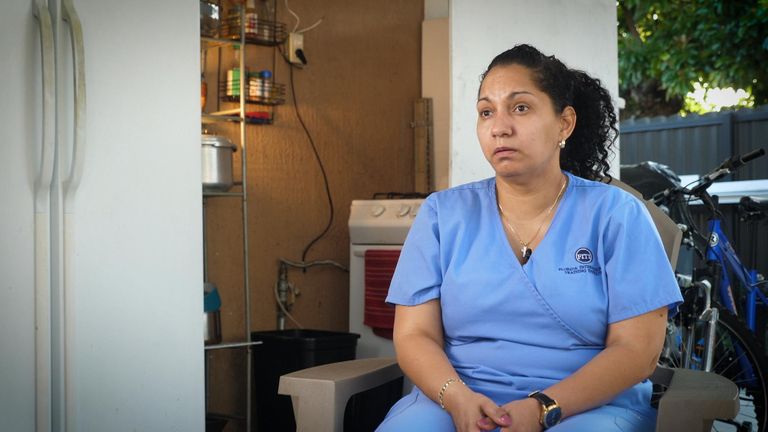 She believes he was arrested shortly afterwards and is now being held at a state security prison although she does not know exactly where.
"My family hasn't been able to see him. We're very worried, because we don't know what state he's in," she said "we worry he has been beaten."
The family fears history might be repeating itself because 14 years ago Katiuska's father, a political prisoner, disappeared from jail with just two months left on his sentence. She moved to Miami four years ago but two of her three children, Sarai, 11, and Daniel, 15, remain in Cuba.
"It is better for me to be here so I can send money back and they can eat," she said, "I'm very worried for my brother – but I'm also worried for my family and my kids too. They're very scared, they say 'mum we're worried you're going to say too much over there, and then we won't be able to see you again'. They're really scared, because the regime is capable of doing whatever they want against us, that's for sure.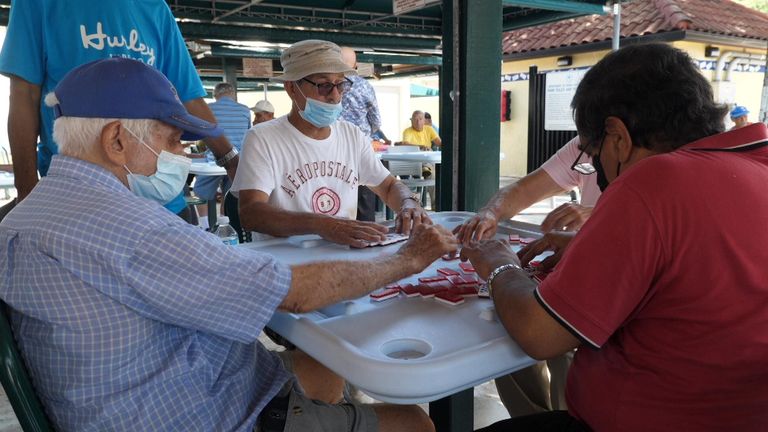 "I think this is the beginning of an uprising, but I know it won't be easy. Because this government – this dictatorship – will not abandon power," she added, "For this reason we need international help and support."
Janniset Rivero, a spokesperson for the Center for a Free Cuba based in Washington DC, believes more than 500 protestors are missing and says many have been convicted in summary trials with no defence present. "It is much more than that because they are continuing arresting people now," she says, "in Cuba there is no rule of law. Those trials are illegal and the families haven't even been able to see the accused.
"The regime is afraid of the people because people have gone to the streets to shout freedom so they are now trying to exert control over the population."
The Cuban government claims there is a disinformation campaign surrounding the protests.
Carlos Fernandez de Cossio, General Director for the US Division of Cuban Ministry of Foreign Affairs, said summary trials that protestors in Cuba are receiving are not unfair and that they are receiving counsel.
"It is part of the Cuban criminal system as it is part of the criminal system of many countries," he said, "and there's nothing unfair or extraordinary about it. It is part of the many lies that are being disseminated in Cuba."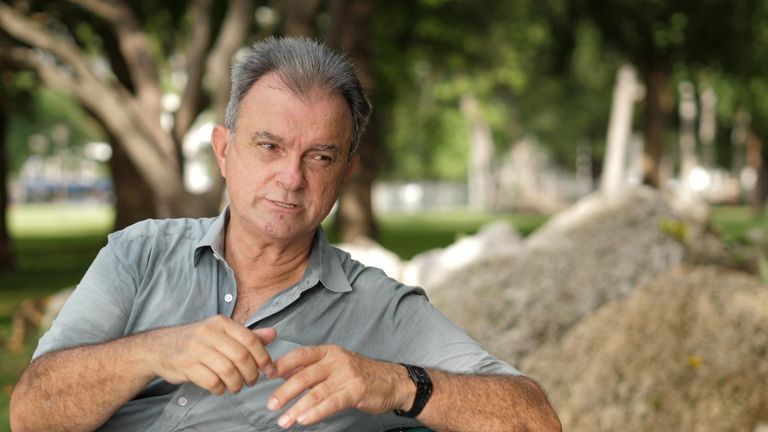 In Little Havana, the heart of Miami's Cuban community they have witnessed ill-fated attempts to overthrow the communist government but many believe this time is different. Ramon Saul Sanchez left Cuba at 12 years old and has devoted his life to fighting the government from Miami. He thinks the use of social media with protestors filming and broadcasting themselves online is a fundamental difference to previous uprisings.
"This is why the regime immediately turns off internet when there has been a revolt," he said, "What they're doing right now is slowing it down so pictures and videos can't be sent so easily. If we had social media 20 years ago what we've seen now probably would have happened then."
There haven't been any widespread protests in Cuba since 11 July and Sanchez believes that although people may not take to the streets again today or tomorrow, they will eventually. "I now believe I will be able to return to Cuba again in my lifetime," he says.
Body of missing boy, 2, found in alligator's mouth in Florida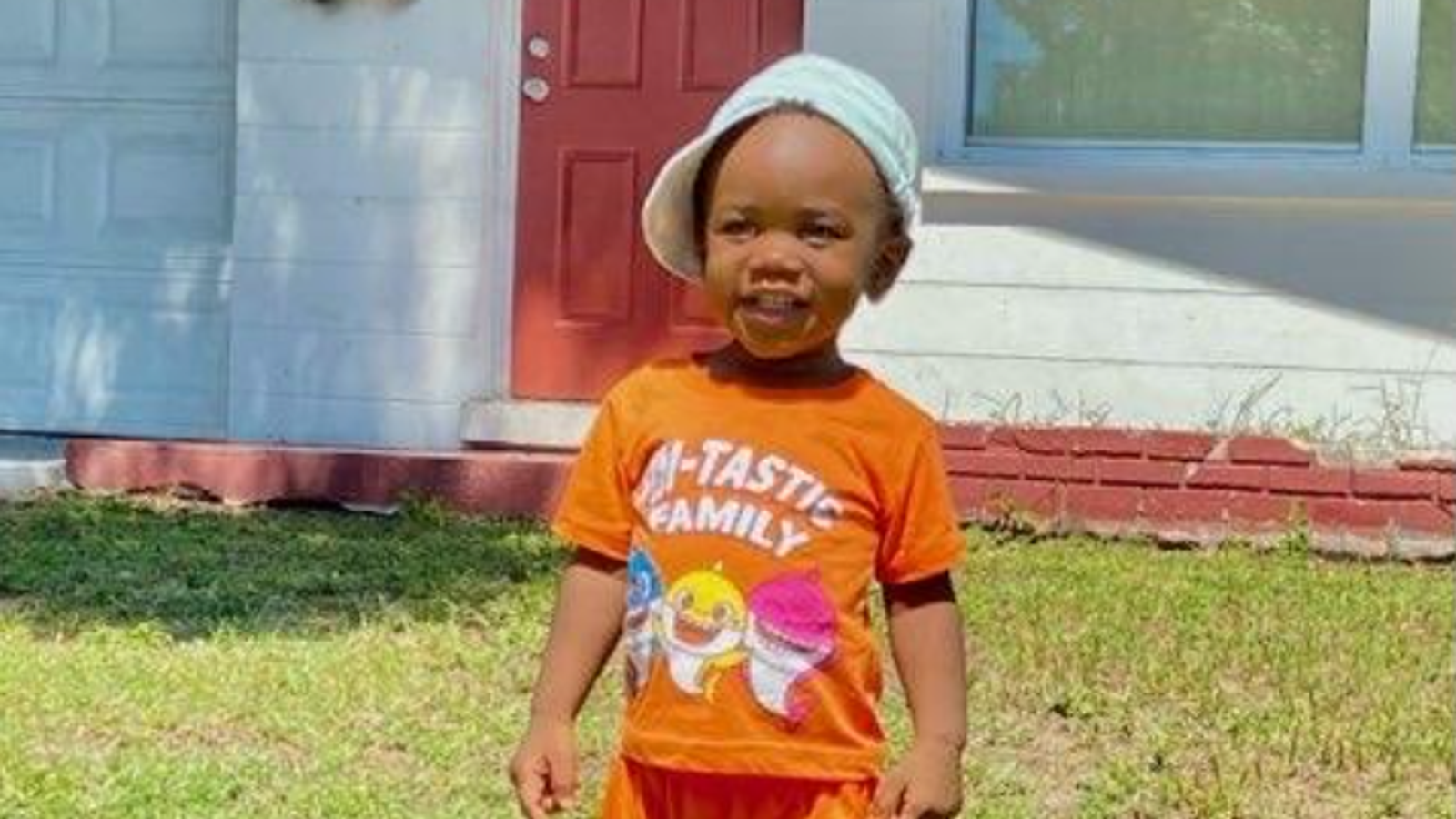 A missing two-year-old has been found dead after his body was spotted in the mouth of an alligator.
Taylen Mosley was reported missing on Thursday after his mother, 20-year-old Pashun Jeffery, was found dead in her apartment in St Petersburg, Florida.
She had been stabbed multiple times, police said on Friday.
The child's father, Thomas Mosley, has been charged with two counts of first-degree murder, police chief Anthony Holloway said.
The child was found near Dell Holmes Park, which is close to Lake Maggiore, almost 10 miles from his mother's apartment, the police chief added.
A detective shot and killed the alligator.
Read more US news:
Stormy Daniels says Trump indictment will 'cause violence'
"We didn't want to find him this way, but at least we can bring some closure to that family now," Mr Holloway said at a news conference.
Family members saw Jeffery and her child on Wednesday, and on Thursday, they asked an apartment manager to check when they couldn't reach her, police said.
A search for the boy included dogs, a drone, and federal and state law enforcement agencies.
The boy's cause of death will be determined by the medical examiner.
Thomas Mosley checked himself into a hospital and had cuts on his arms and hands, the police added.
He was still in hospital on Friday but did not speak to detectives and requested a lawyer, according to police.
Person killed after tornado causes roof collapse at Illinois heavy metal concert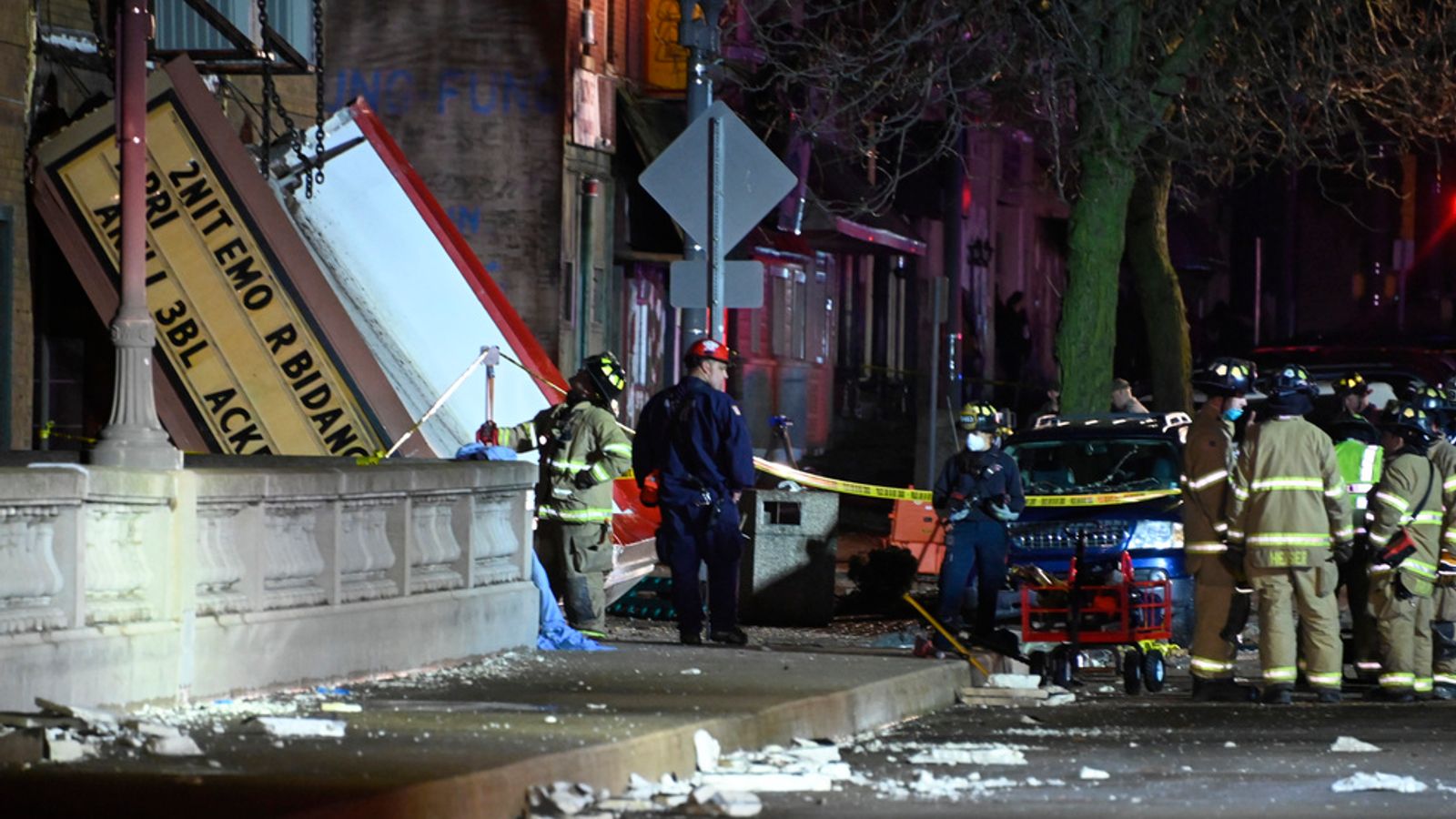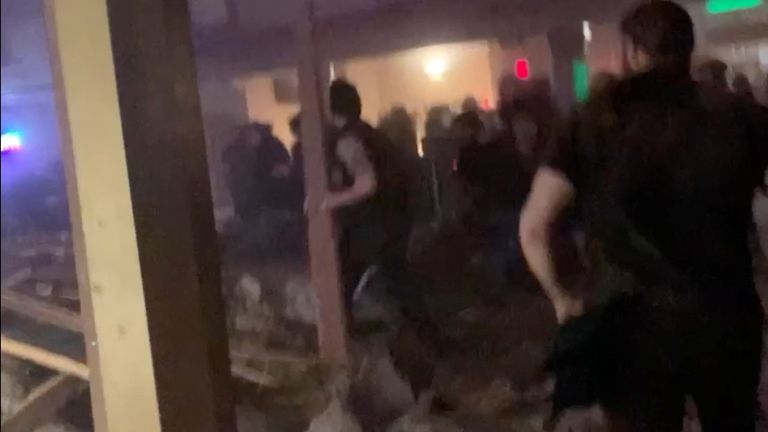 One person has died and 28 were injured after the roof at a heavy metal concert in Illinois collapsed during a storm.
Police in Belvidere, about 50 miles west of Chicago, believe a tornado was to blame and described the scene as "absolute chaos".
It happened as a violent storm system hit the US south and Midwest, causing widespread damage to homes and businesses and killing at least six other people.
Belvedere fire chief Shawn Schadle said there were 260 people at the Apollo Theatre when the collapse happened at about 7.48pm local time on Friday.
He said emergency workers had to deal with downed power lines outside the venue and also had to rescue someone from a lift.
"I was there within a minute before it came down," Gabrielle Lewellyn told local station WTVO-TV.
"The winds, when I was walking up to the building, it went like from zero to a thousand within five seconds."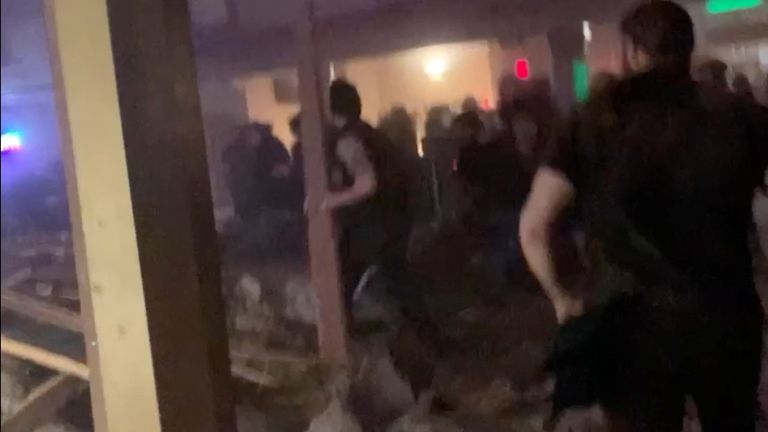 Ms Lewellyn said people at the gig helped rescue victims from the debris.
"They dragged someone out from the rubble and I sat with him and I held his hand and I was (telling him) 'It's going to be okay'," she said. "I didn't really know much else what to do."
Another witness told NBC5 Chicago: "Everybody tried to leave the whole venue through the fire door.
"It was a lot of chaos, so I looked around and saw people in the rubble, and tried to help as many people as possible."
Five of the 28 people hurt sustained severe injuries, authorities said.
It is unclear which – if any – of the bands on Friday night's bill had started playing when the collapse happened.
Twister tears through city Little Rock, Arkansas

Morbid Angel said they were "sheltering in place" in the aftermath, while Crypta band member Taina Bergamaschi said on Instagram that all the acts were "safe and sound".
The roof collapse happened as thunderstorms and tornados caused dozens of injuries and damaged homes in states including Arkansas – where a state of emergency was declared – as well as Iowa and Indiana.
It came a week after tornadoes with winds up to 200mph also flattened parts of Mississippi, killing at least 21 people and destroying many homes.
US tornadoes: Three dead and dozens injured as twisters causes widespread destruction including roof collapse during concert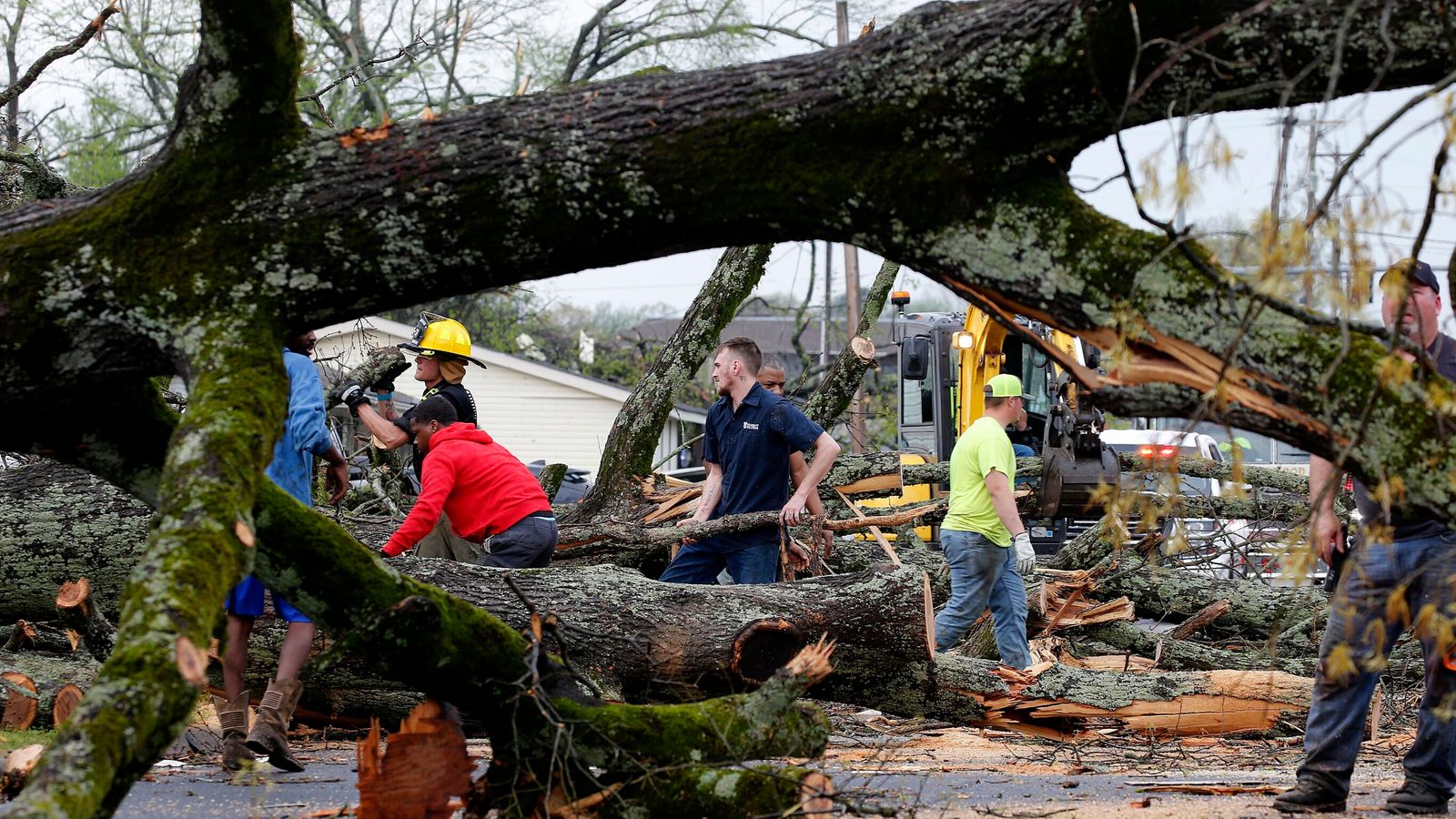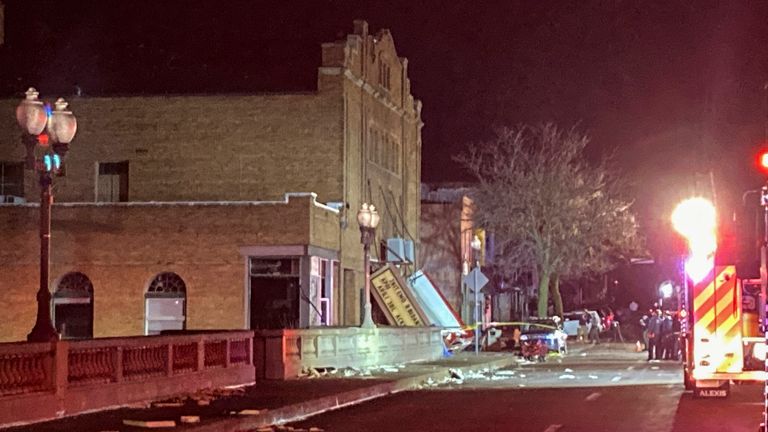 Two people were killed and dozens of people injured after a tornado ripped through the Arkansas capital of Little Rock and surrounding US towns on Friday afternoon.
Elsewhere, a third person died after a theatre roof collapsed in Belvidere, Illinois, during another tornado with 28 people injured as the Midwest struggles with intense and destructive storms.
The collapse happened during a heavy metal concert at the Apollo Theatre in Belvidere, which is about 70 miles northwest of Chicago.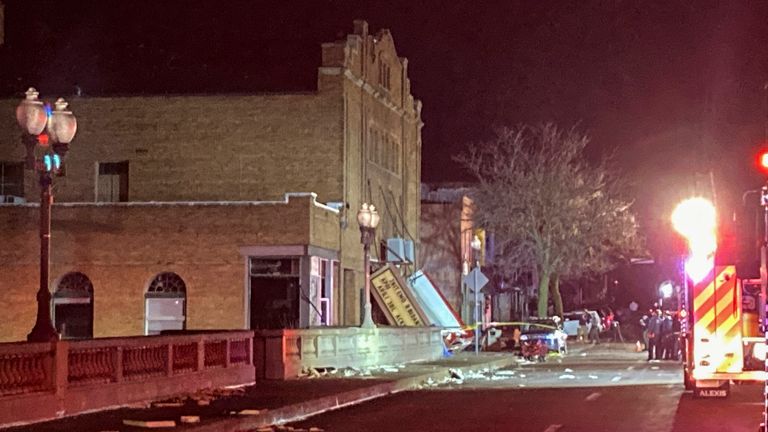 The governor of Arkansas, Sarah Huckabee Sanders, confirmed that two people had died in the twister with several other people reported to be trapped in the destruction.
The tornado also caused widespread wreckage of homes, overturned cars and uprooted trees.
The total number of people injured is unknown. Around 90,000 customers experienced electricity outages in the state.
The mayor of Little Rock, Frank Scott Jr, said on Twitter: "At this time, we know of 24 people who have been hospitalised at Little Rock hospitals and we are not aware of any fatalities in Little Rock."
The Baptist Health Medical Centre in the adjoining town of North Little Rock separately reported it was treating 11 patients from the storm, with one in a critical condition.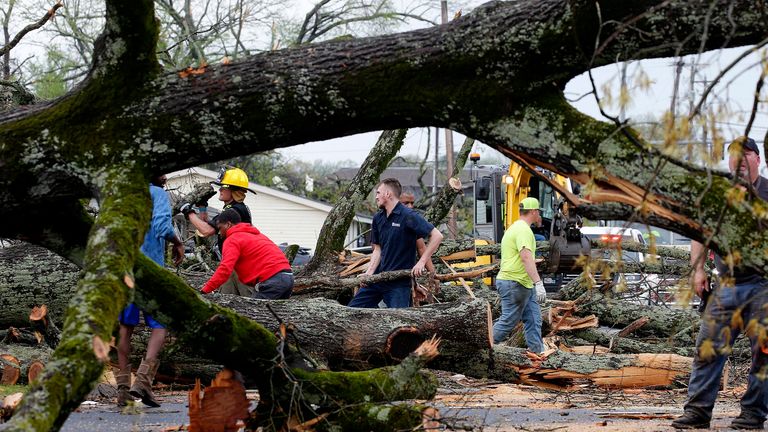 Other towns further away from Little Rock have also reported mass destruction and injuries.
Richard Dennis, the police chief in the town of Wynne – around 100 miles east of Little Rock, told a local television station there was "total destruction throughout the town" with dozens of people trapped.
The twister was caused by one of several violent thunderstorms that have battered the south and Midwest regions of the US – home to some 85 million people.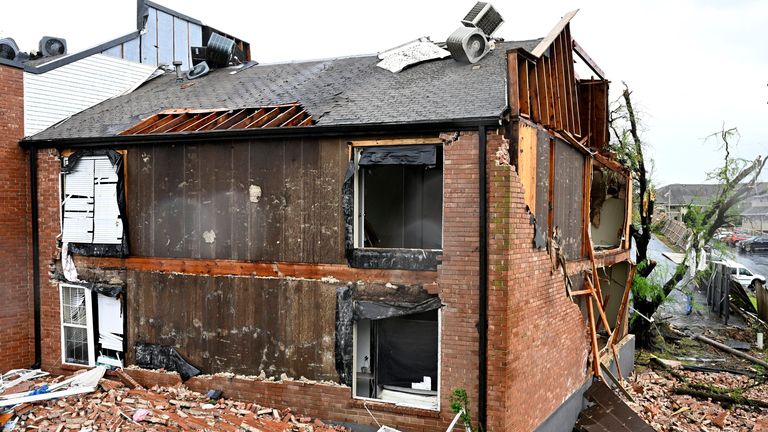 The destructive storm system has also caused other tornados in Iowa, damaging hail in Illinois and wind-whipped grass fires in Oklahoma.
People were urged to evacuate in parts of Oklahoma City to escape the fires.
Meteorologists are forecasting another batch of intense storms next Tuesday in the same large area.
The fatal tornado came as President Joe Biden toured the aftermath of another deadly tornado that struck Mississippi a week ago. It killed at least 21 people and damaged around 2,000 homes.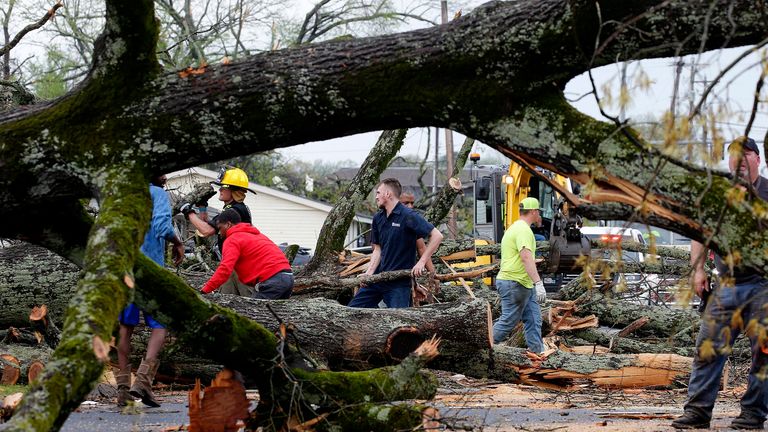 Governor Huckabee Sanders activated 100 members of the Arkansas National Guard to help local authorities respond to the damage throughout the state.
"Praying for all those who were and remain in the path of this storm," Ms Hucakabee Sanders, who declared a state of emergency, said on Twitter.
"Arkansans must continue to stay weather aware as storms are continuing to move through."
In Little Rock, local Niki Scott took cover in the bathroom after her husband called to say a tornado was headed her way.
The aftermath of last week's tornado in Mississippi

She could hear glass shattering as the tornado roared past, and emerged afterward to find that her house was one of the few on her street that didn't have a tree fall on it.
"It's just like everyone says. It got really quiet, then it got really loud," Ms Scott said afterward, as chainsaws roared and sirens blared in the area.