The US is "going in the wrong direction" on coronavirus as cases soar due to the Delta variant and a large proportion of unvaccinated people, the nation's top infectious diseases expert has said.
Dr Anthony Fauci said the nation is "practically pleading" with people to get vaccinated as coronavirus cases surge once again in areas with low uptake.
Live COVID updates from the UK and around the world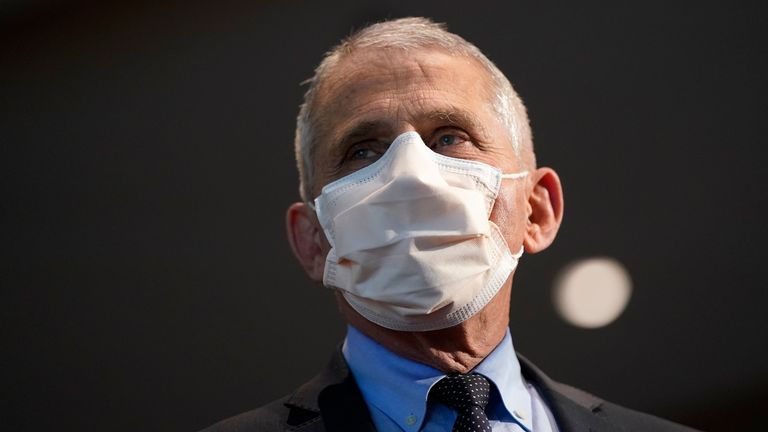 COVID-19 cases have nearly tripled in the US over the last two weeks, driven by the explosion of the Delta variant, especially in pockets of the South where vaccine hesitancy is high.
Louisiana, Arkansas, Missouri, Florida and Nevada – where vaccine rates are below the national average – are reporting the highest daily average of new cases per capita over the past week, all of which are at least double the overall US rate.
"This is an issue predominantly among the unvaccinated, which is the reason why we're out there, practically pleading with the unvaccinated people to go out and get vaccinated," Dr Fauci said.
"We're going in the wrong direction", he added, and described himself as "very frustrated" over the situation.
The US has seen an average of about 43,700 new cases per day over the past week – 65% over the previous seven days and nearly three times as high as the level two weeks ago, data compiled by Johns Hopkins University shows.
The Delta variant, first found in India and which has since been blamed for a rapid uptick in COVID cases in the UK, is causing 83% of new cases.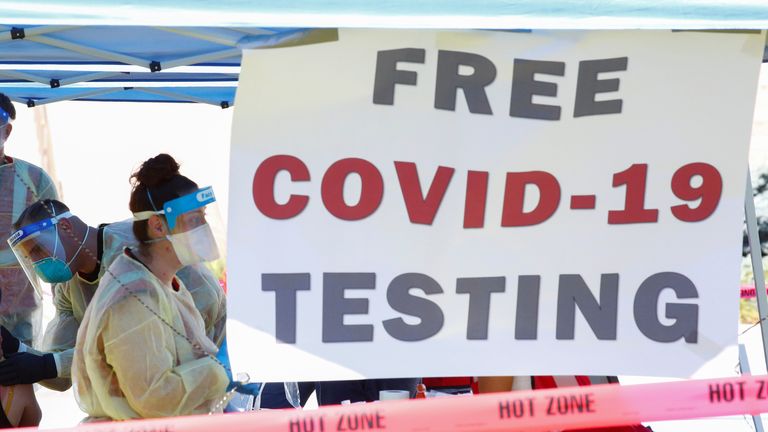 Dr Fauci, who also serves as President Joe Biden's chief medical adviser, told CNN's State of the Union that he has taken part in conversations about altering the guidelines on masks.
He said recommending that the vaccinated wear masks is "under active consideration" by the government's leading public health officials as a way of turning the tide on infections.
He noted that some local jurisdictions where infection rates are surging, such as Los Angeles County, are already calling on individuals to wear masks in indoor public spaces regardless of vaccination status.
Back in April, America's Centers for Disease Control and Prevention (CDC) updated its guidance to say that fully vaccinated people no longer had to wear masks in many settings.
April: Vaccinated Americans can ditch masks outdoors

Booster jabs may also be suggested for people with suppressed immune systems, Dr Fauci said. The UK is already considering such a plan for those most vulnerable to COVID ahead of autumn and winter.
Dr Fauci said government experts are reviewing early data but that some of the most vulnerable, such as organ transplant and cancer patients, are "likely" to be recommended for booster shots.
More than 163 million people, or 49% of the total US population, are fully vaccinated, according to CDC data. Of those eligible for the vaccine, aged 12 and over, the figure rises to 57%.
However, rates are lower than the national average in some states, predominately Republican ones, where fewer than half of residents have received their first dose in some cases.
Florida, which has seen hospitalisations and cases jump 65% this week, has a vaccination rate of around 60%, on par with the national average. But some strongly conservative counties in the north of the state have a vaccination rate as low as 30%.
Republican lawmakers are under increasing pressure to persuade vaccine sceptics to roll up their sleeves and take the shots.
Dr Fauci praised some Republicans, including governors Asa Hutchinson of Arkansas and Ron DeSantis of Florida, and the second-ranking US House leader, Steve Scalise of Louisiana, for encouraging their constituents to get vaccinated but said more needed to speak out.
"What I would really like to see is more and more of the leaders in those areas that are not vaccinating to get out and speak out and encourage people to get vaccinated," Dr Fauci said.
Nashville school shooting: First pictures emerge of victims of attack, including nine-year-old girl and headteacher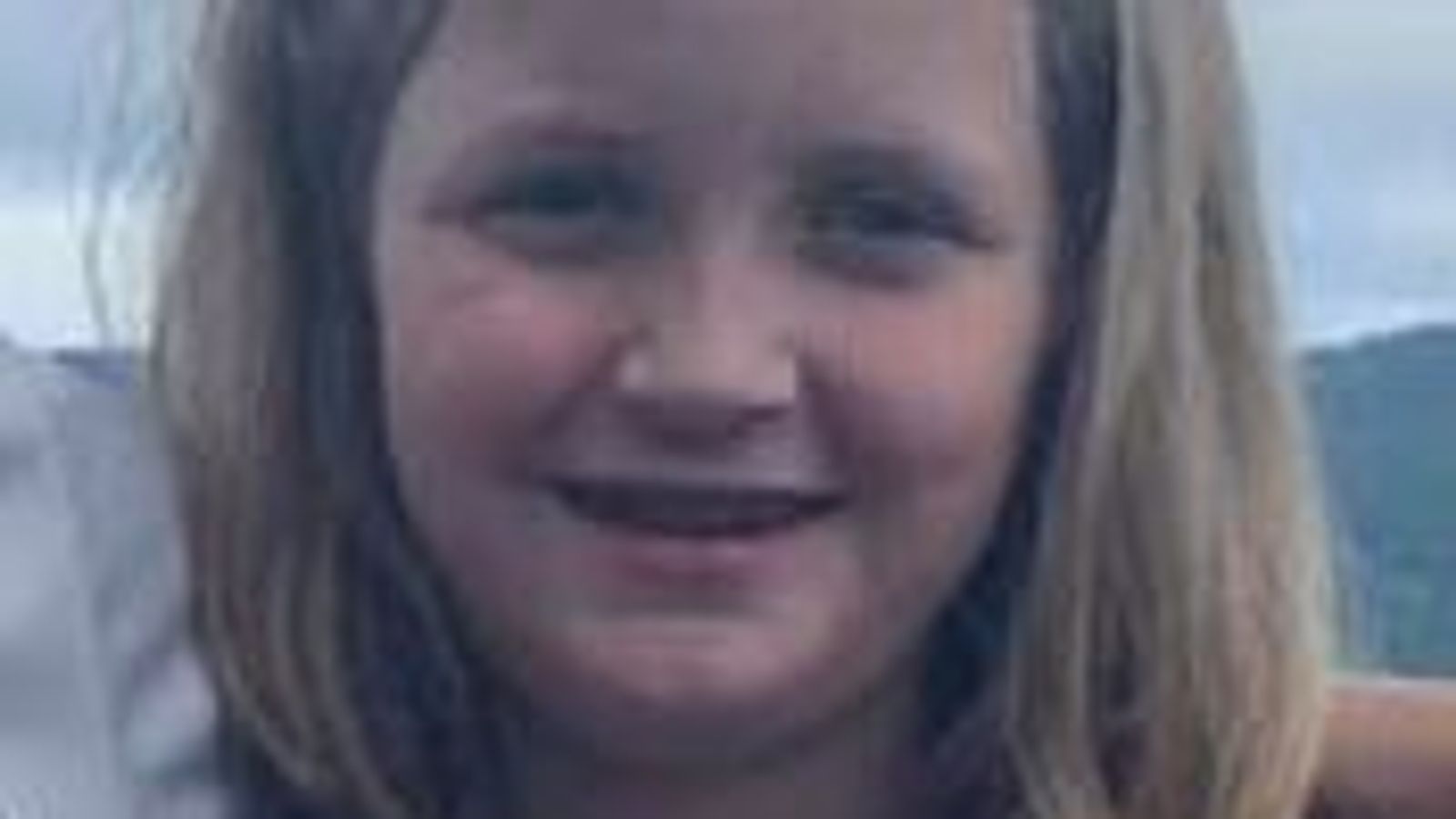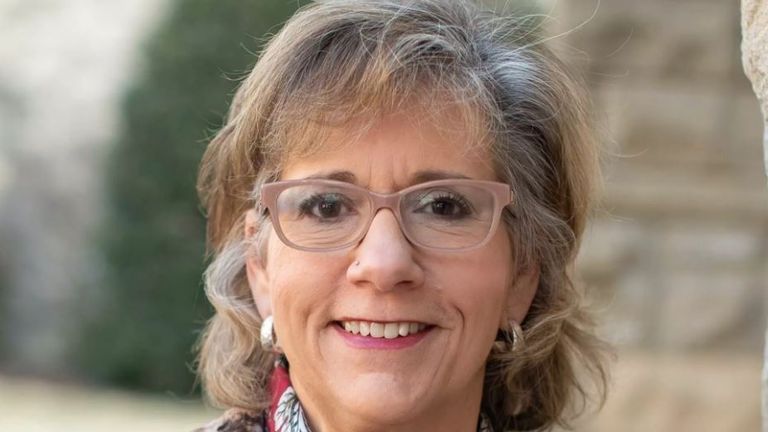 Images of four victims of a shooting at a school in Nashville have been released.
Six people, including three children, were all shot dead by Audrey Elizabeth Hale after the former student opened fire in the private Covenant School in the Tennessee state capital.
The six victims have been named as Evelyn Dieckhaus, Hallie Scruggs, and William Kinney, all aged nine, 61-year-olds Cynthia Peak and Mike Hill, and 60-year-old Katherine Koonce.
Pictures have so far been released of Mr Hill, Ms Koonce, Ms Peak and nine-year-old Hallie.
Read more:
Video shows moment attacker was shot dead
Why tragedy could have been even worse
Hallie was the daughter of the pastor whose church runs the school.
The three adults were all staff, Ms Koonce was the headteacher, Ms Peak a substitute teacher and Mr Hill was a caretaker.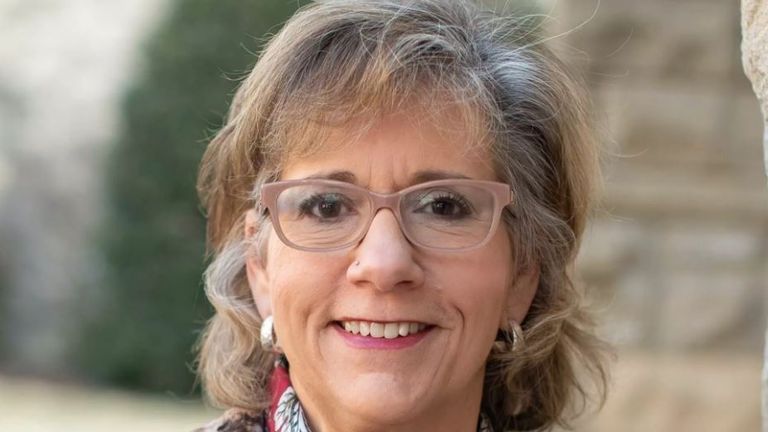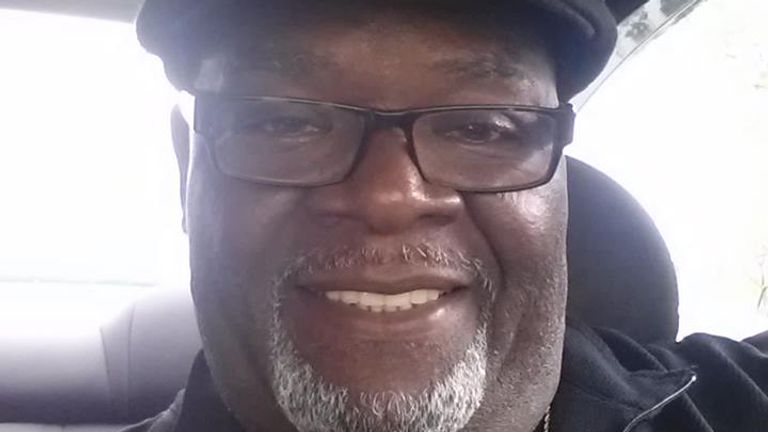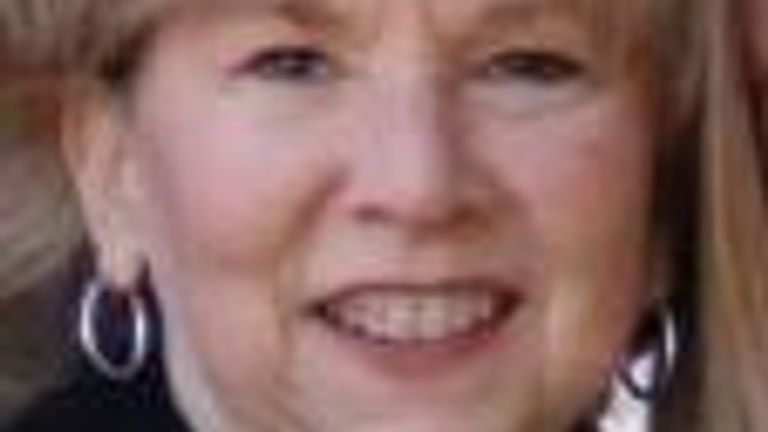 "We love the Scruggs family and mourn with them over their precious daughter Hallie," Park Cities Presbyterian Church senior pastor Mark Davis said in a statement.
"Together, we trust in the power of Christ to draw near and give us the comfort and hope we desperately need."
The Covenant School in Nashville has about 200 students from preschool through sixth grade, as well as roughly 50 staff members.
Hale had a manifesto and detailed maps of the school, and entered the building by shooting through its doors and starting on a killing spree.
Read more:
Video of Nashville school killer entering building released
What we know about killer Audrey Hale
Police chief John Drake said: "We have a manifesto. We have some writings that we're going over that pertain to this day, the actual incident. We have a map drawn out about how this was all going to take place."
Nashville shooting: Police kill school attacker

Officers started receiving reports of an attack at 10.13am (4.13pm UK time) and as police began clearing the ground floor of the school they heard gunfire coming from the second floor.
Two officers from a five-member team opened fire in response and fatally shot the suspect at 10.27am (4.27pm).
Hale's motive for the attack is not yet known.
Nashville school shooting: Bodycam video shows moment attacker was shot dead by police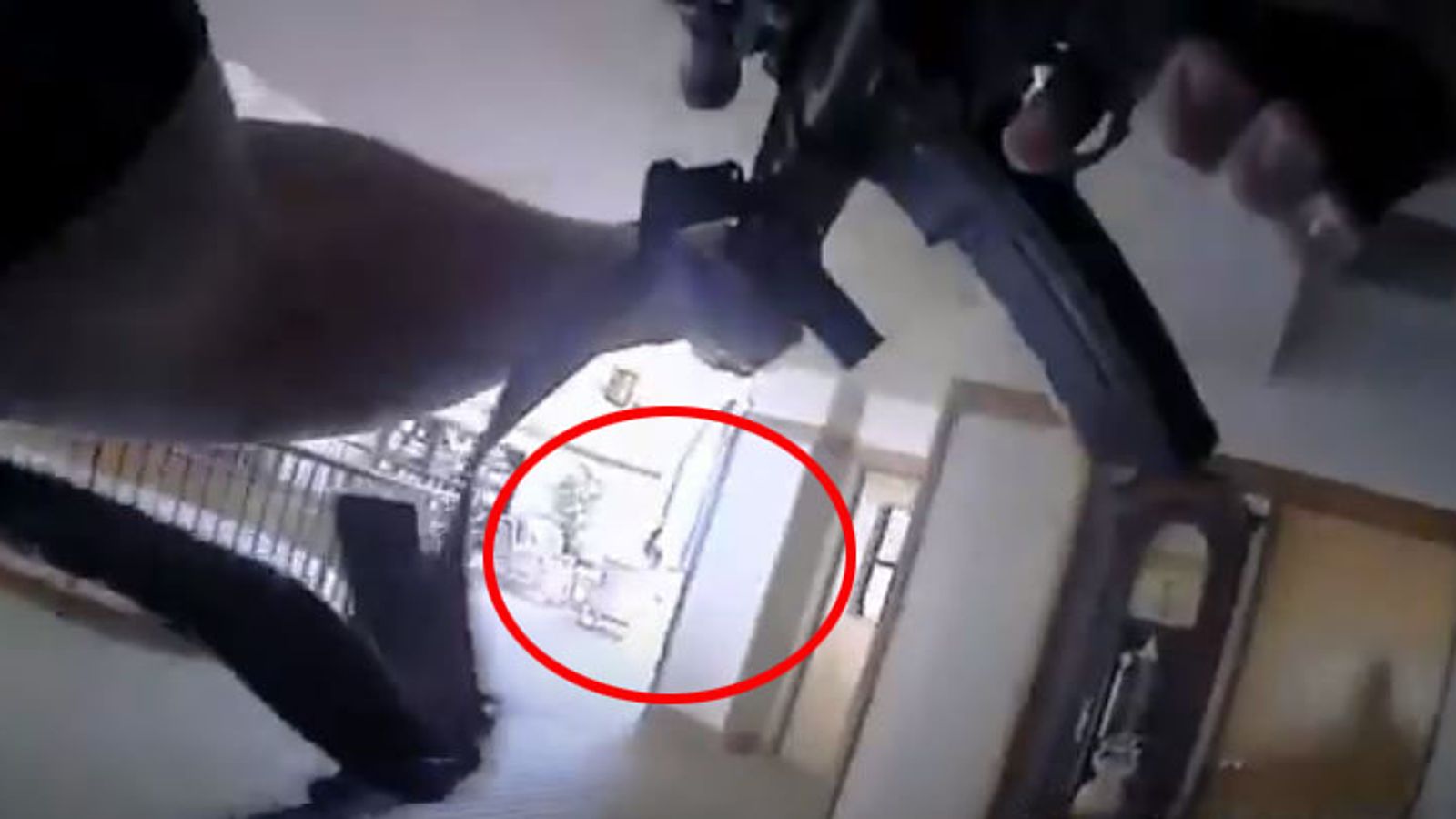 Graphic video has been released of the moment the Nashville school attacker was shot dead by police.
Audrey Hale, who identified as a transgender male and was a former student of the private Christian school, killed three pupils aged nine and three adults before being stopped.
Footage from Officer Rex Engelbert's bodycam shows him opening fire with a rifle several times on Hale before the perpetrator falls to the ground injured.
Police then head towards the 28-year-old just a few metres away as officers shout "move, move", and "watch out, watch out".
The attacker, now on the floor, is hit by several more police gunshots before an officer yells to the suspect "stop moving, stop moving", with the killer appearing to be still alive as one of their arms moves.
An officer screams "throw your hands away from the gun, get your hands away from the gun", while another says "suspect down, suspect down".
Hale's body is then shown lying next to the weapons, including a rifle, the assailant used in the deadly Monday morning attack on the second floor of the Covenant School in Tennessee.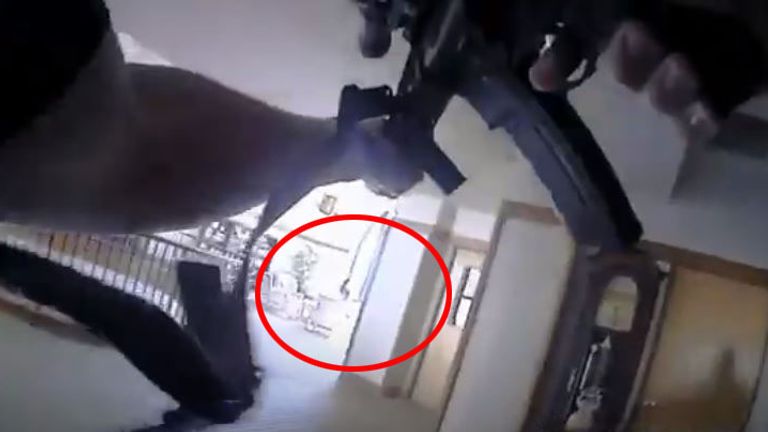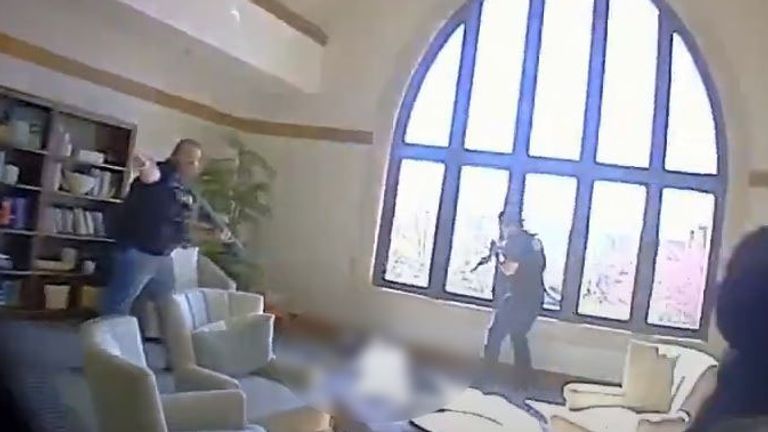 A second clip shows what happened from a different angle with footage from Officer Michael Collazo's bodycam. He is shown firing his pistol at Hale in the second volley of shots after the suspect was already on the ground.
Minutes earlier, the officers had stormed the building as video showed several going from empty classroom to empty classroom before making their way to the second floor.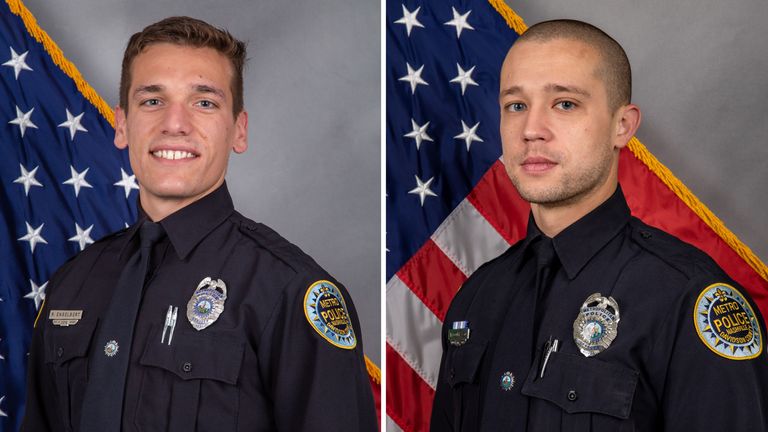 Multiple gunshots are heard in the footage as officers run down a hallway – past what appears to be a victim – and into a lounge area, where the suspect is seen dropping to the floor after being shot.
Police said the suspect was killed after a confrontation with officers.
Read more:
What we know about killer Audrey Hale
Video of Nashville school killer entering building
Why Nashville tragedy could have been even worse
The start of the six-minute police video shows Officer Engelbert retrieving a rifle from his car boot before a member of staff directs him to the entrance, telling him that the school is locked down but at least two children are not accounted for.
"Let's go! I need three!" the officer yells as he uses a key to unlock a door and enter the building, where alarms can be heard ringing.
Hale was described by officials as a "lone zealot", who lived in Nashville, and was armed with two assault-type weapons, and a handgun.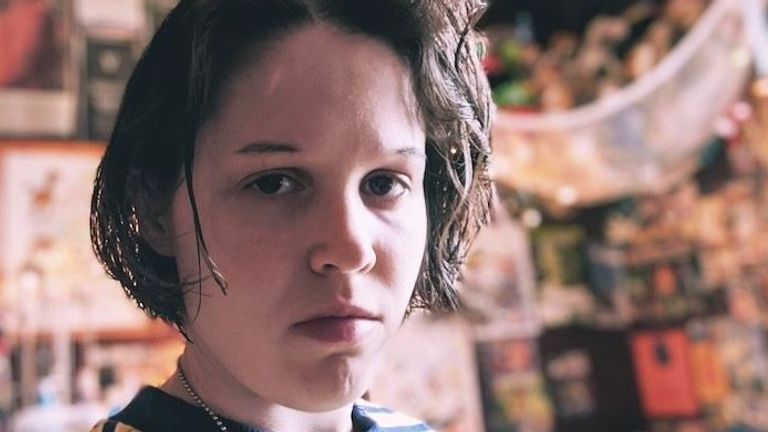 Hale had a manifesto and detailed maps of the school, and entered the building by shooting through its doors before the killings.
Police have also released video of the moment the attacker entered the school.
The six victims have been named as Evelyn Dieckhaus, Hallie Scruggs, and William Kinney, all aged nine, substitute teacher Cynthia Peak and school custodian Mike Hill, both 61, and 60-year-old Katherine Koonce, who was the headteacher.
Watch Gwyneth Paltrow in court over ski crash lawsuit