The US is "going in the wrong direction" on coronavirus as cases soar due to the Delta variant and a large proportion of unvaccinated people, the nation's top infectious diseases expert has said.
Dr Anthony Fauci said the nation is "practically pleading" with people to get vaccinated as coronavirus cases surge once again in areas with low uptake.
Live COVID updates from the UK and around the world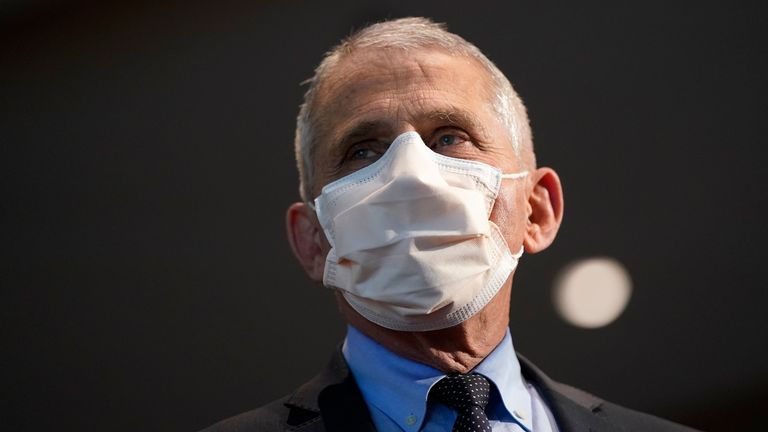 COVID-19 cases have nearly tripled in the US over the last two weeks, driven by the explosion of the Delta variant, especially in pockets of the South where vaccine hesitancy is high.
Louisiana, Arkansas, Missouri, Florida and Nevada – where vaccine rates are below the national average – are reporting the highest daily average of new cases per capita over the past week, all of which are at least double the overall US rate.
"This is an issue predominantly among the unvaccinated, which is the reason why we're out there, practically pleading with the unvaccinated people to go out and get vaccinated," Dr Fauci said.
"We're going in the wrong direction", he added, and described himself as "very frustrated" over the situation.
The US has seen an average of about 43,700 new cases per day over the past week – 65% over the previous seven days and nearly three times as high as the level two weeks ago, data compiled by Johns Hopkins University shows.
The Delta variant, first found in India and which has since been blamed for a rapid uptick in COVID cases in the UK, is causing 83% of new cases.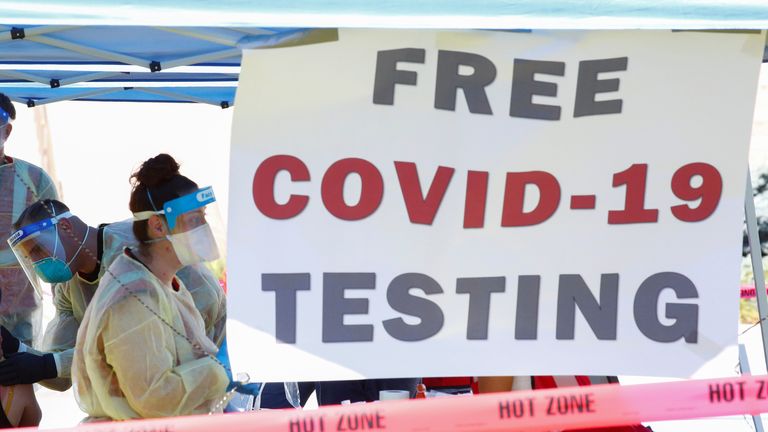 Dr Fauci, who also serves as President Joe Biden's chief medical adviser, told CNN's State of the Union that he has taken part in conversations about altering the guidelines on masks.
He said recommending that the vaccinated wear masks is "under active consideration" by the government's leading public health officials as a way of turning the tide on infections.
He noted that some local jurisdictions where infection rates are surging, such as Los Angeles County, are already calling on individuals to wear masks in indoor public spaces regardless of vaccination status.
Back in April, America's Centers for Disease Control and Prevention (CDC) updated its guidance to say that fully vaccinated people no longer had to wear masks in many settings.
April: Vaccinated Americans can ditch masks outdoors

Booster jabs may also be suggested for people with suppressed immune systems, Dr Fauci said. The UK is already considering such a plan for those most vulnerable to COVID ahead of autumn and winter.
Dr Fauci said government experts are reviewing early data but that some of the most vulnerable, such as organ transplant and cancer patients, are "likely" to be recommended for booster shots.
More than 163 million people, or 49% of the total US population, are fully vaccinated, according to CDC data. Of those eligible for the vaccine, aged 12 and over, the figure rises to 57%.
However, rates are lower than the national average in some states, predominately Republican ones, where fewer than half of residents have received their first dose in some cases.
Florida, which has seen hospitalisations and cases jump 65% this week, has a vaccination rate of around 60%, on par with the national average. But some strongly conservative counties in the north of the state have a vaccination rate as low as 30%.
Republican lawmakers are under increasing pressure to persuade vaccine sceptics to roll up their sleeves and take the shots.
Dr Fauci praised some Republicans, including governors Asa Hutchinson of Arkansas and Ron DeSantis of Florida, and the second-ranking US House leader, Steve Scalise of Louisiana, for encouraging their constituents to get vaccinated but said more needed to speak out.
"What I would really like to see is more and more of the leaders in those areas that are not vaccinating to get out and speak out and encourage people to get vaccinated," Dr Fauci said.
Big win for Joe Biden as Democrats land outright majority in the US Senate, NBC News projects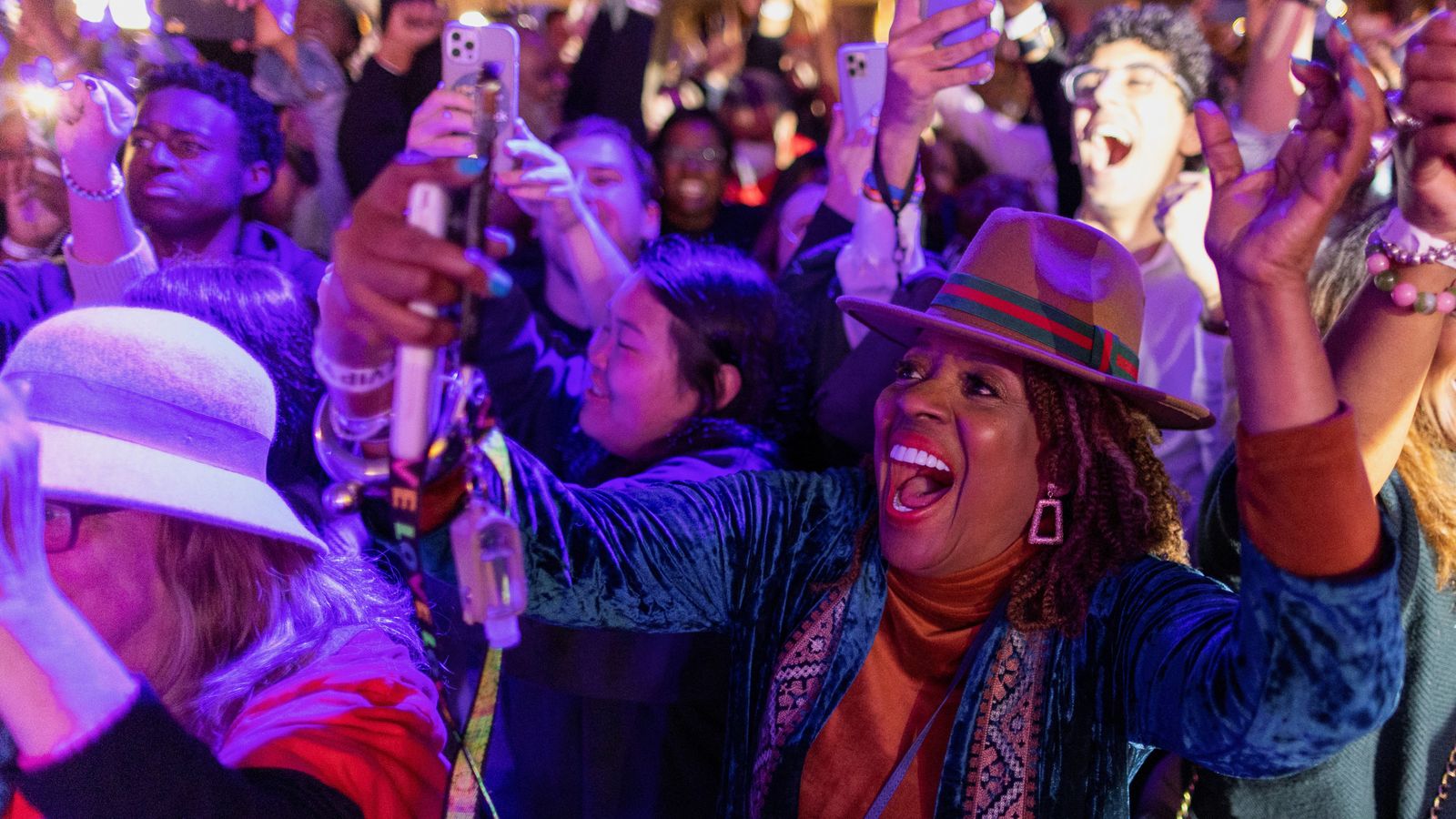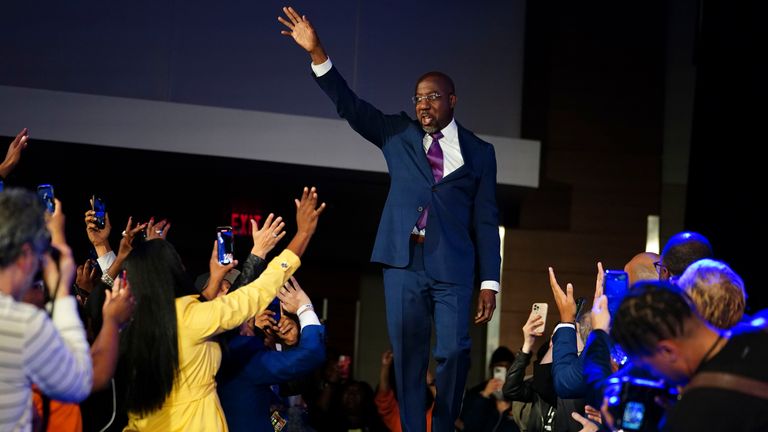 Democrat Raphael Warnock has been re-elected to the US Senate in a crucial win for President Joe Biden, NBC News has projected.
His expected victory gives Democrats an outright majority in the Senate after two years under a 50-50 divide, with Vice President Kamala Harris casting tie-breaking votes.
Mr Warnock defeated Republican rival Herschel Walker during the Georgia race – a former NFL star.
A run-off election was triggered because neither candidate had won an outright majority during the midterm elections last month.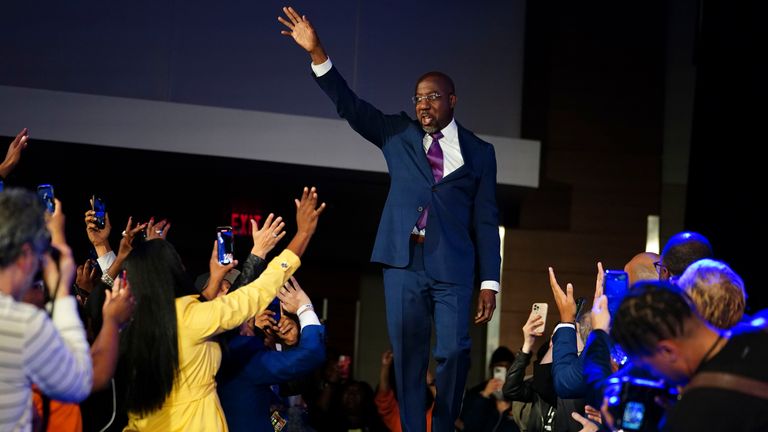 In his victory speech, Mr Warnock told supporters: "After a hard-fought campaign – or should I say campaigns – it is my honour to utter the four most powerful words ever spoken in a democracy: The people have spoken."
Mr Biden called him to offer his congratulations.
He tweeted: "Tonight Georgia voters stood up for our democracy, rejected Ultra MAGAism, and most importantly: sent a good man back to the Senate. Here's to six more years."
Mr Walker, an American football legend in the 1980s, was unable to overcome a bevy of damaging allegations, including claims he paid for two former girlfriends' abortions.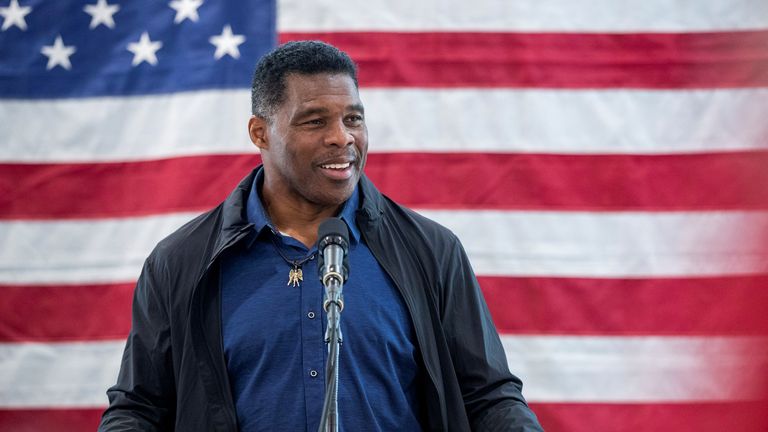 A multimillionaire businessman, he inflated his philanthropic activities and business achievements, including claiming his company employed hundreds of people and grossed tens of millions of dollars in sales annually, even though records indicate he had eight employees and averaged about $1.5m (£1.2m) a year.
He has suggested he has worked as a law enforcement officer and was a college (university) graduate, though he has done neither.
His Senate run was endorsed by former president Donald Trump.
Yet another signal America is moving away from Donald Trump as a political force
Having followed Herschel Walker on the campaign trail in Georgia, it is difficult to believe this race ever went to a runoff.
The former NFL star has consistently struggled to convey a coherent message, with badly delivered speeches in contrast with his opponent, Reverend Raphael Warnock, a preacher by trade who commands an audience.
Walker was handpicked as a nominee by the former president, Donald Trump, but his reputation was smashed to smithereens during the course of the campaign.
He ran on an anti-abortion pledge, yet two women emerged to allege he paid for them to have an abortion after they became pregnant by him (claims he denies). He also condemned absentee fathers, particularly in black households, but later acknowledged he has a son he never sees.
But his defeat is not only important for Democrats because of the rejection of his personal integrity – or lack thereof – and the "Make America Great Again" values he espoused.
It also means that – for the first time in Joe Biden's presidency – his party has an outright majority in the senate.
The new 51-49 split means Democrats can speed up judicial nominees and control committees in the Senate. But it also avoids a situation where one senator – in the past two years it has been Joe Manchin or Kyrsten Sinema – can wield their swing vote as a weapon.
Perhaps most significantly, though, it is yet another signal that America is moving away from Mr Trump as a political force.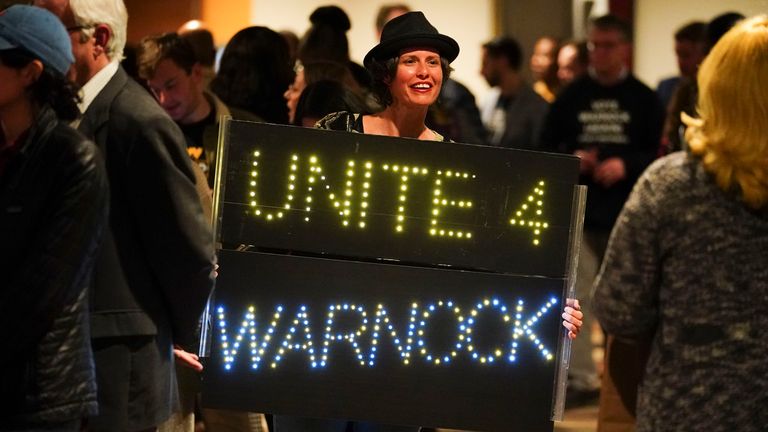 On the campaign, Mr Warnock, the state's first black senator, promoted his Senate accomplishments, touting a provision he sponsored to cap insulin costs for low income patients, and deals on infrastructure and maternal healthcare.
Senate majority leader Chuck Schumer said Mr Warnock's victory was one "against MAGA Republican extremist policies".
The closing weeks of the election period grew increasingly bitter. Mr Walker labelled Mr Warnock – senior pastor at Ebenezer Baptist Church in Atlanta, Georgia's capital – as a "hypocrite" and servile to President Joe Biden.
Although a Democrat, Mr Warnock had been attempting to distance himself from Mr Biden, whose approval ratings have lagged as inflation in the US remains high.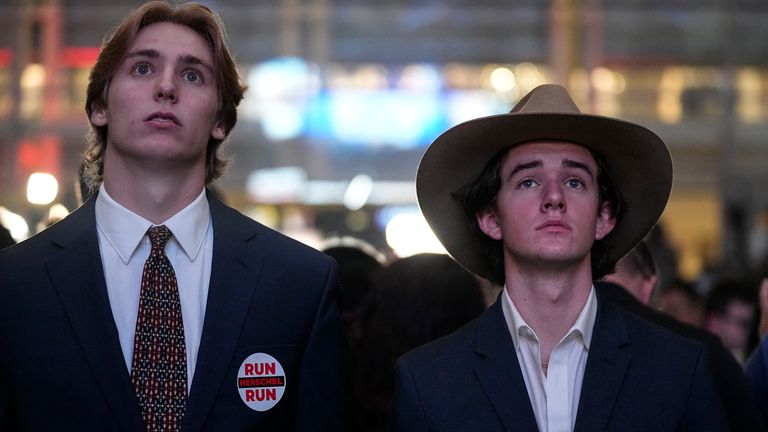 The Democrats' new outright majority in the Senate does not mean an end to divided government, as the Republicans narrowly flipped House control in recent midterms, but it does mean they will now hold control of powerful committees.
Donald Trump firm guilty of defrauding tax authorities for more than 15 years
Donald Trump's real estate company has been found guilty of running a criminal scheme to defraud tax authorities for 15 years.
The scheme operated by The Trump Organization included avoiding paying personal income taxes on perks such as rent-free apartments and luxury cars.
"The smorgasbord of benefits is designed to keep its top executives happy and loyal," prosecutor Joshua Steinglass told
jurors during his closing argument on Friday.
The firm, which operates hotels, golf courses and other real estate around the world had pleaded not guilty.
The former US president was not personally charged in the case.
The Trump Organization had argued that chief financial officer Allen Weisselberg, 75, ran the scheme to benefit himself.
He is on paid leave and testified that he received more than $1m in salary and bonus payments this year.
The firm will be sentenced on 13 January. Trump Organization lawyer Alan Futerfas told reporters the company would appeal.
While the firm now faces paying a fine, it is considered unlikely that it would cause serious damage to a company of its size. The group comprises about 500 business entities.
However, the conviction could make lenders and partners think twice.
The Trump Organization also faces a fraud lawsuit brought by New York state Attorney General Letitia James.
And Donald Trump himself is being investigated by the US Department of Justice over his handling of sensitive government documents after he left office in January 2021 – and attempts to overturn the November 2020 election, which he lost to Joe Biden.
Republican leader snubbed as police who defended US Capitol honoured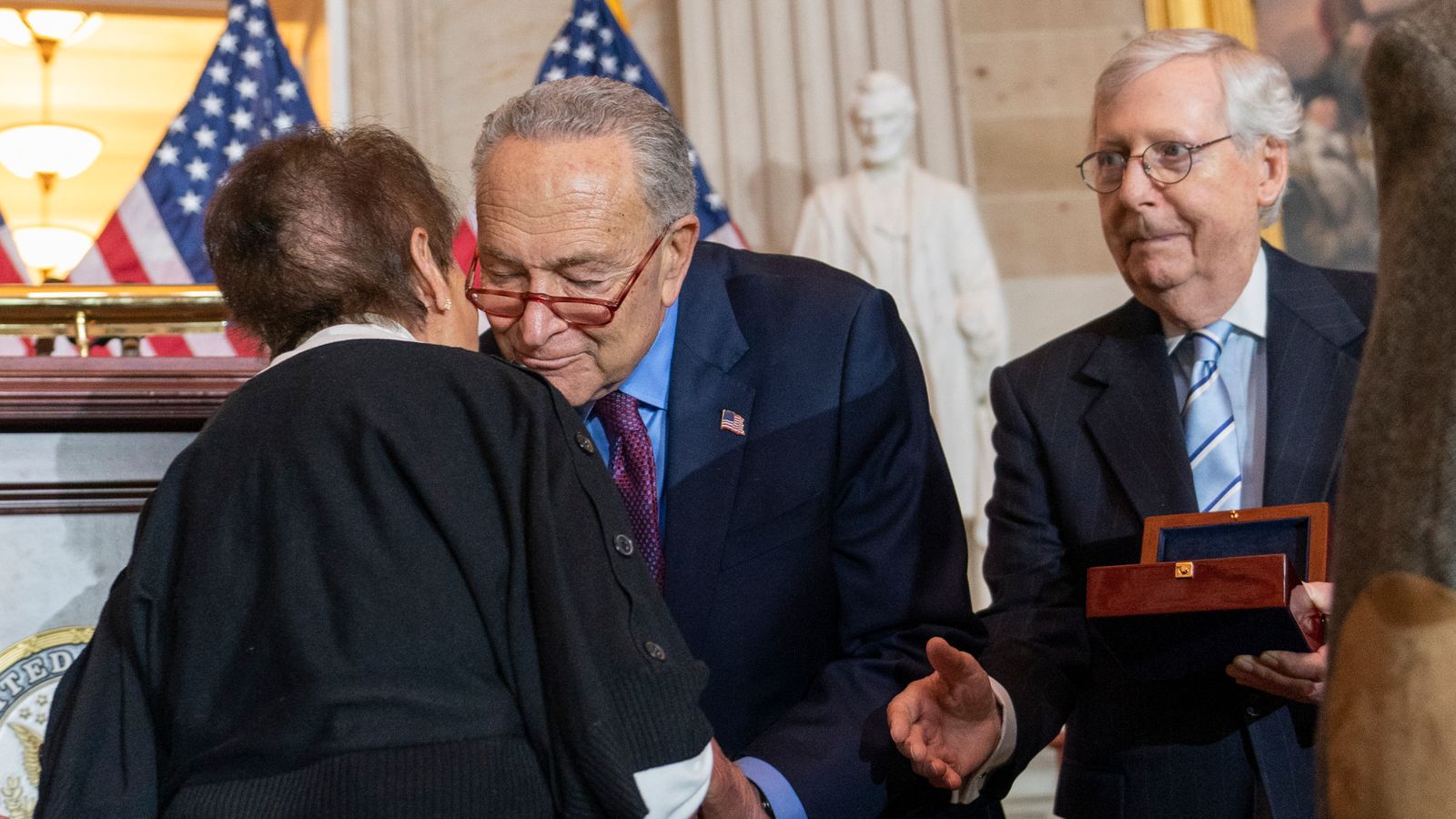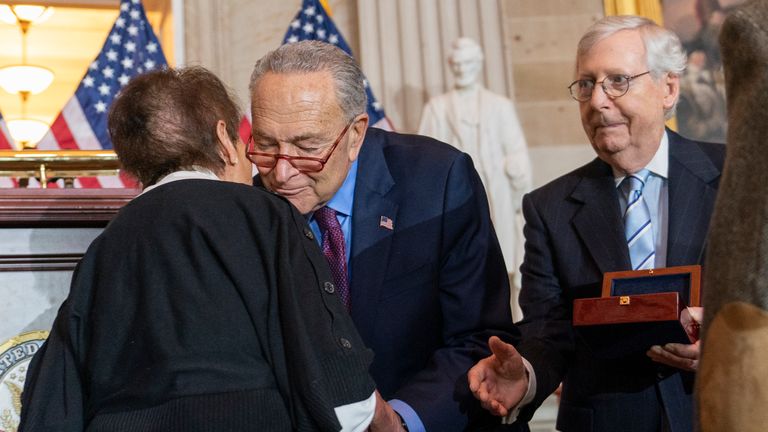 The Republicans' leader in the Senate has been snubbed by the family of a police officer who died following the US Capitol riots on 6 January 2021.
It happened during a ceremony held for officers who defended the Washington DC landmark against Donald Trump supporters.
The officers have been honoured with Congressional gold medals for "courageously answering the call to defend our democracy in one of the nation's darkest hours", House Speaker Nancy Pelosi said.
Senate Republican leader Mitch McConnell commented: "Thank you for having our backs. Thank you for saving our country. Thank you for not only being our friends, but our heroes."
But when the family of Brian Sicknick, who died after suffering two strokes on 7 January, passed Mr McConnell in a line-up, they refused to shake his outstretched hand.
In contrast, the Democrats' leader in the Senate, Chuck Schumer, received a kiss from Gladys Sicknick, the late officer's mother.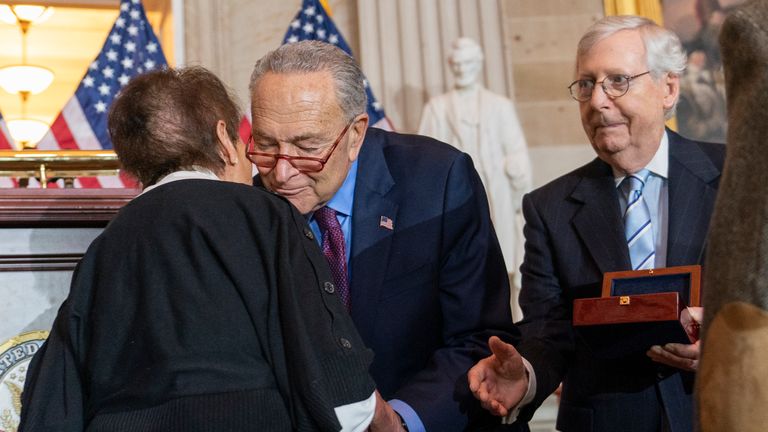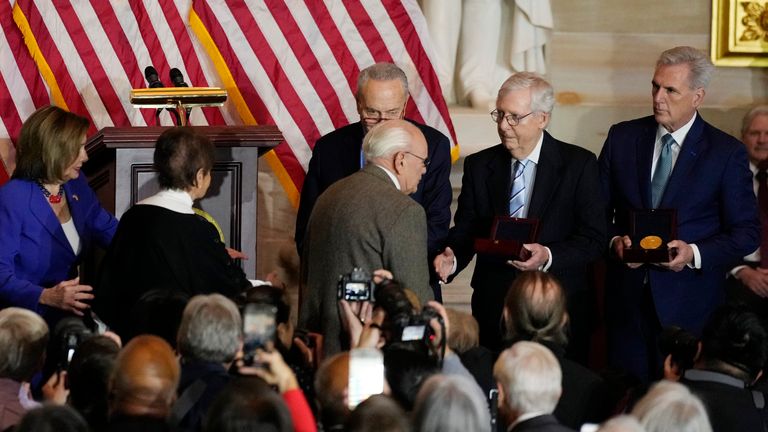 Read more:
Officer attacked by mob describes 'medieval battle scene'
Donald Trump issued with subpoena to testify at US Capitol riots probe
Recognising the hundreds of officers who were at the Capitol on 6 January, the medals will be placed in four locations: US Capitol Police headquarters, the Metropolitan Police Department, the Capitol and the Smithsonian Institution.
President Joe Biden said one was being placed at the Smithsonian museum "so all visitors can understand what happened that day".
"Many of us still carry the mental, physical and emotional scars," Metropolitan Police Chief Robert Contee said.
He told the officers: "It was your blood, your sweat and your tears that marked these grounds."
US Capitol Police Chief Thomas Manger called it a "day unlike any other in our nation's history – and for us".
He added: "It was a day defined by chaos, courage and tragic loss."