'COVID is a warning that much worse lies in store': Alarm ahead of biggest climate report since 2013
The COVID-19 pandemic is "a warning from the planet that much worse lies in store unless we change our ways", a leading UN environment figure has said, ahead of the publication of the biggest climate report in almost a decade.
"While the climate crisis, together with biodiversity loss and pollution, has indeed been under way for decades, the COVID-19 pandemic has brought this triple planetary crisis into sharp focus," Joyce Msuya, assistant secretary general of the United Nations and deputy executive director of the UN Environment Programme (UNEP) said today.
"The pandemic is a warning from the planet that much worse lies in store unless we change our ways."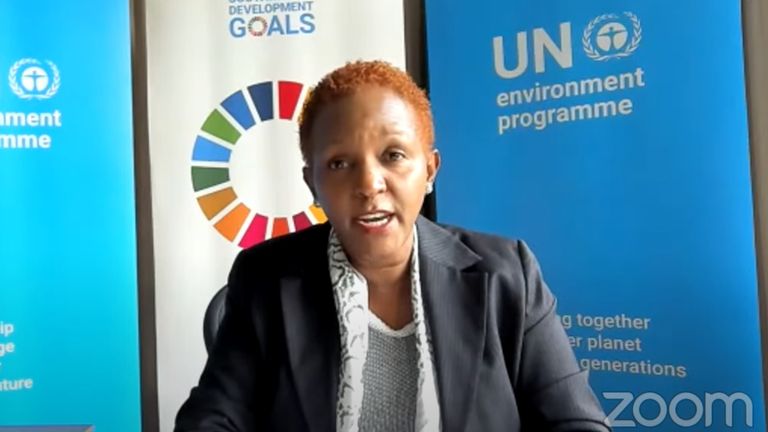 Live COVID updates from the UK and around the world
Ms Msuya was speaking to mark the finalisation of the most comprehensive assessment of global warming of its kind since 2013.
The Intergovernmental Panel on Climate Change's (IPCC) Working Group I has compiled its latest update on the science behind climate change, assessing the impacts of global warming and warning of future threats.
Its researchers will now spend the next two weeks talking representatives of 195 governments through their findings, before the report is published on 9 August.
The need for such a wide-reaching study has been thrown into sharp focus by a spate of climate change-linked environmental disasters suffered the world over, from flooding in Europe to famine in Madagascar. Siberia burned while swathes of the US and Brazil suffered record heat and drought.
It will set the scene for the all-important COP26, crucial climate negotiations taking place just three months later in Glasgow. The aim of the talks is to get governments to agree on how to limit emissions and limit global warming ideally to 1.5C above pre-industrial levels.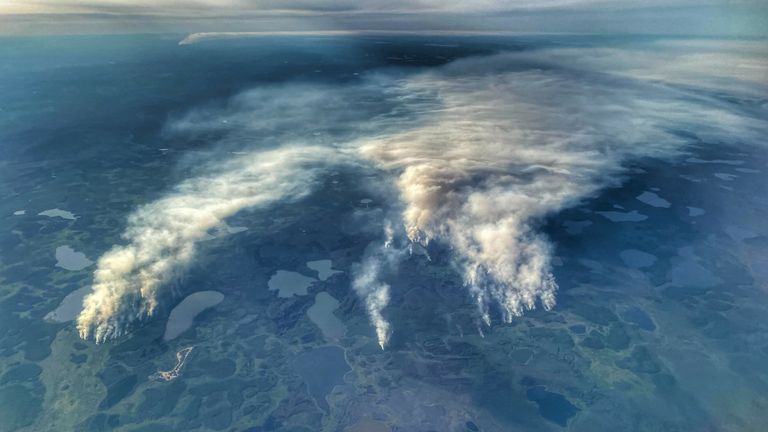 With 100 days to COP26, what are these climate talks and why are they so important?
Ms Msuya added: "After years of promises but not enough action, it is a warning that we must get on top of this crisis that threatens our collective future.
"As I speak it is clear that extreme weather is the new normal. From Germany to China to Canada or the United States, wildfires, floods, extreme heatwaves. It is an ever-growing tragic list.
"And as countries invest unprecedented amounts of resources into kickstarting the global economy, as we all call for this recovery to be green, we need the IPCC more than ever."
Hot topics in the report could be humanity's impact on the climate, feedback loops and the impacts of climate change already happening, the role of forests and oceans as carbon sinks or potential carbon sources.
How to prepare for extreme weather

What is the IPCC?
For more than three decades the UN's climate science body, the IPCC, has provided politicians with assessments on the global climate, publishing a series of reports every seven years, as well as special interim reports.
IPCC reports have historically underpinned global climate action and influenced decisions to reduce greenhouse gas emissions.
Its 2013 assessment that humans had been the "dominant cause" of global warming since the 1950s set the stage for the landmark climate accord known as the Paris Agreement in 2015.
In 2018, the IPCC released a special report on keeping global temperature rise under 1.5C, which changed public discourse on climate.
The global atmosphere is already 1.2C warmer than the preindustrial average.
A further two reports in this assessment cycle are on track to be published next year.
Working Group II, slated for February, will calculate the vulnerability of humans and nature to the climate crisis and subsequent adaption. Working Group III, to follow in March, will assess ways of keeping to global temperature targets, including options on renewable energy or carbon capture and storage.
Subscribe to ClimateCast on Spotify, Apple Podcasts, or Spreaker.
Sky News has launched the first daily prime time news show dedicated to climate change.
The Daily Climate Show is broadcast at 6.30pm and 9.30pm Monday to Friday on Sky News, the Sky News website and app, on YouTube and Twitter.
Hosted by Anna Jones, it follows Sky News correspondents as they investigate how global warming is changing our landscape and how we all live our lives.
The show also highlights solutions to the crisis and how small changes can make a big difference.
Investigations into '80 robberies a day' closed last year without suspect identified, claim Lib Dems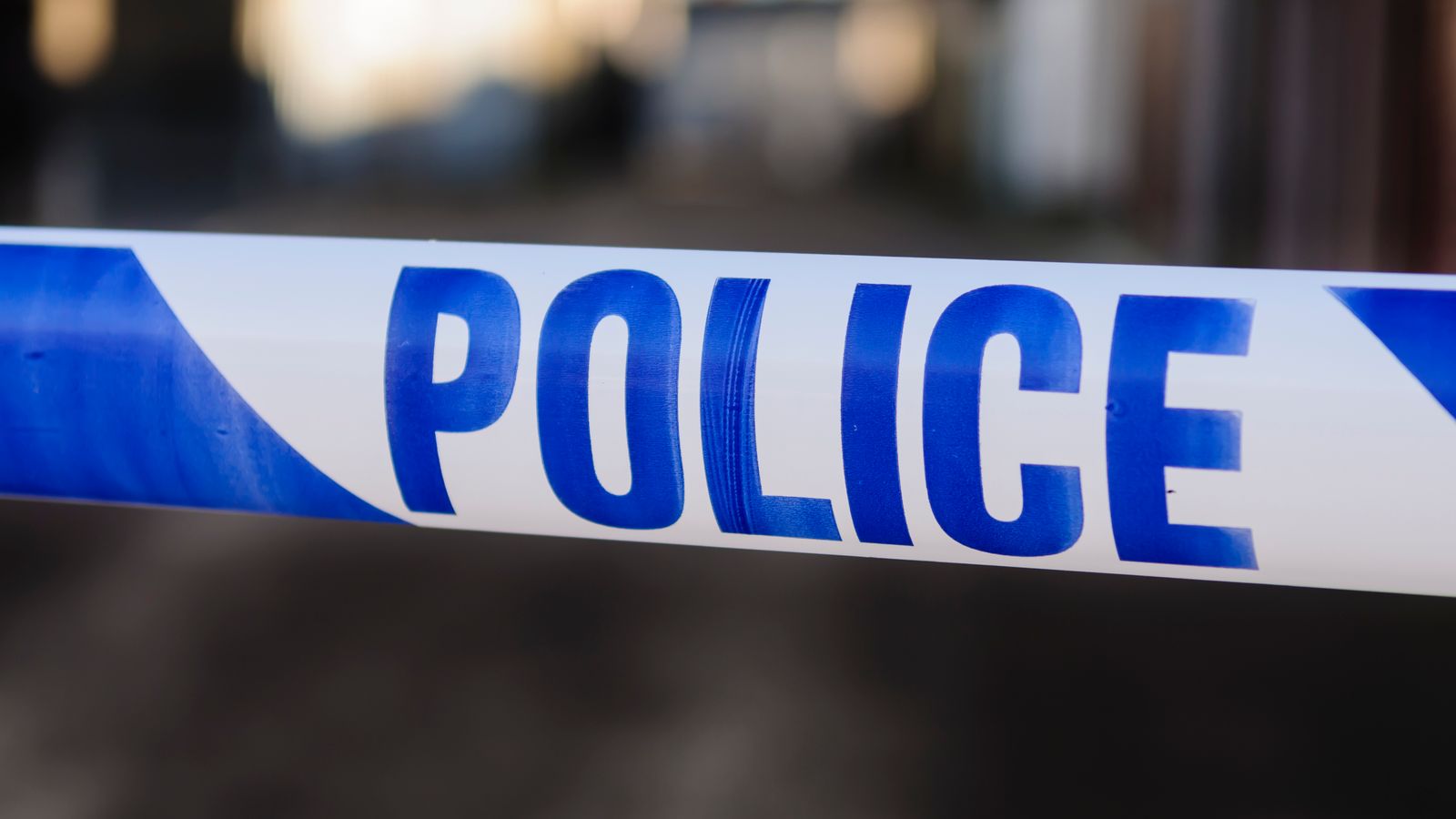 Investigations into some 80 robberies a day were closed last year without a suspect being identified, the Liberal Democrats have claimed.
The party also said it had commissioned research which showed 30,000 muggings across England and Wales went unsolved in 2022.
The Lib Dems have accused Home Secretary Suella Braverman of becoming "embroiled in endless scandals" while criminals are "let off the hook".
The Home Secretary herself faced claims she had been left "off the hook" after it was confirmed she would not face an independent investigation into allegations she broke the ministerial code when it came to how she handled her speeding ticket.
Prime Minister Rishi Sunak defended his decision not to launch a formal investigation into his home secretary, saying he spent "time going through" what had happened.
Ms Braverman asked officials if she could attend a private speed awareness course after a speeding offence.
Research from the House of Commons Library shows more than one in two robbery reports (54%) went unsolved, the Lib Dems said.
A suspect was charged in fewer than one in 12 (8%) instances, according to the party.
The figures include cases where personal property has been robbed and which include violence or threats to the victim.
The worst performing force according to the Lib Dem figures was West Midlands Police, with a suspect charged in just 4% of robberies reported in 2022.
It was closely followed by Northamptonshire (5%), Avon and Somerset (6%) and Hampshire (6%), the research showed.
Click to subscribe to Beth Rigby Interviews… wherever you get your podcasts
Lib Dem Treasury spokesperson Sarah Olney MP commissioned the research.
"These shocking figures show muggings are being effectively decriminalised, with far too many violent criminals let off the hook," she said.
"People are being left feeling unsafe walking down their own local streets, because this Conservative government has slashed neighbourhood policing to the bone.
"Crime victims are being abandoned while the Home Secretary Suella Braverman is embroiled in endless scandals."
Read more from Sky News:
'Honey Monster' killer handed life sentence for double jeopardy murder
Mother and father who murdered baby on Christmas Day 2020 jailed
Carer who climbed into teenage girl's bed 'was sleepwalking'
A Home Office spokesman said it expects police to "take all incidents seriously".
"Robbery is an invasive and unsettling crime for victims and we expect police to take all incidents seriously," he said.
"We are providing police with the resources they need, having delivered on our commitment to recruit 20,000 additional police officers by March 2023, the highest it has ever been.
"We are also supporting police by providing funding for crime prevention measures, including better street lighting and CCTV, and equipping police with better technology to help their investigations and catch more criminals."
Jeff Stelling: Tributes to Sky Sports presenter following his final Soccer Saturday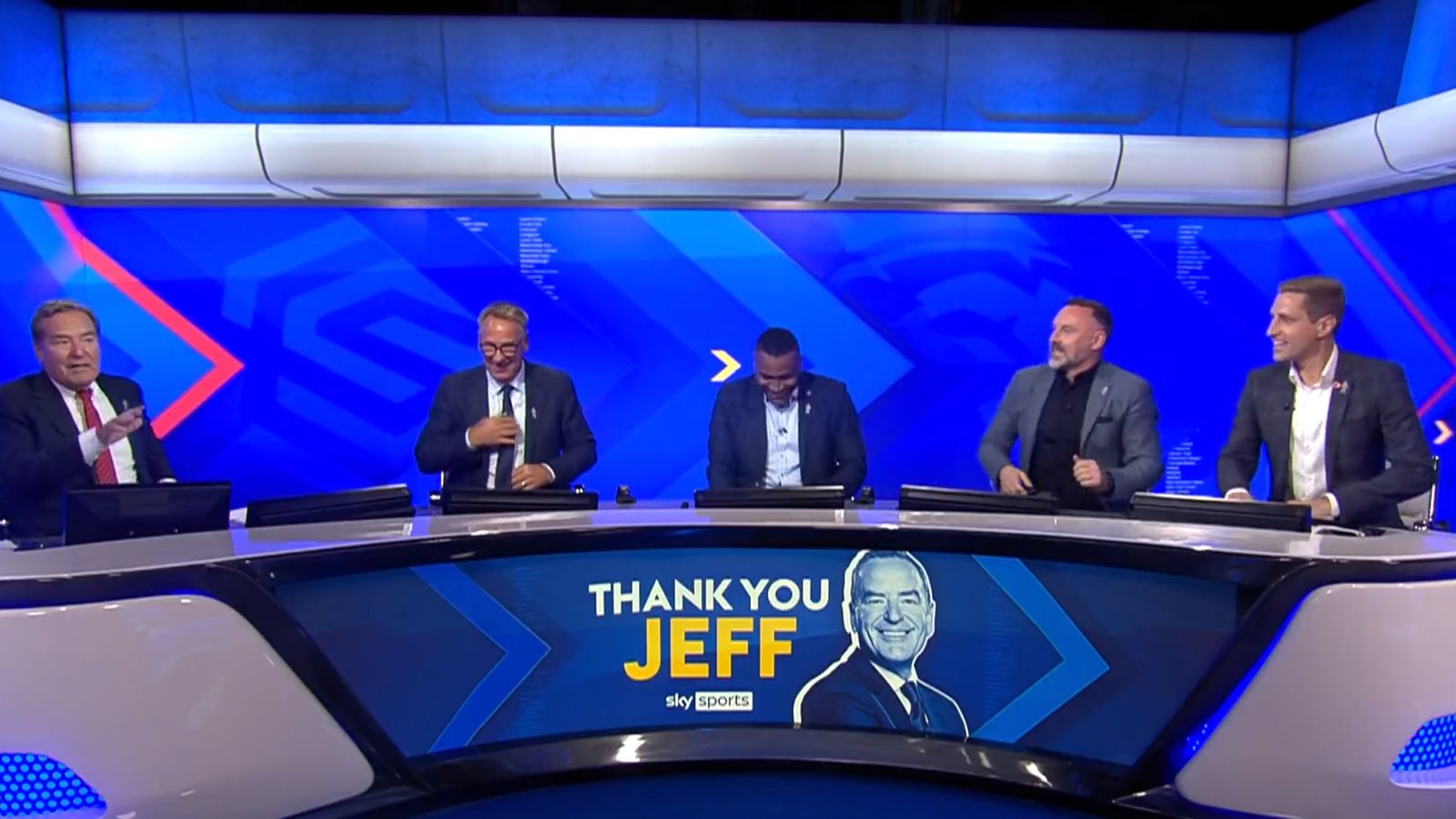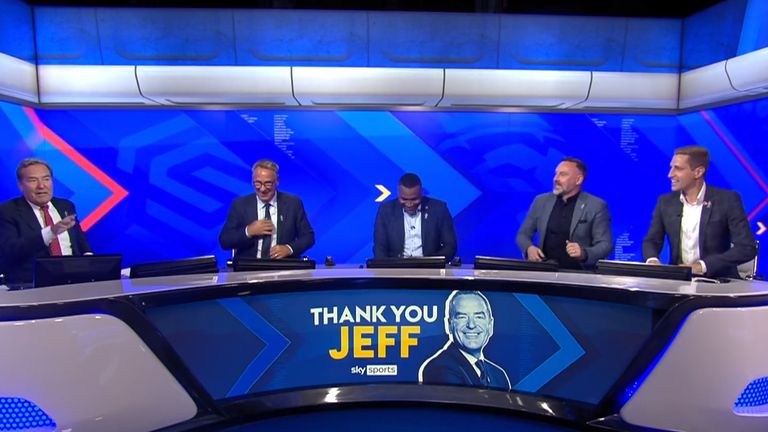 Tributes have poured in for Sky Sports presenter Jeff Stelling following his final Soccer Saturday show.
The 68-year-old marked his departure with an emotional farewell – which included the revelation that he had received a surprise phone call from Elton John.
Stelling said he was left "starstruck" when the legendary singer – once the owner of Watford football club – rang him at home to wish him well ahead of his final Soccer Saturday appearance.
"Elton John rang me this week," Stelling said.
"Someone asked me the other day if I have ever been starstruck, and yeah… I was starstruck when Elton John rang me at home to say 'thank you very much for all you have done'.
"He (Elton) said to me: 'Every week I watch the show and every week you tell me Watford are losing, and every week you tell me Hartlepool (the team Stelling supports) are losing – so I feel like we are kindred spirits'."
Following a celebratory montage and round of applause at the end of Sunday's Soccer Special programme, Stelling joked: "Thanks for the applause. I mean this is tricky because I've changed my mind."
Stelling paid tribute to all those who work on the show, including the call centre staff, runners, production crew and commentators.
He said: "It's a team game."
Stelling said his time at Sky had been "absolutely wonderful".
He added: "It's been the best job that anybody could possibly wish for.
"My wife Lizzie takes great pleasure in saying 'you're the luckiest man ever to take a breath'. And you know what, I don't tell her this often but she's right."
Stelling ended the show by paying tribute to the viewers for their incredible support.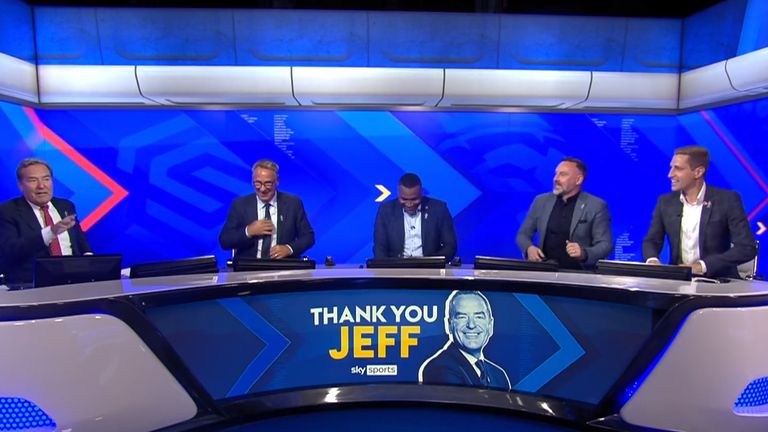 Stelling last month announced his intention to step down after more than 30 years at Sky and 25 years at the helm of the flagship football results show.
He said it was the "right time" to move on and give Sky Sports viewers a break from his "relentless rants, bad gags and over-the-top celebrations of Hartlepool United goals".
Well-wishers took to social media to pay tribute.
Son Robbie posted: "Well done dad, so proud of you.
"You've put your heart and soul into the show and have no doubt left a mark on more than just the world of football.
"As a father and broadcaster, you have taught me so much about football and life.
"You are the best there has ever been."
Piers Morgan tweeted: "Very few people get to leave a long-running job in TV whilst still at the absolute peak of their powers – but Jeff Stelling just did it.
"Thanks for all the fun, excitement, entertainment and incredible professionalism, Jeff – you'll be greatly missed."
Former This Morning presenter Eamonn Holmes tweeted: "Jeff Stelling… Do something you love and you will never work a day in your life. You have never worked. You are The Goat. Respect. Enjoy the next chapter."
LBC presenter Iain Dale thanked Stelling for "hours and hours of tremendous sports broadcasting".
He added: "Few people should ever be described as 'total legends' but Jeff really is one. Every football fan's best friend."
FootballJOE posted: "Twenty-five years of some of the best laughs on telly. Thanks for being the voice and face of football on a Saturday."
Hartlepool United wished fan Stelling "all the best", adding: "Our local hero."
FC Halifax Town joked: "All the best in your retirement. You're always welcome to Halifax vs Hartlepool next season, we will try not to call it off twice this time."
NFL UK said "congrats on an incredible stint", declaring: "You'll be missed from our screens."
On Friday, Prostate Cancer UK thanked Stelling for wearing the charity's badge for the past eight seasons.
A spokesperson added: "You have shared our message to millions of football fans, many of whom have been at risk of prostate cancer."
Stelling's charity football march for Prostate Cancer UK will take place this September.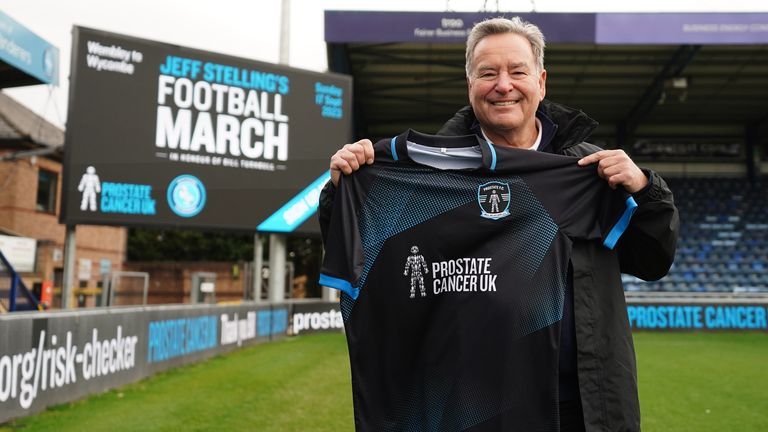 TV presenter Chris Kamara also posted an early tribute, describing Stelling as the "best broadcaster" he has ever met.
In the post on Thursday, he said: "I am getting my tribute in early because Jeff has been a massive part of my life and I love him to bits.
"One of the things I do miss is working with the maestro. There will never be another. You are 'Unbelievable Jeff' – and always will be."
Stelling joined Sky in 1992. He was also the main host for the broadcaster's live Champions League coverage between 2011 and 2015.
He previously announced plans to leave Soccer Saturday at the end of the 2021/22 campaign but stayed for another season.
Stelling announcing his decision to step down

Gary Hughes, Sky Sports' director of football, previously said: "Jeff has been synonymous with Saturday afternoon football for decades, exciting and enthusing football fans everywhere.
"His unique broadcasting ability and passion for the game has made Soccer Saturday an unmissable fixture for fans and has won him a multitude of awards.
"He will be sorely missed."
Athlete dies while swimming in Swansea Triathlon, organisers say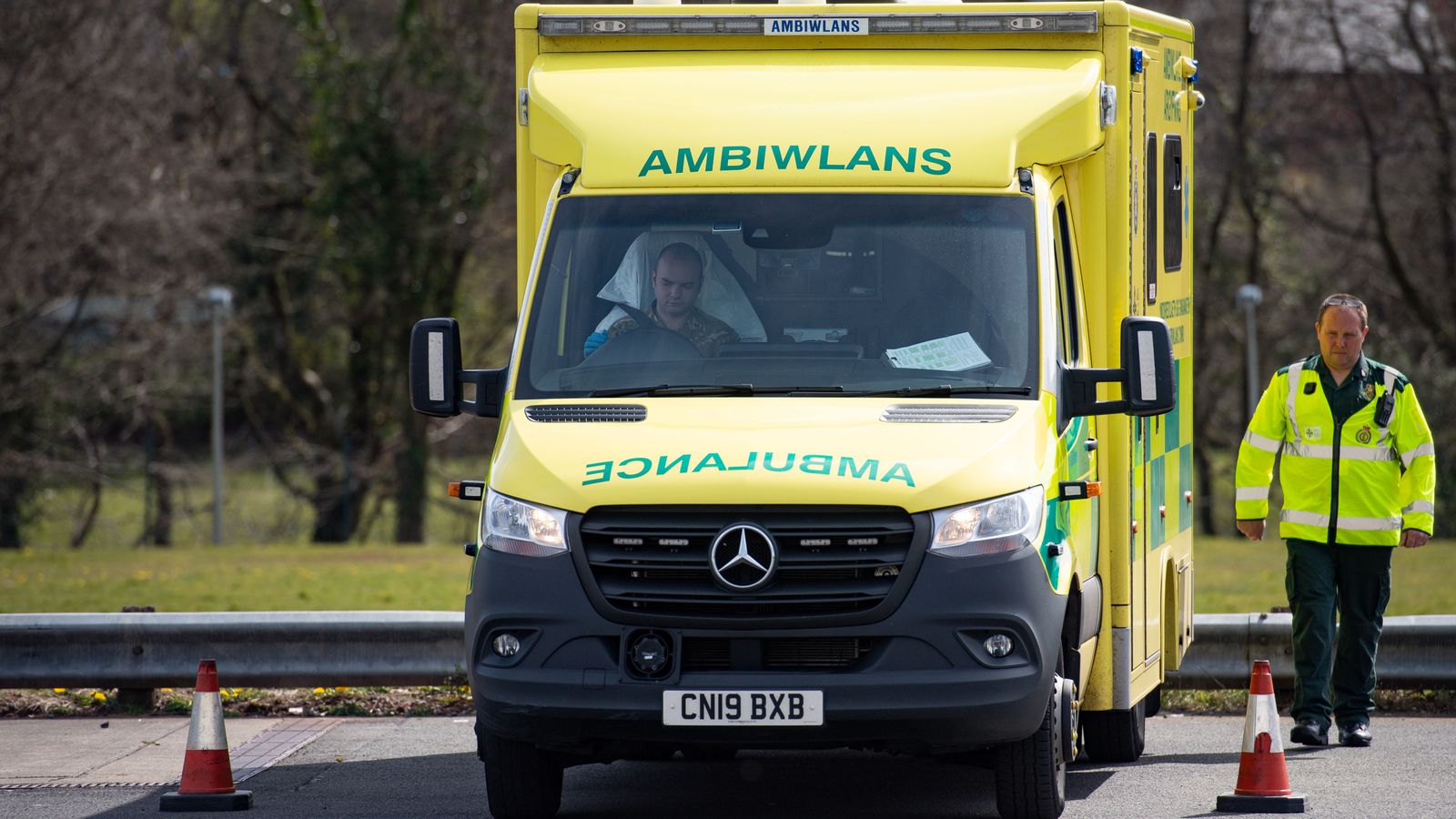 An athlete died while swimming in the Swansea Triathlon on Sunday morning.
In a statement posted on Facebook, Activity Events Wales – which runs the event with the University of Wales Trinity Saint David (UWTSD) – said: "It is with heavy hearts that we confirm the passing of an athlete during the swim section of today's triathlon.
"Our most sincere condolences go out to the family.
"We would like to thank the incredible efforts of the swim safety team, St John Ambulance, the rapid response team, the police, volunteers and members of the public involved at the scene," the statement added.
The Welsh Ambulance Service told Sky News they were called to a medical emergency at 9.15am in Swansea.
"We sent a rapid response vehicle, an emergency ambulance, and the Emergency Medical Retrieval and Transfer Service," a spokesman said.
"We were also supported by St John's Ambulance. This is all the information we can provide at this time."
Meanwhile, a spokesperson for UWTSD told WalesOnline: "The university is sad to hear the news that an individual has passed away during the Swansea Triathlon today.
"As sponsors of the event, we send our deepest condolences to the family and those affected by this tragedy."
Around 1,500 people were expected to compete in the triathlon today, which included a 750m swim, a 20km bike ride and a 5km run.
Sky News has contacted South Wales Police, who declined to comment, and St John Ambulance.