A severely disabled 13-year-old boy who raised £250,000 to help save an outdoor activity centre has had his efforts recognised by the prime minister.
Oliver Voysey suffered a "catastrophic" brain injury when he was just two days old, which left him with sight loss, cerebral palsy, autism, epilepsy and learning difficulties.
A regular visitor to the Calvert Lakes outdoor centre, run by the Lake District Calvert Trust, Oliver made it his "biggest birthday wish" to save the charity when it warned it may not reopen after lockdown, having lost a million pounds in revenue.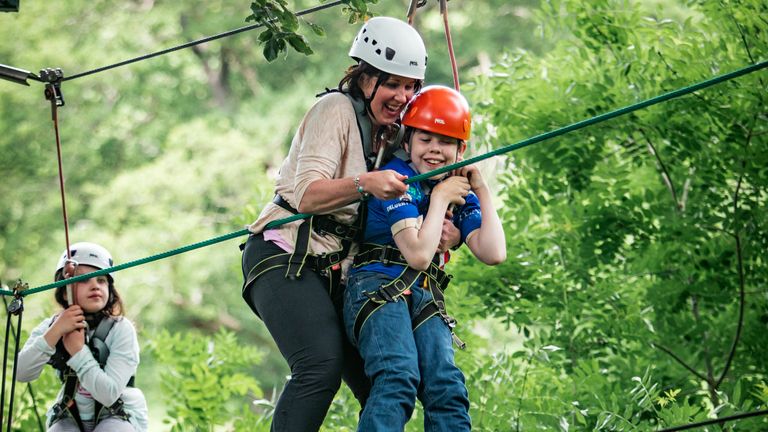 He completed a series of themed challenges in the run-up to his 13th birthday, which left Prime Minister Boris Johnson "in awe".
Mr Johnson told him in a letter: "I was lost in awe hearing about your phenomenal fundraising appeal to help the activity centre you love.
"Through your campaign, you are helping so many other disabled people enjoy an exciting host of activities such as canoeing, abseiling and horse riding at the Lake District Calvert Trust."
Oliver's mum, Sarah, said receiving "such a personalised letter was quite something".
"It's nice for him to have that public recognition," she said. "It came at such a nice time as he has really been struggling with anxiety during lockdown, which has been quite debilitating."
She said Calvert Lakes has given the family experiences "we didn't think were possible".
"When we returned to the centre for the first time since lockdown, it was just like coming home.
"Oliver's struggles and anxiety just melted away. He had been struggling to talk to people, but soon was zipping up and down the zip wire and going on the high ropes course.
"His disability is reduced when we are there."
Oliver is the 1,693rd person to receive the prime minister's daily Points of Light award, first launched in April 2014.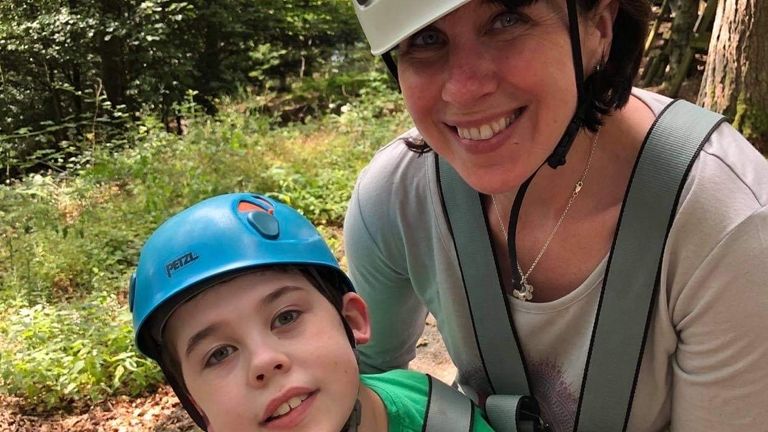 Oliver's challenges, which were supported by the whole family including 10-year-old sister Elizabeth, included walking on a treadmill for 13 minutes and standing independently for 13 seconds.
Ms Voysey said they gave Oliver a "sense of pride that he has not experienced before".
The family originally hoped for donations in the region of £25,000 and were "just amazed" to reach ten times their original goal.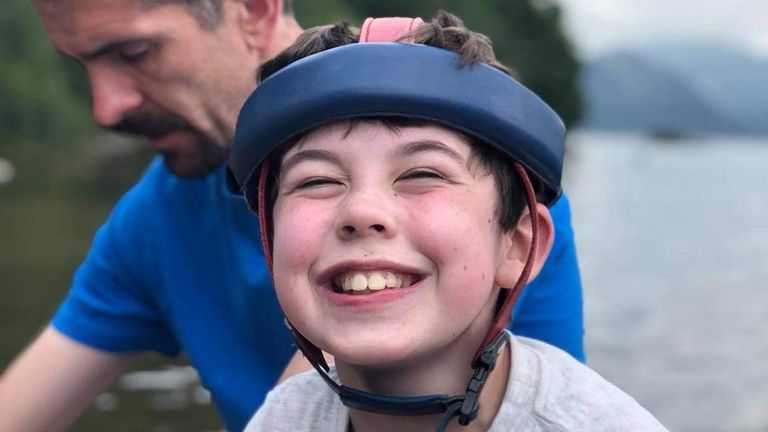 The pandemic has resulted in a devastating loss of income for charities, with some fundraising activities severely restricted.
Fundraising manager at the Lake District Calvert Trust, Jennifer Scott, said: "Please don't ever underestimate the difference you can make to the many thousands of children and adults with disabilities that benefit from a visit to the Lake District Calvert Trust.
"Any legacy, large or small, can make a lasting difference to their lives."
Nicola Bulley's partner says it is as though 'she vanished into thin air' following 45-year-old's disappearance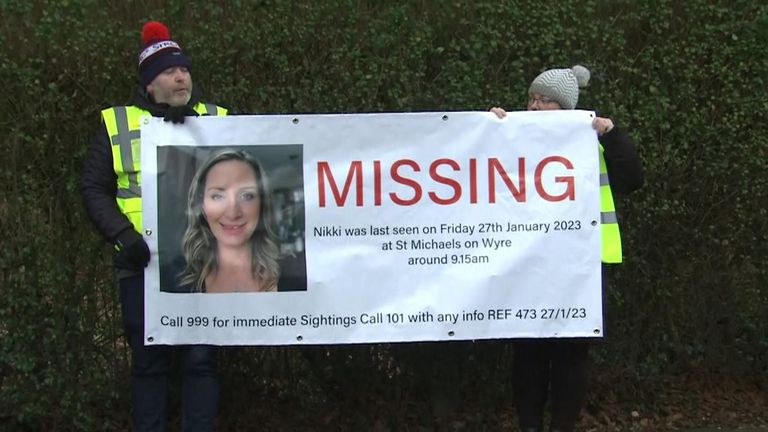 The partner of missing dog walker Nicola Bulley has said it is as though "she has vanished into thin air".
Speaking near the scene where the mother-of-two was last seen, Paul Ansell said he will "never lose hope", one week after she disappeared.
He also said he kept playing "every scenario" in his head "around and around" and that his focus was on supporting their two daughters.
Signs displayed for missing Nicola Bulley

The search is continuing for the 45-year-old, whose phone was found on a bench still connected to a work call and with her springer spaniel dog running loose.
She was last seen on 27 January at about 9.10am on a path by the River Wyre in the Lancashire village of St Michael's on Wyre.
Police believe Nicola Bulley fell into the River Wyre

Ms Bulley, 45, a mortgage adviser, had just dropped her two young daughters, aged six and nine, at school.
Mr Ansell said: "I don't know how I am coping. I don't want to think about that. I am just focused on the girls."
Nicola's girls 'are really missing her'

The 44-year-old engineer added: "Every single scenario comes to a brick wall. Every single one of them.
"All we are doing is sitting there going round and round and round through each scenario.
He went on: "We're never, ever going to lose hope, of course we're not, but it is as though she has vanished into thin air.
"It's just insane."
Timeline of Nicola's disappearance
Lancashire Constabulary has now confirmed Nicola's movements in the run-up to her disappearance on Friday 27 January.
8.43am – Ms Bulley walked along the path by the River Wyre, having dropped her children off at school.
8:47am – A dog-walker – somebody who knows Ms Bulley – saw her walking around the lower field with her dog. Their two dogs interacted briefly before the witness left the field via the river path.
8.53am – Ms Bulley sent an email to her boss.
9.01am – Ms Bulley logged into a work conference call on Microsoft Teams.
9.10am – A witness – someone who knows Ms Bulley – saw her on the upper field walking her dog, Willow. The dog was not in its harness and off its lead. This is the last confirmed sighting of Ms Bulley.
9.20am – Police believe Nicola's phone was left on a bench by the river.
9.30am – The conference call ended but Ms Bulley stayed logged on.
9.33am – Ms Bulley's mobile phone was found on the bench by another dog walker. Her dog was found running between the bench and a gate to the field. The dog's harness was found on the grass between the bench and the river's edge. This witness then made inquiries as to who owned the phone and spoke with people who recognised the dog as Ms Bulley's.
10.50am – Ms Bulley's family and the school her children attend were alerted about the situation. Lancashire Constabulary said they believe Ms Bulley fell into the river and their investigation is focusing on the 10-minute window between 9.10am and 9.20am where she is unaccounted for.
Mr Ansell also thanked the local community for their "amazing" support and said it had given the family "a great amount of comfort".
Members of the local community on Friday stood by the side of the road holding signs bearing Ms Bulley's photo, urging people to contact police with information.
On Thursday Ms Bulley's heartbroken sister Louise Cunningham told Sky News: "It feels like I'm just stuck in a nightmare".
Nicola's family 'stuck in nightmare'

In the interview, her family made an emotional appeal to anyone who may have seen her or knows where she is to come forward and speak to police.
Lancashire Police, who have launched a major search operation, said that despite "unanswered questions", people should not "speculate or spread false rumours" about the disappearance.
The force said they do not believe any crime has been committed and are treating the incident as a missing person inquiry.
COVID-19: People urged to book booster appointments before vaccine programme scaled down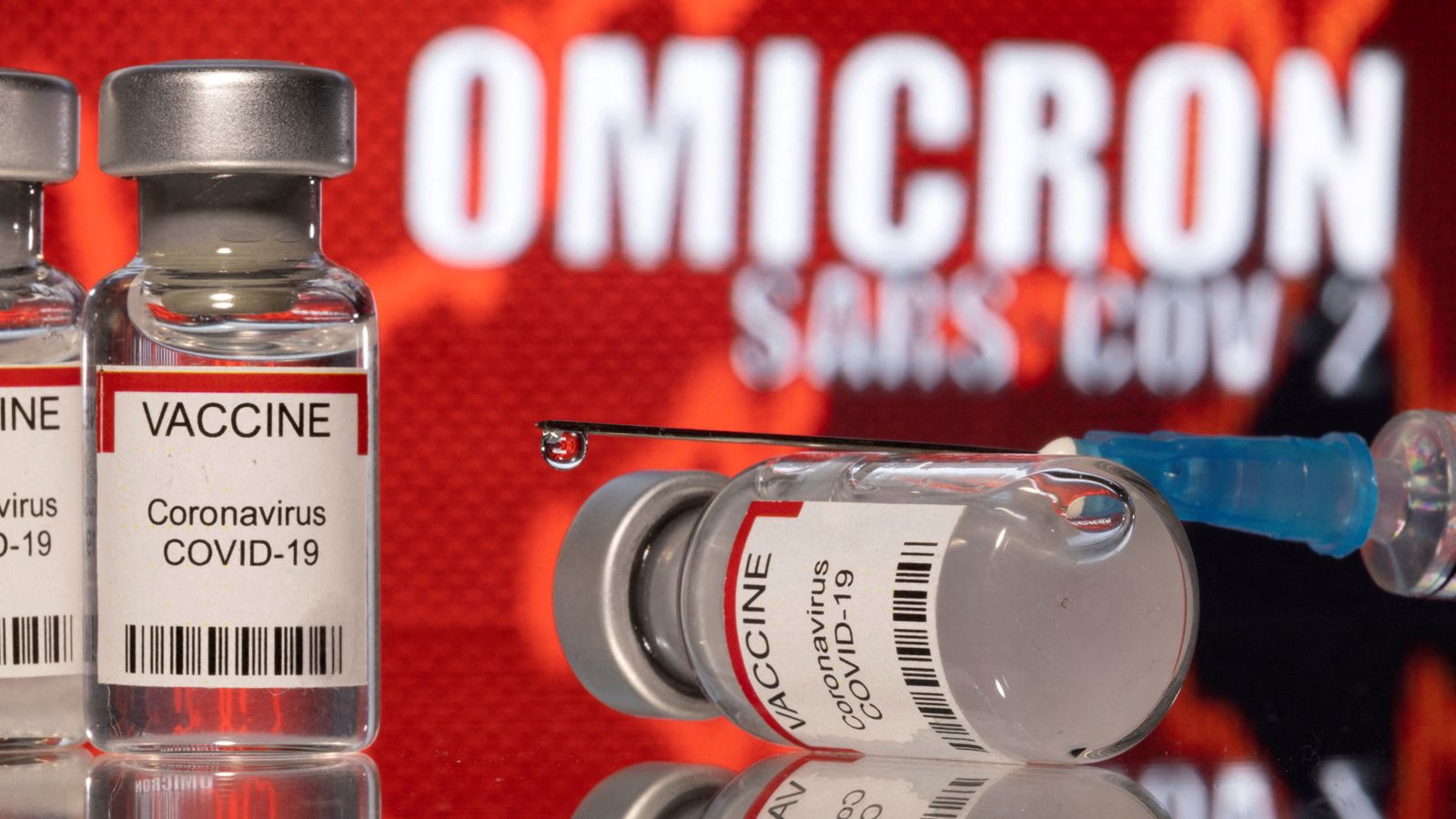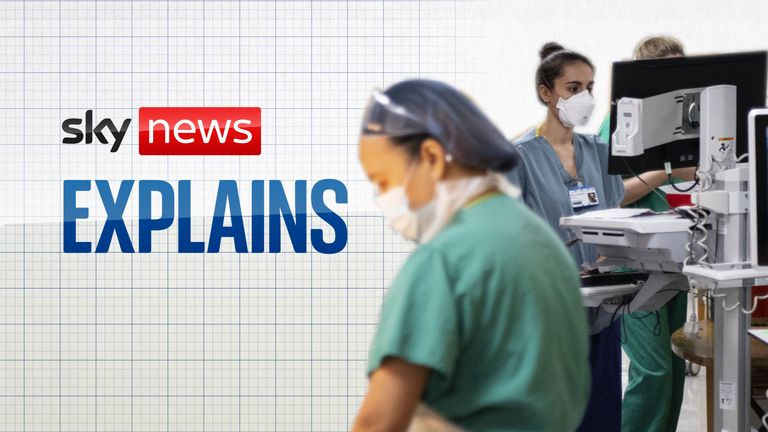 People are being urged to book one of the hundreds of thousands of COVID booster appointments still available before the NHS scales down its vaccination programme and focuses on at-risk patients.
More than 400,000 appointments are available at 2,800 sites across England until Sunday 12 February, the last of the autumn booster campaign.
The date is also the final opportunity for 16 to 49-year-olds, who are not considered at-risk and have not yet had a booster, to get the jab – in line with updated guidance from government advisory group the Joint Committee on Vaccination and Immunisation (JCVI).
The body of scientific experts has recommended adopting a more targeted approach to those at risk of serious illness, ahead of a potential spring booster campaign for the most vulnerable and another autumn programme.
So far more than 17.3 million people have come forward for a booster shot this winter, according to NHS England.
More than 144 million doses of the vaccine have now been delivered since grandmother Maggie Keenan made history as the first person in the world to receive the vaccine outside of a trial.
A smaller programme allowing severely immunosuppressed people to book for first, second and third doses will continue after 12 February.
If you are an NHS worker and would like to share your experiences with us anonymously, please email NHSstories@sky.uk
The JCVI has advised that the primary COVID vaccine course should be withdrawn this year for healthy people aged five to 49.
England's chief medical officer Professor Chris Whitty stressed the importance of being protected against COVID.
He told Sky News: "We know that having the third vaccination, a booster, is a very important part of immunity to COVID and it provides additional protection, even if people have had COVID or had their first vaccination.
"So the autumn programme which includes the ability for everyone to come forward, is coming to an end on 12 February and I'd encourage anybody who's not taken up the offer to do so before then."
Click to subscribe to the Sky News Daily wherever you get your podcasts
NHS director of vaccinations and screening Steve Russell said: "Whether you have had previous doses or a bout of COVID, we know that a booster is the best way to maintain protection against serious illness from COVID for yourself and your loved ones."
Mr Russell also hailed NHS staff for working really hard to deliver a combined 38 million flu and COVID doses this winter "amid record pressures on emergency services, providing crucial protection and keeping thousands out of hospital."
What's behind the NHS crisis?

Read more:
COVID infections rise in schools – but total level is lowest in four months
NHS expands 111 service to reduce pressure on hospitals
Health Secretary Steve Barclay also urged anyone who hasn't had their first booster, or is eligible for an autumn booster, to come forward.
"Our hardworking NHS staff and volunteers have done an incredible job getting jabs into arms and they're on hand to top up your immunity and keep you and your loved ones protected," he said.
HMS Portland: Royal Navy sailors rushed to hospital after drinking 'contaminated' water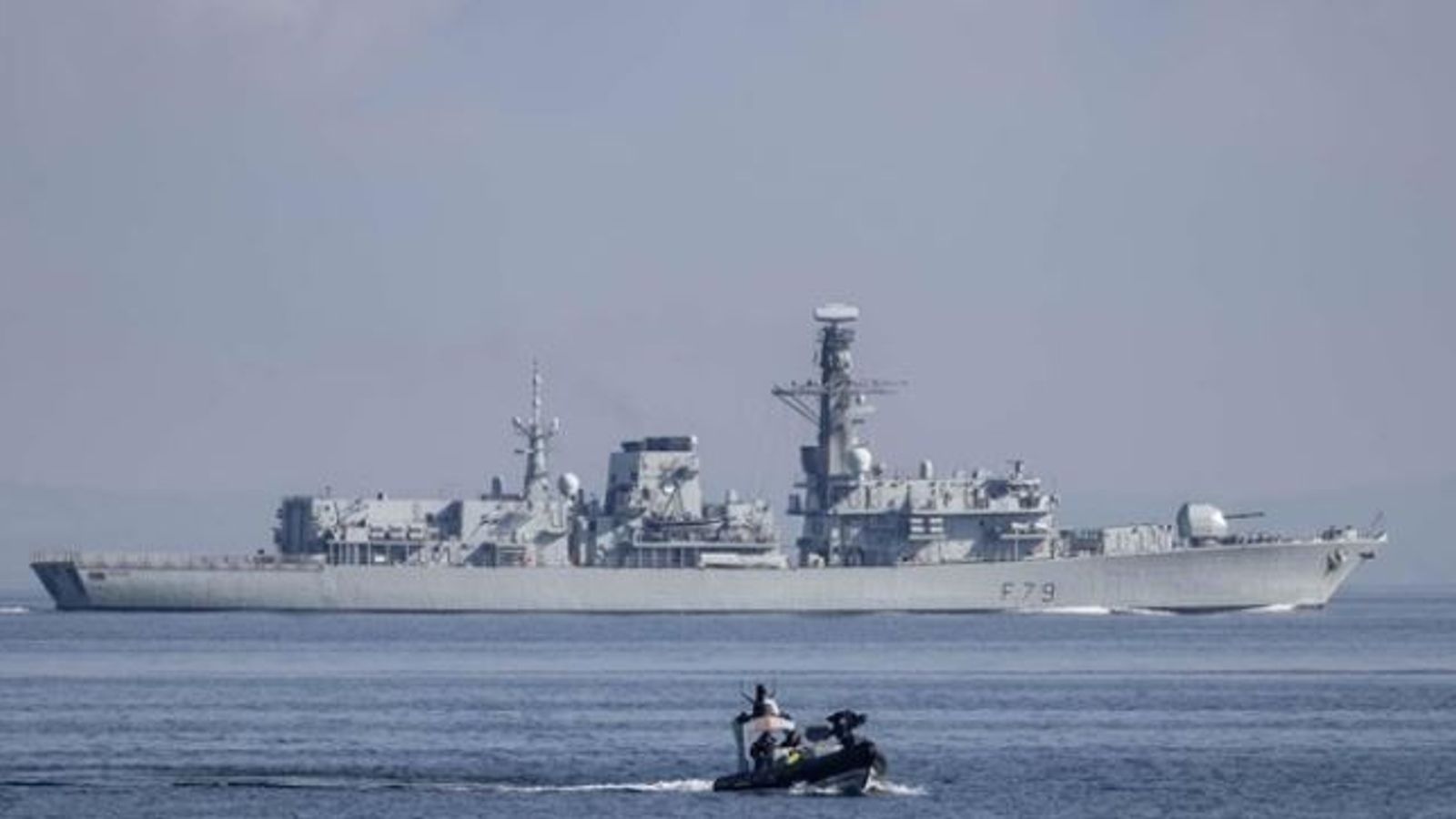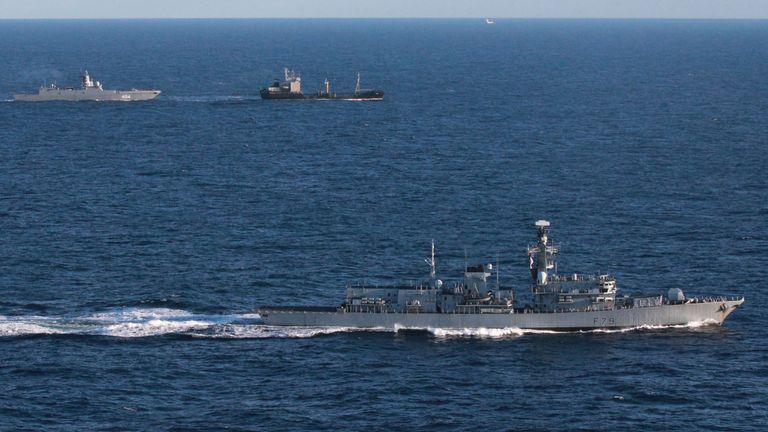 Several sailors have been taken to hospital after their Royal Navy frigate suffered an "issue" with one of its fresh water systems.
HMS Portland was forced to return to Portsmouth Naval Base following the incident and an investigation is now under way.
It was reported that the drinking water on board the ship had been contaminated, which may have been down to human error involving the cleaning system.
It is believed the cleaning system to the water supply could have flowed the wrong way.
Following the incident, a Royal Navy spokesperson said in a statement: "We can confirm that HMS Portland has returned to HMNB Portsmouth as a precautionary measure, following an issue with one of the ship's fresh water systems.
"The health and safety of our personnel is of the utmost importance and we are taking a number of measures to safeguard the ship's company whilst the issue is investigated."
He added: "A small number of personnel were taken to hospital as a precaution and HMS Richmond has been stood up to cover any contingencies."
HMS Portland – which underwent a major refit in 2021 – is adept at surface warfare operations as well as hunting submarines, according to the navy website.
It is a Type 23 frigate that last month tracked the movements of a Russian warship in the North Sea.
HMS Portland monitored the Russian guided missile frigate Admiral Gorshkov and accompanying tanker Kama as they sailed in international waters close to the UK.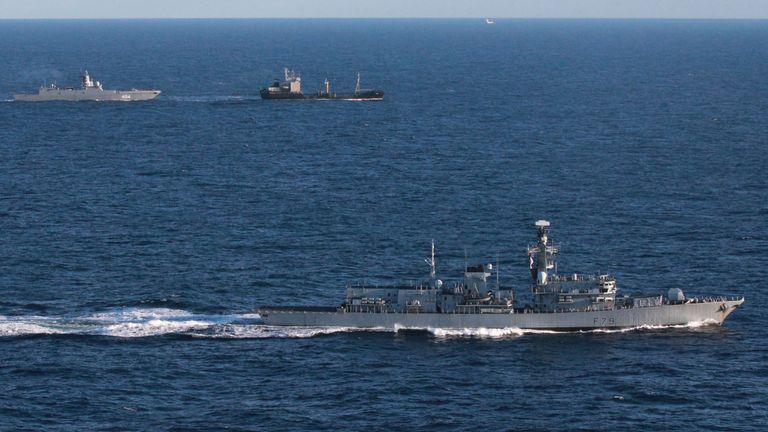 Read more:
Why spectre of British military becoming a 'hollow force' is now a reality – analysis
Broken down £3bn warship to return to base with one propeller for repairs
The Type 23 frigate joined the Norwegian coast guard vessel Bergen, as the Russian ships transited south through the Norwegian Sea.
Based at HMNB Devonport in Plymouth, HMS Portland was launched in 1999.
It weighs 4,900 tonnes, is 133 metres long and has a top speed of more than 28 knots.