After Super Saturday at London 2012, there was Magic Monday in Tokyo as British athletes won three gold medals in the space of a few hours.
Adam Peaty was Britain's banker and did not disappoint, storming to victory in the 100 metres breaststroke to become the first British swimmer to retain an Olympic title.
The 26-year-old is unbeaten in seven years and now owns the 17 fastest times in history. He was as close to a sure thing as it is possible to get.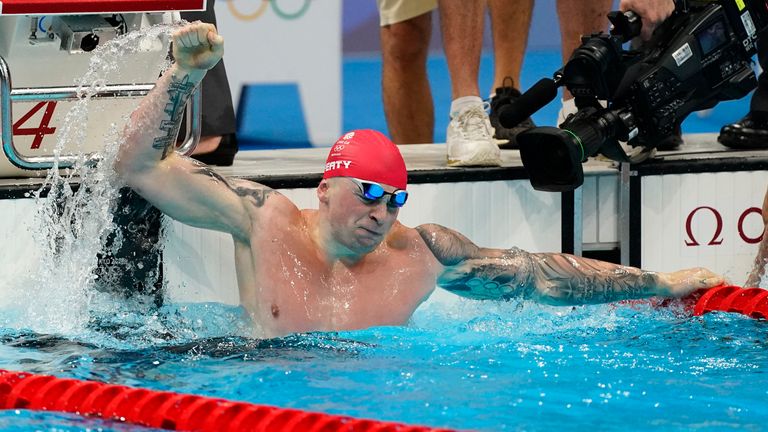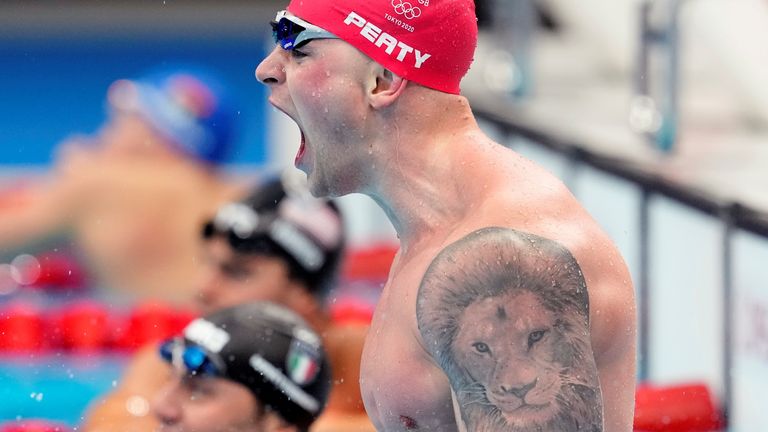 Peaty said: "It just means the world to me. I thought I had the best preparation but morning finals changed everything and threw that out of window."
"I felt the pressure but I needed to put myself on edge. You can do whatever you want in your own pool but when it comes to being out here it's not about a time.
Adam Peaty's parents 'immensely proud'

"I was racing myself. It wasn't about the time but the race.
"Thanks to the nation for being behind me for five years and my family and my beautiful boy."
Peaty's success turned into a gold rush in the afternoon in the Japan when divers Tom Daley and Matty Lee claimed a stunning victory in the 10-metre synchronised platform event, before 21-year-old Tom Pidcock dominated the men's mountain bike race.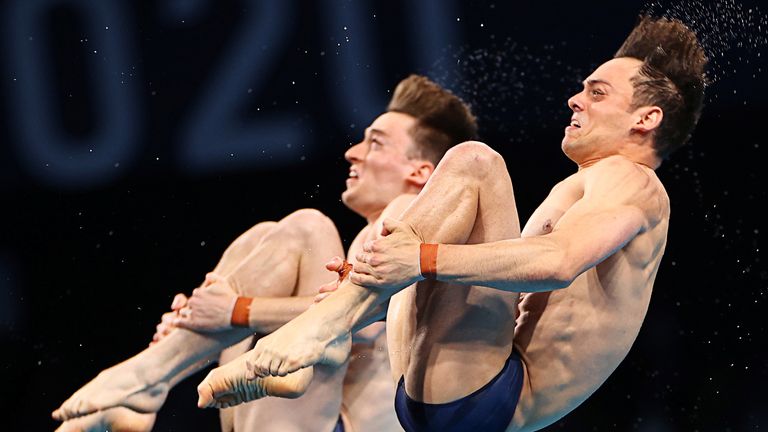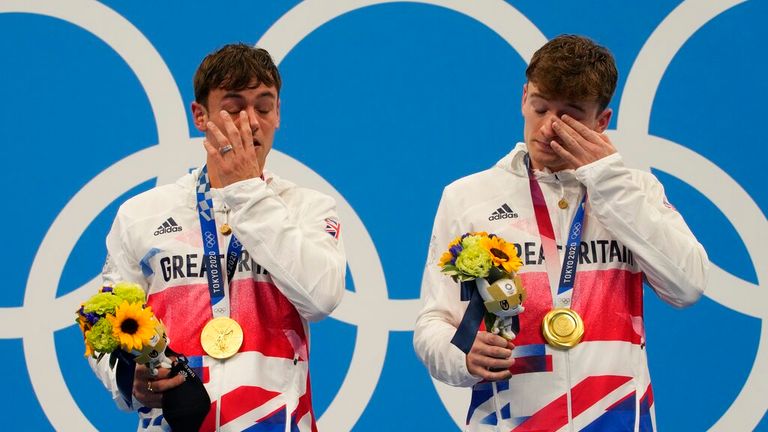 Daley made his Olympic debut back in 2008 aged only 14 and has been in the spotlight ever since, enduring the death of his father and biggest supporter Rob when still a teenager and then coming out in 2013.
He had two bronze medals to his name from London and Rio but, at the age of 27, has finally won the gold he coveted alongside debutant Lee, with the pair producing a stunning final dive to defeat the Chinese favourites.
'Proud' parents of a gold medal diver

"It's kind of unbelievable. I've dreamt, as has Matty, since I started diving 20 years ago for this moment of becoming an Olympic champion," said Daley.
"To take it to my fourth Olympic Games when I think a lot of people would have not considered it to be my peak Olympic Games, I thought I was going to win an Olympic gold medal in Rio and that turned out the complete opposite by a long shot.
"It was my husband [Dustin Lance Black] who said to me my story wasn't finished and that my son or child, we didn't know at the time, needed to be there to watch me win an Olympic gold medal."
Lee said: "In 2018 I moved my whole life to London from Leeds, I had nothing really in London.
"Our aim was to get an Olympic medal and for it to go the way we wanted it to is awesome.
'Proud to be a gay man and Olympic champion'

"I owe a lot to Tom because he has taught me a lot."
Lee's parents, Helen and Tim Lee, who could not travel to Tokyo due to COVID restrictions, invited friends and family over to watch him clinch gold with Daley.
They told Sky News that they had spoken to their son and that "he seemed like his normal self" and showed off his medal.
Pidcock is also an Olympic champion at the age of just 21 after a fearless display in Izu.
He started on the fourth row of the race but quickly got himself into the leading group and powered his way past the Swiss pair of Mathias Flueckiger and Nino Schurter to take control on the fourth of seven laps.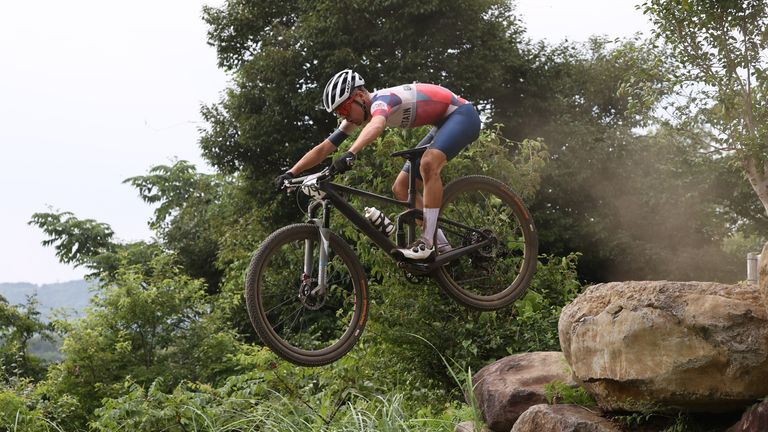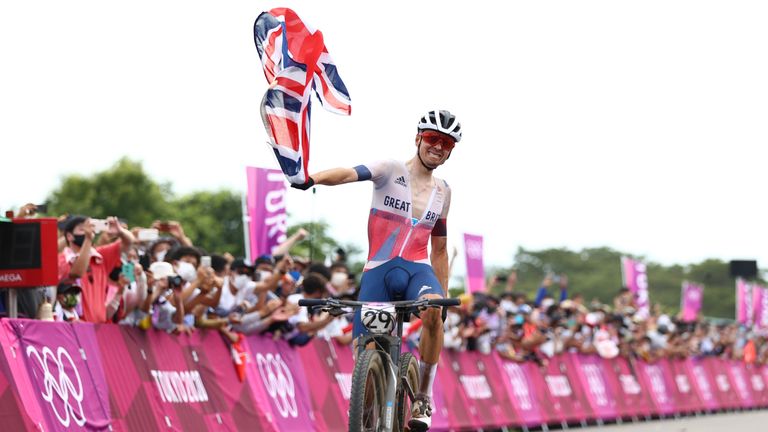 Flueckiger was the only man who could even remotely keep up, as Pidcock won by 20 seconds, even having time to snatch a Union Flag and hold it aloft as he crossed the line.
When asked how it felt to win gold, Pidcock told Eurosport: "Not real really. It's pretty crazy that I became an Olympian and I was trying to tell myself at the start of the race it's special just to be here."
Follow the Daily podcast on Apple Podcasts, Google Podcasts, Spotify, Spreaker
His victory comes less than two months after he suffered a broken collarbone in a training crash on the road.
Meanwhile, Alex Yee also earned a silver medal in the triathlon.
The 22-year-old from Lewisham, south London, moved into the lead during the run but could not prevent Norway's Kristian Blummenfelt from taking gold.
And there was heartbreak for Lauren Williams who narrowly missed out on gold in the 67kg taekwondo final.
Williams led by three points with 10 seconds to go but a late rally from Croatia's Matea Jelic forced the Briton to settle for silver.
Disappointed, she said: "It's not enough. I came here for a gold medal. I went out there to win and I tried my best. I'm very happy with how I performed and it's just a shame about the end. I suppose an Olympic silver medal is not bad, is it?
"I want to say a massive thank you to the National Lottery for getting me out here and everyone at home."
Inside the training sessions where Just Stop Oil's new recruits are taught how to protest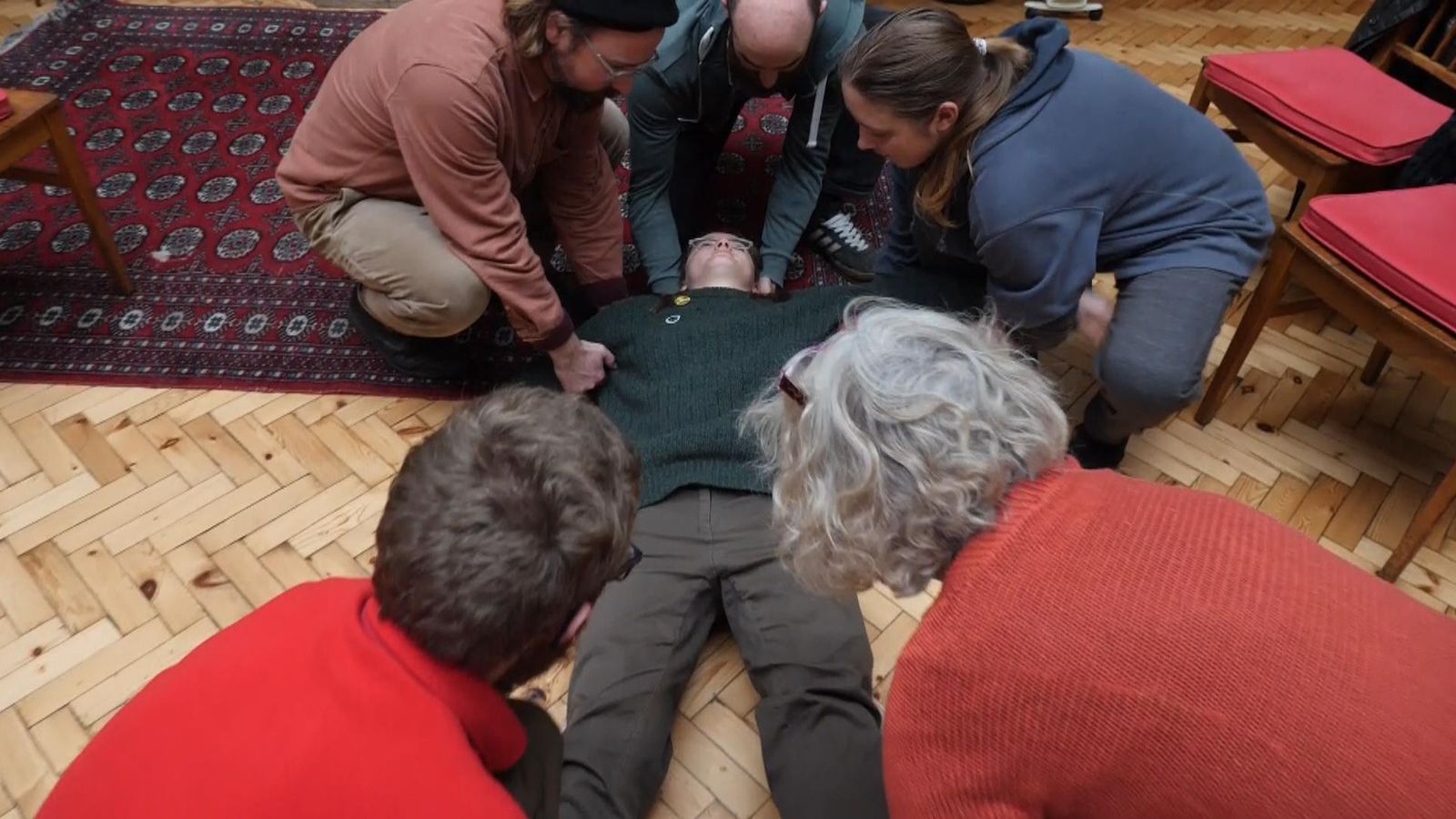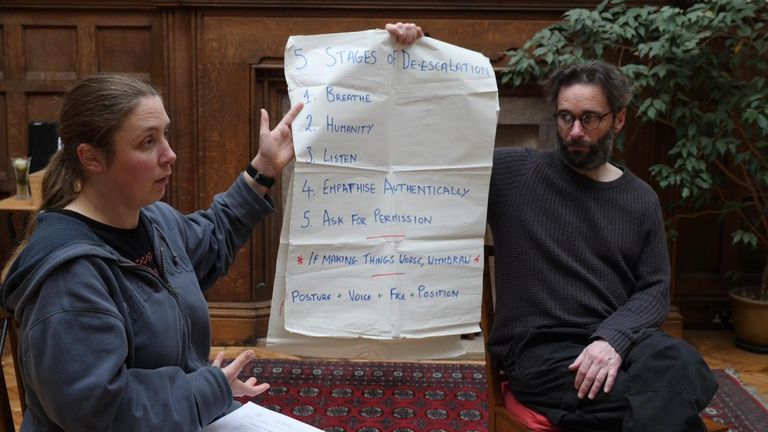 "I don't feel guilty about stopping people going to work."
"I think stopping somebody from going to hospital is one of the most important things. But all the other things – taking people to school and going to work, I think the cause is more important."
Those were the thoughts of two potential Just Stop Oil recruits when asked if they would feel guilty about disrupting ordinary people.
We were sitting in a circle, during a seven-hour "non-violence" training session in central London.
I'd been invited to capture on camera, for the first time, Just Stop Oil's training day for all potential recruits.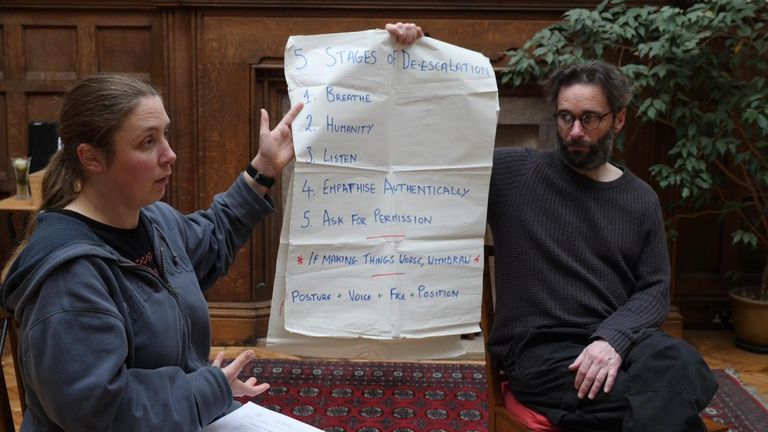 Anyone who wants to join the climate protest group must attend a day of training, with sessions run across the country.
We experienced a much lower-than-normal turnout – while 12 people had signed up, just five arrived in the morning.
The day was split into two halves.
The first included introductions, meditation, a discussion on entrants' hopes and fears, and the theory of "non-violence activism".
Practical techniques were taught after lunch, along with role-plays.
Potential recruits took it in turns to play an angry driver, screaming and swearing into each other's faces, while practising "de-escalation techniques".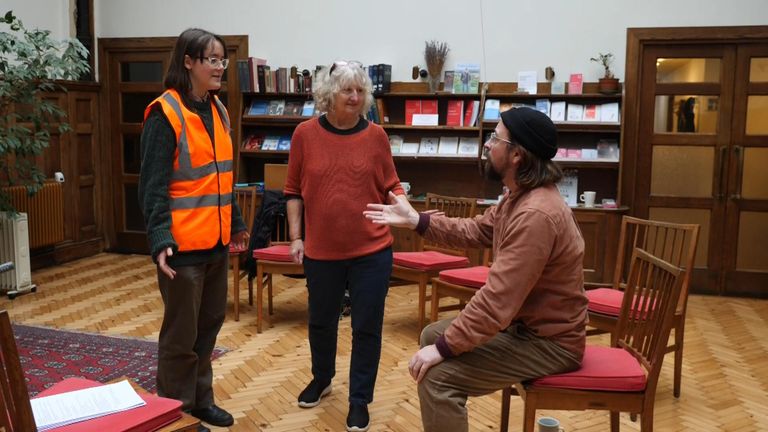 Some gave it more gusto than others, but it was clear they all understood the public's rage and frustration.
"We don't have an ethical right to stop someone going to school," said Heidi, who ran the session.
"But the government also shouldn't have the right to issue new oil and gas licences, when it's going to cause billions of deaths."
Trainers repeatedly denied that all they are doing is putting people off climate activism.
"People feel threatened by us, but they should be threatened by the government's inaction about the climate crisis," said potential recruit Max.
Heidi told the group to "remember their humanity", adding that they should listen, empathise and watch their body language if accosted on real-life protests.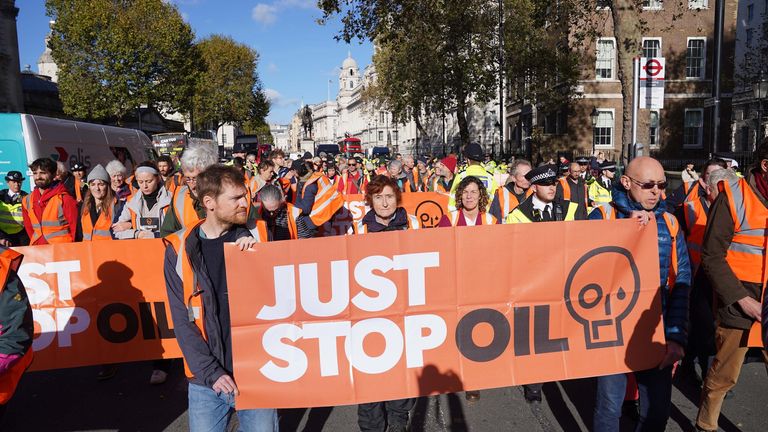 She told me later that the scenarios were an "extreme" version, but that it's important they prepare new people for what could face them on the streets.
Later on, they practised "going floppy", a technique of non-compliance during arrest, where protesters lie down and go limp, forcing several police officers to pick them up and carry them.
The group have been a huge drain on the Metropolitan Police's already over-stretched resources.
On Wednesday night 16 Just Stop Oil protesters were arrested during a demonstration outside the prime minister's London home in Kensington.
In the summer, then Home Secretary Suella Braverman revealed the group had cost police more than £18.5m.
Just Stop Oil plan all their actions around the core value of "non-violence".
Key to that mantra is a refusal to fight back; they can be verbally abused and even beaten on the road, and they won't respond.
After showing trainees a video of one activist getting kicked on the ground, trainer Paul curled into a ball on the floor, demonstrating how to best protect the internal organs.
He was adamant these training sessions work: "Maybe the proof is that we've done hundreds of actions, with thousands of people and they've remained peaceful."
However, there was an implicit recognition throughout the day that their actions could, in a worst-case scenario, result in serious harm, or even death.
Conversations about the policy of letting ambulances pass roadblocks, or the risk of mistakenly causing a traffic accident, got perilously close to an ethical debate of how one death could be balanced against the need to "save billions of lives".
Read more from Sky News:
Just Stop Oil activists target National Gallery painting
Protester who was carried off field by England cricketer is sentenced
So, how do they justify themselves?
"If non-disruptive protest worked we would be doing that," Heidi said.
"It's not because it's fun, it's not because we want to disrupt people's days. We're doing it because the government desperately needs to change its policy.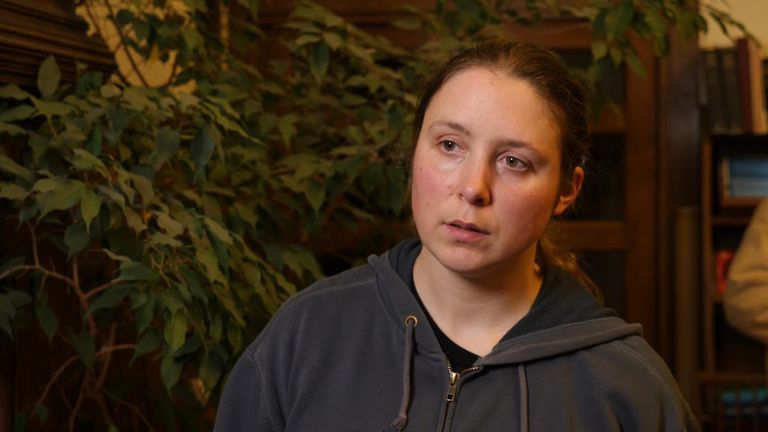 "And if they don't change their policy we're going to see even more disruption.
"The government can end this now by saying they won't issue any more oil and gas licences."
Since Just Stop Oil started its disruptive protests, the only laws that have changed have been to strengthen police powers around demonstrations.
Meanwhile, earlier this month, the government announced plans for a new annual system for awarding oil and gas licences in the North Sea.
Just Stop Oil says that this won't stop them.
From the end of this week, the group will pause its demonstrations for a period of planning, but say they will be back with more protests next year.
Matt Hancock: The key questions facing ex-health secretary when he gives evidence to COVID inquiry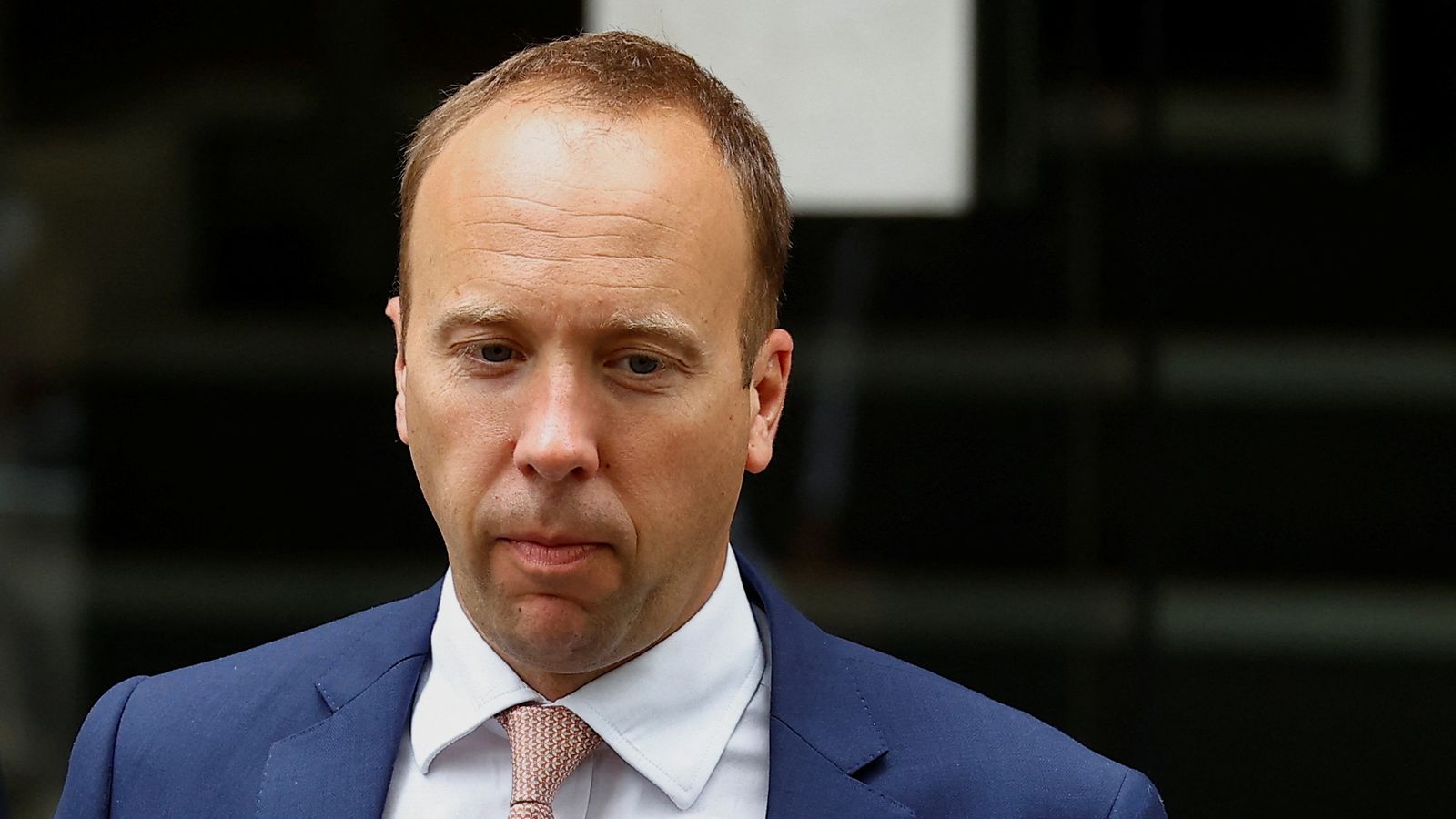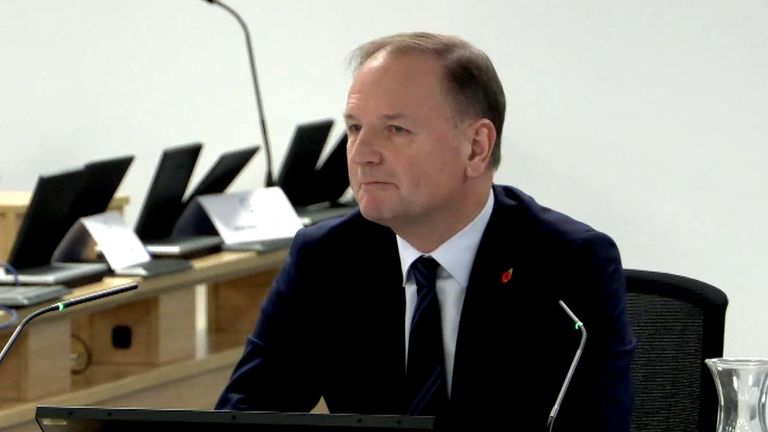 Former health secretary Matt Hancock played a key role in the UK's response to the COVID pandemic – and his decisions will today be scrutinised by the official inquiry.
Mr Hancock was a familiar face at the regular press conferences that took place during that period, giving updates to the public about social distancing measures, the state of the NHS and the vaccine programme.
In 2021, he was forced to resign after he admitted he broke the government's own coronavirus guidance to pursue an affair with an aide.
Today it is his turn to give evidence to the COVID inquiry.
He will follow a string of high-profile witnesses who have already shared their experience of the pandemic with inquiry chair Baroness Hallett, including Dominic Cummings, Boris Johnson's former chief adviser, Lord Simon Stevens, who was the chief executive of the NHS at the time, and former chief scientific adviser Sir Patrick Vallance.
Mr Hancock has already featured heavily in the testimonies of the witnesses who have given evidence to the inquiry so far.
Politics – latest: Sunak accused of 'insane' claim which 'shows he's run out of road'
A spokesperson for Mr Hancock said he has "supported the inquiry throughout and will respond to all questions when he gives his evidence".
Read more:
Hancock 'wanted to decide 'who should live and die'
Gove says lockdown went against Johnson's 'world view'
Former NHS CEO Lord Stevens made this assessment of Mr Hancock when he appeared before the COVID inquiry at the beginning of November.
"The secretary of state for health and social care took the position that in this situation he – rather than, say, the medical profession or the public – should ultimately decide who should live and who should die," he said in a written statement to the inquiry.
"Fortunately, this horrible dilemma never crystallised."
Hancock 'wanted to decide who should live'

However, although Lord Stevens suggested that Mr Hancock wanted too many powers in his capacity as health secretary, he did add that "for the most part" the former cabinet minister could be trusted.
"There were occasional moments of tension and flashpoints, which are probably inevitable during the course of a 15-month pandemic but I was brought up always to look to the best in people," he said.
'Nuclear levels of over-confidence'
The day before Lord Stevens gave evidence, the COVID inquiry heard from Helen MacNamara, who was deputy cabinet secretary during the pandemic.
She told the inquiry Mr Hancock showed "nuclear levels" of confidence at the start of the COVID pandemic and "regularly" told colleagues in Downing Street things "they later discovered weren't true".
For example, Ms MacNamara said the former health secretary would say things were under control or being sorted in meetings, only for it to emerge in days or weeks that "was not in fact the case".
She also recalled a "jarring" incident where she told Mr Hancock that it must have been difficult to be health secretary during a pandemic, to which he responded by miming playing cricket, saying: "They bowl them at me, I knock them away" during the first lockdown.
'Lied his way through this and killed people'
There is clearly no love lost between Mr Hancock and Mr Cummings, who told the inquiry that he repeatedly called for Boris Johnson to sack him.
Mr Cummings alleged that the ex-health secretary "lied his way through this and killed people and dozens and dozens of people have seen it".
In a message sent to Mr Johnson in May 2020, Mr Cummings said: "You need to think through timing of binning Hancock. There's no way the guy can stay. He's lied his way through this and killed people and dozens and dozens of people have seen it."
COVID: No 10 in 'complete chaos'

In August 2020, he wrote again: "I also must stress I think leaving Hancock in post is a big mistake – he is a proven liar who nobody believes or [should] believe on anything, and we face going into autumn crisis with the c**t in charge of NHS still."
Mr Cummings also echoed Ms MacNamara's accusation that the former health secretary told colleagues things that later were discovered not to be true, saying he "sowed chaos" by continuing to insist in March 2020 that people without symptoms of a dry cough and a temperature were unlikely to be suffering from coronavirus.
He also revealed that he purposefully excluded Mr Hancock from meetings because he could not be trusted.
Mark Sedwill wanted Hancock removed to 'save lives and protect the NHS'
Messages exchanged by Lord Mark Sedwill, the former head of the Civil Service and Simon Case, the current cabinet secretary, revealed that Lord Sedwill wanted Mr Hancock removed as health secretary to "save lives and protect the NHS" – a play on the pandemic-era slogan at the time.
Lord Sedwill said this was "gallows humour" and that he did not use the work "sack" when speaking to Mr Johnson about his health secretary.
However, he did admit that Mr Johnson would nevertheless have been "under no illusions" about his feelings towards Mr Hancock.
'He had a habit of saying things he didn't have a basis for'
Sir Patrick Vallance, who was chief scientific adviser from 2018 to 2023, was another figure who claimed Mr Hancock would say things "he didn't have a basis for", which he attributed to "over-enthusiasm".
He told the COVID inquiry: "I think he had a habit of saying things which he didn't have a basis for and he would say them too enthusiastically too early, without the evidence to back them up, and then have to backtrack from them days later.
"I don't know to what extent that was sort of over-enthusiasm versus deliberate – I think a lot of it was over-enthusiasm."
Asked if this meant he "said things that weren't true", Sir Patrick replied: "Yes".
'I have a high opinion of Matt Hancock as a minister'
One COVID witness who did defend Mr Hancock was Michael Gove, who was minister for the Cabinet Office and Chancellor of the Duchy of Lancaster during the pandemic.
He told the inquiry that "too much was asked" of Mr Hancock's department at the beginning of the pandemic.
"We should collectively have recognised that this was a health system crisis at an earlier point and taken on to other parts of government the responsibility for delivery that was being asked of DHSC [department for health and social care] at the time," he said.
He added: "I have a high opinion of Matt Hancock as a minister."
Jamie Lynn Spears leaves I'm A Celebrity on medical grounds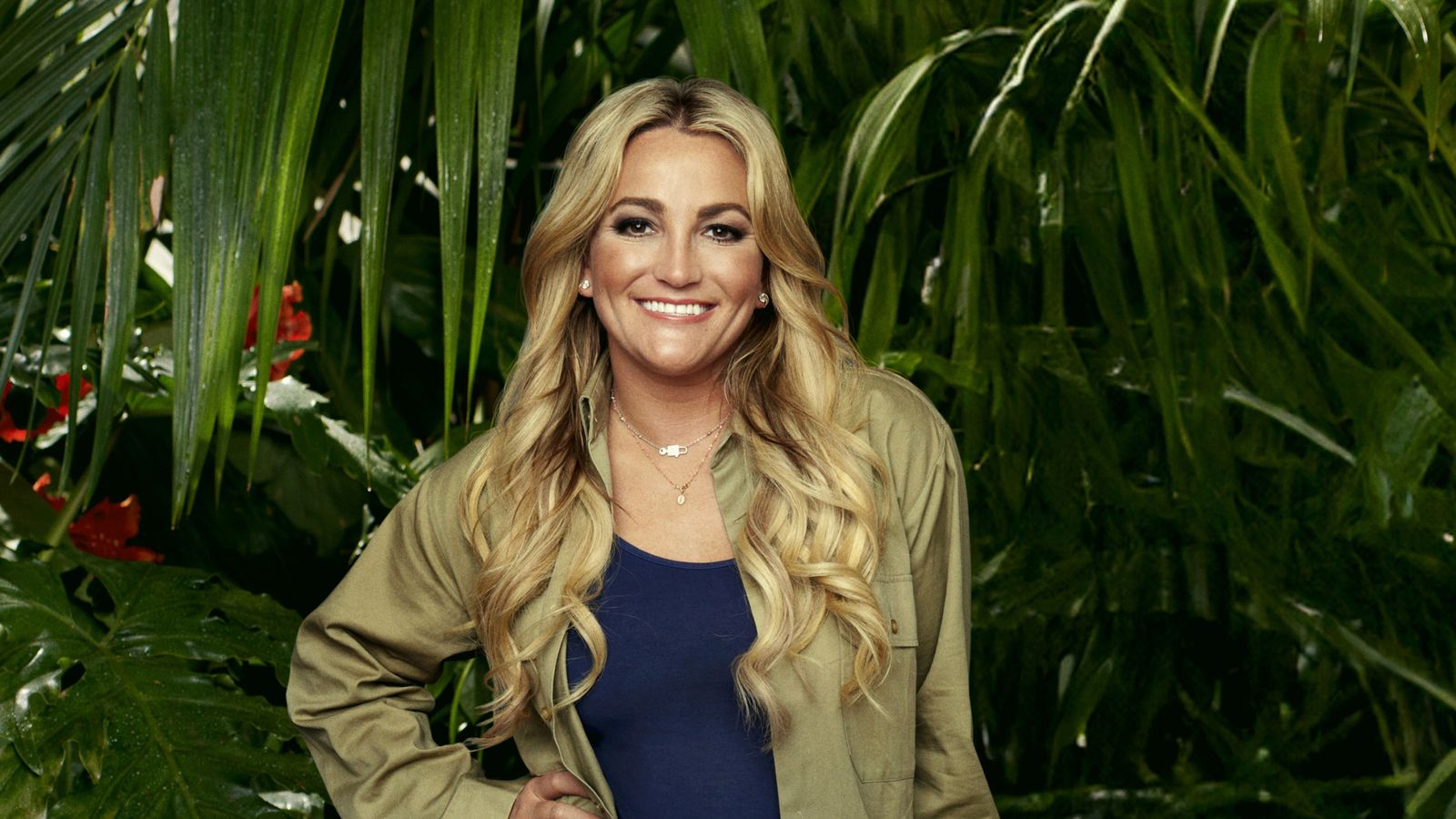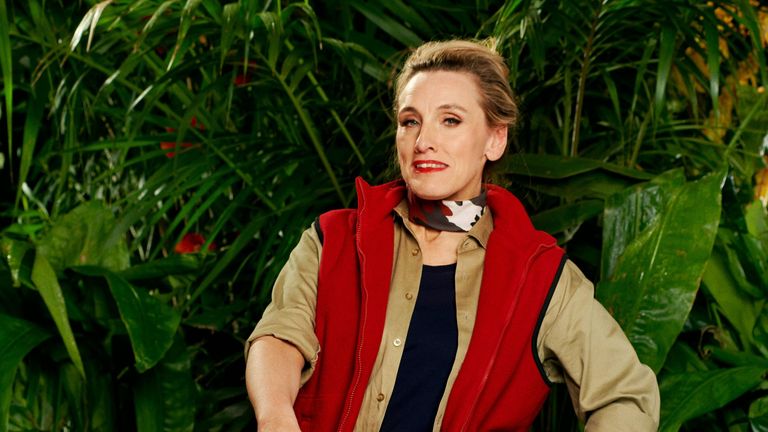 Jamie Lynn Spears has become the second contestant to leave I'm A Celebrity… Get Me Out Of Here! on medical grounds.
A spokesperson for the ITV show confirmed to Sky News that Britney Spears' sister had left the jungle on Wednesday afternoon.
She follows Grace Dent, whose departure was confirmed on Saturday. She told her fellow campmates that her "heart is broken" after leaving the programme early.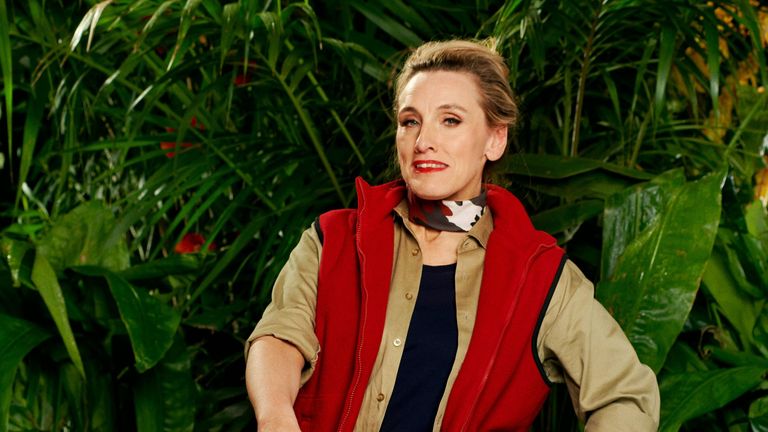 "Jamie Lynn Spears has left I'm A Celebrity…Get Me Out Of Here! on medical grounds," the spokesperson said.
"She's been a fantastic campmate who has triumphed at trials and bonded well with her fellow celebrities."
Sky News understands the 32-year-old has now left the camp and her fellow campmates are aware that she won't be returning.
Her last appearance on the show will be on Wednesday night's episode.
Spears had threatened to quit last week after just a few days when she became emotional because she was missing her children.
During the episode on 21 November, she told her campmates she was finding it difficult to be so far away from her family.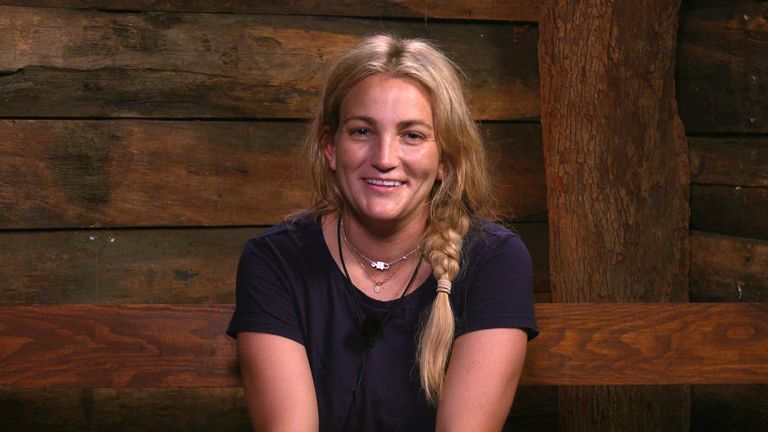 Her emotions bubbled up further when four celebrities were tasked with a challenge to win the contestants' luxury items, with hers being a photo of her two daughters.
Spears also appeared to use the camp phone – which normally only rings during challenges – in last night's episode to try to call her family in the US.
During her time on the show, Spears also discussed her relationship with her sister Britney, who she said she had talked to before entering the jungle.
Spears revealed the pair had a "very complicated upbringing" which lead to them having issues with each other.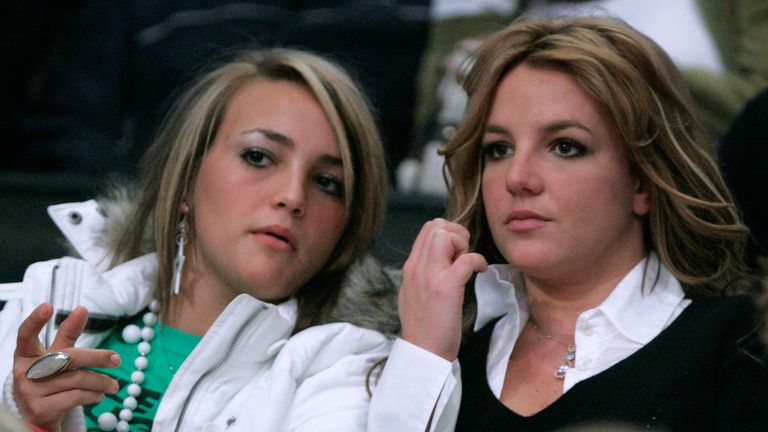 However, she added that she felt Britney would be "worried" about her in the jungle and believed she would be "checking in" regularly.
"She's (Britney) a good big sister, she is," Spears said. Yeah, I love her… Me and her throw down. The world's seen that.
"I've learned to stop talking about it publicly, but you know what, families fight. Listen, we just do it better than most."
Spears also discussed the challenges she faced after falling pregnant as a teenager while starring on TV series Zoey 101, and how she became Catholic after her daughter survived a freak accident where she nearly drowned in a family pond.
Read more entertainment news:
Beyonce's mother defends her against 'skin lightening' accusations
Girls Aloud promise 'magic' reunion tour
Judge dismisses bankruptcy petition against ex-England star
Other celebrities on this year's show include former UKIP leader Nigel Farage, First Dates star Fred Sirieix and JLS singer Marvin Humes.
The show has so far attracted a lower audience than last year's series, which featured former health secretary Matt Hancock.
This year's launch was watched by seven million people in its first week – down from a consolidated audience of nearly 12 million last year.