There has been more glory for Great Britain in the Tokyo Aquatics Centre, with gold in the men's 200m freestyle relay.
Fresh off their one-two on Tuesday, Tom Dean led the way with Duncan Scott swimming the anchor leg.
James Guy and Matthew Richards completed the line-up – and the quartet finished 0.03 seconds off the world record.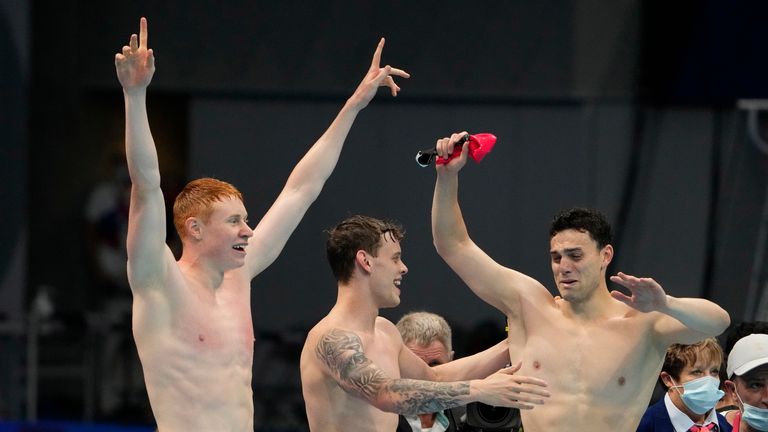 Dean got Team GB off to a solid, if unspectacular, start, swimming just behind the United States before Guy closed the gap.
It was 18-year-old Richards' leg that was the standout – with the teenager storming into the lead leaving Scott with what turned into the simple task of confirming the gold.
In the end, Team GB claimed an emphatic victory – 3.32 seconds clear of the Russian Olympic Committee in second.
The United States dropped to fourth after a good start, with Australia finishing third.
The victory means Dean is the first British male swimmer to win two golds at the same Olympic Games since 1908.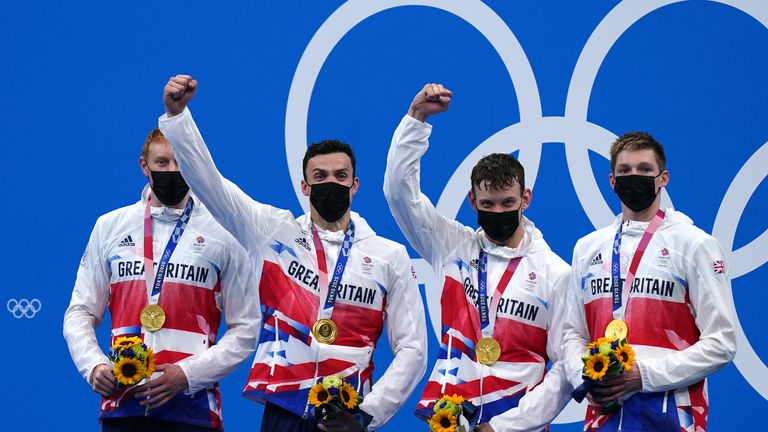 Earlier in the day, Abbie Wood just missed out on a medal in the 200m individual medley despite swimming a lifetime best, with Kate Douglas of the USA just beating her to the bronze medal.
James Wilby's excellent Games continued as he qualified for the men's 200m breaststroke as the second-best swimmer, but Ross Murdoch missed out on a place in the final.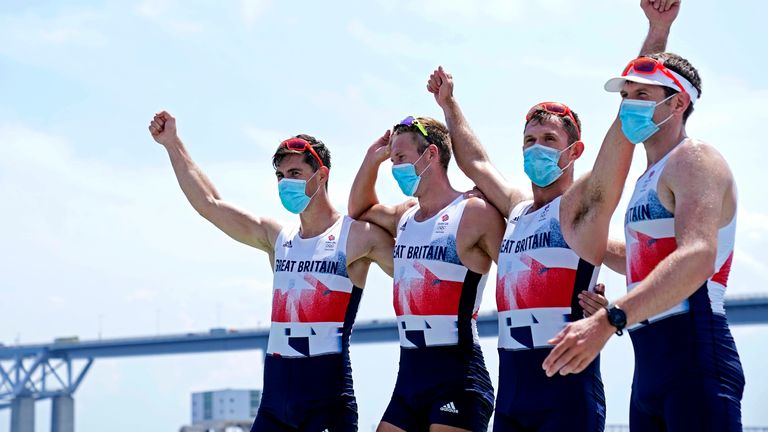 It was a disappointing and frustrating morning on the Sea Forest Waterway for the British rowers, who finished fourth in three races.
Team GB had an outside medal chance in the men's double sculls and women's four, but they just missed out on the podium in both events – finishing fourth.
The biggest disappointment came in the third race – the men's four cox – where Team GB were bidding for a sixth straight gold but missed out on a medal altogether.
Debutants Sholto Carnegie, Oliver Cook, Matthew Rossiter and Rory Gibbs tried to push eventual winners Australia all the way, but the Brits were chased down by Romania and Italy, with the Team GB boat almost crashing into Italy in the closing stages after swerving out of their lane.
Great Britain did get its first rowing medal at the Games, finishing second in the men's quadruple sculls.
Going into the race, Team GB had an outside chance of a podium and were ranked as the fifth-best team.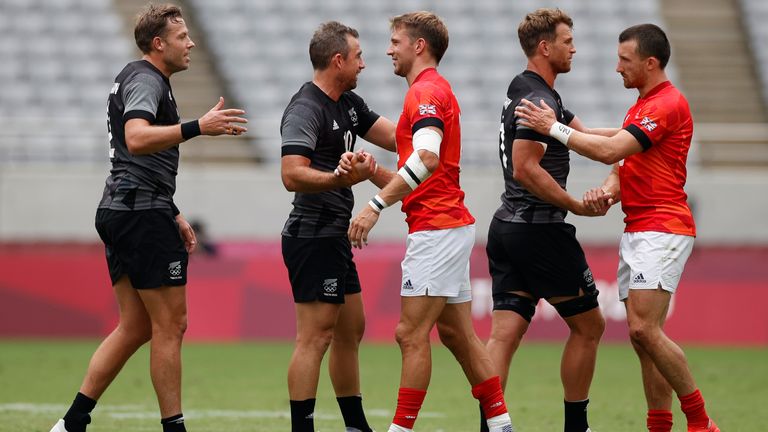 But they held off Australia and Poland to take silver, behind the Netherlands – who won four rowing medals on day five of the Tokyo Olympics.
Jack Beaumont, 27, from Maidenhead, said: "It was wild out there. The conditions are rough, with a tailwind, but it's what we're used to back at home so we've trained in this so many times, it did not shake us.
"We decided that, as we were in lane one with an outside chance of a medal, we were going to take it to them and we really did it."
Follow the Daily podcast on Apple Podcasts, Google Podcasts, Spotify, Spreaker
Harry Leask, 25, from Edinburgh, added: "I knew basically the whole way where we were, I had a pretty good view from where I was sitting of the whole race.
There could be more medals in rowing, after Emily Craig and Imogen Grant qualified for the final in the lightweight women's double sculls.
In the rugby sevens, Team GB were hoping to qualify for their second final in consecutive Games but were well beaten by New Zealand in the semi-final.
They will play Argentina in the bronze medal match at 8am.
'I was going to cut his throat': Ex-criminal enforcer turned bishop reveals how he planned to kill rapist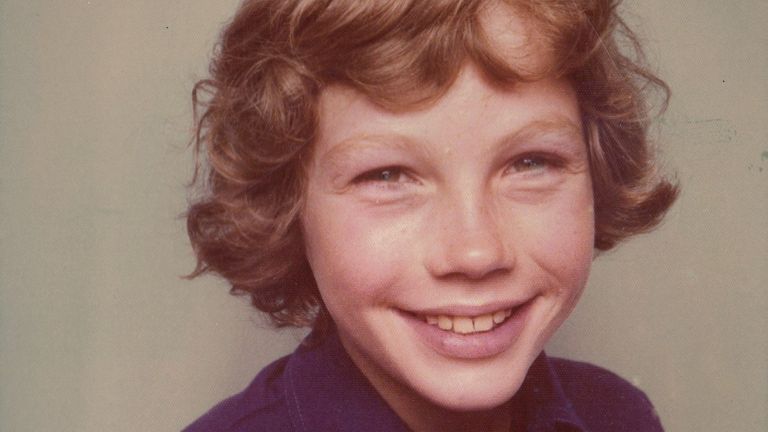 "I should have been dead many times," says Pastor Mick Fleming.
The 57-year-old has survived several attempts on his life after working as an enforcer for the criminal underworld.
He narrowly avoided being killed in a drive-by shooting when he felt bullets "whizz" past his body. "I think that was the closest I came to be being murdered," Mick tells Sky News.
He also survived his own attempt to kill himself when he pointed a gun at his head, pulled the trigger but the weapon failed to fire.
"I dropped the gun and I cried," he says.
"It was the first time I'd cried since I was little boy."
After years of violence and drug use, Mick says he had grown to "despise" himself.
He suffered two traumatic events growing up in Burnley, Lancashire, that sent his life spiralling into crime and substance abuse.
Aged 11, he says he was raped by a stranger in a park as he walked to school.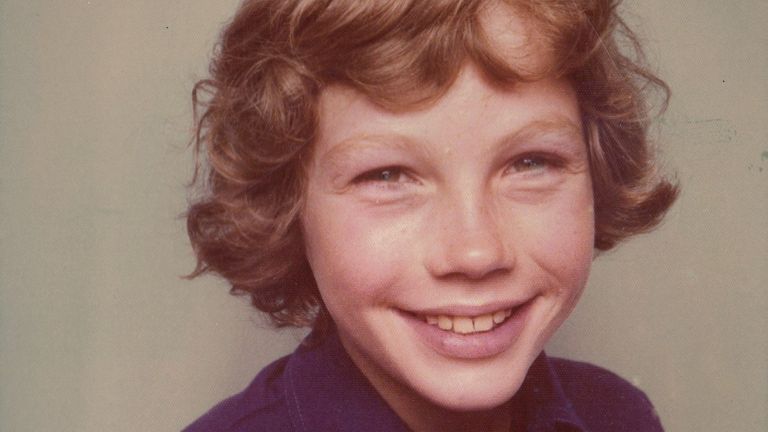 "I felt a hand over my mouth and I was dragged into this bandstand," Mick says.
"I was petrified. I still sometimes think about it. It hasn't gone away."
The next day, Mick was told his 20-year-old sister Ann had suffered a heart attack and died in her father's arms.
"My dad came through the front door and shouted: 'Come down, your sister's dead'," he says.
"It was cold and blunt… then he broke down. He was a tough guy my dad, but a nice man. I'd never seen him cry."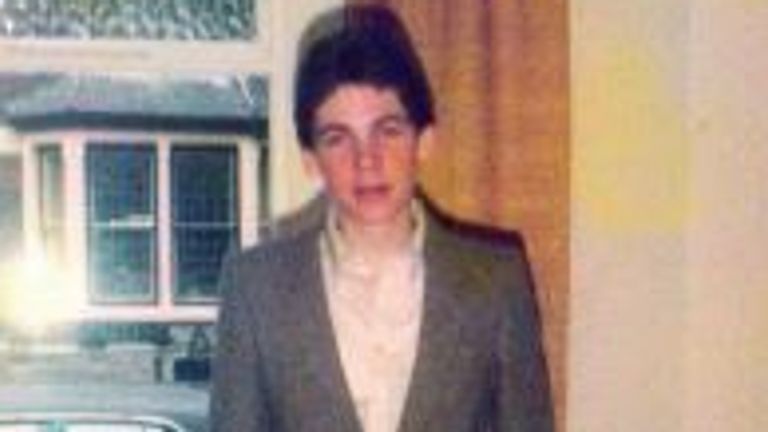 Life of crime
Mick says he went "inward" and started imagining carrying out crimes like pickpocketing "to escape the real world".
Soon after, he started stealing and dealing drugs as a teenager before working as an enforcer collecting debts for criminals.
He admits there was "a lot of violence" and that his family described him as "demonic" at that time. It was not until 2009 that his life changed.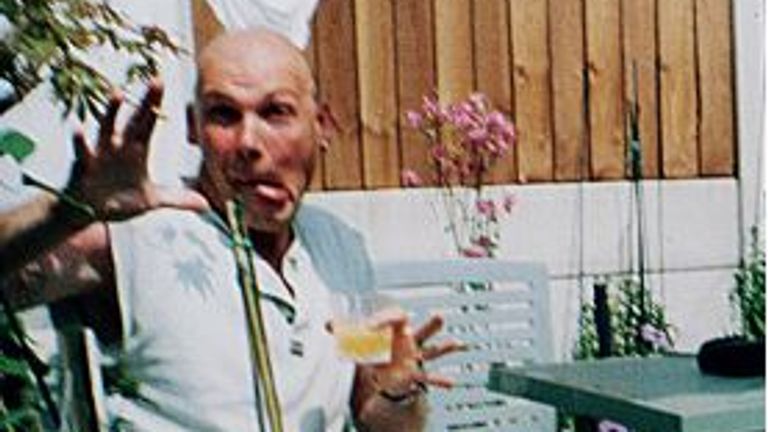 Armed with a gun wrapped in a plastic bag, Mick went to collect a debt from a man outside a gym. But when he walked towards his target, he realised the man was holding hands with two little girls – and there appeared to be "light shining off their hands".
"It was a really surreal moment," he says. "I felt sick. I started to cough and splutter and I couldn't see.
"I felt this thing in the pit of my stomach. It was a horrible, dark feeling – like a sickness.
"I got back in the car and drove round the corner into this little industrial unit and pulled over. I was throwing my guts up. There was blood everywhere. I looked like I'd been stabbed."
It was at this point that Mick tried to shoot himself. After he failed, he was later admitted to a psychiatric unit.
"I've never had a drink or used drugs since," Mick says. "I was on a road to recovery from that point on."
Meeting his rapist – and the plan to kill him
Mick had been clean of drink and drugs for about a year when he says, by chance, he met the man who raped him.
He spotted his attacker in a McDonald's restaurant. The man was drunk and Mick bought him a cup of tea.
"I knew it was him," Mick says. "He didn't know it was me."
Mick arranged to meet the man the next day with the intention of killing him.
"I went back with a knife in my sock," he says.
"I was going to cut his throat. I was going to kill him. Everything was building up inside me."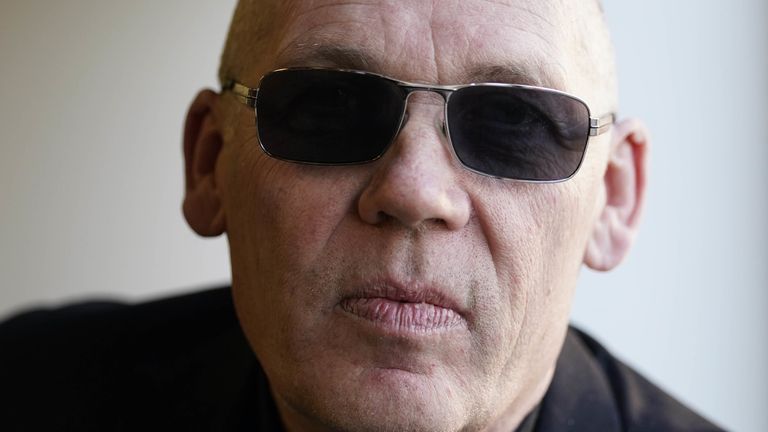 As Mick walked towards the man, he says he imagined killing him, with "clear, vivid pictures" of the brutal act in his mind.
But instead of carrying it out, Mick says he sat down and listened to what the man had to say.
"I didn't say anything," Mick explains. "In that moment I got this real understanding. I thought: 'I'm not going to live in your sin.'
"People say resentment is like drinking poison and expecting the other person to die. That's what I'd been doing.
"I didn't grow to love the guy but, in the end, I can honestly say I didn't hate him."
Mick says the man died about two years later.
Becoming a priest
After leaving the psychiatric unit, Mick went on to achieve a degree in theology from the University of Manchester, overcoming difficulties he faced with dyslexia.
Now ordained as a priest and recently consecrated as a bishop, he is known locally as Pastor Mick and runs a charity called Church On The Street, helping people struggling in the cost of living crisis.
Among its services, the charity provides food, mental health support and Citizens' Advice – and has recently had to start helping families pay for funerals.
Church helping families in Burnley

"At the moment, it's far, far worse than the pandemic," he says. "It's ordinary people with children who are in dire straits."
He is also concerned about the impact of the cost of living on mental health and suicide risk.
"I've got NHS mental health teams working with us in our building. People can't afford to have a funeral for their loved ones. It's horrendous. We pay an undertaker to do the funerals for us and then I do the services for free."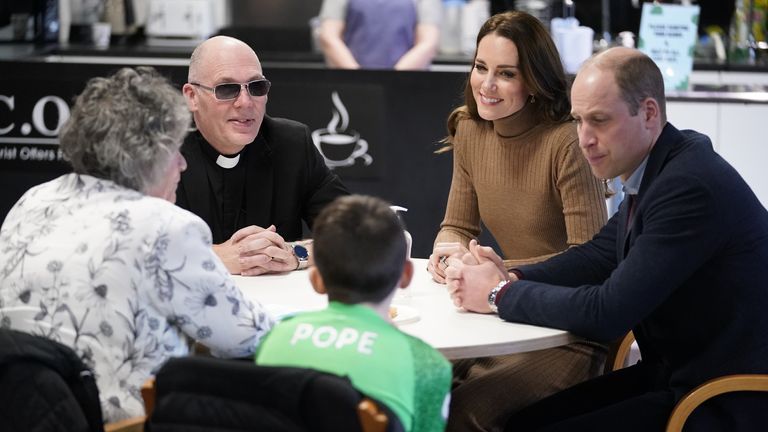 Meeting William and Kate
Mick's work was recognised by royalty when Prince William and Kate visited the charity in January last year.
William has since written the foreword to Mick's book – with a TV series about his life in the works – and he was invited to Kate's Christmas carol concert in December.
"I got to pray for them which was quite an honour," Mick says. "I really felt they're going to need prayers."
Mick believes William and Kate understand the problems people are facing with the cost of living despite their royal lifestyles.
"Obviously they haven't experienced it but you don't have to dead to be an undertaker, do you?" he says.
"They've got the ability to open doors and ask questions that need to be asked and point fingers in right directions."
Prince William wrote foreword to Pastor Mick's autobiograpy
The Prince of Wales wrote the foreword to Pastor Mick's autobiography entitled Blown Away: From drug-dealer to life bringer.
In it, the future King said: "It's impossible to visit Church on the Street and not be deeply moved by the work the organisation does for those in need.
"It is an extraordinary place that has been an important refuge and place of safety for so many.
"Often, it is only by sharing our problems and being honest with ourselves that we are able to heal and overcome life's challenges.
"And by doing so, we find just how deep the bonds we all share are."
Mick – who was married with three children during his time as a criminal enforcer – says he has repaired relationships with his family over the years.
"I wasn't a good father," he says. "I have to live with that fact.
"I'd want it to be better with my children, that's the truth. But it's all right – my family have come to accept me, and love me, and care for me. It's the best I can do.
"Some of it is my regret around my children. I wish I could turn the clock back with that but I can't so I accept it and do the best with it."
Anyone feeling emotionally distressed or suicidal can call Samaritans for help on 116 123 or email jo@samaritans.org in the UK. In the US, call the Samaritans branch in your area or 1 (800) 273-TALK
Andrew Tate: Snapshot of controversial influencer's potential earnings revealed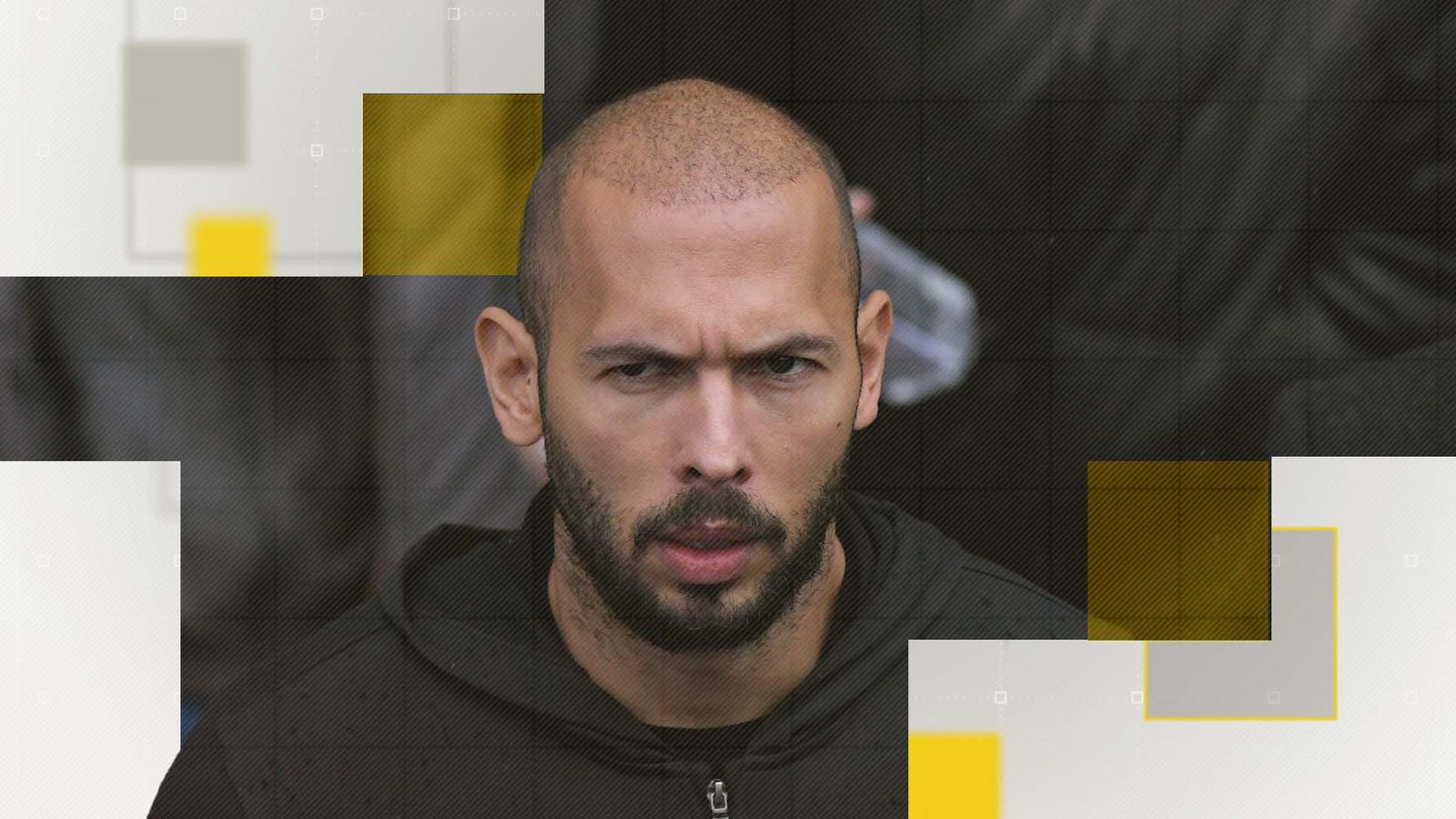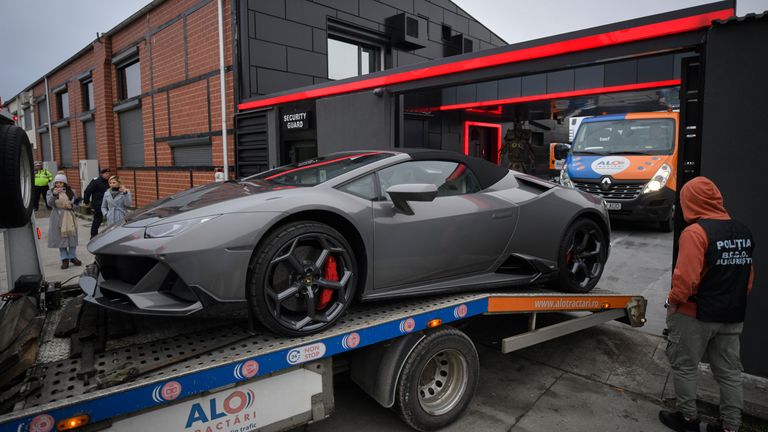 Influencer Andrew Tate gained many of his millions of followers by telling them he's rich – and he'll make them rich too.
The self-proclaimed misogynist has gone from posing on yachts and filming himself jetting off to Dubai, to being arrested in December over allegations of being part of an organised crime group, human trafficking and rape.
Symbols of Tate's apparent wealth, including luxury cars and properties, have been seized by the Romanian police who are investigating Tate, 36, and his brother and business partner, Tristan, 34.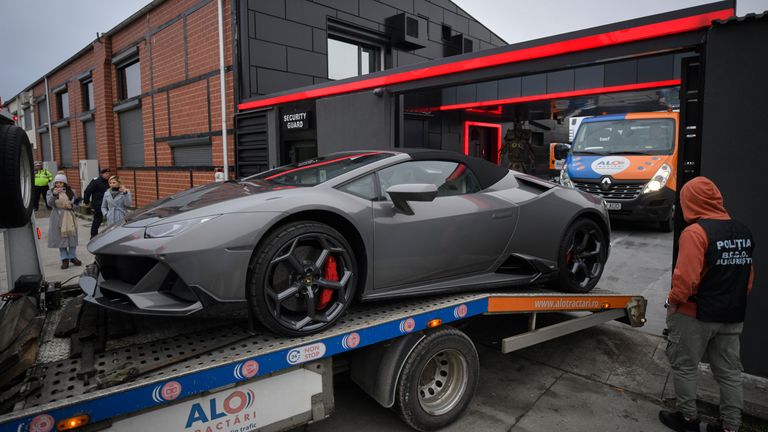 So, with Tate's assets under the microscope, what is known about how much money his business actually makes?
Speculation about his wealth varies wildly and many of the claims Tate makes about his earnings are unverified, including six-figure sums connected to his "camgirl" business.
It is not known whether this business is connected to the charges facing the brothers and two Romanian women, all of whom deny the claims made against them.
Using publicly available information, Sky News has looked at how much his company might be making through video streaming, as well as selling subscriptions and merchandise.
Video streaming
Banned from Twitter in 2017 (but since reinstated in November 2022), Tate was also removed from YouTube, Instagram, Facebook and TikTok in August 2022 for breaching their terms and conditions. But he had already built up millions of followers on each platform.
His army of fans followed him to anti-"cancel culture" streaming platform Rumble, where Tate's associates continue to post clips while he is in prison. Rumble's emphasis on "free speech" has made it popular among right-wing commenters.
Tate claims he signed a $9m (£7.3m) deal with Rumble in 2022, according to CNN. Rumble did not reply to Sky News' request for comment, but issued a statement to CNN calling for the charges against Tate to be "investigated promptly and thoroughly".
Sky News has collated Tate's video streams from his two Rumble channels, TateSpeech and TateConfidential. The former saw higher video views more consistently after he was blocked by other social media sites.
Although TateConfidential is less successful, the two channels collectively mean Tate has amassed huge viewing figures.
Rumble advertises itself as offering some of the most generous amounts paid out per video view, saying that "1,000 views on Rumble.com may earn you as much as 10,000 views on YouTube".
Sara McCorquodale, chief executive and founder of influencer intelligence CORQ, explains that how much social platforms usually pay out tends to be "a bit of a grey area".
"[On Rumble] it could be anything from $0.30 to $20 or $50 per 1,000 views," she said.
"Andrew Tate could be making anything from $600 (£490) to $20,000 (£16,250) for his most prolific videos."
By this estimate, Tate's most popular video "EMERGENCY MEETING 1 – THE MATRIX ATTACKS", which was broadcast five months ago in the days after he was banned from other social platforms could have earned him up to $133,500 (£108,400) after hitting 2.67m views.
As well as earning money through adverts, Rumble gives creators a bonus if their video is hosted on the site's front page.
Mrs McCorquodale explained that Tate's potential earnings on Rumble show just how large his following is, despite the influencer not having access to most mainstream social media sites.
She said: "It shows the numbers of views we are seeing on Andrew's channels are all coming from his audience.
"This is quite worrying because it shows the scale at which he has attracted people to his narrative.
"Andrew Tate is very much aiming his content at young men… He tries to be aspirational, but then he also tries to connect with young men by seemingly understanding the challenges they face in society today."
Manosphere merchandise
With Tate banned from most social media, his fans flock to his website – including to buy merchandise to support him.
Activity on his merchandise page has been saved by the Internet Archive project, a digital library of websites. Its records can not be edited or altered.
Using it, we can see how many items were advertised as for sale, at what price and on what date they were listed as having sold out by.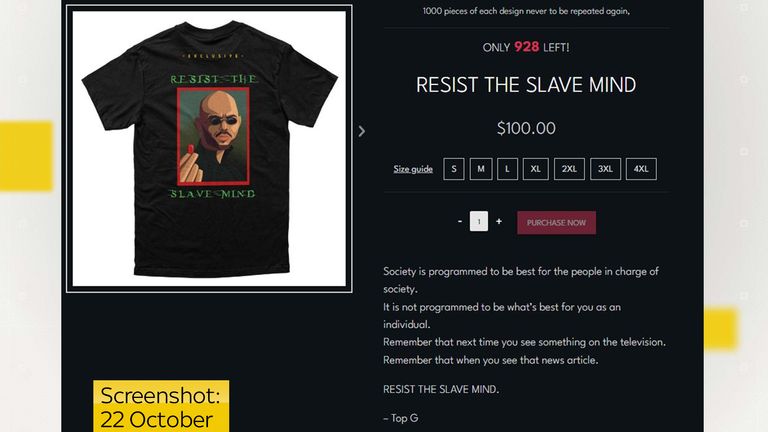 A screenshot of Tate's online merchandise store on 22 October shows that a T-shirt named "Resist the Slave Mind" was on sale.
It shows Andrew Tate dressed like a character from the 1999 film The Matrix while holding a red pill. The red pill, a motif from the movie, is popular symbol in what is known as the "manosphere", a loosely connected groups of online misogynists.
The now sold-out shirts were on sale for $100 (£81) each with 1,000 in stock.
This means the T-shirts would have brought in $100,000 (£81,000) of revenue. This is the overall figure earned and would not include any outgoings or division of profit.
These calculations are being made based on figures provided by Tate's website.
These figures may be unreliable, with Sky News discovering that at least one claim on the site is wrong.
Tate's website claims the Resist the Slave Mind T-shirt sold out in the specific timeframe of 25hrs 19m and 43 seconds.
However, archived pages show the T-shirt on sale on 22 October, was still on sale on 5 November and was listed as sold out by 7pm the following day.
This means the T-shirt was on sale for more than two weeks, rather than just over a day.
Other sales on his site recorded by the archive include another T-shirt named "Vision". It was put on sale for $100 (£81) per shirt with 651 listed as available, earning a potential $65,100 (£52,700).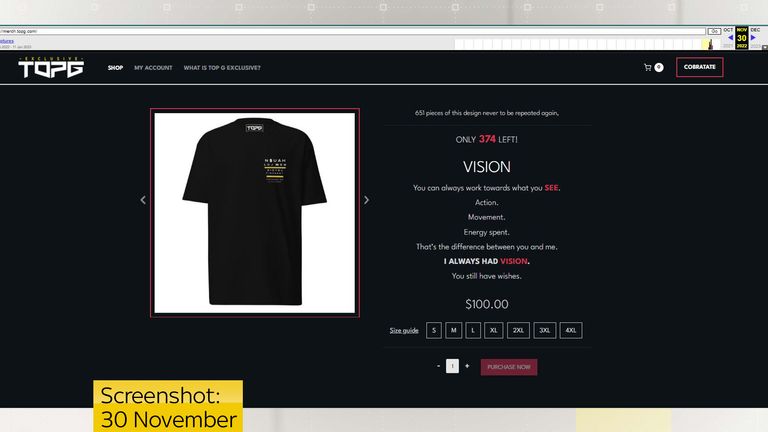 A hoodie, "Cobra", was on sale for $150 (£120) but the internet archive did not record how many units were available.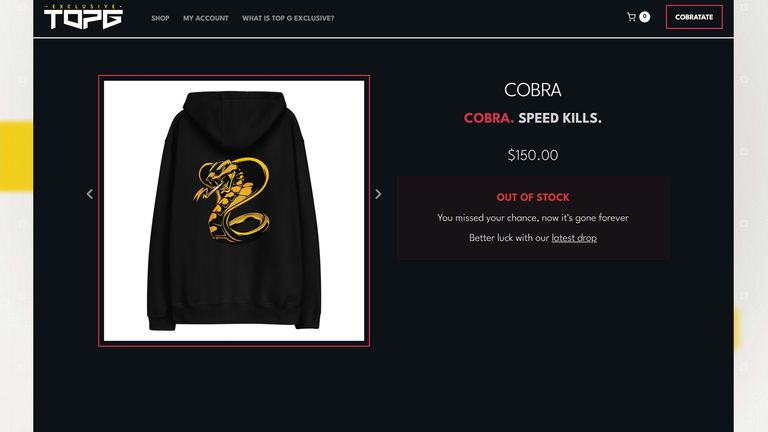 A pair of mugs were on sale for $139 (£113) with 888 on offer, potentially generating $123,400 (£100,000).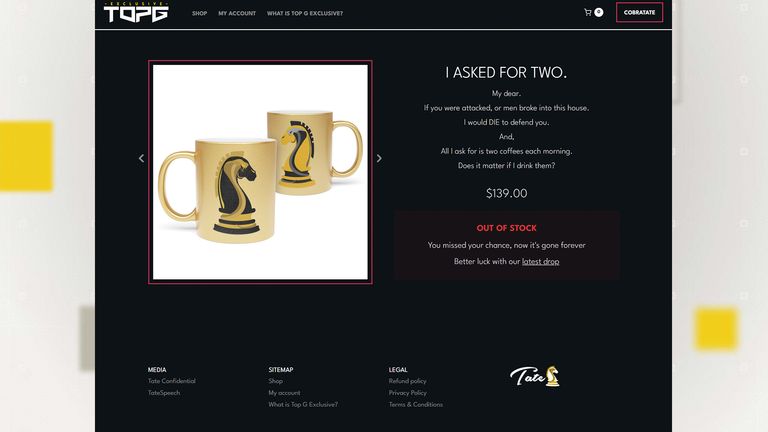 This means, since the end of October, $265,100 (£215,000) may have been generated through merchandise alone – not including the $150 hoodies, of which we don't have a verifiable stock figure for.
Tate also sells supplements on his website, priced at $54.99 (£44.50).
We don't have stock figures to access through the archive, but data provided to Sky News from website analytics company SimilarWeb can give us an insight.
They estimate that the number of hits on the checkout page for supplements in November was around 6,500 and in December around 3,100. While a person visiting the checkout page does not guarantee a sale is made, it does give a sense of how many users are getting to that stage of the purchasing process.
Money-making memberships
Tate sells access to schemes that are advertised as teaching people how to make money online through sessions on skills such as copywriting and crypto-trading.
This is "a classic influencer strategy" that Andrew Tate has put his own spin on, says Mrs McCorquodale.
"The clever thing Andrew Tate has done is recognise that he is a divisive character. Many people may not want to be seen as a fan of him publicly but are buying his subscriptions and engaging privately.
"His subscriptions allow people to engage without risk of judgement. This is crucial."
There are two levels of access. The first is "The Real World", a new incarnation of the Hustler's University, which was shut down last year.
Subscribers pay $49.99 (£40) a month for access to group chat rooms, tutorials and "millionaire mentors". For those signing up early, an entry fee of $27 (£22) was payable, which later increased to $147 (£120).
The website claims over 200,000 people have transferred over from Hustler's University or joined the scheme when it launched in November. This would bring in at least $9,998,000 (£8,089,140) a month in subscriptions if that figure is accurate.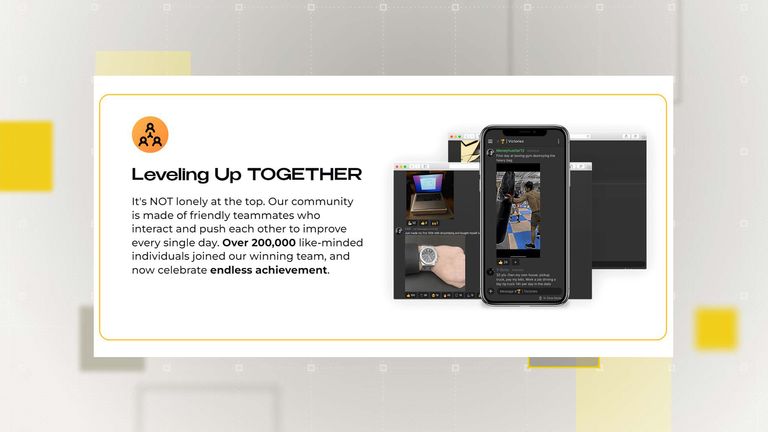 However, Sky News has seen a Telegram group for The Real World where members of Hustler's University were automatically added. It only has 126,255 subscribers.
The number of views each announcement in the group gets has dropped from around 230,000 at the start to around 45,000 in January.
Web traffic to the log in page for The Real World is also much lower than the membership figure would suggest.
Less than 100,000 hits were registered by VStat, another web traffic monitor, in January. The service is unable to give a more precise audience figure when views are this low.
Tate's other subscription service is The War Room, where membership is significantly more expensive, at $5,454 (£4,400), which must be paid via cryptocurrency.
It is not possible to find a reliable independent figure which could indicate how many people are subscribed to The War Room.
Sky News contacted Tate's lawyer for comment regarding the figures set out in this article but did not receive a response.
Click to subscribe to the Sky News Daily wherever you get your podcasts
What can we learn from this snapshot of Tate's earnings?
For Mrs McCorquodale, Sky News' findings goes some of the way towards answering if these earnings tally with Tate's displays of wealth.
"What's clear is he has multiple revenue streams which all link back to him monetising his digital audience and mean he is less reliant on mainstream social media platforms," she said.
"These let him continually push a message and amass more new customers but ultimately he is trying to get them off those platforms and onto his own [such as] his War Room subscription."
The future of Tate's earnings may well be hit by the police investigation, with Mrs McCorquodale highlighting the falling viewing figures on Rumble after his arrest.
She said: "Many people may like what he's saying and think the controversy around him is overblown. But the minute there is a chance he might actually be a criminal, they're out.
"Perhaps this has made consumers review more carefully who he is and his real impact beyond making people annoyed on Twitter."
---
The Data and Forensics team is a multi-skilled unit dedicated to providing transparent journalism from Sky News. We gather, analyse and visualise data to tell data-driven stories. We combine traditional reporting skills with advanced analysis of satellite images, social media and other open source information. Through multimedia storytelling we aim to better explain the world while also showing how our journalism is done.
How legacy landfills around the UK coast are coming back to haunt us with the rubbish of the past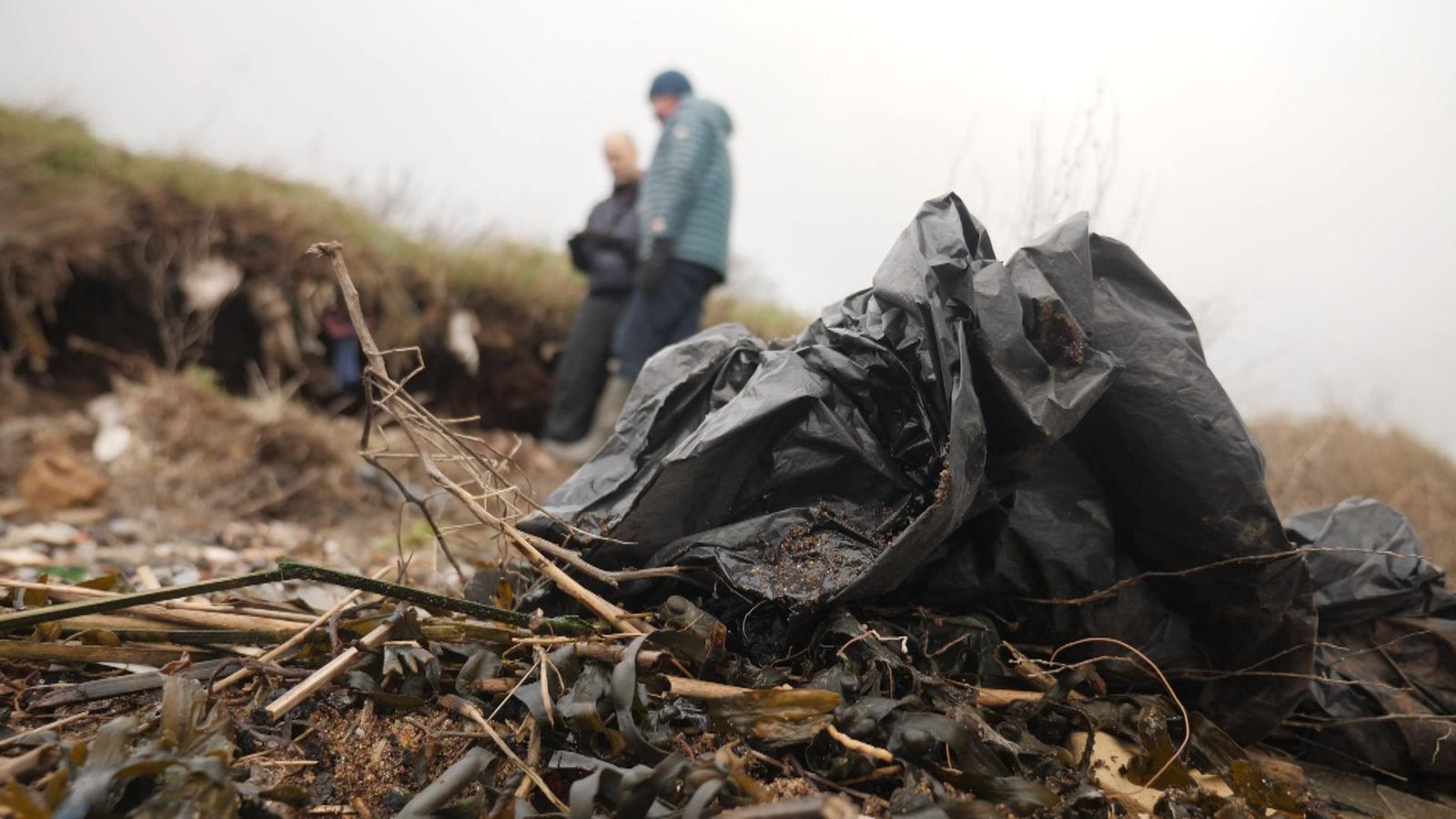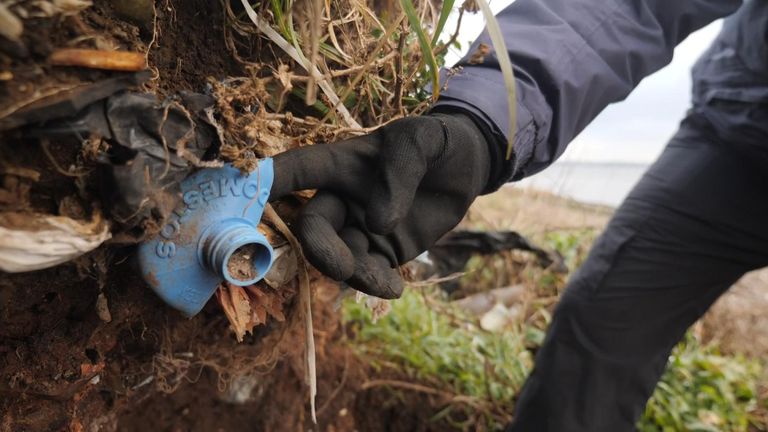 Take a walk along the north side of the Thames estuary near Tilbury and all seems well – white egrets paddling beside the fields, crumbling forts and pillboxes defending us from past invaders.
But today's threat is already on the beaches. It lay beneath for years.
On closer inspection the crunch below my boots isn't pebbles but breaking glass. This isn't shingle but ground up waste – bottles, pottery, bricks and corroding metals.
It hasn't travelled far as the seashore here was once a landfill site and the stubby cliff exposed as the tide drops reveals exposed seams of waste. What we buried has emerged to haunt us.
Layers of plastic sheeting flap and flake in the breeze, while plastic bubble bath bottles, vintage crisp packets and retro fabrics rise up from the earth.
Rightly, we worry hugely about dropping litter and waste pollution yet here is a wellspring of rubbish spewing more debris into the sea with every storm.
It almost has to be seen to be believed.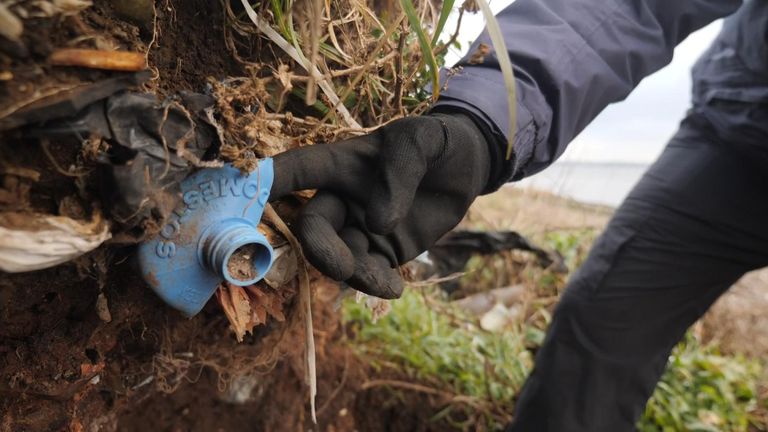 On this spot near Tilbury, there are two legacy landfill sites next to each other.
Combined they stretch for hundreds of metres. Dumping began in the Victorian era – one closed in the seventies, the other not until 1991.
There are thought to be at least 1,000 dumps around our coastline and in a recent survey, 26 councils said they had old seaboard rubbish tips they could do longer defend.
'Hazardous chemicals' a hidden risk in the rubbish
It isn't just unsightly but dangerous, says AJ McConnell from the conservation group Thames 21.
"As it starts to come out, it's exposed to the elements. And it starts to break down and make its way into really, really small pieces. And then they call them microplastics.
"It's not just the plastics, it's also the hazardous chemicals. And that can be a really serious issue for wildlife."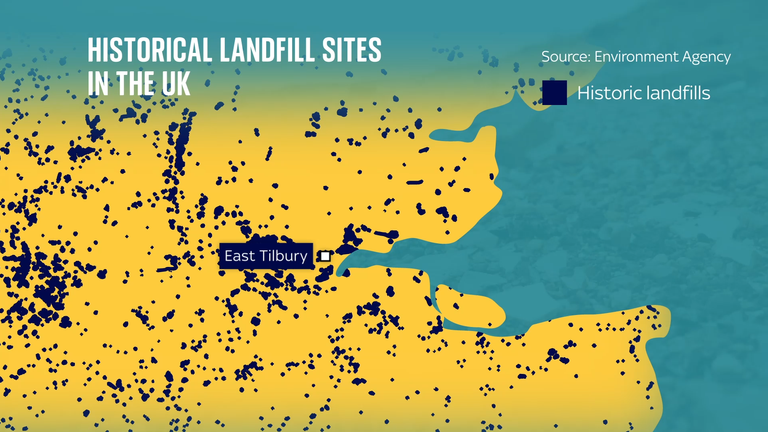 Read more from Sky News:
Farmers paid to restore wildlife in 'genuine Brexit benefit'
What is the Doomsday Clock and how does it work?
Better home insulation could mean people living longer
Understanding of these risks has emerged remarkably recently. In the not too distant past we thought it was okay to dump rubbish directly into the sea.
Most of these coastal landfills operated under much more lax environmental regulations and climate change is accelerating erosion, says William Powrie, professor of geotechnical engineering at the University of Southampton.
"We have got sea level rise and increased storminess so the waves are starting to attack things at a higher level," he said.
"So, you know, there's a whole complex of things going on which probably were unpredictable 20, 30 years ago."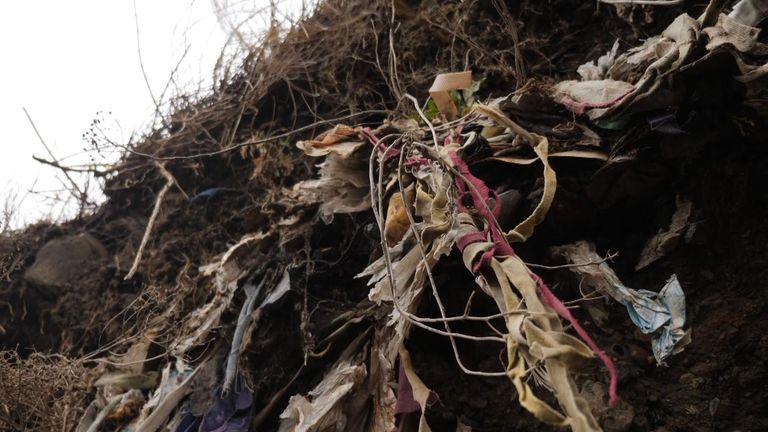 Now we know it's harmful but doing anything about it is tough.
The clean-up solutions are either digging the waste up and reburying it somewhere safer or building really tough sea defences.
These are both controversial and really expensive with bills possibly stretching to billions of pounds.
Neither local authorities, central government or the companies who once operated these sites are willing to foot the bill.
Which means coastal rubbish and its toxic components won't be laid to rest any time soon.