Canelo Alvarez's longtime goal of becoming undisputed boxing champion is further from reality than ever since he won his third 168-pound title in May.
Boxing's top star was on the verge of a deal to meet Caleb Plant on Sept. 18 in Las Vegas — a PBC on Fox pay-per-view — a pact that was in the works for weeks. But at the 11th hour, talks have broken off over disagreements in the contract, multiple sources told ESPN on Tuesday. The contract was passed back and forth between Canelo's team and Al Haymon's Premier Boxing Champions over the weekend, sources said, and after multiple edit requests, the deal collapsed over the stalemate.
Talks could be revisited, sources said, but time is running out if Canelo plans to fight on Mexican Independence Day weekend as he traditionally does. If he moves on from a fight with Plant, who holds the only super middleweight title not in Alvarez's possession, another option is a return to 175 pounds for a title tilt with Russia's Dmitry Bivol, sources said.
Alvarez's team had requested a rematch clause, a concession Plant and PBC agreed to, sources said.
Canelo's two-fight deal with Matchroom's Eddie Hearn expired following his May TKO victory over Billy Joe Saunders, opening the door for Alvarez to seek a one-fight deal with Haymon's team that would have earned him a career-high payday. The Mexican was set to make upwards of $40 million guaranteed, sources said, for a fight that would have been presented in conjunction with Canelo Promotions.
"I'm coming, my friend," Alvarez (56-1-2, 38 KOs) said in the ring after he fractured Saunders' orbital bone, a coldly delivered warning to Plant.
The deal — negotiated by Alvarez's reigning trainer of the year, Eddy Reynoso — would have marked Alvarez's return to pay-per-view, a platform he has headlined on nine times since his fight with Shane Mosley in 2012. Those bouts include a megafight with Floyd Mayweather in 2013 and a pair of matchups with his bitter rival, Gennadiy Golovkin.
Now, Alvarez could return to DAZN, the platform that has streamed his last six fights, beginning with a December 2018 win over Rocky Fielding.
Following the rematch with GGG in September 2018, Alvarez linked up DAZN on a 11-fight, $365 million deal. But after just three fights together, a dispute led to a legal battle between the fighter and DAZN (along with then-promoter Golden Boy). The spat was settled, and Alvarez became a network and promotional free agent. His past three fights were promoted by Hearn on DAZN.
Delivering Canelo to Fox would have been a coup for Haymon, whose three-year deal with the broadcast platform expires later this year but includes a network option for a fourth year, per sources. A fight between Alvarez and Plant would have been sandwiched between two other major PPV fights: Manny Pacquiao-Errol Spence Jr. on Aug. 21 (Fox) and Tyson Fury-Deontay Wilder on Oct. 9 (ESPN+/Fox).
There was reason to believe Alvarez would link up with PBC for multiple fights. If Canelo plans to remain at 168 pounds — he's ESPN's No. 1 super middleweight — Haymon offers the best available opponents. There's Jermall Charlo, the undefeated, brash-talking middleweight champion who has long pushed for a meeting with Alvarez.
Haymon also advises David Benavidez, the former 168-pound titleholder who many in the industry believe will present the toughest challenge for Alvarez with his relentless volume punching and enormous size. And don't count out a future fight with Spence. He currently campaigns at 147 pounds but owns a large frame; he figures to move up to 154 pounds next year.
For now, Alvarez is left to cement an opponent for Sept. 18, whether that means circling back to Plant or finding someone else. Alvarez had actually already begun preparations for Plant (21-0, 12 KOs) at his gym in San Diego. Alvarez's two dates have traditionally been Cinco De Mayo weekend and Mexican Independence Day weekend. Yet he also fought in December, a decision win over Callum Smith to claim the unified 168-pound championship, and stayed busy with a third-round TKO of Avni Yildirim in February. If he fights on Sept. 18, it will be Alvarez's fourth fight in nine months. Superstar boxers routinely compete just twice a year, and that used to be the case for Canelo.
Canelo is ESPN's No. 1 pound-for-pound boxer. He claimed titles at 154 pounds, 160 and 175 and has won every fight since his draw with GGG in 2018.
No matter whom he fights, Alvarez is a box-office bonanza, but he hasn't been able to flex his proverbial muscle on PPV in three years. His last three bouts were offered on pay-per-view, but that wasn't a major revenue driver since they were only available for substantially less money as part of a monthly subscription to DAZN.
Canelo's two fights with Golovkin both generated more than 1 million PPV buys; his 2013 matchup with Floyd Mayweather pushed past 2 million.
Plant, of course, isn't nearly as well-known as either of those stars, but there's reason to believe he would make for a commercially viable foil for Alvarez. The 29-year-old has headlined on Fox in three consecutive fights and isn't shy when it comes to boasting about his talent and dedication to the sport. A self-professed gym rat, the Nashville native possesses one of boxing's best jabs. He also owns lightning-quick hands and excellent footwork to go along with a powerful frame for the 168-pound division at 6-foot-1. What Plant has lacked: top-flight opposition. His best opponent was Jose Uzcategui in Plant's title-winning effort. He's also encountered hand issues, including in his most recent victory.
The fight with Alvarez would have seen Plant rise several levels in class. He, too, was set to earn a career-high payday, a package worth more than $10 million, sources said. While Plant hasn't been tested, he's looked the part in all his fights and is rated No. 3 by ESPN at 168 pounds. One attribute Plant certainly isn't lacking ahead of his career-defining night: confidence.
"He's looked human in some of these bigger fights," Plant said in May. "He's been fighting these U.K.-level guys and that's cool, but as far as him fighting the top — Floyd Mayweather, Erislandy Lara and Gennady Golovkin [twice] — he's 1-3." Alvarez is actually 3-1 in those fights, but the draw with GGG and win over Lara were disputed decisions.
Now, Plant might not have a chance at all to prove Alvarez is just that — another man.
How Jacob deGrom decided to ditch New York and become a Texas Ranger
Chris Young, the head of baseball operations for the Texas Rangers, called Bruce Bochy on Thursday with news that stunned the new manager. "Jacob wants to come with us," Young said.
Bochy's response: "Are you kidding me?"
Bochy knew the Rangers were going to be aggressive in their negotiations with Jacob deGrom, and he had been impressed by the pitcher in a Zoom meeting with deGrom and his wife, Stacey Harris, in the days before Thanksgiving. But Bochy had assumed that the process would play out for days and perhaps weeks to come as deGrom considered the possibility of leaving the New York Mets, the organization that had drafted him in 2010.
Instead, deGrom made his decision quickly, agreeing to terms on a five-year, $185 million million contract without even giving the Mets an opportunity to present a final offer, based on interviews with a dozen sources involved in deGrom's free agency. According to sources, Mets general manager Billy Eppler learned about deGrom's deal with the Rangers on Friday evening, just minutes before the news broke — and more than a day after deGrom had closed his deal with Texas.
For some in the Mets' organization, that last bit of silent treatment from deGrom was confirmation of what they had suspected even during the season: that deGrom, the Cy Young Award-winning pitcher who warmed up to Lynyrd Skynyrd's "Simple Man" before his starts, probably preferred to pitch somewhere other than New York City.
CFP preview: First look at Georgia-Ohio State, Michigan-TCU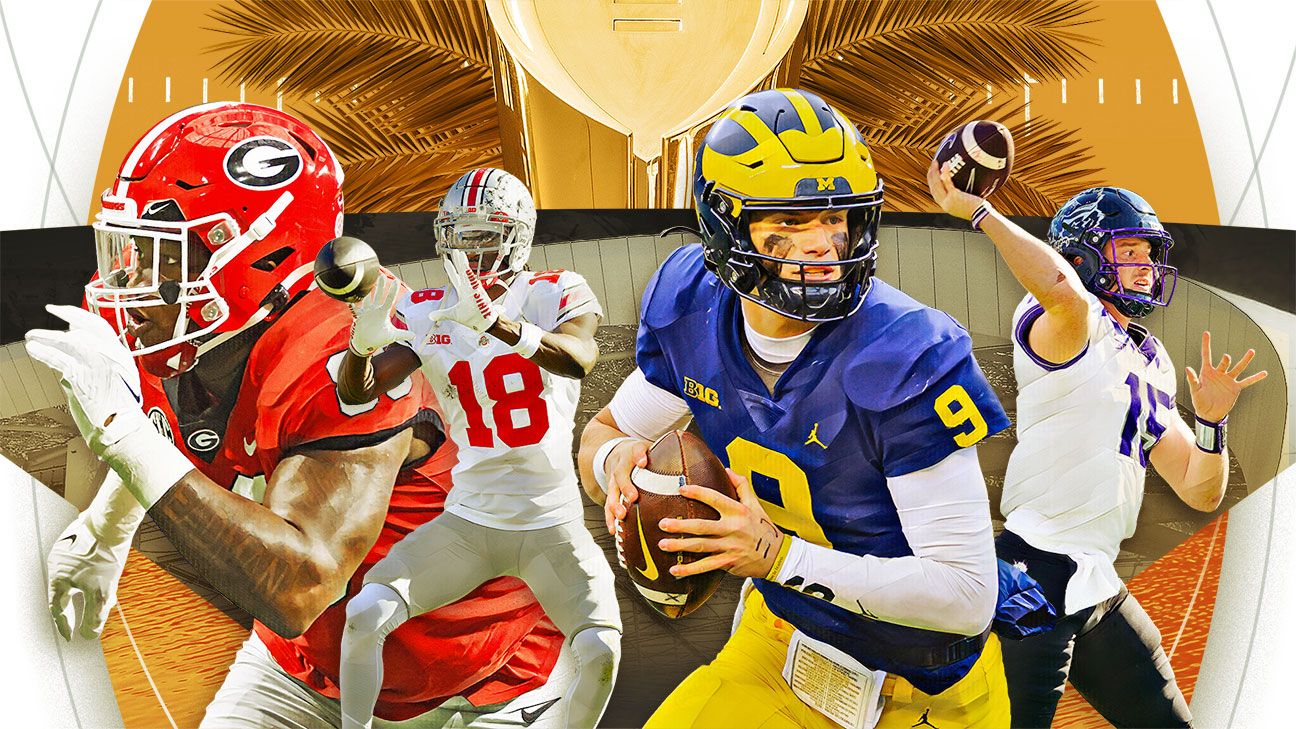 Nick Saban tried. Alabama's coach found whatever megaphone was available to him Saturday night to publicly plead the Crimson Tide's case to make the College Football Playoff.
He suggested looking at the top four through the lens of, "How are they playing at the present?" He asked, "If we played these teams in question, would we be underdogs in the game or not?"
But the committee didn't budge. Betting lines aren't part of their criteria, after all. They meet in Grapevine, Texas, not Las Vegas.
There would be no leapfrogging Ohio State or TCU. In the end, the math was simple: The top three of Georgia, Michigan and TCU remained the same, out went USC by virtue of a second loss in the Pac-12 championship game, and in slipped the Buckeyes, who moved up one spot to No. 4. Which means, for just the second time since the CFP began in 2014, Alabama will not be part of the semifinal round.
So we have new blood: The Horned Frogs become the first team from the Big 12 not named Oklahoma to reach the playoff.
And we have an old rivalry: The Buckeyes and Wolverines will play their respective semifinal games for a chance to meet for the national championship.
And we have a chance for some more history: Georgia is seeking to become the first repeat champion of the CFP era.
Here's a first look at the semifinal games.

No. 1 Georgia vs. No. 4 Ohio State
CFP Semifinal at the Chick-fil-A Peach Bowl
When: Saturday, Dec. 31 at 8 p.m. ET
Where: Mercedes-Benz Stadium, Atlanta
How to watch: ESPN and ESPN App
Opening line via Caesars Sportsbook: Georgia by 7
Georgia
Key player: Georgia's defense shouldn't be this good again. Repeating last season's success would have been hard enough, even if it had not lost five first-round draft picks to the NFL. But maybe the most talented player on that defense from a year ago — Jalen Carter — did come back. And after dealing with nagging injuries the first half of the season, he has showed what a game-wrecker he can be of late. In his past six games, he had 24 tackles, 6.5 tackles for loss, three sacks and two forced fumbles. Big and strong enough to plug the running lanes, and quick and agile enough to rush the passer, Carter must be accounted for.
X factor: Georgia's offense is effective, of course. It has a three-headed monster at running back with Kenny McIntosh, Kendall Milton and Daijun Edwards. And quarterback Stetson Bennett is a threat whether he's throwing from the pocket or scrambling for yards. What's more, he has mismatches at tight end in Brock Bowers and Darnell Washington to lean on. But who's the go-to receiver? Who's the deep threat? Ladd McConkey is solid with 51 receptions and five touchdowns, but those aren't exactly eye-popping numbers, and he's undersized at 6-foot. Fellow receivers Marcus Rosemy-Jacksaint and Dillon Bell have only two touchdowns apiece.
How Georgia wins: The formula isn't terribly complicated. Kirby Smart built the Bulldogs to win the line of scrimmage on both sides of the ball. So start from the inside out. Carter and the defensive line suffocate the running game (2.97 yards per rush during the regular season, sixth lowest in the FBS) and get in the face of the quarterback (31% pressure rate). Meanwhile, the offensive line powers a strong running game (5.5 yards per rush, eighth best among Power 5 teams) and protects the quarterback (seven sacks, tied for second fewest in the FBS). Throw in a savvy veteran quarterback (Bennett) and an All-America tight end (Bowers), and all the ingredients to reach the national championship game are there. — Alex Scarborough
Ohio State
Key player: Quarterback C.J. Stroud had a Heisman-type season going until the Michigan game, with 3,330 passing yards, 37 touchdowns and six interceptions on the year. Stroud threw for 349 yards and two touchdowns against the Wolverines but also had two interceptions. The Buckeyes were dealing with injuries to running back TreVeyon Henderson and Miyan Williams, while freshman Dallan Hayden had just two carries. With converted linebacker Chip Trayanum getting most of the carries, Stroud becomes that much more important if Ohio State isn't fully healthy at running back. He has been the leader of the offense this season, and while the loss to rival Michigan was a big setback, he can make up for it in the playoffs.
X factor: Wide receiver Marvin Harrison Jr. is one of the best receivers in the country. He has continuously made ridiculous catches throughout the season and makes plays most receivers can't. The Buckeyes are dealing with injuries to the ground game and have also been without receiver Jaxon Smith-Njigba, so Harrison is vital to the offense on this stage. If he can provide a reliable target for Stroud and get in the end zone, Ohio State should be able to hang with any of the other semifinalists.
How Ohio State wins: The defense needs to limit big plays. It has done a good job of limiting explosive plays all season but showed some weaknesses against the Wolverines, who were able to score multiple long touchdowns through the air and on the ground. The offense has proved that it can put points on the board, but now the defense has to meet the challenge of playing a top-notch offense and have its best game yet. — Tom VanHaaren
---
No. 2 Michigan vs. No. 3 TCU
CFP Semifinal at the Vrbo Fiesta Bowl
When: Saturday, Dec. 31 at 4 p.m. ET
Where: State Farm Stadium, Glendale, Arizona
How to watch: ESPN and ESPN App
Opening line via Caesars Sportsbook: Michigan by 9
Michigan
Key player: Running back Donovan Edwards had 216 rushing yards and two touchdowns in Michigan's win against Ohio State. With Blake Corum out, Edwards' performance will be key for the Wolverines. The run game is critical to the Michigan offense, and Edwards' ability to establish the run and open up the passing game will be a key for the Wolverines.
X factor: Michigan has been a second-half team all season, with a plus-186 point differential after halftime. That is the second-highest margin for any FBS team through 12 games over the past 10 years. The Wolverines have been able to wear out their opponents in every game and have not shown any signs that they will slow down after outscoring Ohio State 28-3 in the final regular-season game and Purdue 29-9 in the Big Ten championship game. Coach Jim Harbaugh has praised strength and conditioning coach Ben Herbert for those second-half surges, which have been a signature for Michigan all season.
How Michigan wins: If the Wolverines can establish their running game and control the clock as they have all season, plus mix in some big plays through the air from quarterback J.J. McCarthy, they should have a good shot. McCarthy has continuously called this a "smashfest" team, and the Wolverines relish beating their opponents up front. Michigan showed it can strike through the air if it has to against Ohio State, but its ideal scenario is having success on the ground first. — Tom VanHaaren
TCU
Key player: Max Duggan attempted another wild comeback Saturday against Kansas State, but the Frogs came up just short for the first time in six of those scratch-and-claw games this season. But Duggan has been unflappable, never more so than in a late comeback win on the road at Baylor, when he led two fourth-quarter scoring drives without TCU's best running back (Kendre Miller, who has 1,342 rushing yards this season, the most at TCU since LaDainian Tomlinson in 2000), top two receivers (Quentin Johnston and Derius Davis) and no timeouts. Duggan has thrown for 3,321 yards and 30 touchdowns to just four interceptions, and his 25 career rushing touchdowns are in the top 10 in school history. Duggan calmly piloted the Frogs to victory after falling behind by 17 to Oklahoma State and 18 to Kansas State in the regular season. That's why he's a leading contender for the Heisman Trophy.
X factor: Quentin Johnston. The 6-4, 215-pound junior receiver is a big-play threat with first-round draft potential but has been hobbled for much of the season. When TCU has turned to him, he has been huge, including a key third-down catch with the game on the line in the fourth quarter at Texas, and a 55-yard touchdown catch down late against Kansas State. The Horned Frogs were able to rest him against Iowa State to get him ready for the postseason. When he was healthy, Johnston showed his potential with a two-game stretch against Oklahoma State and on the road against Kansas, when he combined for 22 catches for 386 yards and two touchdowns. On Saturday against Kansas State, he caught four passes for 139 yards. A return to that type of threat would be a huge boost for TCU.
How TCU wins: The Frogs have employed a mix of thunder and lightning to keep opponents on the ropes, particularly in the second half. TCU had 17 plays of at least 50 yards this season, second only to Tennessee in the FBS. Duggan ranks third nationally in completion percentage on passes of 20 or more yards downfield at a 54.7% clip with 12 touchdowns on such plays, tops in the country. And Miller rushed for more than 1,000 yards between the tackles and is tough to bring down, ranking third in the Big 12 with 650 yards after contact. If the Frogs can remain patient and pound away with Miller, they'll be able to open up the field for their playmakers and a roster loaded with speed. — Dave Wilson
Georgia, Michigan, TCU, Ohio St. picked for CFP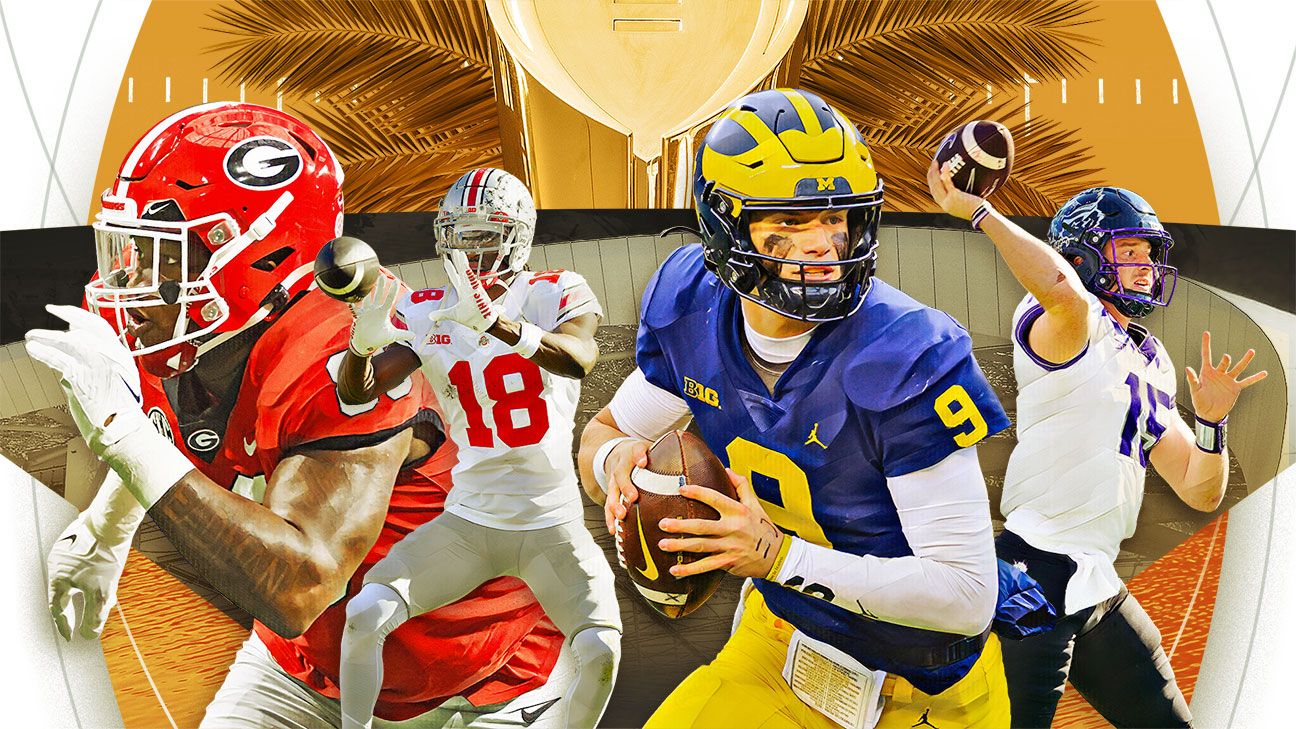 Georgia, Michigan, TCU and Ohio State will play for the national championship after being chosen for the College Football Playoff on Sunday.
After not playing in a conference championship game, the Buckeyes (11-1) moved up one spot following USC's loss in the Pac-12 title game Friday to give the Big Ten two playoff teams for the first time in the format's nine-year history.
No. 4 Ohio State will face No. 1 Georgia in the Chick-fil-A Peach Bowl, and No. 2 Michigan will face No. 3 TCU in the Vrbo Fiesta Bowl on Dec. 31.
The CFP National Championship presented by AT&T will be played Jan. 9 at SoFi Stadium in Inglewood, California.
Georgia opened as a 7-point favorite over Ohio State at Caesars Sportsbook, and Michigan is a 9-point favorite over TCU.
TCU (12-1) held on to its No. 3 ranking after losing in overtime in the Big 12 championship game to Kansas State. The Horned Frogs and Buckeyes are the fifth and sixth teams to make the College Football Playoff without winning a conference title.
Horned Frogs coach Sonny Dykes said he was concerned about his team's playoff status after the loss but added that he had faith in the selection committee.
"I think we're certainly deserving," Dykes said.
At a watch party for TCU players and staffers at its Fort Worth, Texas, campus, cheers broke out when the Frogs landed in the bracket during the announcement show.
Alabama (10-2) had hoped to make a jump into the top four following USC's and TCU's losses, with coach Nick Saban lobbying for his team Saturday.
"If we played any of those teams that are on the edge of getting in, would we be the underdogs or the favorite?" Saban said on Fox at halftime of the Big Ten championship.
The Crimson Tide were ranked fifth by the selection committee.
Committee chairman Boo Corrigan, the athletic director at NC State, said Ohio State's big wins over Penn State and Notre Dame helped push the Buckeyes in over Alabama.
"As we looked at the total body of work, the committee was comfortable with Ohio State at No. 4 and Alabama at 5," Corrigan said in an interview on ESPN.
Georgia (13-0) and Michigan (13-0) are in the playoff for the second straight year. They won their respective conference title games handily Saturday and will look to become the fourth team to win the CFP with an undefeated record.
The only time Georgia and Ohio State have previously played was in the 1992 Citrus Bowl, a 21-14 Bulldogs victory. TCU, whose only national title came in 1938, has never played Michigan.
Corrigan said the committee did not make any special effort to avoid having a rematch of Ohio State and Michigan in a semifinal. The Buckeyes and Wolverines have never played outside of their annual regular-season game in a rivalry that dates back to 1902.
The Associated Press contributed to this report.