Grant Shapps has defended France's position on the UK's 'amber plus' travel list, saying the decision was made due to cases of the Beta coronavirus variant in the north of the country.
On Wednesday, Foreign Secretary Dominic Raab said the move was made because of the "prevalence of the so-called Beta variant, in particular in the Reunion bit of France".
Reunion, a French island in the Indian Ocean, is 6,000 miles from Paris.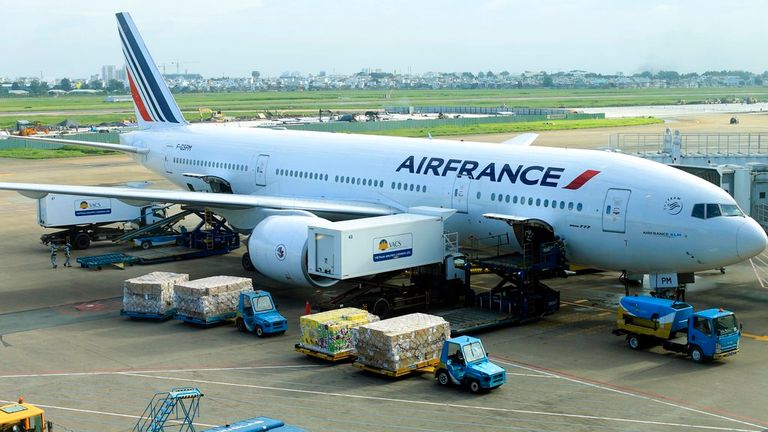 But the transport secretary told Kay Burley the variant is also "an issue" in northern parts of the country.
"The Beta variant, it is not just – as has been reported – on an island thousands of miles away, it was also an issue in particular in northern France. So it has been an overall concern," Grant Shapps told Sky News.
"And look, the big concern is that we don't allow a variant in which somehow is able to escape the vaccine programme that we have got.
"We don't want to have got this far with vaccinations, with just getting towards 90% of all adults having been vaccinated, and then throw it all away because a variant that the vaccine perhaps couldn't handle came in.
"Now all the evidence on all of that has been pulled together – the latest research on how the vaccine works with the Beta variant, the scale of the Beta variant and France and the rest of it – and then these decisions will, of course, be constantly reviewed which is exactly what will happen."
It comes after a French minister described the UK government's decision to keep quarantine measures for travellers coming from France while removing them for all other European countries as "discriminatory" and "excessive".
The foreign secretary told Kay Burley more countries will soon be added to the amber and green travel lists.

Earlier this week, Mr Shapps confirmed England would allow fully vaccinated visitors from both the EU and the United States to arrive without needing to quarantine from 2 August.
But he added that tougher rules will continue to be in place for France, which, although on the amber list, still requires travellers to quarantine on their return regardless of their vaccine status.
Mr Shapps said this advice would be reviewed at "the end of next week" as part of an ongoing assessment of travel rules.
But French Europe minister Clement Beaune described the move as "incomprehensible on health grounds" and accused the UK government of making decisions "not based on science".
"It's excessive, and it's frankly incomprehensible on health grounds," Mr Beaune told French TV channel LCI.
"It's not based on science and [it's] discriminatory towards the French."
Mr Beaune said the UK government should use "common sense" and review the matter "as quickly as possible".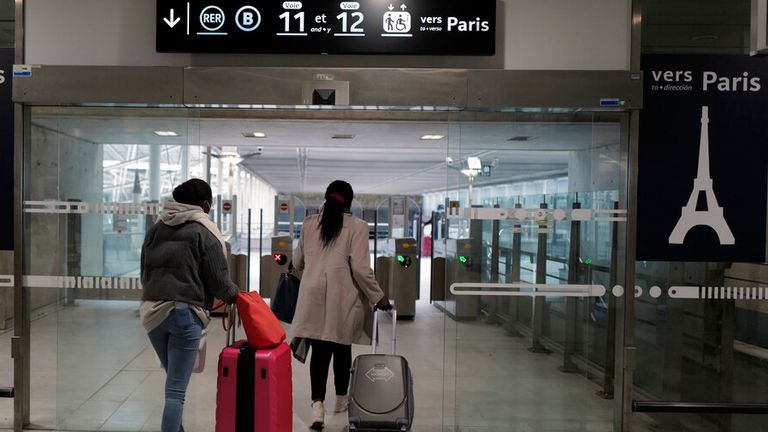 He added that the French government are not planning to place any increased measures on British citizens "for now".
When Mr Beaune's comments were put to him on Sky News, Mr Shapps said he understood the disappointment but disagreed with the French minister's claim that the UK government are not following the science with decision making.
"It is always disappointing for any country to be anything other than on our green list, I appreciate that," the transport secretary said.
"I spoke to my opposite number Jean-Baptiste just yesterday and we agree we'll always follow the science on these things and make sure as we can be satisfied over whichever the variants are and whatever the prevalence is that the Joint Biosecurity Centre recommendations to us are followed."
Mr Shapps added that he is "looking forward to the whole world being more accessible".
Currently, only people who received two vaccines in the UK can avoid quarantine when arriving from amber list countries.
The UK government said the rule change would help to reunite family and friends whose loved ones live abroad.
But this rule also does not apply to France.
Lawmakers' fear and doubt drives proposed crypto regulations in US
Real bipartisan legislative efforts are rare in Washington, DC, these days, but Democratic Senators Elizabeth Warren and Joe Manchin and Republican Senators Lindsey Graham and Roger Marshall have managed to come together to co-sponsor a bill focused on crypto crime. 
According to the senators, the Digital Asset Anti-Money Laundering Act of 2023 aims to close loopholes in the nation's Anti-Money Laundering rules. The bill would amend the Bank Secrecy Act and would designate a diverse range of digital asset providers as financial institutions. 
The Bank Secrecy Act establishes program, recordkeeping and reporting requirements for national banks, federal savings associations, federal branches and agencies of foreign banks. Digital asset providers would be required to adhere to many of the same regulations as traditional banks.
Warren introduced the legislation to the United States Senate on July 27, 2023, on behalf of herself and Senators Joe Manchin, Roger Marshall and Lindsey Graham. The bill was then referred to the Senate Committee on Banking, Housing and Urban Affairs. It hasn't been voted on by the entire Senate or sent to the U.S. House of Representatives for consideration. Nor has President Biden signed it, and it is not a matter of law at this time. 
The legislation would add several types of cryptocurrency providers to U.S. regulators' list of financial institutions. These include unhosted wallet providers, digital asset miners and validators or other nodes that validate third-party transactions, miner extractable value searchers, other validators or network participants with control over network protocols, or just about anyone else who facilitates or provides services related to exchange, sale, custody or lending of digital assets.
All these organizations and individuals would be subject to the same regulations currently applied to financial institutions in the United States. The bill does include exceptions for those who use distributed ledger, blockchain technology or similar technologies for internal business purposes. 
Crypto under federal review
If the bill becomes law, within 18 months of its enactment, the U.S. Treasury's Financial Crimes Enforcement Network would announce that any U.S. person with $10,000 in digital assets or one or more digital assets overseas would have to file a report. Within the same timeframe, the U.S. Treasury would establish controls to mitigate unlawful financial risks associated with digital asset mixers and anonymity-enhanced cryptocurrency. 
Within two years of the bill's enactment, the Treasury, in consultation with the Conference of State Bank Supervisors, will create a risk-focused examination and review process for those digital asset participants newly designated as financial institutions. They would determine if efforts to stop money laundering and to counter crypto-funded terrorism are adequate and if crypto providers and facilitators are compliant with the new rules. Subsequently, within the same time frame, the Securities and Exchange Commission and the Commodity Futures Trading Commission will consult with the Treasury on exactly the same matters. 
What about my favorite BTC kiosk?
The next part of the bill is focused on digital asset kiosks. Within 18 months of the bill's passage, FinCEN will require digital asset kiosk (ATM) owners and administrators to submit and update the physical address of their kiosks every 90 days. The kiosk owners will also need to verify the identity of each customer using a valid form of government-issued identification, and they will have to collect the name and physical address of each counterparty to each transaction. 
Within 180 days, FinCEN will issue a report about any digital asset kiosks that haven't been registered. The report would include an estimate of the number of unregistered kiosks, their locations and an assessment of additional resources that FinCEN might need to be able to investigate them.
Within a year of the enactment of the legislation, the U.S. Drug Enforcement Agency would issue a report identifying recommendations to reduce drug trafficking and money laundering associated with digital asset kiosks. 
Crypto industry impact
Grant Fondo, co-chair of Goodwin's digital currency and blockchain practice and a former Assistant U.S. attorney, tells Magazine that "the bill is an attempt to pull more players in the digital asset industry within regulatory control, to close gaps in what some in Congress see as not covered under the current regulatory regime." 
Fondo believes that, if passed, the legislation would have the practical effect of killing decentralized finance in the U.S. by applying an unworkable regime on DeFi protocols. Fondo sees the legislation as imposing a burden on validators and miners and also questions how realistic it would be to impose bank-like requirements on a software company validating blockchain transactions. 
Hadas Jacobi, an attorney in the Financial Industry Group at Reed Smith who previously worked as a financial enforcement regulator for the State of New York, agrees. According to Jacobi, the act would apply Bank Secrecy Act requirements, depending on the context, to crypto participants that are not financial institutions.
"The act could be read as applicable to programmers and other tech providers who create the framework for financial services operations rather than provide services themselves," Jacobi says.
Although Jacobi believes there is a need for legislative clarity in the space, she questions whether the primary intent of the legislation — the crypto sector's threat to national security — is even relevant. Jacobi says that on-point regulation of cryptocurrency and digital asset services providers is necessary, but digital assets do not threaten national security.
"A general statement that digital assets pose a threat to U.S. national security, however, would be both inaccurate and short-sighted. Bad actors in the digital asset space pose a global threat from both a national security and a financial stability standpoint — but the digital asset industry and its underlying technology do not," Jacobi says.
What the politicians are saying
In a written statement, Senator Marshall says that the bill addresses U.S. concerns about national security.
"This legislation is a matter of national security. Mastermind hackers from adversarial countries like Iran, Russia, and North Korea are committing cybercrimes against the United States to the tune of BILLIONS of dollars; they must be held accountable. The reforms outlined in our legislation will help us fight back and secure our digital assets by using proven methods that our domestic financial institutions have been complying with for years," Marshall states.
Marshall says that the legislation would extend Bank Secrecy Act responsibilities to include Know Your Customer requirements for those affected, would address a "major gap" with unhosted digital wallets, would direct FinCEN to issue guidance on financial institutions to mitigate digital asset risks, would strengthen enforcement of BSA compliance, would extend BSA foreign bank account rules to include digital assets and would mitigate illicit finance risks of digital asset ATM's. 
Warren argues that U.S. authorities have warned that crypto is being used for all types of crimes and for antagonistic nations to avoid U.S. sanctions.
"Rogue nations like Iran, Russia and North Korea have used digital assets to launder stolen funds, evade American and international sanctions, and fund illegal weapons programs," Warren says.
Suggesting that the act will help to subvert these efforts, Warren focuses her statement on North Korea's missile program.
"Nearly half of North Korea's missile program, for example, is estimated to be funded by cybercrime and digital assets. In 2022, illicit digital asset transactions totaled at least $20 billion — an all-time high," Warren writes. 
Manchin asked Democrats and Republicans to come together and vote for the bill. "Our bipartisan legislation would curtail these security risks and require cryptocurrency platforms to abide by the same Anti-Money Laundering rules that banks have to follow. I urge my colleagues on both sides of the aisle to support this common-sense legislation to protect Americans by preventing bad actors from using cryptocurrencies to finance their criminal activities," Manchin says.  
Fondo doesn't see how the Anti-Money Laundering Act could minimize risks to national security but does recognize how the bill might address issues associated with anonymity-enhanced cryptocurrency.
Still, he would like to see this legislative effort well thought out before passing the bill. "No one wants terrorists and criminals masking their financial transactions. But conversely, privacy is a rare commodity, so it's important to properly balance it with national security," Fondo says. 
Jacobi is concerned that overregulation will lead to redundancy and excessive costs that will drain the industry. She says that the act would direct FinCEN to regulate digital service providers as money transmission businesses, although she believes that they have already been doing that since 2013. Furthermore, she says that most state regulators have been examining and registering them for almost as long. 
"The Act has the potential to upset the balance of the existing U.S. dual state and federal regulatory regime by creating redundancies in the supervision and examination of money transmission businesses, not to mention exposing the digital asset industry to resource-draining, duplicative enforcement actions," Jacobi says. 
Will the bill become law?
It's anybody's guess. The House of Representatives is just getting back on its feet after struggling for weeks to elect a new speaker. 
The U.S. Senate still requires a supermajority vote to approve almost any piece of legislation, and all the while, members of Congress and President Joe Biden are hyper-focused on geopolitical matters like the Israel/Hamas conflict and the war in Ukraine. 
Also, most U.S. federal-level politicians are about to enter the 2024 election season, where control of the Senate, the House of Representatives and the Presidency are all up for grabs. 
Controversial legislation will certainly stall until after the election, but a potentially popular crypto bill might just be palatable to candidates on both sides of the aisle to find its way onto the president's desk. If the Digital Asset Anti-Money Laundering Act were to become law, many cryptocurrency providers would have to learn how to comply with the same regulations as traditional financial institutions. 
Subscribe
The most engaging reads in blockchain. Delivered once a
week.
IBM, Meta and others form 'AI Alliance' to advance AI development
In the race for market supremacy among artificial intelligence (AI) firms, a coalition of technology leaders spearheaded by IBM and Meta established the AI Alliance. Rather than competing, these companies aim to collaborate, emphasizing their commitment to fostering transparent innovation and responsible development in artificial intelligence.
In a joint statement, IBM and Meta outlined the AI Alliance's objectives, emphasizing a commitment to safety, collaboration, diversity, economic opportunity, and universal benefits. The alliance, they noted, encompasses a collective annual research and development investment exceeding $80 billion.
While numerous members endorse open-source development, it's important to note that adherence to this model is not obligatory for membership. Over 50 tech companies, such as AMD, Dell Technologies, Red Hat, Sony Group, Hugging Face, Stability AI, Oracle, and the Linux Foundation, unite with IBM and Meta in the AI Alliance.
"The progress we continue to witness in AI is a testament to open innovation and collaboration across communities of creators, scientists, academics, and business leaders."
According to IBM and Meta, the AI Alliance will create a governing board and technical oversight committee focused on advancing AI projects and setting standards and guidelines. The alliance aims to collaborate with governments, non-profits, and non-government organizations (NGOs) operating in the AI sector.
"The AI Alliance brings together researchers, developers, and companies to share tools and knowledge that can help us all make progress whether models are shared openly or not,"
Looking to engage the academic community, the AI Alliance also includes several educational and research institutions, including CERN, NASA, Cleveland Clinic, Cornell University, Dartmouth, Imperial College London, University of California Berkeley, University of Illinois, University of Notre Dame, The University of Tokyo, and Yale University.
While Meta has advocated for open-source AI models and responsible development, the company opted to decentralize and streamline AI development by disbanding its responsible AI team in November.
Related: Meta's AI boss says there's an 'AI war' underway, and Nvidia is 'supplying the weapons'
Prominent AI developers, including Microsoft, Google, OpenAI (developer of ChatGPT), and Anthropic (Claude AI), are conspicuously missing from the AI Alliance. Instead, they established their own initiative, The Frontier Forum, dedicated to responsible AI in July.
Earlier this year, the Biden Administration engaged in discussions with major AI developers to commit to responsible artificial intelligence development. Signatories included OpenAI, Microsoft, Google, Amazon, Anthropic, Meta, and Inflection. Subsequently, in September, NVIDIA, IBM, Scale AI, Adobe, Palantir, Salesforce, and Stability AI joined the pledge.
Magazine: Real AI use cases in crypto: Crypto-based AI markets, and AI financial analysis
People removed from COVID inquiry as Boris Johnson interrupted while saying 'sorry for pain and suffering'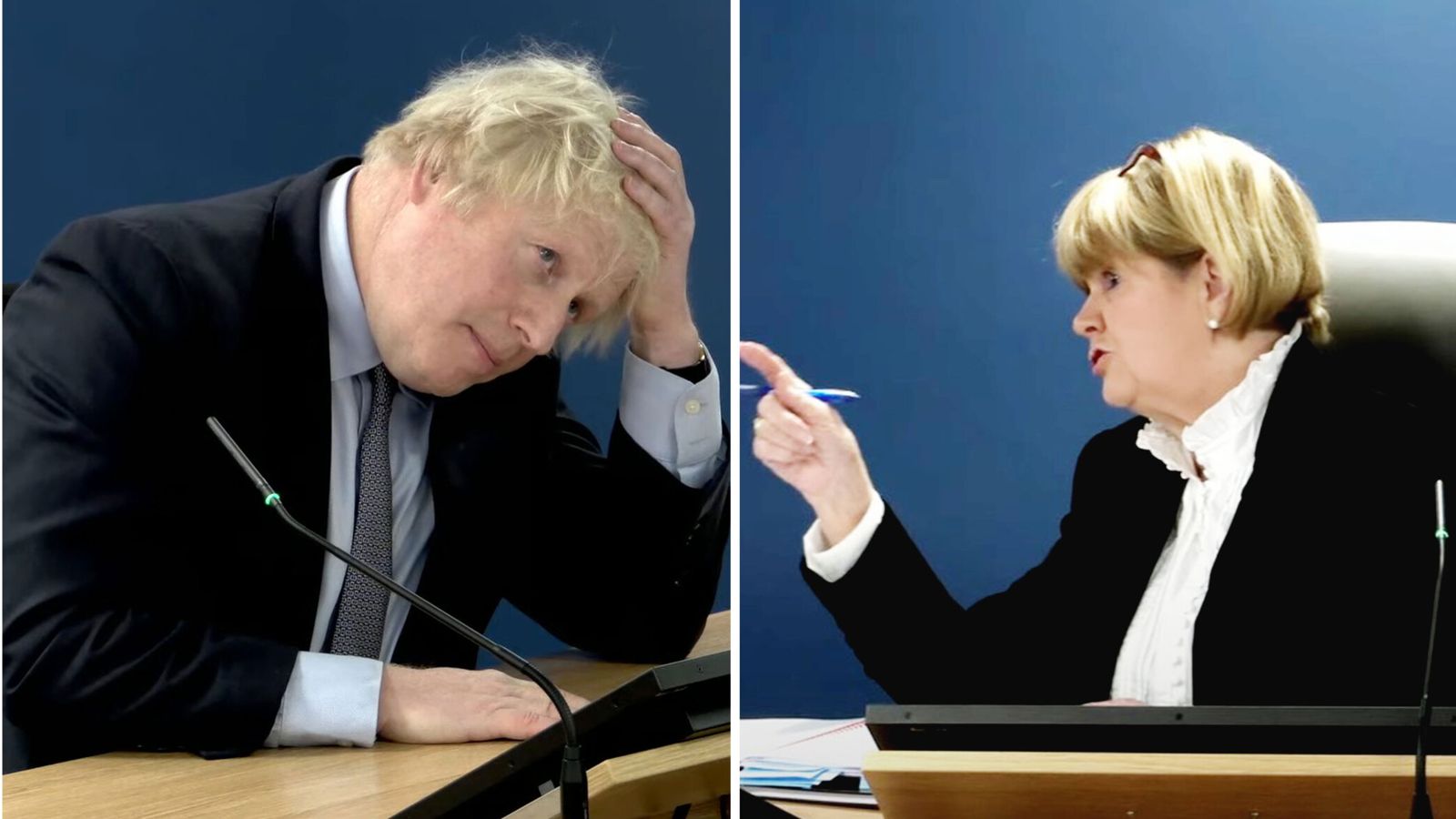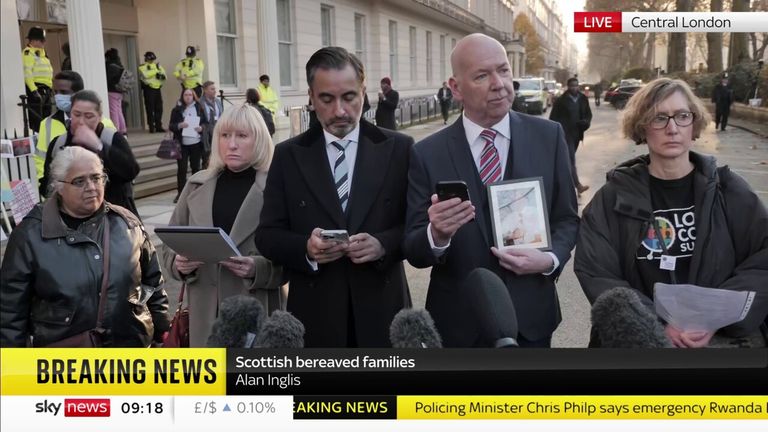 Boris Johnson was interrupted as he apologised for the "suffering" caused by the COVID pandemic.
Four people were subsequently removed from the hearing, where they had been in the public gallery holding up pictures.
Mr Johnson told the inquiry: "I am deeply sorry for the pain and loss and suffering."
One protester held up a poster reading: "The dead can't hear your apologies."
Mr Johnson went on to say he hoped the inquiry was able to "get answers to those very difficult questions" victims and their families are "rightly asking".
Boris Johnson COVID evidence live: Former PM apologises to victims as he begins marathon evidence session at inquiry
The evidence session also heard:
• The government "underestimated the scale and pace of challenge" from COVID – thinking the peak would come in May or June;
• The tone of the private WhatsApps was a "reflection of the agony" the country was going through;
• Mr Johnson takes "full responsibility" for decisions made;
• Mr Johnson only read Scientific Advisory Group for Emergencies (Sage) minutes "once or twice"
Watch a Sky News special on Johnson's day of evidence at 9pm
The former prime minister was speaking on the first day of his appearance at the official COVID inquiry he set up in order to learn the lessons of the pandemic for the future.
He is the inquiry's most highly anticipated witness and follows on from fellow politicians including former health secretary Matt Hancock, former deputy prime minister Dominic Raab and Levelling Up Secretary Michael Gove.
The inquiry, which is now examining decision-making and political governance, began with Baroness Hallett raising issue with the briefings ahead of Mr Johnson's appearance, arguing that a leak "undermines the inquiry's ability to do its job fairly, effectively and independently".
Mr Johnson will be questioned for two days about decisions he made which took the country into three national lockdowns.
'Should things have been done differently? Unquestionably'
The former prime minister told Hugo Keith KC, lead counsel for the inquiry, that "unquestionably" mistakes were made by his government during the pandemic, adding that he took "responsibility for all the decisions that we made".
Pressed on what mistakes he felt were made, Mr Johnson cited communications and the different messaging coming from the different governments in the UK.
COVID families don't want Johnson 'waffle'

Mr Johnson also said he took responsibility for the speed of the government's response to the pandemic, the lockdown decisions and their timeliness, the circulation of the virus in the residential care sector and the Eat Out to Help Out scheme.
He said he acknowledged that "so many people suffered, so many people lost their lives", the government was "doing our best at the time, given what we knew, given the information I had available to me at the time, I think we did our level best".
Mr Keith KC ten turned to questioning Mr Johnson on why he did not forsee the scale of destruction the the COVID pandemic would cause in early 2020, given that
Mr Johnson admitted that the wider government "underestimated" the threat posed by the virus, saying the "concept of a pandemic did not imply to the Whitehall mind the kind of utter disaster that COVID was to become".
He said in the "early days of March", government figures and officials "were all collectively underestimating how fast it had already spread in the UK".
"We put the first peak too late, we thought it would be May/June – that was totally wrong. I don't blame the scientists for that at all.
"That was the feeling and it just turned out to be wrong."
Johnson questioned on 5,000 missing WhatsApps
In the days leading up the inquiry there were reports anticipating Mr Johnson's apology and the fact that not all of his WhatsApps would be made available to the inquiry – with about 5,000 messages on his phone from January 30, 2020 to June 2020 missing.
Mr Johnson said he did not know the "exact reason" they were not located, but said it was" something to do with the app going down and then coming up again, but somehow automatically erasing all the things between that date when it went down and the moment when it was last backed up".
Mr Keith said a technical report provided by the former prime minister's solicitors suggested there may have been a factory reset on the phone at the end of January 2020 followed by an attempt to reinstall its contents months later in June – something Mr Johnson said he did not remember.
"Can I, for the avoidance of doubt, make it absolutely clear I haven't removed any WhatsApps from my phone and I've given you everything that I think you need?" he said.
As well as politicians appearing before the inquiry, other figures that have given evidence include top scientists at the time – including Chief Medical Officer Chris Whitty and former chief scientific adviser Sir Patrick Vallance – and Mr Johnson's former chief adviser Dominic Cummings.
Mr Cummings has previously given evidence to the inquiry in which he described Downing Street as in a state of "complete chaos" and claimed that he urged Mr Johnson to remove Mr Hancock – whom he claimed "lied his way" through the pandemic.
Read more:
COVID inquiry: Michael Gove apologises for pandemic 'errors'
COVID inquiry about 'scapegoating' senior government figures, Boris Johnson's sister says
Government had 'challenging and competing characters'
Mr Keith told Mr Johnson that the WhatsApp messages that have been shown to the inquiry "paints an appalling picture, not all the time but at times, of incompetence and disarray".
Mr Johnson argued that plenty of successful governments have "challenging and competing characters whose views about each other might not be fit to print but who get a lot done".
Asked about comments he made in which he called Mr Hancock "totally f***** useless", Mr Johnson replied: "My job was not uncritically to accept that everything we were doing was good. I do think that the country as a whole had notable achievements during the crisis."
He admitted that while he was aware Mr Cummings had a "low opinion" of the health secretary, he thought Mr Hancock "worked very hard, he had defects, but I thought that he was doing his best in very difficult circumstances".