Albert Pujols is in legendary company.
With his 700th home run, the St. Louis Cardinals slugger has accomplished a feat that only Babe Ruth, Hank Aaron and Barry Bonds have managed. His placement under them on the all-time home run list tells you just how incredible his 22-season career has been.
Pujols has been in the league for such a long time, in fact, that the world looked very different when he hit his first home run, in April of 2001, off the Arizona Diamondbacks' Armando Reynoso. Here's a look back at just how much things have changed in the intervening years.
Baseball and other sports
We can get such a sense just from looking at the Cardinals' and Diamondbacks' rosters at the time Pujols hit his first. Pujols batted fifth in that early-season game. Batting ahead of him were Fernando Vina, Edgar Renteria, J.D. Drew and Ray Lankford. All of them were legitimately good players — none of them has been in MLB since 2011. Mike Matheny batted after Pujols — he's now managing the Kansas City Royals and has been a major league skipper since 2012.
Their opponents, the Diamondbacks, would go on to win the World Series that year. Their lineup was a who's who of Baseball Guys — Tony Womack (last game in 2006), Mark Grace (2003), Luis Gonzalez (2008 — and this was the year in which he hit 57 homers), Matt Williams (2003), Steve Finley (2007) and Jay Bell (2003), just to name a few. Grace, Williams, Finley and Bell all started playing major league baseball in the 1980s.
This was a year of incredible numbers in baseball. Bonds famously hit 73 home runs (and walked 177 times), Ichiro Suzuki led the league with 242 hits, Randy Johnson struck out 372 batters. The oldest player in the league, 44-year-old Jesse Orosco, was born in 1957. Even then, among all this incredible talent, Pujols stood out, winning Rookie of the Year honors with 37 home runs and a 1.013 OPS.
When Pujols hit his first, Tom Brady had 6 career passing yards. He'd end up filling in for an injured Drew Bledsoe in the 2001 NFL season, on his way to leading the Patriots to their first Super Bowl win. Now he has seven Lombardi trophies, and has added almost 85,000 passing yards to those initial six.
Ed Reed was a senior on the Miami Hurricanes' 2001 National Championship team. He then played in the NFL, retired and made the Hall of Fame, all before Pujols hit No. 700.
LeBron James was just starting to make his name … in high school. James was a sophomore at St. Vincent-St. Mary High School in April 2001.
Nolan Gorman, Pujols' teammate this year on the Cardinals, was not yet a year old. Tampa Bay Rays shortstop Wander Franco was barely a month old. LaMelo Ball wouldn't be born until August.
Technology
Not only was the original iPhone still six years away from release, the original iPod wouldn't come out for another six months. iTunes was only 4 months old.
Anyone looking to buy an original Xbox would have to wait — the debut console didn't come out until November. This was, however, an incredible year for video games. The original "Halo: Combat Evolved" would launch that year, as would "Max Payne," "Baldur's Gate II: Throne of Bhaal," "Super Smash Bros. Melee" and "Unreal Tournament." By year's end, console gamers would have their choice of the Xbox, PlayStation 2, GameCube, or Dreamcast.
Wikipedia, now a ubiquitous source of information and ultimate resolver of barroom debates, was only 4 months old by the time of Pujols' first home run. Pujols himself wouldn't have a Wikipedia page until June 2004.
Pop culture
The Harry Potter, Fast and the Furious, and Ocean's franchises would all debut in 2001 — as would "Shrek," which won the Oscar for Best Animated Feature that year. "Harry Potter and the Sorcerer's Stone" would gross more than $317 million in 2001. That means Pujols' career outlasted the 11 total movies in the Potter and Ocean's franchises. In April of that year, when Pujols hit his first, the highest-grossing film was "Spy Kids" with more than $17 million.
The Billboard top song of April 2001 was a Shaggy beat … and surprisingly, it wasn't "It Wasn't Me." Shaggy's "Angel" was in the middle of a two-month run as the top song when Pujols launched No. 1. Lifehouse's "Hanging by a Moment" was the most successful song of the entire year. Future Billboard No. 1 artist Billie Eilish wouldn't be born until December.
Bautista (AL), Williams (NL) named top relievers
NEW YORK — Baltimore's Félix Bautista was a unanimous winner of the Mariano Rivera American League Reliever of the Year Award and Milwaukee's Devin Williams won the Trevor Hoffman National League honor on Wednesday.
Bautista, a 28-year-old right-hander, was 8-2 with a 1.48 ERA and 33 saves in 39 chances for the AL East champion Orioles. He made his final appearance on Aug. 25 and had Tommy John surgery on Oct. 9, which likely will cause him to miss the 2024 season.
Williams, a 29-year-old right-hander, was 8-3 with a 1.53 ERA and 36 saves in 40 opportunities for the NL Central champion Brewers. Williams also won the award in 2020 and joined former teammate Josh Hader, Edwin Díaz, Liam Hendriks, Kenley Jansen and Craig Kimbrel as the only multiple winners of the honor, known as the Delivery Man of the Year Award from 2005-13.
Rivera and Hoffman were among the six voters, joined by fellow Hall of Famers Dennis Eckersley and Rollie Fingers along with John Franco and Billy Wagner. Balloting was based on the regular season and used a system in which the first choice got five points, the second three and the third one.
Cleveland's Emmanuel Clase was second in the AL after winning last year and Toronto's Jordan Romano was third.
Pittsburgh's David Bednar was second in the NL and San Diego's Josh Hader third.
Sources: Severino to crosstown Mets for $13M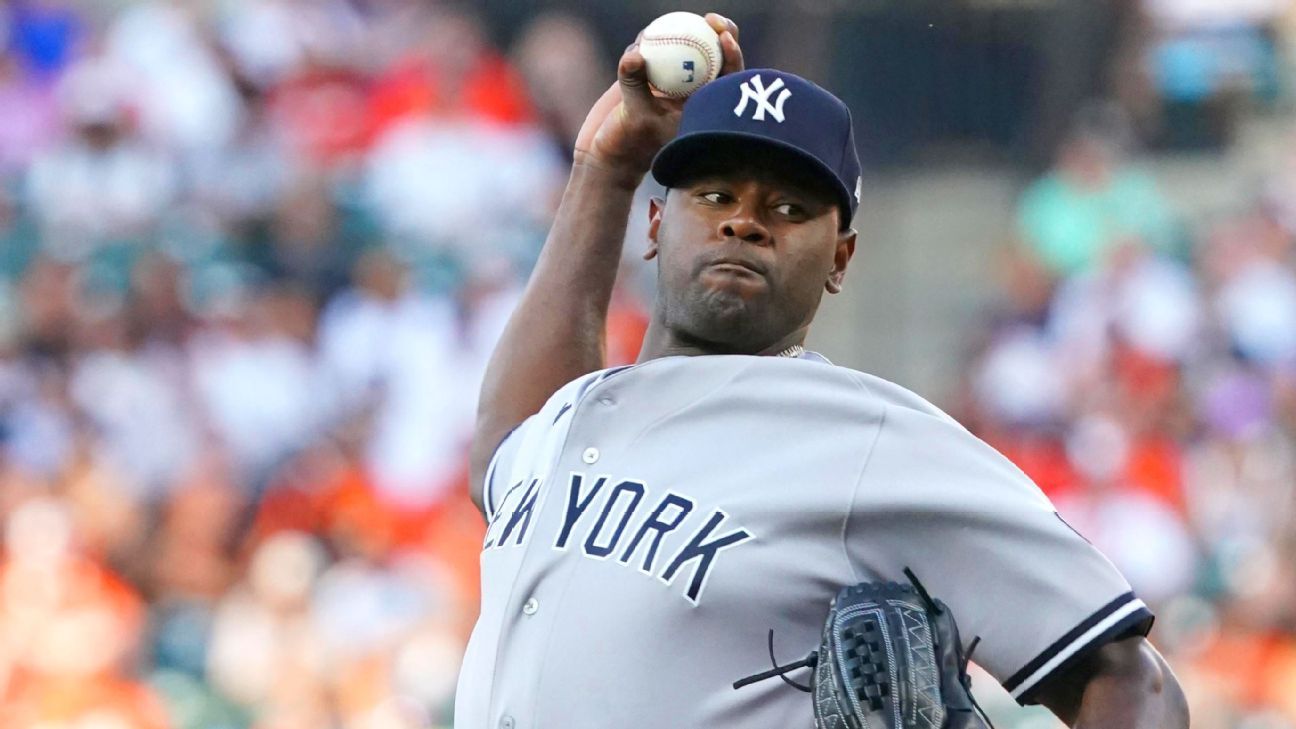 Right-hander Luis Severino and the New York Mets are finalizing a one-year, $13 million contract, sources familiar with the deal told ESPN's Jeff Passan on Wednesday.
Severino, 29, will join the Mets and a rotation in significant need of help after spending his eight-year career with the New York Yankees.
He struggled this season with a 6.65 ERA, but posted a 3.39 ERA in 638 innings over his previous seven seasons. If Severino thrives, he'll hit free agency again next year, and he can earn up to $2 million in performance bonuses from the Mets.
Utah St. QB to skip final season for SEAL training
LOGAN, Utah — Utah State quarterback Levi Williams will not return for his senior season in 2024, intending to apply for Navy SEAL training following the Aggies' upcoming bowl game.
Williams revealed in a radio interview with a Salt Lake City radio station on Monday he intends to skip his final year of collegiate eligibility with the goal of becoming a SEAL officer in 2025.
"I just want to be in a spot where I can protect this great country where we get to play football with the freedom to do that," Williams told KSL 97.5 FM. "I think this is the best country in the world, so I'd like to keep it that way and protect it as long as I can."
The junior quarterback plans to take a SEAL qualifying fitness test after the season. It is a rigorous test that features a 500-yard swim, maximum push-ups, pull-ups, and curl-ups done in separate two-minute intervals, and a 1.5-mile run. The individual time for either the swim or the run cannot exceed 12 ½ minutes.
Williams said he embraces the challenge and is eager to follow in the footsteps of parents and grandparents who served in the military before him. Being a SEAL specifically appeals to him because of the chance to be in a team-oriented environment.
"What I love about their ethos and their motto is that no one guy is better than the other," Williams said. "It takes all of them to complete a mission."
Williams spent three seasons with Wyoming before entering the transfer portal following the 2021 season. He joined Utah State and has appeared in 16 games for the Aggies over two seasons.
The seldom-used Williams began the season as Utah State's third-string quarterback but made his first start since 2021 in the Aggies' regular season finale against New Mexico. He played mostly on special teams during the season, but injuries to Cooper Legas and McCae Hillstead forced Aggies coach Blake Anderson to turn to the former Wyoming transfer to run the offense.
Williams tallied 351 all-purpose yards to help Utah State edge the Lobos 44-41 in double overtime. He accounted for five touchdowns — culminating in a game-winning 13-yard run after retrieving a snap that went behind him — to help the Aggies become bowl eligible for a third consecutive season.