UCF's home game against SMU in Orlando, Florida, has changed dates for a second time because of the damage caused by Hurricane Ian this week. The Knights will now host the Mustangs on Wednesday (7 p.m. ET, ESPN2), the schools announced.
The game had originally been pushed back from Saturday to Sunday because of the threat of the impending storm, but the flooding and general havoc caused by the hurricane that swept across Florida on Wednesday led to the contest being moved again.
Both schools had a bye on the weekend of Oct. 8, allowing for their American Athletic Conference opener to be pushed back.
At least nine people have been confirmed dead in the United States as a result of the hurricane — a number that is almost certain to increase as officials confirm more deaths and search for people. More than 2 million people in Florida have lost power this week.
UCF enters the game 3-1 after defeating Georgia Tech on Saturday. SMU comes in at 2-2 after back-to-back losses at Maryland and to TCU at home.
Information from The Associated Press was used in this report.
Math confusion: The Bottom 10 unveils the Faux Pas Index for final rankings
Inspirational thought of the week:
"I know where I'd go."
"Where?"
"I'd go to Akron. I'd go there with a pretty woman. A strange woman. A quiet woman. I wouldn't even want to know her name. Where I would be just 'Mr. Smith' and I would send out for cold beer. Then I would tell her things. Things that I've never told to anyone. Things that are locked deep in here. And as I talk to her, I would want her to hold out a soft hand and say, 'Poor thing. Poor, poor thing.'"
"How long would you want this to go on, doctor?"
"Two weeks."
"Two weeks? Wouldn't that get a little monotonous? Just Akron, cold beer and 'poor thing' for two weeks?"
"No, it would be wonderful."
— Cecil Kellaway and Jimmy Stewart as Dr. Chumley and Elwood P. Dowd in "Harvey"
Here at Bottom 10 Headquarters, located in the room of file cabinets where Deion Sanders stores all the Power 5 job offers that he wants us to know about but doesn't plan to take, we have been thrown off of our collective axis. Our schedule is uglier and more broken down than a Pontiac Aztek. Our calendar has been erased more times than someone trying to use an Etch A Sketch in a centrifuge. What we're saying is that our normal end-of-regular-season routine has been ruined. Instead of the usual meeting of our Bottom 10 Selection Committee at the DFW Hacienda Courts, our annual assemblage of college football minds such as Jerry Glanville, Charlie Weis and Ed "Straight Arrow" Gennero, we told them all to stay home.
Why? The season isn't over yet. No, none of our teams suddenly received an invite to a conference championship game. The problem is that a mountain of snow two weekends ago kept one of our contenders from playing its final game and now we have to wait to see what happens.
Dammit, Akron.
So, instead of holding our normal fake CFP committee vote, we have gone full old school and are instead employing a fake old-school BCS approach. Yes, we are doing math. But as opposed to relying on the sorcerously accurate ESPN FPI — the Football Power Index — we have conjured up the Bottom 10 FPI — the Faux Pas Index.
It's simple really. And by simple, we mean totally convoluted. Teams receive one point for each win, minus one point for each loss, minus one point for each loss of their longest losing streak of the year, plus a minus-10 bonus if that streak is currently active. We also subtract the number of points they have surrendered from the number of points they have scored, subtract or add points based on turnover margin and throw in a 50-point reduction if they have fired their head coach this season, aka the Randy Edsall Fired Coach Bonus. Divide that by the number of games played — let's call that the Akron Principle — and there's your Bottom 10 FPI score.
So get off your ath, let's do some math. Math, math, math, math, math.
With apologies to Dewey Finn, Euclid, former Michigan State Spartan Addie Gaddis and Steve Harvey, here's the final (sort of) 2022 Bottom 10 rankings.
1. Colora-duh (1-11)
Wins: +1
Losses: -11
Longest losing streak: -6 (current -10)
185 points for, 534 points against: -349
Turnover margin: -12 (tied with Akron for fourth worst in FBS)
Randy Edsall Fired Coach Bonus: -50
Total: -437
Games played: 12
Final Bottom 10 Faux Pas Index: -36.42
While the Buffs wait to be rebuffed by Deion, they can at least spend that time celebrating a championship. We knew that 2022 had been a total mess, but once we pushed it through the numerical cheese grater of the Bottom 10 FPI formula, Colorado became the college football equivalent of Jared Leto's "Morbius." We were already plenty sure it was going to be bad. We just never could have imagined it would be that awful.
Keyshawn Johnson breaks down why Deion Sanders would be a good fit as the head coach at Colorado.
2. UMess (1-11)
Wins: +1
Losses: -11
Longest losing streak: -9 (current -10)
150 points for, 373 points against: -223
Turnover margin: -3
Randy Edsall Fired Coach Bonus: N/A
Score: -255
Games played: 12
Final Bottom 10 FPI: -21.25
The Minutemen finished the year by losing back-to-back Pillow Fights of the Week against Arkansaw State and Texas A&M, and then suffering the worst late November loss to Army since Allied forces crossed the Siegfried Line.
3. US(notC)F (1-11)
Wins: +1
Losses: -11
Longest losing streak: -10 (current -10)
336 points for, 494 points against: -158
Turnover margin: -4
Randy Edsall Fired Coach Bonus: -50
Total: -242
Games played: 12
Final Bottom 10 FPI: -20.17
The Bulls ended the season riding college football's second-longest active losing streak, a run that included L's suffered at the hands of a TU and UT, fellow Bottom 10 resident Temple and reigning Myrtle Beach Bowl champs Tulsa, which just fired its head coach.
4. North by Northworstern (1-11)
Wins: +1
Losses: -11
Longest losing streak: -11 (current -10)
165 points for, 340 points against: -175
Turnover margin: -19 (worst in FBS)
Randy Edsall Fired Coach Bonus: N/A
Total: -225
Games played: 12
Final Bottom 10 FPI: -18.75
In case you were wondering who in the world could have lost more consecutive times than USF's 10 in a row, allow us to show you around lovely Evanston, Illinois.

5. Give me Liberty or give me death …
at the hands of the Other Aggies! The Flames land in the Coveted Fifth Spot after flaming out at the end of an otherwise heavenly 8-4 season with a stunning 49-14 loss to natural geographic rival New Mexico State, a game that the other FPI said that Liberty had a 95.7% chance of winning. I imagine it was hard for Hugh Freeze to keep both eyes on the playbook while he was also on the sideline scrolling through WarDamnEagleHousesForSale.com.
6. Huh-why-yuh (3-10)
Wins: +3
Losses: -10
Longest losing streak: -4
257 points for, 451 points against: -194
Turnover margin: -8
Randy Edsall Fired Coach Bonus: N/A
Total: -213
Games played: 13
Final Bottom 10 FPI: -16.38
Akron may have played too few games, but the Warriors have played too many as they have the only Bottom 10 FPI that was divisible by an unlucky 13. In fairness, Timmy Chang's team improved dramatically as a season that started with it ranked first/worst early and often continued to plow ahead. In fact, Mauna Loa was so irritated over the season ending that it erupted for the first time in nearly 40 years.
7. Charlotte 3-and-9ers (3-9)
Wins: +3
Losses: -9
Longest losing streak: -4
294 points for, 473 points against: -180
Turnover margin: -8
Randy Edsall Fired Coach Bonus: -50
Total: -248
Games played: 12
Final Bottom 10 FPI: -20.67
Speaking of eruptions, I am already bracing myself for my next visit to my local supermarket here in my home of Charlotte, where the kid who rings me up always has me on blast whenever I have his Niners in these rankings. I already know what he's going to say first. "But we ended the season with a win over Louisiana Tech and they are also 3-9, so why aren't they in the Bottom 10 instead of us?!" I will inform him that when we ran the 3-and-9ers vs. Lose-ee-anna Tech in the computer, it wasn't even close. Charlotte, thanks to a much larger points for/against margin, turnover margin and fired coach bonus, nearly doubled Louisiana Tech's FPI of minus-10.67. I also already know what he'll say next. "Dude, what is with your groceries? You eat like an 8-year-old."
8. Akronmonious (2-9)
Wins: +2
Losses: -9
Longest losing streak: -9
239 points for, 379 points against: -140
Turnover margin: -11
Randy Edsall Fired Coach Bonus: N/A
Total: -167
Games played: 11
Final Bottom 10 FPI: -15.18
In case you were wondering, yes, the Zips just won their second game of the year and did so against another fellow #MACtion Bottom 10 contender in Northern Ill-ugh-noise. But as you know from watching the CFP rankings announcement shows each week, this is all about "body of work" and Akron's anatomy is Thor in "Avengers: Endgame." NIU's Bottom 10 FPI is minus-6.08, barely more than a third of the Zips, who are 15.18 below zip. Speaking of in case you were wondering and speaking of numbers that start with 15, Akron has a 15.4% chance of winning its do-over at Buffalo on Friday night. But that's according to the ESPN FPI, and now that we have seen how easy it is to come up with an FPI formula, we're not sure we trust it anymore.
9. Whew Mexico No-bos (2-10)
Wins: +2
Losses: -10
Longest losing streak: -9 (current -10)
157 points for, 312 points against: -155
Turnover margin: +4
Randy Edsall Fired Coach Bonus: N/A
Total: -178
Games played: 12
Final Bottom 10 FPI: -14.83
The No-bos ended the year by providing former top/bottom team Colora-duh State with the win they needed to boost themselves over the wall and out of the Bottom 10 prison yard. So why aren't they ranked higher/lower than they are? Look at that turnover margin. Whew Mexico ranks 38th in all of FBS, tied with the likes of Cincinnati and Washington State. Come on, guys, are you trying to win this thing, or aren't you?
10. No-vada (2-10)
Wins: +2
Losses: -10
Longest losing streak: -10 (current -10)
226 points for, 371 points against: -145
Turnover margin: +2
Randy Edsall Fired Coach Bonus: N/A
Total: -171
Games played: 12
Final Bottom 10 FPI: -14.25
The race to secure this final spot was tighter than a pair of Underoos washed in too-hot water, but the Oof Pack edged out the rest of the, er, pack via the nation's other second-longest losing streak. The difference between Whew Mexico and its Mountain West mates in Reno is thinner than the gravy on the $3 meatloaf in downtown Reno. They shared seven common opponents and while New Mexico lost to all seven, Nevada did beat Liberty destroyers Whew Mexico State back in Week 1. The Pack ended the season with a loss to unLv, who reacted by … immediately firing its coach?
Waiting list: Temple of Doom, Arkansaw State, Colora-duh State, Lose-ee-anna Tech, Old Duh-minions, Northern Ill-ugh-noise, Stampford, Virginia Tech No-kies, In A Rut-gers, #goBCc, Arizona Skate, the end of the regular season … boo.
Hot stove survey: Where will deGrom and Judge sign? Who will get traded? MLB execs weigh in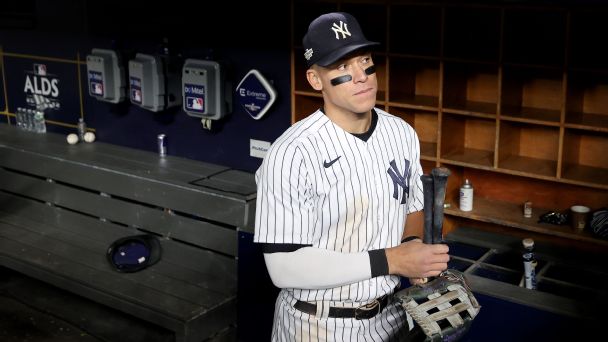 Nearly a month into the MLB offseason, we're still awaiting the first big splash.
While we wait for the movement to pick up entering next week's winter meetings in San Diego, we asked a panel of experts to weigh in on what they think the rest of the offseason will bring.
Where will Aaron Judge sign? Who will sign the four star shortstops? Which ace is most likely to leave his current team? And who will be the big names in the trade market?
We polled a dozen team executives and MLB insiders from across both leagues about free-agent landing spots and who's likely to get moved in trades this offseason. Voters were assured anonymity and were given the option to skip any questions that hit too close to home.
Here's how they voted — and what they had to say about their picks.
---
Will Aaron Judge get a package worth more than $320 million and who will he sign with?
Yes: 7
No: 4
New York Yankees: 6
Los Angeles Dodgers: 3
San Francisco Giants: 2
Our voters think Judge is going to one of three teams, but there is a split on which one and how much money he'll get. Either way, he'll likely end up with a contract for about $100 million more than the Yankees offered ($213.5 million) last spring.
"He gambled and showed up, but I'm going to say he comes in a bit below [$320 million] and comes home to the West Coast," one voter said of the California native. "Dodgers or Giants. Sounds like Dodgers to me."
---
Which shortstop will get the most dollars and years in free agency?
Trea Turner: 7
Carlos Correa: 5
There are four coveted shortstops in this free-agent class, but our panel believes Turner and Correa are in line for the biggest paydays. Correa, 28, was a popular answer due to his age, but Turner, 29, won the vote.
"I think his [Turner's] skill set ages the best," one voter said. "Correa has had a couple injuries, while speed doesn't slump, right? All long-term contracts are a risk, but give me a guy with Turner's athleticism any day."
---
Where will the four big free-agent shortstops sign?
Turner: Philadelphia Phillies 6, Dodgers 4, Giants 2
Correa: Yankees 4, Minnesota Twins 3, Giants 3, Chicago Cubs 1, Boston Red Sox 1
Dansby Swanson: Atlanta Braves 6, Cubs 2, Dodgers 2, Giants 2
Xander Bogaerts: Red Sox 4, Giants 4, Dodgers 2, Yankees 1, Cubs 1
Amazingly, the Giants showed up in the vote for every shortstop. Of course, San Francisco's public stance on a willingness to spend could have influenced this. But as you might expect, there's no real consensus on where each shortstop will sign. Executives showed the same uncertainty for last offseason's shortstop class. It should make for a wild winter of musical chairs at the position.
"Dave Dombrowski isn't going to sit on his hands," said one voter who chose Turner to the Phillies. "His owner seems to be on the same page. I almost wonder how the Phillies don't get one of them."
"I just think if the Giants don't get Judge, where else can they sign up a star player?," another voter responded." If they get Judge, then I would vote no on a shortstop. Until then, I think they will get one."
---
Yes: 4
No: 8
The majority of our voters believe deGrom will return to the team he has spent his entire career with despite the ace testing the free-agent market this winter. Should he leave New York, it would be a surprise to at least one of our respondents if the Mets didn't do something else soon after losing him.
"I think deGrom will leave the Mets, but they'll move to quickly replace him," a voter said.
---
Yes: 9
No: 3
On the other hand, our participants think that the reigning American League Cy Young Award winner will start the new season with someone other than the reigning World Series champions.
"Houston has so much pitching, they can let Verlander walk and spend elsewhere [like they did on Jose Abreu]," one executive said.
---
Which top pitcher after Verlander and deGrom will provide the most value: Carlos Rodon, Kodai Senga, Taijuan Walker or Chris Bassitt?
Bassitt: 5
Rodon: 5
Senga: 2
The fact that Senga got votes says a lot about his reputation as an ace in Japan considering he has yet to pitch in the big leagues. Meanwhile, the left-handed Rodon appears to have shed any durability questions after making 31 starts and pitching 178 innings in 2022. But it was the right-handed Bassitt who won this vote. Bassitt's ERA has been higher than Rodon's in each of the past two seasons, but in terms of pure value, the righty edged out the lefty.
"I like Rodon in one game for my season, but long term, I think Bassitt is probably the best value," one voter said.
"It's really not fair to judge Senga, so I voted for Bassitt as the safest bet," another voter said.
Which team (outside of yours) will make the biggest splash this offseason?
Giants: 3
Phillies: 2
Texas Rangers: 2
Dodgers: 2
Red Sox: 1
Yankees: 1
Cubs: 1
The variety of teams given in this answer is a good indication of where baseball is right now: with a lot of teams that think they can make the postseason and, more importantly, win the World Series — and with money to spend to help that cause. Texas might not be an October favorite today, but it should be a hot stove player.
"I know the Rangers did it [spent] last season," one voter opined, "but I don't see why they won't again. Bruce Bochy didn't unretire to sit at home in October. This year they'll add pitching. You can count on that."
---
Who will be the most notable player traded this winter?
Sean Murphy: 3
Pablo Lopez: 3
Lucas Giolito: 2
Bryan Reynolds: 2
Corbin Burnes: 2
Fernando Tatis Jr.: 1
Kolten Wong: 1
Some executives answered who was most likely to be traded as much as who will be the most notable, while the Tatis voter didn't explain his choice — but certainly raised eyebrows with his pick.
"Lopez is such a good trade option at a much lower monetary cost for teams after some of the big free-agent pitchers come off the board," one evaluator said. "With two seasons of control, Miami should get a nice haul."
---
How much do MLB's 2023 rule changes impact your offseason's decision-making: a lot, some or not at all?
Not at all: 6
Some: 4
A lot: 0
Among the new rules, the elimination of the shift is most likely to impact roster construction, according to executives at the general manager's meetings earlier this month. But they also say they don't have a complete picture yet. Teams need to see it all in action before they know how it will impact decision-making in the future.
"Obviously, you can't hide nonathletic second basemen anymore, but what we don't know is how much the running game will be impacted by all these changes — both behind the plate and on the bases," one voter said. "I don't think the pitch clock will do much to roster construction long term."
Kraken outlast Kings 9-8 in OT: 'Messed-up night'
Andre Burakovsky had two goals, including the winner in overtime, and the Seattle Kraken defeated the Los Angeles Kings 9-8 on Tuesday night in the highest-scoring NHL game this season.
Burakovsky scored on a power play at 2:08 of the extra session to give Seattle the first six-game winning streak in franchise history.
"End of the day, it was one of those games where last shot wins, and that's exactly what happened," Kraken coach Dave Hakstol said. "It's better to be on the winning side and the good side of it than the other, but it's a crazy hockey game."
It was the sixth game in the expansion era (since 1967-68) to feature at least 17 goals and be decided by one goal and just the second since 1984-85. The other was when the Winnipeg Jets won 9-8 at the Philadelphia Flyers on Oct. 27, 2011.
Matty Beniers and Jared McCann each scored twice as the Kraken, playing their second NHL season, set a team record for goals. Alex Wennberg, Daniel Sprong and Oliver Bjorkstrand also scored, and Martin Jones made 27 saves.
Gabe Vilardi had two goals for the Kings, but Cal Petersen allowed four on 16 shots after replacing Jonathan Quick early in the second period. Anze Kopitar, Viktor Arvidsson, Carl Grundstrom, Adrian Kempe, Sean Durzi and Mikey Anderson also scored for Los Angeles.
Durzi cut it to 8-7 with 8:16 remaining in the third period, and Anderson tied it with 6:21 to go.
"It's a very, very confusing night for all of us," Kings coach Todd McLellan said. "I'm really disappointed that we gave up nine goals, absolutely. But on the other side of the coin, I'm glad that we fought back, got a point, and scored eight. So it's mass confusion right now for all of us, and we better fricking figure it out quickly."
It looked as if the Kings were in position to score in overtime when Trevor Moore played the puck in the offensive zone before Kempe could get to the bench, resulting in a penalty for too many men on the ice. Burakovsky fired a wrist shot from the right circle through traffic on the ensuing power play.
"I got the puck in a good area, and I'll take that shot from there all day," Burakovsky said.
Despite securing the win with his second multigoal game in the past three outings, Burakovsky wasn't happy.
"It was kind of a messed-up night," he said. "We were trading chances, a lot of sloppy plays. I think we played a really bad game, and so did they. We were lucky that they didn't play good at all."
Seattle topped the eight goals it scored against San Jose last Wednesday. McCann likened the game to playing pond hockey growing up in Canada before then pointing out the similarities to junior hockey.
"It's going to be one of those nights," he said. "Going to be a lot of goals, going to be a lot of offense, so good to get the two points."
The first period was practically a game unto itself, producing a 3-3 tie after 20 minutes with Kopitar scoring 16 seconds in. It was his 11th career goal in the first minute of a game, which puts Kopitar sixth in NHL history, and it set the stage for two power-play goals per team on their four combined opportunities. Kraken defenseman Justin Schultz picked up the secondary assist on all three of his club's goals to set a franchise record for most assists in a period.
ESPN Stats & Information and The Associated Press contributed to this report.