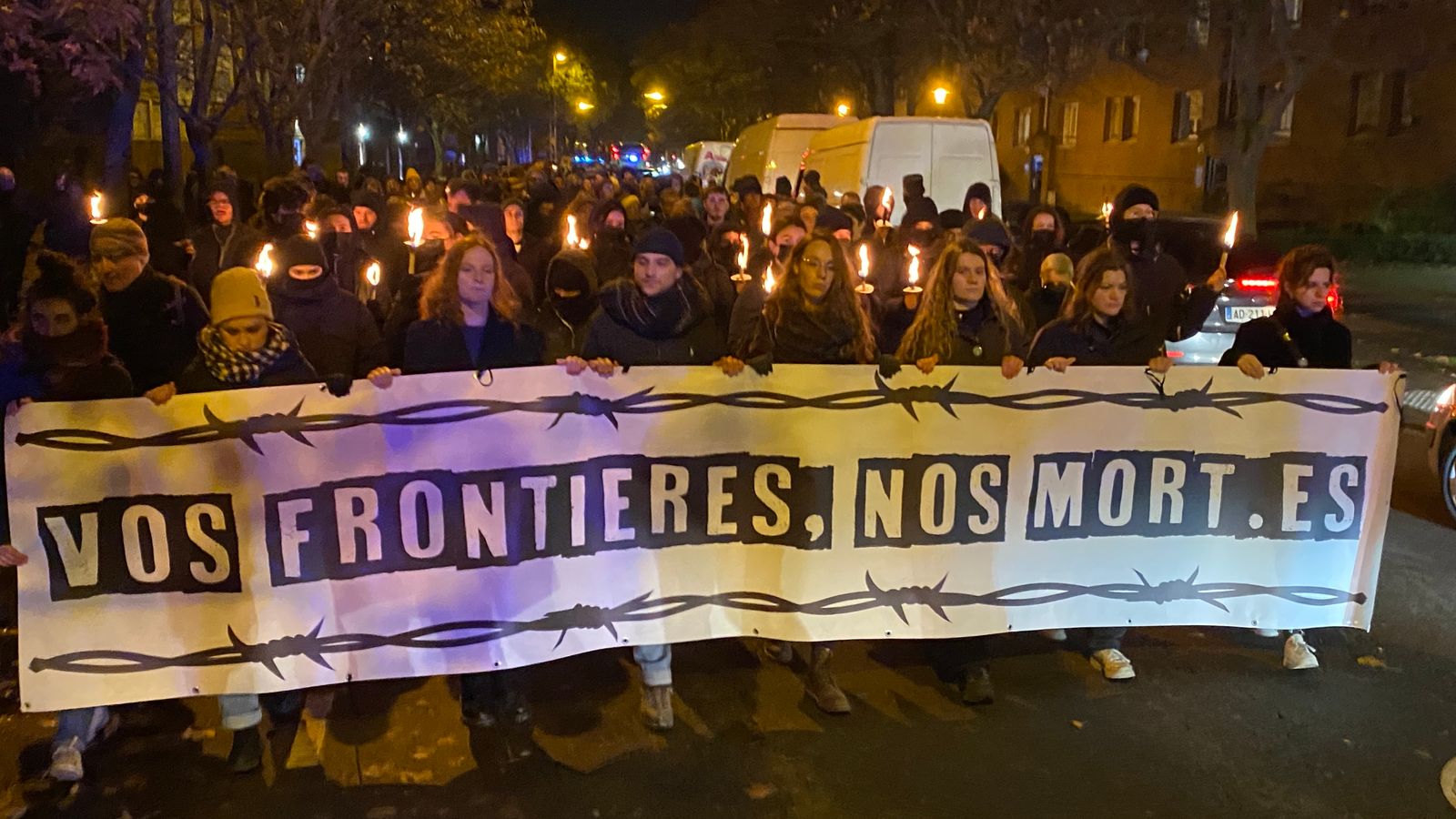 Migrants fill up squalid camp and wait for boats to cross the Channel – in wake of tragic deaths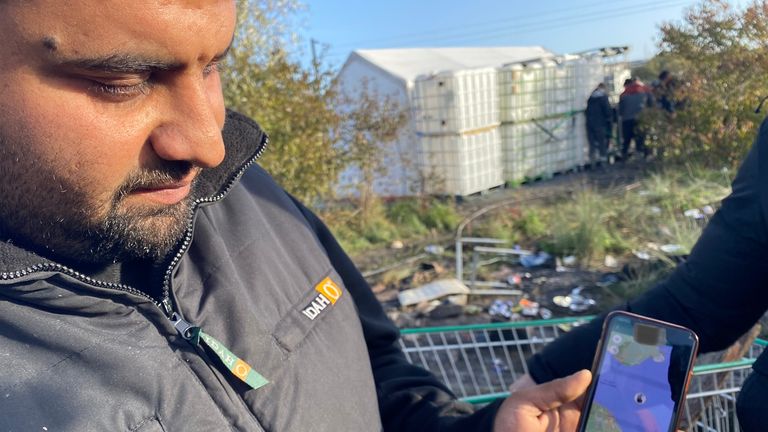 There is never a good time to visit the migrant camp in Grande-Synthe, but now it looks particularly grim. 
The mud is so deep that I see a man's foot disappear up to his ankle as he comes to charge his mobile phone. A puddle has turned into a lake, straddling the width of the road that runs through the camp.
And as I chat to some of the people living here, they feed a brazier with both wood and hand gel to keep it burning.
It is a sorry, squalid and dangerous place, but it has a purpose. This is the staging post for people preparing to get to Britain.
Come to this camp and you can find a smuggler prepared to sell you passage across the Channel; someone who will tell you that, for a price, they can fulfil your dream of getting to the English shore.
A year on from the deaths of 31 people on a lightweight dinghy in the middle of the Channel, the appetite to make this crossing seems undiminished.
We meet Ahmed, who has already tried to get across the Channel and is determined to have another go soon. On his phone is the evidence – a map showing that he was nearly in English territorial waters when the engine on his boat had failed.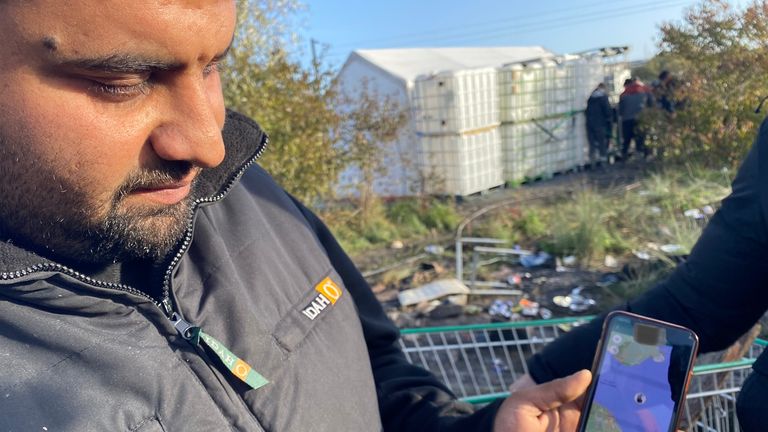 If he had just kept going a little further, then his rescuers would have taken him to Kent, rather than back to Northern France.
Then there's Rebaz, who has spent months trekking here from Kurdistan. He has made the long, arduous journey despite the fact that the bottom half of his left leg has been amputated. He says it was ripped away when he was near an airstrike in Iraq.
Rebaz blames NATO for the injury, but is still determined to get to Britain because "life is better there – and I am going for the sake of the future of my children."
When I ask him if he worries about the danger, or the spectre of people dying in the Channel, he shrugs and looks genuinely indifferent. "I am not scared," he tells me. "Nobody here is scared. I have to go – I have no other option."
It was that drive that propelled 33 people to get on that ill-fated boat a year ago, when so many perished and only two survived. Four bodies have never been recovered, including that of Twana Mamand Mohammad, who was 18.
A keen athlete, who enjoyed Taekwondo and football, he had always wanted to leave Iraq, see Europe and hopefully become a footballer in the Premier League.
His brother, Zana, described him as "no trouble – at home, in the street, at school, in his school teams and among his friends". He was, he said, "the go-to person in the family".
On the night he died, Twana had previously messaged his anxious brother to reassure him that all was okay, saying the boat was working fine and that they were on their way to Britain.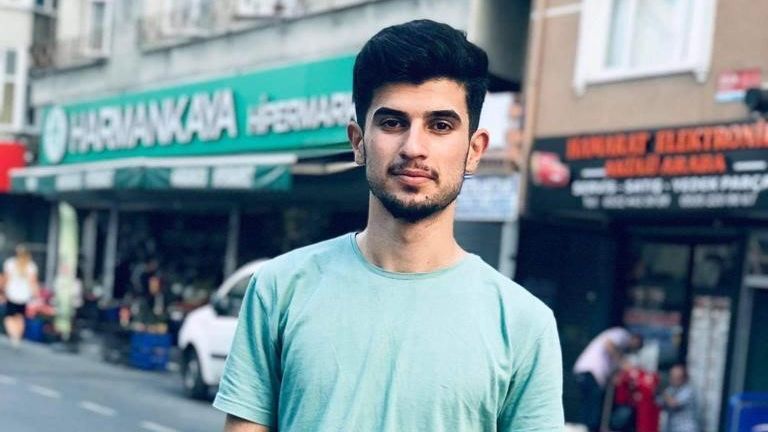 Instead, a little later the engine failed. Sky News has seen transcripts of phone and text conversations between people on the boat and French emergency services, and they paint a picture of chaos at sea, allied to hesitation and indifference on the land.
Those on the boat called the French emergency service line, but help was not sent.
Then they were told that they were, in fact, in British coastal waters, so should phone the UK authorities. They, in turn, said the boat was in French waters.
And so it went on until, hours later, with the buck being passed and information not being passed between the two authorities. The boat took on water but when the French were told this, the reply was that it was "English water".
Click to subscribe to the Sky News Daily wherever you get your podcasts
Eventually, awfully, the passengers went into the sea, hours after phoning to ask for assistance that never came.
Instead, it fell to a fishing boat to raise the alarm after spotting bodies in the water.
Zana is now in France, trying to find out more about the circumstances surrounding his brother's death. He remains shattered by the tragedy and bewildered that desperate people could have been left without help.
"Because this incident happened in the waters between both countries our loved ones contacted both countries and requested assistance," he says. "But none of them offered assistance."
Read more:
English Channel deaths: Government has 'learned nothing' since 31 people died in tragedy
Immigration minister Robert Jenrick 'should resign' over migrant hotels, Tory MP says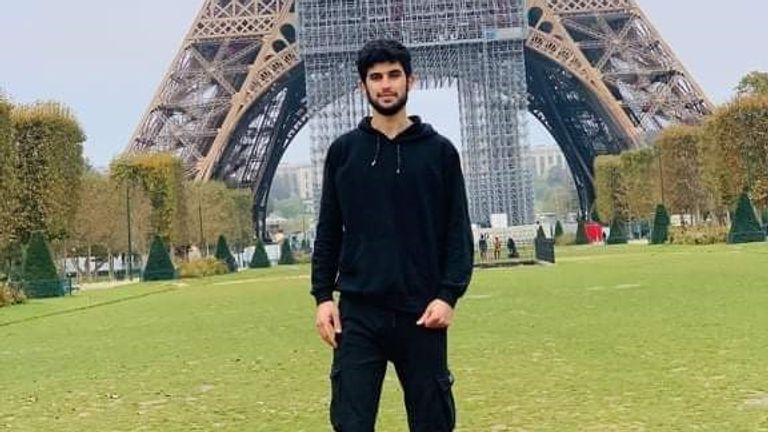 He says that he now tells people not to follow in his brother's footsteps; to avoid this perilous crossing and think about their safety. And his advice, he says, is ignored.
"Whoever you tell not to embark on this boat journey, they say 'Whatever God has in store for us – that will happen'.
"So I tell them the tragic journey of Twana but this migration continues. And it will continue."
And he's right. The number of people crossing the Channel has increased over the past year. Since the disaster in November 2021, around 44,000 people have arrived in Britain using a small boat.
It is evening in Dunkirk and a procession winds its way through the town – a memorial march to remember the 31 people who died.
It ends on the beach, where the names of the victims are read out and hand-painted signs, embossed with their names, are held up. Twana's name is there, along with everyone else – a catalogue of mainly young lives cut short in the most harrowing of circumstances.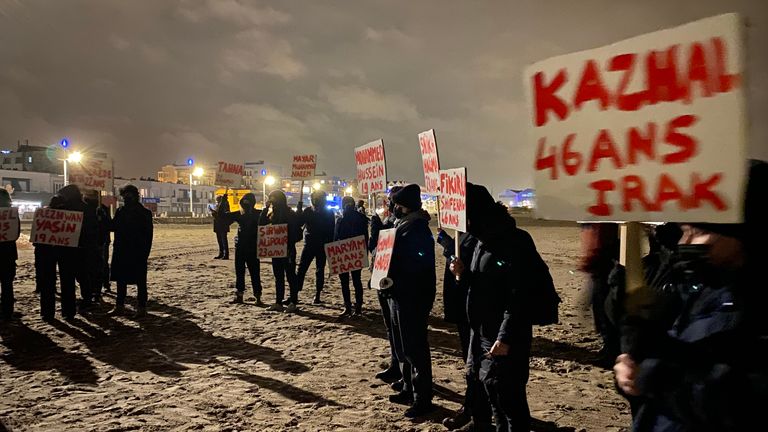 At the time, it seemed like the sort of tragedy that would demand change. But in reality, the boats are still leaving, the smugglers are still cashing in, and the camps are still buzzing with people.
And as long as desperate people continue to cross the world's busiest shipping lane in feeble, flimsy craft, the prospect of another disaster seems, grimly, inevitable.
The invisible prime minister with the dullness dividend: Why Sunak's keeping a low profile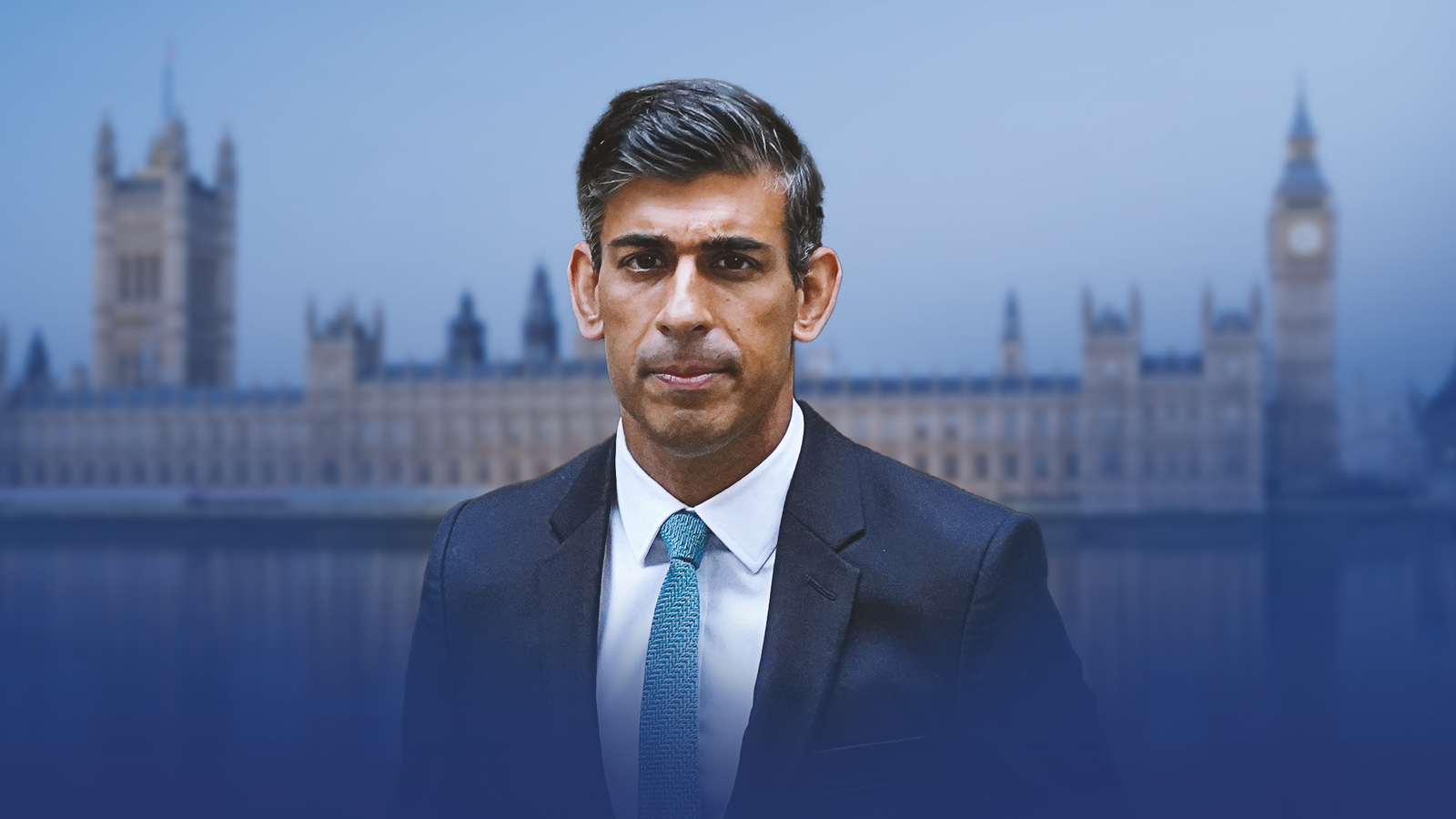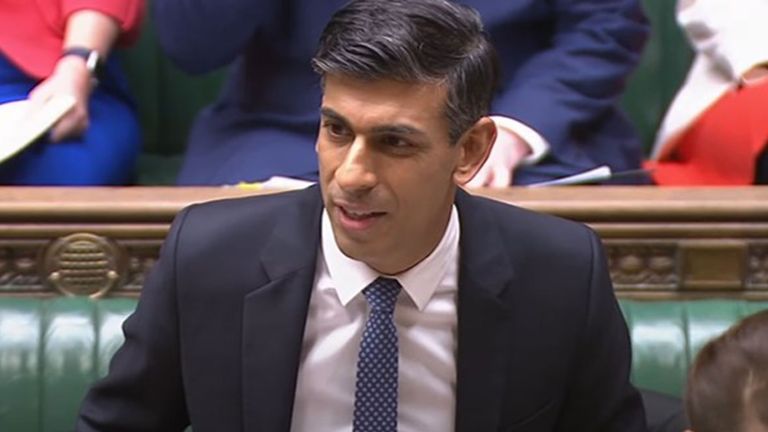 He's done it! It was a low bar to jump over but at least Rishi Sunak has lasted longer as prime minister than Liz Truss.
The nation can be reassured that there will not be a fourth prime minister this year, or even a general election before Christmas, as Boris Johnson subjected the country to in 2019.
This week Sunak passed the new shortest record set by Truss by serving in Number 10 for more than 44 days without resigning.
After the political turmoil brought on by two "disrupter" prime ministers, the public seems pleased by the period of calm which the diligent Sunak has brought with him. In opinion polls he is personally much more popular than his party and about on a par with the leader of the opposition, although Sir Keir Starmer's Labour is way ahead of the Conservatives.
The people who seem least content, least respectful, and least inclined to give the new prime minister a break are on his own side. He is finding it next to impossible to please the country and the Conservatives at the same time.
Faced with these difficulties Sunak has opted to keep a low profile. Beyond a list of unmissable prime ministerial engagements at home and abroad, he has scarcely been seen in public or on social media. Tory voices have joined his opponents attacking him as an "invisible prime minister".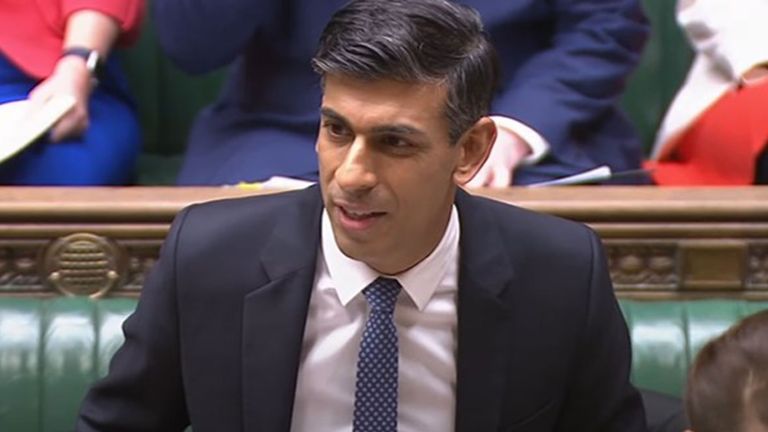 Sunak's 'dullness dividend'
The circumstances in which he came to power meant that Sunak had no chance of a honeymoon period: a bold 100 days in which he could "hit the ground running" and "come up with fresh ideas".
Liz Truss had just tried that and crashed the economy.
Sunak and Jeremy Hunt, the chancellor who had already been chosen for him, faced an immediate crisis and a repair job to restore confidence. On the financial front Sunak has achieved what was asked of him.
There has been a "dullness dividend". Britain's economic standing is now no worse than it was before the shock of the Truss/Kwarteng mini-budget, interest rate rises are similar to those in equivalent economies, and normal service has resumed on debt markets.
Sunak has kept his head down, moving surreptitiously, because many of his measures – such as putting up taxes and trying to maintain public spending – are "unTory", according to critics on his own side.
But then Conservative activists never wanted him as leader – after all they rejected him this summer in favour of Truss when they had the chance to vote for him.
Sunak's paid a price for becoming PM
Sunak was once the rising star of the party. Back then he hired experts to run a slick personal publicity campaign, including videos and postings of his activities as chancellor branded with his signature.
This self-promotion backfired as his relationship with the then prime minister Johnson soured and as their policy differences widened.
Earlier this year "Rishi" was tarnished by being fined along with Johnson for breaking COVID party rules. Around the same time his public image as a future UK prime minister was shattered when the media were pointed towards his wife's non-dom tax status and his own possession of a US green card.
Tory MPs installed Sunak as party leader and prime minister because the wider public, rather than Tory activists, saw no credible alternative if a general election was to be avoided.
The MPs knew that they had to prevent another ballot of the party membership which would probably have re-imposed the disgraced Johnson on the nation.
Sunak also had to pay a price to get to the top. He was effectively blackmailed into giving key jobs in the cabinet to people who would otherwise have thrown their weight behind another membership ballot, which was the last thing the national interest needed and which he might have lost.
Suella Braverman and Gavin Williamson, who had both previously been sacked from government for misconduct, were the most prominent of these compromise appointments.
They have got in the way of Sunak delivering his promise that "the government will have integrity, professionalism and accountability".
Williamson has already had to resign for bullying, Braverman is under investigation for similar offences, as is Dominic Raab, whose previous track record barely justified his reappointment as deputy prime minister.
Meanwhile Sunak was unable to find a place in government for his closest ally at Westminster, and former boss, Sajid Javid, who announced this week that he is standing down as an MP.
Labour Leader Keir Starmer opens up PMQs with a question about housing targets, accusing the Prime Minister of breaking promises.

Beware the Tory man-eating tigers
Sunak has had to strike similar compromises with the broader range of Conservatives in parliament.
Tory MPs have tasted blood so often in ousting four PMs – Cameron, May, Johnson and Truss – that they are the political equivalent of man-eating tigers, unable to stop.
Some of them are already predicting that next spring's local election results will be so bad that they will have a chance then to get rid of "Rishi" and perhaps replace him with "Boris". Many have already abandoned hope that the Conservatives can win the next general election and are thinking only of their own skins.
For more than a dozen MPs so far that means not standing for re-election. Quitter Matt Hancock epitomized the prevalent mood of self-interest this week when he lectured the prime minister that he was going because "the Conservative Party must now reconnect with the public we serve."
Others are trying to bend the government to policies which will go down well with voters in their constituencies even if they are not necessarily in the national interest.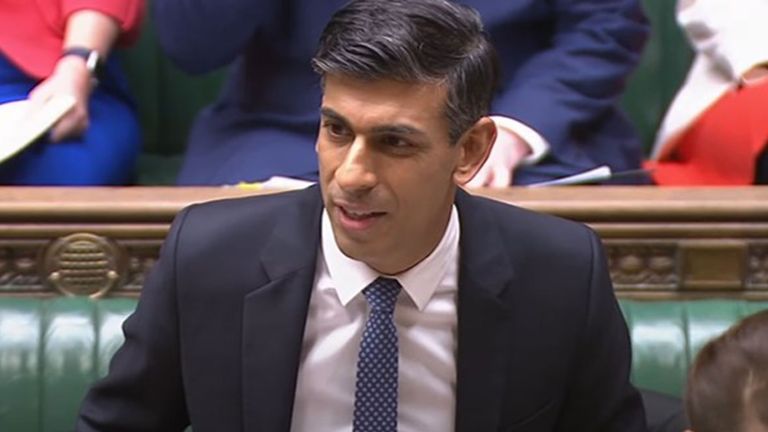 Sunak has little appetite to fight ideological battles
In spite of the notional Conservative majority in the Commons, Sunak's programme is constantly vulnerable to rebellion and potential defeat.
Shire Tories don't want house building in their back yard, so this week Sunak U-turned on house building.
Landowners and the construction industry like on-shore wind farms so Sunak U-turned to favour them.
Campaigners in the North East want the jobs generated by a new coal mine in Cumbria, so the government has given it the green light, overruling its own environmental advisors.
Sunak has little appetite to fight ideological battles with his own side in parliament, continuing instead to concentrate on practical problems, away from parliamentary scrutiny where possible.
Business managers have dropped the Schools Bill, pleading pressure of parliamentary time, even though the House is actually sitting for fewer hours than usual, and often goes home at teatime on Wednesday.
Raab's plans for a British Bill of Rights are set to be shelved, in favour of practical measures on strikes and small boat migrants.
The avoidance of hard hats
Chancellors of the Exchequer concentrate on one big thing, surfacing rarely to go public. Gordon Brown was shocked how constant the demands on him were when he became prime minister.
Former Chancellor Sunak is also finding out the hard way – as was shown by his initial decision, quickly reversed, not to attend the COP 27 meeting in Egypt. Since then he has only been out and about when he can't avoid it, at the G20, Remembrance Day, and the Lord Mayor's banquet.
Stung by missteps of his predecessors and his former self, Sunak has let it be known that he will not be donning hard hats and high vis jackets for what have become standard photo opportunities.
He will be hoping that trying to do the right thing, slowly and cautiously, will have political dividends over time, rather than being merely its own reward. As yet there is little sign that his low profile is paying off for the Conservatives.
Sunak's absence of PR bluster has upset Tory cheerleaders who have come to expect the swagger of a Cameron, Johnson or Truss. But then, in the long run, such overconfident celebrity behaviour did neither them nor the UK much good.
Ukraine War Diaries: Fighting the Smart war against Russia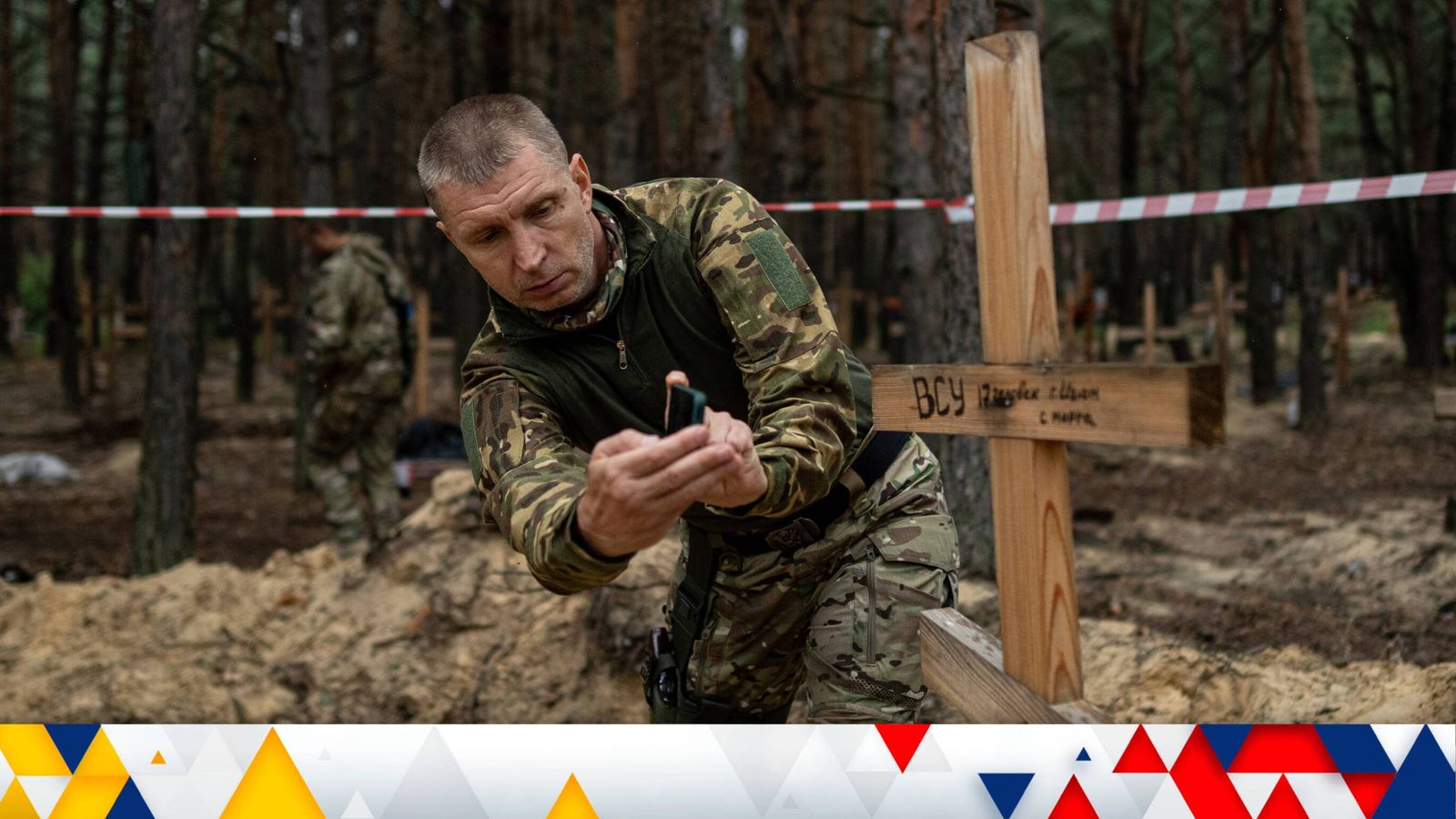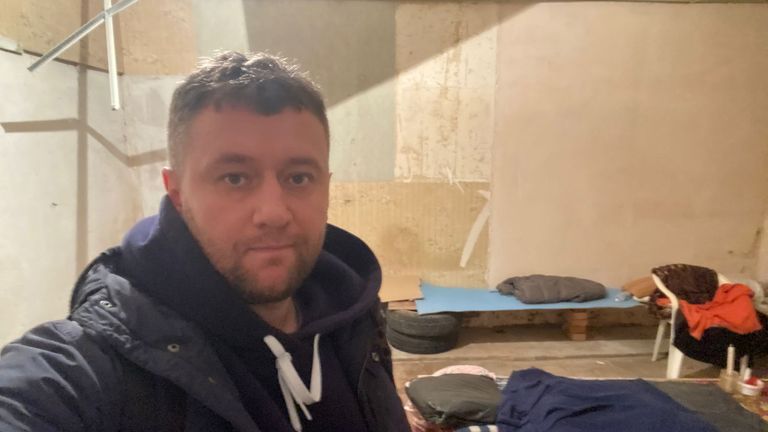 At first, Ukrainians used their smartphones to warn others of air raid alerts.
Now, they've changed tack, instead using a suite of apps to track Russian missiles heading towards their nation.
Since the start of the war, Russia has attacked Ukraine's power grid with more than 1,000 missiles. The country's power network has now been reduced by up to 50%, according to government officials.
Click to subscribe to Ukraine War Diaries wherever you get your podcasts
But, speaking in the latest episode of the Sky News Ukraine War Diaries podcast, Kyiv resident Ilyas Verdiev explains why internet connectivity is now sometimes even more coveted than light and heat for besieged residents.
"I had a blackout a week-and-a-half ago, I didn't have electricity," he explains. "But more important is that I didn't have a stable Internet connection.
"That means I didn't get the information from the different sources of how the situation is at the moment.
"Telegram is basically an instant messenger [app] where you can post any kind of information to different 'channels'. I have a few channels.
"One of them gives you an information of how and when the air forces of Russia are moving, whether they bring the missiles, whether the missiles were launched. They can even post the interceptions of pilots from the Russian side."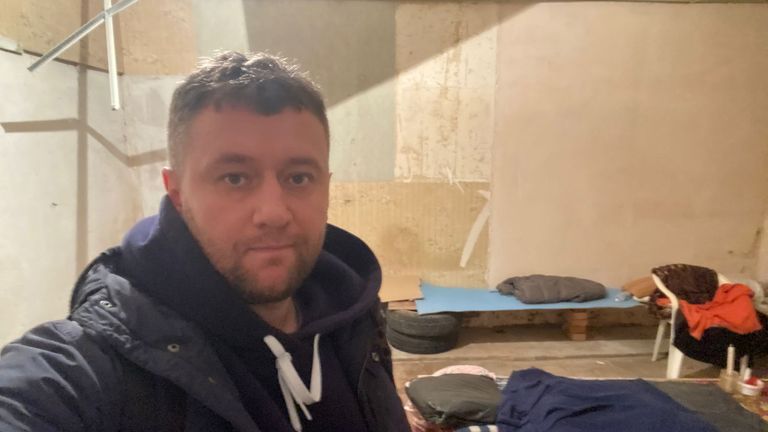 On 5 December, Russia attacked Kyiv with yet another barrage of missiles. Ilyas, like many Kyiv residents, used apps to track the attack from point of origin to eventual execution.
"Today [5 December] they have warned in advance that this air raid is dangerous and there is a massive take-off of their planes which were bringing the missiles on board," Ilyas continues.
"The other application is the air raid map. It's a map of Ukraine and each region turns red when the air raid is on in that particular region. We had an air raid starting from the eastern parts of Ukraine. And gradually all of the regions from the east to west to the north and to the south, all over were getting red… if an air raid is growing and covers most of the regions on the map, I will start packing things…and get ready to go to the basement. Sooner or later it will come to Kyiv.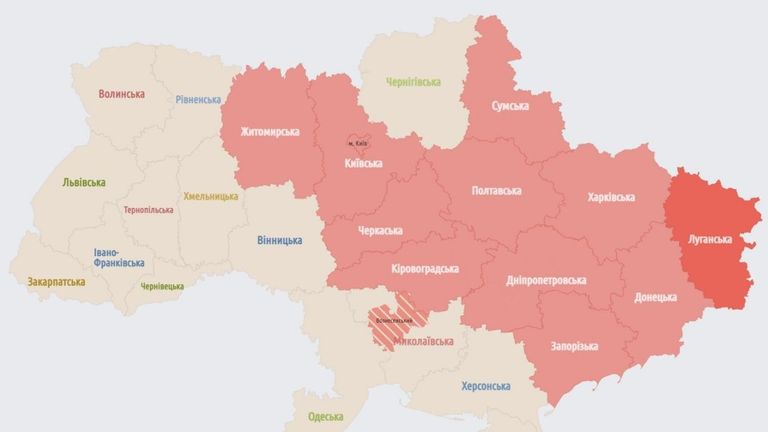 "Simultaneously, you can hear the actual siren outside your apartment, and the same time, you have a notification which sounds exactly like a siren on your mobile.
"I can actually make some plans – how to act, what to do, where to go. I can warn my parents in advance – they should be ready to go to the corridor or to a safer place."
From the creators of Sky News' award-winning StoryCast, Ukraine War Diaries is a weekly podcast following those living on Europe's new frontline, and those who have escaped it.
Producer: Robert Mulhern
Digital promotion and additional writing: David Chipakupaku
'It's terrifying to live like this': Ukrainians under relentness bombardment in one of the world's most dangerous places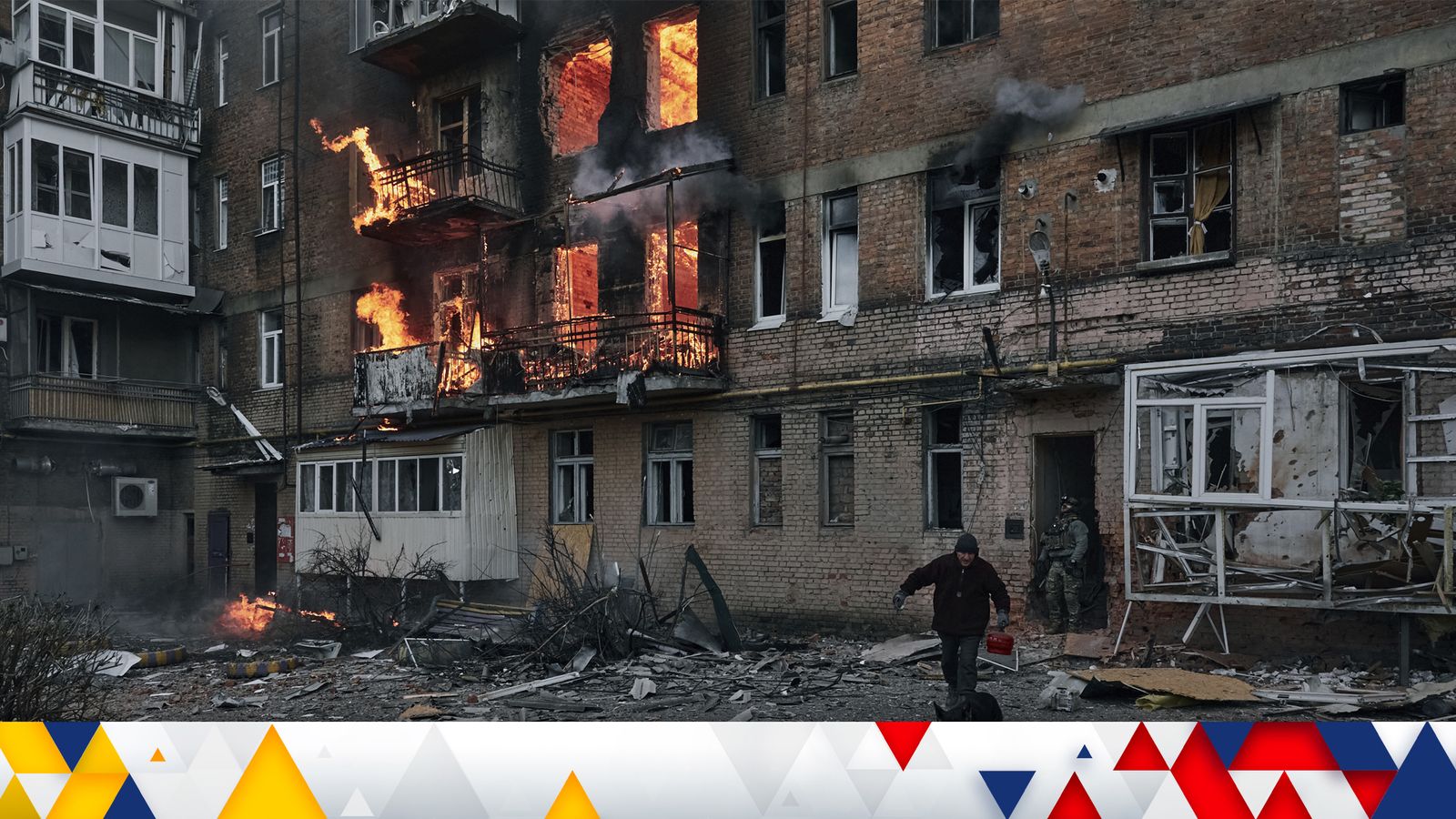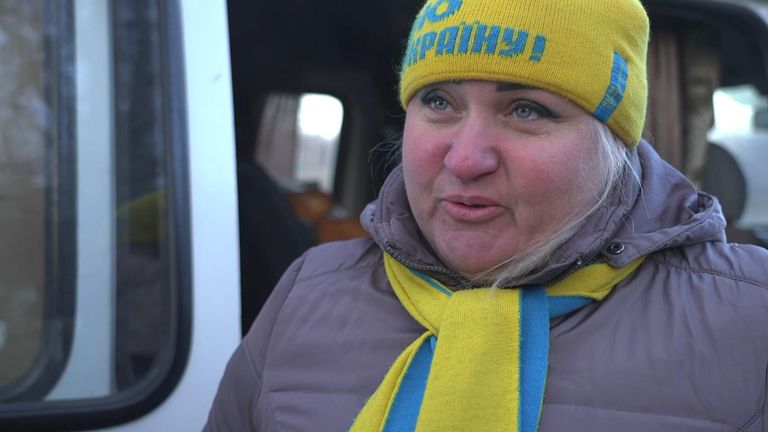 A middle-aged woman with a bright yellow hat stepped out of a white van close to the frontline Ukrainian town of Bakhmut, one of the most dangerous places on the planet.
Smiling cheerfully, Liudmyla Bila handed out a jumble of supplies – from woollen socks and metal pans to dried noodles and cans of beans – to a small group of grateful soldiers.
She even gave them periscopes – useful to peer over the top of a trench – and heart-shaped biscuits.
"The guys are helping us [the troops gave her fuel] – and we are helping them", Liudmyla, 45, said, before jumping back into her van, with two other companions, and heading into Bakhmut.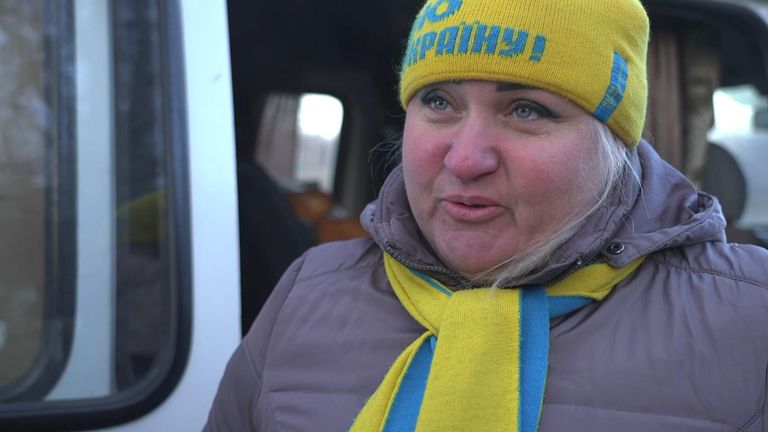 The trio is among a band of volunteers that braves the treacherous journey to distribute aid to the few thousand residents who are still living in the town despite months of relentless bombardments by Russian forces that have prompted most people to flee.
As well as providing supplies, the volunteers try to convince remaining residents to be evacuated, offering to drive them out to safety themselves.
There is no electricity or running water in Bakhmut and the threat of death from incoming rounds is constant.
Russia is desperate to take the town, in Donetsk region, eastern Ukraine, after suffering humiliating defeats elsewhere.
Ukrainian troops are defending hard but the bloody battle – one of the fiercest of the war – has been dubbed a "meat grinder" because of the huge and growing number of casualties.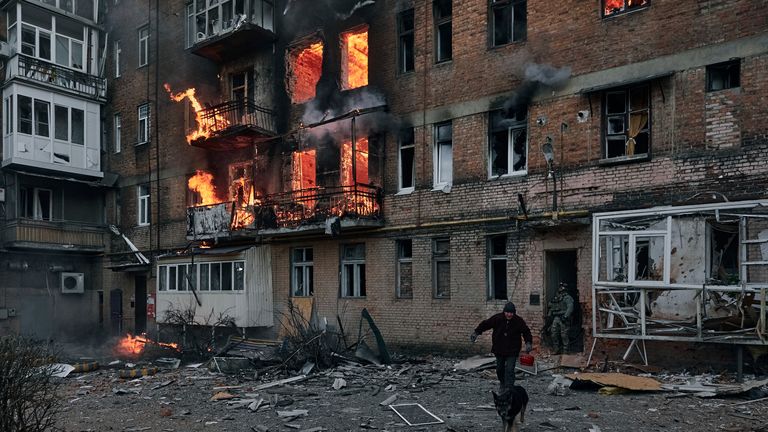 For local people caught in the middle, there is an added danger as winter falls and temperatures drop below freezing.
The active combat means even entering the town is high risk.
But Liudmyla said her only son, 22, is a soldier fighting around Bakhmut. She said she wanted to be nearby, adding: "I am not afraid."
Her voluntary group of some 20 people is called Wings of Liberty, based in the city of Dnipro, about a five hour drive from Bakhmut.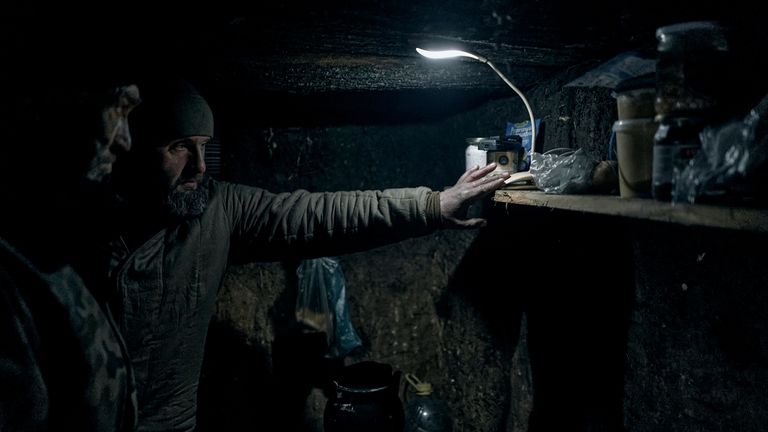 She makes the round trip to the town every week.
Sky News followed her and her team – 35-year-old Olha Ekzarkhova, whose brother was killed on the frontline two months ago, and Ian Boiko, 39, who drives the van – into Bakhmut on Wednesday morning.
They stopped in a residential area, surrounded by large, concrete apartment blocks.
Glass was shattered across the ground – evidence of past blasts having blown out windows.
The volunteers had to work quickly – wanting to minimise their time on the ground. The sound of distant explosions and gunfire could be heard.
"People!" shouted Liudmyla as she and Olha darted from the van to one of the blocks, carrying bottles of water, candles, blankets and food.
No one immediately appeared.
'Ferocious' battle for Bakhmut

They left the aid at the top of a short flight of steps leading down to a shelter in the basement. Liudmyla said people are living in there.
We knocked on the door to the shelter but there was no reply. It turned out they had gone to another spot in town where it is still possible to pick up mobile phone signal.
A tired-looking man was shuffling around the entrance of the apartment block next door.
Sky News approached him, but he did not want to speak and said no one else was around.
Aid delivered, Liudmyla and her team headed further into town.
We peeled off to speak with people in a small crowd on the side of a main road.
Desperate and weary, they queued at a window to try to receive stoves to heat their homes.
Read more:
Eyewitness | Ukrainians fight Russian mercenaries and plummeting temperatures in the Battle for Bakhmut
One woman moved away from the window empty handed.
Asked how life is in Bakhmut, Oksana, 75, said: "Very difficult. Very difficult."
Then her face crumpled and her voice broke.
It is "impossible, cold – without blankets", she said.
"This is bad. We are freezing. The temperature is only 3 to 5 degrees inside our home.
"We are waiting here for a stove. They told us to put your names on a list and wait. When will it end? When will it end? Oh God.
"Why are they [Russians] so stubborn when it comes to our Bakhmut? And here: war, war, war. They have been hitting us all the time for more than half a year already."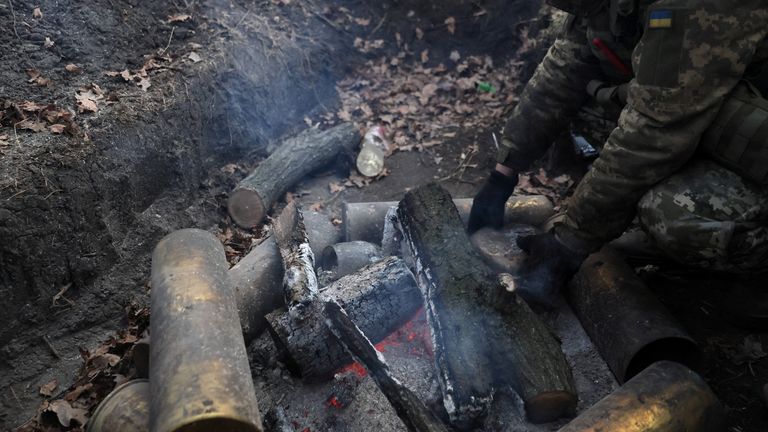 She explained that she lived with her husband who is 82 and too frail to be evacuated.
"How can I leave him? There are no doctors here. No nurses. Nothing is here."
Oksana said she was worried about having to live through the winter. As she spoke booms from incoming rounds could be heard, again in the distance.
"We are in the Stone Age. It is terrifying to live like this in the 21st century. And no one in the world can help us. How can it be?"
With the sound of explosions growing louder, we decided to leave.
Click to subscribe to Beth Rigby Interviews… wherever you get your podcasts
On the way out of town, an artillery round or some other form of munition exploded up ahead. We did not see the impact but could see the smoke.
Suddenly, there was a loud blast and our vehicle shook.
A second round had smashed into the ground to the right of us, sending shrapnel across the road. It narrowly missed a small car that was just ahead of ours – a reminder of the reality and the randomness of this war.