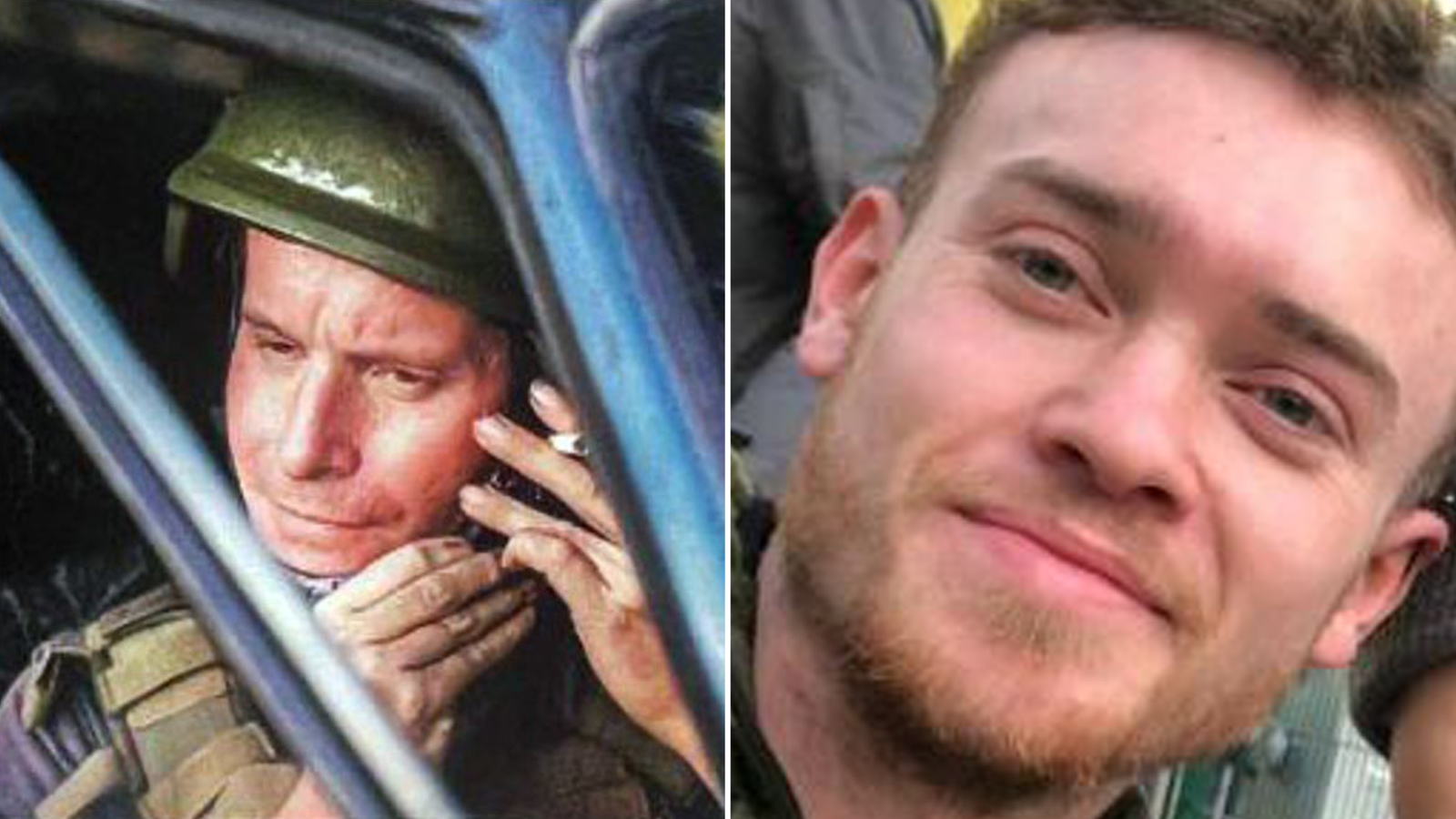 Chris Parry and Andrew Bagshaw: British nationals killed 'attempting humanitarian evacuation from Soledar', family statement says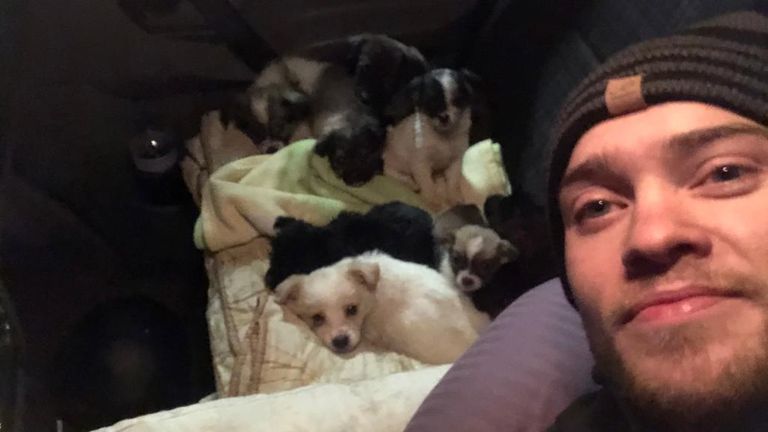 Two British nationals were killed while attempting a "humanitarian evacuation" from the Ukrainian town of Soledar, a family statement has said.
Chris Parry, 28, and Andrew Bagshaw, 47, were reported missing on 7 January amid heavy fighting between Ukrainian and Russian forces.
A statement issued by Mr Bagshaw's family said the pair's car was hit by an artillery shell while they were attempting to rescue an elderly woman.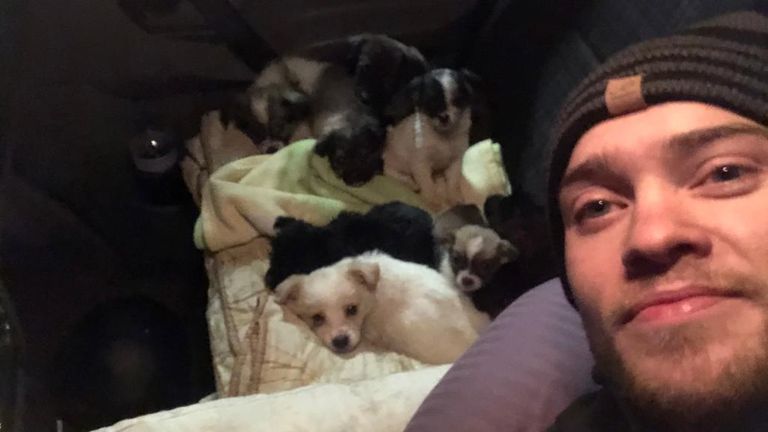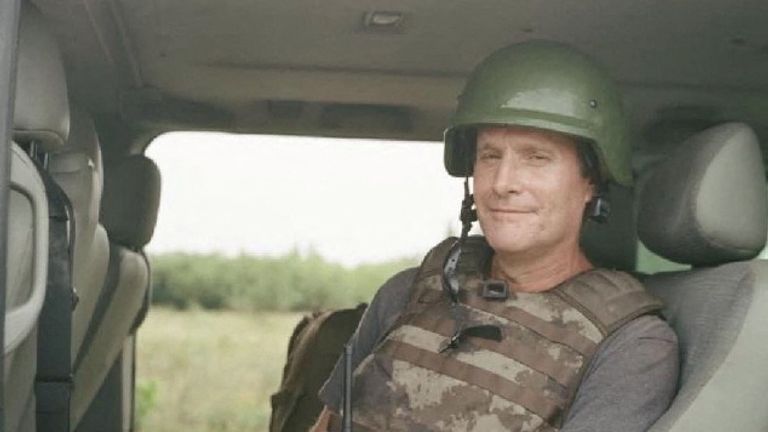 A statement issued on behalf of Mr Parry's family said: "His selfless determination in helping the old, young and disadvantaged there has made us and his larger family extremely proud.
"We never imagined we would be saying goodbye to Chris when he had such a full life ahead of him. He was a caring son, fantastic brother, a best friend to so many and a loving partner to Olga.
"He found himself drawn to Ukraine in March in its darkest hour at the start of the Russian invasion and helped those most in need, saving over 400 lives plus many abandoned animals.
"It is impossible to put into words how much he will be missed but he will forever be in our hearts."
Mr Bagshaw, a resident of New Zealand, was in Ukraine to assist in delivering humanitarian aid.
"Andrew selflessly took many personal risks and saved many lives; we love him and are very proud indeed of what he did," his family said in a statement.
"Andrew, age 47, was single, with a brother, two sisters and seven nephews and nieces. He was a scientific researcher in Genetics but had been working as a volunteer aid worker in Ukraine since last April.
"We intend that his death shall not be in vain. We are amongst many parents who grieve the deaths of their sons and daughters. We urge the civilised countries of the world to stop this immoral war and to help the Ukrainians to rid their homeland of an aggressor."
Earlier this month Russia's Wagner Group said its forces had found the body of one of the workers.
Mr Parry spoke to Sky News about his volunteer work evacuating residents in November 2022

Parry spoke of terrifying conditions under Russian bombardment
Mr Parry previously spoke to Sky News about his time evacuating people near the front line, often in terrifying conditions as Russian artillery bombarded Ukrainian positions.
Originally from Cornwall, he had been working as a running coach in Cheltenham when Russia invaded on 24 February last year.
He told Sky News he knew he had to go and help.
His daring actions on the frontline saw him evacuate residents from the besieged city of Severodonetsk before it fell in June and later operating east of Lyman.
Speaking three days before he went missing, Mr Parry said he had to choose between going on foot and being slow, but less visible, or going by car and being fast, but risk being spotted by drones on his way into Bakhmut to provide aid.
Speaking to journalist Arnaud De Decker he described the decision as a "toss-up" saying: "You can either go on foot, which is what some volunteers do, but that means you're spending a lot more time there, and I feel more vulnerable because you are just walking around completely naked.
"By car, you are more of a target, but you can fly to your destination in two minutes and be back in two minutes.
"Hopefully you can just do it quick enough so that the drones don't spot you and then you can just park it in a building and hide.
"But, yeah, a lot of volunteers won't go any more, but there are people there who want to get out, so I'm willing to go."
Rising public support for unions despite widespread strikes, Sky News poll suggests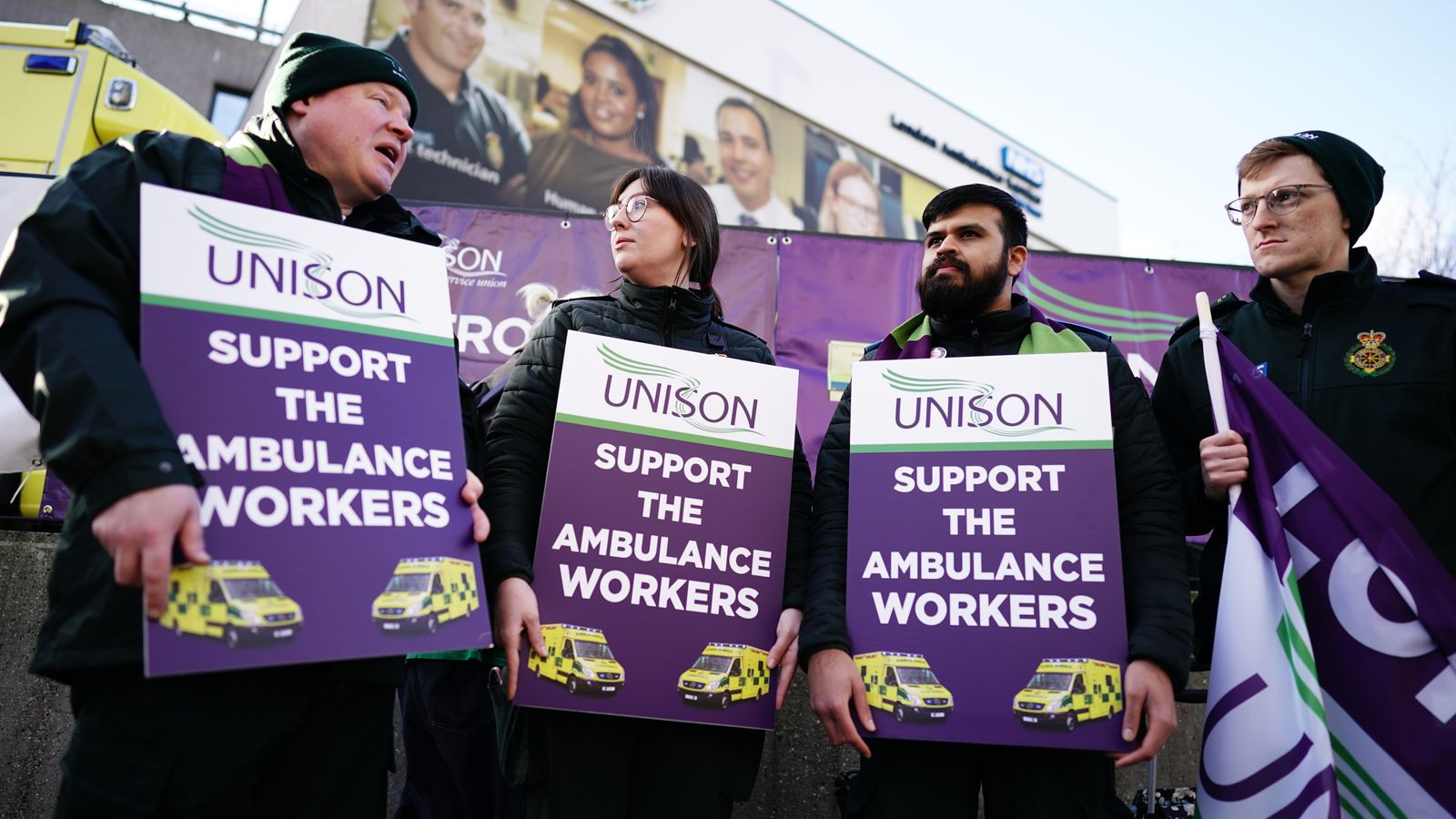 Support for trade unions is rising even though strike action is bringing public services to a standstill , Sky News polling shows.
Industrial relations are at their most fractious since the 1980s, with the country having lost more than a million working days to strikes last year.
Despite this, sympathy for striking public sector workers has risen over the past couple of months.
Exclusive polling commissioned by Sky News shows that the public increasingly think that trade unions play a positive role in society.
A survey of more than 2,000 adults found that 37% support unions, up from 35% in November.
A smaller proportion – 28% – said unions play a negative role in society, down from 34% in November.
The findings suggest that the government, which is refusing to deliver inflation-matched pay rises, may not be able to rely on waning support for strike action.
Support for unions has increased as the wave of strike action has spread from the transport and communication sectors to the NHS.
Ambulance workers, nurses and doctors have all either voted for or announced intentions to ballot for strike action since the last polling.
YouGov data shows that NHS workers elicit the strongest support from the public.
As many as 43% of respondents to the survey said they strongly support strike action by nurses, while another 22% said they somewhat support it.
Only 31% said they strongly or somewhat oppose industrial action from nurses.
Like many public sector workers, nurses have experienced a decade of real-term pay cuts.
When inflation is taken into account, nurses' pay fell by 7.76% between 2011 and 2020. The most recent pay deal, announced last summer, also lagged behind inflation.
It is a similar story across the public sector, with the pay gap between the public and private sector widening.
In the three months to October, average private sector pay growth, excluding bonuses, was running at 6.9%.
The figure for the public sector was just 2.7%. Meanwhile inflation was running at close to 11%.
The Sky News poll indicates robust support for industrial action but the public is uneasy about how readily unions can go on strike.
At a time when the government is pushing through legislation that will make it harder for unions to call strikes, 33% of respondents said that they were able to take action too easily and that more restrictions should be placed upon them.
This was down slightly from 34% in November.
By comparison, 22% of respondents said that unions should be given more freedom, up from 20% in November.
The YouGov/Sky News poll was carried out from 27-30 January, with 2,041 adults polled. The data is weighted to reflect the UK's population.
Kremlin dismisses Boris Johnson's claim Vladimir Putin threatened to kill him with missile in call ahead of Russian invasion of Ukraine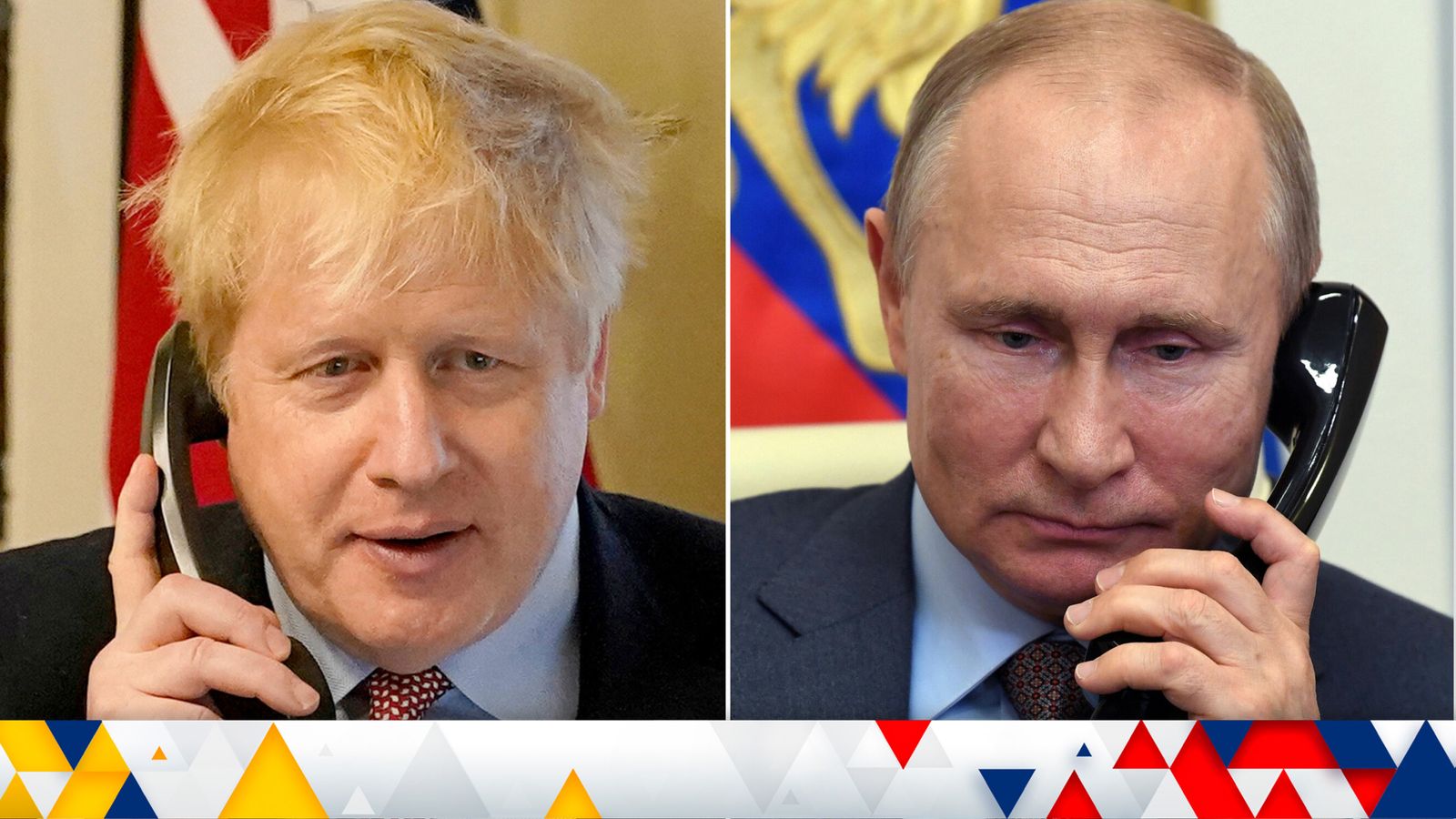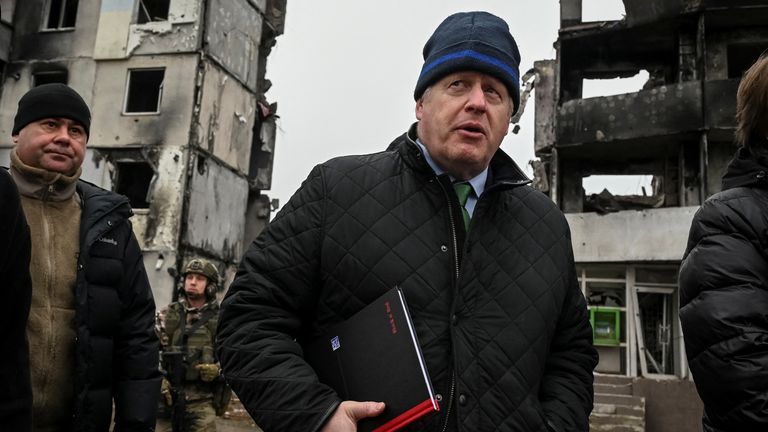 The Kremlin has called Boris Johnson a liar and denied claims made by the ex-PM that Vladimir Putin threatened to kill him with a missile in a call ahead of Russia's invasion of Ukraine.
The former prime minister has alleged the Russian leader told him "I don't want to hurt you, but with a missile, it would only take a minute" in an "extraordinary" conversation which took place in February after he had visited Kyiv.
However, on Monday, the Kremlin accused Mr Johnson of lying, with spokesman Dmitry Peskov telling reporters what he said was not true, or "more precisely, a lie".
Politics news – latest: Labour asks if Tories can be 'trusted' with UK defence
"There were no threats of missiles," Mr Peskov said.
"It is either a deliberate lie – so you have to ask Mr Johnson why he chose to put it that way – or it was an unconscious lie and he did not in fact understand what Putin was talking to him about."
Mr Peskov said President Putin had told Mr Johnson if Ukraine joined NATO, it would mean US or NATO missiles placed near Russia's borders would be able to reach Moscow in a matter of minutes, and suggested that there may have been a misunderstanding.
"If that's how this passage was understood, then it's a very awkward situation," Mr Peskov added.
Mr Johnson, who became a key backer of Ukrainian President Volodymyr Zelenskyy's administration in the months after Russia invaded, made the claim as part of a new BBC Two series looking at how the West grappled with Mr Putin in the years before the war.
The former PM recalled that on the visit to Kyiv he warned Mr Putin that an invasion of Ukraine would be disastrous and there would be tougher Western sanctions on Russia if he did so.
Mr Johnson also said he told the Russian leader that the escalation would only see Western states increase support for Ukraine, meaning "more NATO, not less NATO" on Russia's borders.
"He said, 'Boris, you say that Ukraine is not going to join NATO any time soon. […] What is any time soon?' and I said 'Well it's not going to join NATO for the foreseeable future. You know that perfectively well'," Mr Johnson said of the call with Mr Putin.
"He sort of threatened me at one point and said, 'Boris, I don't want to hurt you, but with a missile, it would only take a minute', or something like that.
"I think from the very relaxed tone that he was taking, the sort of air of detachment that he seemed to have, he was just playing along with my attempts to get him to negotiate."
Earlier this month, Mr Johnson made a surprise visit to Ukraine amid renewed scrutiny over his personal finances.
Boris Johnson visits Ukraine

He said it was a "privilege" to be invited to the war-torn nation by Mr Zelenskyy, with whom he had a close working relationship during his time in office.
Downing Street indicated Rishi Sunak was "supportive" of the visit, after claims it could undermine his authority on foreign policy.
Mr Johnson was pictured visiting Borodianka near Kyiv – a town heavily damaged by the Russian invasion.
Click to subscribe to Ukraine War Diaries wherever you get your podcasts
In a statement, Mr Johnson said: "The suffering of the people of Ukraine has gone on for too long.
"The only way to end this war is for Ukraine to win – and to win as fast as possible. This is the moment to double down and to give the Ukrainians all the tools they need to finish the job."
A spokesperson for Mr Johnson added that he fully supports UK government policy on Ukraine, including the recent decision to send Challenger 2 tanks.
The ex-prime minister pitched himself as a key ally of Kyiv during his time in Number 10, providing support and calling on Western allies to follow suit in the early days of Russia's invasion last February.
As his scandal-plagued premiership unravelled, Mr Johnson was accused of using trips to Ukraine or phone calls with Mr Zelenskyy as a distraction for crises at home.
Johnson: Loan claims 'complete nonsense'

His latest trip came amid allegations BBC chairman Richard Sharp helped the former prime minister arrange a guarantee for a loan – and that Mr Johnson later recommended Mr Sharp for the role of BBC chair.
Mr Johnson's spokesperson has denied the report as "rubbish".
Senior Tories raised concerns about the trip, with Commons defence select committee chair Tobias Ellwood telling the newspaper that Mr Johnson should "not interfere with the messaging or the official lines of communication" between London and Kyiv.
Rio Tinto apologises for losing radioactive capsule as authorities scramble to find it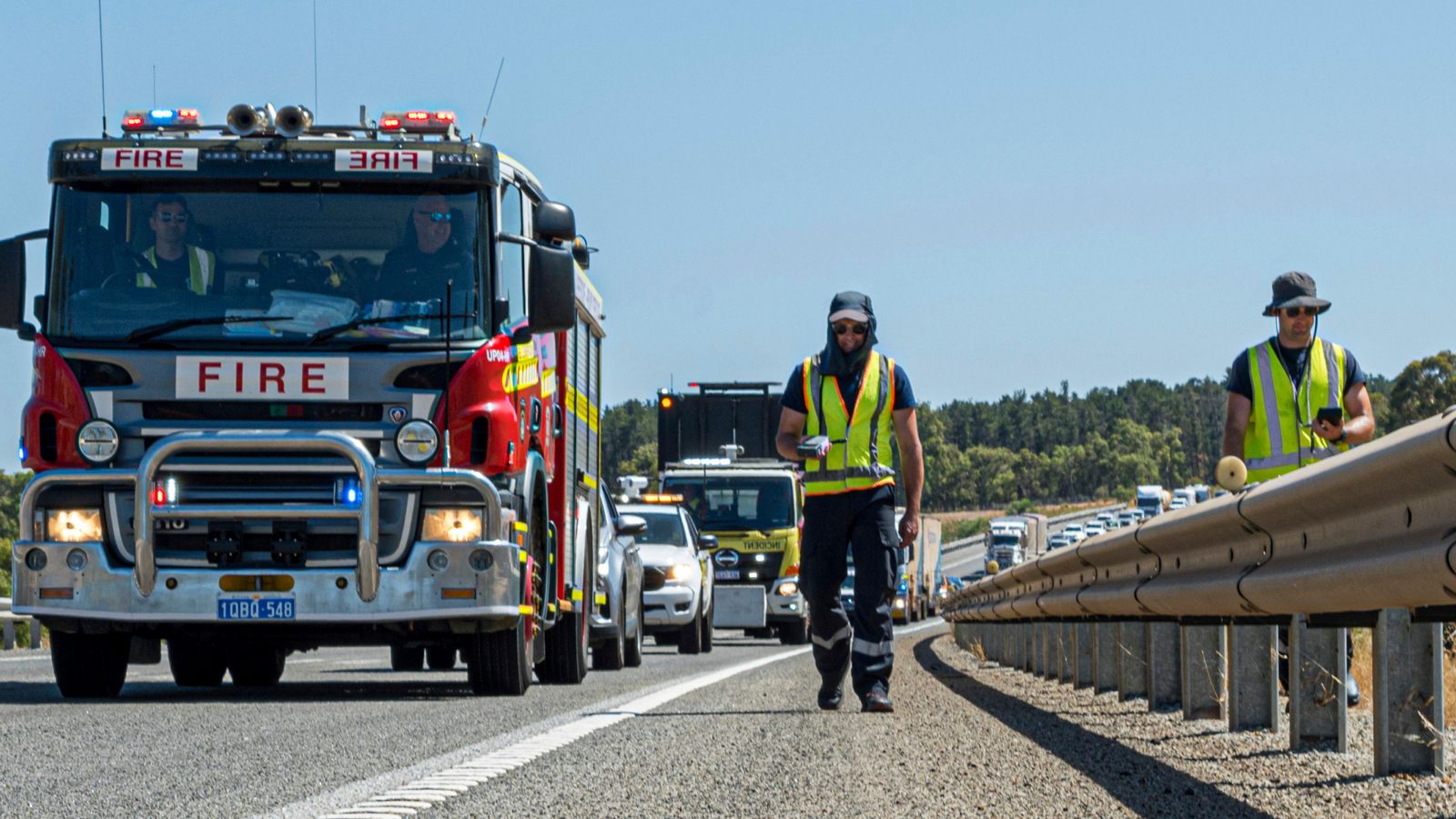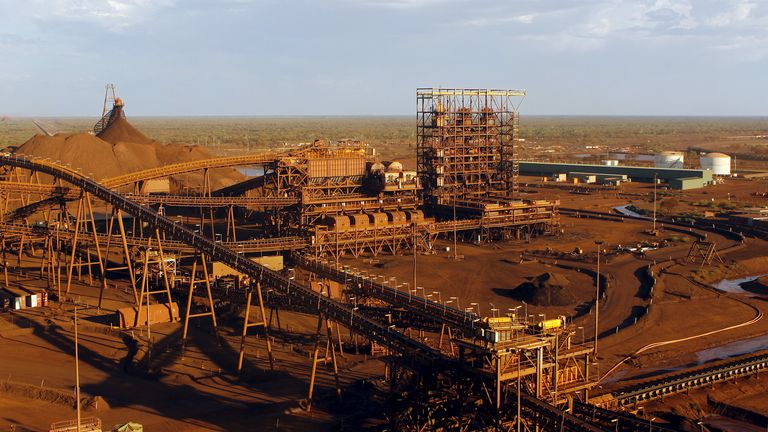 Rio Tinto has apologised for losing a highly radioactive capsule in the Australian outback as authorities scramble to find it.
"We are taking this incident very seriously. We recognise this is clearly very concerning and are sorry for the alarm it has caused in the Western Australian community," Simon Trott, chief executive of Rio Tinto's iron ore division, said in a statement.
"As well as fully supporting the relevant authorities, we have launched our own investigation to understand how the capsule was lost in transit."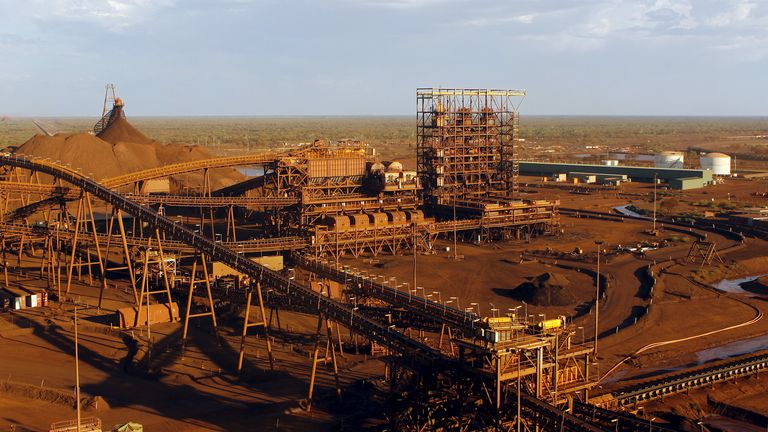 The mining giant and Australian authorities now face the daunting task of finding the tiny but potentially deadly 8mm by 6mm unit, which is smaller than a penny.
The small silver cylinder contains caesium-137, a highly radioactive isotope which emits the equivalent of 10 X-rays in an hour.
It fell off the back of a truck while being transported 870 miles (1,400km) from a mine in Newman to a depot in the Perth suburb of Malaga by a specialist contractor on 12 January.
Rio Tinto said it was told by the contractor that the capsule was missing on 25 January.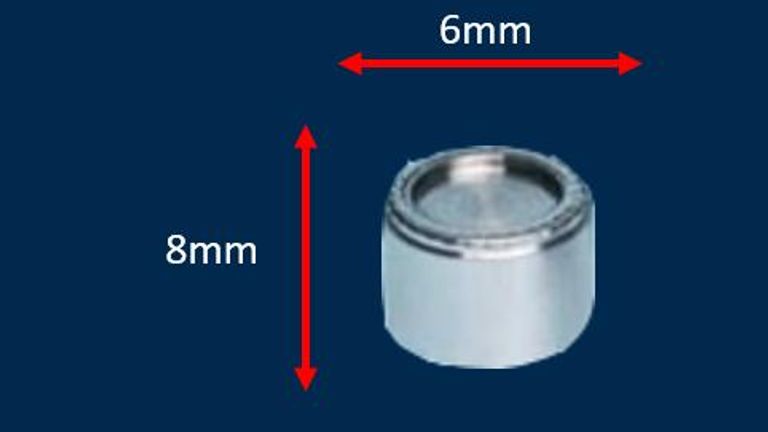 Authorities suspect vibrations from the truck caused the screws and the bolt to come loose, and the radioactive capsule from the gauge fell out of the package and then out of a gap in the vehicle.
A radiation alert across Western Australia remains in place and authorities have told people to stay at least five metres (16.5ft) away as exposure could cause radiation burns or sickness, though they add that the risk to the general community is relatively low.
The state's emergency services have set up a hazard management team and have brought in specialist equipment that includes portable radiation detectors. The devices can detect radiation levels across a 20-metre radius, and be used from moving vehicles.
The entire 870-mile route will likely have to be searched until the missing unit is found.
Read more on Sky News:
Woman vanishes while walking her dog
Six children found in abandoned wine cellar
24 star Annie Wersching dies aged 45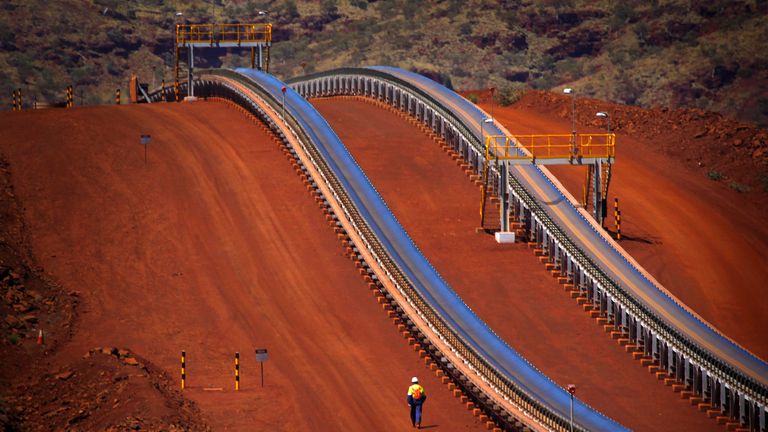 Mr Trott said the mining corporation has carried out radiological surveys across the Gudai-Darri mine site where the device had been, as well as the connecting access road.
The task, while akin to finding the proverbial needle in a haystack, is "not impossible" as searchers are equipped with radiation detectors, said Andrew Stuchbery from the department of nuclear physics and accelerator applications at the Australian National University.
"That's like if you dangled a magnet over a haystack, it's going to give you more of a chance," he said.
"If the source just happened to be lying in the middle of the road you might get lucky… It's quite radioactive so if you get close to it, it will stick out."