The Doomsday Clock has been set at 90 seconds to midnight – representing a time of "unprecedented danger" – largely because of Russia's invasion of Ukraine.
It puts it 10 seconds closer to midnight, the closest to global catastrophe it has ever been. It had been at 100 seconds to midnight since 2020.
The countdown is a metaphor for global collapse agreed on by world-renowned experts at the Bulletin of the Atomic Scientists.
They said Russia's "thinly veiled threats to use nuclear weapons remind the world that escalation of the conflict – by accident, intention or miscalculation – is a terrible risk.
"The possibility that the conflict could spin out of anyone's control remains high."
They also pointed out that the last remaining nuclear weapons treaty between Russia and the United States is "in jeopardy".
They said: "Unless the two parties resume negotiations and find a basis for further reductions, the treaty will expire in February 2026.
"This would eliminate mutual inspections, deepen mistrust, spur a nuclear arms race, and heighten the possibility of a nuclear exchange."
They also pointed towards China's considerable expansion of its nuclear capabilities as being "particularly troubling", North Korea's enhancement of intermediate and longer-range missile testing, Iran's increasing capacity for the enrichment of uranium, and India's development of its arsenal.
Other influences on the decision to move the clock forward include the climate crisis and carbon dioxide emissions, the increasing number of bio-threats like COVID-19, and disinformation and disruptive technology.
'An alarm for the whole of humanity'
Mary Robinson, the first female president of Ireland and former UN High Commissioner for Human Rights, said: "The Doomsday Clock is sounding an alarm for the whole of humanity.
"We are on the brink of a precipice. But our leaders are not acting at sufficient speed or scale to secure a peaceful and liveable planet.
"From cutting carbon emissions to strengthening arms control treaties and investing in pandemic preparedness, we know what needs to be done.
"The science is clear, but the political will is lacking. This must change in 2023 if we are to avert catastrophe.
"We are facing multiple, existential crises. Leaders need a crisis mindset."
Read more
Ukraine war latest: Russians wanting to leave country by car may have to make online reservation
'Save the elephants, help save Earth': Extinction 'must be avoided for sake of climate'
The closest the clock has ever been to midnight
Rachel Bronson, president and CEO of the Bulletin of the Atomic Scientists, said: "We are living in a time of unprecedented danger, and the Doomsday Clock time reflects that reality.
"90 seconds to midnight is the closest the clock has ever been set to midnight, and it's a decision our experts do not take lightly.
"The US government, its NATO allies and Ukraine have a multitude of channels for dialogue; we urge leaders to explore all of them to their fullest ability to turn back the clock."
History of the clock
The Doomsday Clock was created in 1947 by experts at The Bulletin of the Atomic Scientists who had worked on the Manhattan Project to design and build the first atomic bomb.
They set up the clock to provide a simple way of showing the danger to the Earth and humanity posed by nuclear Armageddon.
It is an independent non-profit organisation run by some of the world's most prominent scientists.
Rising public support for unions despite widespread strikes, Sky News poll suggests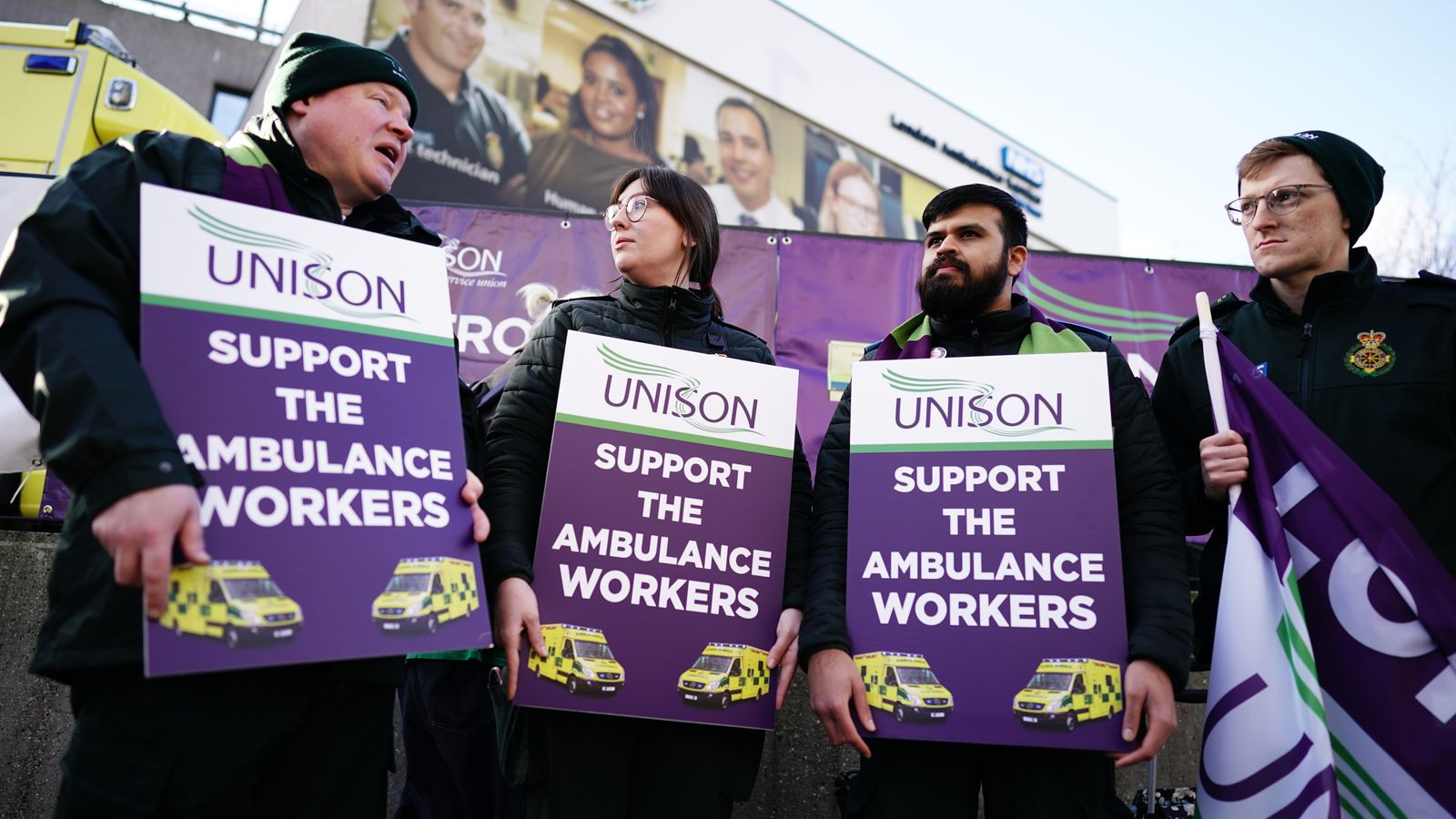 Support for trade unions is rising even though strike action is bringing public services to a standstill , Sky News polling shows.
Industrial relations are at their most fractious since the 1980s, with the country having lost more than a million working days to strikes last year.
Despite this, sympathy for striking public sector workers has risen over the past couple of months.
Exclusive polling commissioned by Sky News shows that the public increasingly think that trade unions play a positive role in society.
A survey of more than 2,000 adults found that 37% support unions, up from 35% in November.
A smaller proportion – 28% – said unions play a negative role in society, down from 34% in November.
The findings suggest that the government, which is refusing to deliver inflation-matched pay rises, may not be able to rely on waning support for strike action.
Support for unions has increased as the wave of strike action has spread from the transport and communication sectors to the NHS.
Ambulance workers, nurses and doctors have all either voted for or announced intentions to ballot for strike action since the last polling.
YouGov data shows that NHS workers elicit the strongest support from the public.
As many as 43% of respondents to the survey said they strongly support strike action by nurses, while another 22% said they somewhat support it.
Only 31% said they strongly or somewhat oppose industrial action from nurses.
Like many public sector workers, nurses have experienced a decade of real-term pay cuts.
When inflation is taken into account, nurses' pay fell by 7.76% between 2011 and 2020. The most recent pay deal, announced last summer, also lagged behind inflation.
It is a similar story across the public sector, with the pay gap between the public and private sector widening.
In the three months to October, average private sector pay growth, excluding bonuses, was running at 6.9%.
The figure for the public sector was just 2.7%. Meanwhile inflation was running at close to 11%.
The Sky News poll indicates robust support for industrial action but the public is uneasy about how readily unions can go on strike.
At a time when the government is pushing through legislation that will make it harder for unions to call strikes, 33% of respondents said that they were able to take action too easily and that more restrictions should be placed upon them.
This was down slightly from 34% in November.
By comparison, 22% of respondents said that unions should be given more freedom, up from 20% in November.
The YouGov/Sky News poll was carried out from 27-30 January, with 2,041 adults polled. The data is weighted to reflect the UK's population.
Kremlin dismisses Boris Johnson's claim Vladimir Putin threatened to kill him with missile in call ahead of Russian invasion of Ukraine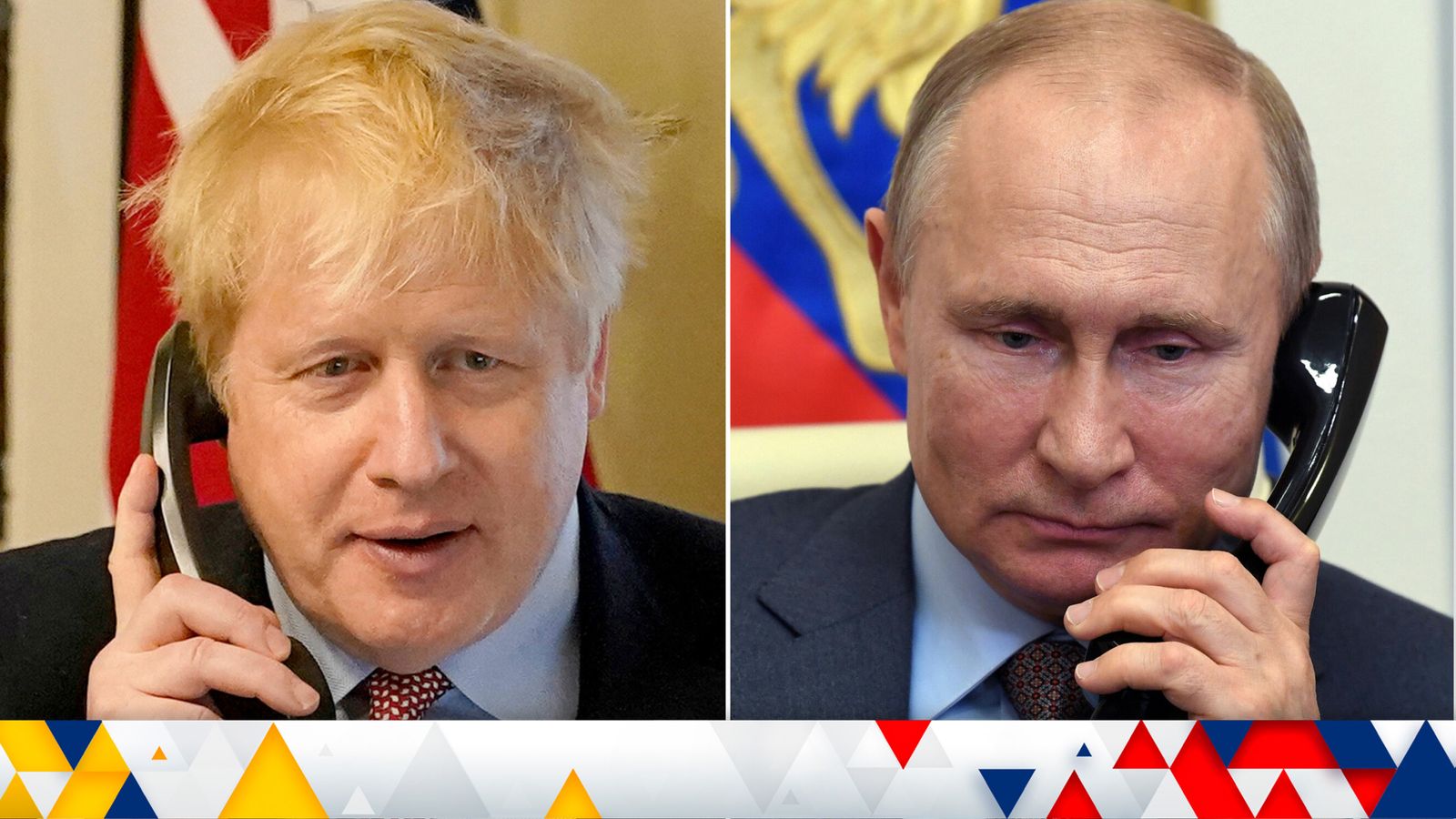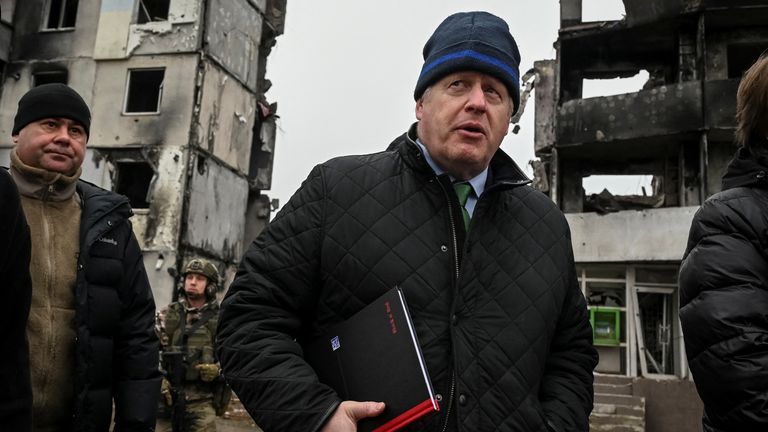 The Kremlin has called Boris Johnson a liar and denied claims made by the ex-PM that Vladimir Putin threatened to kill him with a missile in a call ahead of Russia's invasion of Ukraine.
The former prime minister has alleged the Russian leader told him "I don't want to hurt you, but with a missile, it would only take a minute" in an "extraordinary" conversation which took place in February after he had visited Kyiv.
However, on Monday, the Kremlin accused Mr Johnson of lying, with spokesman Dmitry Peskov telling reporters what he said was not true, or "more precisely, a lie".
Politics news – latest: Labour asks if Tories can be 'trusted' with UK defence
"There were no threats of missiles," Mr Peskov said.
"It is either a deliberate lie – so you have to ask Mr Johnson why he chose to put it that way – or it was an unconscious lie and he did not in fact understand what Putin was talking to him about."
Mr Peskov said President Putin had told Mr Johnson if Ukraine joined NATO, it would mean US or NATO missiles placed near Russia's borders would be able to reach Moscow in a matter of minutes, and suggested that there may have been a misunderstanding.
"If that's how this passage was understood, then it's a very awkward situation," Mr Peskov added.
Mr Johnson, who became a key backer of Ukrainian President Volodymyr Zelenskyy's administration in the months after Russia invaded, made the claim as part of a new BBC Two series looking at how the West grappled with Mr Putin in the years before the war.
The former PM recalled that on the visit to Kyiv he warned Mr Putin that an invasion of Ukraine would be disastrous and there would be tougher Western sanctions on Russia if he did so.
Mr Johnson also said he told the Russian leader that the escalation would only see Western states increase support for Ukraine, meaning "more NATO, not less NATO" on Russia's borders.
"He said, 'Boris, you say that Ukraine is not going to join NATO any time soon. […] What is any time soon?' and I said 'Well it's not going to join NATO for the foreseeable future. You know that perfectively well'," Mr Johnson said of the call with Mr Putin.
"He sort of threatened me at one point and said, 'Boris, I don't want to hurt you, but with a missile, it would only take a minute', or something like that.
"I think from the very relaxed tone that he was taking, the sort of air of detachment that he seemed to have, he was just playing along with my attempts to get him to negotiate."
Earlier this month, Mr Johnson made a surprise visit to Ukraine amid renewed scrutiny over his personal finances.
Boris Johnson visits Ukraine

He said it was a "privilege" to be invited to the war-torn nation by Mr Zelenskyy, with whom he had a close working relationship during his time in office.
Downing Street indicated Rishi Sunak was "supportive" of the visit, after claims it could undermine his authority on foreign policy.
Mr Johnson was pictured visiting Borodianka near Kyiv – a town heavily damaged by the Russian invasion.
Click to subscribe to Ukraine War Diaries wherever you get your podcasts
In a statement, Mr Johnson said: "The suffering of the people of Ukraine has gone on for too long.
"The only way to end this war is for Ukraine to win – and to win as fast as possible. This is the moment to double down and to give the Ukrainians all the tools they need to finish the job."
A spokesperson for Mr Johnson added that he fully supports UK government policy on Ukraine, including the recent decision to send Challenger 2 tanks.
The ex-prime minister pitched himself as a key ally of Kyiv during his time in Number 10, providing support and calling on Western allies to follow suit in the early days of Russia's invasion last February.
As his scandal-plagued premiership unravelled, Mr Johnson was accused of using trips to Ukraine or phone calls with Mr Zelenskyy as a distraction for crises at home.
Johnson: Loan claims 'complete nonsense'

His latest trip came amid allegations BBC chairman Richard Sharp helped the former prime minister arrange a guarantee for a loan – and that Mr Johnson later recommended Mr Sharp for the role of BBC chair.
Mr Johnson's spokesperson has denied the report as "rubbish".
Senior Tories raised concerns about the trip, with Commons defence select committee chair Tobias Ellwood telling the newspaper that Mr Johnson should "not interfere with the messaging or the official lines of communication" between London and Kyiv.
Rio Tinto apologises for losing radioactive capsule as authorities scramble to find it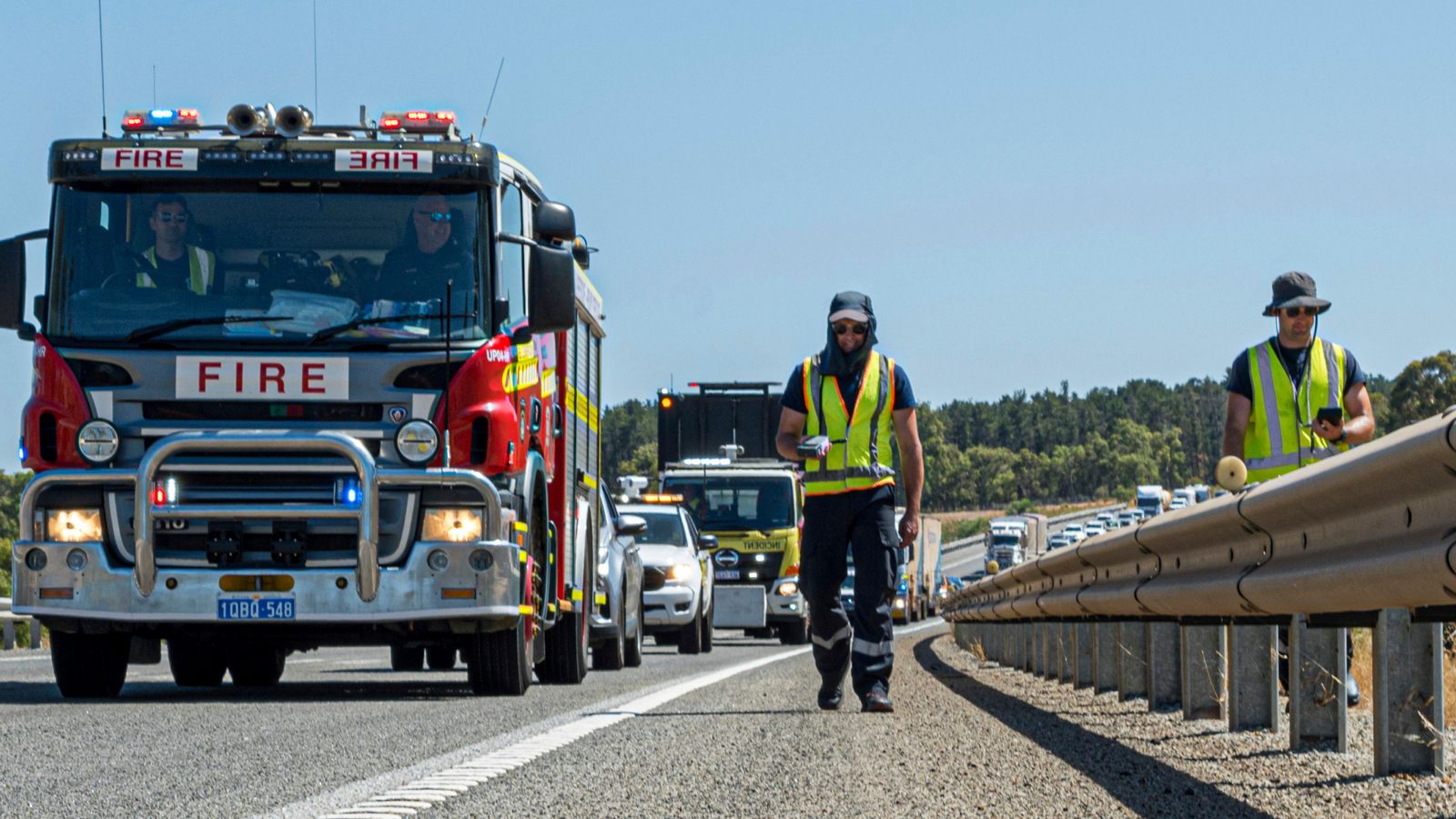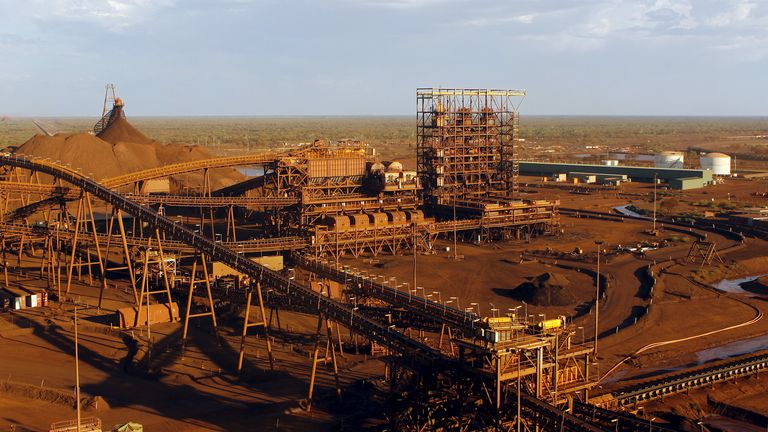 Rio Tinto has apologised for losing a highly radioactive capsule in the Australian outback as authorities scramble to find it.
"We are taking this incident very seriously. We recognise this is clearly very concerning and are sorry for the alarm it has caused in the Western Australian community," Simon Trott, chief executive of Rio Tinto's iron ore division, said in a statement.
"As well as fully supporting the relevant authorities, we have launched our own investigation to understand how the capsule was lost in transit."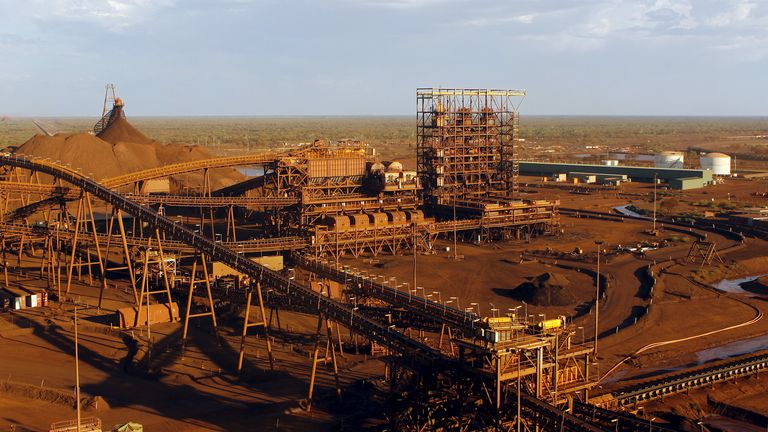 The mining giant and Australian authorities now face the daunting task of finding the tiny but potentially deadly 8mm by 6mm unit, which is smaller than a penny.
The small silver cylinder contains caesium-137, a highly radioactive isotope which emits the equivalent of 10 X-rays in an hour.
It fell off the back of a truck while being transported 870 miles (1,400km) from a mine in Newman to a depot in the Perth suburb of Malaga by a specialist contractor on 12 January.
Rio Tinto said it was told by the contractor that the capsule was missing on 25 January.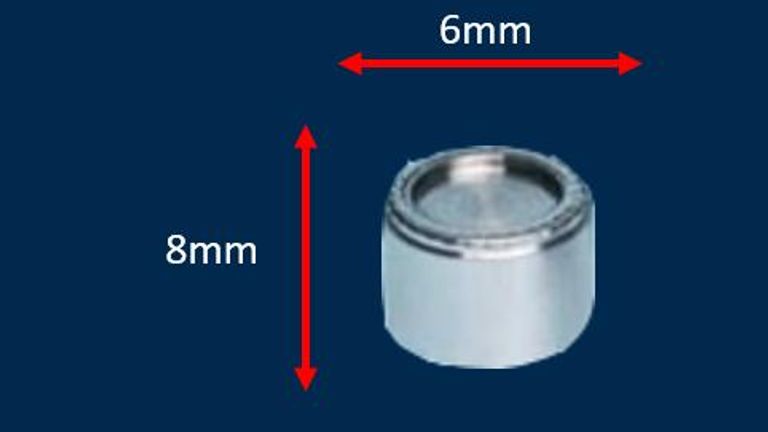 Authorities suspect vibrations from the truck caused the screws and the bolt to come loose, and the radioactive capsule from the gauge fell out of the package and then out of a gap in the vehicle.
A radiation alert across Western Australia remains in place and authorities have told people to stay at least five metres (16.5ft) away as exposure could cause radiation burns or sickness, though they add that the risk to the general community is relatively low.
The state's emergency services have set up a hazard management team and have brought in specialist equipment that includes portable radiation detectors. The devices can detect radiation levels across a 20-metre radius, and be used from moving vehicles.
The entire 870-mile route will likely have to be searched until the missing unit is found.
Read more on Sky News:
Woman vanishes while walking her dog
Six children found in abandoned wine cellar
24 star Annie Wersching dies aged 45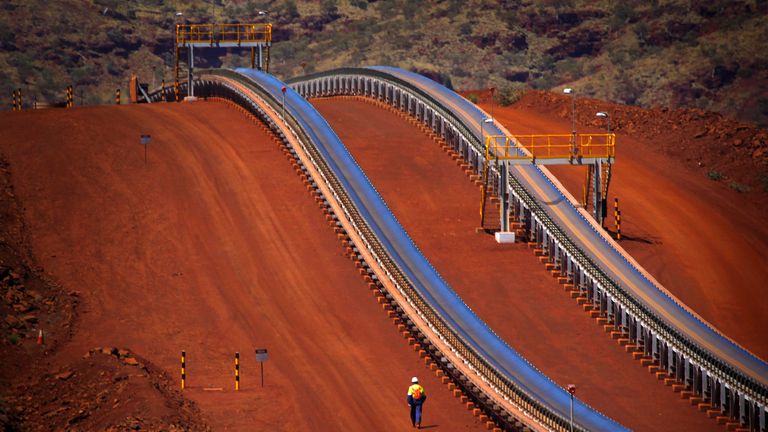 Mr Trott said the mining corporation has carried out radiological surveys across the Gudai-Darri mine site where the device had been, as well as the connecting access road.
The task, while akin to finding the proverbial needle in a haystack, is "not impossible" as searchers are equipped with radiation detectors, said Andrew Stuchbery from the department of nuclear physics and accelerator applications at the Australian National University.
"That's like if you dangled a magnet over a haystack, it's going to give you more of a chance," he said.
"If the source just happened to be lying in the middle of the road you might get lucky… It's quite radioactive so if you get close to it, it will stick out."