RK
PLAYER
POS
HOMETOWN
HT
WT
STARS
GRADE
SCHOOL
1
QB-PP
Los Alamitos, CA
Los Alamitos High School
6'3"
185
93
2
QB-PP
Detroit, MI
Martin Luther King High School
6'3"
210
93
3
QB-DT
Denton, TX
John H. Guyer High School
6'1"
195
93
4
DT
Alabaster, AL
Thompson High School
6'3"
275
93
5
QB-PP
New Orleans, LA
Isidore Newman School
6'3"
204
93
6
OT
Bradenton, FL
IMG Academy
6'6"
325
92
7
WR
Las Vegas, NV
Bishop Gorman High School
5'10"
172
92
8
DT
Katy, TX
Patricia E. Paetow High School
6'4"
270
92
9
OLB
Montgomery, AL
Carver High School
6'3"
230
91
10
OT
Runnells, IA
Southeast Polk High School
6'6"
315
91
11
S
Hoschton, GA
Mill Creek High School
6'0"
190
91
12
DE
Tampa, FL
Berkeley Prep
6'5"
245
91
13
WR
Los Alamitos, CA
Los Alamitos High School
5'11"
180
90
14
CB
Lakeland, FL
Lakeland High School
6'2"
165
90
15
OLB
Tallahassee, FL
Lincoln High School
6'2"
215
90
16
ILB
Denton, TX
Billy Ryan High School
6'2"
230
90
17
S
Denton, TX
John H. Guyer High School
6'0"
195
90
18
OLB
Raleigh, MS
Raleigh High School
6'3"
200
90
19
CB
Bradenton, FL
IMG Academy
6'2"
185
90
20
DE
North Kansas City, MO
North Kansas City High School
6'5"
230
90
21
OG
Braintree, MA
Thayer Academy
6'5"
300
90
22
RB
Lehigh Acres, FL
Lehigh Senior High School
5'11"
195
89
23
QB-PP
Downey, CA
Warren High School
6'6"
195
89
24
RB
Buford, GA
Buford High School
5'10"
185
89
25
DT
Montgomery, AL
Carver High School
6'3"
300
88
26
WR
DeSoto, TX
DeSoto High School
6'0"
175
88
27
S
Lynn, MA
Saint John's Prep
6'0"
200
87
28
WR
Fort Lauderdale, FL
Stranahan High School
6'3"
200
87
29
QB-PP
Zachary, LA
Zachary High School
6'4"
225
87
30
RB
Orlando, FL
Edgewater High School
6'2"
220
87
31
QB-DT
Pittsburg, CA
Pittsburg High School
6'4"
185
87
32
CB
Arlington, TX
James Martin High School
6'1"
185
87
33
DE
Bradenton, FL
IMG Academy
6'4"
240
87
34
WR
Plantation, FL
American Heritage High School
6'0"
190
87
35
DE
Venice, FL
Venice High School
6'4"
235
87
36
QB-PP
Snellville, GA
Brookwood High School
6'2"
210
87
37
CB
Phenix City, AL
Central High School
6'2"
180
87
38
WR
Atherton, CA
Menlo High School
6'3"
215
87
39
ATH
Washington, DC
Archbishop Carroll High School
6'5"
225
87
40
TE-H
Phoenix, AZ
Pinnacle High School
6'6"
235
86
41
OLB
Tampa, FL
Jesuit High School
6'1"
210
86
42
QB-PP
Birmingham, AL
Briarwood Christian School
6'3"
205
86
43
CB
Cincinnati, OH
Winton Woods High School
6'0"
180
86
44
RB
El Campo, TX
El Campo High School
5'11"
180
86
45
WR
Houston, TX
Langham Creek High
5'11"
180
86
46
CB
Florence, AL
Florence High School
6'2"
170
86
47
WR
Longview, TX
Longview High School
6'2"
185
86
48
ATH
Mustang, OK
Mustang High School
6'3"
185
86
49
DE
Baltimore, MD
St. Frances Academy
6'4"
255
86
50
DT
Tyler, TX
Tyler Legacy High School
6'4"
245
86
51
OT
Monroe, LA
Neville High School
6'5"
300
86
52
CB
Dallas, TX
South Oak Cliff High
5'11"
170
86
53
DT
Gardendale, AL
Gardendale High School
6'5"
280
86
54
S
Venice, FL
Venice High School
6'0"
190
86
55
OG
Lee's Summit, MO
Lee's Summit North High School
6'5"
310
86
56
OT
Mount Pleasant, SC
Oceanside Collegiate Academy
6'7"
285
86
57
S
New Iberia, LA
Westgate High School
6'2"
185
86
58
OG
Wyomissing, PA
Wyomissing High School
6'4"
285
86
59
OLB
Baton Rouge, LA
University Laboratory School
6'1"
210
86
60
WR
Round Rock, TX
Stony Point High School
6'2"
175
86
61
OT
Ramsey, NJ
Don Bosco High School
6'5"
290
86
62
WR
Miami, FL
Gulliver Prep High School
6'1"
170
86
63
ATH
La Grange, TX
La Grange High School
5'11"
185
86
64
OT
Findlay, OH
Findlay High School
6'5"
260
86
65
DE
Bellflower, CA
St. John Bosco High School
6'5"
265
86
66
OT
Rock Island, IL
Alleman High School
6'6"
305
86
67
WR
Rolesville, NC
Rolesville High School
6'2"
185
86
68
DT
Oradell, NJ
Bergen Catholic High
6'6"
325
86
69
DE
Miami, FL
Miami Central High School
6'3"
255
86
70
CB
Seminole, FL
Osceola High School
6'1"
180
86
71
DT
Warner Robins, GA
Warner Robins High School
6'5"
270
86
72
DE
Eufaula, AL
Eufaula High School
6'3"
220
86
73
WR
Baton Rouge, LA
Catholic High School
6'4"
185
85
74
OLB
Orlando, FL
Jones High School
6'2"
235
85
75
WR
Bellflower, CA
St. John Bosco High School
5'11"
190
85
76
OG
Ashburn, VA
Broad Run High School
6'5"
280
85
77
QB-DT
Maize, KS
Maize High School
6'2"
175
85
78
OLB
Merrillville, IN
Andrean High School
6'2"
215
85
79
S
Shiner, TX
Shiner High School
6'1"
175
85
80
WR
Phenix City, AL
Central High School
5'11"
180
85
81
OG
Odessa, TX
Permian High School
6'4"
300
85
82
CB
Quincy, FL
Robert F. Munroe High School
6'1"
190
85
83
TE-H
Bixby, OK
Bixby High School
6'3"
215
85
84
DE
Platte City, MO
Platte County R-III High School
6'5"
210
85
85
TE-H
Bradenton, FL
IMG Academy
6'5"
230
85
86
DE
Phenix City, AL
Central High School
6'4"
255
85
87
DT
Hyattsville, MD
DeMatha Catholic High School
6'6"
260
85
88
OT
Alabaster, AL
Thompson High School
6'7"
310
85
89
DE
Bradenton, FL
IMG Academy
6'5"
240
85
90
DT
Seminole, FL
Osceola High School
6'3"
300
84
91
CB
Tampa, FL
Wharton High School
6'1"
187
84
92
WR
Orlando, FL
Boone High School
6'2"
180
84
93
RB
Saint Louis, MO
Christian Brothers College High School
6'1"
195
84
94
S
Alabaster, AL
Thompson High School
6'2"
190
84
95
WR
Flower Mound, TX
Marcus High School
6'3"
175
84
96
OG
Orange Park, FL
Orange Park High School
6'4"
295
84
97
ILB
Barnesville, GA
Lamar County High School
6'1"
220
84
98
ATH
Houston, TX
Dwight D. Eisenhower High School
5'10"
170
84
99
TE-Y
Fairburn, GA
Langston Hughes High School
6'5"
230
84
100
CB
Gardena, CA
Junipero Serra High School
5'11"
175
84
101
DE
Bradenton, FL
IMG Academy
6'4"
250
84
102
OLB
Murfreesboro, TN
Riverdale High School
6'5"
205
84
103
WR
Ridgeland, MS
Ridgeland High School
6'3"
190
84
104
S
Fort Lauderdale, FL
Saint Thomas Aquinas High School
5'11"
180
84
105
CB
Melbourne, FL
Eau Gallie High School
5'11"
180
84
106
DE
Norman, OK
Community Christian School
6'4"
215
84
107
S
Fulton, MS
Itawamba Agri High School
6'0"
200
84
108
OT
Fairburn, GA
Langston Hughes High School
6'7"
290
84
109
ATH
Houston, TX
The Kinkaid School
5'11"
170
84
110
OT
Tuscaloosa, AL
Northridge High School
6'7"
300
84
111
QB-PP
Ankeny, IA
Ankeny High School
6'6"
230
84
112
CB
Plantation, FL
American Heritage High School
6'2"
185
84
113
OLB
Lehi, UT
Skyridge High School
6'4"
220
84
114
DE
Springdale, MD
C. H. Flowers High School
6'6"
230
84
115
OLB
Crandall, TX
Crandall High School
6'1"
210
84
116
RB
Dexter, MI
Dexter High School
5'11"
180
84
117
TE-Y
Folsom, CA
Folsom High School
6'5"
235
84
118
DE
Colleyville, TX
Covenant Christian Academy
6'5"
260
84
119
WR
Heathsville, VA
Northumberland High School
6'2"
225
84
120
OT
Windsor, CT
Loomis Chaffee School
6'6"
310
84
121
DE
New Hope, MN
Robbinsdale Cooper High School
6'4"
245
84
122
TE-H
Austin, TX
Westlake High School
6'2"
220
84
123
OT
East Saint Louis, IL
East St. Louis High School
6'7"
355
84
124
OLB
Tampa, FL
Tampa Catholic High School
6'0"
200
84
125
DE
Seminole, FL
Osceola High School
6'5"
270
84
126
OT
Clearwater, FL
Clearwater Academy
6'7"
300
84
127
TE-Y
Saint Louis, MO
De Smet Jesuit High School
6'4"
250
84
128
OLB
Hoschton, GA
Mill Creek High School
6'3"
200
84
129
ATH
Dallas, TX
South Oak Cliff High
5'11"
170
84
130
OLB
Fairfax, VA
Fairfax High School
6'2"
205
84
131
OT
Austin, TX
Westlake High School
6'4"
310
83
132
OLB
Teague, TX
Teague High School
6'2"
225
83
133
DT
Camden, SC
Camden High School
6'5"
325
83
134
OG
Douglasville, GA
South Paulding High School
6'4"
300
83
135
OT
Roebuck, SC
Dorman High School
6'4"
305
83
136
TE-Y
Thompson's Station, TN
Independence High School
6'5"
225
83
137
OT
McDonough, GA
Eagles Landing Christian Academy
6'7"
335
83
138
CB
Long Beach, CA
Long Beach Polytechnic High School
6'0"
175
83
139
S
West Orange, FL
West Orange High School
6'2"
205
83
140
RB
Derby, KS
Derby Senior High School
5'8"
155
83
141
S
Denton, TX
John H. Guyer High School
6'0"
175
83
142
WR
Miami, FL
Miami Edison Senior High School
5'9"
170
83
143
DE
Bradenton, FL
IMG Academy
6'3"
250
83
144
WR
Thomasville, GA
Thomas County Central High School
5'11"
175
83
145
CB
Saint Louis, MO
De Smet Jesuit High School
6'0"
175
83
146
ATH
Tampa, FL
Gaither High School
5'11"
170
83
147
ILB
Bradenton, FL
IMG Academy
6'2"
225
83
148
RB
Baton Rouge, LA
Liberty Magnet High School
5'11"
200
83
149
CB
Waxahachie, TX
Waxahachie High School
5'11"
180
83
150
QB-PP
Cornelius, NC
Hough High School
6'3"
225
83
151
ATH
Idaho Falls, ID
Skyline High School
6'4"
225
83
152
DT
Jacksonville, FL
Westside High School
6'4"
300
83
153
DE
American Fork, UT
American Fork High School
6'4"
240
83
154
CB
Miami, FL
Gulliver Prep High School
6'2"
175
83
155
ATH
Lincoln, NE
Lincoln East High School
6'5"
200
83
156
DE
Rancho Santa Margarita, CA
Santa Margarita Catholic High School
6'7"
255
83
157
WR
Lakeland, FL
Lakeland High School
6'4"
190
83
158
CB
Kankakee, IL
Kankakee High School
6'2"
170
83
159
WR
Raleigh, NC
Millbrook High School
6'3"
200
83
160
TE-H
Santa Rosa Beach, FL
South Walton High School
6'6"
210
83
161
CB
Bellflower, CA
St. John Bosco High School
6'2"
185
82
162
WR
Milton, FL
Milton High School
6'3"
205
82
163
DE
Hickory, NC
Hickory High School
6'4"
230
82
164
DT
Saint James, MD
St. James School
6'4"
275
82
165
RB
Picayune, MS
Picayune Memorial High School
6'1"
215
82
166
DE
Concord, NC
J. M. Robinson High School
6'5"
260
82
167
ILB
Many, LA
Many High School
6'2"
205
82
168
CB
Roswell, GA
Roswell High School
5'11"
165
82
169
OG
West Bloomfield, MI
West Bloomfield High School
6'3"
280
82
170
DE
Detroit, MI
Cass Technical High School
6'3"
245
82
171
DT
Chandler, AZ
Chandler High School
6'4"
295
82
172
RB
Farmerville, LA
Union Parish High School
5'8"
180
82
173
CB
Coppell, TX
Coppell High School
6'1"
190
82
174
OG
Huber Heights, OH
Wayne High School
6'3"
280
82
175
QB-DT
Nashville, TN
Montgomery Bell Academy
6'1"
170
82
176
WR
Converse, TX
Judson High School
5'11"
170
82
177
OLB
Jacksonville, FL
Andrew Jackson High School
6'3"
215
82
178
ATH
Waco, TX
Connally High School
6'2"
190
82
179
DE
Ellenwood, GA
Cedar Grove High School
6'6"
210
82
180
QB-DT
Hendersonville, TN
Pope John Paul II High School
6'2"
205
82
181
CB
Ellenwood, GA
Cedar Grove High School
5'11"
170
82
182
DE
Austin, TX
Westlake High School
6'5"
230
82
183
OLB
Durham, NC
Southern Durham High School
6'4"
215
82
184
ATH
Temple, TX
Temple High School
6'0"
185
82
185
ILB
Smyrna, TN
Smyrna High School
6'1"
215
82
186
CB
Jacksonville, FL
Bartram Trail High School
6'0"
165
82
187
ATH
Dublin, GA
Trinity Christian School
6'0"
180
82
188
CB
Chandler, AZ
Basha High School
5'10"
175
82
189
ILB
Fayetteville, GA
Whitewater High School
6'1"
220
82
190
OT
Garland, TX
Naaman Forest High School
6'4"
285
82
191
DE
Amarillo, TX
Tascosa High School
6'3"
255
82
192
QB-DT
Brentwood, TN
Ravenwood High School
6'0"
210
82
193
OT
McDonough, GA
Eagles Landing Christian Academy
6'5"
300
82
194
S
Fort Lauderdale, FL
Dillard High School
6'1"
180
82
195
OLB
Manteca, CA
Manteca High School
6'3"
215
82
196
ILB
Altamonte Springs, FL
Lake Brantley High School
6'1"
200
82
197
DE
Indianapolis, IN
Lawrence Central High School
6'4"
225
82
198
TE-H
Ashdown, AR
Ashdown High School
6'5"
215
82
199
QB-PP
Baton Rouge, LA
Woodlawn High School
6'3"
185
82
200
WR
Chula Vista, CA
Mater Dei Catholic High School
6'1"
190
82
201
DT
Richmond, VA
Benedictine College Prep
6'4"
310
82
202
CB
Baton Rouge, LA
Woodlawn High School
6'0"
165
82
203
TE-H
Milton, MA
Milton Academy
6'4"
215
82
204
RB
Plantation, FL
American Heritage High School
6'1"
220
82
205
DE
HIghland Home, AL
Highland Home High School
6'6"
245
82
206
ATH
Miami, FL
Miami Palmetto High School
5'11"
170
82
207
DE
Trussville, AL
Hewitt-Trussville High School
6'4"
255
82
208
CB
Charlotte, NC
Providence Day School
6'0"
175
82
209
OC
Bradenton, FL
IMG Academy
6'3"
325
82
210
ATH
Carrollton, GA
Central High School
6'0"
175
82
211
DE
Olney, MD
Our Lady of Good Counsel High School
6'5"
235
82
212
S
San Jacinto, CA
San Jacinto High School
6'1"
180
82
213
TE-Y
Saint Charles, MO
Francis Howell Central High School
6'6"
225
82
214
CB
Frisco, TX
Lone Star High School
6'0"
170
82
215
DE
Pleasant Valley, IA
Pleasant Valley High School
6'5"
240
82
216
S
Munford, AL
Munford High School
5'11"
195
82
217
DE
Columbia, MD
Wilde Lake High School
6'5"
205
82
218
CB
Las Vegas, NV
Bishop Gorman High School
6'1"
190
82
219
DT
New Bern, NC
New Bern High School
6'3"
285
82
220
CB
Seattle, WA
Rainier High School
6'0"
180
82
221
ATH
Pittsburg, CA
Pittsburg High School
6'1"
175
82
222
DE
West Roxbury, MA
Catholic Memorial High School
6'4"
255
82
223
S
Mansfield, TX
Mansfield High School
6'0"
185
82
224
DT
Camden, NJ
Eastside High School
6'4"
300
82
225
DE
Thomaston, GA
Upson-Lee High School
6'5"
245
82
226
DT
Rome, GA
Rome High School
6'4"
270
82
227
ATH
Folsom, CA
Folsom High School
6'1"
190
82
228
CB
Arlington, TX
Timberview High School
5'11"
185
82
229
ATH
Fort Lauderdale, FL
Dillard High School
5'11"
190
82
230
RB
Charlotte, NC
West Charlotte High School
6'0"
185
82
231
DE
Houston, TX
C. E. King High School
6'4"
245
82
232
WR
Tallahassee, FL
James S. Rickards High School
6'3"
190
82
233
RB
Scranton, PA
Scranton Preparatory School
5'11"
190
82
234
CB
Montgomery, AL
Alabama Christian Academy
6'2"
180
82
235
QB-PP
Colorado Springs, CO
Vista Ridge High School
6'5"
195
82
236
OT
Provo, UT
Timpview High School
6'4"
260
82
237
WR
Hollywood, FL
Avant Garde Academy
6'2"
195
81
238
OLB
Watkinsville, GA
Oconee County High School
6'2"
195
81
239
OG
Gilbert, AZ
Highland High School
6'5"
265
81
240
S
Irvington, NJ
Irvington High School
6'0"
190
81
241
WR
Bradenton, FL
IMG Academy
6'2"
185
81
242
ILB
Altamonte Springs, FL
Lake Brantley High School
6'1"
190
81
243
DE
Mentor, OH
Mentor High School
6'5"
240
81
244
WR
Chipley, FL
Chipley High School
6'2"
185
81
245
CB
Spanaway, WA
Spanaway Lake High School
5'11"
170
81
246
RB
Naples, FL
Naples High School
6'1"
195
81
247
DE
Saint Petersburg, FL
Lakewood Senior High School
6'4"
225
81
248
ATH
Ocean Springs, MS
Ocean Springs High School
6'2"
190
81
249
RB
Sandersville, GA
Washington County High School
5'11"
190
81
250
DE
Washington, DC
St. John's College High School
6'3"
235
81
251
ILB
Philadelphia, PA
Imhotep Institute Charter High School
6'1"
220
81
252
TE-H
Norcross, GA
Norcross High School
6'3"
220
81
253
S
Zachary, LA
Zachary High School
6'2"
200
81
254
WR
Lansdale, PA
North Penn High School
6'2"
175
81
255
S
West Chester, OH
Lakota West High School
6'3"
175
81
256
OT
Columbus, GA
Carver High School
6'5"
300
81
257
WR
Tulsa, OK
Booker T. Washington High School
5'11"
170
81
258
TE-Y
Tucson, AZ
Mountain View High School
6'4"
245
81
259
DE
Gainesville, FL
Buchholz High School
6'3"
245
81
260
RB
Middleburg, FL
Middleburg High School
5'11"
195
81
261
DE
Manor, TX
Manor High School
6'4"
225
81
262
QB-DT
Tacoma, WA
Lincoln High School
6'0"
205
81
263
ILB
Fort Worth, TX
North Crowley High School
6'1"
215
81
264
OG
Hyattsville, MD
DeMatha Catholic High School
6'5"
305
81
265
OLB
Cleveland, OH
Glenville High School
6'3"
215
81
266
RB
Canutillo, TX
Canutillo High School
6'1"
205
81
267
DE
Cypress, TX
Cypress Ranch High School
6'3"
260
81
268
OT
Arlington, TX
Lamar High School
6'7"
285
81
269
WR
Owasso, OK
Owasso High School
5'10"
180
81
270
ATH
Clearwater, FL
Clearwater Central Catholic H. S.
5'10"
170
81
271
QB-PP
Dripping Springs, TX
Dripping Springs High School
6'2"
180
81
272
S
Lake Charles, LA
Lake Charles College Prep
6'1"
180
81
273
DE
Miami, FL
Gulliver Prep High School
6'4"
220
81
274
CB
Rome, GA
Rome High School
6'0"
170
81
275
OG
Elk Grove, CA
Elk Grove High School
6'3"
310
81
276
ATH
Granada Hills, CA
Granada Hills High School
6'0"
175
81
277
WR
Mesquite, TX
North Mesquite High School
6'2"
190
81
278
RB
Montgomery, AL
Montgomery Catholic High School
5'11"
185
81
279
TE-H
Havelock, NC
Havelock High School
6'4"
210
81
280
RB
New Caney, TX
New Caney High
5'11"
190
81
281
DT
North Kansas City, MO
North Kansas City High School
6'3"
285
81
282
ATH
Los Alamitos, CA
Los Alamitos High School
6'3"
185
81
283
S
Fairburn, GA
Langston Hughes High School
6'2"
195
81
284
RB
San Diego, CA
Abraham Lincoln High School
6'1"
240
81
285
WR
Roanoke, VA
Patrick Henry High School
6'0"
170
81
286
OLB
Friendswood, TX
Friendswood High School
6'5"
230
81
287
OC
Ferndale, WA
Ferndale High School
6'3"
280
81
288
DE
Orlando, FL
Olympia High School
6'7"
265
81
289
OLB
Hampton, VA
Phoebus High School
6'4"
215
81
290
ATH
Arthur, IL
Arthur High School
6'2"
220
81
291
WR
Mission Viejo, CA
Mission Viejo High School
5'9"
170
81
292
TE-Y
Concord, CA
De La Salle High School
6'6"
255
81
293
QB-DT
Florence, SC
South Florence High School
6'2"
225
81
294
OLB
Post, TX
Post High School
6'4"
210
81
295
CB
West Orange, NJ
West Orange High School
6'4"
180
81
296
OT
Chattanooga, TN
Baylor School
6'6"
280
81
297
TE-H
Fort Worth, TX
North Crowley High School
6'5"
215
81
298
ILB
Gainesville, GA
Gainesville High School
6'2"
220
81
299
ATH
Maiden, NC
Maiden High School
6'3"
190
81
300
CB
Fort Mitchell, KY
Beechwood High School
5'10"
175
81
Georgia's Bennett arrested for public intoxication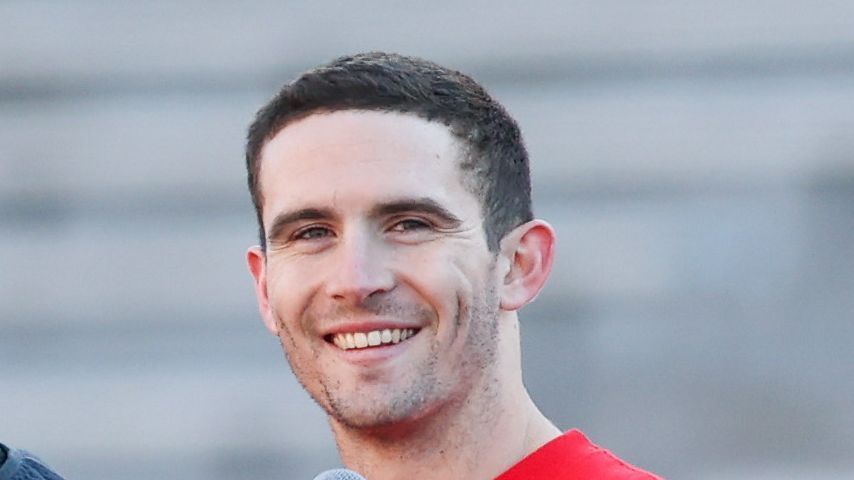 Former Georgia quarterback Stetson Bennett, who led the Bulldogs to their second straight CFP National Championship earlier this month, was arrested on a misdemeanor public intoxication charge in Dallas on Sunday morning.
In a statement to ESPN, a Dallas Police Department spokesperson said officers responded to a report of a man banging on doors in the 1600 block of Tribeca Way at 7:10 a.m. ET on Sunday.
"The preliminary investigation found when officers arrived, they located the man, Stetson Bennett, 25, and determined he was intoxicated," the police statement read. "Bennett was taken into custody, transported to the City Detention Center and charged with public intoxication."
Bennett left the detention center Sunday morning, but he could not be reached for comment.
Bennett, who started his college career as a walk-on, was a Heisman Trophy finalist this past season, after leading the Bulldogs to a 15-0 record and SEC championship. He passed for 4,127 yards with 27 touchdowns and seven interceptions, while rushing for another 10 scores.
Bennett was named the offensive MVP in both of Georgia's victories in the CFP, a 42-41 comeback win against Ohio State in the Chick-fil-A Peach Bowl and a 65-7 rout of TCU in the CFP National Championship presented by AT&T.
Bennett, who is listed at 5-foot-11 and 190 pounds, is considered a potential selection in April's NFL draft. He recently won the Manning Award, which is given to the top quarterback in the FBS by the Allstate Sugar Bowl.
Sources: Ex-Buffs QB Shrout picks Arkansas St.
Former Tennessee and Colorado quarterback J.T. Shrout is transferring to Arkansas State, sources told ESPN.
Shrout visited Arkansas State over the weekend and his commitment looms as a significant win for Butch Jones, who is entering his third season as Arkansas State's head coach.
Shrout will graduate from Colorado this spring and plans to enroll at Arkansas State in May, according to sources. He has one year of eligibility remaining and potentially a second if he gets a medical redshirt after missing the entire 2021 season with a torn ACL.
Shrout most recently played at Colorado in 2022, where he threw for 1,220 yards, seven touchdowns and eight interceptions and delivered the game-winning touchdown pass against Cal in overtime in Colorado's lone victory of the season. He started seven games at Colorado and had one start during his three seasons at Tennessee (2018-2020).
Shrout is one of three Buffaloes quarterbacks who have entered the NCAA transfer portal since the school hired Deion Sanders as head coach. Sanders has made it clear that his son, Shedeur, will be the starter next season. He introduced him at his opening news conference by saying, "This is your quarterback."
According to sources, Shrout was attracted to the potential opportunity at Arkansas State, including playing in offensive coordinator Keith Heckendorf's West Coast-style offense. Shrout also had some teammates at Tennessee who played for Jones, and sources said the former teammates endorsed Jones both as a person and a coach.
Arkansas State (3-9) ranked No. 118 in total offense last season and No. 85 in scoring offense. The Red Wolves open the 2023 season at Oklahoma on Sept. 2.
Sources: Harbaugh, Broncos meet but no deal
Broncos owner Greg Penner and University of Michigan football coach Jim Harbaugh met last week in Ann Arbor to discuss Denver's head-coaching position without any deal materializing, league sources told ESPN.
Although Harbaugh two weeks ago announced he was staying at Michigan, Penner did his due diligence and still traveled to Ann Arbor to meet with the coach in person, like he's done with seven other candidates during the Broncos' head-coaching search.
The follow-up conversations were part of the process for both Denver — led by Penner with general manager George Paton — and Harbaugh. The face-to-face meeting came after Harbaugh's initial video interview with Denver, after which he pulled his name out of contention and reaffirmed his commitment to Michigan.
"I love the relationships that I have at Michigan — coaches, staff, families, administration, president Santa Ono and especially the players and their families," Harbaugh said in his statement Jan. 16. "My heart is at the University of Michigan. I once heard a wise man say, 'Don't try to out-happy, happy.' Go Blue!"
The Broncos moved on as well, continuing their discussions with several other candidates. Denver has interviewed former Saints coach Sean Payton, former Colts and Lions coach Jim Caldwell, former Stanford coach David Shaw, Rams defensive coordinator Raheem Morris, Cowboys defensive coordinator Dan Quinn, 49ers defensive coordinator DeMeco Ryans and their own defensive coordinator, Ejiro Evero.
Harbaugh now has met with the Vikings and Broncos in back-to-back years. While one source wondered how many more chances Harbaugh would get, another league source said "The league is likely to be interested in Jim as long as he is successfully coaching. He's proven at every level including the NFL. That's a hard resume to match."