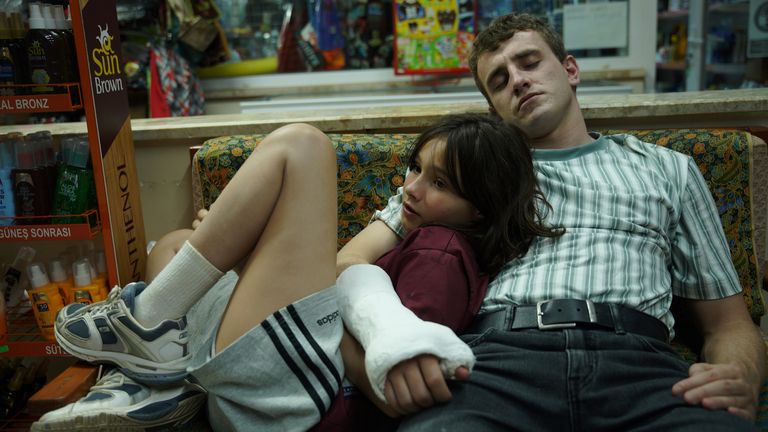 The nominees for this year's Academy Awards, which take place on 12 March, have now been revealed.
Everything Everywhere All At Once leads the Oscars 2023 race with 11 nominations, while blockbusters including the Top Gun and Avatar sequels are also nominated, and Ana de Armas, Colin Farrell, Bill Nighy and Cate Blanchett are among the acting nominees.
You can read our full story on the stars and movies leading the pack here – and scroll down for the full list of which actors and what films are up for each prize.
ACTOR IN A LEADING ROLE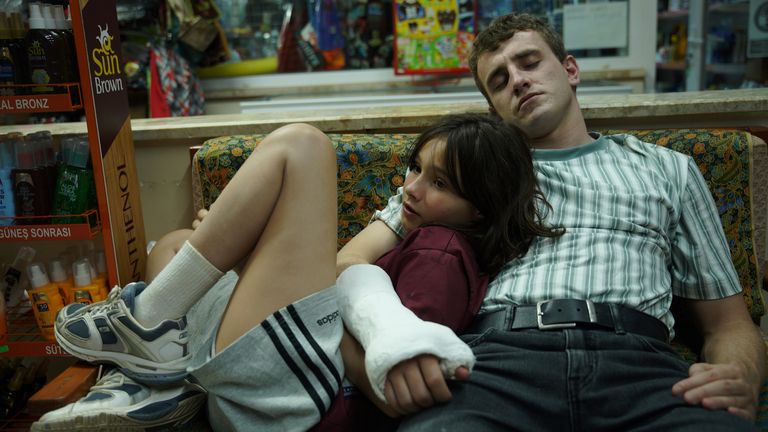 Austin Butler – Elvis
Colin Farrell – The Banshees of Inisherin
Brendan Fraser – The Whale
Paul Mescal – Aftersun
Bill Nighy – Living
ACTOR IN A SUPPORTING ROLE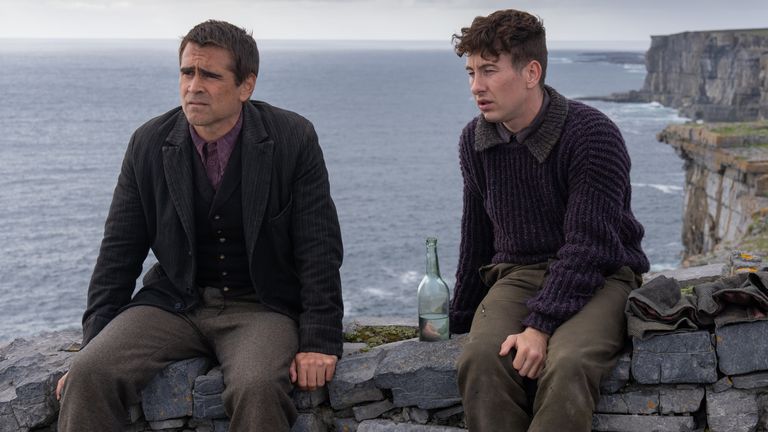 Brendan Gleeson – The Banshees Of Inisherin
Brian Tyree Henry – Causeway
Judd Hirsch – The Fabelmans
Barry Keoghan – The Banshees Of Inisherin
Ke Huy Quan – Everything Everywhere All At Once
ACTRESS IN A LEADING ROLE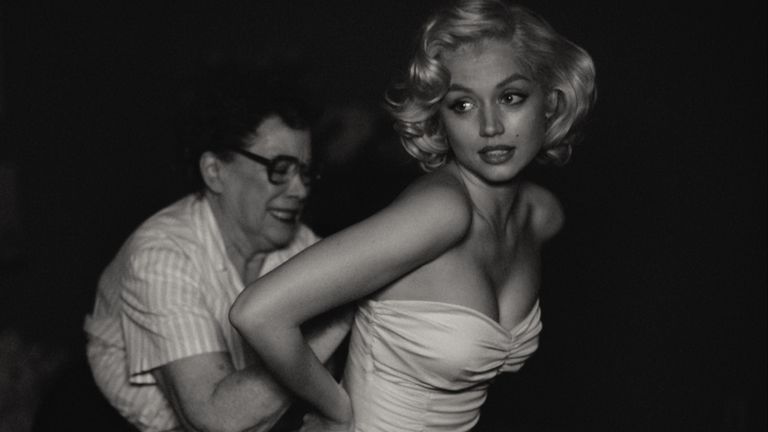 Cate Blanchett – Tar
Ana de Armas – Blonde
Andrea Riseborough – To Leslie
Michelle Williams – The Fabelmans
Michelle Yeoh – Everything Everywhere All At Once
ACTRESS IN A SUPPORTING ROLE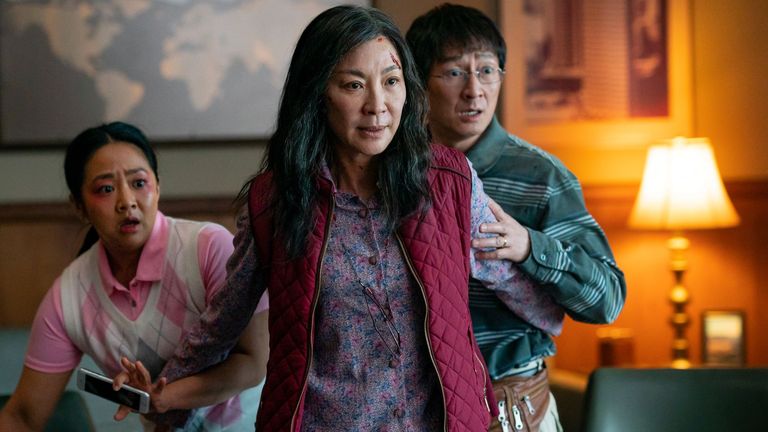 Angela Bassett – Black Panther: Wakanda Forever
Hong Chau – The Whale
Kerry Condon – The Banshees Of Inisherin
Jamie Lee Curtis – Everything Everywhere All At Once
Stephanie Hsu – Everything Everywhere All At Once
ANIMATED FEATURE FILM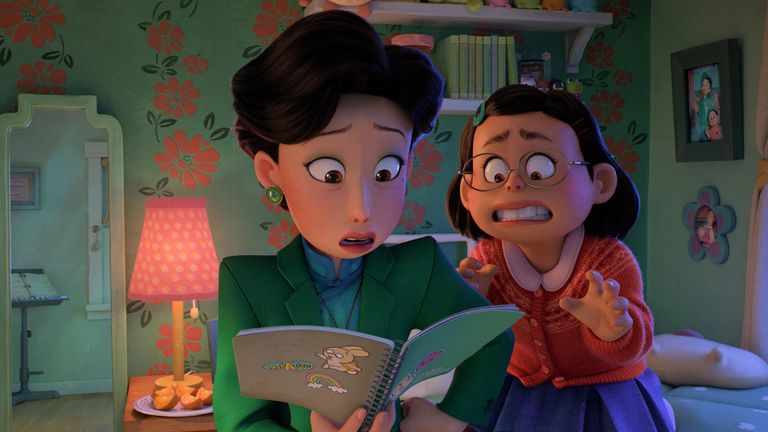 Guillermo del Toro's Pinocchio – Guillermo del Toro, Mark Gustafson, Gary Ungar and Alex Bulkley
Marcel The Shell With Shoes On – Dean Fleischer Camp, Elisabeth Holm, Andrew Goldman, Caroline Kaplan and Paul Mezey
Puss In Boots: The Last Wish – Joel Crawford and Mark Swift
The Sea Beast – Chris Williams and Jed Schlanger
Turning Red – Domee Shi and Lindsey Collins
CINEMATOGRAPHY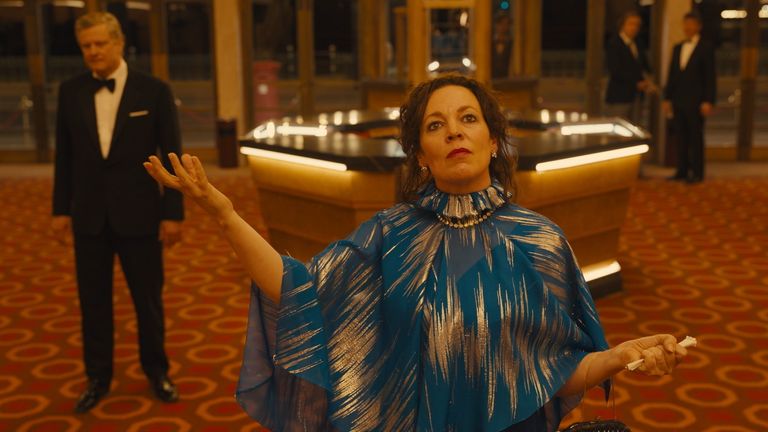 All Quiet On The Western Front – James Friend
Bardo, False Chronicle Of A Handful Of Truths – Darius Khondji
Elvis – Mandy Walker
Empire Of Light – Roger Deakins
Tar – Florian Hoffmeister
COSTUME DESIGN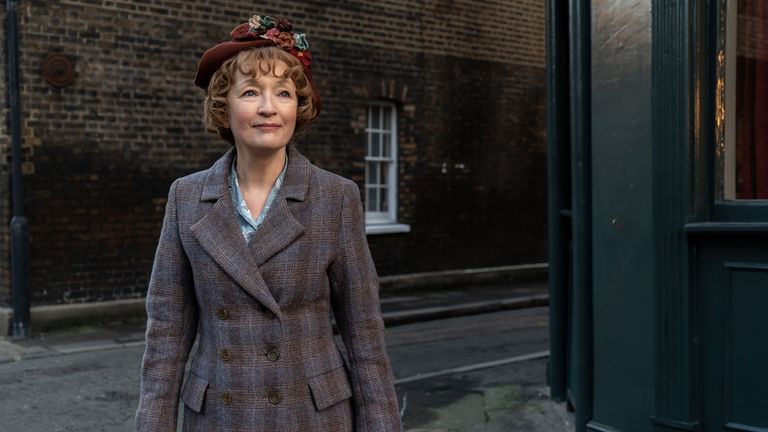 Babylon – Mary Zophres
Black Panther: Wakanda Forever – Ruth Carter
Elvis – Catherine Martin
Everything Everywhere All At Once – Shirley Kurata
Mrs Harris Goes To Paris – Jenny Beavan
DIRECTING
The Banshees Of Inisherin – Martin McDonagh
Everything Everywhere All At Once – Daniel Kwan and Daniel Scheinert
The Fabelmans – Steven Spielberg
Tar – Todd Field
Triangle Of Sadness – Ruben Ostlund
DOCUMENTARY (FEATURE)
All That Breathes – Shaunak Sen, Aman Mann and Teddy Leifer
All The Beauty And The Bloodshed – Laura Poitras, Howard Gertler, John Lyons, Nan Goldin and Yoni Golijov
Fire Of Love – Sara Dosa, Shane Boris and Ina Fichman
A House Made of Splinters – Simon Lereng Wilmont and Monica Hellström
Navalny – Daniel Roher, Odessa Rae, Diane Becker, Melanie Miller and Shane Boris
DOCUMENTARY (SHORT SUBJECT)
The Elephant Whisperers – Kartiki Gonsalves and Guneet Monga
Haulout – Evgenia Arbugaeva and Maxim Arbugaev
How Do You Measure A Year? – Jay Rosenblatt
The Martha Mitchell Effect – Anne Alvergue and Beth Levison
Stranger At The Gate – Joshua Seftel and Conall Jones
FILM EDITING
The Banshees of Inisherin – Mikkel EG Nielsen
Elvis – Matt Villa and Jonathan Redmond
Everything Everywhere All At Once – Paul Rogers
Tar – Monika Willi
Top Gun: Maverick – Eddie Hamilton
INTERNATIONAL FEATURE FILM
All Quiet on the Western Front – Germany
Argentina, 1985 – Argentina
Close – Belgium
EO – Poland
The Quiet Girl – Ireland
MAKEUP AND HAIRSTYLING
All Quiet on the Western Front – Heike Merker and Linda Eisenhamerova
The Batman – Naomi Donne, Mike Marino and Mike Fontaine
Black Panther: Wakanda Forever – Camille Friend and Joel Harlow
Elvis – Mark Coulier, Jason Baird and Aldo Signoretti
The Whale – Adrien Morot, Judy Chin and Anne Marie Bradley
MUSIC (ORIGINAL SCORE)
All Quiet on the Western Front – Volker Bertelmann
Babylon – Justin Hurwitz
The Banshees of Inisherin – Carter Burwell
Everything Everywhere All At Once – Son Lux
The Fabelmans – John Williams
MUSIC (ORIGINAL SONG)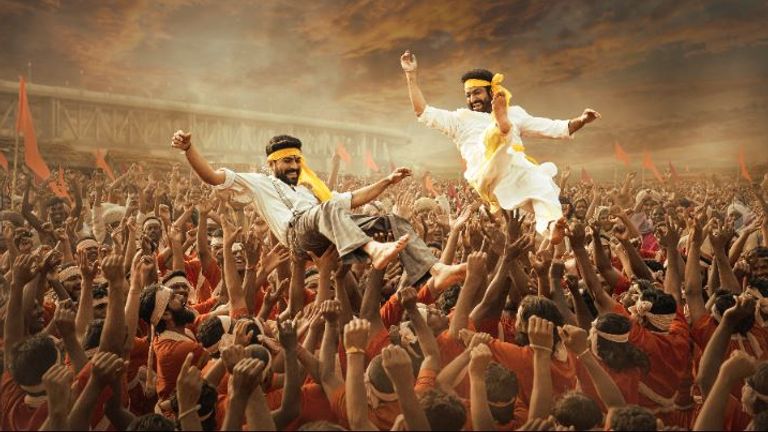 Applause from Tell It like A Woman – music and lyrics by Diane Warren
Hold My Hand from Top Gun: Maverick – music and lyrics by Lady Gaga and BloodPop
Lift Me Up from "Black Panther: Wakanda Forever – music by Tems, Rihanna, Ryan Coogler and Ludwig Goransson; lyrics by Tems and Ryan Coogler
Naatu Naatu from "RRR – music by MM Keeravaani; lyrics by Chandrabose
This Is A Life from Everything Everywhere All At Once – music by Ryan Lott, David Byrne and Mitski; lyrics by Ryan Lott and David Byrne
BEST FILM
All Quiet on the Western Front – Malte Grunert
Avatar: The Way of Water – James Cameron and Jon Landau
The Banshees Of Inisherin – Graham Broadbent, Pete Czernin and Martin McDonagh
Elvis – Baz Luhrmann, Catherine Martin, Gail Berman, Patrick McCormick and Schuyler Weiss
Everything Everywhere All At Once – Daniel Kwan, Daniel Scheinert and Jonathan Wang
The Fabelmans – Kristie Macosko Krieger, Steven Spielberg and Tony Kushner
Tar – Todd Field, Alexandra Milchan and Scott Lambert
Top Gun: Maverick – Tom Cruise, Christopher McQuarrie, David Ellison and Jerry Bruckheimer
Triangle Of Sadness – Erik Hemmendorff and Philippe Bober
Women Talking – Dede Gardner, Jeremy Kleiner and Frances McDormand
PRODUCTION DESIGN
All Quiet On The Western Front – production design, Christian M Goldbeck; set decoration, Ernestine Hipper
Avatar: The Way Of Water – production design, Dylan Cole and Ben Procter; set decoration, Vanessa Cole
Babylon – production design, Florencia Martin – set decoration, Anthony Carlino
Elvis – production design, Catherine Martin and Karen Murphy; set decoration, Bev Dunn
The Fabelmans – production design, Rick Carter; set decoration, Karen O'Hara
SOUND
All Quiet On The Western Front – Viktor Prasil, Frank Kruse, Markus Stemler, Lars Ginzel and Stefan Korte
Avatar: The Way of Water – Julian Howarth, Gwendolyn Yates Whittle, Dick Bernstein, Christopher Boyes, Gary Summers and Michael Hedges
The Batman – Stuart Wilson, William Files, Douglas Murray and Andy Nelson
Elvis – David Lee, Wayne Pashley, Andy Nelson and Michael Keller
Top Gun: Maverick – Mark Weingarten, James H Mather, Al Nelson, Chris Burdon and Mark Taylor
VISUAL EFFECTS
All Quiet On The Western Front – Frank Petzold, Viktor Müller, Markus Frank and Kamil Jafar
Avatar: The Way of Water – Joe Letteri, Richard Baneham, Eric Saindon and Daniel Barrett
The Batman – Dan Lemmon, Russell Earl, Anders Langlands and Dominic Tuohy
Black Panther: Wakanda Forever – Geoffrey Baumann, Craig Hammack, R. Christopher White and Dan Sudick
Top Gun: Maverick – Ryan Tudhope, Seth Hill, Bryan Litson and Scott R Fisher
WRITING (ADAPTED SCREENPLAY)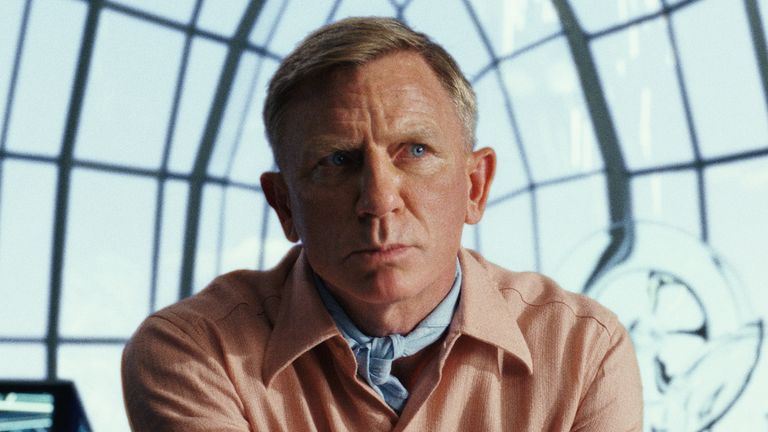 All Quiet On The Western Front – Edward Berger, Lesley Paterson & Ian Stokell
Glass Onion: A Knives Out Mystery – Rian Johnson
Living – Kazuo Ishiguro
Top Gun: Maverick – screenplay by Ehren Kruger and Eric Warren Singer and Christopher McQuarrie; story by Peter Craig and Justin Marks
Women Talking – Sarah Polley
WRITING (ORIGINAL SCREENPLAY)
The Banshees Of Inisherin – Martin McDonagh
Everything Everywhere All At Once – Daniel Kwan and Daniel Scheinert
The Fabelmans – Steven Spielberg and Tony Kushner
Tar – Todd Field
Triangle Of Sadness – Ruben Ostlund
BEST ANIMATED SHORT FILM
The Boy, The Mole, The Fox And The Horse – Charlie Mackesy and Matthew Freud
The Flying Sailor – Amanda Forbis and Wendy Tilby
Ice Merchants – Joao Gonzalez and Bruno Caetano
My Year Of D**** – Sara Gunnarsdottir and Pamela Ribon
An Ostrich Told Me The World Is Fake And I Think I Believe It – Lachlan Pendragon
BEST LIVE ACTION SHORT FILM
An Irish Goodbye -Tom Berkeley and Ross White
Ivalu – Anders Walter and Rebecca Pruzan
Le Pupille – Alice Rohrwacher and Alfonso Cuaron
Night Ride – Eirik Tveiten and Gaute Lid Larssen
The Red Suitcase – Cyrus Neshvad
The Crown: The secrets behind multi-million pound Netflix production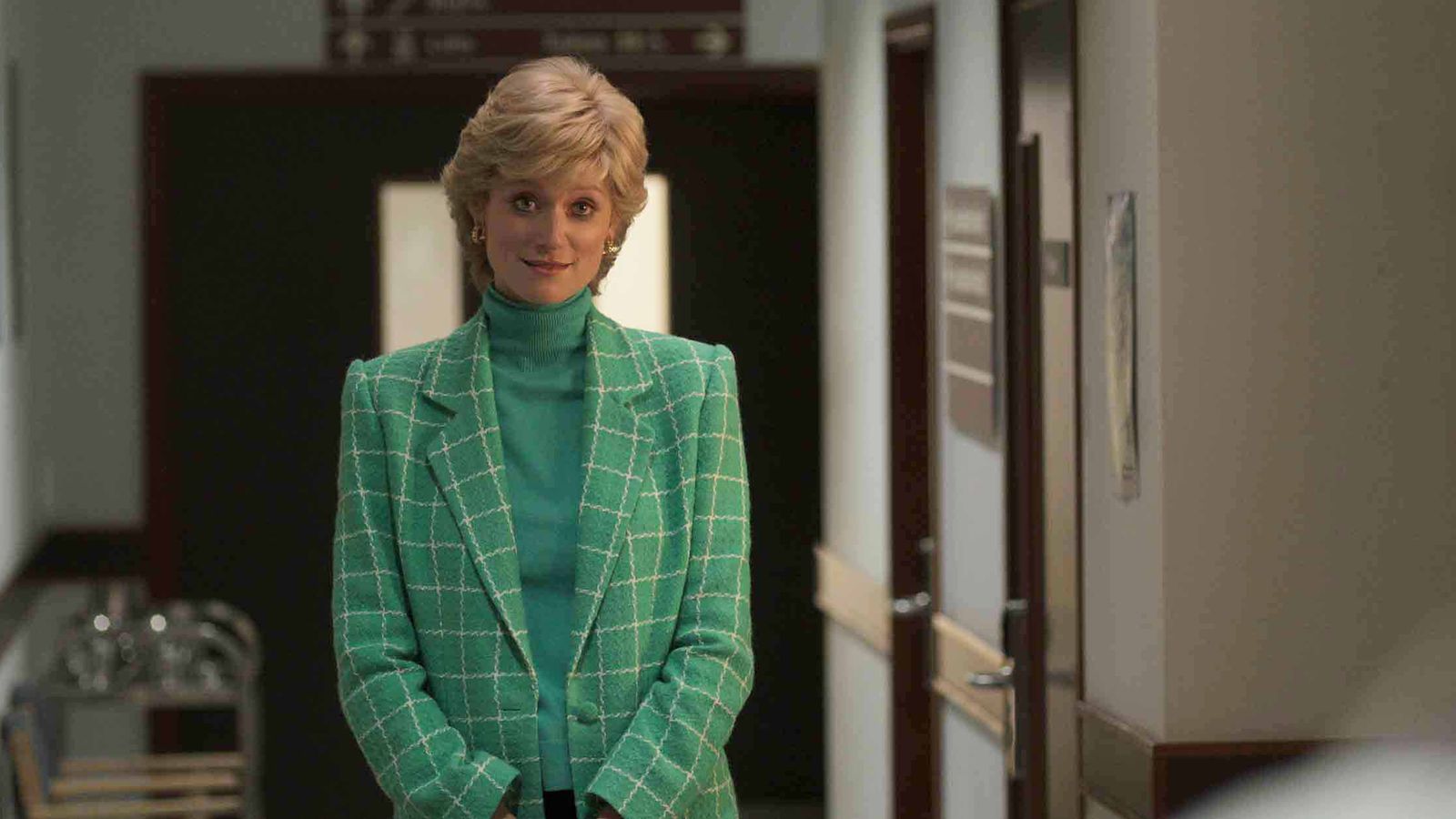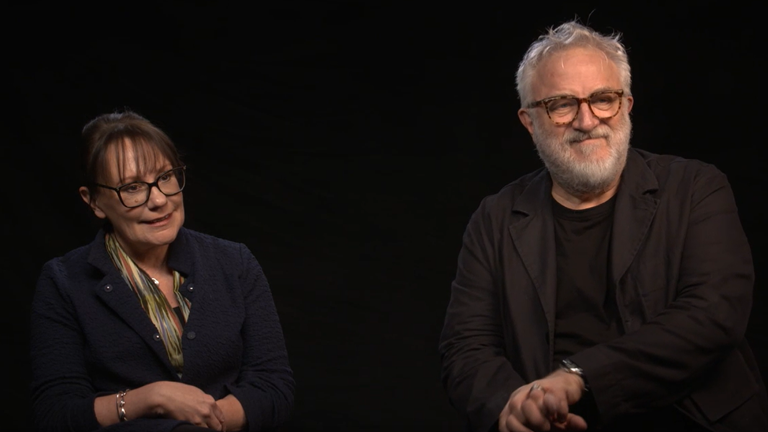 The second instalment of the sixth series of The Crown is set for release on 14 December. 
Seven years on from its initial release, the programme has been a smash hit for Netflix and has seen some of the UK's greatest acting talent – including the three queens Claire Foy, Olivia Colman and Imelda Staunton – take on the challenge of portraying some of the most recognisable people in the world.
Behind the glitzy multimillion-pound production is a vast production team working on the finest of details to capture each decade of the Royal Family precisely.
Martin Childs, a production designer, and Alison Harvey, a set decorator, have worked on all six seasons of the show and produced almost 2,500 sets in that time.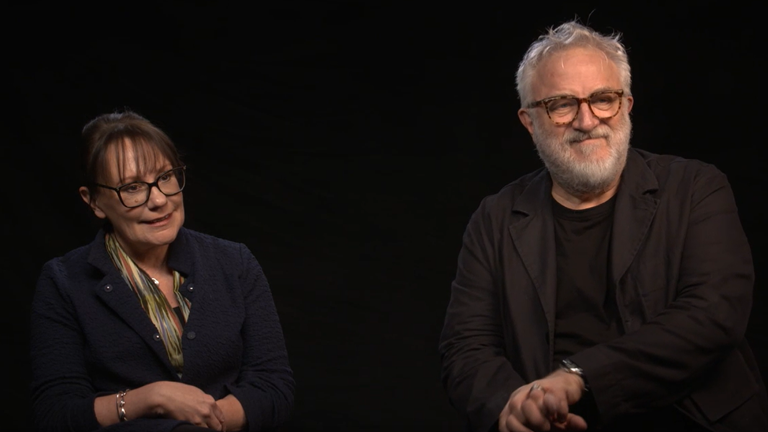 The pair say the "luxury of time and money and people" that the Netflix production affords allows the detailed and spectacular sets we see on our screens.
"We did go through the schedule quite quickly," Harvey said.
"We did have people devoted to certain things like drapes. [I'm] on a job at the moment – we've got no people and no money and no time. So we're very lucky to have those facilities available to us on such a great well-received project."
The abundance of resources allows Childs and Harvey to capture not just the familiar castles and regal settings – they were excited to capture the royals' private interiors as well.
"It's a kind of a slightly imagined film version," Harvey said.
"We research and research and research until the research runs out," Childs said.
"I think it might be Peter Morgan who coined this phrase 'informed imagination' – and it's one I like very much because it helps describe what we finish up having to do," he added.
The first four episodes of the sixth season were released on 16 November and captured the last eight weeks of Princess Diana's life.
While many of the scenes from the 1997 crash and its aftermath are seared into the public's imagination, Childs was averse to recreating many of them.
"My consideration [for] all the scenes that led up to [the crash] was not to have any prior knowledge of it, because the audience does. So I didn't want to load it with 20-20 hindsight.
"People know what happened. People are familiar with the footage so we didn't really want to recreate much of that."
Portraying Diana faithfully was also a major consideration for hair and makeup artists Cate Hall and Emilie Yong. It took around 30 hours to transform Elizabeth Debicki into the late princess.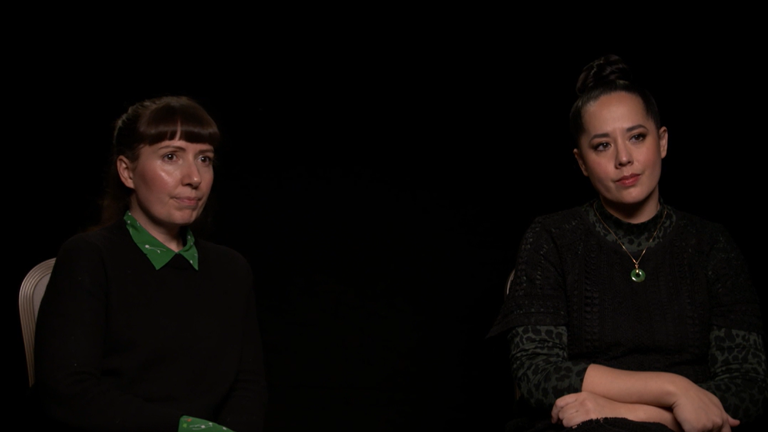 "It starts with this very archaic wrapping of their head in clingfilm and sellotape and marking the headline with a sharpie. The wig maker we work with is very, very detailed in terms of hairlines, crowns," Hall said.
"The hair is all knotted hair by hair, we will go through thousands of different colours to find the four or five colours we're going to use in a wig. Then once the wig is made, we start cutting.
"Then the wig comes off the head and is set and dried, put back on again, cut, highlighted, roots shaded in. And then the makeup fittings start."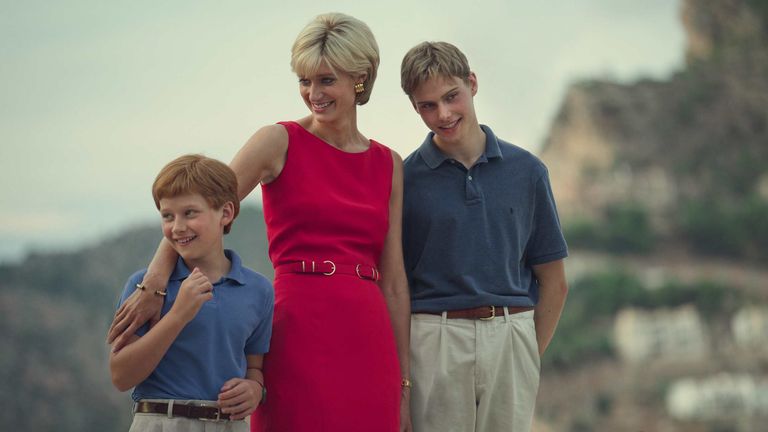 Like the production designers, the pair said they "live and die by" getting the details right.
"Otherwise what you get is something that feels sort of generally in the region of [the decade] but not necessarily robust.
"The whole point when you're recreating period television is trying to create this world that the viewer can watch and really immerse themselves in. The last thing you want to do is bring them out of that.
"So for me, if I'm watching a TV show and the textures are really modern and chemically sophisticated and illuminated, things like that immediately take me out of the show. So it's those kinds of details.
"One way of saying we're in the 1960s [is] about the textures and what was available to the people at the time. Glitter was not. We have every foundation colour under the sun now. But in 1960 you were probably dealing with four different shades if you're lucky. It's about sophistication that helps you tell the story," Hall said.
So the actors have undergone their transformations into their characters and the stage is set but something's missing.
Click to subscribe to Backstage wherever you get your podcasts
Alongside a historical research team, the actors spend a significant amount of time preparing with movement coach Polly Bennett to prepare for filming.
"When you meet new actors playing the characters, it becomes about actually trying to throw all of that information [from past seasons] away and starting again.
"The best thing about working with the team this time around was that we'd already done season five, so they kind of lived in their bodies," she said.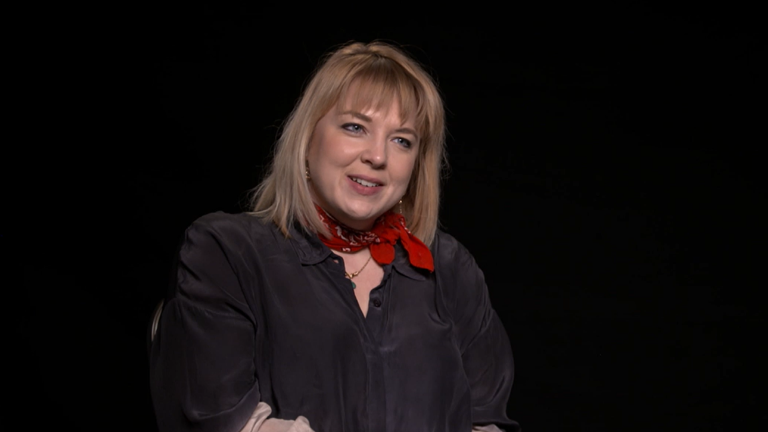 "I think the biggest thing physically that I had to consider was that they had been around being famous. Being famous was a new idea.
"The sort of thing that Diana was experiencing is a very particular physical change in her body. So that was the major preoccupation I had."
Read more:
Royal book row: Publisher 'called journalist within one hour' of publishing story
Four most important moments from latest season of The Crown
The Crown recreates Princess of Wales's famous catwalk dress in final series
A huge body of research, like the production designers and hair and make-up artists, informs Bennetts's work.
She describes working with 21-year-old Meg Bellamy who is playing a young Kate Middleton as she attends university with Prince William.
"A lot of our first sessions were just providing the space to go – who is this person? What has she been around? What has she grown up around? What clothes is she regularly wearing? What food does she eat? What are her relationships? Who has she seen growing up?
"We look at footage that we have, we look at photographs, and put it together in the kind of private investigator type way," Bennett said.
"And suddenly when you start looking at different pictures, you notice little things that Kate does in her life, like she wears a handbag always on the same side of her body and she clutches it. Now, that's something that then became an inpoint for Meg.
"The idea that they've got something very practical, but they're keeping it close to them and then you can take that feeling into their whole life. Whether or not that's actually what Kate Middleton is doing, that becomes gold dust as a practical idea for an actor to play."
Grand Theft Auto 6 trailer will drop next week, makers announce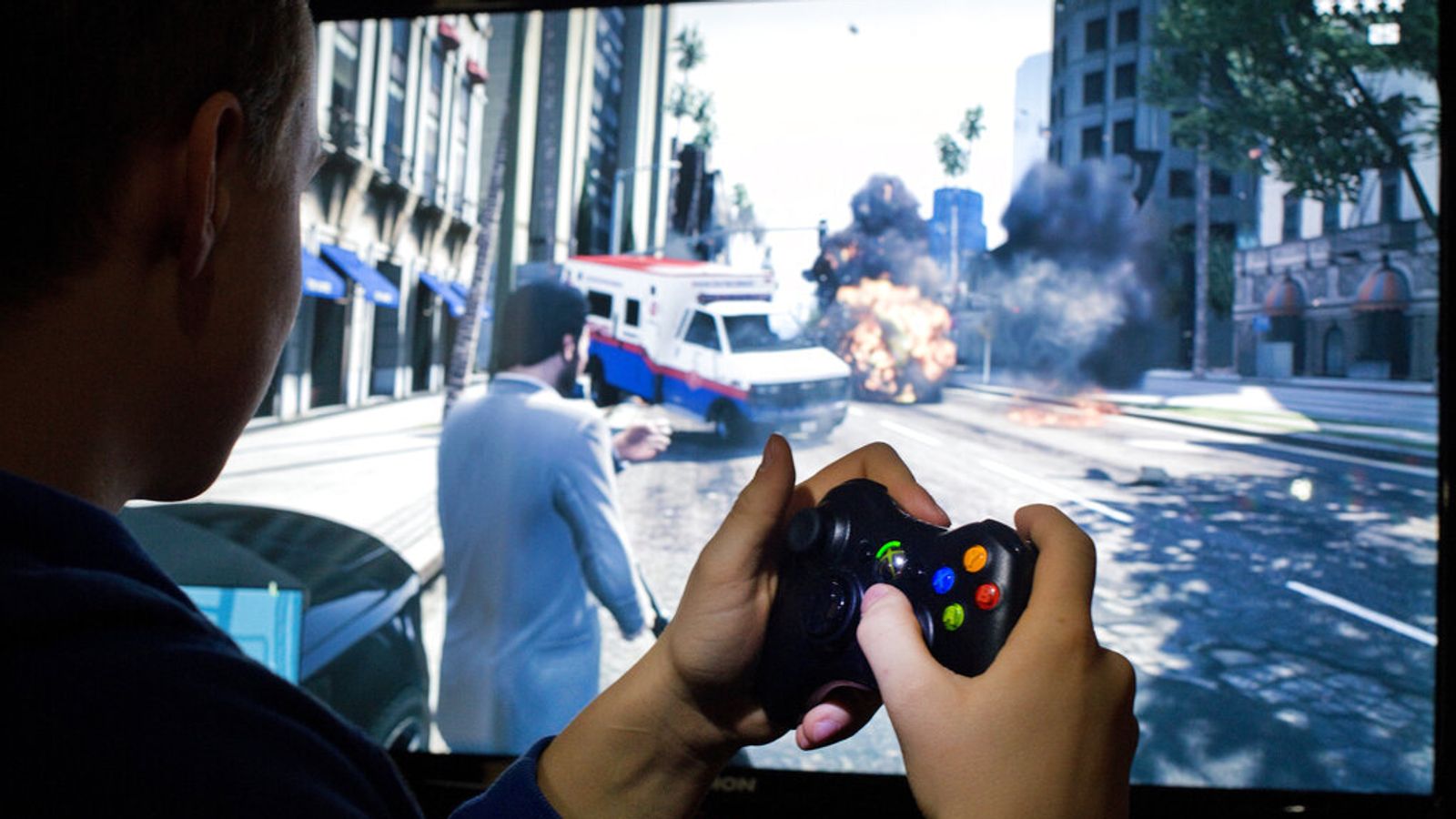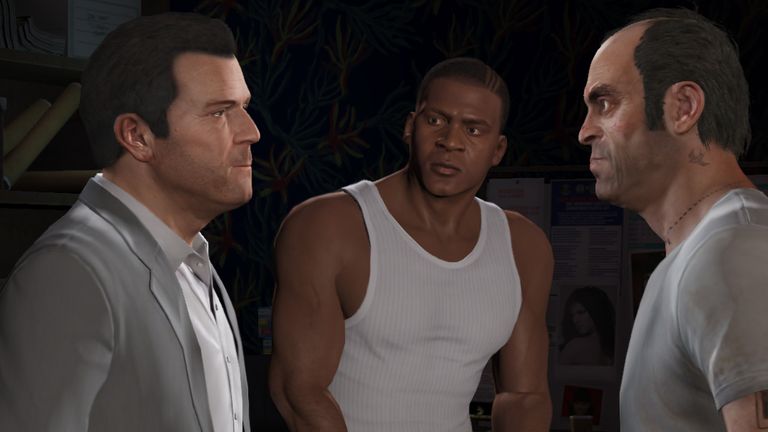 The wait is almost over for fans of one of the biggest game franchises of all time – the trailer for the next instalment of Grand Theft Auto will finally be released next week.
In a post on social media, Rockstar, the makers of the games, simply said: "Trailer 1, Tuesday, December 5, 9am ET" – 9am eastern time is 2pm GMT.
Since being posted on X on Friday afternoon, the announcement has been viewed more than 50 million times.
While it does not mention the game it will be showing, it is widely assumed to be the sixth instalment of Grand Theft Auto.
Rockstar previously teased the trailer in November, saying it would be available this month, but it never said when.
There is still no word on when the game itself might release.
It has likely been in development for several years, but it wasn't until last year when Rockstar confirmed it was working on the latest instalment of GTA, saying active development was "well under way".
GTA V launched in 2013, and saw Michael, Trevor and Franklin's exploits in Los Santos (modelled around Los Angeles), with players taking part in activities such as driving and shopping, all the way up to heists and assassinations.
Previous settings in the series included the Miami-inspired Vice City and New York-inspired Liberty City.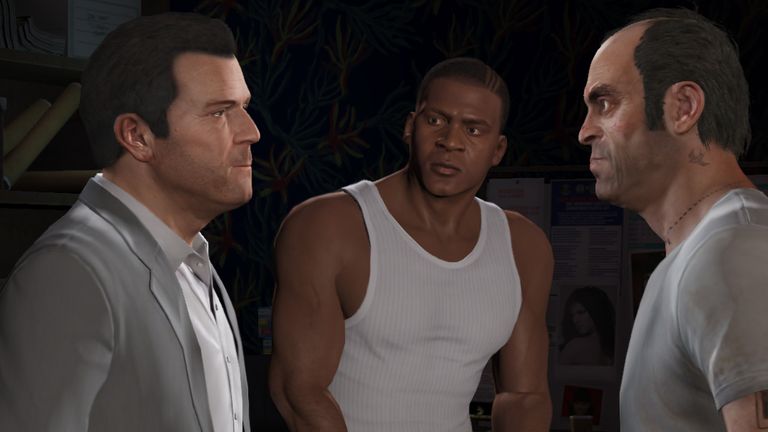 Read more: GTA V turns 10: The impact and legacy of Rockstar's biggest game – and why sequel is taking so long
GTA V is the fastest entertainment product in history to make $1bn (£792m), and the most profitable ever made, and has since sold an astonishing 185 million copies – earning publisher Take-Two a reported $8bn (£6.4bn) in revenue.
Last year, early development gameplay was leaked online after a hacker gained access to Rockstar's Slack channel.
They released 90 minutes of footage after threatening the developer, which showed some of the locations the new game will feature and the two protagonists.
Rockstar Games said on social media at the time: "We recently suffered a network intrusion in which an unauthorised third party illegally accessed and downloaded confidential information from our systems, including early development footage for the next Grand Theft Auto.
"At this time, we do not anticipate any disruption to our live game services nor any long-term effect on the development of our ongoing projects.
"We are extremely disappointed to have any details of our next game shared with you all in this way."
Brigit Forysth: Actress who starred in Whatever Happened To The Likely Lads? dies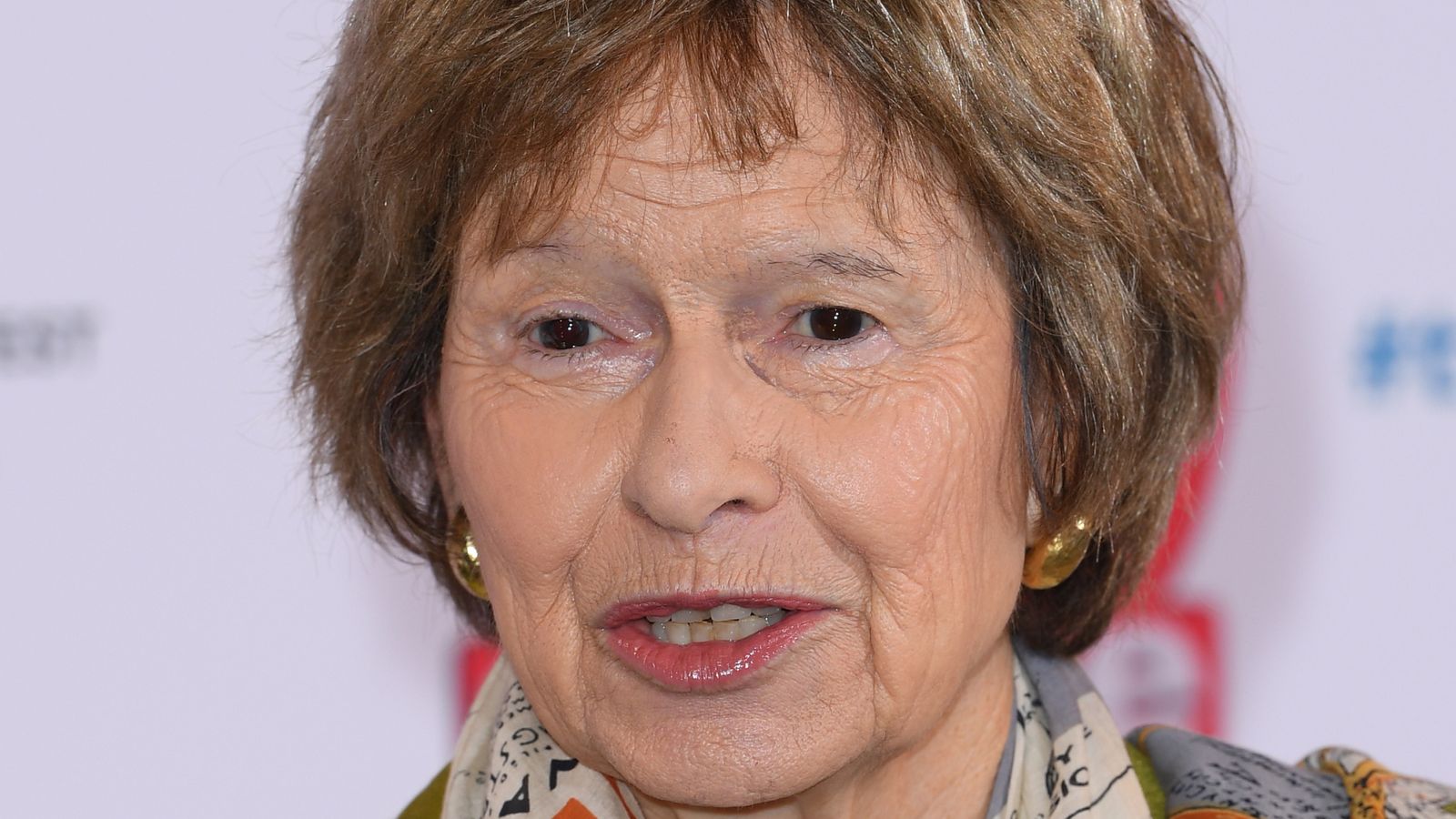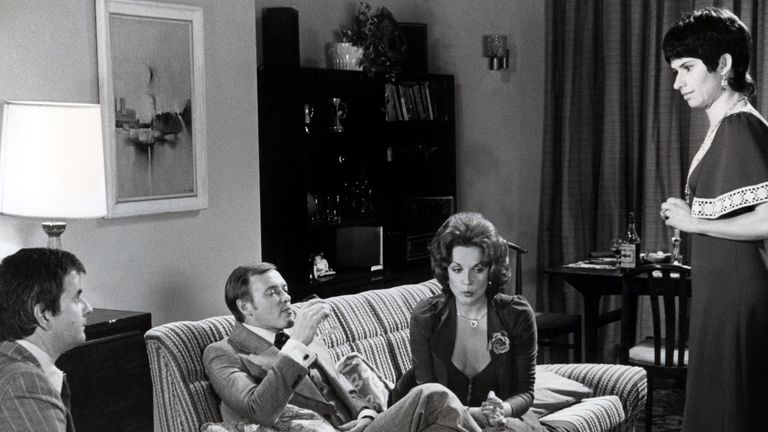 Actress Brigit Forsyth – who starred in Whatever Happened To The Likely Lads? – has died at the age of 83, her agent has said.
Forsyth played Thelma Ferris, the long-suffering wife of Rodney Bewes's character Bob, in the cult 1970s BBC sitcom.
Her agent Mark Pemberton confirmed she died "peacefully in her sleep surrounded by her family" in the early hours of Friday morning.
He said in a statement: "Brigit had a varied and notable career in stage, screen and radio. Best known for her roles in television as Thelma in Whatever Happened To The Likely Lads?, Francine Pratt in Playing The Field and Madge in Still Open All Hours."
Following the final episode of Whatever Happened To The Likely Lads? in 1974, Forsyth appeared in shows such as Poirot and Casualty.
She also appeared in Coronation Street – playing one of Ken Barlow's escort clients.
In 2000, she returned to screens as the social climbing snob Francine Pratt, who was married to businessman Jim Pratt played by Royle Family star Ricky Tomlinson, in the BBC's footballing drama Playing The Field.
Forsyth also won plaudits for her stage roles which included playing an American in The Glass Menagerie and a Polish doctor in a production at the National Theatre.
She also appeared in radio plays on the BBC over the years and featured in the Radio 4 sitcom Ed Reardon's Week.
Read more:
Strictly star gives update after being taken to hospital
Jamie Lynn Spears 'taking time to recover' after I'm A Celeb exit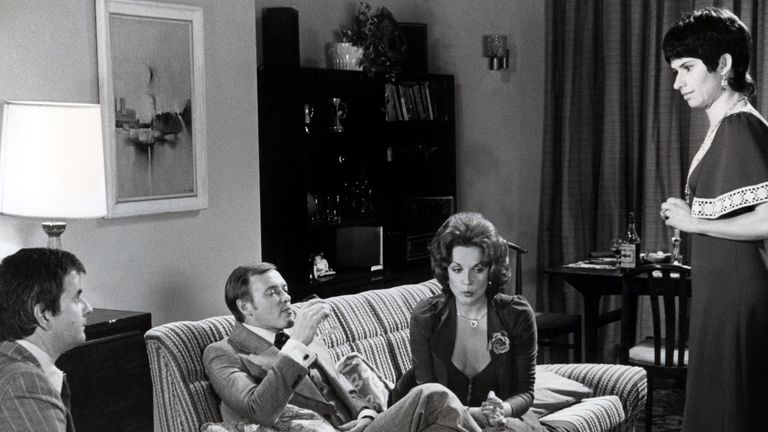 Forsyth founded her own cross-disciplinary theatre company, Word Mills Productions, in 2016.
Her agent described her as a talented musician who played the cello, sang and composed.
Her husband was Coronation Street director Brian Mills.