Scott Rolen has been elected to the Baseball Hall of Fame, preventing a shutout in the BBWAA balloting for the second time in three years.
None of the other 27 players listed on the 2023 Hall ballot cleared the 75 percent threshold for election, though there were a couple of near-misses. The results of the balloting were revealed Tuesday during a broadcast on MLB.com.
Longtime third baseman Rolen was named in 76.3% of ballots cast in his sixth year of eligibility to earn enshrinement. Just missing was former Rockies first baseman Todd Helton, who received support on 72.2% of ballots in his fifth try at election.
Players can appear on the ballot for 10 seasons after a five-year waiting period after they retire, provided they are named on at least 5% of the ballot during a voting cycle.
Rolen was a seven-time All-Star during his 17-year career, playing for the Phillies, Cardinals, Blue Jays and Reds. His eight Gold Gloves are fourth-most for a third baseman. The 1997 NL Rookie of the Year was a member of the Cardinals when the club won the 2006 World Series.
Rolen, who ranks fifth in WAR among career third basemen according to baseball-reference.com, was named on just 10.2 percent of ballots during his first year of eligibility in 2018 but rapidly gained support with each passing voting cycle.
The same upward trajectory has held true for Helton, who started at 16.5% in 2019. A .316 career hitter over 17 seasons, all spent with the Colorado Rockies, Helton was a four-time Silver Slugger winner and three-time Gold Glover for his work at first base.
Other players who were named on at least half of the ballots cast included Billy Wagner (68.1%), Andruw Jones (58.1%) and Gary Sheffield (55%).
Wagner, one of the most dominant relievers of his era, has gained support steadily during his years on the ballot. He earned support on 51% of ballots last year. Next year will be his ninth season of eligibility.
Rolen's narrow election meant that the BBWAA has still declined to elect any new members just nine times in the history of the balloting. The writers also did not elect anyone in 2021. Last year, only Red Sox great David Ortiz was selected by the writers.
The three-year stretch in which the BBWAA has elected just two players matches a historical low. Since annual voting being permanent in 1966, the writers had never failed to elect at least two players during any three-year stretch. They also elected just two players during the three-year periods ending in 1968 and in each season from 1996 to 1998.
Ironically the paucity of electees comes just a few years after a particular fecund period of voting by the writers. During the three-year period ending in 2019, the BBWAA elected 11 new Hall members and during the five-year period from 2015 to 2019, 17 new Hall of Famers were tabbed by the writers.
Unlike 2021, when no new Hall of Famers were elected by either the writers or an era committee – the first time since 1960 that had happened – there will be at least two new inductees giving a speech in Cooperstown during induction ceremonies on July 23. Soft-spoken Fred McGriff will enter the Hall alongside Rolen after being selected by an era committee at the winter meetings in December in San Diego.
Progress was slow for a few more controversial candidates whose performance meets traditional Hall of Fame standards but have seen their cases undermined by associations with PEDs.
Alex Rodriguez, who ran up huge career totals of 3,115 hits, 696 homers and 2,086 RBI was named on 35.7% of the ballots during his second year of eligibility, up from 34.3%. Rodriguez missed the 2014 under suspension for violation of MLB's PED policies.
Similarly, Manny Ramirez, who hit 555 homers while rolling up a .312 career batting average but was twice suspended for PED violations, made little progress during his seventh time on the ballot. After landing at 28.9% last year, Ramirez nudged ahead to 33.2% this time around.
Conversely, fearsome slugger Sheffield picked up a little momentum in his ninth year of eligibility. He as at 40.6% last year. Sheffield, who hit 509 career homers but was named in 2007's Mitchell Report, was never disciplined for PED use. Next season will be his 10th and final opportunity to gain election via the writers' ballot.
Among the 14 first-timers on the ballot, only two received the necessary 5% support to be carried over for consideration next time around.
One of those first-timers was Carlos Beltran, who landed on 46.5% of ballots. Beltran's Hall case is solid on the merits of a career that saw 435 homers, 312 steals, 2,725 hits and one of baseball's most sparkling postseason records.
Beltran was a central figure in the controversial sign-stealing scandal that tainted the 2017 World Series title of the Houston Astros, for whom Beltran played. His association with the controversy later led him to resign as manager of the New York Mets before his first season in that role.
While it's uncertain what role the scandal played in Beltran missing on his first ballot, his level of support bodes well for the future and, perhaps, for the candidacies down the line for other standouts on that Astros squad.
The other first-timer who will stay on the ballot is reliever Francisco Rodriguez, whose 437 saves were enough to him onto 10.8% of ballots.
While the voters have been stingy in recent years, next year could see a more active induction week with a number of interesting candidates becoming eligible next winter. The list of newcomers is headed by third baseman Adrian Beltre, catcher Joe Mauer and second baseman Chase Utley.
Georgia's Bennett arrested for public intoxication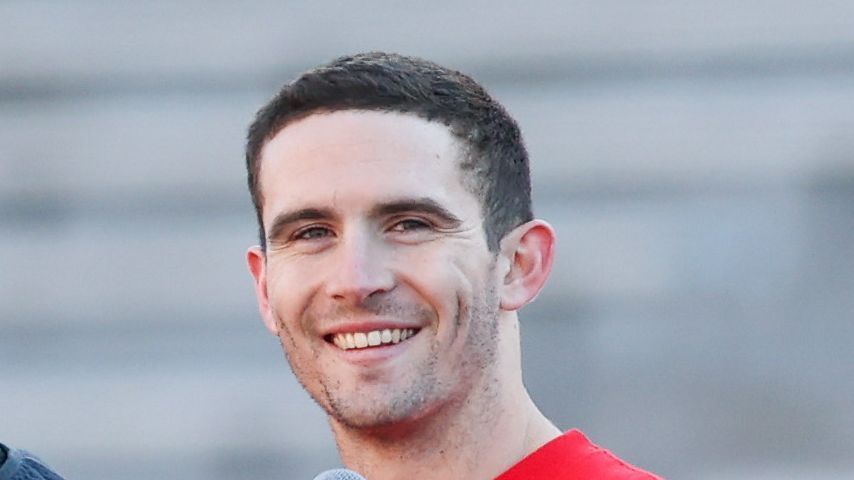 Former Georgia quarterback Stetson Bennett, who led the Bulldogs to their second straight CFP National Championship earlier this month, was arrested on a misdemeanor public intoxication charge in Dallas on Sunday morning.
In a statement to ESPN, a Dallas Police Department spokesperson said officers responded to a report of a man banging on doors in the 1600 block of Tribeca Way at 7:10 a.m. ET on Sunday.
"The preliminary investigation found when officers arrived, they located the man, Stetson Bennett, 25, and determined he was intoxicated," the police statement read. "Bennett was taken into custody, transported to the City Detention Center and charged with public intoxication."
Bennett left the detention center Sunday morning, but he could not be reached for comment.
Bennett, who started his college career as a walk-on, was a Heisman Trophy finalist this past season, after leading the Bulldogs to a 15-0 record and SEC championship. He passed for 4,127 yards with 27 touchdowns and seven interceptions, while rushing for another 10 scores.
Bennett was named the offensive MVP in both of Georgia's victories in the CFP, a 42-41 comeback win against Ohio State in the Chick-fil-A Peach Bowl and a 65-7 rout of TCU in the CFP National Championship presented by AT&T.
Bennett, who is listed at 5-foot-11 and 190 pounds, is considered a potential selection in April's NFL draft. He recently won the Manning Award, which is given to the top quarterback in the FBS by the Allstate Sugar Bowl.
Sources: Ex-Buffs QB Shrout picks Arkansas St.
Former Tennessee and Colorado quarterback J.T. Shrout is transferring to Arkansas State, sources told ESPN.
Shrout visited Arkansas State over the weekend and his commitment looms as a significant win for Butch Jones, who is entering his third season as Arkansas State's head coach.
Shrout will graduate from Colorado this spring and plans to enroll at Arkansas State in May, according to sources. He has one year of eligibility remaining and potentially a second if he gets a medical redshirt after missing the entire 2021 season with a torn ACL.
Shrout most recently played at Colorado in 2022, where he threw for 1,220 yards, seven touchdowns and eight interceptions and delivered the game-winning touchdown pass against Cal in overtime in Colorado's lone victory of the season. He started seven games at Colorado and had one start during his three seasons at Tennessee (2018-2020).
Shrout is one of three Buffaloes quarterbacks who have entered the NCAA transfer portal since the school hired Deion Sanders as head coach. Sanders has made it clear that his son, Shedeur, will be the starter next season. He introduced him at his opening news conference by saying, "This is your quarterback."
According to sources, Shrout was attracted to the potential opportunity at Arkansas State, including playing in offensive coordinator Keith Heckendorf's West Coast-style offense. Shrout also had some teammates at Tennessee who played for Jones, and sources said the former teammates endorsed Jones both as a person and a coach.
Arkansas State (3-9) ranked No. 118 in total offense last season and No. 85 in scoring offense. The Red Wolves open the 2023 season at Oklahoma on Sept. 2.
Sources: Harbaugh, Broncos meet but no deal
Broncos owner Greg Penner and University of Michigan football coach Jim Harbaugh met last week in Ann Arbor to discuss Denver's head-coaching position without any deal materializing, league sources told ESPN.
Although Harbaugh two weeks ago announced he was staying at Michigan, Penner did his due diligence and still traveled to Ann Arbor to meet with the coach in person, like he's done with seven other candidates during the Broncos' head-coaching search.
The follow-up conversations were part of the process for both Denver — led by Penner with general manager George Paton — and Harbaugh. The face-to-face meeting came after Harbaugh's initial video interview with Denver, after which he pulled his name out of contention and reaffirmed his commitment to Michigan.
"I love the relationships that I have at Michigan — coaches, staff, families, administration, president Santa Ono and especially the players and their families," Harbaugh said in his statement Jan. 16. "My heart is at the University of Michigan. I once heard a wise man say, 'Don't try to out-happy, happy.' Go Blue!"
The Broncos moved on as well, continuing their discussions with several other candidates. Denver has interviewed former Saints coach Sean Payton, former Colts and Lions coach Jim Caldwell, former Stanford coach David Shaw, Rams defensive coordinator Raheem Morris, Cowboys defensive coordinator Dan Quinn, 49ers defensive coordinator DeMeco Ryans and their own defensive coordinator, Ejiro Evero.
Harbaugh now has met with the Vikings and Broncos in back-to-back years. While one source wondered how many more chances Harbaugh would get, another league source said "The league is likely to be interested in Jim as long as he is successfully coaching. He's proven at every level including the NFL. That's a hard resume to match."